Whether it's a game of tag on the playground or enjoying an amusement ride experience, everyone wants to fit in. Kids with special needs are no exception. These situations are especially challenging for them. Rides usually aren't designed with special needs in mind. Social situations are daunting. As the mother of an autistic son, I know my own child struggles to find his way in group settings. It can make a parent feel pretty helpless.
After watching their daughter cope, the Hartman family decided to do something about this. The result is Morgan's Wonderland, a place where everyone can play together. A 20-minute drive from downtown San Antonio, TX, this sweet enclave of inclusivity is named for Morgan Hartman. The park quickly became a popular family destination, inspiring a neighboring water park, Morgan's Inspiration Island.
Find the best hotel deals in San Antonio!
Morgan's Wonderland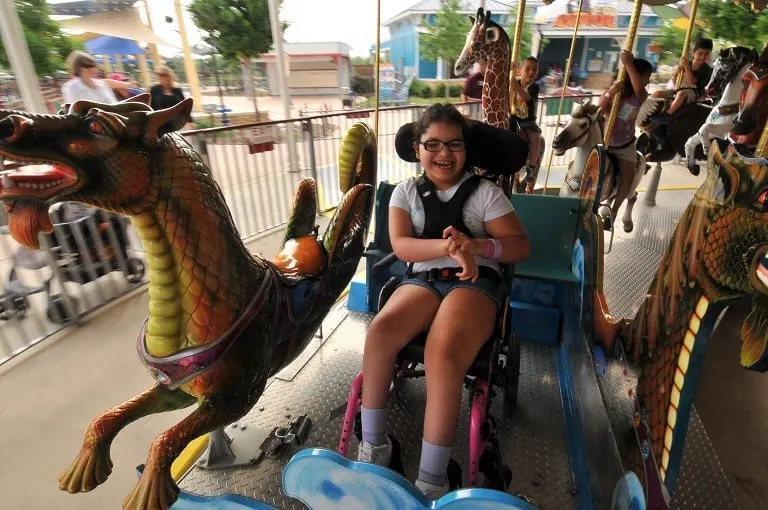 Photo by: Morgan's Wonderland
Other theme parks accommodate people with disabilities and special needs. But every attraction at Morgan's Wonderland is accessible regardless of a visitor's abilities. Just don't refer to it as a special needs park! It's a park of inclusion, according to its founders. The carousel has specially-designed chariots that go up and down like the horses allowing guests in wheelchairs the same ride experience as everyone else. The playground has adaptive and wheelchair swings. The park's Ferris wheel accommodates children, adults, and guests in wheelchairs in its gondolas. There's also a Jeep adventure ride, a train, and a Sensory Village to explore. If you prefer something more serene, Morgan's Wonderland offers that too. Enjoy catch-and-release fishing in a lake stocked with a variety of fish. Take your crew on a one-mile hike along the Walk and Roll Path. There are so many opportunities to play together at Morgan's Wonderland.
Morgan's Inspiration Island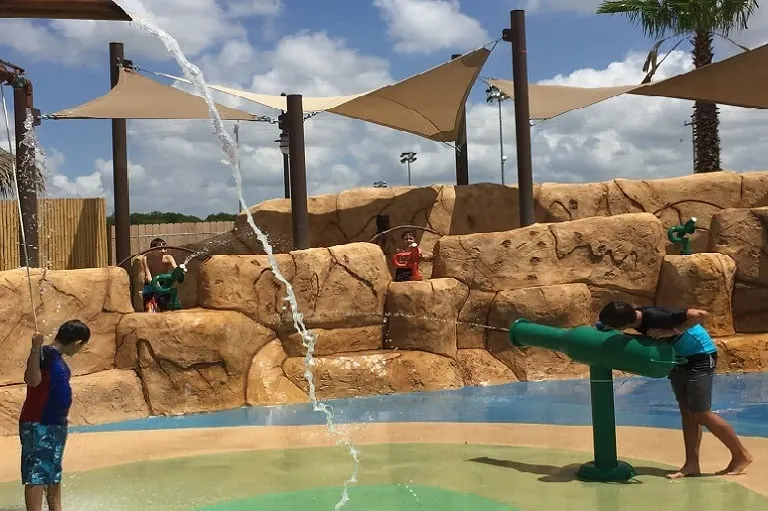 Photo by Kristine Dworkin
Once you launch the most inclusive amusement park its only natural to follow it up by establishing the world's most accessible splash park! Morgan's Inspiration Island opened a year ago. Hot Texas summers are much cooler when you're hanging in places like the musical garden of Calypso Cove or the splash pad of Rainbow Reef. Adventurous spirits can incite a water cannon fight at Harvey's Hideaway Bay then anticipate when the giant water bucket will dump its contents. Shipwreck Island is a great place to become swashbuckling pirates! You never know what you'll encounter on a riverboat adventure ride through the jungle. Adventures abound at Morgan's Inspiration Island.
The park's accessibility features include special noise cues around the water elements for visually impaired guests and warm water features for those with a sensitivity to cold. Waterproof wheelchairs are available along with wristbands that allow parents to track their kids' whereabouts.
Useful Things to Know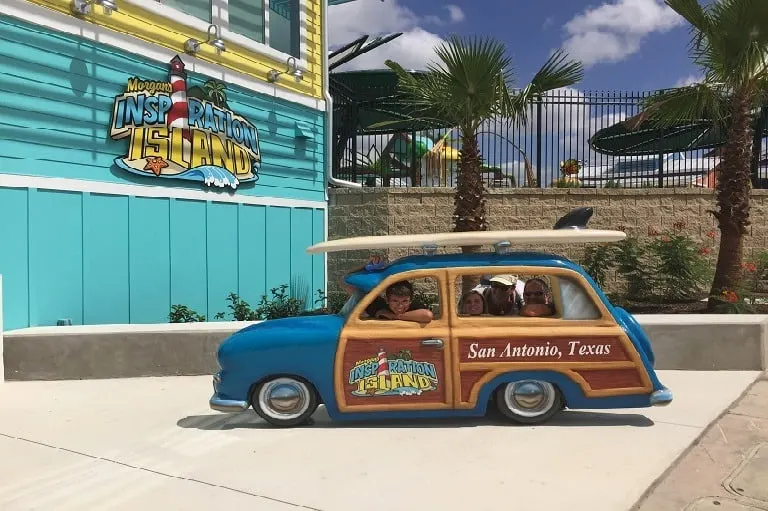 Photo by Kristine Dworkin
As any parent knows, planning is key when it comes to most excursions. Here are just a few ways in which the folks at Morgan's Wonderland and Inspiration Island have tried to make things easier for parents:
Special Needs visitors enjoy free admission: The founders built both parks with the special needs community in mind after all!
Design Your Visit: Go to one park at time or secure dual admission tickets and visit both, it's up to you! We managed to see both parks in one day. If you think your family can manage it, then it is doable.
Get a GPS Adventure Band: Don't worry about that wanderer in your crew! Waterproof wristbands embedded with RFID technology are available for parents concerned about getting separated from their kids. They track everyone in your party and capture memories at interactive spots throughout both parks.
Complimentary waterproof wheelchairs are available: Morgan's Inspiration Island has specially designed lightweight waterproof wheelchairs available on a first-come, first-served basis! They fit a variety of heights and sizes and there is no cost to use them!
A few details about food: Feel free to bring a picnic to Morgan's Wonderland. But please don't bring them to Morgan's Inspiration Island unless it's for medical purposes. Food is controlled in the water park to protect the attractions. The park has places to purchase food as well as designated dining areas.
Service animals are allowed, but pets are not permitted: Both parks have designated rest areas complete with disposal bags for service dogs.
Parking is free: That's right! Zip, Zilsch, Zero is what you pay for parking!
Lead image by: Flickr/Nan Palmero