Family vacations in Missouri have been keeping folks happy for generations. The "Show Me State" offers lots of great things to do in Missouri with kids. From nature-based fun in the Ozarks to barbeque in the big city, here are our top picks for families.
Things to do in Missouri with Kids on a Family Vacation
1. Show Me…. Some History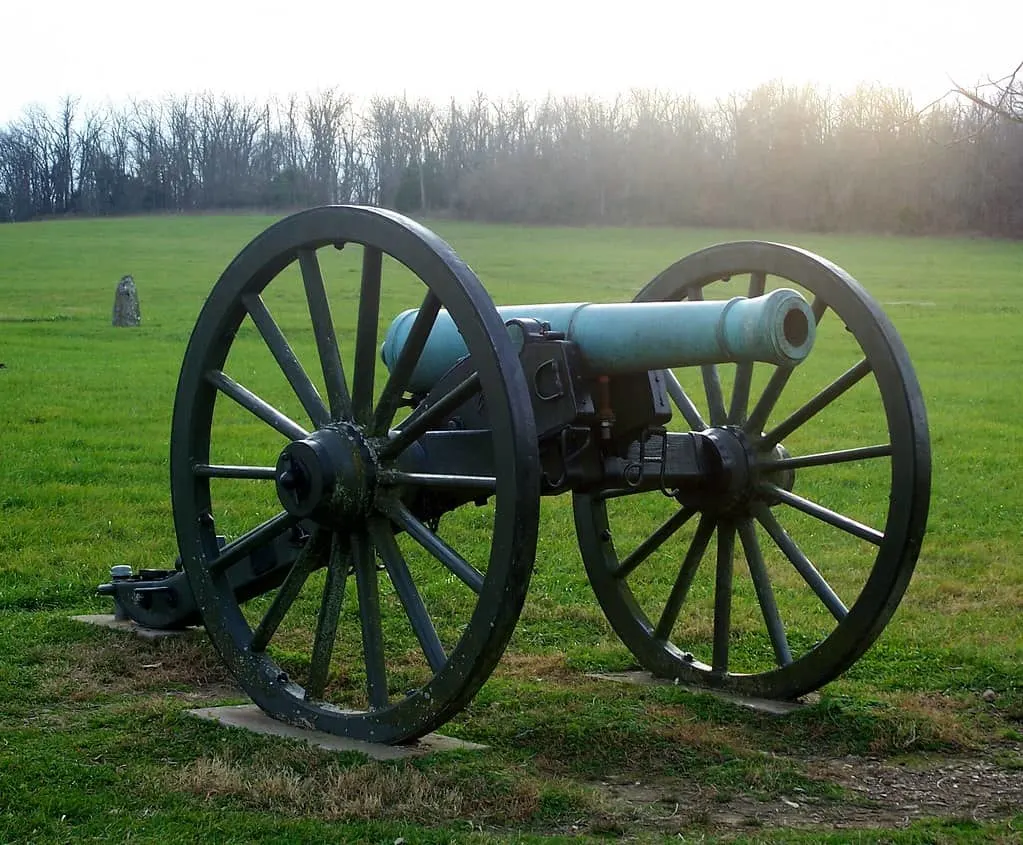 Remember playing Oregon Trail in grade school? Missouri was always on the map. And although families likely will not experience driving oxen (and there's no threat of Cholera these days), they can still witness history in several places across the state.
Presidential pasts, Civil War relics and reenactments, and the Trail of Tears can all be part of an educational vacation experience.
Make history come alive at a festival like Herman Maifest, an old German traditional festival featuring a kid's bounce park, blacksmithing demonstrations, and Junior Wurstjaeger Dancers.
2. Show Me… Wild Times, Rides, and Water Slides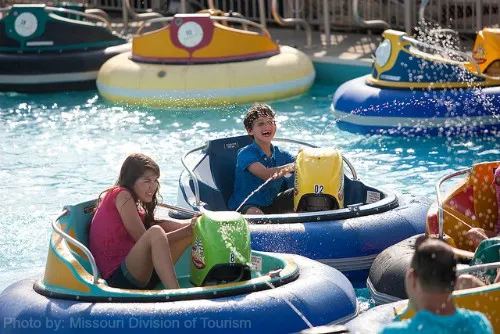 Amusement and thrills across this exciting landscape are plentiful. Find some excitement at Lake of the Ozark's Big Surf Waterpark (outdoor) with flumes, rapids, and a lazy river, complete with beach areas for lounging.
If the weather is not to your liking, the Timber Falls (indoor) will satisfy the need for wet and wild adventure with water slides, activity pools, and the ever popular lazy river.
Silver Dollar City and Branson boast several wild rides, go carts, and animal encounters within their borders as well. You might find that the lesser-known Predator World is just what a curious kid needs to liven up the day!
White Water Park, duck rides, and even Father Christmas (which isn't a ride, but is no less thrilling and unique for young kids), can be found in the "Live Music Show Capital of the World."
So if you're up for the rush of rides, make time for more than just the local talent while in town. Miner Mike's and Buster's is an indoor family fun center with themed name rides like Chuck Wagon Ferris Wheel and Mine Train Roller Coaster to set the scene and make you scream. There is some high-tech fun for older kids at Buster's that adults will find entertaining too!
3. Show Me… Mark Twain's Roots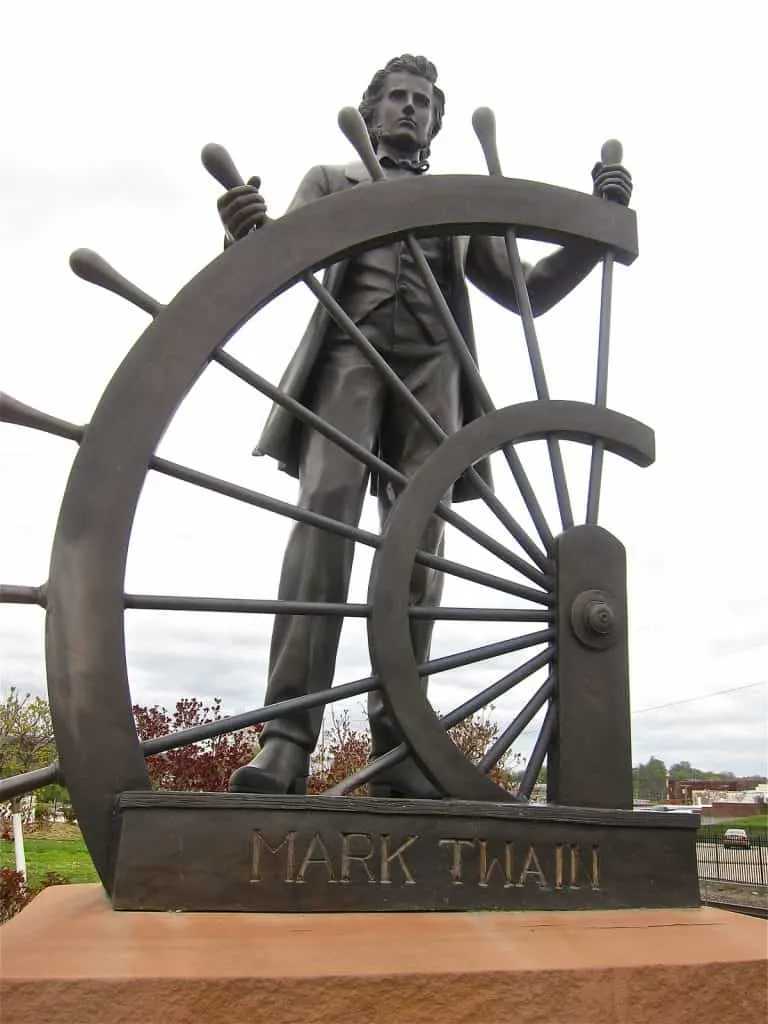 Nothing harkens back to days of childhood adventure like seeing a river boat or recalling a scene from The Adventures of Huckleberry Finn. If reading the book was a rite-of-passage, then experiencing where Samuel Clemens (a.k.a. Mark Twain) was inspired to put pen to paper is epic.
Plan your trip around National Tom Sawyer Days and experience a National Fence Painting or Frog Jumping Contest.
The Harvest Hootenanny is another Hannibal gem that includes a Grape Stomp, pumpkin carving, food, and family fun!
Show the kids a little literary genius by exploring sites that reach into the back-story of Samuel Clemens, such as the Mark Twain Boyhood Home and Museum, Jim Waddell (as Mark Twain) in live stage performances, and the Mark Twain Cave Complex.
Enjoy some quirky fun at Sawyer's Creek Family Fun Park where kids can play mini golf, bumper boats, or water wars. The Mark Twain Riverboat and the Mississippi River set the stage for some great conversations from favorite Mark Twain stories.
4. Show Me… St. Louis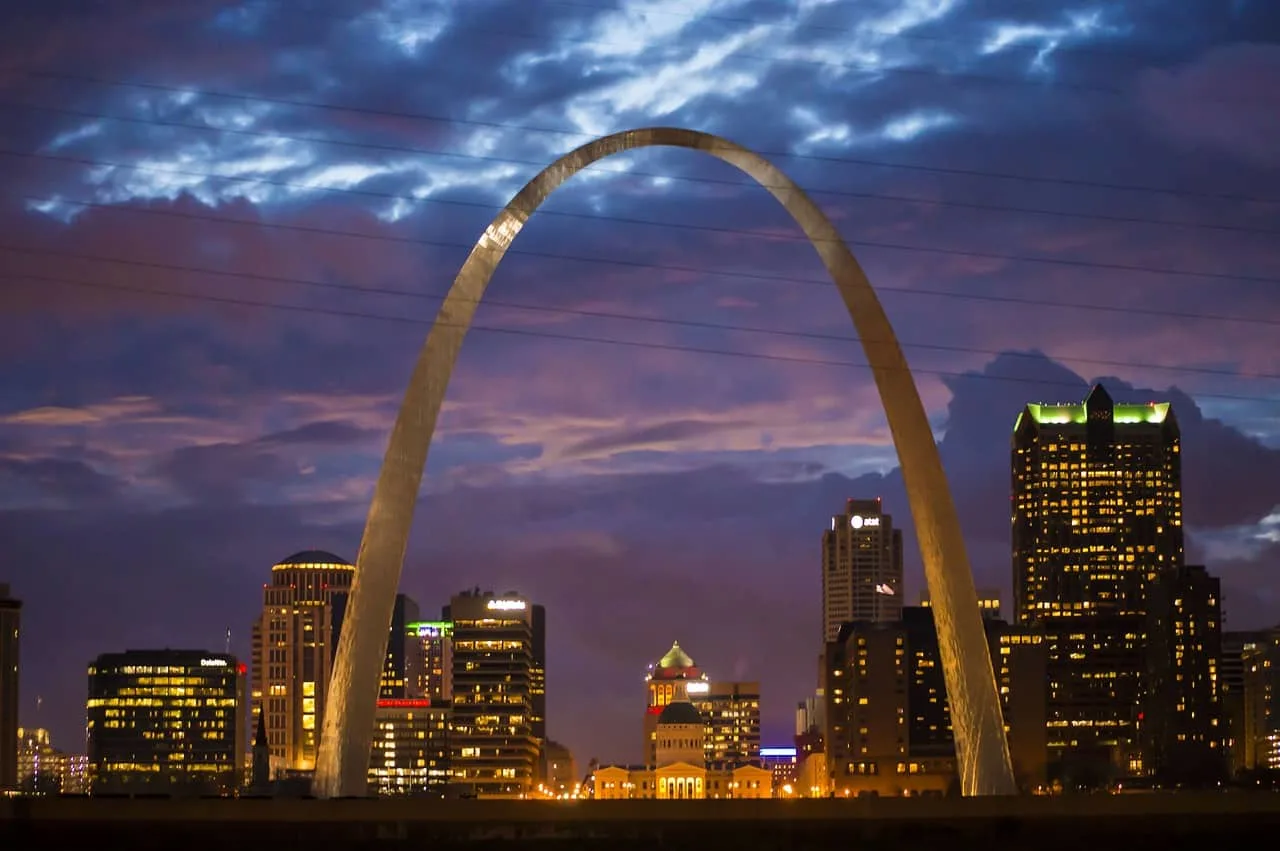 "Meet me in St. Louis, Louis! Meet me at the fair!"
Artists for decades have been paying tribute to this great city with melodious ditties, twangy folk songs, and even some rap. Jewel, Nelly, and Judy Garland were just a few artists that put the place back on the map and the songs on repeat in our heads. Is there any wonder why they'd be inspired to sing about a city so rich in history, grandeur, and American spirit?
Enjoy the great American pastime of baseball by catching a game in St. Louis, home to the Cardinals.
Enjoy Grant's Farm (owned and operated by Anheuser-Busch), a free attraction that is home to the Budweiser horses that grace the television scenes of Superbowl crowds each year, free animal shows, and other family-friendly activities.
Try the widely acclaimed Ted Drewe's Frozen Custard (some say it is top five in the country for taste!) and the Magic House Museum, a favorite with science fun and hands-on exhibits.
A must-do for any Missouri traveler is the Gateway Arch National Park, where visitors can ride to the top for a view of the city. Explore the Missouri Botanical Gardens filled with lots of vibrant color, fragrance, and plenty of open space to roam.
Trekaroo Tip: St. Louis boasts more free attractions and activities than most cities across America. A visit here won't break the bank! Here are our favorite things to do in St. Louis with Kids.
6. Show Me… Kansas City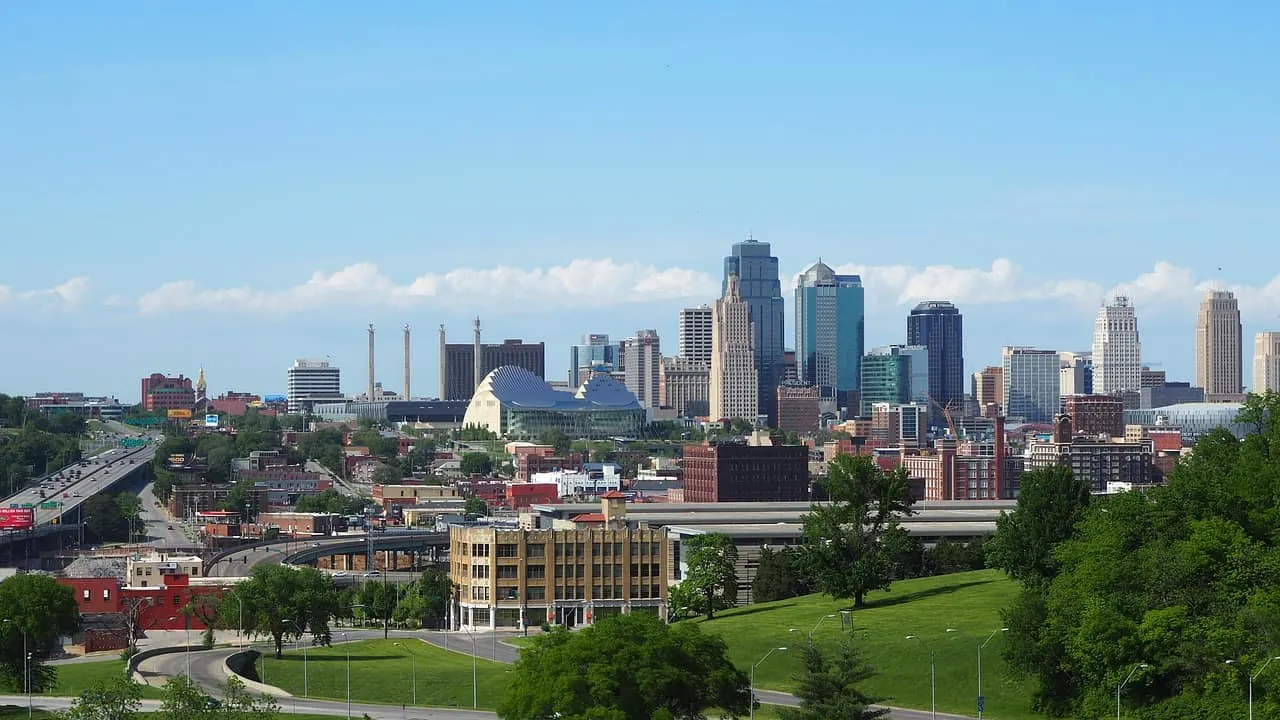 This very up-to-date city is worth a vacation all on its own. From amazing kid-friendly attractions and experiences like LEGOLAND Discovery Center, SEA LIFE Aquarium, the KC Zoo, sporting events, and theme parks, your littles will be highly impressed.
Mom and dad will be surprised by the vast amount of cultural and historic encounters available in this great city as well.
The metropolitan culture of this Midwestern city brings with it a palpable focus on art and architecture, with a variety of massive and thriving museums and galleries, stunning buildings, and more fountains than any other city outside of Rome! Fountain hunting makes for a great scavenger hunt while in KC.
6. Show Me… Parks and Playspaces in the Great Outdoors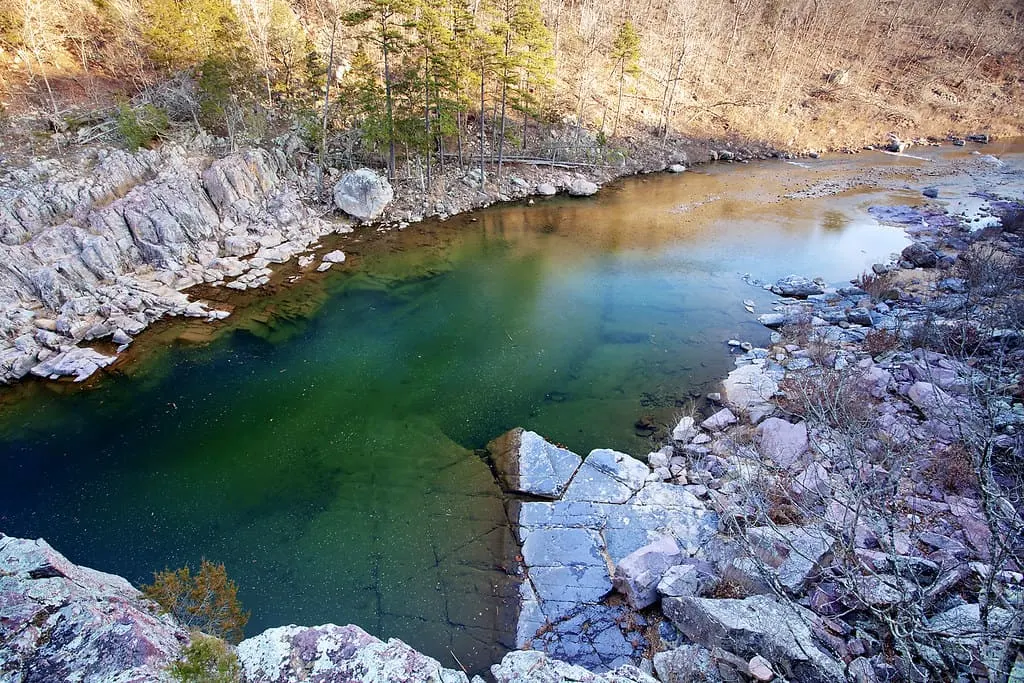 Johnson Shut-Ins State Park, in Southeast Missouri, is a most interesting place that is worth a slot on your itinerary. The park is sure to give your kids a lesson in geography on the sly, so kick back, camp-out, and let Mother Nature's classroom be your guide!
With a variety of programs during the summer months, as well as plenty of activities that will keep the family busy, it's worth spending a night or two at this park!
Natural swimming areas, hiking, and time together away from it all, will be the highlights of your family adventure. The park has cabins along with areas to pitch a tent.
For a kids' midsummer night's dream come true, frolic and play while trying to catch lightning bugs that electrify the evening sky after sunset.
7. Show Me… St. Louis Zoo and Forest Park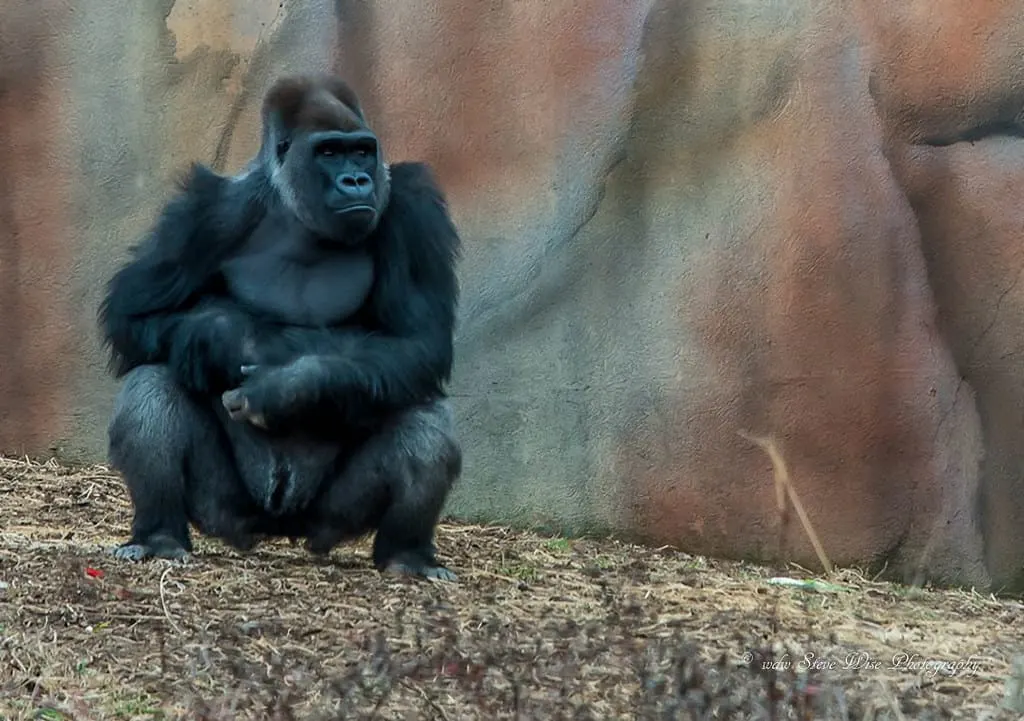 The St. Louis Zoo made our Best Zoos in the United States (as voted by all of you zoo-loving members). A major perk is that it offers FREE admission!
Families delight in top-notch exhibits like the River's Edge, where hippos, Andean bears, and several other lesser-seen, but ever-so-popular crowd pleasers, and critters indigenous to Missouri, entertain the crowds.
There are also special opportunities for kids such as a hands-on area for close-encounters with the Caribbean kind (think Stingrays, sharks, and horseshoe crabs).
Catch a ride on the Zooline Railroad or the Conservation Carousel, scope out the Sea Lion Show, and take in the Children's Zoo Live Animal Show. Animal feedings, movie experiences, zookeeper chats, and so much more add to the experience.
The St. Louis Zoo, made official by the St. Louis Zoological Society in 1910, is part of the historic Forest Park, which is one of the country's largest urban parks and was the site of the 1904 World's Fair walk-through Flight Cage.
Enjoy a picnic, a round of golf, or simply experience the historic and beautiful floral displays in this expansive park. Going strong for more than a century, this is a stop that you simply must not miss while in Missouri.
8. Show Me… Caves and Caverns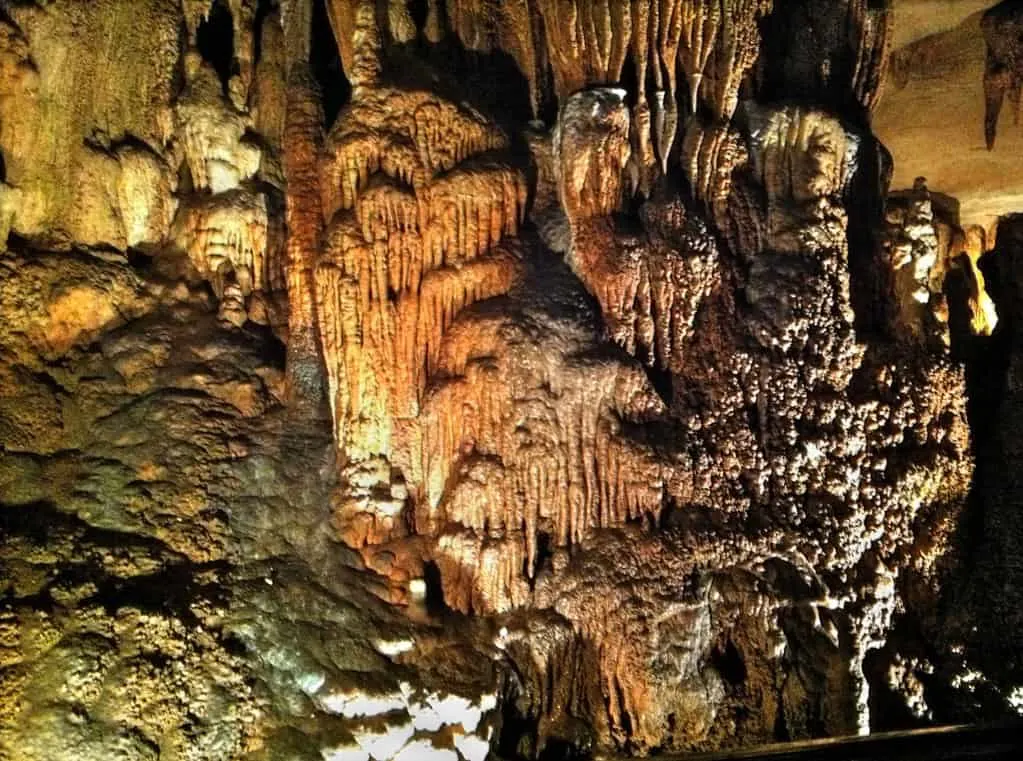 Missouri has more than 6,000 caves and when it's not being called the "Show Me State" it also claims the moniker "The Cave State." There are a few dozen caves that are open to the public.
If you're not a spelunker, no worries! There are very easy to moderate walks and tours that show the splendor of what lies beneath the surface of this state.
Among the popular caves are the Mark Twain Cave near Hannibal, the Marvel Cave at Silver Dollar City, and the Fantastic Caverns in Springfield. Also worth a stop for those with a little outlaw spirit in their hearts is the hideout of Jesse James – Meramec Caverns!
9. Show Me… Lake of the Ozarks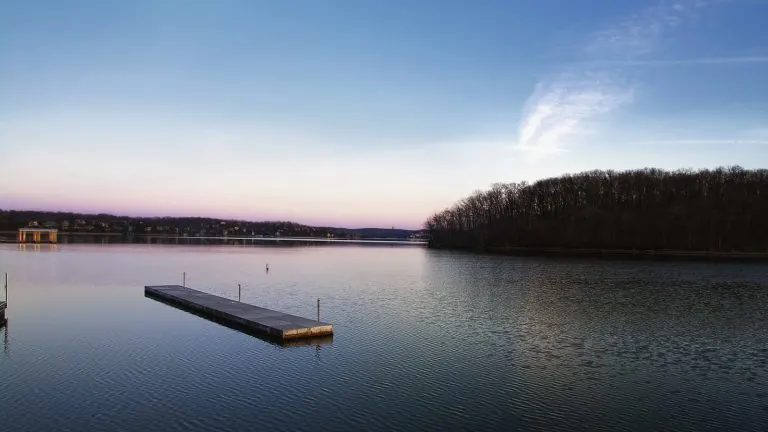 The natural splendor of the Ozark Mountains is unmatched. The myriad of colors at sunset will have everyone in the family awestruck as they watch the last tendrils of sunlight dance across the water. This is exploring nature at its finest.
Even if you aren't looking for a "back to nature," boy-scout type experience, Lake of the Ozarks has plenty of luxury and family resort options for activities and lodging with a gorgeous backdrop.
With paddling adventures and fishing galore (hopefully some catching too), the lake provides ample opportunities to show the kids how to have fun in the outdoors.
For gallons of fun (617 billion to be specific), make time for Lake of the Ozarks on the family itinerary. For those that like a little more luxury, think lakeside water play. There is opportunity for golf, shopping, pampering, and dining in style.
Enjoy an adrenaline-packed activity smorgasbord with banana boats, jet skis, and even some crazy fun for land lubbers, like riding in an inflatable sphere downhill. This place has enough to please the entire array of personalities and interests in your minivan.
10. Show Me… Branson and Silver Dollar City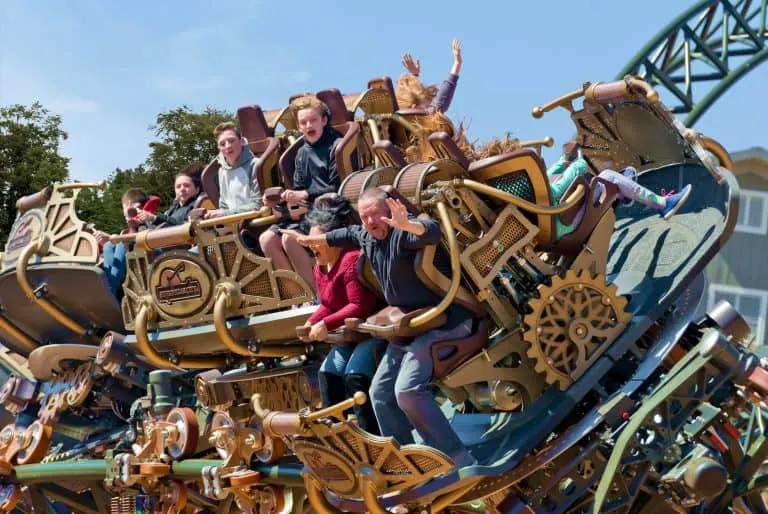 Branson has been famous for decades as one of the best places to enjoy shows, entertainment, dining, and a lively atmosphere in the Midwest. Enjoy ice cream shops, family-friendly entertainment, and all the shows that you can handle.
Silver Dollar City has been Branson's #1 attraction for over 50 years! This 1880's-style theme park continues to thrill park guests with festivals, restaurants, live shows, and unique shopping experiences.
Experience Dolly Parton's Stampede (think yummy dinner and a dazzling show), the Branson Scenic Railway, and the Titanic Museum to round out your Branson experience.
Discover the Top 10 Things to do in Branson with Kids.
Find Things to do with Kids Near You!
From coast to coast, we're determining the Top 10 Things to do with Kids in each state of our great nation.