Last Updated on
Trekaroo generates revenue from purchases made through links to our partner brands.
What are the best things to do in Wisconsin with kids? Wisconsin is the quintessential Midwestern state with a boat load of variety to boot. With shoreline on two of the Great Lakes, some pretty rocking metropolitan areas, a waterpark bonanza, and a legacy of farming and agriculture, Wisconsin offers a medley of attractions for families to enjoy. Gear up with your fishing pole and grab some cheese for a fantastic tour.
10. Be a Cheesehead
Photo by: Flickr/gilmorec
Kids LOVE cheese. Wisconsin is America's dairyland producing more than 30% of all of the cheese consumed in USA. Discover the art of cheese making with your family by heading to one of Wisconsin's many cheese making factories offering samples, retail stores, ice cream shoppes, and viewing windows for kid edu-tainment. The Union Star Cheese Factory in Fremont is a fourth generation operation where cheese is still made by hand with tours offered most mornings. Watch them make the curds and then sample the fresh cheese.
Looking for a place to stay in America's dairyland. Check out these fabulous Greenbay hotels visited by Trekaroo families.
9. Get your Museum On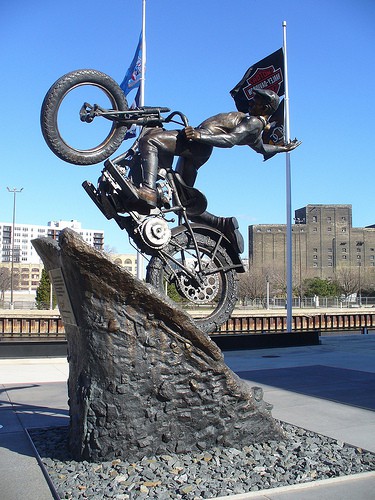 Photo by: Flickr/Sean Hackbarth
Wisconsin has a ton of museums for you to scope out. Are motorcycles your thing? Check out the Harley Davidson Museum where your child can gear up and sit on the real thing or design their own motorcycle. Desire less vroom and more culture? Head for the child friendly Milwaukee Art Museum, a multicultural museum with a variety of art. They offer art packs that are designed for kids to further enhance their stay at the museum as well as classes and hands on areas. The Madison Children's Museum, often voted one of the best in the country, offers three floors of interactive exhibits ready to engage and delight your little learners. Two highlights: A global village called Wildernest for the under 5 crowd, and Possible-Opolis ™ a building learning lab for the older kids to create whatever they deem possible.
Find more museums to visit across Wisconsin.
8. Explore Milwaukee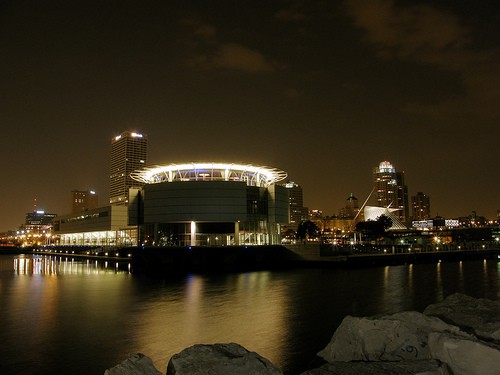 Photo by: Flickr/Steve Paluch
Milwaukee is a great metropolitan area for exploring with a family. A walking tour of the city allows for exploration of historic buildings, great restaurants, and grand views of Lake Michigan; you can find plenty of attractions in this vibrant and progressive city. Discovery World boasts over 150 interactive exhibits that will certainly provide hours of hands on fun: storm creating lightning tracks, guitar equipment for sound investigation, an aquarium, and flight simulators round out the highlights. The little ones will love Betty Brinn Childrens Museum. Take a tour of the Milwaukee shoreline from the waters of majestic Lake Michigan with the Milwaukee Boat Line. If you are lucky enough to visit in the summer, check out Milwaukee's famous 11 day Summerfest with music, entertainment, and local foods.
Research more fun activities or book a hotel in Milwaukee.
7. Search for Rocks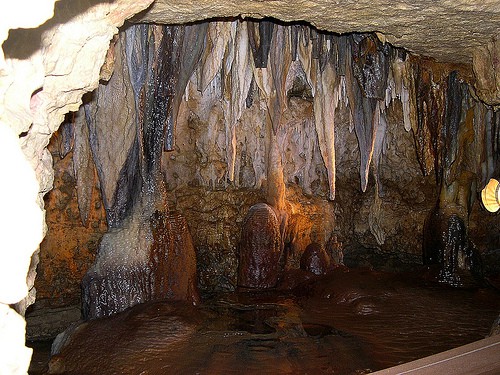 Photo by: Flickr/Jason Sturner 72
Visit the Cave of the Mounds National Natural Landmark; the underground lighted caves boast remarkable crystal formations that are easily accessible year-round as it is always 50 degrees. Kids will enjoy learning about spelunking, viewing stalactites and stalagmites, and pondering over the 400 million year old rock formations. Outside the caves there are trails, butterfly and rock gardens, and the Children's Discovery center for more hands on exploration. Visit the nearby House on the Rock where Alex Jordan built his summer home on shifting sandstone. The house is an architectural feat in itself, but Mr. Jordan's absolutely AMAZING collections are also part of the display: a large carousel ridden by dolls, a roomful of Santa Claus objects, fabulous organs, and much more. This is a place that must be seen to be appreciated.
6. Step Right Up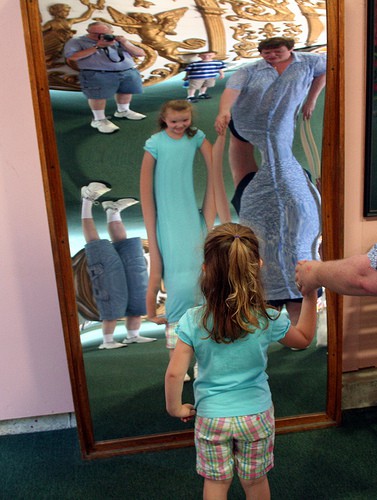 Photo by: Flickr/iluvcocacola
Step right up to Circus World, the original training site for Ringling Brothers. Fifty acres of circus themed exhibits and exhibitions offer your family the chance to while away the day under the Big Top. Take in circus displays, see circus acts, watch a sideshow, catch a magic show where the audience can get in on the act, or visit with the circus animals including a baboon named Vanna. Kids can even learn some circus skills like hoola-hooping at the Kids World Interactive Circus to get ready for their own circus production. Make sure you take some pictures!!
Share your favorite circus-themed activity with Trekaroo.
5. Feeling Superior on the Apostle Islands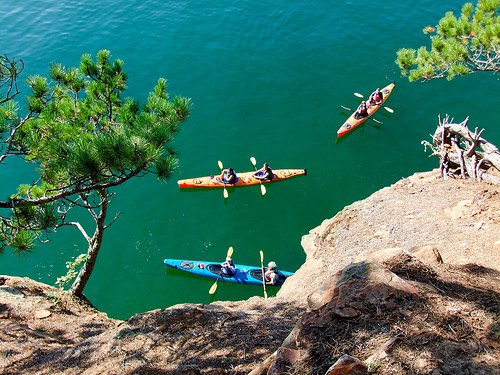 Photo by: Flickr/The Cut
Near the mainland shores of Lake Superior are a chain of 21 unspoiled islands known as the Apostle islands. Not too long ago Americans called these islands home, working and raising their kids here; today while hiking on them you can find relics of this past. In addition to hiking, the islands provide camping opportunities, sailing adventures, and tours and shuttles between the islands with the Apostle Island Cruises. Sea-kayaking for kids 8 and up is another terrific way to explore the islands with the family friendly Living Adventure Outfitters. If remote camping is not on your list, the cozy Midwestern town of nearby Bayfield has charming inns and cottages dotting the lake such as the Seagull Bay Motel.
Book a room near the Apostle Islands.

4. Catch a Game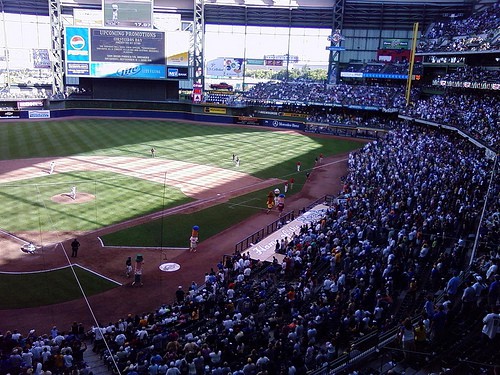 Photo by: Flickr/dj0ser
Wisconsin is home to some serious sports fans. Miller Field is the home of the local MLB affiliate, Milwaukee Brewers. Public tours are available in season, or of course you can just take in a game. Kids 14 and under can join the Brewers Kid's Club to receive a cap and tickets. The mascot, Bernie Brewer, makes his way through the stands and on selected Sundays the five Famous Racing Sausages™ take to the field for some funny races. As for you cheeseheads, you can visit with the Green Bay Packers NFL football team at famously frigid Lambeau field in Green Bay. Diehard fans can brave the field's notoriously chilly temperatures, and stadium tours are available for a more temperate visit to the field. Nearby, the Hall of Fame is full of memorabilia and hands on activities.
3. Find a House on the Prairie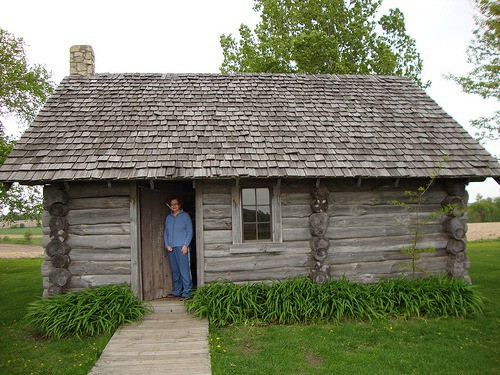 Photo by: Flickr/loyaldefender2004
From hills and lakes, to forests and prairies, Wisconsin has a variety of landscapes. At Old World Wisconsin your family can discover the life of a late 19th century immigrant farmer. The facility holds barn dances, tours about life on the farm, and Laura Ingalls Wilder days which offer activities from her series of books and look alike character contests. For more about Laura, head to the Laura Ingalls Wilder Museum in Pepin, the starting point of the Laura Ingalls Wilder Historical Highway which links all of the important Ingalls Wilder stops across the Midwest. In Pepin there is even a reproduction of Ma and Pa's house and an annual Laura Days festival.
2. Attend a Fish Boil in Door County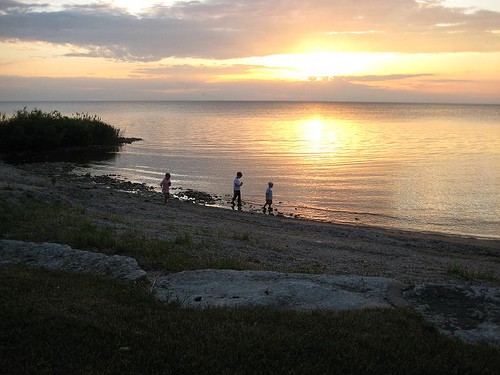 Photo by: Flickr/Sean McGinnis
Known as the Cape Cod of Midwest, Door County is a peninsula between Green Bay and Lake Michigan. The shoreline is scattered with quaint villages boasting shops, art galleries, museums like the Door County Maritime Museum, and restaurants necessary for the requisite fish boil. Try Pelletier's, which lights up its fiery spectacle nightly rain or shine. You can choose to slow down and relax here at the beach, or get active while fishing, biking, sailing, hiking, camping, and lighthouse spotting at one of the five state parks like Peninsula State Park. With so many state parks, there is plenty for an active family to do; you can climb the 184 steps to Lookout Tower and see it all from above tree line! Rent a bicycle or kiddie Tag-A Long from Nor-Door Sport and Cyclery to enjoy one of the many bike paths. From the water, kayak along the shores or head for a zip line from GravityTrails. You will not be bored in Door County, unless of course you want to be!!!
Do you know of some other great family friendly activities in Door County? Trekaroo would love to hear about it!
1. Get Wet in the

Dells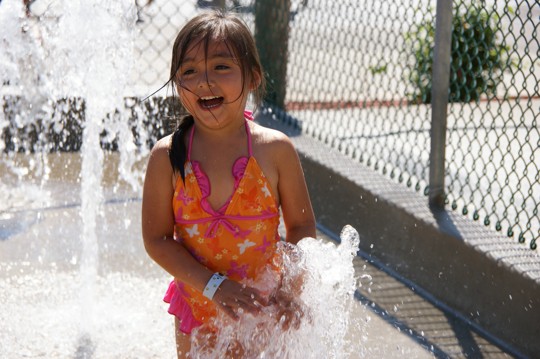 Photo by: Trekaroo/jeanniem
The Wisconsin Dells is the Waterpark Capital of the World™ as they boast more indoor and outdoor water parks than anywhere else! A few of the favorites are the Mount Olympus Waterpark offering both an indoor and outdoor water park, and Noah's Ark Waterpark billed as America's largest waterpark with 51 attractions including the newest racing slide Quadzilla. There are rides here for all ages. In addition to these parks there are plenty of other activities in the Dells: pottery shops, zip-lines, go-carts, and horseback riding – the list is endless. You can spend an entire week here at the Dells and always be busy. Be prepared to get wet and have fun.
Book a room at a Wisconsin Dells hotel to extend your water park vacation.

Special thanks to Michelle Brennan who wrote first version of this article.
What state do you want to visit next?
From coast to coast, we're determining the Top 10 Things to do with Kids in each state of our great nation. Head here to see what tops the list in your favorite state.