Experience the rich histories, invigorating forests, and refreshing lakes of Arizona mountain towns. These destinations promise dazzling colors in the fall, snowy winters, and cool summers.
From the mountains near Flagsstaff to the White Mountains in the east, use this guide to escape the desert and find your favorite place to hike, fish, or just relax surrounded by cooler temperatures and lots of natural beauty
18 Amazing Arizona Mountain Towns
Arizona Mountain Towns in the White Mountains
Greer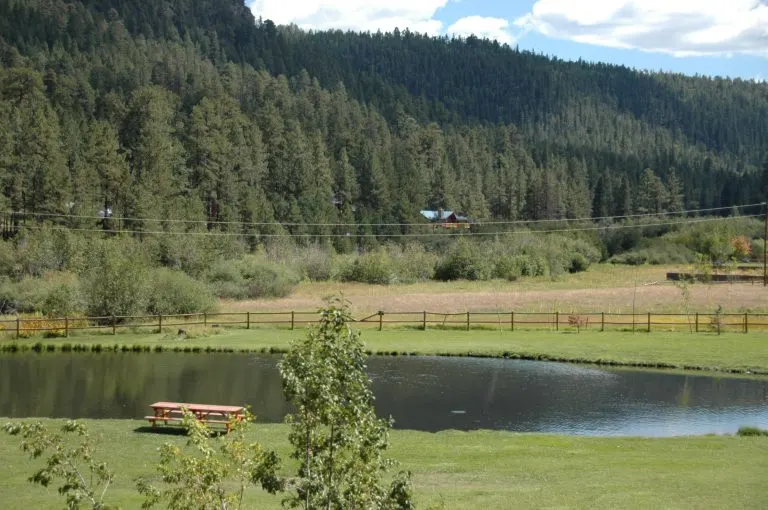 Elevation: 8,356′
Population: 58
Hidden in the gorgeous White Mountains is the cozy town of Greer, Arizona. Blanketed with snow in the winter and teeming with color in the summer, Greer is a perfect year-round destination.
The Apache Sitgreaves National Forest encompasses Greer and the surrounding area. Head into the trees for forested hikes. To the east, the 1.2 mile Butler Canyon Trail promises aerial views of Greer.
Another option is the Government Springs Trail which starts on the Little Colorado River and continues into the rugged forests. This trail is 5.3 miles, but worth a try even if your family isn't up for the whole hike.
The Little Colorado River cuts right through Greer. Brave families can take on the rapids. For calmer water recreation, visit Bunch Reservoir, Tunnel Reservoir, and River Reservoir. All offer space for kayaking, swimming, or fishing.
There is always lots to do at Sunrise Park Resort. In the winter, enjoy skiing, tubing, and ski bikes. In the warmer season, the resort offers lift-served downhill mountain biking, rock climbing, horseback riding, and scenic lift rides. Visitors can even camp and fish here. Early 2023 Sunrise Park Lodge will re-open with hotel rooms, indoor pool and hot tub, and a restaurant.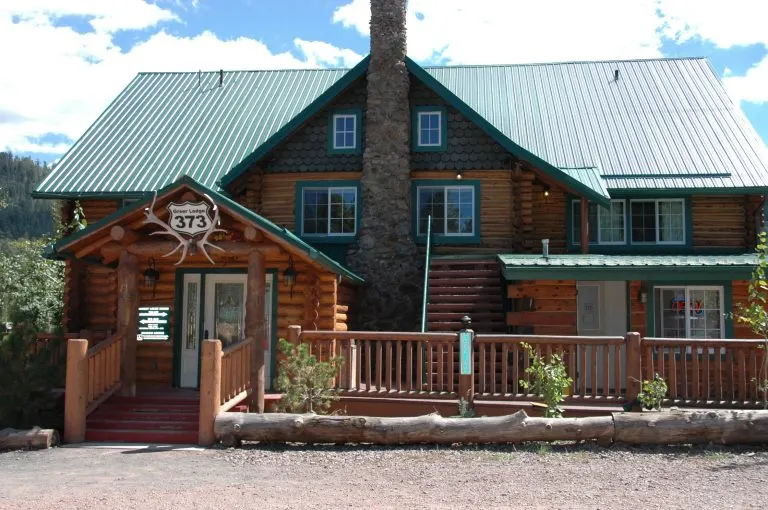 The restaurants of Greer are well loved by locals and visitors alike. At Molly Butler Lodge & Restaurant, dine on grilled salmon, prime rib, and more. Or check out the quirky decor of Rendezvous Diner while enjoying their tasty homestyle meals.
Beautiful campgrounds fill the forest around Greer and are a great choice for staying overnight when the weather is nice. There are also rental cabins around town, including Greer Lodge Resort & Cabins. All of the cabins here are located on or near the water.
Alpine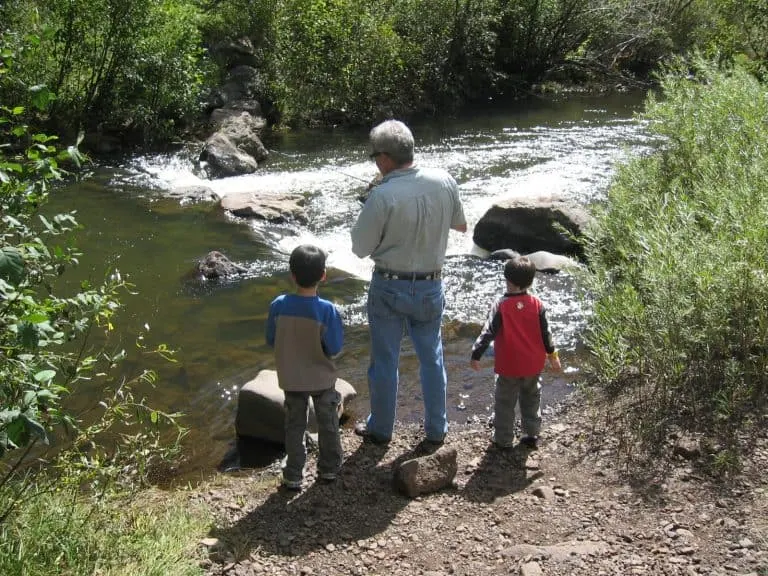 Elevation: 8,012′
Population: 176
You don't have to fly across the ocean to visit the Alps. The mountain town of Alpine is known as "The Alps of Arizona" with running streams, mountain lakes, fir, aspen and pine trees. In the summer, the cool temperatures attract visitors from the lower lying areas of the state.
In addition to the weather, the outdoor activities draw families to Alpine. It's a great place for hunting, bird watching, and off-roading. In the winter, Williams Valley Recreation Area has miles of cross-country skiing trails. Families can rent skis or snowshoes from Hannagan Meadow Lodge.
Hannagan Meadow Lodge is also a great place to stay and eat while in Alpine. Since the 1930's they have been providing rooms and meals to visitors. They also offer tours like UTV rides and horseback riding through White Mountain Adventures.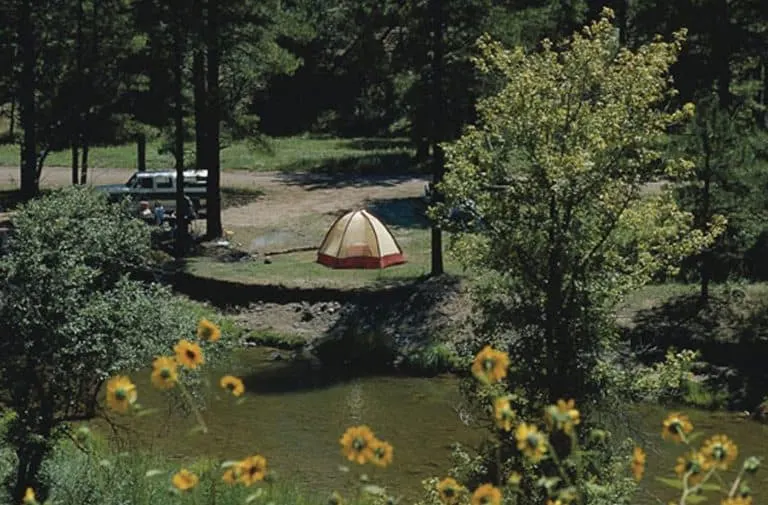 There are a few other restaurants in Alpine, each with an all-American menu. Bear Wallow Cafe is a great place to eat some biscuits and gravy or fresh baked pie. Alpine Grill also serves delicious pies, and customers rave about their large servings.
In addition to Hannagan Meadow Lodge, there are other lodges and cabins available to overnight guests in Alpine. There are also plenty of campgrounds and RV parks nearby.
Springerville-Eagar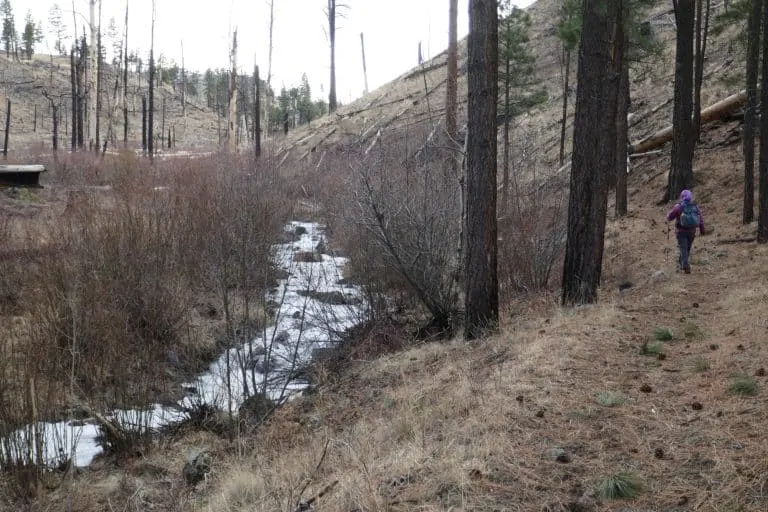 Elevation: 6,967′
Population: 1,716
Throughout history, the lush area of Springerville enticed visitors. Ancestral Puebloans, the Spanish explorer Francisco Vázquez de Coronado, and even dinosaurs have all left their mark here. With mountain lakes and rivers, an abundance of wildlife, and lush vegetation, it's no wonder so many have called this place home.
A great place to start your visit is back around 1300 AD at the Casa Malpais Archaeological Park & Museum. A solar calendar, a Great Kiva, rock art, and an ancient staircase testify for the original inhabitants of Springerville. The only way to see the site is on a guided tour, so call ahead to ensure a reservation during the busy season.
Jump forward in history by taking a drive along part the Coronado Trail, which begins in Springerville and continues 116 miles south. If you prefer exploring the outdoors by foot, there are family-friendly hiking trails around too. The Lake Mountain Trail and Springerville River Walk both offer secluded wilderness experiences that kids love.
Miles of mountain rivers and streams, plus all the lakes in the area invite anglers to hone their fishing skills. Colorful wildflowers and fall foliage keep photographers snapping pictures. And the absence of city lights makes the night skies come alive with brilliant stars.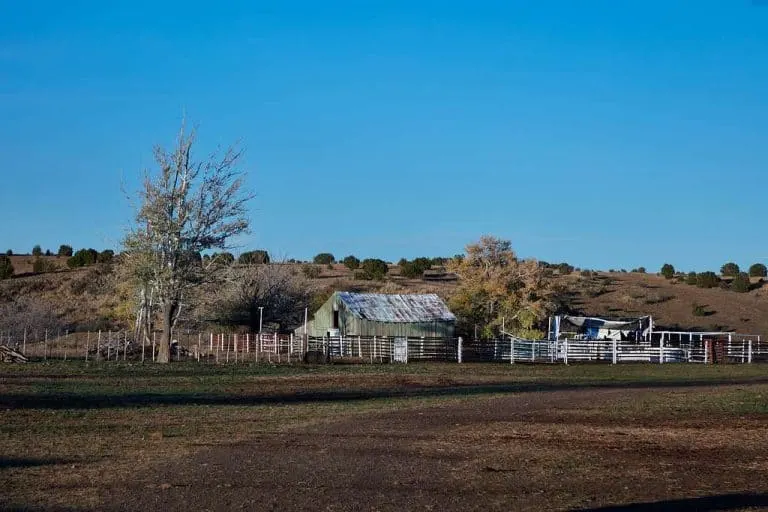 You can discover more about the history of the area at some of the museums in town. The Springerville Heritage Center tells the stories of the original settlers of the area, its ranching history, and showcases local art.
At the White Mountain Dinosaur Exploration Center, where you can learn about four new species of dinosaurs that were discovered in the area.
In addition to a few popular fast food joints, you'll find some unique country dining options. Locals rave about Avery's brisket and other tasty barbeque options. At Booga Red's Restaurant, try some southwest creations, like their Ortega Burger topped with Ortega chile strips.
Staying overnight in the Springerville-Eagar area is easy with lots of campgrounds, RV parks, hotels, and vacation rentals. One option is the 1949 country-style hotel, Reed's Lodge, which features a beautiful lobby, fireplaces and free light breakfast.
Pinetop-Lakeside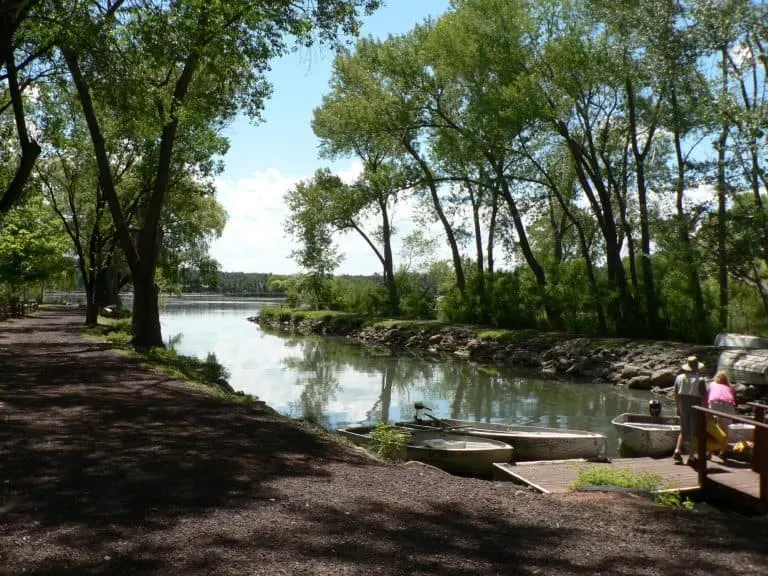 Elevation: 6,804′
Population: 4,102
Sitting at 7,000 feet elevation surrounded by the natural beauty of the Apache-Sitgreaves National Forest and White Mountains is the gorgeous Arizona mountain town of Pinetop-Lakeside. The clear night skies and clean mountain air, not to mention all the outdoor adventures make this town a great retreat.
Pinetop provides four seasons of fun. In winter, take to the snowy trails for some cross-country skiing or snowshoeing. When the snow starts to melt in the spring, take a hike among the blooming wildflowers and shady pines. You may even spy some wildlife returning from hibernation.
The summer offers opportunities for water activities and fishing in Pinetop's numerous lakes and streams. Shops like Pinetop Bike Shop and Rainbow Lake Rentals offer equipment rentals for bikes and boats. And in the fall, witness some of the best fall colors in the nation.
Pinetop offers all the luxuries and amenities of a larger town. At White Mountain Family Fun Park families race around on Go-Karts, battle in the arcade, or play a round of mini-golf. For when you want some downtime, WME Theatres shows all the latest movies. And if you're lucky enough to squeeze in some me time, you can head to Spa Estique for a spa treatment.
All the best small towns have lots of parades and community events, and Pinetop-Lakeside is no exception. Their signature events are The Chili Cook-Off in May, the Balloon Festival in June, and the Fall Festival Weekend in September. Be sure to check around town to see what community events are happening while you're there.
Discriminating foodies love the many local restaurants of Pinetop. Darbi's Cafe gets rave reviews for its large portions and comfort food. And Los Corrales is one of the best Mexican restaurants in the White Mountains. For dessert, try Mountain Dream Creamery for fresh homemade ice cream.
Pinetop-Lakeside was voted the #1 cabin region in the U.S. Try one of the many cabins available for rent here and discover why for yourself. There are also a couple chain hotels and plenty of camping around.
Arizona Mountain Towns Near Flagstaff
Flagstaff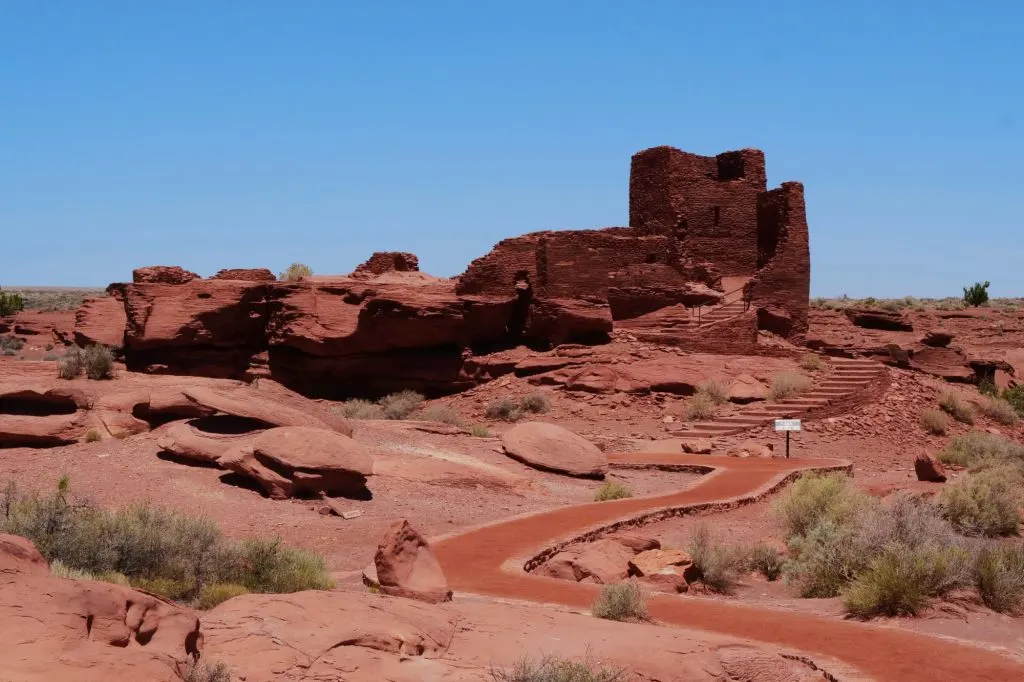 Elevation: 6,909′
Population: 76,989
The towering pines and crisp air of Flagstaff regularly welcome visitors from around the world. Flagstaff manages to have all the amenities of a large city, yet retain a small town feel. Locals and tourists flock here for the forested hikes, Native American history, and ancient lava flows.
Three national monuments call Flagstaff home. Walnut Canyon showcases 900-year-old cliff dwellings that families can actually go inside of. At Sunset Crater, hike through a lava field and learn about the volcanic activity that formed the surrounding San Francisco Peak. Then continue on the Wupatki National Monument where visitors can wander through prehistoric pueblos.
To learn about more modern history, visit the Riordan Mansion State Historic Park. Half of the museum is strictly observation, but the second half is full of interactive exhibits. Families also love to wander through the historic downtown area along Route 66, feeling the nostalgic vibes.
The sky is always clearer in the mountains, and Lowell Observatory provides a great way to view it. If visiting in the day, join a tour or just wander the "spacial walk" trails through the Coconino National Forest. A small museum offers activities and information about the discovery of Pluto, which happened here.
Plan your trip to Flagstaff with our article hightlighting 15 Fun Things to do in Flagstaff with Kids.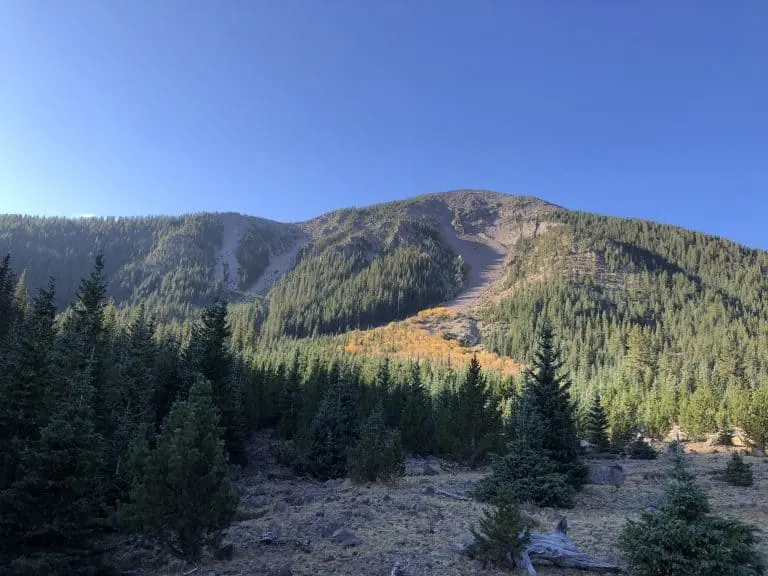 In the winter, head to Arizona Snowbowl for skiing or snowboarding. They offer lessons and have the largest beginner terrain in the southwest. Or buy a sled at a local shop and check out our article, 12 Great Spots for Sledding in Flagstaff, to find a place to zip down the hills.
Although there are many major chain restaurants in Flagstaff, try some of the local joints instead. Beaver Street Brewery serves a variety of foods, including wood-fired pizzas. Kids love watching their food being cooked in the open kitchen. Bigfoot BBQ's smoked meats beckon diners with delightful scents.
Every overnight lodging option can be found in Flagstaff. For hotels, I've always loved staying at the Springhill Suites or Embassy Suites Flagstaff for their spacious rooms and free breakfasts. But, the Little America Hotel in Flagstaff has more personality and beautiful forested grounds.
Munds Park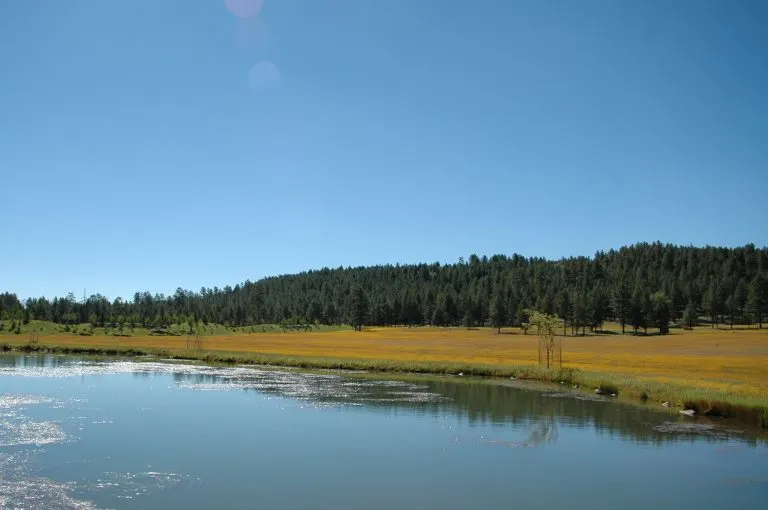 Elevation: 6,590′
Population: 755
Just 20 miles south of Flagstaff lies the small community of Munds Park. It is surrounded by the heavily forested Coconino Forest. Escape to this mountain retreat for fishing, hiking, and other outdoor recreation.
Explore the peaceful woods by hiking in the Munds Park Trail system. Both Frog Tank and Mud Tank Trails meander past watering holes with opportunities for wildlife viewing. Or try Brad's Trail for a family-friendly 2-mile jaunt through the pines.
Another picturesque place to visit in Munds Park is Odell Lake. Many trails lead to the lake's southeastern shore. Fishing is the most popular activity here, but you could also bring your kayaks and enjoy paddling around the water.
Keep your energy up with a drink from Kota's Coffee House. The menu also features baked goods, hot breakfast items, and sandwiches. For slow smoked barbeque and Thrifty ice cream, go to Agee's Barbecue Market. And locals love dining and just hanging out at the Pinewood Bar & Grill.
The best place to stay in Munds Park is Munds Park RV Resort, but only if you have a camper or RV (no tent camping). Amenities include a seasonal pool and spa, fitness center, general store, and off-road trails for bikes or ATVs. Without an RV, options are vacation home rentals or the classic Motel in the Pines.
Williams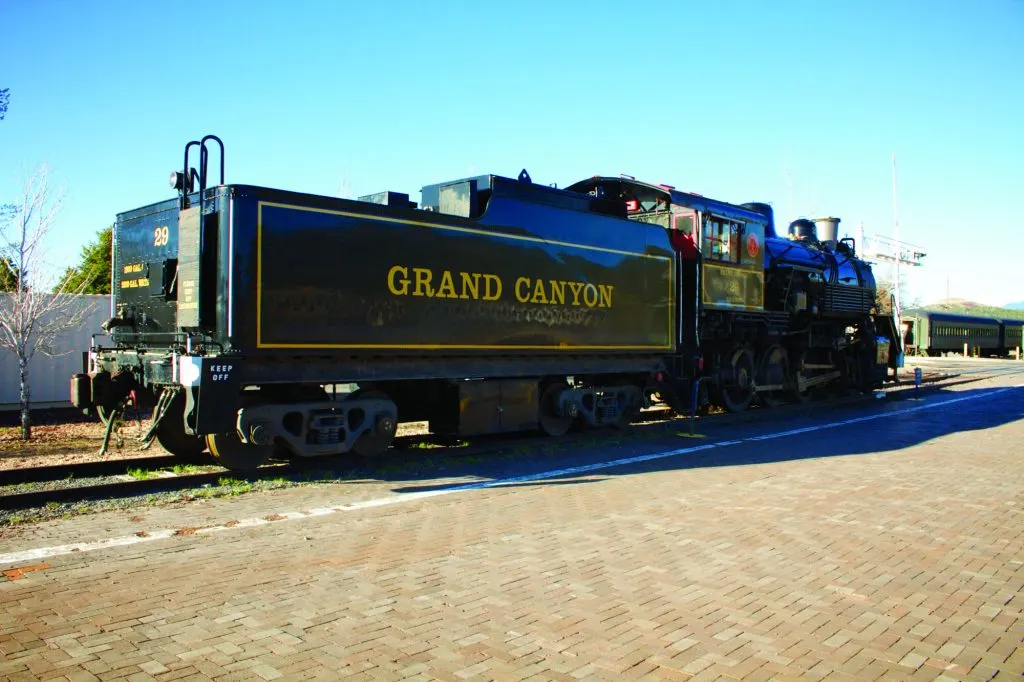 Elevation: 6,765′
Population: 3,267
The Arizona mountain town of Williams bursts with adventure and history. Its Route 66 roots and plethora of outdoor activities excite visitors of all ages. Trains, wildlife, hikings trails, and its proximity to the Grand Canyon all make Williams a fun place to visit.
Williams is known as the Gateway to the Grand Canyon, and the most fun way to get there is on The Grand Canyon Railway. Take a historic train ride, complete with western music and a cowboy showdown.
The train brings visitors to the Historic Village on the South Rim of the Grand Canyon for a three hour visit, before returning to Williams. During the holiday season, the train transforms into the Polar Express bringing families to the North Pole to see Santa and his reindeer.
You can visit reindeer all year long at Bearizona Wildlife Park. 160 acres of Ponderosa pine forests are filled with North American animals that can be viewed from your car, or by foot. Keep an eye open for wolves, deer, and of course, bears.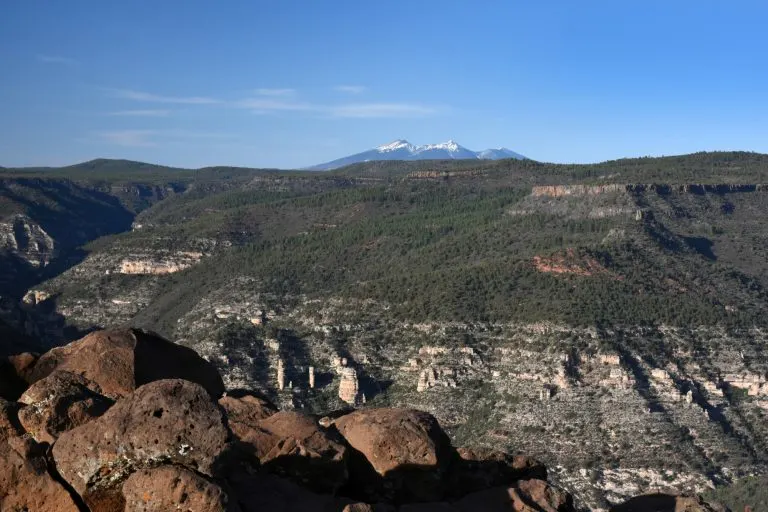 For an abundance of outdoor recreation, head into the surrounding Kaibab National Forest. The short hike to Sycamore Falls rewards visitors with spectacular canyon views year round, and two waterfalls in the spring. Five trout-stocked lakes provide premium fishing which can be done from the shore or by boat.
Dining options range from cafes to burger joints to steakhouses and everything in between. Pine Country Restaurant serves delicious homemade pies all day long, as well as breakfast, lunch, and dinner.Or if you're in the mood for quality Mexican fare, try El Corral on 66.
Hotels, campsites, RV parks, and vacation rentals all offer overnight accommodations in Williams. One fun option is the Grand Canyon Railway Hotel with its historic feel and indoor pool. The Grand Canyon KOA also has a variety of accommodations for all budgets and family sizes.
Arizona Rim Country Mountain Towns
Payson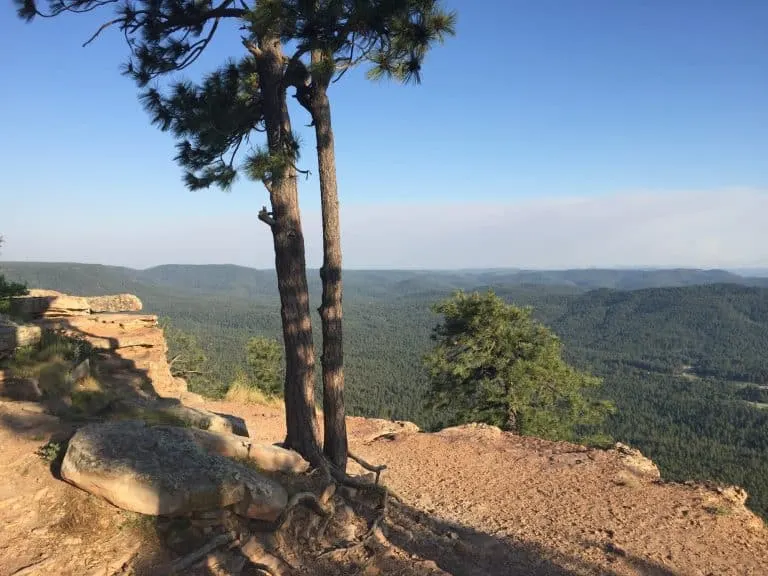 Elevation: 5,003′
Population: 16,516
Just 90 minutes from Phoenix, you'll find the western town of Payson. Sitting at 5,000 feet in elevation, the forested air is fresh and cool. Full of adventures, history, and personality, Payson makes an ideal day trip or overnight getaway.
Get your adventures started with some hiking or mountain biking through the Payson Area Trail System. Families love the Monument Peak Loop Trail, which wanders through shaded woods, an open meadow, and even a seasonal stream. Another popular trail is the nearby Water Wheel Falls Trail that leads to a refreshing swimming hole.
Speaking of water, the Rim Country around Payson is full of recreational lakes. Willow Springs Lake has the closest access from Payson and is a beautiful place to fish or just take a boat out on the water. For fishing or a picturesque water hike, head to Horton Creek which is a great place to catch wild brown trout.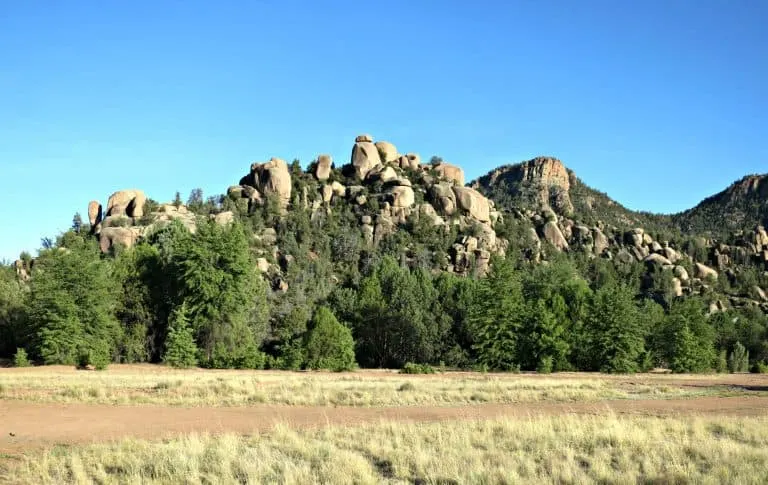 The Old West lives on in Payson. Author Zane Grey took inspiration for his classic Western novels from Payson and visitors can tour his rebuilt cabin as part of the Rim Country Museum. There are also a few annual Wild West events including the Hashknife Pony Express in February and the Payson Rodeo in April.
With its ranching roots, Payson has some delectable steakhouses. Try the Gargo's Philly at Fargo's Steakhouse. Or head to the cowboy themed Macky's Grill for some tender ribs with a side of their famous chili.
The most famous place to stay overnight in Payson is Kohl's Ranch Lodge. Located about 15 miles from the city center, Kohl's Ranch showcases the Ponderosa Pine forest in a relaxing mountain lodge, complete with a pool, arcade, mini-golf, and more. In and around town you'll find plenty of other lodging options, including hotels and rental homes, as well as nearby developed campsites.
Heber-Overgaard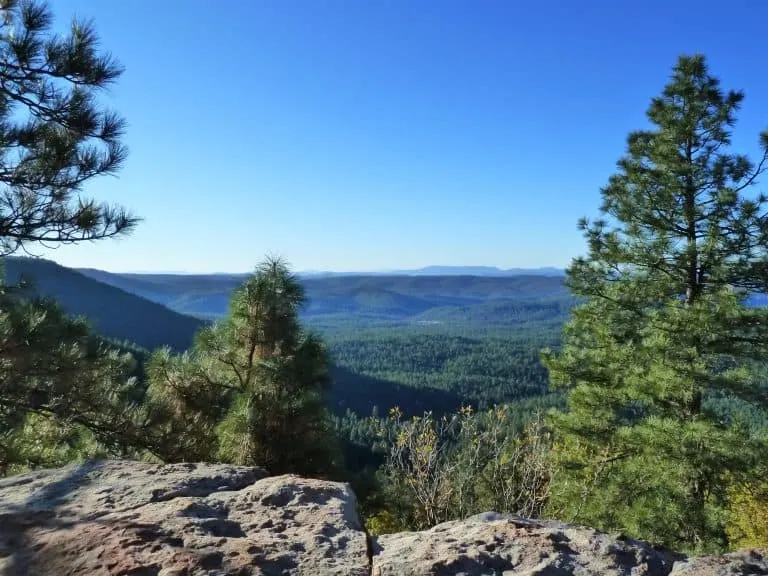 Elevation: 6,627′
Population: 2,494
In the Apache-Sitgreaves National Forest, just north of the Mogollon Rim is the tranquil community of Heber-Overgaard. Phoenix families love to escape here in the summer for the cool temperatures and outdoor activities.
One place families love to go to experience nature is the Tall Timbers County Park. There is a small lake for fishing, trees for shade and bird watching, and winding hiking trails. Bring a picnic and enjoy lunch in the crisp mountain air.
The Rock House Museum is a fun place for history buffs to learn about Heber. Interactive exhibits allow families to hear stories and memories from some of the families that lived in the Rock House. There are also artifacts from life in the 1940s, 50s, and 60s that are cool to see.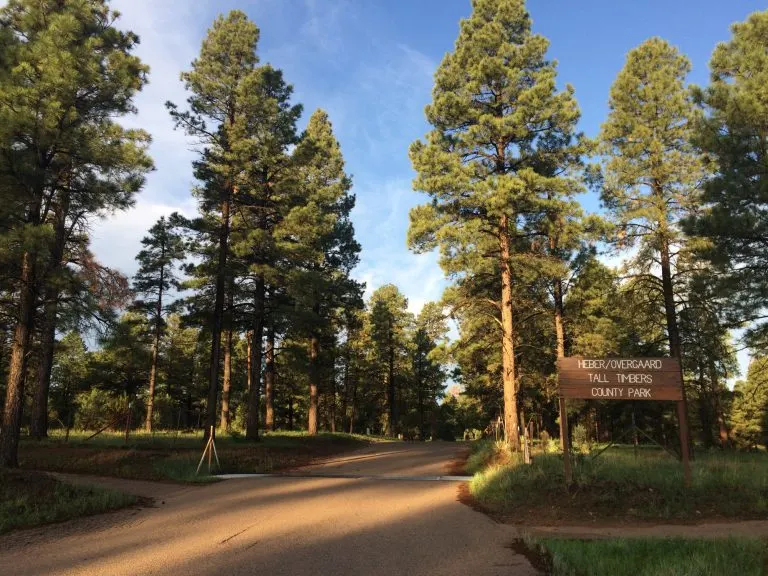 There are quite a few places to eat in Heber and Overgaard, including some fast food chains. For a Wild West experience, try Wild Women Saloon and Grill, located on Bison Ranch. They serve up comfort food in a replicated 1800s building. Or head to Casa Ramos for Mexican cuisine like mole enchiladas and fajitas.
The most unique overnight lodging in Heber is at WorldMark Bison Ranch. The lodge embraces a Western theme, complete with 1800s replica buildings, and combines it with modern amenities. Guests here enjoy an outdoor pool, a catch-and-release fishing pond, an indoor game room, and even options for horseback riding at Ramey Ranch.
Another overnight option is Camp Shadow Pines on the Mogollon Rim. Choose from campsites or cabins and enjoy amenities such as a playground, horse farm, and more.
Pine-Strawberry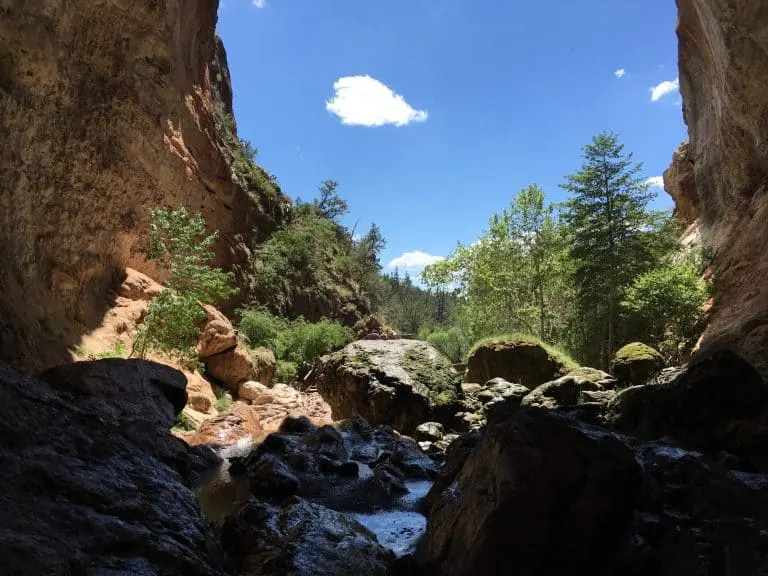 Elevation: 5,800′
Population: 1,100
These two Arizona mountain towns, Pine and Strawberry, were named for the many trees and wild berries found in the area. Visitors today love to hike through these Ponderosa pines in the summer in search of free-growing strawberries, raspberries, and blackberries. But that is just a start to the adventures in the area.
The top thing to do in Pine is visit Tonto Natural Bridge State Park. The world's largest natural travertine bridge arches over Pine Creek creating a beautiful misty waterfall. Families can climb down the Gowan Trail and hike through the tunnel, continuing through the water and onto the Anna Mae Trail.
Tonto Natural Bridge State Park is one of the best state parks in Arizona.
Over 100 miles of trails wind around Pine and Strawberry with serene forest surrounding. The Pine-Strawberry Trail connected the two towns, but you can hike along just a portion of it.
Another fun family hike is the Bearfoot Trail. Again, the entire trail is long, but kids enjoy climbing through the rocky terrain for a couple miles of it.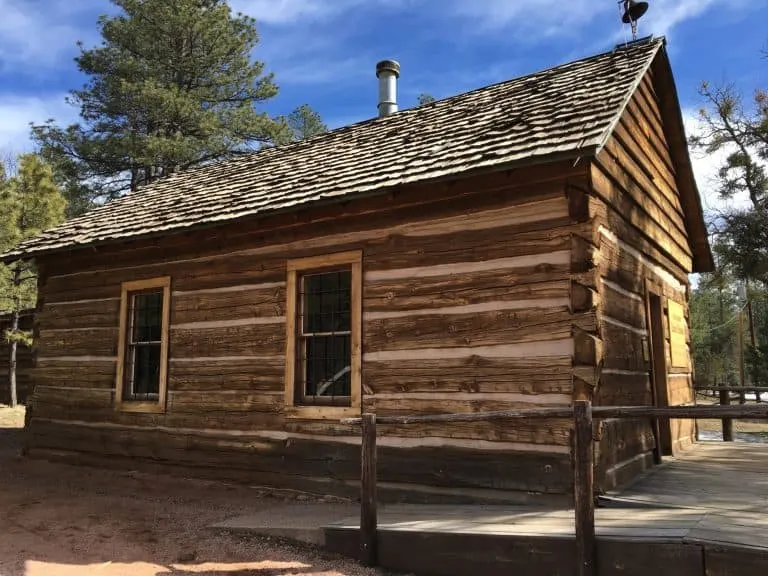 For a bit of history, visit the old Strawberry School House. It was made of logs in 1885 and is Arizona's oldest existing schoolhouse. Look through the windows to see a replica of a late 19th century classroom, or schedule a tour through the Historical Society. You can also learn more about the rich history of the area at the Pine-Strawberry Museum.
When you're ready to eat, head to Randall House for breakfast or lunch in a historic ranch home. Old County Inn makes delicious made-from-scratch wood-fired pizza with local ingredients. And for a treat, get some sweet empanadas at PIEbar.
Just off Highway 87, the boutique getaway called The Strawberry Inn welcomes families for overnight stays in their hotel, cabins, and adorable Airstreams. Other overnight options include camping or local vacation rental homes.
Southern Arizona Mountain Towns
Summerhaven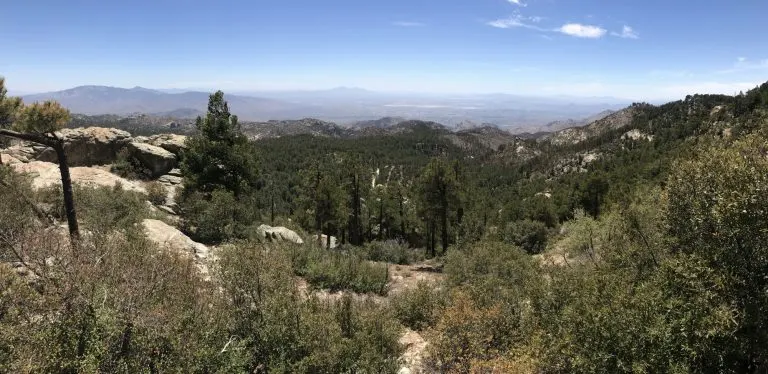 Elevation: 8,200′
Population: 35
As the name implies, Summerhaven is the perfect place to escape the Tucson summer heat. Located on Mt. Lemmon at an elevation of 8,200 ft, this town enjoys temperatures up to 30 degrees cooler than Tucson. Come hike and explore in the summer or sled and ski in the winter.
As you drive up to Mt. Lemmon toward Summerhaven, you'll take the Mt. Lemmon Sky Island Scenic Byway. If you continue along this road, you'll gain 6,000 feet in elevation in 27 miles. The scenery changes from towering saguaro cactus to rock formations, then gives way to ponderosa pine trees. Stop and admire the views of the Tucson Valley below at the numerous pull-outs along the route.
When you get out of the car, stretch your legs with some gorgeous forested hikes. Marshall Gulch Trail showcases wildflowers, mountain views, and running water. Although the hike is a moderate 2.6 miles, plan plenty of time for kids to take their time wading across streams.
The southernmost ski resort in the continental U.S. can be found here in Summerhaven. Mountain Lemmon Ski Valley offers 21 ski runs, rentals, and lessons. When the snow is melted, the lift operates as a sky ride, showcasing the mountain from above.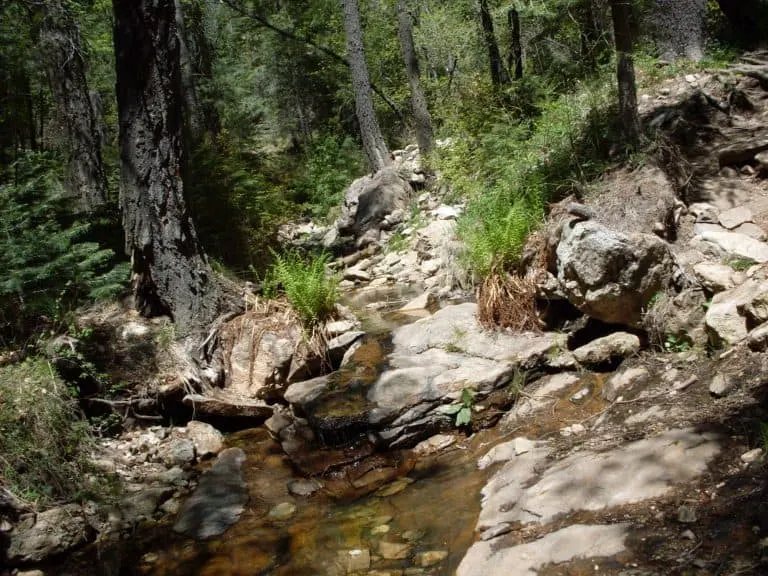 Plan ahead to visit Mount Lemmon SkyCenter at night. This observatory offers stargazing programs and camps, helping families investigate the night sky through binoculars and giant telescopes. Tickets must be purchased in advance and there are a limited number of spaces available for each event.
There are several restaurants to choose from in Summerhaven. Iron Door Restaurant at Mt. Lemmon Ski Valley Resort is famous for its chili and cornbread. And at the Sawmill Run Restaurant guests can dine on burgers, wings, and poutine.
The top dining destination in Summerhaven is Mt. Lemmon Cookie Cabin. Their giant cookies are warmed to order and can be served with a scoop of ice cream. They are also known for their tasty pizza and sandwiches.
To stay in Summerhaven, you'll have to find a rental home or cabin. There are no hotels, but there are some campsites in the surrounding Coronado National Forest. Most people choose to come as a daytrip from Tucson.
Tubac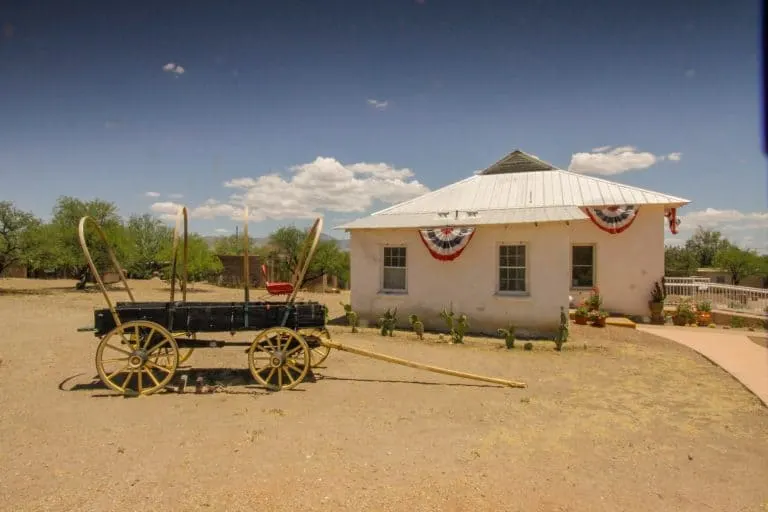 Elevation: 3,209′
Population: 1,223
Technically speaking, the town of Tubac which is located just 24 miles from the Mexico border, is a small community nestled between town mountain ranges. While it may not be "officially" in the mountains, it still has the historic, artsy feel of an Arizona mountain town. In Tubac you'll discover world-renowned birding, biking and hiking, as well as holistic spas and historic sites.
There are lots of beautiful hiking and biking trails around Tubac. If you only have time for one, you should walk the four-mile stretch of the Juan Bautista de Anza National Historic Trail between Tumacácori National Historical Park and Tubac Presidio State Historic Park and Museum. The shady trail follows the Santa Cruz River. Kids who need extra motivation can earn a Junior Ranger badge and a special pin for hiking the trail.
Trekaroo Tip: If you don't want to hike eight miles round trip, be sure to visit on the third Saturday of the month from October to March, when a free shuttle runs between the two museums.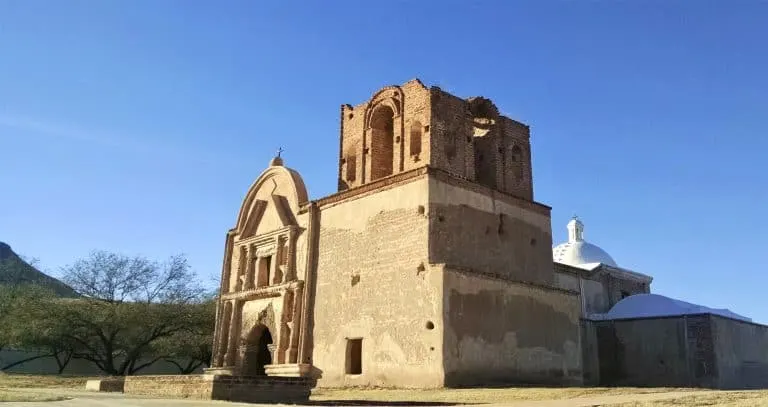 Make sure to take time at each of the museums before or after your hike. At the Tumacácori National Historical Park, explore the old Spanish mission and learn about the people who lived and mingled here. Tubac Presidio State Historic Park preserves the ruins from the oldest Spanish Presidio site in Arizona and is actually Arizona's first state park.
Hungry from hiking? All the restaurants in Tubac are family owned, serving traditional recipes with fresh and local ingredients. Come to Shelby's Bistro, a local favorite, for pizza, sandwiches, pasta. And stop by Untamed Confections for a guilt-free Desert Wildflower Honey Caramel.
An overnight stay rewards visitors with an excellent view of the night sky, as Tubac is part of the International Dark Sky conservation program. Lodging options include local inns, camping at Sunflower Camp, or the Tubac Golf Resort and Spa.
Bisbee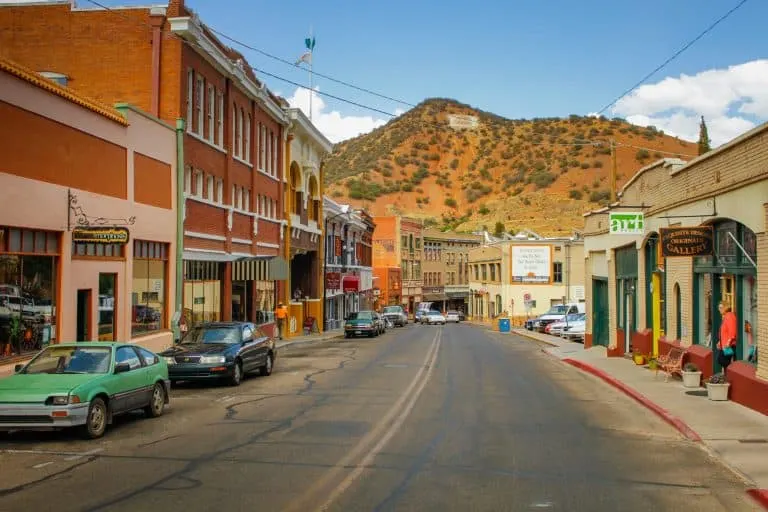 Elevation: 5,538′
Population: 4,911
From its 1877 discovery in the Mule Mountains until the 1970s, Bisbee bustled with mining operations and a wealth of copper. When the mines closed down, artists and free spirits took over the town creating a haven for music, art, history, and architecture.
To get an overview of the town, start your visit at Bisbee Mining & Historical Museum. This interactive museum tells the story of Bisbee's role in the industrialization of America. Kids love the trucks and gems located on the second floor.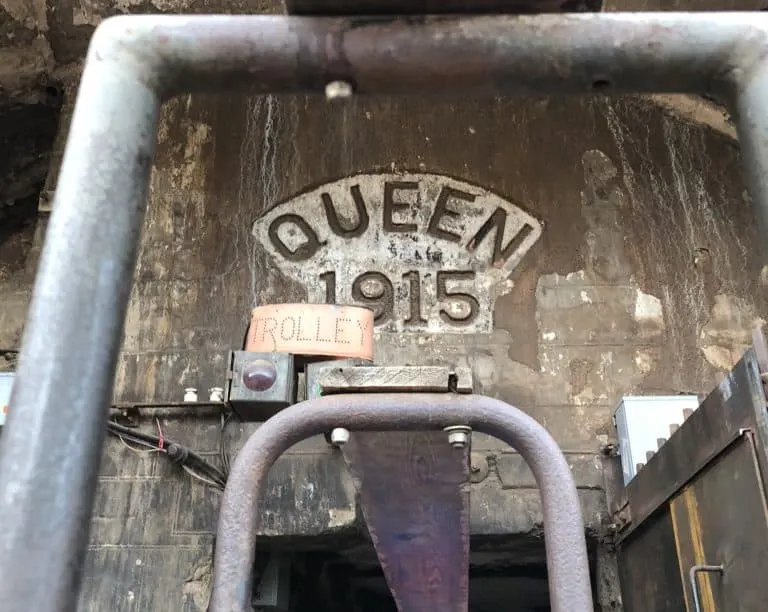 The main attraction in Bisbee is the Queen Mine Tour. A trip into the mine takes families back in time to the late 1800's. You'll learn about the dangers, techniques, and lifestyles of mines from this time period.
When dining with the family, the vintage Dot's Diner is a fun place to eat a burger and shake. Or try the pizza at Screaming Banshee Pizza. After exploring, a treat at Pussycat Gelato on Main Street is a perfect end to the day.
Even though it's a small town, Bisbee has all types of places to stay the night. Choose from full service hotels, RV parks, guesthouses, and more.
Find more places like Bisbee with our article Arizona Ghost Towns-10 of the Best Ghost Towns in Arizona.
Arizona Mountain Towns of the Verde Valley
Prescott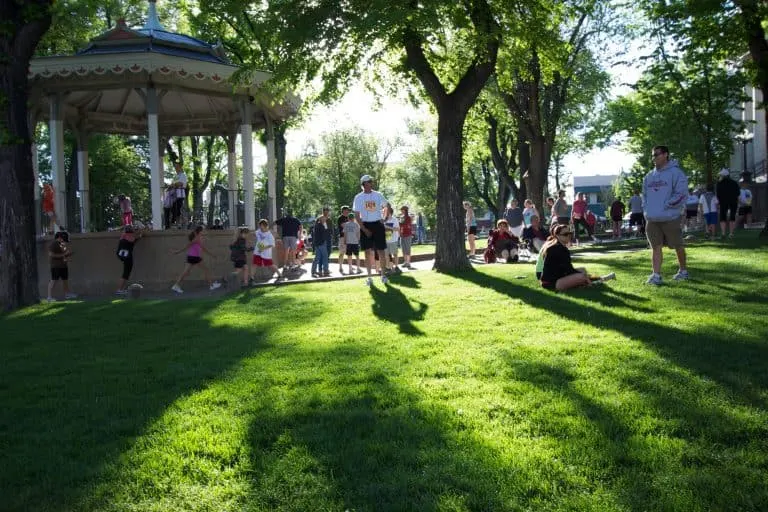 Elevation: 5,367′
Population: 46,833
The city of Prescott, as well as the rest Verde Valley is full of Wild West history- without the desert temperatures. Visitors love to take in the historic sites, hit the trails, and paddle around the lakes.
At Courthouse Square, visitors and locals lounge on the lawn in the shade of the elm trees. The historic buildings surrounding the square are filled with boutiques, candy shops, and eclectic art galleries. You can still find a strong drink along the once rowdy Whiskey Row, but the atmosphere is family friendly.
The nearby Sharlot Hall Museum is the perfect place for families to learn the town's history. Tour historic homes, explore educational exhibits, and wander through the gardens. Kids can complete a scavenger hunt and redeem it at the museum store for a prize.
Step outside of town and explore the beautiful Prescott National Forest. Pack and picnic lunch and take a hike while basking in the fresh wilderness air. The Thumb Butte Trail, just minutes from downtown, leads visitors on a two-mile loop with views of the area and interpretive signs.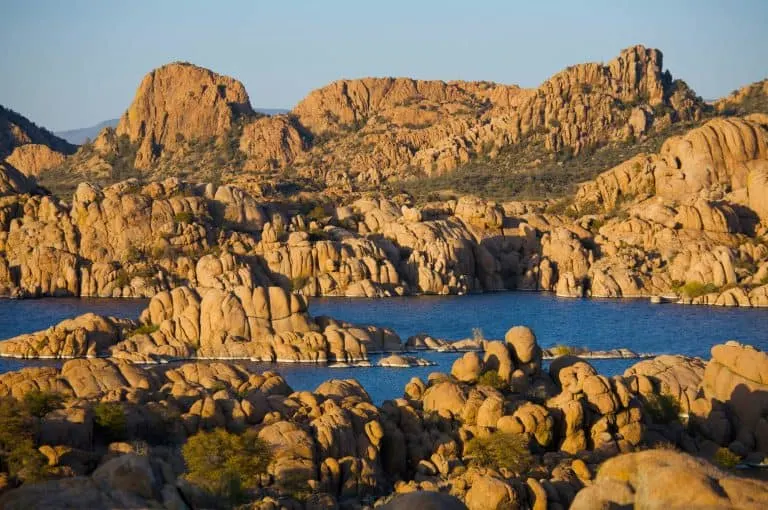 There are also two lakes in the area for recreation and fishing. Unique rock formations surround Watson Lake, creating fun channels to kayak through. Alternatively, Lynx Lake is lined by tall pine trees. Both lakes offer onsite kayak and canoe rentals.
There are food options for every taste in Prescott. The Palace, a historic 1877 bar, is a fun, family-friendly restaurant offering frontier favorites on Whiskey Row. For a treat, visit Frozen Frannie's across from Courthouse Square and try their refreshing ice cream.
For an overnight stay in Prescott, check out the many camping options in Prescott National Forest, including RV sites and dispersed camping. Indoor options include chain and historic hotels and lots of vacation rentals.
Cottonwood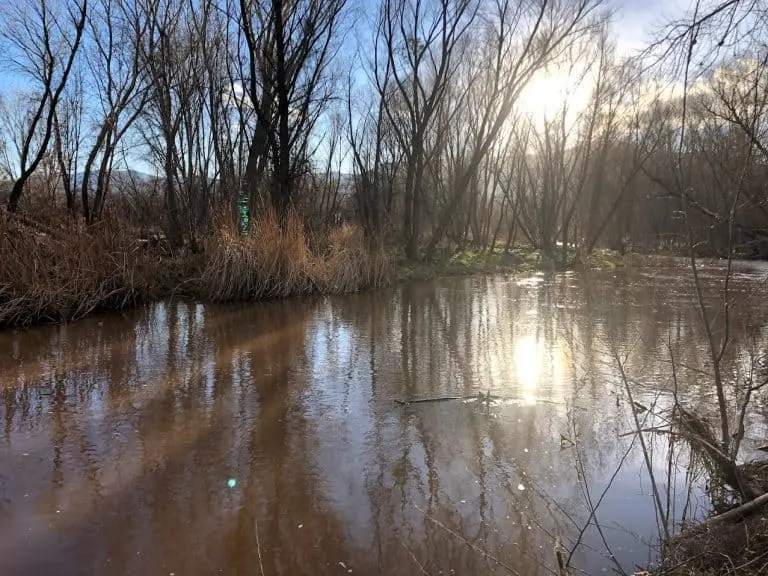 Elevation: 3,314
Population: 12,440
Surround yourself in the willows, ash, alder, and of course, cottonwood trees of Cottonwood, Arizona. The trees burst with color between mid-October to mid-November, but they are beautiful all year long.
Dead Horse Ranch State Park is the best place to experience most of what Cottonwood has to offer. Visitors can come for the day to fish in the lagoons, hike the trails, or play on the playground. The tranquil location along the Verde River provides river access for swimming or kayaking.
Get into the ranching spirit by taking a horseback ride. Trailhorse Adventures, located inside Dead Horse Ranch State Park, leads wrangler-guided trail rides through the park and across the river. Note that riders must be at least six years old.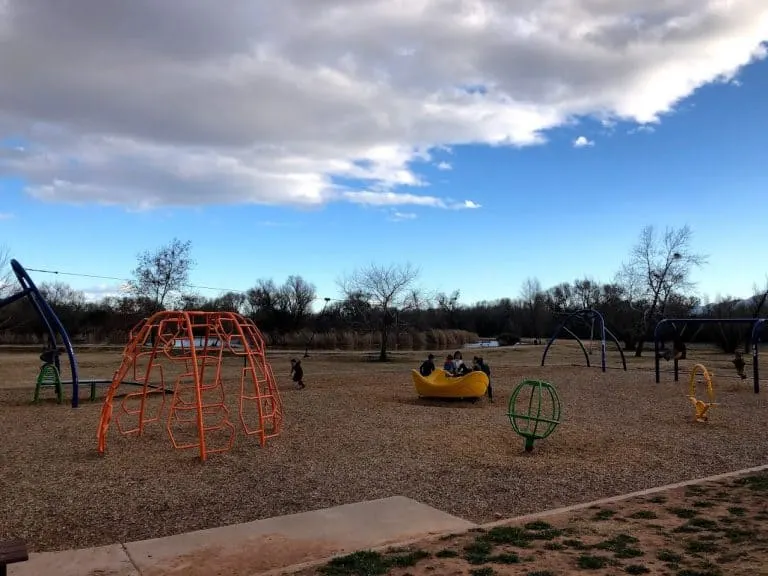 Want another Wild West experience? Make reservations at Blazin' M Ranch for dinner and a show. Wander through a recreated western frontier town complete with shopping, western activities, and wagon rides. Then join the cowboys for a BBQ dinner and hour long western show.
For a meal without the show, Cottonwood has many popular fast food options, as well as unique local restaurants. Pepe's Cafe serves up Mexican and American favorites for breakfast and lunch. And at Pizzeria Bocce families can enjoy wood-fired pizza while playing bocce ball on the patio.
The cabins and campsites at Dead Horse Ranch are the best place to stay overnight in Cottonwood. But if you prefer a hotel, there are plenty of chain and boutique options in town.
Jerome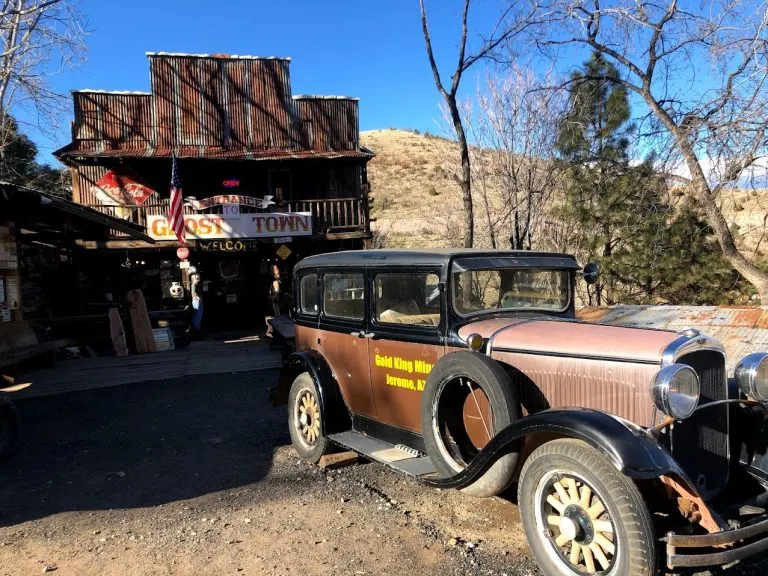 Elevation: 5,066′
Population: 467
Jerome once boomed as a bustling copper mining town in the 1920's. After the depression hit, the population took a dive and Jerome became a ghost town propped up on the steep mountainside. After some fires and rebuilding, the town transformed into the thriving tourist and artistic haven it is today.
The best place to start a visit to Jerome is at the Jerome State Historic Park, located inside the historic Douglas Mansion. Exhibits like a model train and fluorescent rock exhibit explain the history and geology of the area. Ask one of the rangers for a scavenger hunt for the kiddos.
For more ghost town experiences, check out Audrey Headframe Park where families can peer down a 1918 mine shaft. Then head to Gold King Mine & Ghost Town to explore old buildings and machinery from the town's mining area.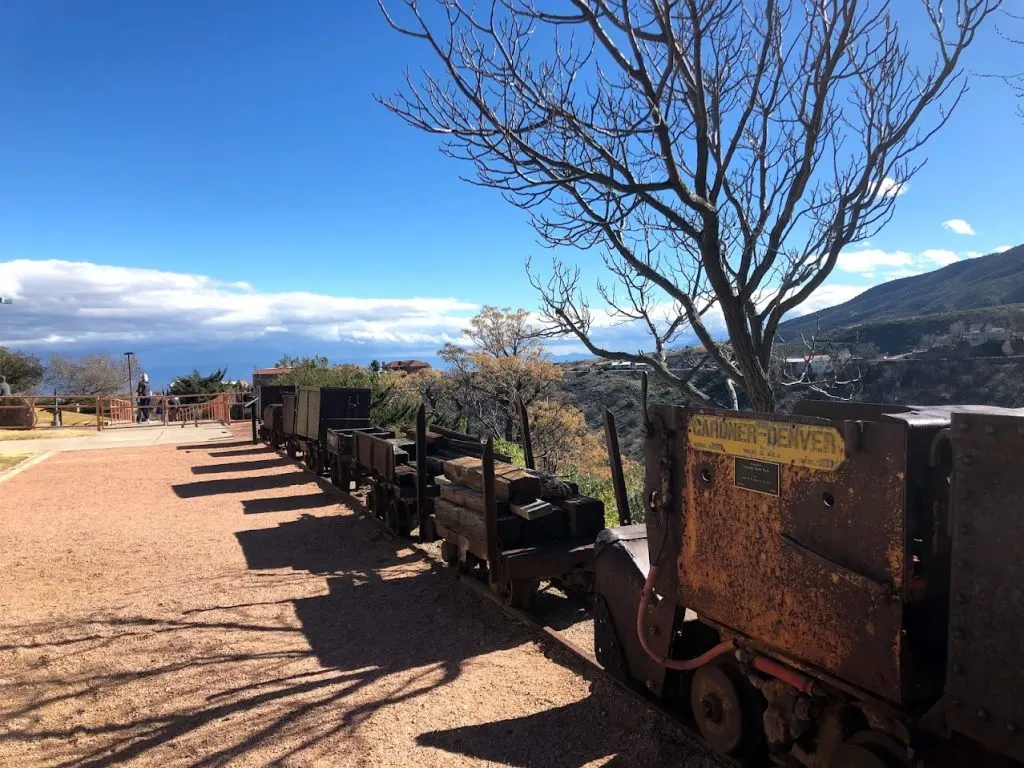 Save time to wander the shops along Jerome's main drag and take in the expansive views from nearly every inch of Jerome. Between the new shops and restored buildings, you can still see some ruins from the original town. Pop into Nellie Bly Kaleidoscopes to look through the most amazing kaleidoscopes you will ever see in your life.
You'll also find a variety of family-friendly dining options in this area. The Haunted Hamburger (try to snag a spot on the aptio) and Bobby D's BBQ kitchen both offer fun, historic vibes in restored buildings. Pick up some creamy fudge at OJ's Copper Country Fudge before you leave town.
If you are looking to stay overnight, Jerome offers historic hotels and some rental homes via VRBO & Airbnb. There is also a campground called Potato Patch Campground with RV and tent sites, composting toilets, and potable water.
Sedona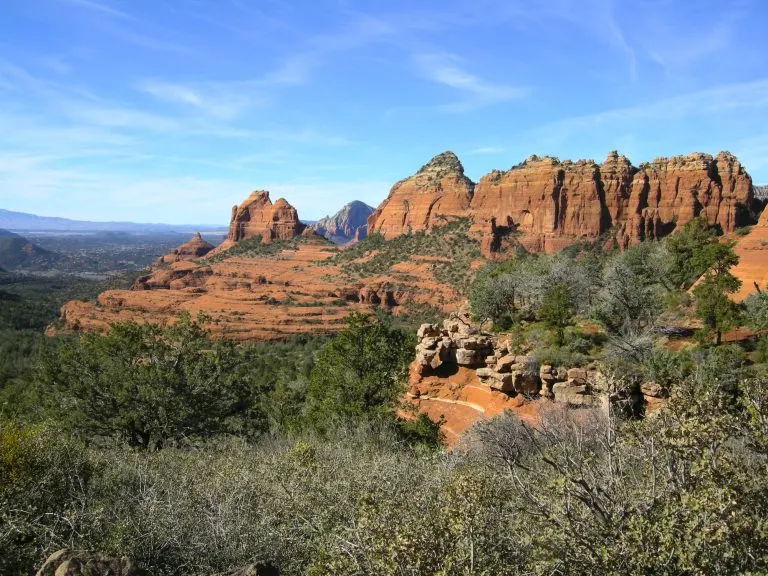 Elevation: 4,350′
Population: 9,763
Recenter yourself in the stunning red rocks of Sedona. Unbelievable landscapes, epic hiking, and relaxing spas fill the area, making Sedona a perfect getaway from Phoenix.
Lots of 4×4 trails criss-cross the area, perfect for an off-road adventure. Bring your own car, or join one of the many Jeep tour companies, like Pink Jeep Tours. The guides take on the tough terrain while teaching visitors all about the geological history of the area.
Another option for exploration is hiking one of the many fabulous Sedona trails. Fay Canyon winds 2.5 miles along a creek into a forested canyon. If your kids love to climb, I suggest heading to Bell Rock. After following the trail to the end, adventurous families can scale the massive red rocks, stopping to admire the breathtaking views.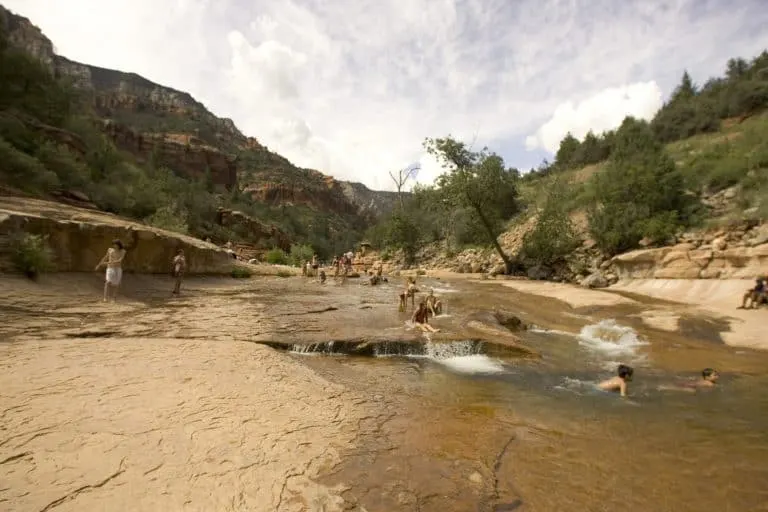 Make sure to visit the famous Chapel of the Holy Cross, which is a short but obligatory stop in Sedona known for its incredible views. Love to shop? Stroll the many art galleries and gift shops in the Tlaquepaque Arts District.
Then, head to Slide Rock State Park to cool off in the natural waterslide. Be aware, weekends in the summer here are extremely crowded, so aim for a weekday to avoid the crowds.
Delicious dining options abound in Sedona. Try the giant cinnamon rolls at RedRock Cafe, pizza at Oak Creek Canyon Brewery and Grill, barbecue at COLT Grill BBQ, or the al pastor tacos at 89Agave Cantina. And for dessert, grab a big scoop of ice cream at Black Cow Café.
Lodging options are just as plentiful. You'll find top-notch camping, comfortable resorts, and everything in between. I really enjoyed the pet-friendly El Portal Sedona Hotel with its inviting, boutique atmosphere. Trekaroo families also rave about the Hilton Sedona Resort at Bell Rock for its spacious suites and refreshing pools.
Find out more with our article Things to do in Sedona with Kids.
Arizona Mountain Towns near North Rim Grand Canyon
Jacob Lake
Elevation: 7,920′
Population: 1,314
Nestled in the Ponderosa pines of the Kaibab National Forest lies the small town of Jacob Lake. Although there isn't actually a lake these days (sometimes a small pond), you'll find outdoor adventures, wildlife, and some fun historic sites.
The number one activity at Jacob Lake is visiting the northern rim of the Grand Canyon, just 45 miles away. The North Rim is perfect for families with young kids. The drop-offs aren't as steep, the colors are more vivid, and because it is more difficult to acess from a major metropolitan area, the crowds are scarcer.
We happen to love the North Rim of the Grand Canyon even more than the South Rim. The quieter vibe, forested feel, and lovely hikes are all great reasons to visit. Use our guide, The Best Things to do in Grand Canyon North Rim to plan your trip.
Another must-do activity is visiting Jacob Lake Inn. Since 1923 the Bowman family has welcomed guests here for hospitality and recreation. Everyone raves about the ice cream and cookies they serve. They also have a restaurant, serving up the only food for miles around. After you eat, peruse the gift shop and country store to find the perfect souvenir.
Right next door to Jacob Lake Inn is the Kaibab Plateau Visitor Center. Exhibits explain the geology, wildlife and history of the area. Ask the staff here for hiking or other recreational opportunities to fit your family, as well as any interpretive programs that might be going on.
For overnight lodging, your choices are the rooms or cabins at Jacob Lake Inn, or the Jacob Lake Campground. The campground has drinking water and vault toilets, but no utility hookups. While here, take the easy, one-mile, Kai-Vav-Wi Nature Trail through the woods around the campground and try to spot some wildlife.