Fall just might be the tastiest time of year. I always get so excited to embrace autumn by cooking up fall recipes which celebrate in-season produce and food rich with fall flavors.
So much of travel revolves around food. This year, we asked 20 resorts and hotels to share recipes for their favorite fall dishes. These dishes can be found at their restaurants, but are easy enough to make at home as well.
20 Incredible Fall Recipes Created by Resort Chefs
1. Cozy Fall Morning Pumpkin Bread
We all have those friends who mark the day after Labor Day by embracing pumpkin EVERYTHING.
And who can blame them? Pumpkin dishes are the ultimate symbol of fall flavor.
The Boston Yacht Haven Inn shares their recipe for Pumpkin Bread. The candied pumpkin seed topping sets this pumpkin bread recipe apart from all the others. It is the perfect accompaniment to your morning coffee.
Book your stay at Boston Yacht Haven. We offer the lowest prices guaranteed.
And, if this New England recipe inspires you to take a road trip to enjoy the autumn leaves, here are 12 Spectacular New England Road Trips for Families.
Yield: 1 Loaf
Cozy Fall Morning Pumpkin Bread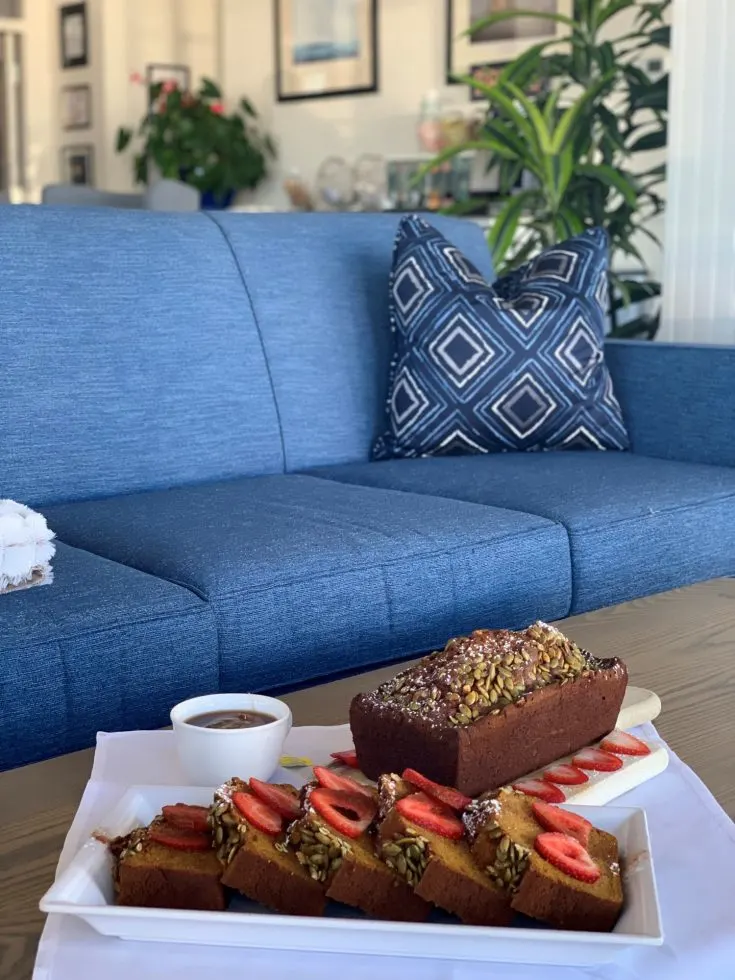 Total Time
1 hour
10 minutes
Ingredients
Pumpkin Bread Ingredients
3 large Eggs
1 1/2 cups Pumpkin Puree
1/2 cup Sunflower Oil
1 cup Sugar
1/4 cup Brown Sugar
2 tsp Vanilla
1 1/2 cups All Purpose Flour
1 tsp Cinnamon
1/2 tsp Nutmeg
1/2 tsp Clove
1 tsp Baking Soda
3/4 tsp Baking Powder
1/2 tsp Salt
Candied Pumpkin Seed Topping
1/3 cup Roasted Pumpkin Seeds
1 tblsp Honey
1/4 cup Sunflower Oil
Instructions
Preheat oven to 350 degrees. Grease a 9' x 5" bread loaf pan.
Whisk eggs in a large bowl. Add pumpkin puree, oil, sugar and vanilla.
Mix well.
Mix flour, spices, baking powder, baking soda and salt in a separate bowl.
Gradually add wet ingredients to dry ingredients. Blend together into a batter and pour into a loaf pan.
In a separate bowl, mix together ingredients for topping.
Sprinkle topping mix evenly across the top of the batter.
Bake in oven for one hour. Cool for 15 minutes before serving. Best served with warm cider on a cool fall morning.




2. Fig and Goat Cheese Flatbread
Have you ever been to Yosemite in the fall? It is magical time of year because the crowds are long gone and it almost feels like you have the park all to yourself.
When my family visited Yosemite in the autumn, we stayed at the Ahwahnee. It is truly the crown jewel of the National Park lodges.
The lodge is classy, but also blends seamlessly into the atmosphere of the Yosemite Valley. And the massive windows of the Ahwahnee Dining Room surround diners with the natural beauty of the park.
Here are our favorite things to do in Yosemite with kids and our tips on the best time to visit Yosemite and avoid the crowds.
The Ahwahnee shares their recipe for Fig and Goat Cheese Flatbread. Figs are just so beautiful and their honey-sweet flavor pairs perfectly with tangy goat cheese. Serve up this fall recipe as an appetizer or enjoy it on your own as a main dish.
Fig & Goat Cheese Flatbread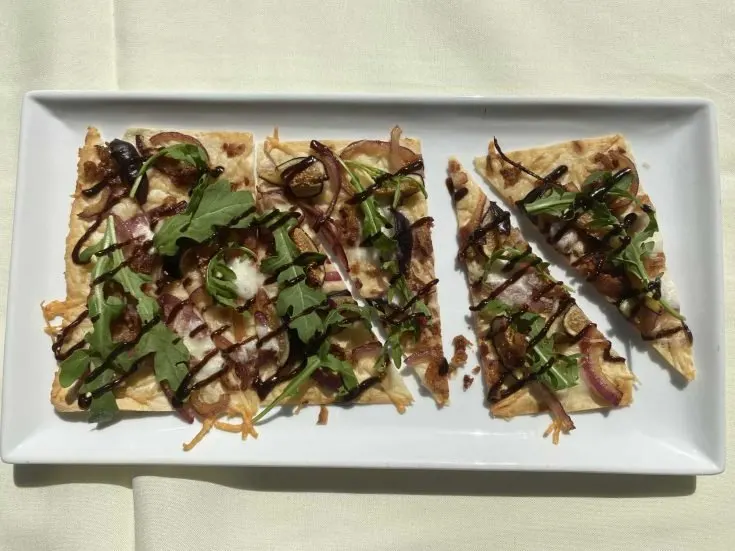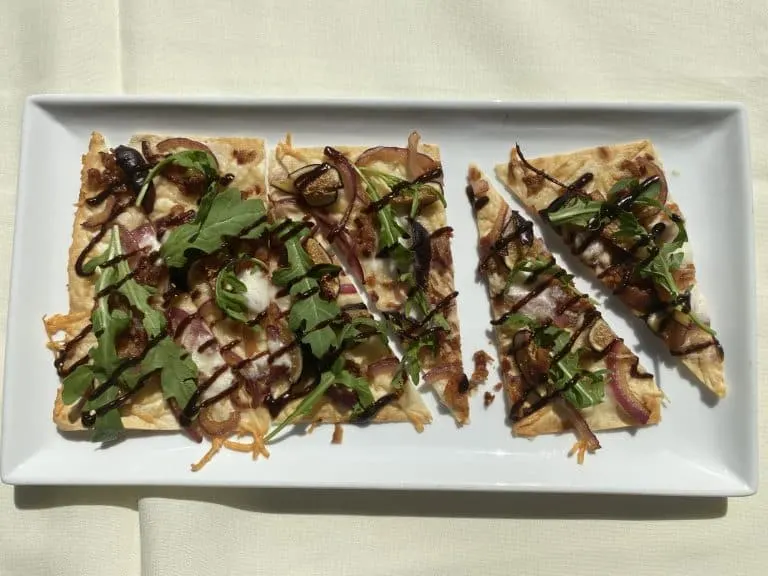 Ingredients
1 small Yellow Onion
1 tblsp Vegetable Oil
Salt and Pepper to taste
1 Piece of Naan or Lavash Flatbread
2 tblsp finely shredded Parmesan Cheese
2 tblsp finely shredded Mozzarella Cheese
4 Mission Figs, sliced thin
2 slices of Bacon, cooked and crumbled
2 tblsp crumbled Goat Cheese
1/2 oz Arugula
1 tblsp Aged Balsamic Vinegar
Instructions
Caramelize the onions - Remove dry outer layer of onions, split in half then julienne. Heat a large skillet on medium heat. Add oil, then onions. Allow to caramelize, stirring every two minutes, until the onions are dark, like the color of mahogany. Season with salt and pepper. Allow to cool slightly while you prepare the rest of the ingredients.
Preheat oven with pizza stone to 450°. If you do not have a pizza stone, you can use a heavy bottom cookie sheet.
Assemble the flatbread - Lay out flatbread and evenly sprinkle Parmesan and Mozzarella Cheese, going all the way to the edges.
Next, evenly spread caramelized onions over cheese, followed by the figs, bacon and goat cheese.
Bake flatbread in the pre-heated oven for approximately for 6-8 minutes, or until crispy. Remove from oven and place on a cutting board.
Cut flatbread into even pieces and transfer to serving plate. Sprinkle arugula over flatbread then drizzle with aged balsamic before serving.
3. Fig Jam Brie Walnut Tart
Continuing on the fig train, this next fall recipe comes from Terranea Resort in Southern California. Terranea is a wonderful place for a weekend getaway, especially in the fall when the beach crowds are long gone but the weather is basically perfect.
Ready for a beach vacation? Here are the best beaches in Southern California for families.
In addition to being an amazing beach resort destination, Terranea is also a culinary destination, with nine dining venues and a team committed to utilizing local and sustainable ingredients. There are on-site herb and vegetable gardens, as well laying hens for fresh eggs and even a Sea Salt Conservatory which produces sea salt with water from the Pacific Ocean!
Book your stay at Terranea Resort.
This Fig Jam Brie Walnut Tart recipe is a collaboration between VP of Culinary Experiences and Executive Chef Bernard Ibarra & Executive Pastry Chef Pierino Jermonti. These tarts deserve a spot on your Thanksgiving dessert table. Of course, you might want to do several "test runs" between now and then because the flavors are divine.
Here is a video on how to make this Fig Jam Brie Walnut Tart.
Yield: 4 Tarts
Fig Jam Brie Walnut Tart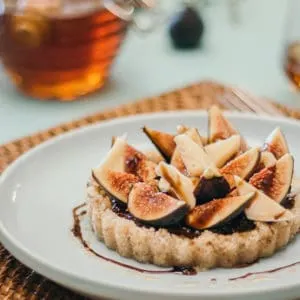 Note: You can save time building this scrumptious tart by purchasing your favorite fig jam instead of making it yourself.
Ingredients
Fig Jam
6 pounds fresh figs
4 cups sugar
2 lemons (juice and zest)
Walnut Crust
2 cups of walnut
1 cup of granulated sugar
Simple Bourbon Custard
6 large egg yolks
1/4 cup sugar
1 tsp all-purpose flour
Pinch of salt
2 cups warmed milk
1 Tbsp Kentucky bourbon
Instructions
For the Fig Jam
1. In a large saucepan, combine figs, sugar, lemon juice, and zest.
2. Bring to a simmer over medium-low heat, stirring constantly. Cover and simmer over low heat for about 1 hour, stirring occasionally.
3. Remove the cover, and with a candy thermometer cook to 220-degrees F.
4. Funnel jam into prepared jars, leaving 1/2 inch. Wipe rims, apply lids and rings, and process in a boiling water bath canner for 15 minutes. When time is up, remove jars and place them on a folded kitchen towel to cool. When jars are fully cool, remove rings and test seals. Sealed jars are shelf stable.
For the Walnut Crust
1. Blend the two ingredients until it starts to slightly release the nut oil.
2. Pull mixture out of the blender and place in 5-inch tart shells. Press the sides and base to form a tight tart shape.
For the Simple Bourbon Custard
1. In a heavy saucepan combine the egg yolks, sugar, flour, and salt. Beat until the mixture is pale yellow in color.
2. Place over low heat and slowly stir in the warm milk. Cook, stirring constantly, until custard thickly coats a wooden spoon, about 5 minutes.
3. Immediately pour the custard into the prepared walnut crust shells and freeze for about 1-2 hours.
Assembly
1. Pull the tart shells out of the freezer and carefully remove from the molds. Spread the fig jam lightly on top.
2. Adorn the top with fresh figs and brie cheese.
3. Place the dessert in the center of a plate and drizzle the top with aged balsamic glaze and honey. Serve.
4. Roasted Butternut Squash & Goat Cheese Alfredo Pasta
Autumn in New Hampshire is something worth celebrating. A trip down a country road in these parts is marked with crisp air and changing leaves in all your favorite fall hues.
Here are our 10 favorite things to do in New Hampshire with kids.
The Wolfeboro Inn, on the shores of Lake Winnipesaukee, embraces the town's rich history and flavors at Wolfe's Tavern, their authentic New England pub.
They have shared their recipe for Roasted Butternut Squash & Goat Cheese Alfredo Pasta. Butternut squash is one of my favorite fall flavors and this recipe is sure to warm your soul along with your belly.
Book your stay at the Wolfboro Inn.
Roasted Butternut Squash & Goat Cheese Alfredo Pasta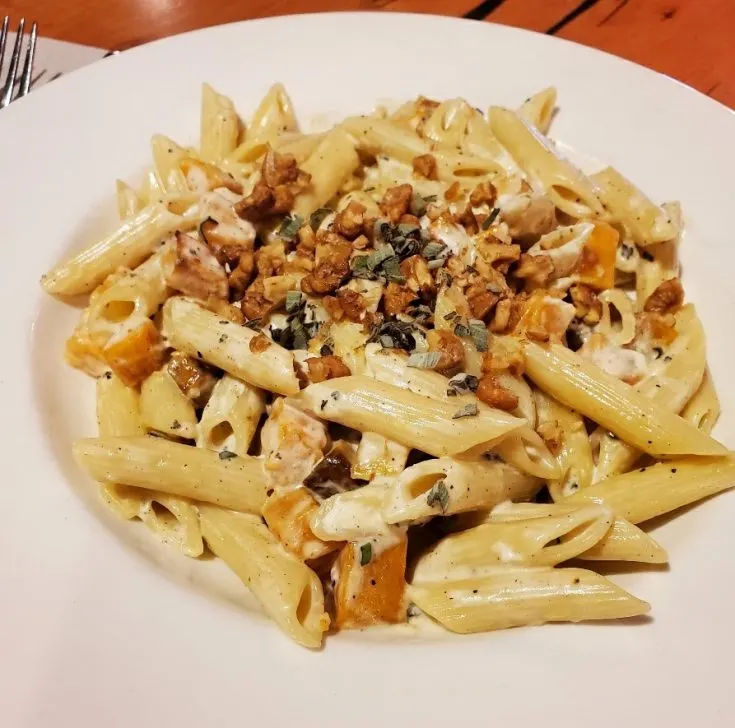 Note: Grilled Chicken is a great addition to this dish.
Ingredients
1 lb Penne Pasta
1 medium Butternut Squash, peeled and diced small
2 tbsp Vegetable Oil
1/4 tsp Cinnamon
Pinch of Salt and Pepper
4 tblsp Butter
1 1/2 tblsp chopped Garlic
1 quart Heavy Cream
2 cups crumbled Goat Cheese
1 tsp chopped fresh Sage
Crushed Candied Walnuts for garnish
Instructions
Preheat oven to 350.
Prepare one pound of penne pasta according to the manufacturer's directions and set aside.
In a mixing bowl, combine squash, oil, cinnamon, nutmeg, salt and pepper. Toss to combine. Place squash on a sheet pan and roast in the oven until tender.
In a large saucepan melt butter and sauté with garlic until tender, but not
brown. Slowly stir in heavy cream and goat cheese. Add 1 chopped fresh sage. Bring to just below simmer and add the roasted squash and cooked pasta. Mix to incorporate.
Serve in warmed pasta bowls, topped with crushed candied walnuts and a
pinch more of fresh sage.
5. Pecan Pie Bread Pudding
My favorite Thanksgiving dessert has always been pecan pie. There is just something about the nutty sweetness of a warm pecan pie that I can't resist.
But now, I think pecan pie bread pudding is going to be a fall dessert favorite in my home. I mean, take a look at the photo above. If that doesn't make you salivate and crave dessert, I don't know what will!
This Pecan Pie Bread Pudding recipe comes from the Beachwalk Café at Henderson Park Inn in Destin-Fort Walton Beach. No surprise, as pecans are a Southern mainstay and Destin is a a dreamy beach destination in the heart of the South.
Here are 21 Things to See, Do, and Eat in Destin, Florida.
Pecan Pie Bread Pudding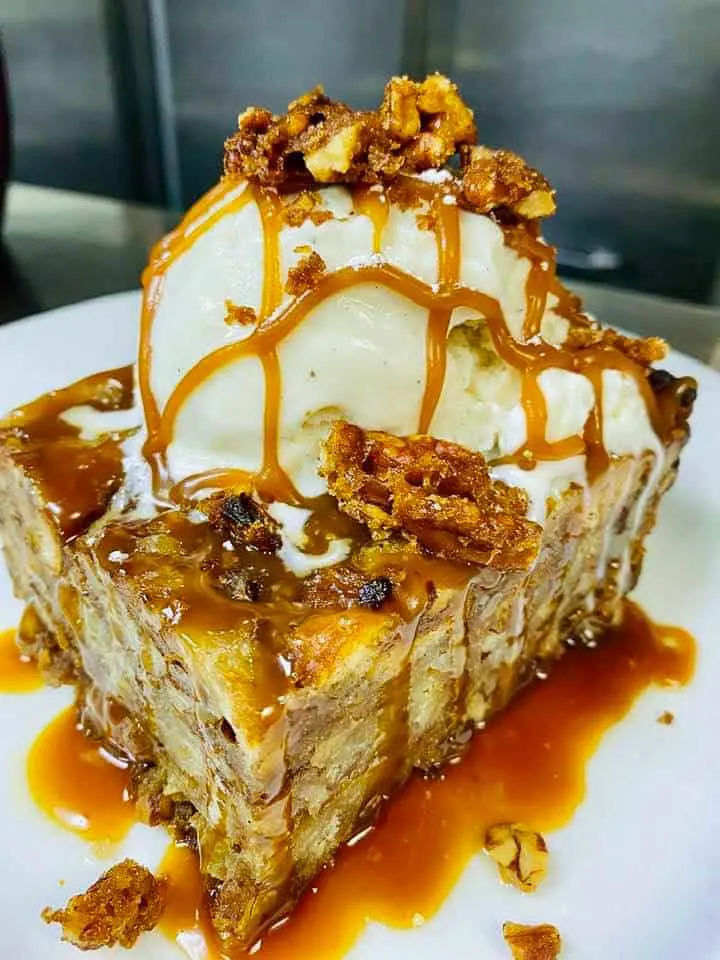 Note: This dessert is made even better with a scoop of vanilla ice cream and caramel sauce drizzled on top.
Ingredients
1 loaf French bread or 6-7 store made Croissants
1qt of Heavy Cream
3 Egg Yolks
2 cups of Sugar
2 tablespoons of Vanilla Extract
Filling Ingredients
1 cup crushed Pecans
1 cup of Sugar
1 tsp of Nutmeg
1 tsp of Cinnamon
1 tsp of Allspice
Half cup of melted Butter
Instructions
Preheat oven to 350 degrees.
Cut bread into cubes and bake until slightly crispy.
Heat up heavy cream and vanilla extract until warm.
In a separate bowl combine egg yolks and sugar.
Pour warm cream over egg mix and sugar and whisk until everything is combined.
Pour mixture over bread cubes and mix together and let rest until the bread soaked up all the liquid.
Pecan pie filling: mix all ingredients together and add mixture to bread pudding.
Place bread pudding into a greased square cooking dish and cover with foil. Bake for 30 minutes to 1 hour until bread pudding is firm. Uncover and let cool to serve.
6. Tomato Soup & Duck Grilled Cheese
There is something very comforting about tomato soup and grilled cheese. It is warm and inviting, the perfect dish to enjoy after a chilly autumn hike.
Fall comes early at Fairmont Jasper Park Lodge, which is located in Canada's jaw-dropping beautiful Jasper National Park. The luxury hotel elevates this classic dish at their Great Hall Gastropub.
Ready for a scenic Canadian road trip? Check this epic itinerary which takes travelers to the highlights along the Banff to Jasper drive.
Their recipe for Tomato Soup and Duck Grilled Cheese Sandwich rewards those who make it with extra crispy bread, gooey cheese, smoked duck, and a caramelized apple aioli.
Note: If you don't have the time or inclination to smoke a duck breast at home, chicken breast is a wonderful alternative.
Book your stay at the Fairmont Jasper Park Lodge.
Tomato Soup & Duck Grilled Cheese Sandwich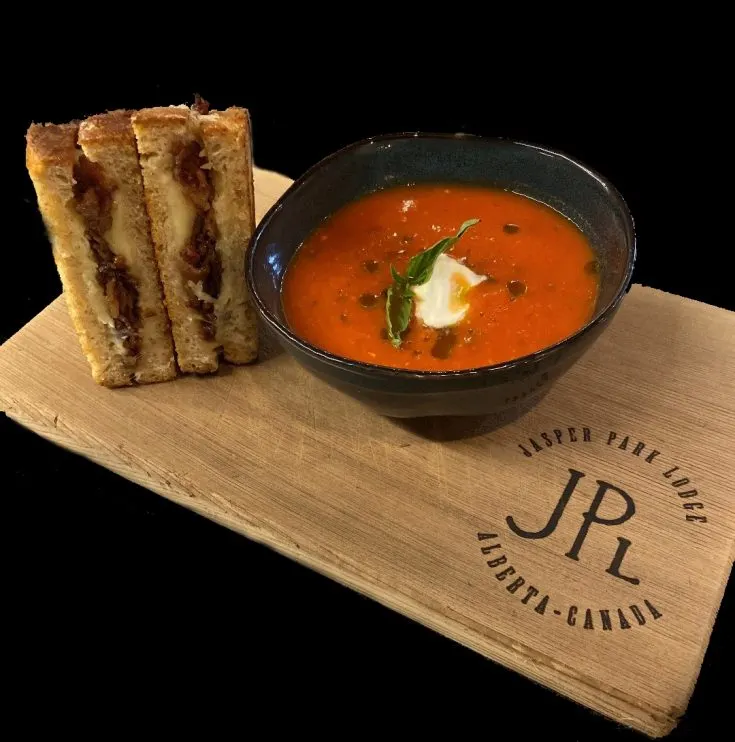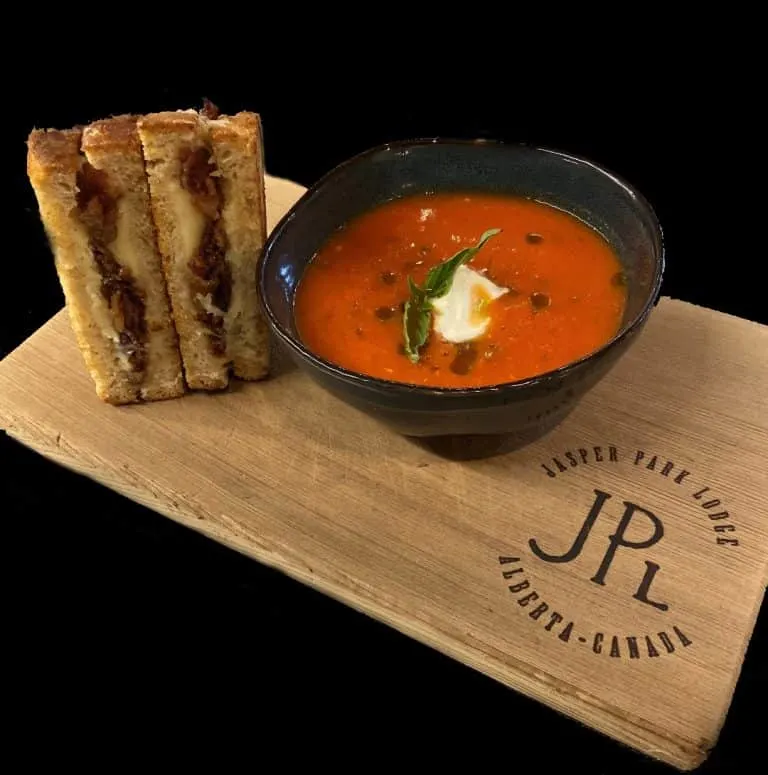 This elevated soup and sandwich recipe comes to us from Executive Sous Chef David Gibson of Venue at the Fairmont Jasper Park Lodge. He has noted that chicken breast is a good substitution if duck breast is not available.
Ingredients
Tomato Soup
1 large Onion diced
6 cloves of Garlic
25 oz Diced Tomatoes
1 quart Vegetable Stock
2 sprigs of fresh Basil
Pinch of Salt to taste
4 tblsp Olive Oil
Duck Grilled Cheese
2 slices of Marble Rye Bread
1 Duck Breast
2 slices of Provolone Cheese
1 small handful of Alfalfa Sprouts
1 Dill Pickle, thinly sliced
2 tblsp Caramelized Apple Aioli
2 tblsp Butter, room temperature
Caramelized Apple Aioli
1 Apple
2 tblsp Butter
1 pinch of Cinnamon
1 tblsp Brown Sugar
1 Pinch Salt
1 cup Mayonnaise
Instructions
For The Tomato Soup:
1. In a heavy bottom sauce pot, add the olive oil on medium heat. Add your garlic, onions, and sauté until translucent.
2. Next, add your tomatoes, vegetable stock, and bring to a simmer. Stir frequently to avoid it sticking to the pot. Allow to cook for 20 minutes.
3. Add your basil and allow to simmer another 10 minutes. Add
the mixture to a blender and blend until smooth (works in smaller batches). Season each batch with more salt if needed.
Note: If not using immediately separate the soup into container and cool in fridge. This will last one cooled for 5 days. If you wish to store it in the freezer, be sure to use a seal tight container and it will hold up to 3 weeks.
For The Caramelized Apple Aioli:
1. In a small saucepan, heat the butter up until it is melted. Add apples
and cook on medium high heat until they start to brown.
2. Once brown, add the brown sugar, salt and cinnamon. Cook until apples are very soft and broken down.
3. Once the mixture has cooled, blend until smooth and mix with the
mayonnaise.
Assembly:
1. Spread room temperature butter on both sides of the marble rye and toast in a medium frying pan over medium low heat. Turn over when golden brown and crispy and repeat on other side.
2. Once the bread is crisp, spread the caramelized apple aioli on the bread. Slice the duck breast thinly and place on top, place the provolone on top, and broil in the oven until the cheese is just melted.
3. Slice the pickles thinly lengthwise and place on top. Finish with the alfalfa sprouts and the other slice of bread. Slice in half on a bias and enjoy!
7. Crispy Roasted Brussels Sprouts With Washington Apple Butter, Bacon Lardons, & Maple Cider Reduction
I never liked Brussels sprouts as a kid. Probably because they were the frozen variety, boiled into a mushy mess. Thankfully, there has been a resurgence of this wonderful vegetable, and millions of us have rediscovered this extremely delicious fall side dish.
I am always looking for a new Brussels Sprouts recipe to enjoy, so when Lake Crescent Lodge, inside of Olympic National Park, sent over their version which features apple butter, bacon lardons, and a maple cider reduction, I couldn't resist sharing!
I also can't resist sharing my guide to the best things to do in Olympic National Park with kids. This diverse park is a great place to visit, especially in that window between the summer crowds and the winter rains.
Crispy Roasted Brussels Sprouts With Washington Apple Butter, Bacon Lardons, & Maple Cider Reduction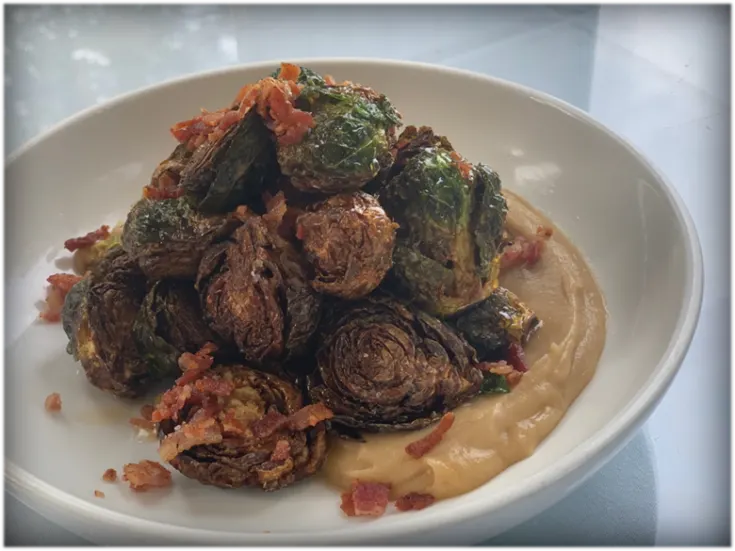 Note: You can save time with this dish by purchasing prepared apple butter if you don't want to make your own.
Ingredients
Roasted Brussels Sprouts
2 quarts quartered Brussels Sprouts
1/4 cup Canola Oil
Salt and Pepper to taste
Washington Apple Butter
5 Washington Granny Smith Apples peeled, cored, and wedged
2 sticks Unsalted Butter
1/2 cup Dark Brown Sugar
2 tblsp Lemon Juice
2 tblsp Fresh Ginger peeled and chopped
1/2 tsp Kosher Salt
Maple Cider Reduction
1 cup Maple Syrup
1 cup Apple Cider
1/2 cup Bourbon
Bacon Lardons
2 cups julienne sliced Bacon
Instructions
For the Crispy Brussels Sprouts:
1. Preheat oven to 400 degrees.
2. Toss quartered Brussels sprouts in a mixing bowl with oil,
salt, and pepper.
3. Place ingredients on a greased sheet tray and roast for 20
minutes.
4. After 20 minutes, check to see if sprouts are golden brown and crispy.
If not, stir and bake more; checking every 5 minutes until desired texture.

For Washington Apple Butter :
1. Place butter in sauce pan and let simmer on medium low until golden brown; add all other ingredients.
2. Increase to medium heat and let simmer until 1/3 of liquid has evaporated, stirring occasionally.
3. Once reduced, place in blender and blend on high until completely silky smooth, then continue pureeing for an additional minute. Store and chill immediately.
For Maple Cider Reduction:
1. Heat bourbon on medium heat in sauce pan and let reduce until alcohol smell is gone.
2. Add syrup and cider. Let reduce by half. Store and chill.
For Bacon Lardons:
1. Place bacon in sauce pan and cook on medium low heat, stirring frequently.
2. Continue to cook until all fat is rendered and bacon is a deep golden brown. Strain fat into bowl then reserve or discard. Place on paper towel to collect excess fat.
Assembly:
To execute this dish, prepare the apple butter, bacon lardons, and maple cider reduction beforehand. Once the Brussels sprouts are fully cooked, either swoosh a generous dollop of apple butter underneath the Brussels sprouts on a plate, or serve on the side. Scatter the bacon over top and garnish with your reduction.
8. Seared Halibut with Pumpkin Grits
Whiteface Lodge is located in Lake Placid, New York in the Adirondacks. The region is known for having on the of the longest fall seasons in the country and the largest trail system in the nation. Sounds like an ideal autumn getaway to me!
Book your stay at the Whiteface Lodge.
KANU Restaurant at Whiteface Lodge has shared their recipe for Seared Halibut with Pumpkin Grits. I feel like fish dishes often get ignored during the fall, but this dish celebrates the season with the iconic pumpkin transformed to a smooth and savory side for the halibut to sit atop.
Yield: Serves 4
Seared Halibut with Pumpkin Grits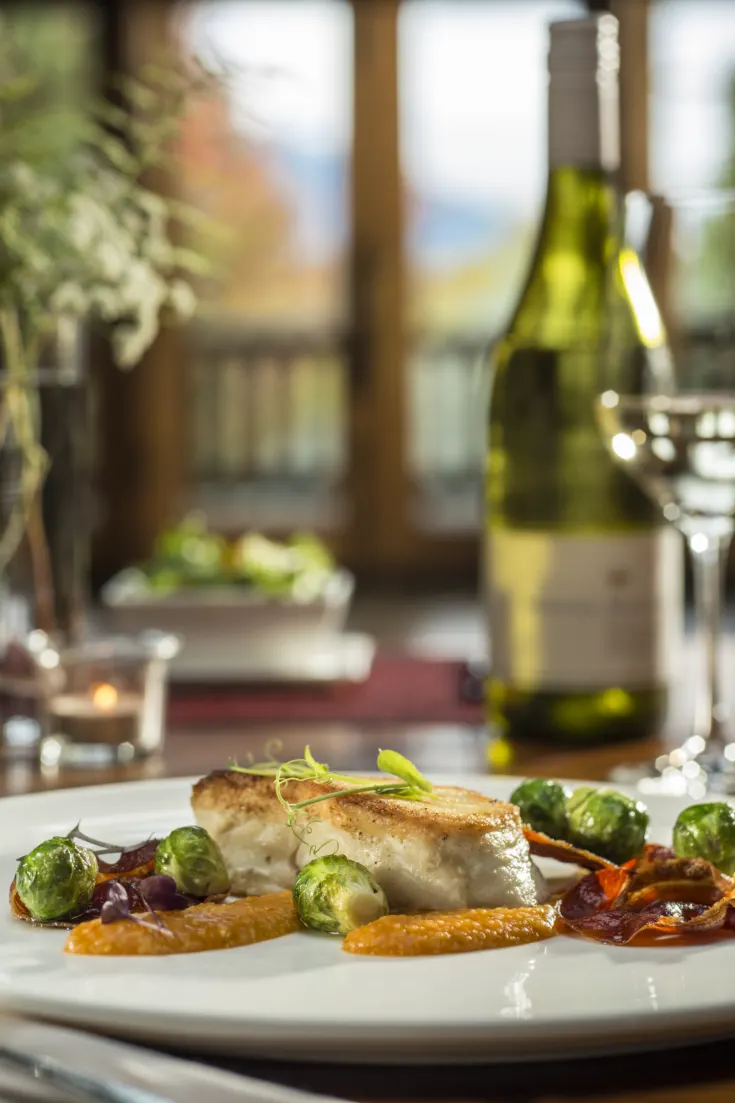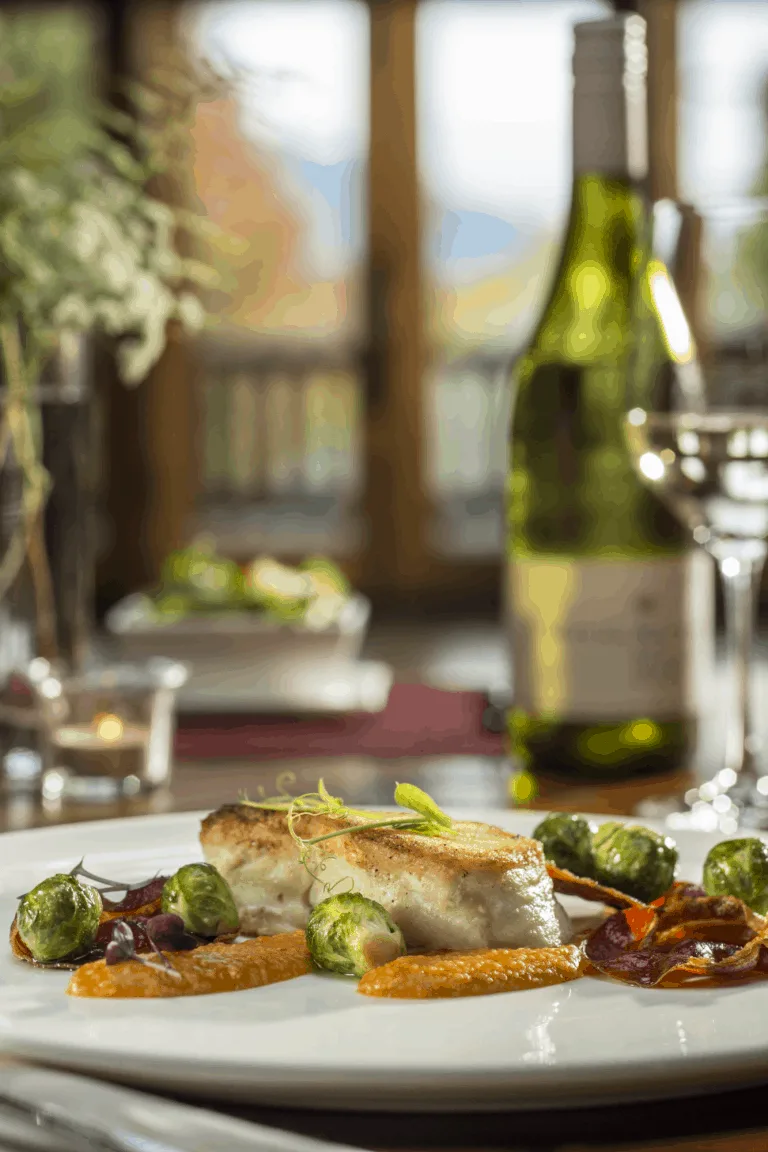 Total Time
1 hour
20 minutes
Ingredients
4 6 oz. portions fresh Halibut
1 Pie Pumpkin
1 cup Grits
2.5 cups Water
8 oz. Pancetta
2 cups Brussels Sprouts
Extra Virgin Olive Oil
Salt and Pepper to taste
Micro Greens to garnish
Instructions
1. Preheat oven to 350 degrees.
2. Carefully cut pumpkin in half and scoop out the seeds.. Coat in olive oil, salt and pepper. Place pumpkin halves, inside down, in a roasting pan. Add a half a cup of water to the pan and roast in oven for 30 minutes or until tender. Take out of oven and set aside to cool.
3. Slice thin strips of pancetta and lay on a parchment paper-lined pan. Cook in oven until golden brown and crispy, approximately 15 minutes at 350 degrees. Pull out and set aside to cool.
4. When pumpkin has cooled enough to touch, using a spoon separate the pumpkin from the skin. In a food processor, puree the pumpkin until smooth.
5. In a medium pot bring 2 cups water to a boil. Add 1 cup of grits and 2 cups of pumpkin puree, while constantly stirring. Reduce heat to medium-low, cover and cook 7-10 minutes. Depending on the water content of the pumpkin, adding more water may be necessary. The grits should have a thick but fluid consistency.
6. Steam Brussels sprouts until tender. Toss in extra virgin olive oil, salt and pepper.
7. While Brussels are steaming, add olive oil to a medium sauté pan over medium high heat, and add halibut fillets. The halibut will release from the pan when it is ready to turn over. Cook approximately 5 minutes on both sides, or until desired doneness.
8. Put a large dollop of grits in the center of the plate and add the halibut, Brussels sprouts, and pancetta. Garnish with fresh micro greens before serving.
9. Roasted Butternut Squash & Pear Soup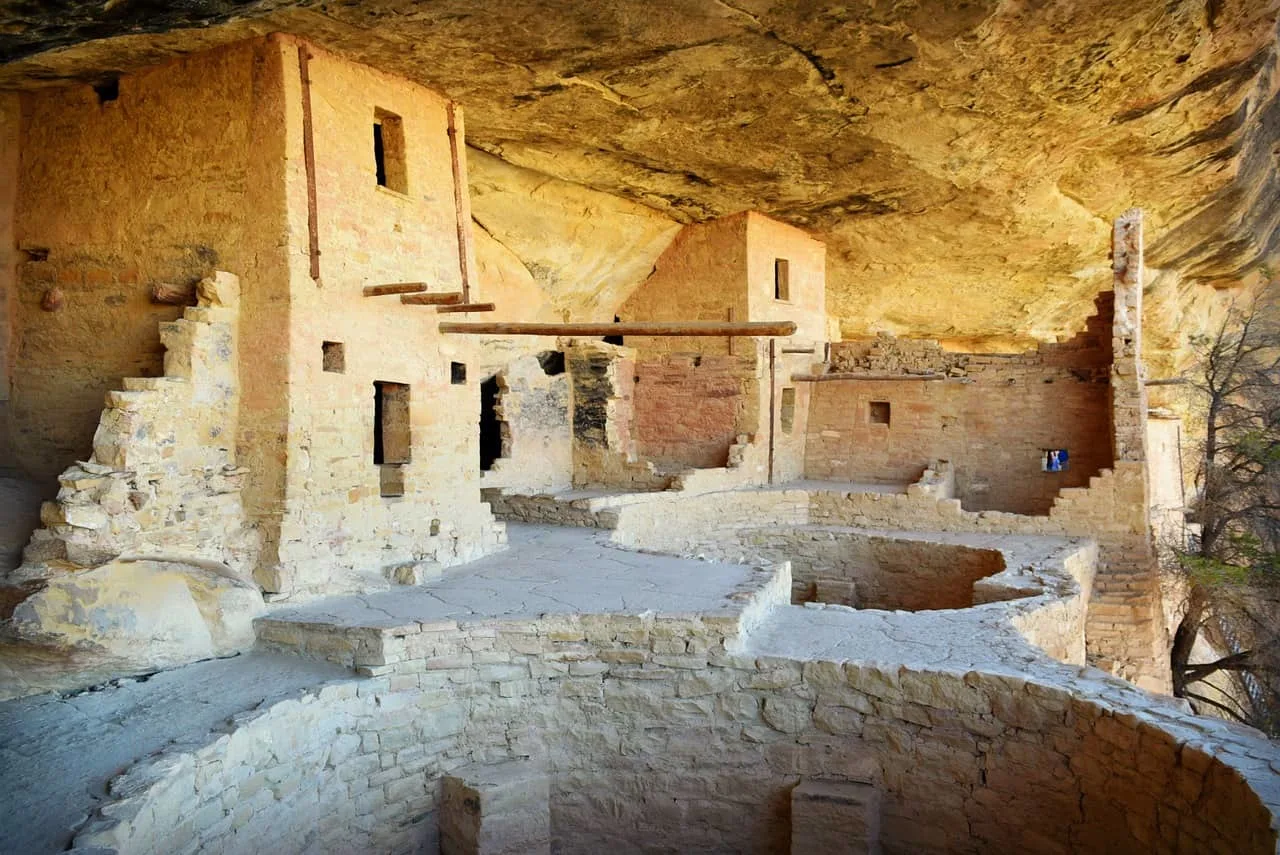 This next recipe has me so excited about fall I can barely stand it. I never thought to combine butternut squash and pear into a soup but now that I have been made aware that this magical combination exists, I can't get enough of it.
The Roasted Butternut Squash and Pear Soup recipe comes from the Far View Lodge in Mesa Verde National Park. The views at this lodge truly do stretch on for miles because it sits atop a mesa high above the Four Corners region.
Mesa Verde National Park is a seasonal park, best explored from late spring through early fall. Here are our favorite things to do in Mesa Verde National Park with kids.
Roasted Butternut Squash and Pear Soup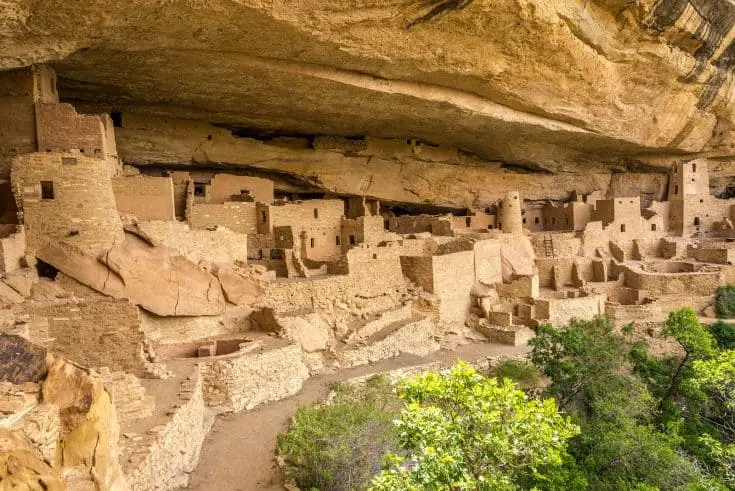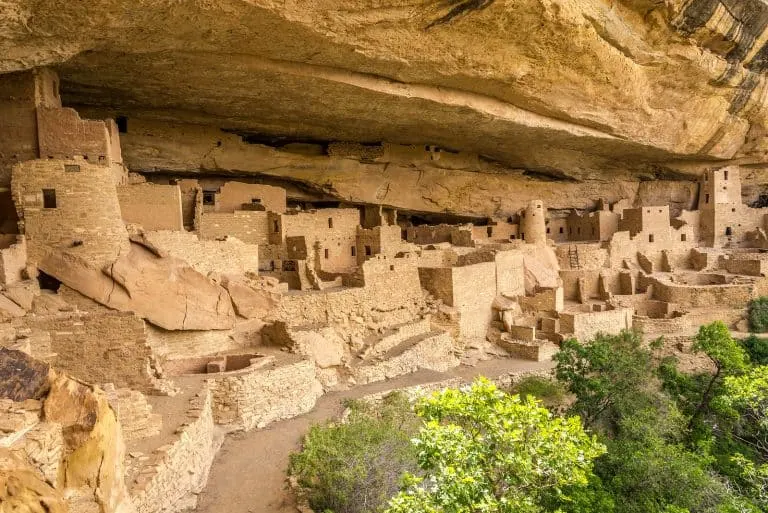 This recipe comes courtesy of Executive Chef Scott Bauman of the Metate Room at the Fair View Lodge in Mesa Verde National Park.
Ingredients
2 ounces Olive Oil, divided
1 medium Yellow Onion, diced
4 cloves Garlic, minced
2lbs Butternut Squash
3 Pears, peeled & coarse chopped
3tblsp Brown Sugar
1quart Vegetable Stock
To taste Sea Salt, divided
To Taste Black Pepper, divided
1/4 tsp Cinnamon
Pinch of Nutmeg
1 cup Heavy Cream
1/2 Lemon, juiced
2 leaves Sage, fresh and finely chopped
Instructions
To Roast Squash:
1. Preheat oven to 350 degrees.
2. Peel, seed, and coarse chop butternut squash.
3. Place squash in mixing bowl and toss with ½ of the oil, cinnamon, nutmeg, and season w/ salt & pepper.
4. Layout on roasting pan and place in oven and roast for 20 minutes.
To Make the Soup:
1. Using a thick bottom sauce pan over medium heat, add remaining olive oil, onions, butternut squash, & brown sugar.
2. Cover pan, reduce heat to low, and allow to slow cook for 15 minutes.
3. Add garlic, vegetable stock, bring to boil and cook until squash is soft.
4. Add peeled, seeded & coarse chopped pear, return to heat and cook until pear is soft.
5.Remove from heat, place ingredients into blender in batches, and puree until smooth.
6. Place pureed soup into a clean sauce pan, add heavy cream, bring to simmer, adjust seasoning with salt & pepper.
7. Add lemon juice, and chopped sage. Serve.
10. Vegan Acorn Squash Ratatouille
Seasonal squash comes in many forms during the fall. Acorn squash is always a fun vegetable to work with because it acts as its own bowl and can be stuffed with all sorts of goodies.
This recipe for Vegan Acorn Squash Ratatouille is stuffed with a variety of veggies and served atop a bed of couscous. It comes from the Madison Beach Hotel in Connecticut (aka: Autumn Central). It reminds us that a meal can be filling, satisfying, and delicious, without the addition of meat.
Here are our favorite family activities in Connecticut.
Yield: Serves 4
Vegan Acorn Squash Ratatouille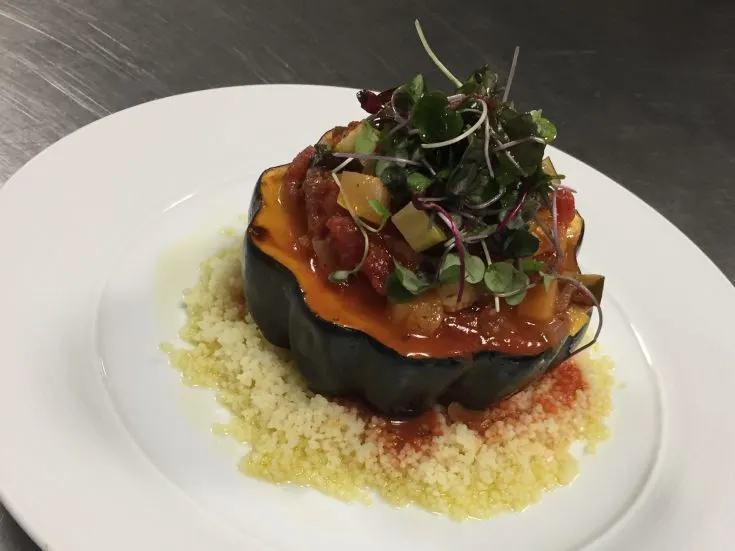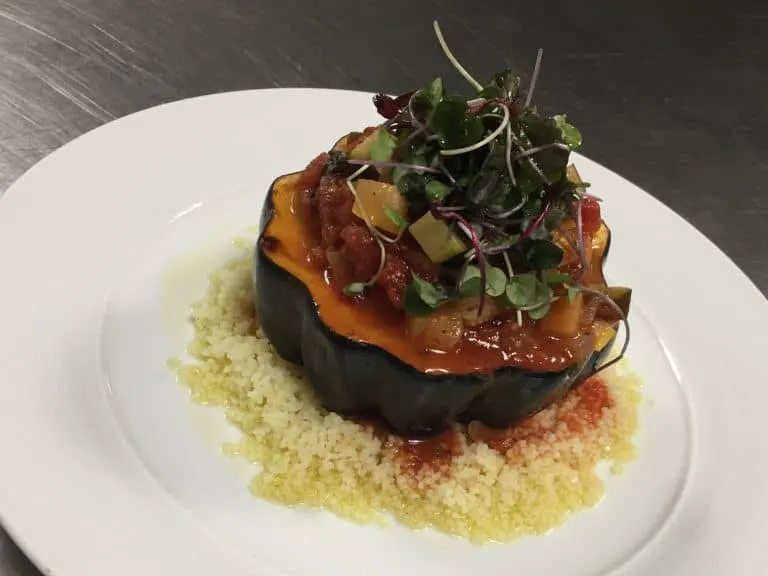 Ingredients
2 Acorn Squash (cut ends and in half width wise, clean out seeds)
1 Small Spanish Onion (1/4in. dice)
1 Small Eggplant (1/4in. dice)
1 Zucchini (1/4in. dice)
1 Yellow Squash (1/4in. dice)
1 Can Diced Tomato (16 oz)
2 Tbsp. Minced Garlic
2 c. Prepared Couscous
1 c. White Wine
Olive oil
1 Tbsp chopped fresh Oregano
1 Tbsp chopped fresh Basil
Salt/Pepper to taste
Instructions
1. Place acorn squash on sheet pan with small amount of olive oil drizzled on them and roast in 350-degree oven for approximately 30 mins.
2. Prepare filling. Sauté onion and garlic in small amount of olive oil. Add white wine. Add remainder of vegetables and herbs. Simmer for 15 minutes on medium heat.
3. Place your prepared couscous on plate. Place roasted acorn squash in center. Fill with your vegetable mixture. Garnish as you like. Serve.
11. Vermont Maple Cake
When you think of maple syrup, do you think of Vermont? I sure do! Vermont is a wonderful place to visit in the autumn, and is the maple syrup capital of the United States. When Woodstock Inn and Resort offered to share their recipe for a homemade Maple Cake, how could I resist?
Here are some of favorite things to do in Vermont with kids.
The great thing about this recipe is that it makes 10 individual cakes, so you don't have to share your little piece of Vermont with anyone.
You can find more of their chef's recipes on the Woodstock Inn website.
Yield: 10, 4-inch Cakes
Vermont Maple Cake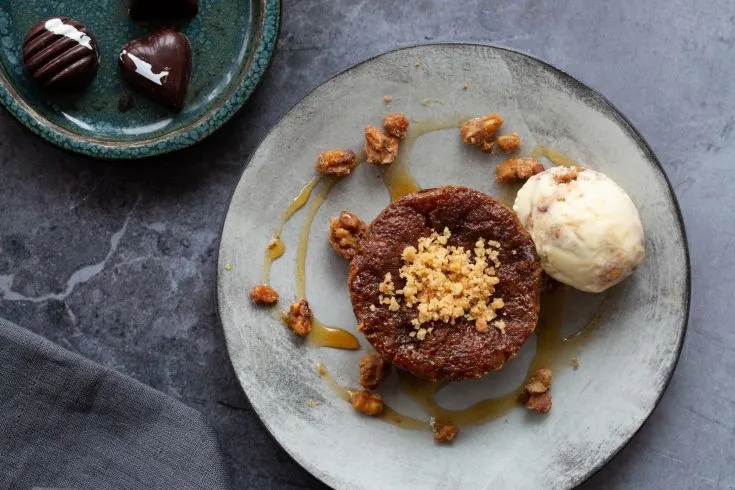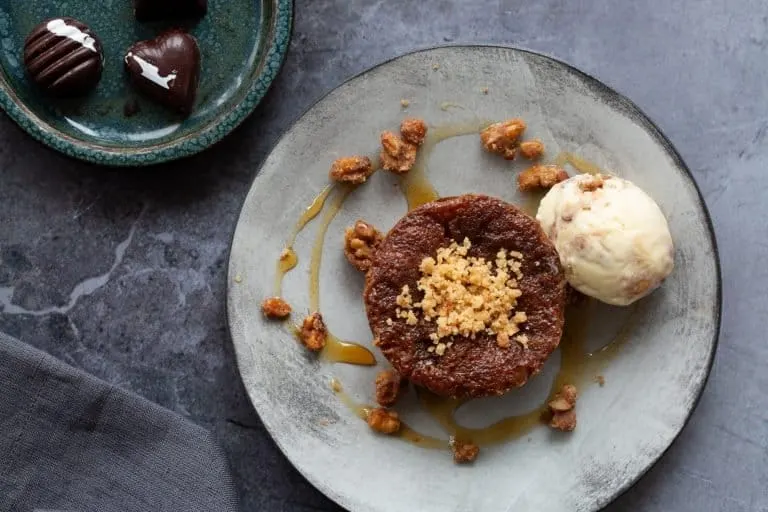 Ingredients
Sable Dough Ingredients
4 cups All Purpose Flour
3/4 cups Sugar
1 1/2 cups + 1 tblsp cold Butter
Maple Cake Ingredients
1 1/2 cups packed Brown Sugar
2 3/4 cups Vermont Maple Syrup
1/2 cup + 2tblsp cold Butter
5 Eggs
1/3 cup All Purpose Flour
Instructions
For the Sable Dough:
1. Mix all the ingredients together until a soft dough forms.
2. Roll out and set the dough into the bottoms of 10, 4-inch round forms. Chef recommends a Flexipan.
3. Bake the Sable Dough for 10 minutes at 350 degrees.
For the Maple Cake:
1. Boil the Vermont maple syrup with the brown sugar, then add the butter. Let the sugar and butter mixture cool.
2. Next, add the eggs and flour. Mix thoroughly.
3. Pour the batter onto the Sable and bake for 30 minutes at 350 degrees in a convection oven, or 375 degrees in a traditional oven.
4. Let the cakes cool and unmold. Enjoy!
12. Smoked Cheddar-Green Chile Polenta
New Mexico is one of those states that has a cuisine all to its own. And much of the cuisine in New Mexico revolves around chiles. There are debates over red chiles and green chiles and people love to throw chile in just about everything!
So it is no surprise that La Fonda on the Plaza in Santa Fe shared a chile-enhanced fall recipe. Their Smoked Cheddar-Green Chile Polenta is warming to the soul, and the perfect accompaniment to dishes like roasted chicken or quail.
Discover our top picks for things to do in New Mexico with kids.
Yield: 1 quart
Smoked Cheddar-Green Chile Polenta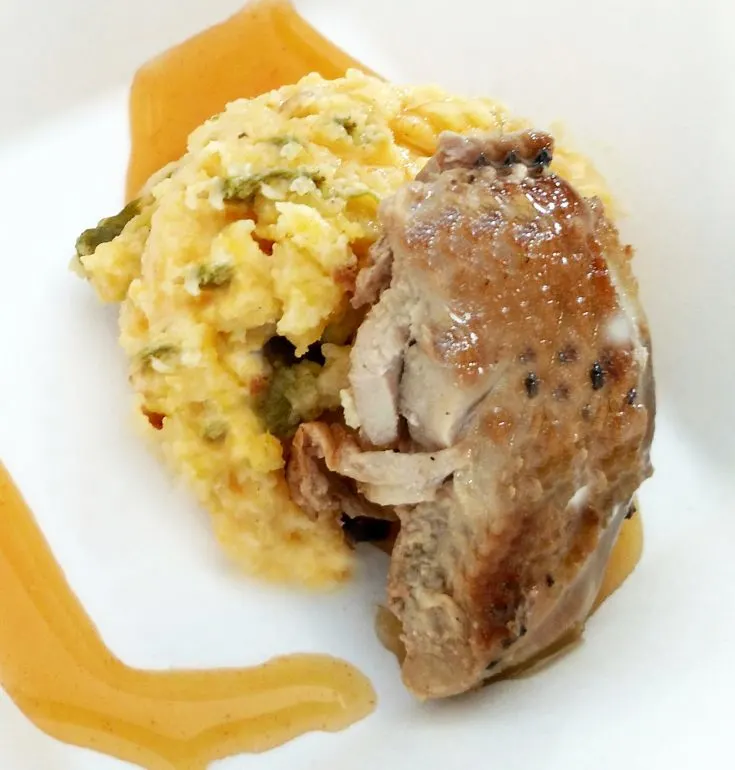 This wonderful side dish can be served with quail, ribs, chicken, or whatever protein you prefer.
Ingredients
3 tablespoons chopped Shallots
1 tablespoon minced Garlic
2 tablespoons Butter
2 cups Vegetable Stock
3 cups Half and Half
1/2 pound Yellow Cornmeal
8 ounces Smoked Cheddar, shredded
4 ounces Green Chile, chopped
Instructions
1. Sauté garlic and shallots in butter until translucent.
2. Add the stock and the half and half and bring to boil, slowly add the cornmeal in a steady stream, stirring constantly.
3. Turn down to simmer and stir constantly until the cornmeal pulls from the side of pot or for about 20 minutes.
4. Remove the pot from the heat and add the cheese and green chile, stir in vigorously. Season to taste with salt and pepper.
13. Miami Fall Energy Bites
Fall in Miami doesn't look like it does for most of the country. There are no changing leaves but there are plenty of sunny days, perfect for being active outside.
The Shelbourne South Beach shares their recipe for Fall Energy Bites which are great to make ahead and take with you on all your autumn outdoor activities. The pecans and cinnamon in these bars reflect the flavors of the season.
Fall Energy Bites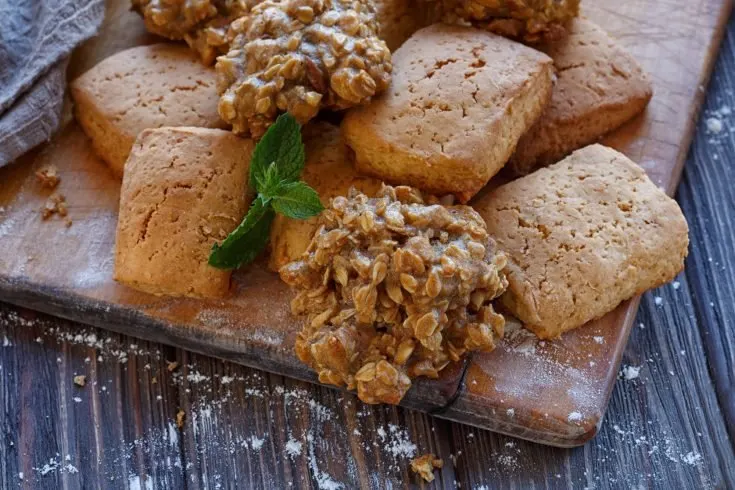 Ingredients
2 cups Quick Oats
1/2 Cup Raisins
1 cup chopped Pecans
1/2 cup Peanut Butter
1/2 cup Wildflower Honey
1 tsp Vanilla Extract
1/2 Cup Toasted Coconut
1 tsp Cinnamon
1 cup Chocolate Chips
Instructions
1. Mix all ingredients together.
2. Refrigerate for one hour
3. Form into little bars compressing it with some parchment paper.
4. Refrigerate for up to 1 week or freeze.
14. Doughnut Bread Pudding
Doughnut Bread Pudding. Do I really need to say anything else? The Omni Homestead Resort in Virginia takes traditional version of this already decadent dessert to another level. Instead of regular ole bread, they use doughnuts and croissants! I know, right?
Headed to Virginia? Here are 10 great things to do in Virginia with kids.
Doughnut Bread Pudding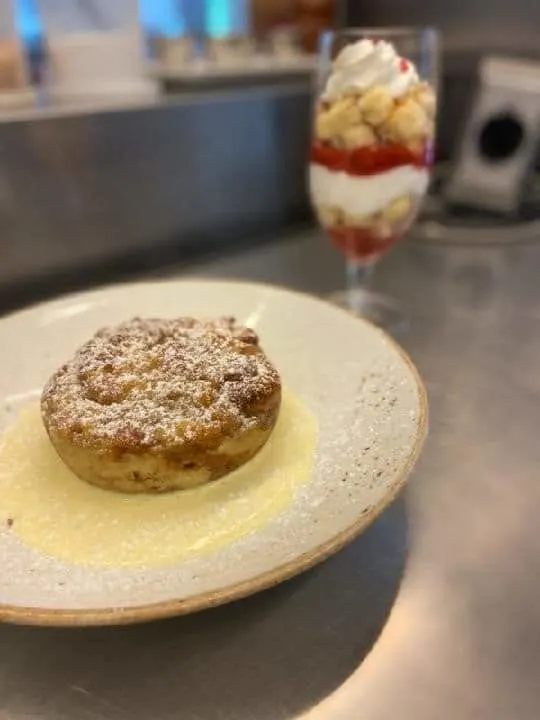 Ingredients
14oz. Condensed Milk
2 1/2 oz. Jack Daniels
17 1/2 oz Whole Milk
5 Eggs
1/2 tsp Ground Cinnamon
1/2 tsp Vanilla Extract
Baked Croissants and/or Homemade Doughnuts (as needed)
Instructions
1. Preheat oven to 325.
2. Place all ingredients except doughnuts and croissants into a large bowl and mix together till all in incorporated and smooth
3. In another larger bowl place croissants and doughnuts in an equal portion (or just use one type of pastry) and mix together
4. Ladle custard mix over the croissants and doughuts just to cover the top, and let stand 3 minutes.
5. Fold mixture together to ensure all is saturated and place into baking dish.
6. Once mix is in the dish, ladle more liquid over to fill any areas that are open
7. Place in oven at 325F and bake until top is golden brown and firm to the touch. Baking times will vary based on size of dish that is being used. Let stand for 10 minutes before serving.
15. Apple Tarte Tatin
I miss international travel. Tasting the flavors of the world and witnessing the beauty and diversity of our planet is truly one of the greatest joys in life.
Though I can't visit France right now, I can still eat like I would with this traditional Apple Tarte Tatin recipe.
Tarte Tatin, is basically an upside-down apple tart. It originates in the Loire Valley region of France. In the late 1800s, the Tatin sisters of the Hotel-Restaurant Tatin at Lamotte-Beuvron in Sologne, created this dessert and this recipe is the original.
Here is a video showing you how to make it as well.
Apple Tarte Tatin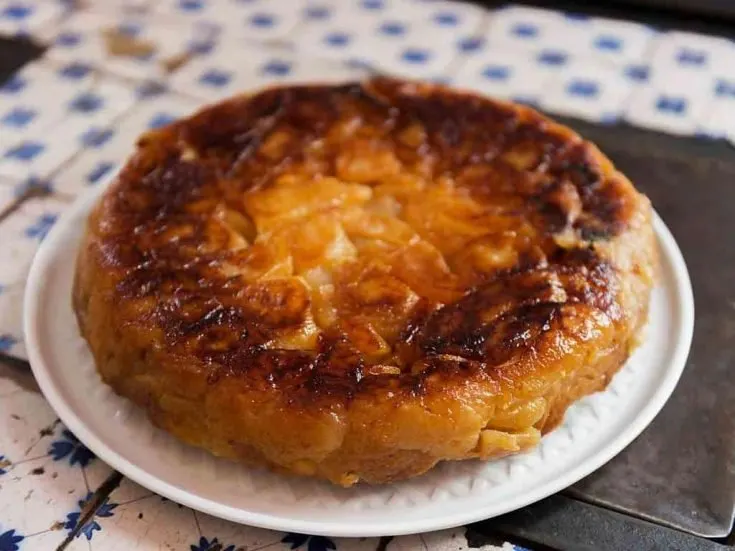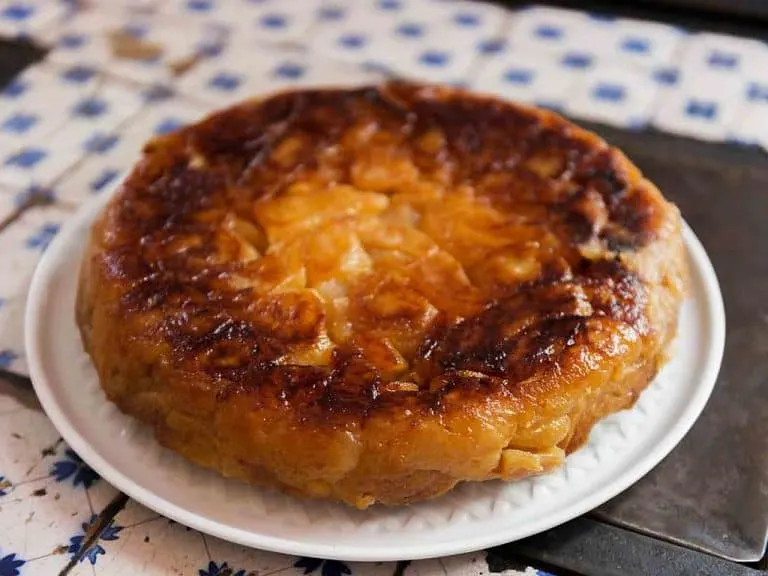 Ingredients
7 Apples (for a 10-inch pan)
For the Pastry
1 1/2 cups sifted All Purpose Flour
1 tsp Salt
5 oz softened Butter
1 Egg
1/2 cup Sugar
For the Caramel
1/2 cup Sugar
2 oz. Butter
2 tblsp Water
Instructions
1. In a mixing bowl add the flour and butter and blend the ingredients until you get a sandy texture.
2. Add the sugar, the egg, and the salt.
3. Knead and fold the dough, then shape it into a flat brick, wrap in plastic and refrigerate for 2 hours or more. Remove and let sit approx. 10 minutes.
4. Peel and core the apples then cut them into quarters.
5. In a hot ungreased frying pan or an ovenproof deep cake dish, add a little water to the caramel sugar, then the butter, and stir until melted.
6. Arrange your apple quarters in a circle, vertically so they cover the entire pan.
7. Place frying pan back on low heat and cook the apples for 20 to 25 minutes.
8. Roll out your pastry to about 1/4 of an inch and cut it into a circle slightly larger than the pan.
9. Place it over the pan and tuck in the edges.
10. Bake in oven at 425ºF for 30 minutes (or until pastry is crisp and crusty).
11. Once cooked, place a board or a plate on top of your pan, and using both hands, flip over so the tart is upside down.
12. Remember to always serve warm, with a dollop of vanilla ice cream if you wish.
16. Cast Iron Cornbread
I love it when the days get cooler so I can cook up a bunch of chili and eat it with cornbread. Massanutten Resort in Virginia has shared their recipe for Cast Iron Cornbread, because everything just seems to taste better when it is cooked in cast iron.
The resort sits on 6,000 acres in the Shenandoah Valley, an ideal fall getaway destination for families. Whether you are hiking in the nearby mountains or zip lining and mountain biking in the Family Adventure Park, you are sure to work up a hearty appetite.
Cast Iron Cornbread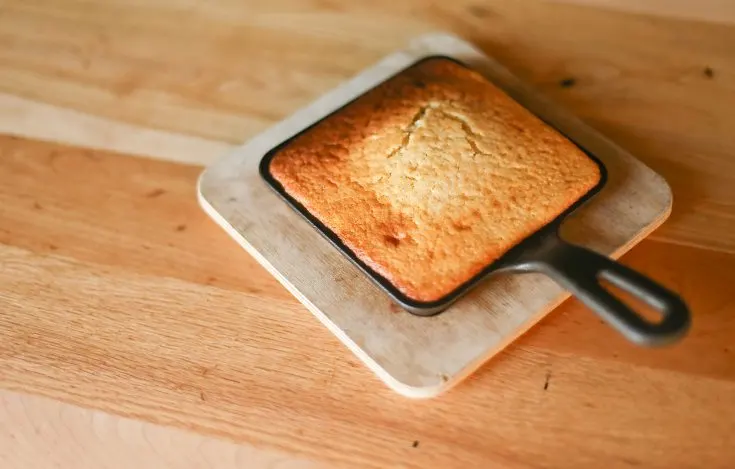 Ingredients
5 Eggs (whites and yolks separated)
1 1/4 cups Milk
1.5 tsp Vanilla Bean Paste
3/4 cups Melted Butter
1 cup Cornmeal
2 cups Flour
1 3/4 cups Sugar
1 tblsp Baking Powder
1 1/2 tsp Salt
Instructions
1. Preheat oven to 350 degrees and grease a 9 x 13 baking pan.
2. In a medium bowl combine the eggs yolks, milk, vanilla extract, and melted butter. Stir until combined.
3. Add in the cornmeal, flour, sugar, baking powder, and salt. Stir until just combined.
4. In a separate bowl, beat the egg whites until stiff peaks form.
5. Fold into cornmeal mixture and stir until just combined.
6. Pour batter into prepared 9 x 13 baking pan.
7. Bake for 26-28 minutes, until toothpick comes out clean when inserted in the center.
17. Squash & Ricotta with Brown Butter Apples
If you are looking for a lovely fall getaway in Arizona, look no further than Sedona. This red rock paradise feels like a national park, and the higher elevation keeps things cooler than down in the Valley of the Sun where Phoenix is located.
Check out the best things to do in Sedona with kids.
Amara Resort and Spa is located along lush Oak Creek, and their SaltRock Southwestern Kitchen serves up sophisticated Southwest cuisine. They have shared there recipe for their signature Squash & Ricotta dish, featuring housemade ricotta, rosemary-roasted local squash, brown butter apples, watercress, pecans, and a cider gastrique.
Squash & Ricotta with Brown Butter Apples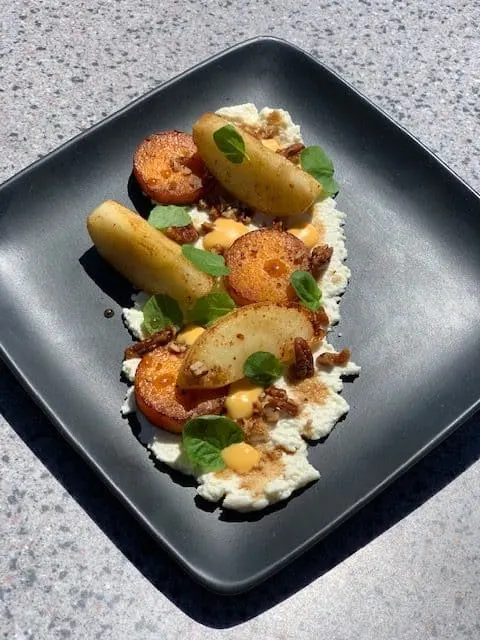 You can save a considerable amount of time by purchasing fresh ricotta instead of making it, but since it is simple to make, we included the instructions below.
Ingredients
Ricotta
13 cups Whole Milk
3 cups Heavy Cream
1/4 cup White Vinegar
1/4 cup Lemon Juice
Salt (to taste)
Roasted Butternut Squash
1 Butternut Squash
2 sprigs fresh Rosemary
2 tblsp Olive Oil
Brown Butter Apples
Cider Gastrique
1 cup Apple Cider
1/2 cup Sugar
1/2 cup Apple Cider Vinegar
1/8 tsp Cinnamon
Instructions
For the Ricotta:
1. Combine milk, heavy cream, and salt in a large pot and bring up to a boil.
2. Once boiling, add vinegar and lemon juice and turn down to a simmer. Simmer for about 5 minutes.
3. Strain through 2 pieces of cheese cloth and a perforated pan. Once cool, store in an airtight container and refrigerate.
For the Roasted Butternut Squash:
1. Peel the Butternut squash, and cut in half. Using the top half (without the seeds), cut into ¼"planks. Then use a circle cutter to cut circles.
2.Toss the circles in the olive oil and chopped rosemary, season with salt and pepper, and then roast at 350 degrees for about 10 minutes or until soft. Cool and reserve.
For the Brown Butter Apples:
1. Peel the apple and then cut into 8 pieces. Cut out the cores and seeds.
2. Using a medium saute pan over medium heat, add the butter and the apples.
3. Sear on one side then flip, and sear the other side until the butter is browned (smells nutty). Take out of the pan and cool.
For the Cider Gastrique:
1. Place sugar in a medium sauce pot with enough water to make it feel and look like quicksand.
2.. Cook over medium heat until it starts to caramelize. Once it caramelizes, add in the cider, vinegar, cinnamon, and salt and reduce until it coats the back of a spoon. Cool and set aside.
To Serve:
1. Place some of the ricotta on the plate. Top with butternut squash and apple. Drizzle with the cider gastrique. Enjoy!
18. Inspiration Point Hiker's Salad
I admit it. I was 100% swayed to include this recipe for Inspiration Point Hiker's Salad because of the photo above. Is it not one of the most beautiful salads you have ever seen?
The roasted beets and carrots just scream fall to me and the acai pomegranate vinaigrette will put to good use the bounty of pomegranates my tree produces every autumn. The recipe comes from The Broadmoor, a legendary resort in Colorado Springs.
They say it is "a hearty salad that gives you the fuel you need after a long hike taking in the fall colors." I say it looks like a wonderful vegan meal to enjoy any time of year.
Here are some of the best things to do in Colorado with kids.
Inspiration Point Hiker's Salad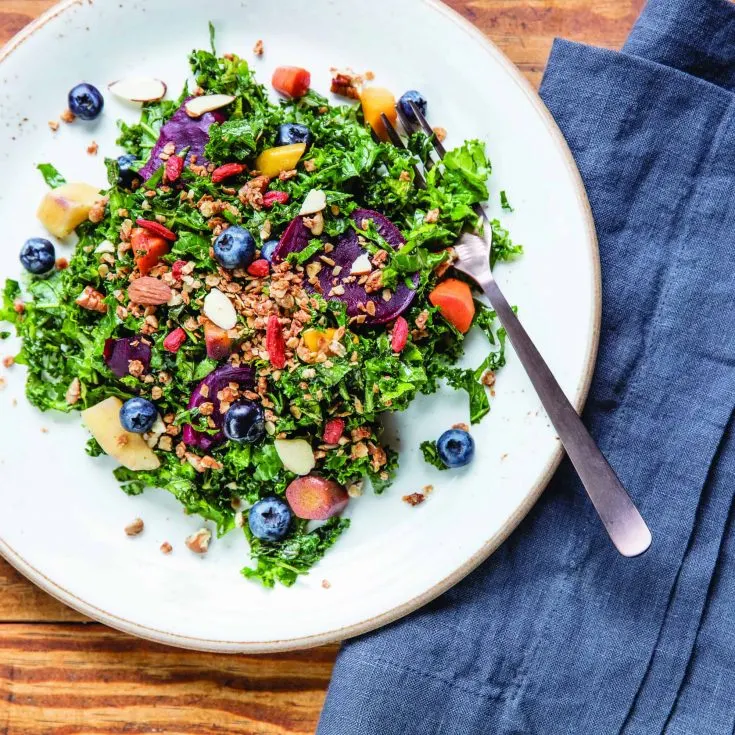 Ingredients
For the Salad
1.5 lbs Curly Kale, de-stemmed and finely chopped
5 tblsp Acai Pomegranate Vinaigrette (recipe below)
1 Medium Beet (topped with olive oil/salt/pepper and roasted + sliced)
6 Multicolor Carrots (roasted along with the beet and diced)
1 Pint Blueberries
1 cup of your favorite Granola
Acai Pomegranate Vinaigrette
1/4 cup Acai puree
1/8 pint Blueberries
1/4 cup Pomegranate Vinegar
1/2 tblsp Honey
2/3 cup Vegetable Oil
1/4 cup Hot Water
Salt and Pepper
Instructions
For the Dressing:
1. Put first 4 ingredients in a blender and puree.
2. With the motor running, slowly add the oil. Add water if it gets too thick.
3. Taste and adjust for seasoning. Store in the refrigerator until ready to use.
For the Salad:
1. Place kale in a mixing bowl with the vinaigrette and rub leaves between your fingers.
2. Place dressed greens on a plate and top with the remaining ingredients, finishing with the granola.
19. Chiles en Nogada
Fall means different things in different places. For our friends to the south in Mexico, it is a time to celebrate Dia de los Muertos and Mexican Independence Day.
Chiles en Nogada is a traditional Mexican dish which represents the green, red, and white of the Mexican flag. Grand Residences Riviera Cancun shares their recipe for this special dish which they serve up in September. These poblano chiles are stuffed with meat, spices, and fruit and topped with a creamy sauce and pomegranate arils.
Yield: Serves 8
Chiles en Nogada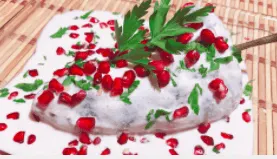 Note: You can use cooking oil instead of lard if you prefer.
Ingredients
Chile Stuffing
1/2 Cup Lard
3 cups of Onion
1 1/2 tsp Garlic
2/3 lb Ground Beef
2/3 lb Ground Pork
3/4 tsp Salt
1 tsp Black Pepper
4 cups Tomatoes
1/4 tsp Cinnamon
1/4 tsp Nutmeg
1/4 tsp Cumin
1/4 tsp Clove
1 Pear
1 Peach
1 Plantain
About 20 Almonds
1/4 cup Pine Nuts
8 Poblano Peppers
3 1/4 tblsp Raisins
Nogada Suace
3 1/2 tblsp Goat Cheese
1/2 cup Walnuts
2 1/2 tsp Sugar
3 cups Milk
2 cups Sour Cream
3 1/2 ounces Sherry Wine
1/4 tsp Salt
Garnish
Pomegranate Seeds
Parsley
Instructions
1. Roast the poblano peppers, clean them, and remove the seeds.
2. Chop the onion, tomato (without seeds), pear, peach, and plantain into cubes. Finely chop the garlic, almonds, and parsley. Clean the pomegranate and reserve the seeds for the final touch.
For the Stuffing:
1. Heat the lard and fry the onion until translucent.
2. Add the garlic, and cook for 1 more minute
3. Add the ground beef and pork with salt and pepper, and cook for 10 minutes..
4. Add the rest of the ingredients, mix and cook for 5 minutes more.
5. Fill the chilis with the warm stuffing.
For the Nogada Sauce:
1. Blend together the goat cheese, walnuts, sugar, cream, milk, sherry wine, and the salt until combined.
To Serve:
Place the stuffed chili on a plate. Top with the sauce and decorate with the pomegranate seeds and parsley. Enjoy!
20. Pan-Fried Brussels Sprouts with Toasted Hazelnuts, Rosemary Salt, Granny Smith Apple & Local Honey
Since I love Brussels sprouts so much, I decided we needed one more Brussels sprout recipe to round out our list of fabulous fall recipes.
This one comes from the Barnsley Resort in Georgia. This resort in north Georgia is a great place to spend an outdoorsy fall weekend. They have hiking, horseback riding, biking, boating, and shooting to enjoy.
Their Brussels Sprouts are pan fried and tossed with roasted hazelnuts and rosemary salt, and then topped with shaved granny smith apples and local honey.
Pan-Fried Brussels Sprouts with Toasted Hazelnuts, Rosemary Salt, Granny Smith Apple & Local Honey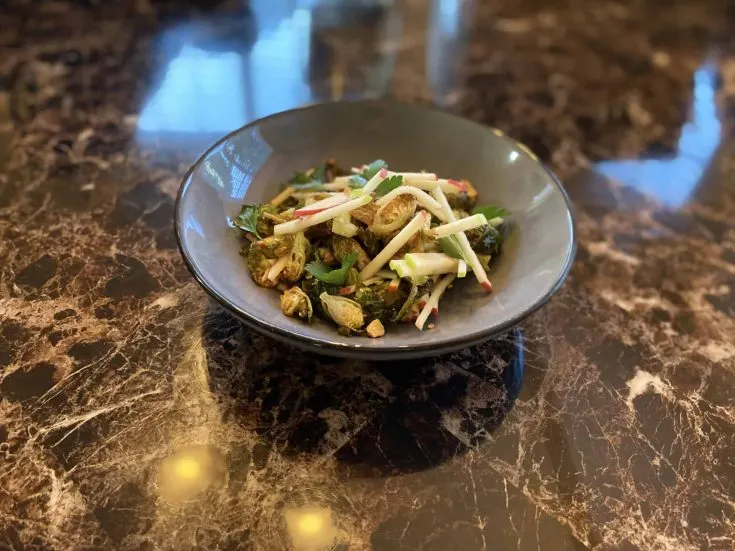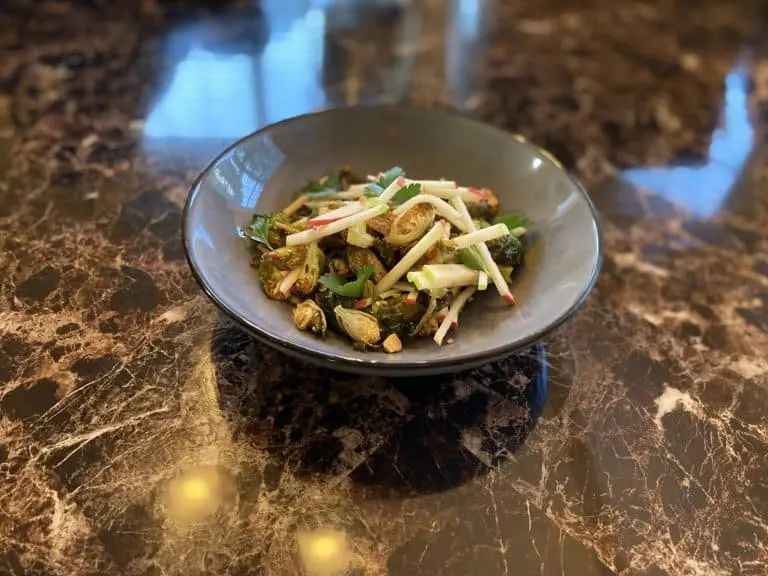 Ingredients
½ cup of Extra Virgin Olive Oil
1 lb Brussels Sprouts
2 oz Toasted Hazelnuts
1 Granny Smith Apple
1 tblsp Local Honey
1/2 cup Kosher Salt
1 sprig of Rosemary, finely chopped
1 clove of Garlic, chopped
Lemon Zest from 1 lemon
1/2 bunch of Parsley
A pinch of Cracked Black Peppercorn
Instructions
1. Pre-heat the oven to 350F.
2. Remove the outer leaves of the Brussels sprouts and cut in quarters.
3. Heat the olive oil in a large sauté pan to medium-high head and pan fry the quartered Brussels sprouts until golden, stirring often.
4. In the meantime, toast the hazelnuts in the oven set at 350F until golden brown (about 10 minutes or so, checking often).
5. Place toasted hazelnuts into a food processor; pulse a few times until reaching the desired consistency.
6. Prepare the rosemary salt. First, finely chop rosemary and parsley. Mix in a large bowl with chopped garlic clove, lemon zest and kosher salt. (Tip: For a more refined salt consistency, pulse in the food processor.)
7. Remove the Brussels sprouts from heat once they are evenly pan fried and golden brown.
8. Transfer the Brussels sprouts to a large mixing bowl and toss with the toasted hazelnuts and rosemary salt.
9. Transfer combined Brussels sprouts to a serving dish or platter of your preference. Using a mandolin or box grater (large holes), shred the Granny Smith on top. Drizzle with local honey to finish. If desired, season with black pepper.