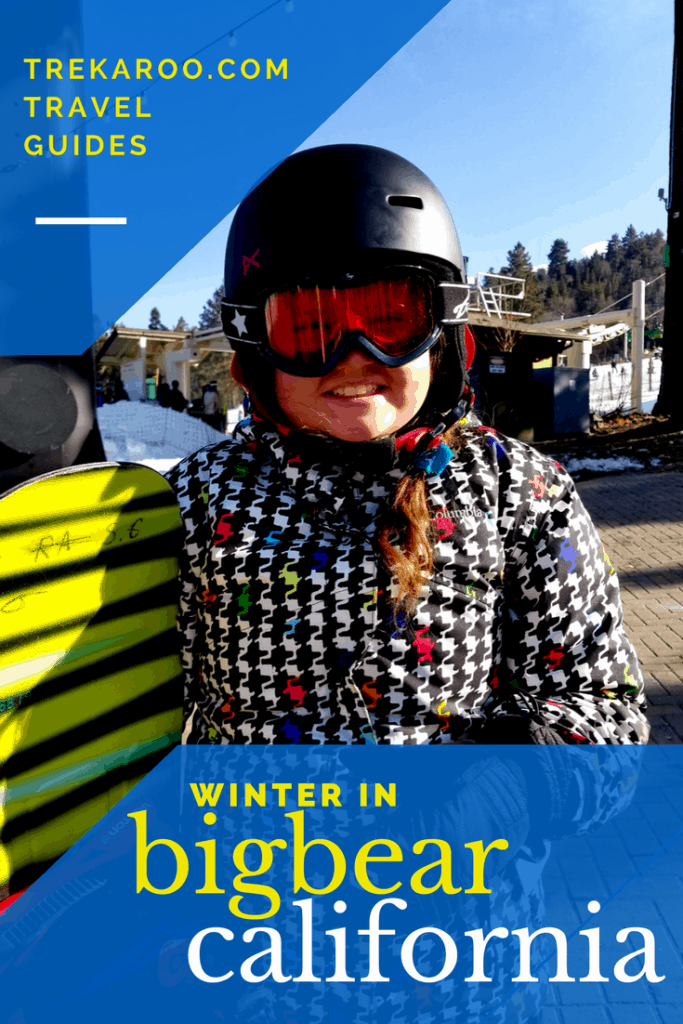 Looking for a family-friendly winter-destination in Southern California? Many visitors to SoCal might be surprised to know that just a short day-trip from Los Angeles sits a winter wonderland in the San Bernardino mountains. High elevations (over 8,000 feet), cool mountain temperatures, and coastal clouds that tend to linger provide the perfect winter environment high in the mountains in Big Bear Lake, California. Ready to plan a trip to Big Bear Lake, California with kids?
My family recently returned from a Big Bear Snow Play weekend getaway. Even with coastal temps in the 60s and 70s, we enjoyed near-freezing temperatures in Big Bear that allowed for a snow-covered ski resort, bundled up evening walk through the Village and late-night warm-ups with hot chocolate by the fire. Explore California's wintry mountains in Big Bear Lake, California with kids.
Big Bear Snow Play & Family-Friendly Winter Activities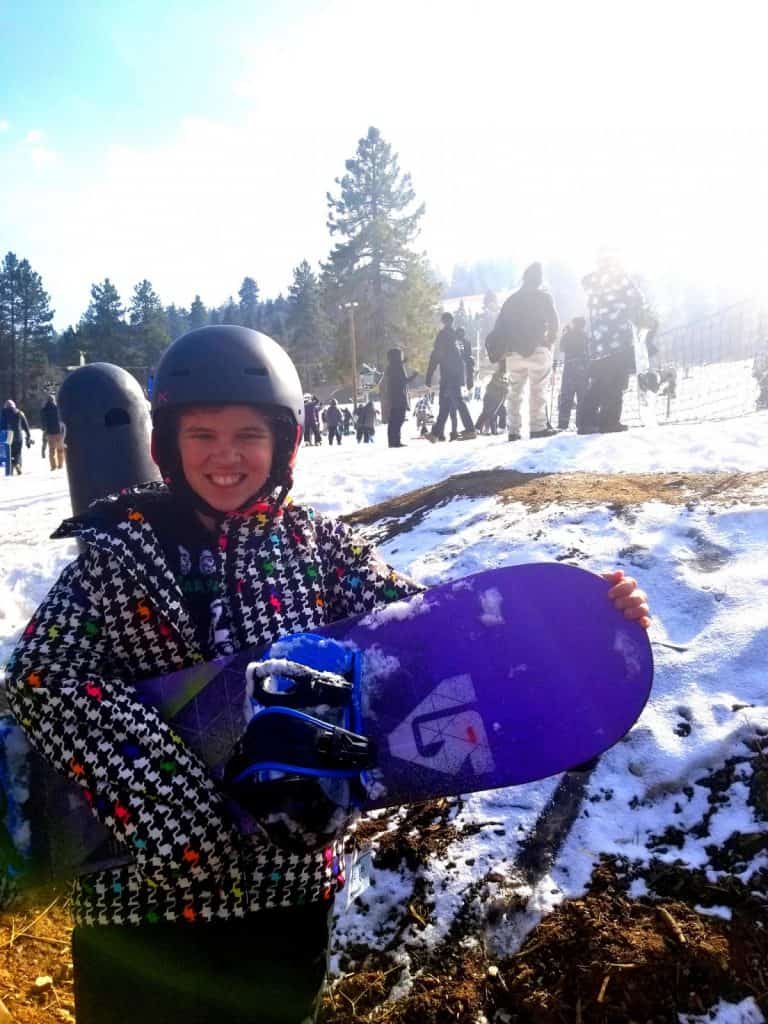 Big Bear Snow Play: Skiing, Boarding & Tubing
Big Bear is home to two major ski resorts, Bear Mountain and Snow Summit, both operated by Mammoth Mountain Resorts and both included with a single lift ticket (a shuttle runs between the peaks). Between the two mountains, a single lift ticket includes 200 acres of terrain park, 63 trails, more than 50 skiable miles, 26 lifts, 18 bars and coffee stands, 16 restaurants, 4 half pipes, and more than 100 jumps!
As true beginners, we headed to Snow Summit, where the beginner experience has been enhanced with more beginner runs, additional lifts to beginner trails, and more opportunities for lessons. Their new 5,000 square foot learning center, Adventure Academy, helps families hit the slopes with a one-stop-shop for kids rentals, tickets, and lesson registration.
Read my full review of Snow Summit for tips & insider details.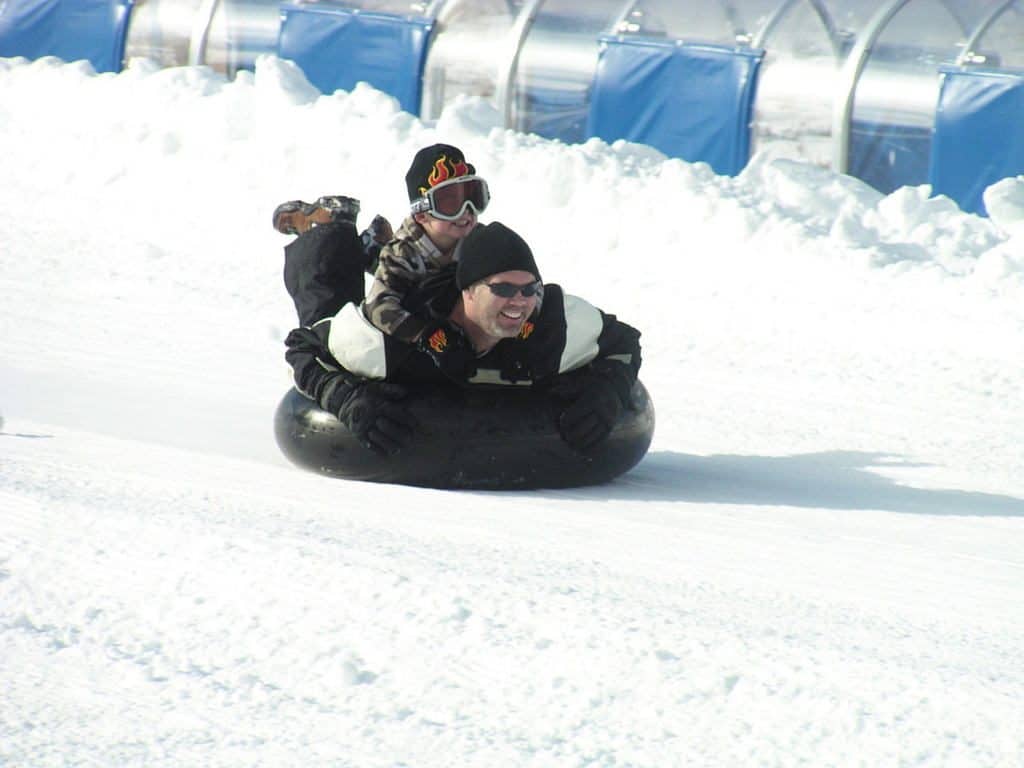 Image courtesy of Big Bear Visitors Bureau
If your family's idea of snow play isn't skiing and boarding, rest assured that there is still plenty to do in Big Bear Lake, California with kids. With three tubing locations, including the Alpine Slide, Big Bear Snow Play, and Grizzly Ridge Tubing Park at Snow Summit Ski Resort, kids can enjoy a rush of adrenaline with little to no learning curve. Both day and night tubing opportunities are available.
Snowshoe tours are also offered during the winter months through a variety of tour companies including a naturalist-guided tour through the Big Bear Discovery Center.
Related: Read these tips on snow play with kids
Big Bear Lake Activities Off the Slopes
Off the slopes, Big Bear boasts a wide variety of activities for families to enjoy for a wintry getaway.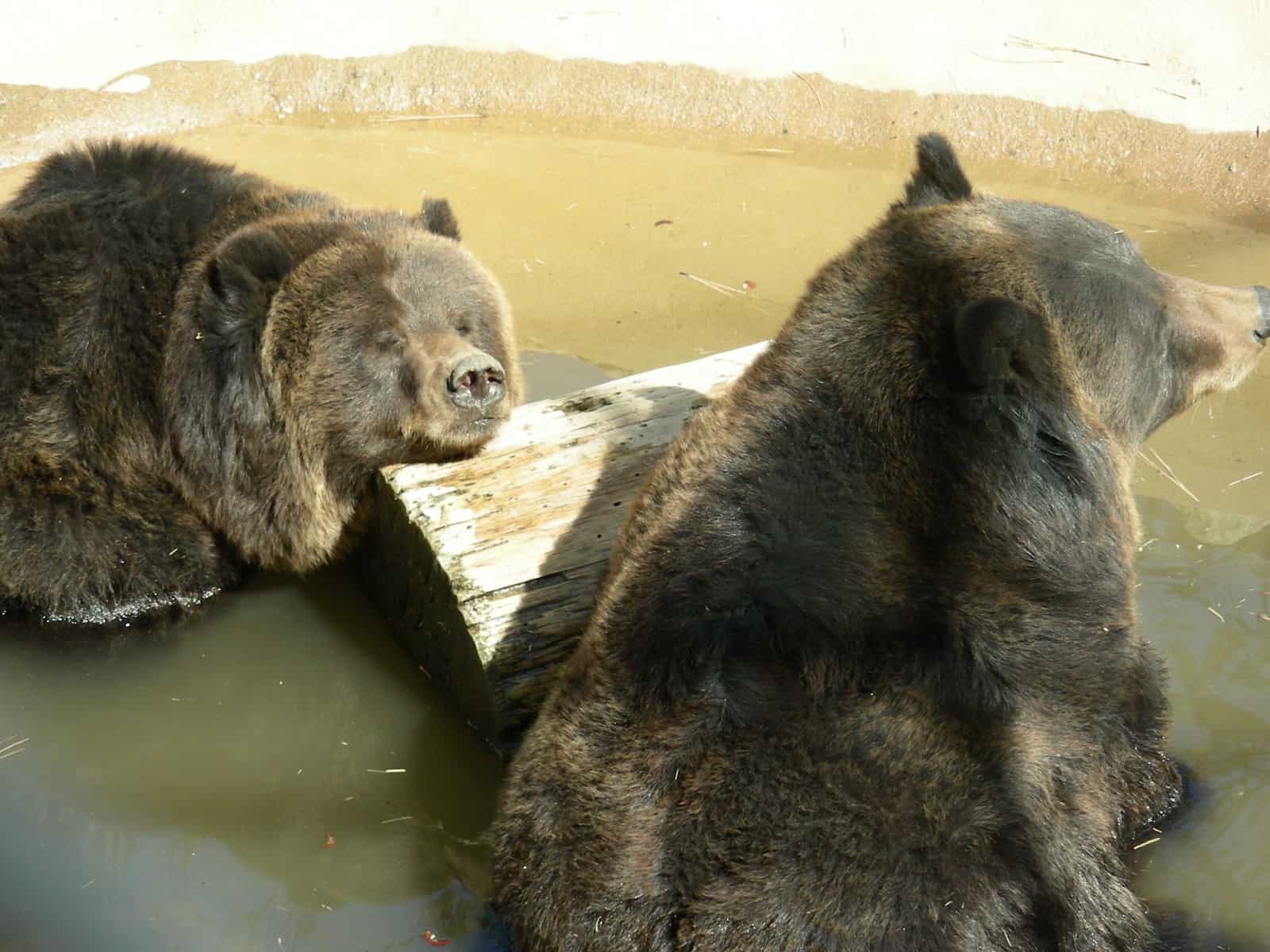 Two Grizzly Bears call the Big Bear Alpine Zoo their home. Image Courtesy of Big Bear Alpine Zoo.
The Big Bear Alpine Zoo, which stays open year-round, is a unique wildlife rehabilitation center and sanctuary that gives kids an inside and close-up look at alpine animals including Grizzly Bears, Bald Eagles, the Arctic Fox, Bobcats, Mountain Lions, Snow Leopards, and Wolves, among many others. The zoo is small enough that you can visit in just an hour or so, but it is beautifully designed, well-kept, and curated to provide an excellent experience.
Read my full review of the Big Bear Alpine Zoo– a must visit for families with kids.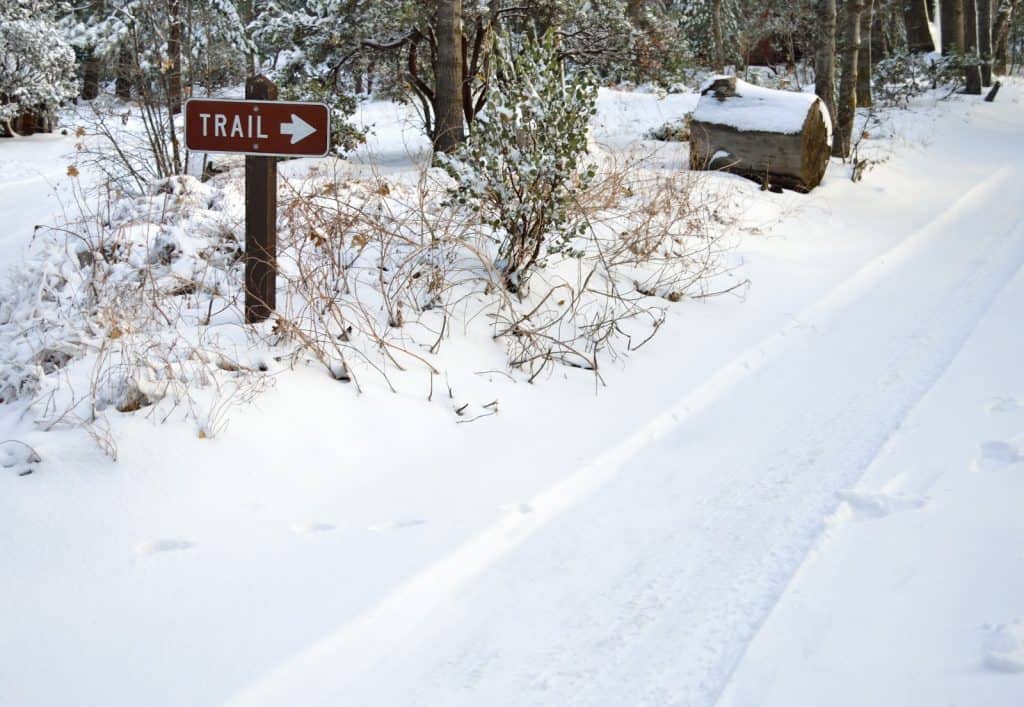 Image by Bigstock
Hiking opportunities abound in Big Bear, with plenty of family-friendly hikes that kids can venture on, even in the winter time when conditions are right. The Woodland Trail is a must for families. Its 1 1/2 mile loop is lined with interpretive markers that teach kids about the botany, wildlife, and geology of the area. The Nature Discovery Trail behind the Big Bear Discovery Center is even easier. At .5 miles and little elevation gain, the trail features beautiful views of Big Bear Lake and Mt. San Gorgonio.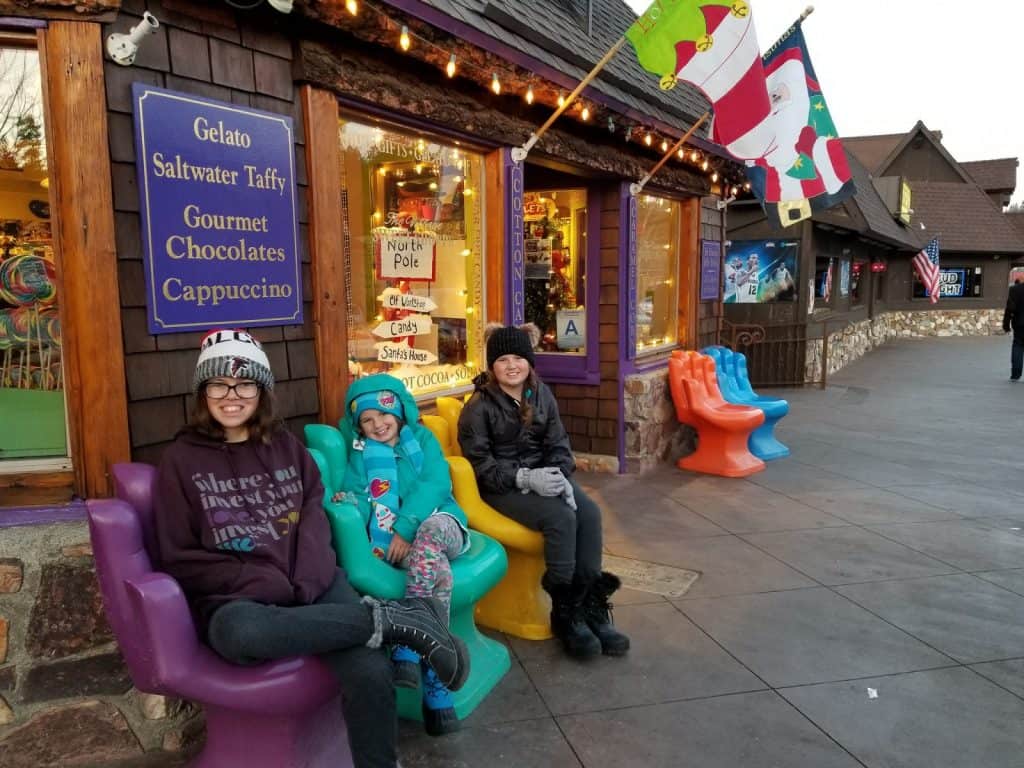 Image by Katie Bodell
For a more relaxing adventure through Big Bear, don't miss a stroll through Big Bear Village, filled with row after row of unique specialty shops, candy stores, bakeries, coffee houses, and great eats. The stores in the Village offer everything from ski apparel and clothing to must-visit gift shops. Our favorite retail options include:
Superhero Toys N More, where every comic book and video game character come alive
The Toy Galley, where you are certain to find unique games and activities for all ages
The Village Sweet Shoppe, home to every type of candy and sweet treat imaginable!!
Craft To Treasure, where you can pop in for a crafting/art class year-round
Stupidiotic, the original silly store of laughs & gaffs that are so dumb they are hilarious (so popular that two locations have branched out to Vegas!). Note, some items in here aren't appropriate for kids, so use your judgement with littles. Most will go over their head if it is questionable.
North Pole Fudge & Ice Cream, an obvious choice for a vacay treat!
For more winter-fun in Big Bear, consider horseback riding (kids will love the ponies and petting zoos!) at Baldwin Lake Stables & Petting Zoo or Big Bear Equestrian Center. Craving an adrenaline rush? A year-round zipline course is offered at Action Zipline Tours. Indoor activities, including bowling, movie theaters, ice skating, laser tag, and mini golf, keep families having fun together even when the temps get too cold for little ones.
Images courtesy of Big Bear Frontier
Where to Stay in Big Bear Lake
Big Bear boasts an assortment of hotels, motels, lodges, and vacation rentals that make securing lodging a breeze for families. While we visited, we stayed at Big Bear Frontier and loved its central location (we were able to walk to both the Village and the lake), the chance to spread out in three bedrooms, the full-size kitchen, the outdoor BBQ, and the opportunity to warm up each evening by the fire.
Read my full review of Big Bear Frontier.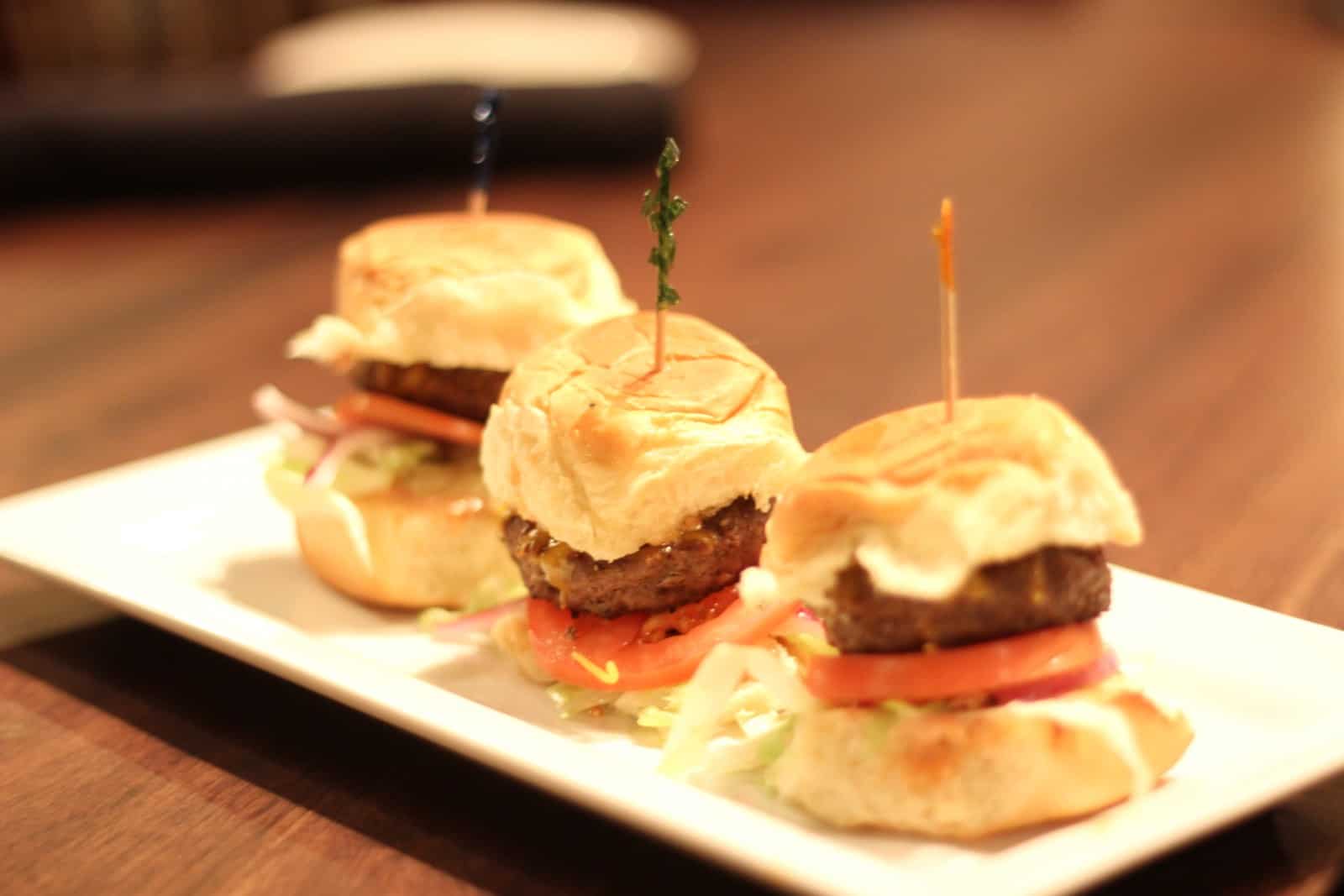 Image courtesy of Oakside Restaurant
What to Eat in Big Bear Lake
Visitors to Big Bear won't want for a great meal; dining options, from quick bites to artisan eats to fine dining, are offered throughout the region.
Fans of Big Bear's local favorite, Peppercorn Grille, will be excited to dine at Oakside, a new restaurant by the same owners Mike & Julie Hastings. Oakside features delicious California cuisine in an upscale setting. Be sure to make reservations or use your wait time to explore the Village; we waited nearly two hours for a Saturday night table for five.
Also located in the village are two hip eateries worth a visit: 572 SOCIAL and Big Bear Lake Brewing Company, both featuring trendy menus, live entertainment, and delicious eats. We loved the small plate offerings at 572 SOCIAL, which allowed our group to taste and share small bites as a family. The kids' menu, filled with regular offerings like mac n' cheese, burgers, chicken, and pizza, made our littles quite happy. Big Bear Lake Brewing Company is a great option for moms and dads looking for unique craft beer to supplement a meal. They don't have a dedicated kid's menu, but kid-friendly favorites, including burgers, wings, and fries, will likely suit your family well.
Breakfast lovers shouldn't miss a meal at Grizzly Manor Cafe. The lines outside and Travel Channel awards are legit. And you'll love the laid-back, funky vibe inside just as much as the menu.
Related: Visiting Big Bear Lake, California with kids in the Summer?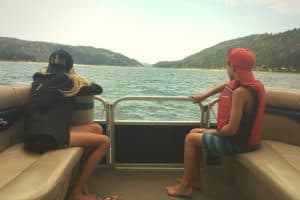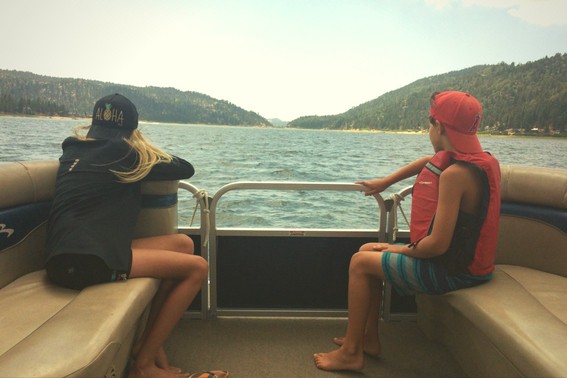 Beat the heat in the San Bernardino Mountains
Disclosure: I was hosted by Big Bear Visitors Bureau for the purpose of this review. I received some activities and my accommodations for free or at a reduced media rate. I was not required to state any particular view; all opinions are my own.