Planning your first big family vacation with a baby or toddler can be an intimidating prospect, from nap times to diapers to car seats there's just so much to consider. As a mom who once had two toddlers at the same time, I know that as soon as you've survived walking your two year old son down the airplane aisle a hundred times, you won't have any energy left to worry about rental cars or baby food. If you're anything like me, you'll be ready the moment that you arrive at your tropical destination to sit poolside with a margarita in hand and watch your tot splash happily in a pool made for tykes just his size. Yes, a family-friendly all-inclusive resort makes so much sense for parents of babies and toddlers looking for a relaxing family getaway.
Some all-inclusive resorts have it all figured out when it comes to babies and toddlers. From baby monitors to wading pools to baby clubs that provide day care, all-inclusive resorts across the Caribbean region from Mexico to Florida offer many different options.
If it's your first time picking an all-inclusive resort, take a moment to read Trekaroo's A First Timers Guide to All Inclusive Resorts with Families for some tips about everything from packing to finding out what is really included in your all-inclusive stay.
Jamaica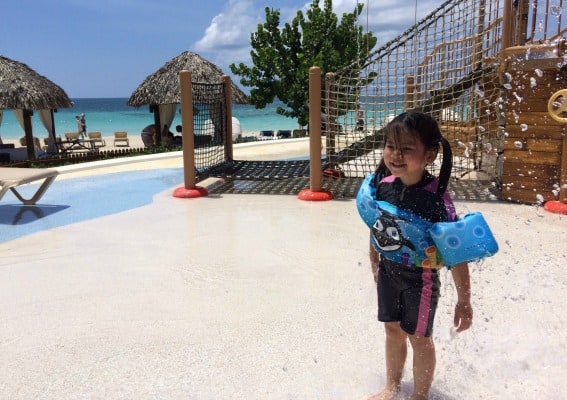 Photo by: LiLing Pang
Jamaica is one of the most adventurous destinations in the Caribbean, but also one of the friendliest when it comes to young children; its calm bays and shallow beaches are just perfect for tots. Several resorts in the island nation go out of their way to help families balance the needs of the younger members of their family while still allowing the rest of the family to enjoy a real vacation. The people of Jamaica are so warm and friendly; staff at the resorts are always willing to lend a hand with little ones.
Nanny Services are Included at Franklyn D Resort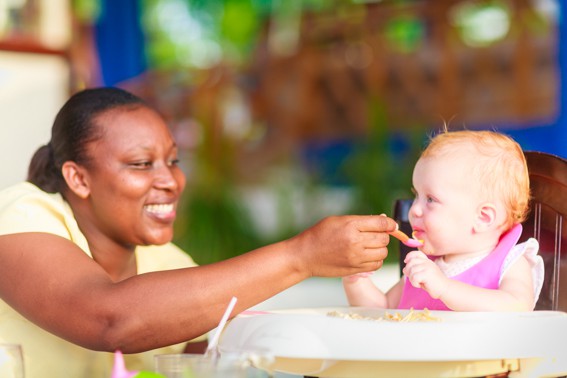 Photo Courtesy of Franklyn D. Resort
The Franklyn D Resort is the ultimate Jamaican family vacation where each family is assigned a nanny from 8:30AM-4:40PM everyday for the duration of their stay as part of the all-inclusive experience. Even the tiniest of babies are welcome at the FDR, and the resort is known for skillfully matching families with just the right nanny to take care of their children.  With so many nannies around, the vibe at FDR is laid-back and distinctly Jamaican; unlike so many of the larger properties on the island, the FDR is a family owned Jamaican original, not a sprawling resort complex. The experience at FDR is more akin to a luxury family summer camp than a resort with activities from seaside yoga for adults, chartered fishing for teens and tye-dye t-shirt crafts for the everyone available throughout the day with the schedule posted poolside for all to see. While there are adults only areas at this resort where couples can go to escape while the nanny watches the little ones, an atmosphere of kid-friendliness permeates the main resort areas where families can be found playing just about everywhere.
Spend your vacation at the Franklyn D Resort & Spa All Inclusive!
Little Ones have a Place to Play at Moon Palace Jamaica in Ocho Rios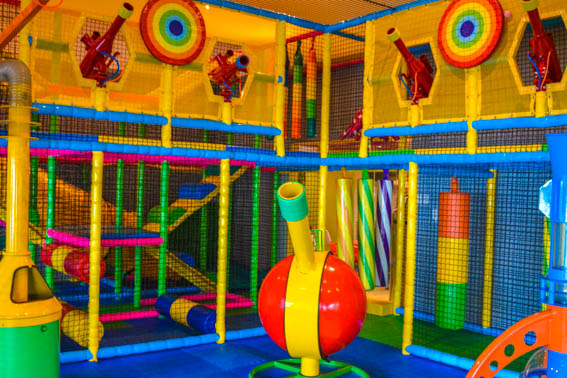 Photo by Melissa Moore
The Moon Palace Jamaica is known for its extensive spa and excellent location on the beach in Ocho Rios near a wide variety of adventurous destinations like the climbable Dunn's River Falls. Parents of tots don't have to miss out on the relaxation and adventure; there are plenty of places for the little ones to play on property. The indoor/outdoor kid club facility features a sandbox, tot-friendly climbing structure, splash pad and tricycles outdoors and a colorful climbing area indoors. Children over four can be dropped off at the kids club, while children under four must be supervised by an adult. Families visiting with toddlers and babies can call ahead to arrange for a nanny for an additional fee.
Visit your Favorite Sesame Street Characters at Beaches Negril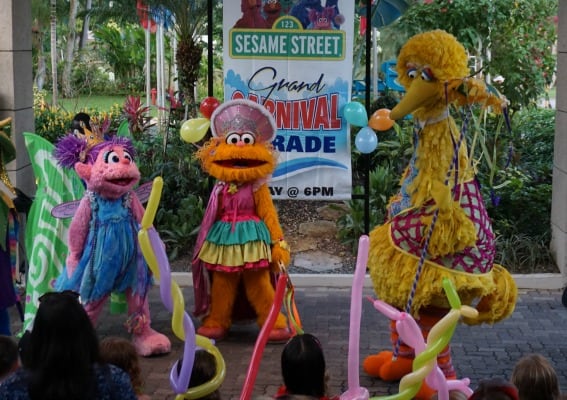 Photo by: LiLing Pang
It's not surprising that a resort where Sesame Street characters put on shows and roam around the property knows how to treat babies, toddlers, and their parents to a truly memorable vacation. Beaches Negril offers both an infants program for babies aged up to 24 months and a toddler program for potty-trained tots ages 3-5. Little ones can splash at the Pirates Island Waterpark with their older siblings or enjoy Story time with Elmo geared especially for tykes their age in the kids club.
LiLing Pang, Trekaroo's co-founder noted "I loved how Beaches Negril leaves no age group out. While older kids can choose to go on a snorkel tour, younger ones can opt for a glass bottom boat tour. It was my little girl's first time getting at a peak at a coral reef and seeing all the colors from the top was enough to give her the courage to improve her swimming skills so she could join her brothers."
Want to experience more of Jamaica with your older kids while staying at Beaches Negril? Read about LiLing's experience Road School: Digging Deeper with our Kids Through Voluntourism
Dominican Republic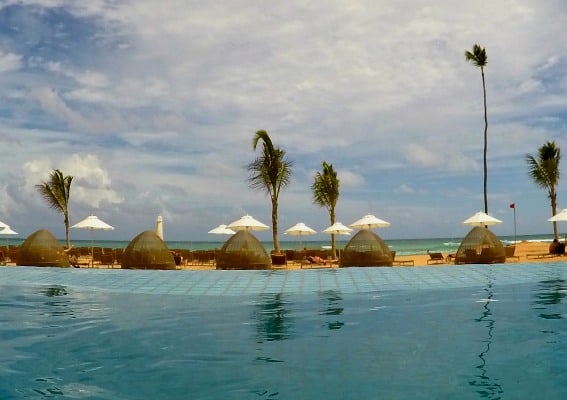 Photo by Melissa Moore
For families on the East Coast, the resorts of the Dominican Republic's Punta Cana are only a three to four hour flight away. Imagine departing New York on a snowy January day around lunch time and arriving at your resort for dinner by the ocean all while your baby enjoys her afternoon nap. Well, a mama can dream, can't she! Whether or not your baby actually sleeps a moment on the airplane, it's good to know that it's only a four hour flight to this resort destination.
Find the best hotel deals in Punta Cana!
Splash with Dora at Nickelodeon Punta Cana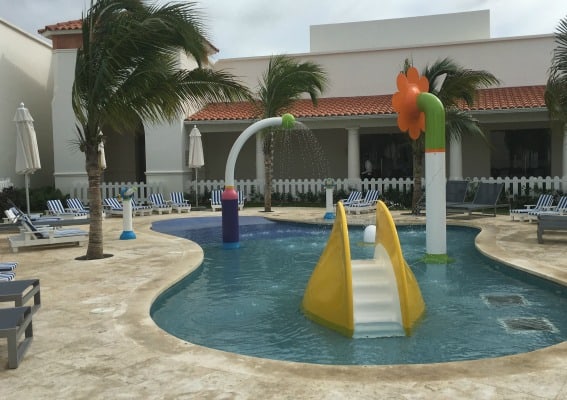 Photo by: Melissa Moore
The realtively new Nickelodeon Punta Cana was obviously made with tots in mind from character breakfasts with Marshall and Chase from Paw Patrol to a water park where Dora is known to make regular appearances. But, there's also great news for parents. The food at this all-inclusive is amazing and the infinity pool overlooking the ocean is relaxing. At meal-time there is baby food available and the chefs with do whatever it takes to get your kiddos to eat their fruits and vegetables.
The Nickelodeon kids club, Just Kiddin', is open for tots supervised by their parents. (Children age four and up may be dropped off.) For parents needing a break, in-room nannies are available for an extra fee. There is a toy lending library full of Nickelodeon-themed toys available in the hotel lobby so that little ones can have toys to play with in their rooms for their entire stay. Stollers, cribs, bottle warmers and other baby necessities are also available.
My favorite amenity for little ones at Nickelodeon Punta Cana is a small, centrally-located splash pool with tot-sized loungers. There's a little slide, zero entry pool and spray features. It's the perfect size for little ones still in swim diapers.
Read all about my experience at the brand new Nickelodeon Resort and Hotel in Punta Cana.
Enjoy an Interactive Dance Show with Raggs and Pals at Grand Palladium Punta Cana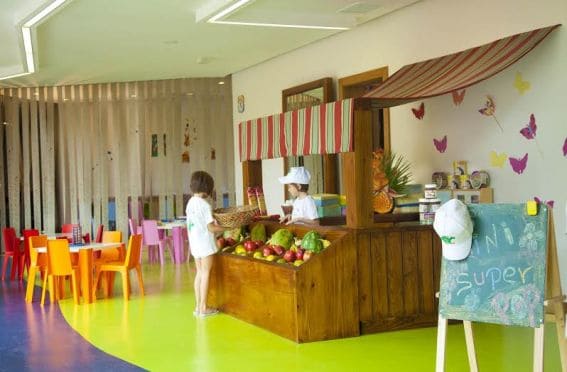 Photo Courtesy of Palladium
The Grand Palladium Punta Cana's Castillo de Pirata is the perfect place for the active toddler to play and explore on vacation; the indoor/outdoor complex with a colonial for theme is actually the largest resort Kid's Club in the Caribbean and Mexico. Little ones, ages 1-3, are welcome to participate in the resort's Baby Club where tots have access to toddler-sized play equipment and ride on toys. There is also a pirate-themed splash park perfectly sized for young children including a pirate ship with small slides in a zero entry pool with spray features. Don't forget that Grand Palladium Punta Cana is also home to the television character Raggs and his buddies who simply love to dance.
Parents and older siblings love this resort too! Blog Editor, Katie Bodell noted, "The Grand Palladium Punta Cana was a perfect choice for my tween. Even though she was slightly 'too-cool for school' at the Character Breakfast packed with tons of littles, she couldn't help but join in the fun at the Dance with Raggs Kids Disco. Between the amazing choices of pools, warm, sandy beaches, and dress-up activities in the kid's club, she was in heaven."
Read all the details about Katie's experience at Grand Palladium Punta Cana: All-Inclusive Caribbean Vacation for Families
Book your vacation at the Grand Palladium Punta Cana Resort & Spa – All Inclusive with the whole family!
Riviera Maya and Cancun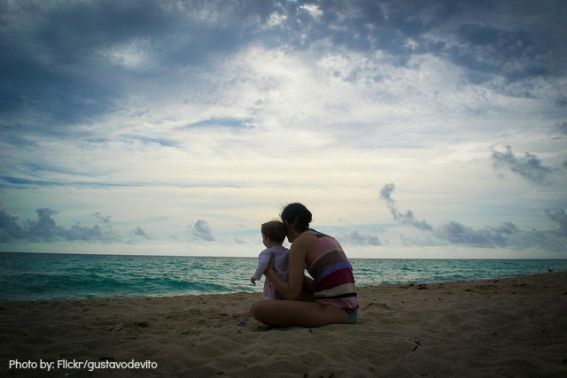 Families with little ones looking to escape the frigid Midwestern winter will be happy to know that the resorts on Mexico's Yucatan Peninsula are less than three and half hours by airplane from Chicago. You can escape the Windy City, and be walking the beaches of the ancient Mayans that evening.
Relax in Baby-Friendly Accommodations at Azul Beach Resort Riviera Maya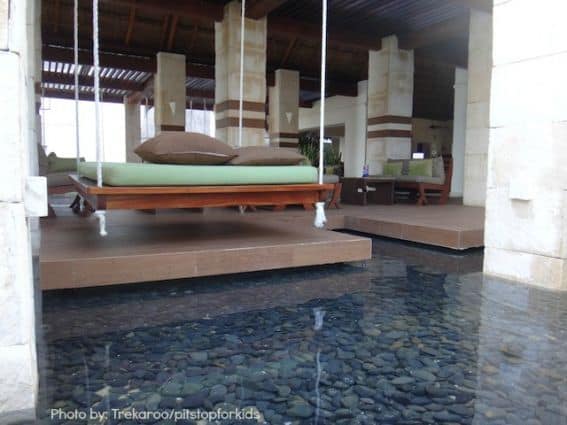 If you're looking for a quieter experience still chock full of baby- friendly amenities, the intimate, casual elegance at Azul Beach Resort Riviera Maya by Karisma might be the right fit for your family. Travelers have found that this resort has the most comfortable high chairs around, and the staff also goes out of their way to provide everything that a baby needs at the dining table from appropriate baby food to utensils. Parents of little ones especially love that they are welcome to stay and play with their little ones in the Azulito's Nickelodeon themed kid's club area, appropriately furnished with plenty of baby-friendly toys. And, when it comes time for nap time, there are baby monitors available for parents to use.
Having stayed at this property,  Amy Whitley of Pit-Stops for Kids has noted "Boutique all-inclusive options are wonderful for any age—trust me, you'll feel pampered!—but the increased intimacy and better service is especially welcomed by families with babies and toddlers."
Read Amy's full review of Azul Beach Hotel, a boutique all-inclusive resort in Riviera Maya.
Book Your Breakfast with Raggs at Grand Palladium Riviera Maya
Just like the Grand Palladium Punta Cana, the Grand Palladium Riviera Maya has a Baby Club that caters to guests ages 1-3; El Ranchito offers both indoor and outdoor activities for little ones. Pictures of the television show characters Raggs and his pals can be seen around the kids club, but the real fun is a mid-week Breakfast with Raggs. This character breakfast features fabulous food, characters to meet and greet, and music from the show all under a covered pavilion surrounded by greenery. The zero-entry children's pool with slides for both tots and older children is sure to tire out even the most active toddler.
Does your tot simply enthralled with every colorful character that they meet? Read about Playing at Palladium with Raggs
Reserve your hotel at the Grand Palladium Riviera Resort & Spa – All Inclusive! 
Enjoy the Tot- Friendly Play Areas at Moon Palace Cancun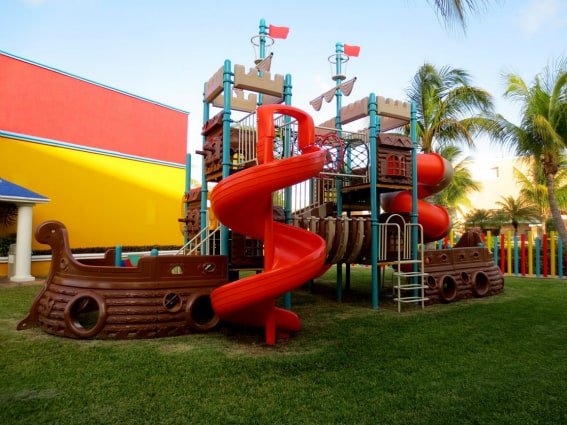 The Moon Palace Cancun is a larger resort that has relatively easy access to some of the best snorkeling excursions in the Cancun area. With so many amenities available for people of all ages, it's no surprise that there are all sorts of places for toddlers to play from The Playhouse Kids Club and a pirate-themed kid's splash zone water park. The Playhouse Kids Club even offers a "baby room" featuring mats, a small climbing structure, tot-sized ball pit and plenty of toys. Children of all ages are welcome at both the resort's Playhouse Kids Club facilities with parental supervision; however, only children ages four and up can be dropped-off. Nanny services for children under age four can be booked upon arrival at the resort for an extra fee.
Read a full review of Moon Palace Cancun. (Note: Some amenities offered by the resort have changed since this review was published. There are no longer Family Connection Luxury Suites with included Nanny Service.)
Check out the Moon Palace Cancun – All Inclusive!
Puerto Vallarta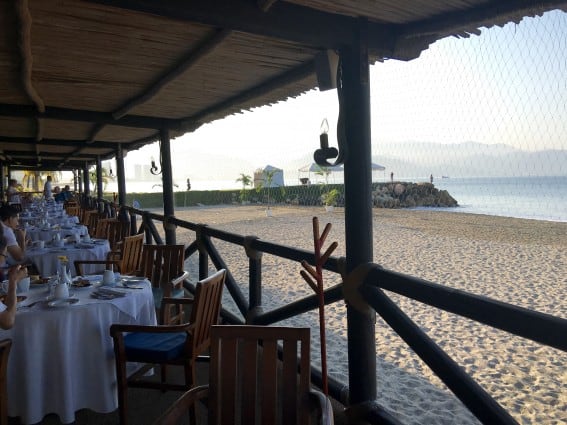 Photo by Marisa Langford
Families on the West Coast should look towards Mexico for the easy all-inclusive vacation. Puerto Vallarta is a quick three hour flight from the Los Angeles area making it an ideal first time vacation for families with tots in California. It's even closer than Hawaii!
Find the best hotel deals in Puerto Vallarta!
Relax on the Beach at Velas Vallarta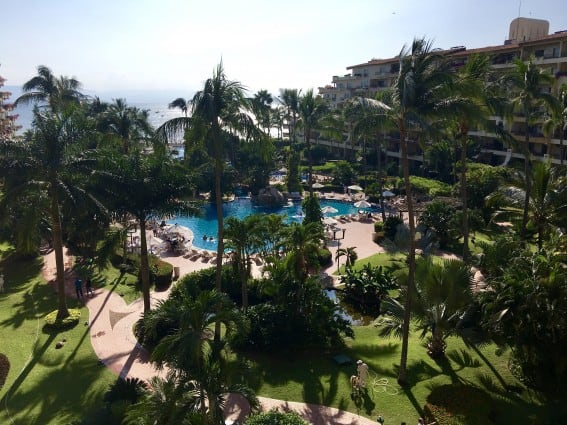 Photo by: Marisa Langford
Velas Vallarta is smaller and quieter than many of the resorts on this list, but it is a favorite with parents of babies and toddlers because the everyone at the resort is friendly, helpful and goes out of their way to accommodate the little ones in your family. The resort has both a beautiful beach and kid's pool so tots can play in the sand or water while mom sits back and relaxes just a bit; older kids will be entertained by the full schedule of kid's club activities. Also, Velas Vallarta is only a five minute drive from the airport so once your airplane has landed your vacation has almost begun.
Bring the whole family to Velas Vallarta Suite Resort All-Inclusive!
According to Marisa Langford, Trekaroo's Florida Guroo: Families staying at Velas Vallara love the "Spacious family suites that have breathtaking views. Amazing food at Andrea & La Ribera for everyone. Gorgeous pools to relax at and spend the whole day together as a family playing in the sun listening to waves crash along the Mexican coast. Live entertainment nightly and the bottomless orders chips and salsa will have your kids never wanting to leave!"
Looking for some information on planning your first family vacation to Puerto Vallarta? Trekaroo has you covered! Check out Marisa's blog articles on Planning a trip to Puerto Vallarta, Mexico with Kids and Five Puerto Vallarta Family Adventures
Florida
If you still want the experience of an all-inclusive resort without leaving the United States, you need to check out the Club Med Sandpiper on Florida's Atlantic coast just a short drive north from Miami. In addition to the resort's kids club for ages four and up, Club Med Sandpiper also has a "Baby Club Med" for infants 4 months to 23 months old and a "Petit Club Med" for 2 and 3 year olds available on demand.
Many thanks to Amy Whitley who wrote the first edition of this article in 2014.
Disclosure: Trekaroo writers have been hosted at many of these resorts. The author in particular is thankful for the hospitality that she experienced at Karisma's Nickelodeon Hotel and Resort in Punta Cana and Moon Palace Jamaica though all opinions remain her own.
Related:
Explore the Best All-Inclusive Vacations for Families and for School Aged Kids, Teens & Tweens
Find the Best All-Inclusive Vacation Deals
Plan ahead with these All-Inclusive Family Vacation Planning Tips
Lead Photo by: flickr/billysavanh