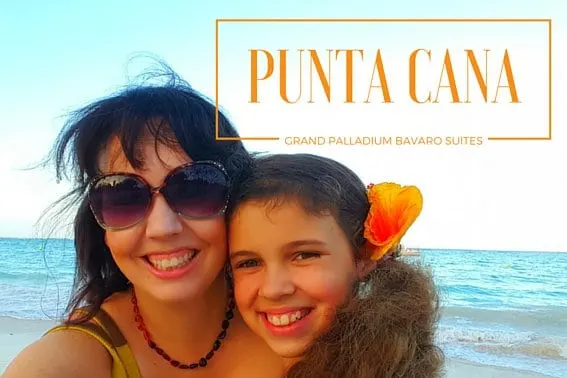 Pack lunches. Drive the car pool. Clock-in for work. Ballet practice. Homework. Make meals. Wash hair. Rinse and repeat. But what if you broke the cycle? What if instead of repeating, you planned a vacation at an all-inclusive beachfront resort in the Caribbean? Packing lunches & making meals, driving, running errands, making & keeping busy schedules, they aren't allowed at the Grand Palladium Punta Cana. But you may still need to wash your hair. Just a suggestion.
Think it's too good to be true? My family checked into the Grand Palladium Punta Cana, Dominican Republic, and felt the stress and worry of daily life melt away immediately. We fell in love with this property. From its natural beauty found in gorgeous, tropical landscaping and pristine beaches to the luxurious rooms, scrumptious food and drinks, and exceptional onsite amenities and activities, this sprawling all-inclusive knows families well.
Getting There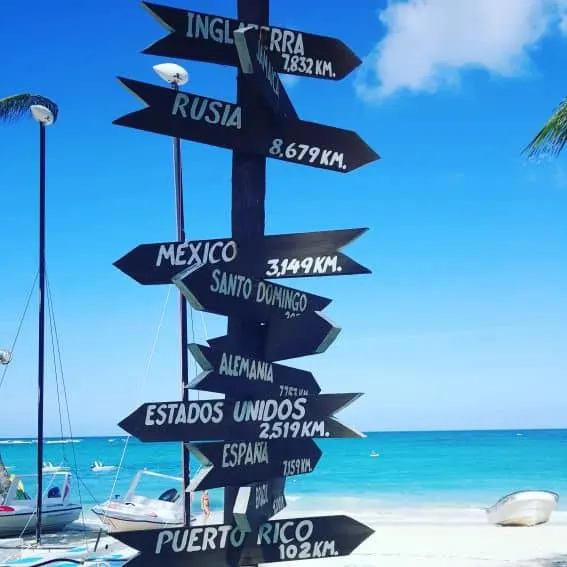 Getting to the Dominican Republic is very simple from the eastern seaboard of the US. Daily flights from Toronto, Quebec, New York, Chicago, Atlanta, Miami, Ft. Lauderdale, and Houston mean that discount fares from competing airlines are frequently available.
The Grand Palladium Punta Cana Resort is just about 30 minutes from the airport, making it an easy distance to manage at the end of your flight. Savvy international travelers can barter for taxi transportation outside the airport, but it will likely feel very overwhelming to newbies, who might want to book a private transport with the resort directly.
Note: Once you land at Punta Cana International Airport (PUJ), expect to pay $10/person (in cash only!) for your Tourism Fee. You'll also have to fill out information about your belongings, where you are staying, and detailed information about any children traveling with you. Valid passports are required for entry and exit.
Rooms & Suites at Grand Palladium Punta Cana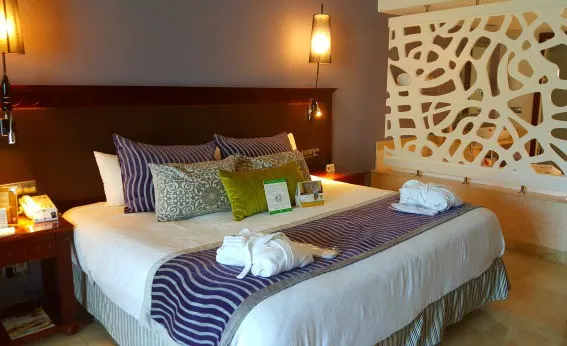 Not every all-inclusive is created equal. And although you won't be spending the bulk of your time inside your hotel room, you do want your room to be comfortable, clean, modern, and stocked with expected amenities. The completely remodeled rooms at the Grand Palladium in Punta Cana offer just that: modern style, clean lines, comfortable bedding and linens, high-end toiletries, and plenty of perks including a stocked mini-fridge (included with your stay) and WiFi (yup, also included).
There are hundreds of rooms situated in small communities throughout the property with dozens of room types from standard rooms through luxury suites. We enjoyed staying in the luxury junior suite on the third floor of the resort, boasting a 2-story space filled with modern furniture, a full-size (pull out) sofa, two sumptuous queen beds, a large patio overlooking a tropical garden (ocean views are also available), sprawling bathroom with shower and separate tub. Rooms were designed with comfort in mind and include air-conditioning, ceiling fans, a coffee maker, flat-screen TV with satellite, and connecting options for larger or multigenerational families.On the second floor, enjoy access to the terraced roof with private Jacuzzi (butler service is available for an additional fee) and large patio.
Note: There are no elevators on property, so plan your room level accordingly.
All-Inclusive Amenities & Activities at Grand Palladium Punta Cana
Play in the Ocean
The Grand Palladium Bavaro Suites and Resort sits directly on the Atlantic Caribbean. Aqua blue stretches out to the horizon swaying next to powdery white sand on a beach lined with palm trees, lounge chairs, umbrellas, and bars serving beverages with tiny umbrellas inside. This is the reason many families head to the Dominican Republic, and it. is. lovely. Even my hardly-dips-a-toe Southern California daughter went all in thanks to the lure of the Caribbean's warm temperature. Playing on this beach, talking with friends, enjoying an island beverage, and dipping into the water is the stuff of dream vacations. You won't want to leave.
Note: If you are looking for something a bit more active, catamaran, windsurfing, and kayak rentals are included with your stay!
Kid's Club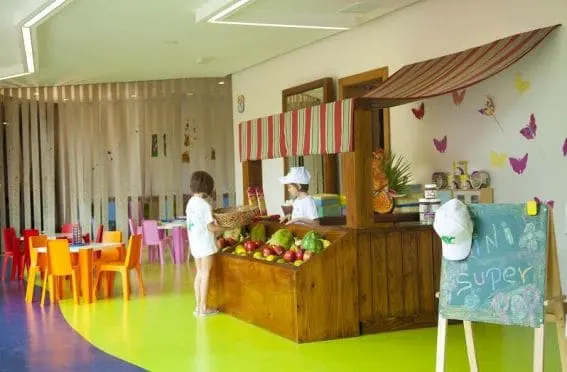 Photo courtesy of Palladium
Palladium offers three levels of Kids' clubs, all included in your stay. The Castillo del Pirata (Pirate Castle) houses the resort's Baby Club (for littles aged 1-3) as well as the Mini Club (for kids aged 4-12). The massive Pirate Castle is a playing wonderland for kiddos. Featuring everything from outdoor fun and adventures on safe, netted trampolines and playing fields, to indoor book corners, dress up closets, a sunken movie theater, stage area, computer station, and much more. The largest complex of its kind in the Caribbean, this is a kid's club that your little ones might not want to leave. And since it is included in your cost, you won't feel guilty dropping them off while you go on your scuba excursion or enjoy a kid-free dinner over a few glasses of wine.
Teenagers aren't left out at Palladium, a welcome relief for parents with children of multiple ages. Teens 13-18 can get away to the Black & White Junior's Club, designed with this hard-to-impress age group in mind. A full activity program keeps kids interacting with others, making friends, and stepping out of their comfort zone, or teens can just relax and play video games, manage their social media accounts on the area's computers, or enjoy table games with a new friend (including pool, table tennis, and Foosball).
Entertainment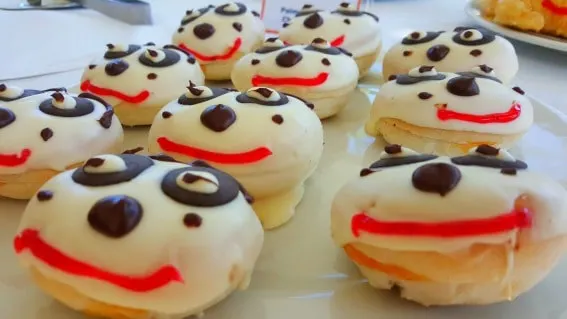 Activities and games at the main pools and the beach are offered daily, although they tended to be crowded. Your kids won't want to miss the character breakfast with Raggs & his pals. In addition to having a fun time singing and dancing with the costumed characters, the breakfast foods and pastries come adorably decorated, as shown in the picture of these donuts above. Unlike other resorts, the character breakfast price is included with your stay!
Come nighttime, the resort comes alive with entertainment opportunities for every member of the family. Live music and dancing fills the resort's lobbies throughout the evening, and live specialty shows are offered at the resort's two theatres every night of the week, including a specifically-for-kids interactive dance show with TV stars Raggs & Pals. Kids will also love the mini-disco, their first adventure into the world of clubbing, all done with an adorable level of class as kids (and parents!) hula hoop, limbo, and cha-cha themselves into an exhausted sleep right after. Moms and dads can enjoy the onsite casino or evening entertainment featuring world-dancing on a more "adult" level (costumes and movements definitely surprised my 11-year-old who was staying up late with mom). For a venture back to your college days, send the kids to the Mini Club and head to the air-conditioned discotheque for a night of dancing with the one you love.
Learn more about Raggs & his pals at Palladium.
Pool Complexes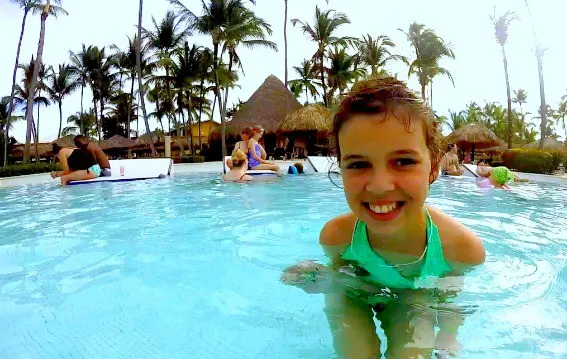 The lure of the ocean is strong, but the splishy-splashy fun of the pool complexes (and the swim up bars!) are hard to resist. A variety of pool complexes are featured throughout the resort, including the Samana Pool. I could have lounged here all day– did I mention the partially sunken pool chairs that keep you both in and out of the water? A pirate-themed splash park and kid's water play area, with mini slides, climbing structures, and shallow, zero-depth entry was filled with kiddos of all ages and stages, enjoying the water and sunshine.
Note: It can be a bit challenging to find connected resort chairs at these more popular pool areas. Families tend to "camp out" for the day, so if you are hoping for a great poolside location, you might want to arrive early during peak visiting times.
Sporting Facilities & Wellness Center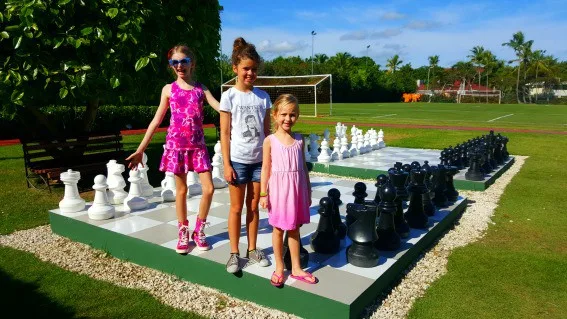 If kids lose interest in sporting it up, they'll love life-size chess or mini-golf
If you want to stay active, or just try something new while on vacation, there is no shortage of sporting opportunities on the Palladium Resort's property. From mini-golf to archery, beach volleyball, tennis courts, soccer fields, darts, billiards, and a full gymnasium, kids will have fun playing a game or two with their parents and new friends. With no experience in archery, I was excited to receive instruction from resort staff. I might have summoned a little of my inner Katniss while getting my very first bulls-eye!
Dining Options at Grand Palladium Punta Cana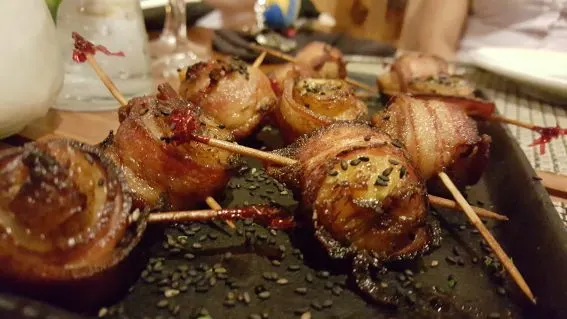 Bacon-wrapped scallop tapas, anyone?
One of the best things about staying at an all-inclusive property is the food, and Grand Palladium does not disappoint. With eight à-la-carte restaurants of varying cuisines, five buffet restaurants, and 15 bars, there is really something for every single traveler. While staying on property, we dined at numerous buffets for breakfast and lunch (and even "splurged" on room service– also included with our stay!). Buffets were varied with a mixture of cuisines from around the world; kids were free to try something tasty that was outside their comfort zone, or head back for their second personal pizza and side of french fries if the comforts of home were calling. (My favorite buffet was definitely Arrecife Restaurant, located right on the beach with open air breezes!)
Although the variety of the buffets were astounding, don't miss dining at the à-la-cartes were the service and fare are stepped up a notch; we sampled Spanish tapas on the beautiful outdoor patio at Tapeo Restaurant; Brazilian specialties, including tableside service of filet mignon, at Rodizio Restaurant; and typical "US" steakhouse favorites at La Parrilla Restaurant. Restaurants with Asian (including live Japanese-style Teppan food presentations), Indian, and Mediterranean cuisines are also offered.
Have food allergies? We do too! Palladium boasted options for food allergies (including gluten-free menus) at every location. As a traveler with food allergies, it was SO NICE having options everywhere we ate.
Additional Offerings at Grand Palladium Punta Cana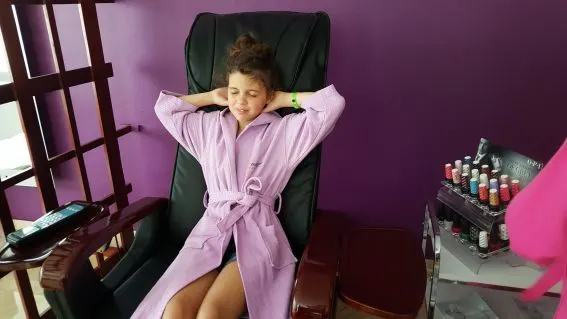 Relaxing in the Zentropia spa during her mani-pedi. #sorryfuturehusband
In addition to the included options at Grand Palladium, you might as well enjoy a splurge– you are on vacation!
Zentropía Palladium Spa & Wellness Center
While staying in Punta Cana, both myself and my daughter enjoyed an afternoon at Zentropia Spa. My daughter was pampered with a luxurious mani-pedi while my 30-something muscle aches and pains melted away to nil during a full-body massage. Discounts are offered for groups and repeat visitors, so you'll want to make this a regular part of your getaway.
Rates for kid-services typically start around $40USD, while my massage ran about $120USD plus gratuity. Not a budget-splurge, but many promotions can include resort credit and mini-massages, so look for specials.
Premium Excursions & Rentals
In addition to the free offerings for the beach, families can also rent banana boats, glass bottom boats, and catamarans. Lessons for watersports and diving courses with PADI certification are also offered onsite. A wide variety of excursions are available to resort guests, booked through the many vendors in the lobby of the hotel. Locals also tend to wander the beach offering excursions, souvenirs, and rentals.
Disclosure: The author and family received a complimentary stay at the Grand Palladium Punta Cana for the purpose of this review. She was not required to state any particular view; all opinions remain her own.