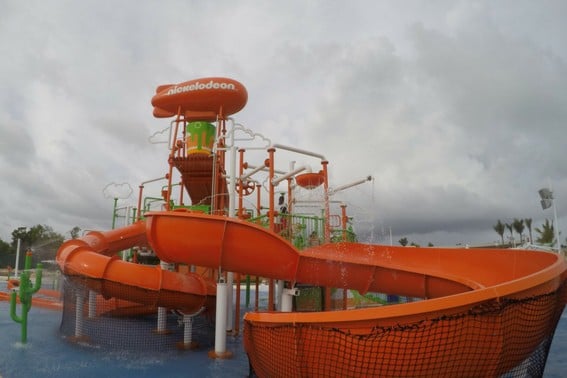 Does your family have a serious need to get away from it all and leave the soccer games, dance practices, work e-mails and responsibilities all behind — preferably an ocean away? Nickelodeon Resort and Hotel in Punta Cana is the perfect place to relax together as a family. This gourmet-inclusive experience at Nickelodeon Resort has everything you need for a true vacation: fresh food cooked within view of expansive buffets, a Nickelodeon-themed water park with buckets of green slime poured out daily, a beach perfect for kayaking or snorkeling, a kid's club with a giant ball pit, and a spa.
Familiar Characters for the Kids and Fabulous Food for the Parents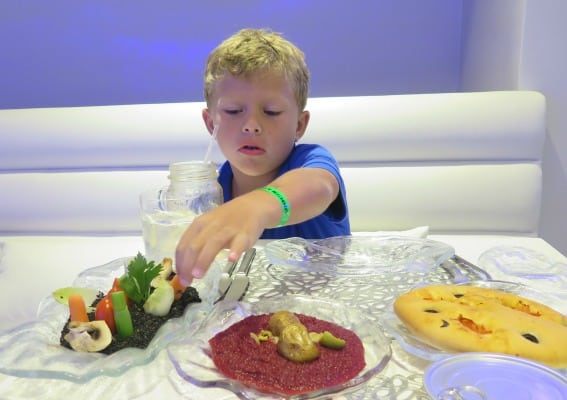 What makes the Nickelodeon Resort and Hotel different than any other themed hotel or kiddie amusement park experience? The variety of dining experiences at this resort affords every guest the ability to genuinely savor and enjoy some amazing food without being bombarded with themed characters. There were no stale SpongeBob shaped pretzels or ice cream bars shaped like a ninja turtle; the only time characters showed up at meal time was at our reserved character breakfast.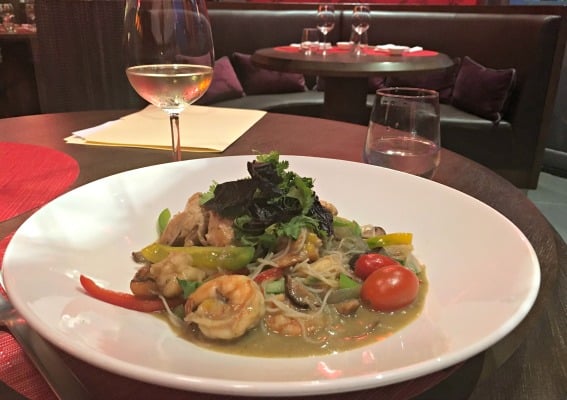 Yes, even without PAW Patrol-shaped pasta, my six-year-old son sat and ate his dinner from chicken nuggets to cheese pizza to cold cuts of ham and cheese. Over the course of our three day stay at the resort, we dined at seven different restaurants – not once did my picky eater leave hungry and each meal I was totally impressed by every bite I ate from appetizer to dessert. I loved the fresh passion fruit for breakfast at Sugarcane and all the passion fruit desserts that showed up at restaurants around the resort. My son enjoyed eating ham and cheese followed by ice cream poolside at the Lighthouse. And the flavors in my chicken, shrimp and noodle curry entrée at Wok Wok were amazing.
My son did declare our character breakfast featuring PAW Patrol, SpongeBob, and Dora at Zest the best character meal ever. Why? He liked that there was space to move, and even dance around; it wasn't too crowded. I thought it was nice that the venue was obviously built to allow for well-lit photography; if you're going to take your three-year-old to dine with Chase and Marshall from Paw Patrol, you're going to want to get a ridiculously adorable shot of a quick hug or a high five.
Time to Play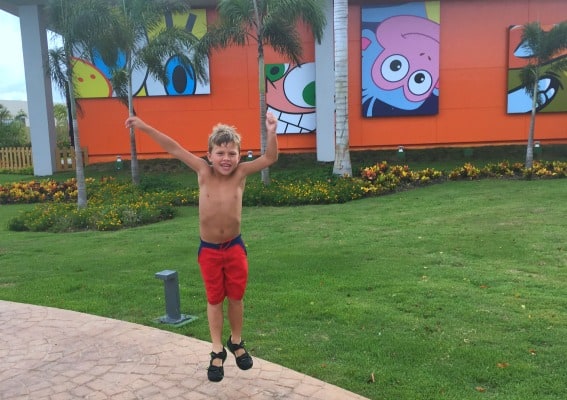 While virtually the entire Nickelodeon Resort and Hotel is family friendly, Nick Place and the Sports Hub are the two areas at the resort dedicated to kid-friendly fun. These areas are accessed by a walkway that runs from the hotel lobby under a small country highway. Considering my diet of yummy desserts and multi-course meals at the resort, I found the ten minute walk from our room, located right along the beach at one end of resort, to Nick Place at the opposite end of the resort to be rather refreshing. Occasionally, we hopped on a speedy golf cart to take us to or from the entertainment complex.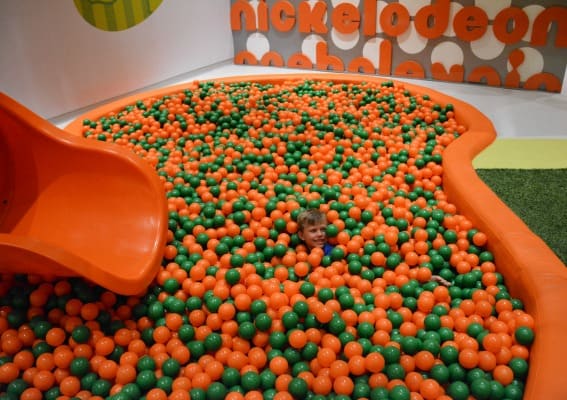 Aqua Nick and Just Kiddin' are both located at Nick Place. Just Kiddin' is an indoor kids club where children ages 4-12 can be dropped off to play; younger children can use the area with adult supervision. Craft, cooking, and science activities are scheduled throughout the day.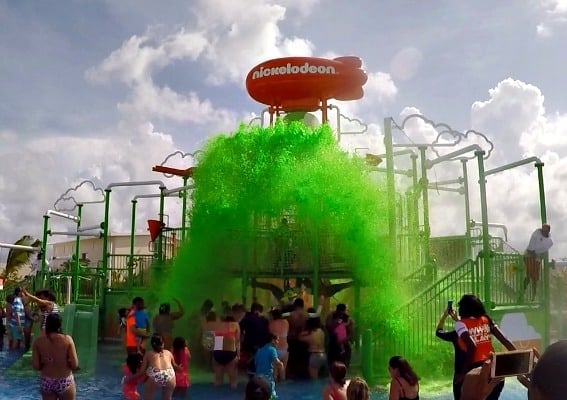 Aqua Nick is a small waterpark area with a lazy river, character meet-and-greet area, restaurant serving burgers and flatbreads, a few small slides, three larger tube slides, and various spray features. My six-year-old son loved the Aqua Nick even though the slides were a bit tame compared to other water parks that he has conquered; he spent 30 minutes playing on the slides followed by 30 minutes pushing me around the lazy river on and off for an entire afternoon. There is also a schedule of events for Aqua Nick including dancing characters, character meet-and-greet, an afternoon sliming from the large bucket atop the waterpark, and private sliming (available for an extra fee.)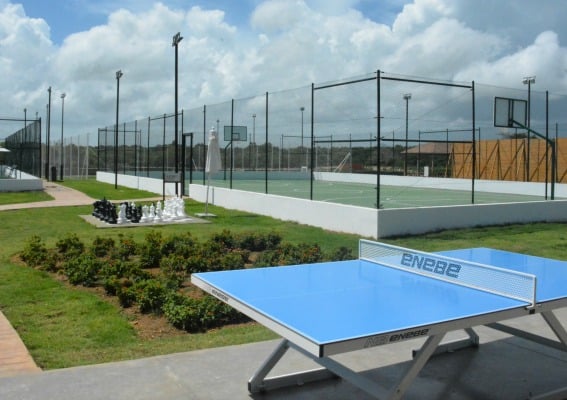 The Sports Hub looks like the place to be for tweens and teens; it has a soccer field, tennis courts, archery range, giant chess board, and a multi-purpose court.
A Beach Vacation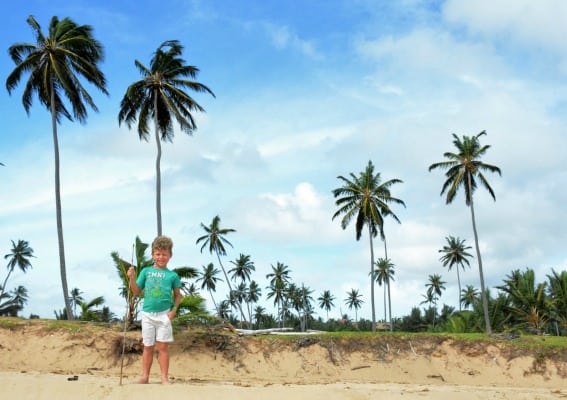 Unfortunately, our vacation coincided with the approach of Hurricane Matthew towards the island of Hispaniola. So, the kayaks and snorkel gear stacked in the beach hut beside the ocean remained unused during our stay as a red flag warning of dangerous conditions waved in the wind. My son and I did hop in the water for a bit to body surf the waves before borrowing some sand toys from the beach hut in order to build a sandcastle. Lifeguards watched us constantly as we played along the shoreline.
Space for Everyone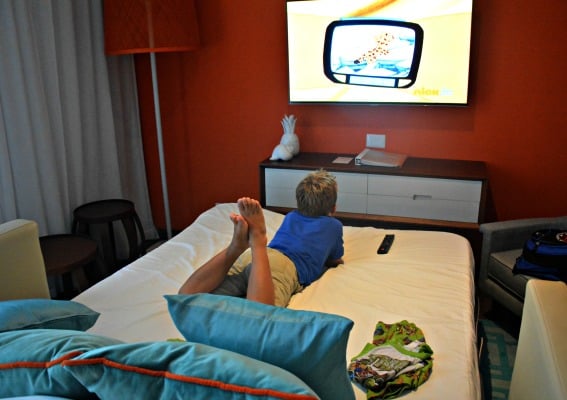 With the ability to drop off my son for some playtime at Just Kiddin' at nearly any hour of the day, the spectacular breakfast and lunch buffets available at Sugarcane and Zest, and multi-course dinners executed to perfection by the restaurant chefs at Spacewalker, I often felt like I was on a cruise during my stay at Nickelodeon Hotel and Resort Punta Cana. Yes, I've enjoyed cruising with Princess Cruise Lines without my kids and Disney Cruise Lines with my kids when they were preschoolers; while the food and childcare options available at Nickelodeon Resort and Hotel are comparable, or even superior, to those that I've experienced cruising, there is one way in which an all-inclusive resort is just so much more suited towards families – the space. The pools, the rooms, the balconies, even the bathtubs and showers are so much bigger and more spacious on land, especially at the Nickelodeon Punta Cana.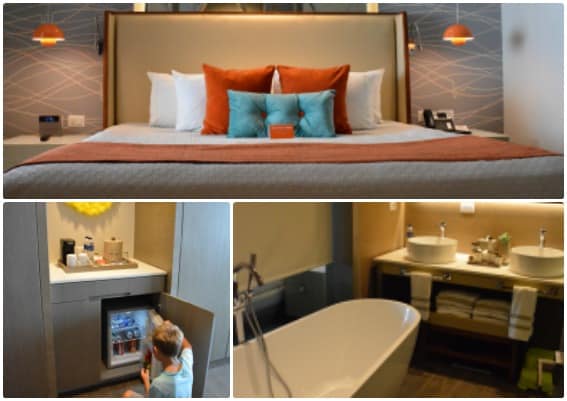 During our stay at the Nickelodeon Resort and Hotel in Punta Cana we stayed in a Flat Suite with an ocean view. While the swim-up 1st floor suites were undoubtedly and understandably more popular, I loved our room. The "flats" at the Nickelodeon Resort and Hotel separate the bedroom with a king bed from the living area with a sofa bed with dividing walls and two pocket doors. These walls allowed me to easily put my son to bed in the living area while I read in the bedroom; once he was asleep, I could sneak past him to go out on our balcony or grab a beer or soda from the mini-fridge that was stocked with treats daily. A "flat,¨ either swim-up or not, would be the perfect room choice for a couple traveling with a child (sleeping on the sofa bed) and a baby/tot (sleeping in a crib.) The "pad" rooms are similar to the "flat" rooms but lack the dividing walls with pocket doors; though there are more configurations offered in the "pad" size rooms such as two double beds with a sofa bed.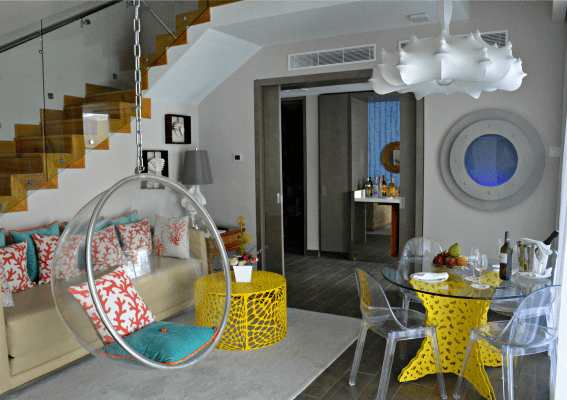 Of course, the ultimate luxury offered at Nickelodeon Resort and Hotel Punta Cana is the Pineapple Suite inspired by the home of the children's television character SpongeBob SquarePants. Every detail has been thought of in this fabulous 2 bedroom/3 bathroom, indoor/outdoor suite.
A Warm Welcome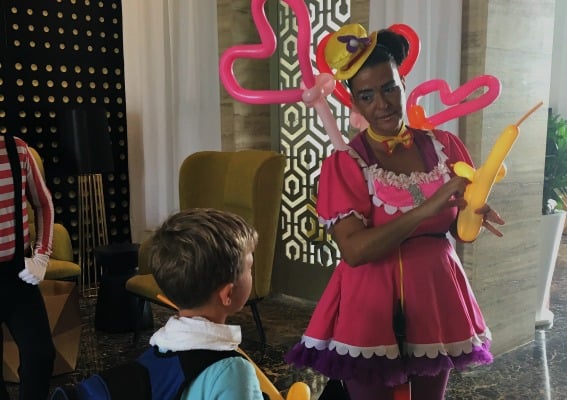 I admit that my stay at Nickelodeon Resort and Hotel in Punta Cana was my very first stay at an all-inclusive resort. Yes, I've been to Latin America on multiple occasions, but I had always avoided all-inclusive resorts. Why? I was afraid that I would miss out, that I wouldn't be able to fully experience the country that I had flown several hours to visit.
Checking-in at the Nickelodeon Punta Cana, I was prepared to say goodbye to the Dominican Republic and hello to a tropical beach destination for three full days. But, that's not what happened. I quickly found that the warm Latin culture of the Dominican Republic permeated the resort, from the staff to the resort guests.
My son and I visited the resort over an early fall weekend, a weekend not typically celebrated as a holiday weekend for students in the United States. Not surprisingly, there were few school-age kids from the United States staying at the resort. However, my son found plenty of kids with which to play in the Just Kiddin' kids club – all Spanish-speaking locals from the Dominican Republic and other Latin American countries. Once when I came to pick him up, he pleaded for just ten more minutes to play with his new buddies.
As we walked through the resort, both staff and resort guests would greet us with "Hola, buenos dias!" and give my son a high five. I have to admit that my son was a bit stunned by the warmth and friendliness of the people all around him; it was a bit of a culture-shock for him. By the end of the weekend, my high school Spanish had come back in full force, and I was choosing to communicate in Spanish almost as often as English.
Ultimately, this particular all-inclusive resort was the perfect introduction to Latin American culture for my young son. There were no worries for me about navigating a foreign country with a young child like trying to decide which food and water sources would be safe for our tummies. There was plenty of exposure to the new language and different cultural norms.
Know Before You Go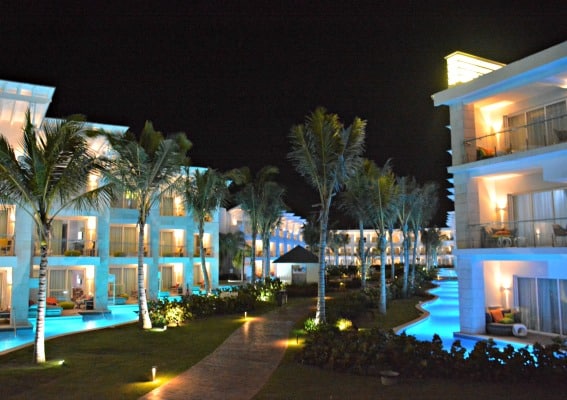 When traveling to this region it is important that you have a plan to protect your family from the sun. Most people with pale skin at the resort during our visit had some sort of sunburn. Consider a good quality sun shirt for the kids and don't forget to pack sunscreen. (While we did not see any mosquitoes and were not bitten, it might be prudent to also bring along insect repellent. )
There is a dress code in the restaurants for dinner. Plan to pack one or two outfits to wear at night; I brought capri pants and a nice blouse. My son wore a polo shirt and shorts. You'll also want a cover-up to wear around the resort after a trip to the beach, water park, or pool.
Be sure to contact the hotel in advance to reserve a character breakfast, which is available by reservation for an extra fee. It would also be wise to confirm the availability of any baby and toddler amenities such as cribs, pack-n-plays, and strollers prior to arrival.
The resort complex is very nice in the day time, but it is absolutely gorgeous at night. Expect to be out after dinner enjoying the entertainment in the Gourmet Village.
While we did not have the opportunity to leave the resort during our stay, there is a desk available for booking tours in the hotel lobby. Our transport to and from the airport, was booked through Nexus. They also offer tours. Be aware that the transfer from the airport is 30-45 minutes.
United States citizens and citizens of many other nations are required to pay for a tourist card upon arrival into the Dominican Republic before entering the line for customs. This fee is 10 US dollars per person payable in cash only.
We did not tip as much as I had expected at this resort. Still, be sure to bring at least a few dollars a day in ones and fives for the purpose of tipping. (US dollars are OK.)
I was impressed by the quality of the WiFi at the resort. I never had any problems with it.
Nickelodeon Resort and Hotel shares most of its pools, restaurants, and amenities with the adjacent Sensatori Resort. (In fact, looking at the picture above, the rooms on the left are Sensatori rooms and the rooms on the right are Nickelodeon rooms.)
Disclosure: The author and her son were hosted by Karisma Hotels and Resorts at the Nickelodeon Resort and Hotel in Punta Cana for three nights for the purpose of this blog article. All opinions are her own.
All images by Melissa Moore unless otherwise credited.