I didn't grow up a traveler. My family's main excursions involved road trips to visit relatives with a will-we-be-lucky-enough-to-get-a-pool gamble at a roadside motel en route. Fast forward to adult me, a professional writer, with very little experience when it comes to the world of high-end travel. I recently jumped on the opportunity to whisk my tweenage sweetie off to the Dominican Republic to stay at the Grand Palladium Bavaro Resort and Spa. Filled with excitement, I began to pack my bags and realized I knew basically nothing about all-inclusive resorts. Trekaroo family to the rescue (again), here are the fabulous tips I learned about packing and preparing for an all-inclusive resort vacation in this guide to all-inclusive resorts with kids.
Book your family vacation for the Grand Palladium Bavaro Suites, Resort & Spa-All Inclusive!
What to Pack for A Vacation To An All-inclusive Resorts with Kids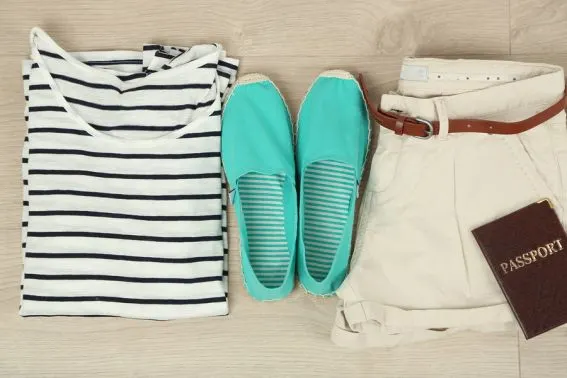 Photo by: Bigstock/Yastremska
Packing can be tricky for any vacation, and when heading to an all-inclusive, I had a few additional questions to decipher. Did I need to pack formal clothing for myself and my daughter? If yes, how formal is formal? What does "resort casual," a phrase often quoted on numerous all-inclusive websites, actually mean? What about voltage requirements, sunblock, diapers, formula, or other essentials: should I try to pack them all?
If you are confused about the names given to dress codes at various restaurants and activities onsite, ask in advance. A call or email to your resort or travel agent can set you straight. Other fellow travelers, such as those on Trekaroo's Talk and Facebook page, will also be happy to fill you in. I learned that "resort casual" had a wide range of variation at different resorts, and mostly just meant you couldn't wear your beach-wear, cut off jeans, or flip flops to fancy dinners. Cruise ships and some luxury all-inclusives have an entirely different level of dress requirements for plated dinners, so be sure to plan accordingly.
Consider packing two bathing suits/person if you are able. Because we hit the pools and beaches so frequently, it was nice to have a dry suit to throw on while the other dripped dry in the shower or tub.
Other than swimsuits, less really is more. Most all-inclusives offer laundry services or onsite laundry facilities so you don't have to pack an entire wardrobe for seven days of sun, lounging, exercising, and evenings out. A good rule of thumb: pack 2-3 days worth of clothing per person and plan on doing laundry once on a week-long trip. Be sure to pack essentials that mix and match well so you can vary your outfits without over-packing.
Overpack underwear. No one likes to talk about underwear, but everyone debates how many to pack on vacation. And while I live by the "less is more" mantra in most packing categories, this one is the exact opposite. For little kiddos still struggling with potty training, sleeping through the night, or even the occasional "thought they could hold it but couldn't" accident, pack extra underwear. I recommend packing an extra pair per 2-3 days of travel. Even for moms and dads, pack extra. There is little worse than the change in and out of a bathing suit if you don't have clean underwear. Some guys even wear an extra pair under board shorts, so you'll want to make sure you pack enough that an extra (dry) pair is available each day after swimming.
Pack comfortable walking shoes. Depending on the size of your resort (Palladium Punta Cana is massive!), you'll want your feet to love you by the end of your trip. Walking shoes that double as sporting/hiking kicks are your best bet, especially if you plan on doing any onsite fitness activities or offsite excursions. In addition to walking shoes (which work well on your flight as well), pack flip flops for easy water access and a pair of versatile shoes that can dress up an otherwise ordinary outfit.
Although most all-inclusives have a store with sundries, consider bringing along your own sunblock or other full-sized toiletries. My carry-on only plan (and tiny 3oz clear bottles of sunblock) was thwarted by the liberal amount of sunblock we used for our days spent in the sun. The cost of a single tube of sunblock at the onsite store was nearly the price of a checked bag and the nail polish I splurged on was more than I have ever paid to paint my toes.
Voltage adapters are typically not needed in Mexico and in parts of the Caribbean. Your devices will typically plug right into the wall sockets just fine. REI features a great set of articles on understanding voltage adapters and converters and deciding whether or not you'll need one. You can always call your resort to verify the voltage in advance.
Be sure to inquire about baby gear and supplies in advance. Many family-friendly all-inclusives, Palladium included, offer a wide assortment of baby products for traveling families, making the stay truly all-inclusive for little tykes as well. Parents with registered babies at Palladium Punta Cana scored access to their baby necessities closet, stocked full of a variety of formulas, foods, diapers, toys, and other helpful items, all included with the cost of the stay. Of course, you can always call room service for these items, but we've all been in that mid-diaper change when you realize you are out of wipes and must. have. more. wipes. immediately. moment. The close-to-the-family-suites baby necessities closet allows parents to easily snag those wipes (or other requirements) and quickly save the day.
Don't forget an oversized beach hat. Will it take up a ton of space in your suitcase? Yes. Will you look fabulous rocking that nothing-better-to-do-but-sunbathe-poolside look? Definitely. If you don't have room in your suitcase, plan on spending at least $40-$50 USD on a hat at the resort.
Pack a collapsible umbrella. Tropical weather can change in a moment's notice, so having a small, collapsible umbrella in your possession is a great recommendation. Many luxury resorts feature complimentary umbrellas in room, although others only offer umbrellas for sale at their resort.
Recommended daily allotment of clothing:

Moms- Lounge style sundress and/or shorts and tank to wear over a bathing suit in the morning and afternoon (big hat a must!); evening sundress with accessories & strappy heels for dinner.
Dads- Shorts and t-shirt or tank to wear poolside through the afternoon; collared shirt and slacks and/or nice shorts with casual shoes for dinner.
Kids- sundress and/or shorts/shirt to wear while walking to and from meals and the pool. Let's be honest, pack something that is easy for them to take off and put on. They won't spend much time in these clothes. For dinner, pack a matching outfit (dress and shoes or fabulous top/shorts) with a nice pair of shoes.
Click NEXT to find out what costs are REALLY included in your all-inclusive stay.