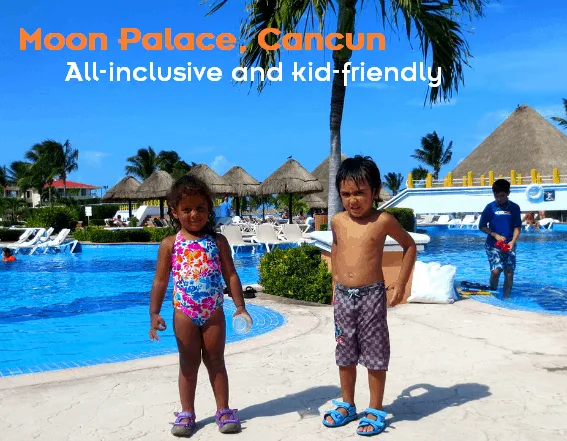 Give your children everything they want, when they want it, without your wallet. Best of all, give your family the quality time you've been yearning to give them. Give them the sun and the stars and the moon at Moon Palace Golf & Spa Resort, located on the beach in Cancun, Mexico. At the all-inclusive Moon Palace, there's no need to pay attention to the bottom line. Here, "no" does not exist. Here, families find balance through excess–excess fun and excess indulgence (or, in my case, excess Jacuzzi). The double Jacuzzi in our room was so large, my preschooler genuinely thought it was a swimming pool. We went "swimming" twice daily. If your children aren't so easily fooled, Moon Palace teems with exciting activities for every family member including seven lagoon-style pools, a children's pool with water slides, Jack Nicklaus signature golf courses, a kid's clubhouse with a fantastic outdoor pirate ship play structure, and a wave simulator that creates perfect waves for hanging 10 or body boarding.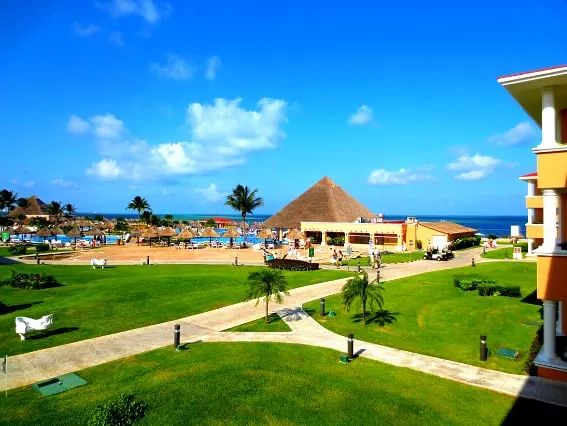 The Royal Treatment
For parents seeking the royal treatment, Moon Palace offers 49 Family Connection Luxury Suites with Nanny Service. These luxury suites include private childcare provided by Cancun Nanny Service, a member of the International Nanny Association. Your bilingual nanny is available to care for up to two children ages 2-17 for three hours per day, between 7:00 a.m. and 12:00 a.m. (Parents can purchase additional hours if needed.) Your children will also receive priority access to Connection Zone and a direct extension to the kid's club, where kids can call to ask questions and make special requests. Fun extras include a welcome kit for children featuring an assortment of beach toys, L'oreal kids products, child-sized bathrobes and slippers, sweet candy treats and chocolate milk in the minibar, cookies during turndown service, an Xbox 360, Xbox games, and DVDs on request.
Packing Tip: Mom's leave your bulky hair tools at home. Rooms at Moon Palace are equipped with Chi hair irons!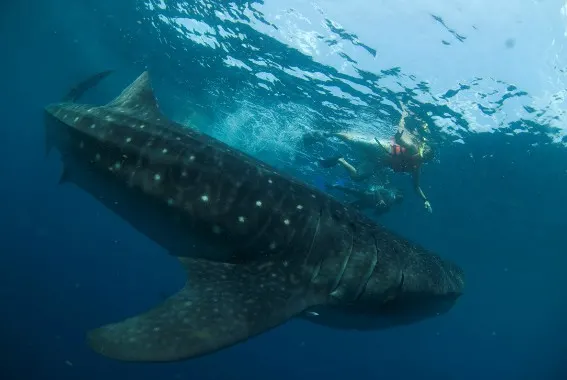 Photo courtesy of Cancun CVB
Cutting the Apron Strings

During my stay at Moon Palace, I was scheduled to meet a tour group in the lobby for an early morning transfer to marina Solo Buceo for the eco-experience of lifetime, swimming with whale sharks. I desperately wanted to go on the tour but was worried about my child since I'd never left him with a caregiver before. Thanks to the support of Moon Palace, I did go and it was an unforgettable experience!
Here's how Moon Palace made it happen: at 5:30 a.m. room service delivered breakfast to my room so I was able to eat without having to leave my room or wake up my son. At 6:00 a.m,. a resort nanny came to my room. While my son slept we discussed discipline and care instructions. Then, with my heart racing, I took a deep breath and cut the apron strings.
When I returned back to the resort at 1:00 p.m., I found my son laughing and playing with a beautiful little girl named Mariel. Seeing him so happy filled my heart with joy. Thanks to my hardworking nanny I was able to pounce on the opportunity to snorkel with whale sharks without feeling guilty for taking time for myself. Thank you, Moon Palace!
Family-Friendly Amenities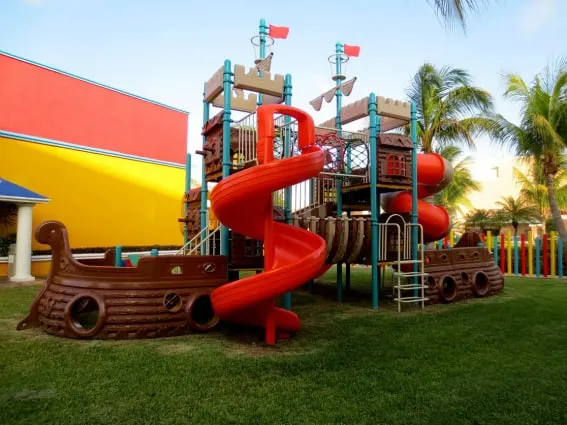 Not long ago, to augment their offerings for visiting families, Palace Resorts launched its new Family Connections Program. As part of the Family Connections Program, Moon Palace unveiled its new signature kid's club, Connection Zone. The Connection Zone kid's club features a fully-equipped arcade room, a kid's camp full of fun activities, kid-friendly menu options, and Nextel Direct Walkie-Talkie Service. With Nextel Direct Walkie-Talkie Service, parents can communicate with their children at any time if they want to spend a few kid-free hours at the pool or at the spa, while their children play and make friends at the Connection Zone.
Active options at Moon Palace include a miniature golf course, a climbing tower, bicycles, basketball courts, treasure hunts, a playground, and two children's pools with water slides and organized pool games. Tweens will enjoy Connection Zone's game room, where they'll find Xbox, Xbox 360, Wii, Ping-Pong, a pool table, and air hockey.
Entertainment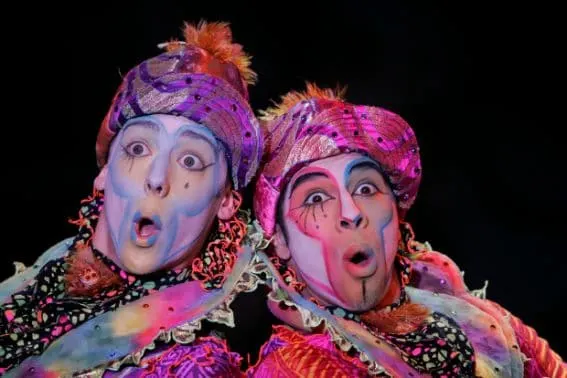 Photo courtesy of Newlink Communications
Last summer, Moon Palace Golf & Spa Resort partnered with Cirque Dreams to delight guests of all ages with the Broadway theatrics of Cirque Dreams Jungle Fantasy. Cirque Dreams Jungle Fantasy pairs contortion with special effects and music in a magical jungle setting. The performers' bright costumes and the show's outlandish characters are perfect for younger viewers and at only an hour long, it's timed just right for short attention spans. This December, Cirque Dreams returns to Moon Palace again for Usher live in concert!
On December 29, 2012, seven-time Grammy Award-winning singer and entertainer, Usher, will be in concert following live performances by artists Shakira, Jon Secada, Enrique Iglesias, and the Cirque Dreams Jungle Fantasy. Resort guests receive two complimentary tickets!
Eat, Drink, Repeat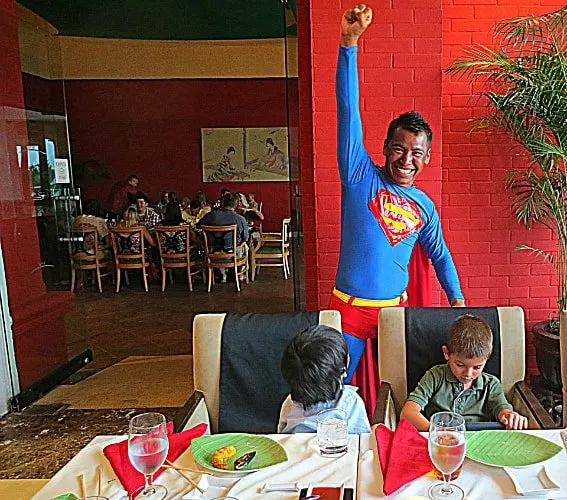 On the last night of my trip, my son and I enjoyed a delectable dinner of Asian cuisine at Bambu on the golf course. The food here was so delicious that I forgot I was at an all-inclusive. Halfway through my meal, it dawned on me there would be no bill to pay and it made my food taste even better! The highlight of my evening was a guest appearance by Superman. Who knew Superman moonlighted as a balloon twister? Much to my delight and surprise, Superman carefully constructed a sword and a flower for my son before he had to fly away. What a great guy!
If you're able, I highly recommend grabbing cocktails and snacks at The Terraza lounge before dinner. This sophisticated rooftop bar offers sweeping views of the sea that are not to be missed, and the snacks were the best of trip. Make sure to bring your camera with you!

Disclosure: My family received a complimentary stay at Moon Palace Golf & Spa Resort as well a complimentary whale shark experience from Solo Buceo in order to write unbiased reviews for Trekaroo. Neither business asked that I express anything other than my honest opinion.
Read more about The Mexican Riviera here:
CasaMagna Marriott Cancun Resort – A True Marriott Reward
Family Adventures in the Riviera Maya, Cancun
All-inclusive Cancun- A budget conscious vacation that doesn't sacrifice quality
Dolphin Discovery Riviera Maya
Barcelo Resort- All Inclusive Paradise on the Riviera Maya
---
Travel with kids to: CA |CO | DC| FL | HI | IL |MA | NC | NJ | NY | OR| PA| TN | TX | UT | VA | WA