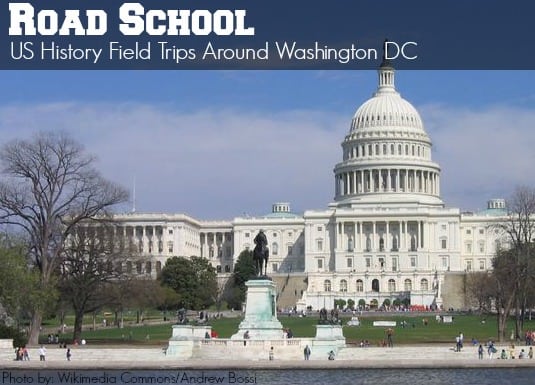 US History is alive and well throughout the States, but there's something special about the greater DC area that makes it feel as if it's living and breathing. As my kids put it after our recent trip: "This is where history is still happening!"
As a mom, I thrilled at these words, because when I planned our summer road trip itinerary through greater DC, my goal was to help history come alive for my school-aged kids. Throughout the week we spent there, we made clay bricks in the Colonial fashion, saw George Washington's death bed, looked out portholes of pilgrim ships, ate Revolutionary era foods, and stepped inside the White House. We saw fireworks burst behind the Washington Monument and laid eyes on the original Declaration of Independence.
Maybe history finally felt current and relevant for the kids because we were able to tour George Washington's estate in the same weekend we visited the White House, and saw Ford's Theater just as we were learning about contemporary secret service details.
The following US history field trips from DC can be done independently, or as one road trip as we did them. Wondering when to go? Families can always seek out historical lessons during any vacation, of course, but before planning a trip focused specifically on historical events in this region, I recommend waiting until kids are school-aged and able to spend significant time in museums and on tours. Luckily, the best historical destinations make learning fun for everyone.
Live like Colonials in Williamsburg VA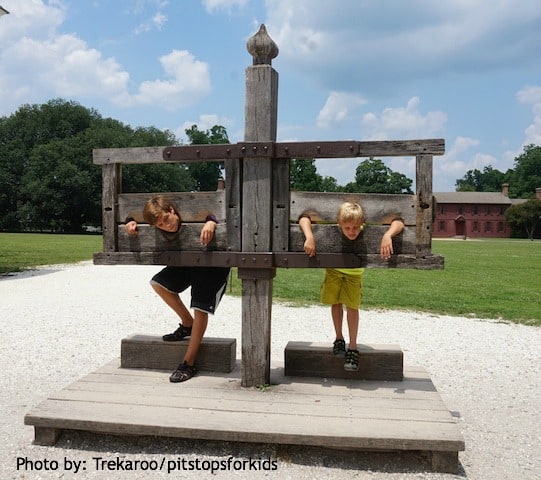 Located several hours from DC, Williamsburg is perhaps the best place to see history come alive for kids. The Revolutionary City is the best living history center we've ever seen: interpreters in period costume stay in character all day; as you walk the streets, your kids may be drawn into a heated conversation about taxation in the colonies or hear a hushed whisper about a runaway slave. Every day, historic reenactments take place in Revolutionary City, and artisans show their trades. Be sure to take kids to visit the brick maker, who just might need help in his clay yards, and to the Governor's Palace, where a mob of angry colonial citizens could break out at any time.
Where to stay: In historic Williamsburg, we recommend staying within walking and shuttle distance to Revolutionary City. The Williamsburg Woodlands is located next door to the visitor's center, and hosts evening children's programs of its own. The included breakfast is the best we've experienced while traveling, and there's a free mini golf course on site!
Become a Pilgrim in Jamestown, Virginia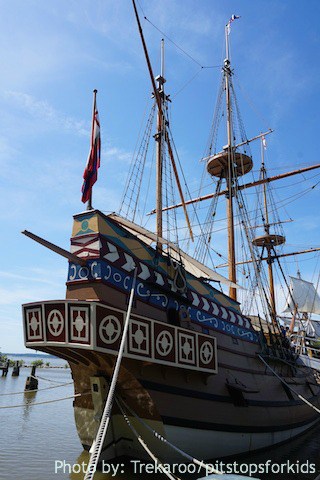 A ten minute drive from Williamsburg, Jamestown offers both a second living history center with a re-created Jamestown fort, native American village, and harbor, plus the national parks site of the original settlement, which is still being excavated today. The re-created fort and village has a separate entry than the national park site, but families will want to do both. Start at the fort to see the living history section, which will give kids a visual of what was there. Tour the excellent museum when it gets hot outside, and save the historic site for last. Entry here includes the chance to observe the archeological process and ask questions of archeologists.
Heading north after Washington DC? Explore Historical Sites in Massachusetts
Educational resources for colonial living history:
Check out our Pinterest Board on Learning about American Colonial History
Follow Trekaroo Family Travel's board Road School: American History – Columbus and Colonial History on Pinterest.

Elementary grades:
Middle and upper grades:
See Civil War History in Gettysburg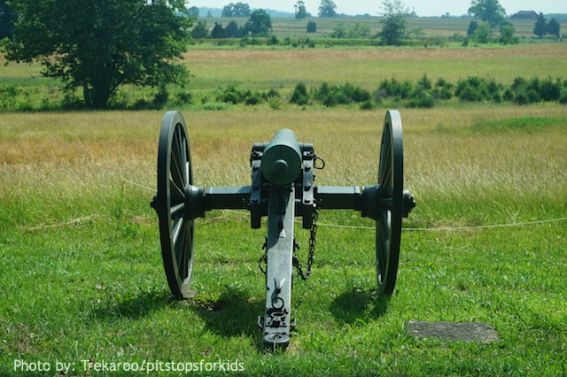 Located in Pennsylvania, it's easy to forget Gettysburg is within an easy drive from DC. While interpreters may not be in costume in Gettysburg (except for during reenactments), it's very much a living history location, where the events of this fateful three-day Civil War battle still feel very much alive. It's a sobering, significant, and almost hallowed location. We will never forget our visit here. Best for older kids, the Gettysburg National Military Park includes an amazing museum, guided battlefield tours, and on-site expert talks and programs. Families will want to budget at least one full day here, plus another to walk the town of Gettysburg and learn about life for the civilians during the war (try the Shriver House). We highly recommending hiring a Licensed Battlefield Guide to take you on a three-hour tour. These guides are true experts, and will get in your car with you and drive you through the three-day battle on the field. If you have a family of four or more, the cost is less than that of the group tours! Because the events of the battle of Gettysburg were so gruesome, I recommend waiting to do this trip until kids are at least in the middle grades. Our 4th, 8th, and 10th graders got a lot out of the trip. In fact, my teen says it was the highlight of his week. Where to stay: We stayed in the heart of town at the Quality Inn Gettysburg. This hotel has many rooms with three double beds, perfect for bigger families. It also features free breakfast and a refreshing outdoor pool with diving board. Educational resources for Gettysburg living history: Check out our Pinterest Board on Learning about Civil War History Follow Trekaroo Family Travel's board Road School: American History – Civil War on Pinterest.
Elementary grades:
Middle and High School Grades:
Explore our First President's Estate in Mount Vernon, VA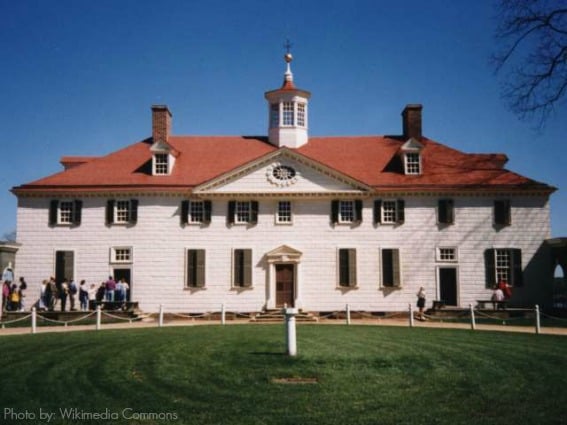 After learning about Colonial history in greater Virginia, and Civil War history in Pennsylvania, head toward DC, making a stop outside the city at Mount Vernon, Washington's estate. We recommend getting here early in the summer months, as it gets crowded and hot. Start with a tour of Washington's home, which is run on a timed ticket. Buy online to select your time beforehand, or you may be waiting upon arrival. After the house tour, opt for the self-guided tour of the outbuildings, slave quarters, and grave sites before the heat of the day, then retreat to the excellent indoor museum, located near the entrance. For families with younger kids, there's a nice interactive art room in the museum just for kids under age 10. It's staffed by museum historians and offers a different craft or project each day.
Live and Breathe U.S. Government History in Washington DC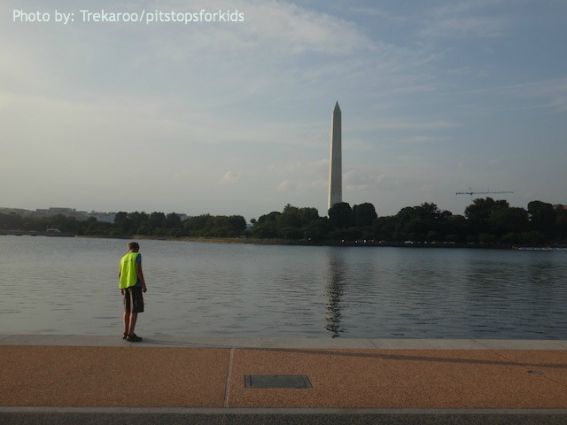 By now, you will have seen early American history up close and personal, but if your kids, like mine, are still not very interested in political history, that's about to change after a few days in DC. While we toured Washington DC with history in mind, we were given ample lessons in current politics and government practices as well. Plan at least four days in the city, but make peace with the fact that you still won't see it all. On the must-do list: a day or more to tour Smithsonian museums, such as the National Museum of Natural History and the National Museum of American History. Take a tour of the Capitol Building, and apply early to get into the self-guided White House tour. We also loved the International Spy Museum: best for older kids, this museum is part spy school, part history lesson, and part James bond film festival.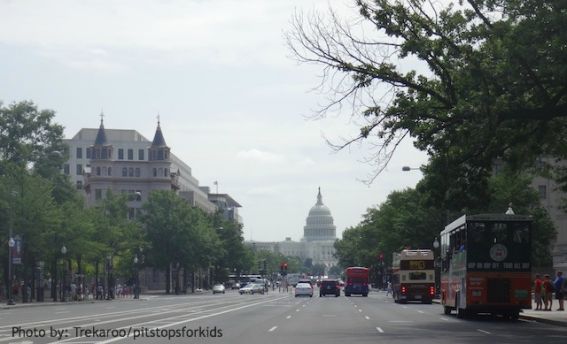 Kids who want to see the original Declaration of Independence and Constitution will need to access the National Archives, best toured early before security lines lengthen. A tour of the monuments along the Mall is also a must-do: we toured them via bike to save our tired feet. We recommend Bike 'n Roll.
Where to stay: We loved the Grand Hyatt Washington, located within walking distance of just about everything. Upgrade your room to gain access to the Grand Club, and have meals, snacks, and cold drinks always at your disposal.
Tip: Many parents forget that kids can earn Junior Ranger badges at National Historic Sites in urban areas as well as national parks. Stop at the visitor's center at the White House to earn one!
Educational Resources for DC travel:
Check out our Pinterest Board on Learning about US Government History
Follow Trekaroo Family Travel's board Road School: US Government History on Pinterest.


Elementary School 
For all Middle School and Up
What DC-area field trips have you taken with your kids? Leave reviews on Trekaroo!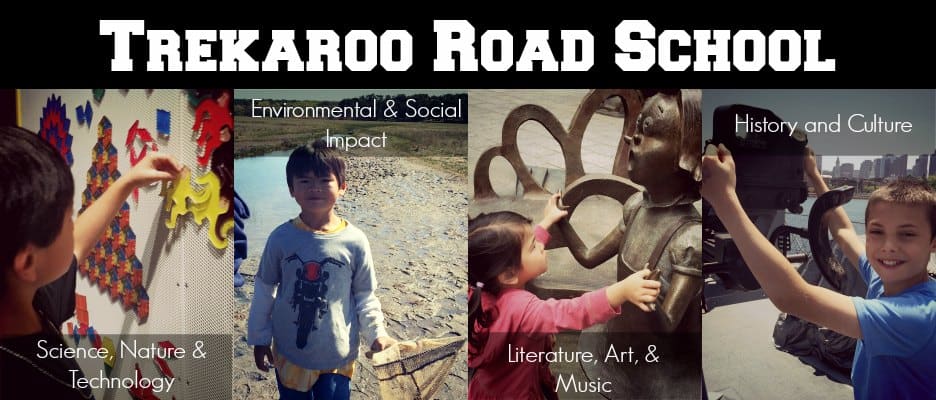 Looking for more Road School Guides? Check out our landing page where we keep all our latest tips, tricks, and educationally approved guides.
Disclosure: Amazon affiliate links are included in this post.