There is no better way for American history to come alive for kids than taking an American Revolution field trip to Boston and Philadelphia. Every American child should have a clear grasp of the events surrounding the birth of this nation.
They may not be able to understand all the nuances of what took place as a 9 or 10-year-old, but early exposure to the material will create mental pegs to which facts, opinions, and ideas may later adhere and sink in, shaping their thinking about this nation and hopefully, giving them the tools to participate meaningfully in the political process as adults. Unfortunately, when that history is introduced in fifth grade in many schools, it's often confined to a dry walk through a textbook. Certainly that was my family's experience. So, as an antidote to whines about boring history, we took my nephews (8 and 11) on an immersive walk through history on the Freedom Trail in Boston, Lexington, and Concord. If we had more time, we would have squeezed in Philadelphia and Valley Forge in Pennsylvania as well.
Walking the Freedom Trail in Boston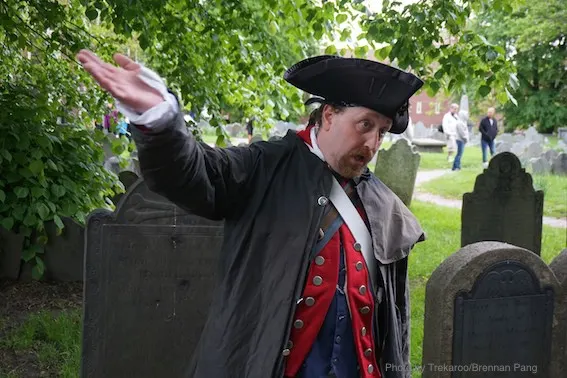 We started with things to do in Boston, the stomping grounds of many important players of The Revolutionary War e.g. Sam Adams, John Adams, John Hancock, Paul Revere, and Benjamin Franklin, among many. Given that we had young ones (ages 18 months to 12 years), we took two days to explore the Freedom Trail which is a marked three-mile walk through the older part of Boston, taking you to many important venues and sites of Revolutionary War history. We walked through Paul Revere's home, saw the site and learned about the tensions surrounding the Boston Massacre in a tour of the Old State House. The Old North Church where the famous signal "one if by land and two if by sea" was hung was on our must-see bucket list. While trail maps were free and available from the National Parks Service, we chose to take a guided tour of the Freedom Trail with a costumed tour guide by The Freedom Trail Foundation. As parents, we were rewarded while kids in our party, ages 5-12, listened enthralled to dramatic and entertaining accounts of Captain Daniel Malcolm's resistance exploits as we walked with him through the North End. When asked their favorite part of the tour, the boys all giggled and said, "the bullet holes on Daniel Malcolm's gravestone." *For more details on the best of many revolutionary sites in Boston for kids, check out my list on Top 10 Picks for Kids in Revolutionary Boston.
Hearing Echoes of The Shot Heard Around the World
Lexington and Concord
We spent one day in the villages (now suburbs) of Lexington and Concord, the terminal point of the famed Midnight Ride of Paul Revere where he got arrested (and also where the Shot Heard Around the World was fired), signalling the official start of the Revolutionary War. We began with Minute Man National Park, which has an excellent award-winning multi-media presentation that gives a good graphic overview of the action that day; it would have made our drive on Battlefield Road to the various sites much more meaningful, had we known to start there first. Also available at Minute Man National Park, was a Junior Ranger booklet that kept the kiddos reading through the displays to hunt for answers and lighting up when they received their Junior Ranger badges. The ultimate payoff for this trip was answering my nephews' questions about the Revolutionary War and the reasons why things unfolded as they did, discussing whether King George in England was fair in his expectation of colonists, and posing the question of which side they would be on. They now knew enough and had seen enough to be able to ask some thoughtful questions, even at the tender ages of 8 and 11. Where to stay: Hands down, the most historical hotel we've stayed in is the Custom House, now a Marriott hotel. This is where money was originally counted when ships came into Boston from the harbor!
Seeing the Liberty Bell and Reliving the Constitutional Convention
By Amy Whitley

Philadelphia
The other epicenter of Revolutionary War activity was Philadelphia. Philadelphia's Old City consists of concentrated blocks (that are very walk-able) that include the Liberty Bell, Independence Hall (where the Declaration of Independence was signed), Benjamin Franklin's home site (now site of a small museum), and the Constitution Center, an excellent museum for middle school kids and up. A few blocks further is Christ Church, where kids can still sit in George Washington's pew, and see where Ben Franklin rests in the church's graveyard. Families will want at least two days to tour all of the historic sites Philly has to offer with some necessary downtime built-in. Check out this list of sites on Historic Philadelphia on Foot with Kids for more details. On your way out of Philadelphia, be sure to stop in at Valley Forge National Historical Park (30 minutes away), to tour George Washington's winter encampment at a critical juncture in the Revolutionary War. You can also revisit the defeat that resulted in the Valley Forge encampment at the Brandywine Battlefield Park in Chadds Ford, PA
Where to stay: The Hotel Monaco is located directly across the street from the Liberty Bell, and adjacent to Independence Hall. The views are spectacular, but just as importantly, the service and attention to detail is as well.
Preparing Your Children for Encountering History
Its always helpful to have introduced some of the history to your children first before visiting these sites. Preparing them will give them a context, increasing the chances they'll connect with what they are seeing. Children Upper Elementary-aged and older will benefit most from a historically-themed travel excursion but younger ones can always be engaged if there are outdoor spaces to run about in and activities to do. Recommended Reading, Documentaries and Dramas:
Elementary:
Middle School and Older:
High Schoolers and Adults:
1776 by David McCullough
The Crossing DVD This site also has some discussion questions for parents to use.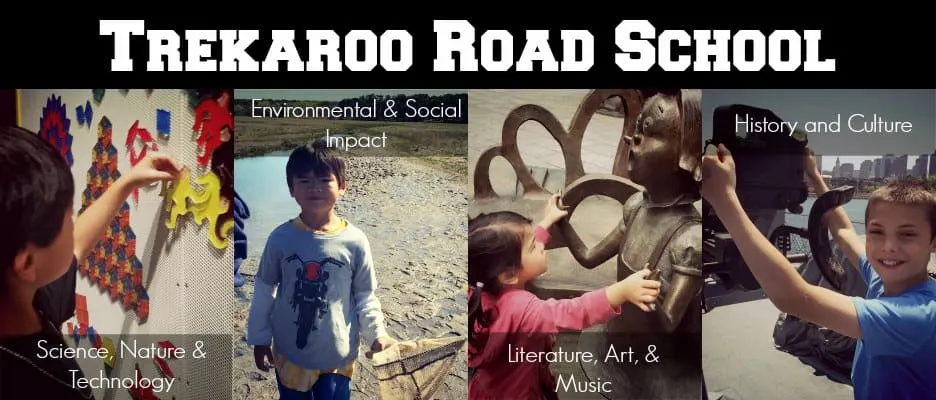 Looking for more Road School Guides? Check out our landing page where we keep all our latest tips, tricks, and educationally approved guides. Disclosure: This post contains Amazon affiliate links.