When many people think of Disney World, the first park that comes to mind is the Magic Kingdom. It is often the most popular park with families because it has so many great rides and attractions. Plus, this is the park most similar to Walt Disney's original theme park, Disneyland. Navigating the long lines and big crowds isn't always easy but don't worry, we have your back! Here are our best Magic Kingdom tips and tricks.
Take Advantage of FastPass+ Advance Reservations
Unlike the other 3 theme parks, there are no FastPass+ tiers at Magic Kingdom. You can make 3 FastPass reservations per day 60 days in advance if you are staying at a Disney Resort Hotel, and 30 days in advance if you are staying offsite.
Be sure to read our Disney World Fastpass+ guide before you trip. Then, check out our guide to the best Magic Kingdom FastPass rides.
Arrive Before Rope Drop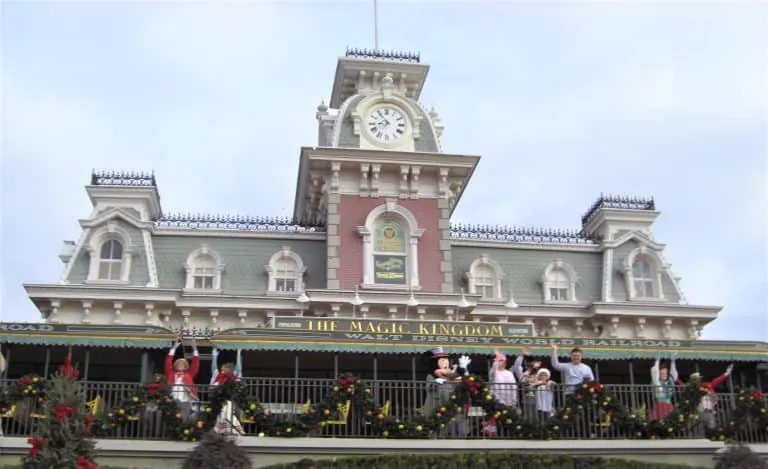 I know, it's early.
But trust me when I say that your day at Magic Kingdom will be infinitely more enjoyable if you make an effort to be at the park at least 30 minutes before it opens. Consider the amount of time it will take you to get from your hotel to the Magic Kingdom.
Don't forget that you must take a boat or monorail to the theme park once reach the Ticket and Transportation Center. Magic Kingdom generally opens up Main Street an hour before the lands open. Use this time to take photos near Cinderella Castle, shop and even grab a coffee on Main Street USA.
Note: Wilderness Lodge and Fort Wilderness use boat transportation exclusively. Disney's Grand Floridian and Disney's Polynesian Village Resort are on the monorail route. Disney's Contemporary Resort is on the monorail as well, but you can also walk directly to the Magic Kingdom from this hotel.
Enter the Magic Kingdom Before the Masses
Don't fight the crowds to get that perfect picture in front of the castle!
Enter the Magic Kingdom before all the other guests and book the first breakfast seating of the day at Crystal Palace or Cinderella's Royal Table. If you can't get the first seating, opt for the afternoon when Magic Kingdom crowds are at their peak.
Check out our full guide to Disney World Character Dining.
Avoid Extra Magic Hour Mornings if You Aren't Staying at a Disney Resort Hotel
Extra Magic Hours are a great perk if you are staying at a Disney Resort hotel. However, Extra Magic Hour mornings at Magic Kingdom get very busy very fast. If you don't have access to Extra Magic Hours, move your Magic Kingdom visit to another day.
Even if you do have access to the Extra Magic Hours at Magic Kingdom during the morning, you may end up wanting to cut your park day short. Those days typically end up being more crowded.
As a rule, it is much better to take advantage of the Extra Magic Hours in the evening at Magic Kingdom if your kids are up for it. Most families with young kids leave and the ride lines die down quite a bit.
Check the Disney World park calendar for Extra Magic dates and times.

Plug in your dates and we'll find you the best deals within steps of Disney World.
We're an affiliate of Booking.com. Every time you book a hotel through our link, you get the same awesome deals, but our kangaroos get treats too.
Don't Miss the Welcome Show!
Right before the Magic Kingdom opens to the day, the Magic Kingdom Welcome Show happens in front of Cinderella Castle. There are trumpets, there is fanfare, and of course, there is Mickey Mouse. It lasts about 5 minutes and is a great way to start the day.
Grab a FREE Celebration Button
A Disney World vacation is expensive so why not take advantage of the free stuff?
Head to City Hall at the beginning of Main Street to pick up a free button. Buttons say all sorts of things such as 1st Visit, Just Married, Just Engaged, Family Reunion, Happy Anniversary, Happy Birthday, and I'm Celebrating.
If City Hall is swamped (as it often is in the morning), head into The Emporium on Main Street as ask one of the Cast Members at the counter for one. Cast members around Magic Kingdom are great about noticing Celebration Buttons and make the person wearing the button feel special all day long.
Ride the "Mountains" Early in the Day
Prioritize Magic Kingdom's mountains- Space Mountain, Big Thunder Mountain Railroad, Splash Mountain, and Seven Dwarfs Mine Train.
The Seven Dwarfs Mine Train is the most popular ride in Magic Kingdom right now, so if you didn't get an advanced FastPass for this ride, head there first. Space Mountain should be your 2nd priority, followed by Splash Mountain and Thunder Mountain (which is also really fun to ride after dark).
If You Have Young Kids, Do Fantasyland First
If your kids aren't quite roller coaster age just yet (or simply don't like them) head to Fantasyland at rope drop instead of the "mountains". This land will get crowded quickly and remain crowded until late at night when your kids will be too tired to ride.
Priorities should be Seven Dwarfs Mine Train, Peter Pan's Flight, The Many Adventures of Winnie the Pooh, and It's a Small World. Almost all the rides in Fantasyland are slow, with the exception of Barnstormer and Seven Dwarfs Mine Train. Most don't have height requirements either.
Use a FastPass on Peter Pan's Flight
If your kids love the classic character rides in Fantasyland, definitely prioritize a FastPass for Peter Pan's Flight above all others (except Seven Dwarfs Mine Train. That is always priority 1). This ride loads very slow and is extremely popular, so wait times get long quickly. Jungle Cruise is another "all ages" ride which is worthy of a FastPass.
Use Mobile Ordering to Skip the Lines at Quick Service Restaurants
Want to spend less time in line?
Then take advantage of Mobile Ordering on the My Disney Experience App. You'll spend far less time in line for food at quick service restaurants and can even choose what you'd like to eat while waiting in attraction queues! You can order, pay, and even customize menu items right on the app (ex: no pickles, add bacon).
Once you get to the restaurant, select the "I'm here, prepare my order" button. Find a table and relax for a few minute while the kitchen prepares your meal. The app will send you a notification when it is time to pick up your food from the counter. It's that easy.
Magic Kingdom restaurants currently participating in Mobile Ordering: Aloha Isle, Casey's Corner, Columbia Harbour House, Cosmic Ray's Starlight Cafe, The Lunching Pad, Pecos Bill Tall Tales Inn & Cafe, Pinocchio Village Haus, and Tomorrowland Terrace Restaurant.
Survive Character Meet and Greet Lines
Lines for character meet and greets are longer in Magic Kingdom than in the other three parks and they move slow (I avoid them like the plague). If you or your child can't survive without getting their picture taken with popular characters like Mickey Mouse or Cinderella, try to get a FastPass.
If you can't get a FastPass, time your character visits during parades. Keep your eyes out for random cast member holding cameras. Ask them if they are waiting for a character to show up and then hang out for a minute so you can be the first in line!
Bonus tip: If your kids won't do lines for characters, there are plenty that roam around the parks. It won't be "meet-and-greet style", but you can still ask for a quick photo!
Take Advantage of the Baby Care Center
There is a Baby Care Center at the end of Main Street, next to First Aid, on the left hand side (if you are facing the castle). Inside there is a changing room with four cushioned changing tables with high walls and Velcro belts. They are extremely clean. There are shelves for holding all your stuff and even a toilet for cleaning soiled cloth diapers.
There is also a sink, two tiny toilets for potty trainers, a feeding area with high chairs, and a nursing area that is quiet (no dads or older kids allowed). Cast Members will warm bottles and baby food for you. Diapers, ointment, baby powder, Pull Ups, wipes, pacifiers, formula, baby food, and Children's Tylenol are all available for purchase inside.
Don't Fret if it Rains
Newsflash- rain is a frequent occurrence at Disney World.
Luckily, there are several indoor rides and attractions to keep your family entertained until the storm passes (and it usually does pretty quickly in Orlando). Pirates of the Caribbean, Haunted Mansion, It's a Small World, Country Bear Jamboree, the Enchanted Tiki Room, the Hall of Presidents, Space Mountain, and the Walt Disney World Railroad (as long as it isn't coming down sideways) are all good options in the rain.
Good to know: The Rainy Day Cavalcade Parade only takes place on rainy days and is a pretty rare occurrence, so take advantage of the short, but still super cute, parade.
Get Great Pictures at Magic Kingdom's Famed Walls
Looking for an Insta-worthy pic?
There are several walls at Magic Kingdom which has become quite popular for serving as the perfect photo backdrop. The #PurpleWall is on the Monsters Inc building between Tomorrowland Terrace and Tomorrowland. The #CandyStripeWall is inside the Main Street Confectionery.
Other popular spots are the bright blue wall near the exit to Buzz Lightyear's Space Ranger Spin and the floral wall of the Tangled restrooms (yes, restrooms!) between Fantasyland and Liberty Square.
We found this tip inside Walt Disney World Hacks, a fun read filled with tips for your trip.
Use Up All Those Disney Dining Plan Credits
If you are visiting Magic Kingdom on the last day of your trip and have any Disney Dining Plan meal credits left over, you can choose to purchase snacks instead. Remember, one quick service meal credit equals three snack credits. Purchase bagged snacks to enjoy on the plane or road trip home or hand them out as gifts to friends and family back home.
Need more information about Disney Dining? Here is everything you need to know about the Disney Dining Plan.
Lines for Rides are Shorter During Parades and Fireworks
Firework and parade time are great times to hop on some rides! Just be aware that many rides in Fantasyland do close during fireworks.
Be sure to pay attention to parade routes and don't try to do one ride on one side of the parade and then attempt to cross over to do a ride on the other side. It will take forever.
Fireworks Can Be Seen All Over the Park But…
In order to see the entire show, you do need to be facing the castle from the front or somewhere on Main Street. Getting stuck behind the castle during the fireworks is kind of a bummer. Don't let it happen to you!
If you are adamant about a great show/fireworks viewing spot, there are FP+ selections available. They are very popular, so make sure to lock down a FastPass as soon as you're able.
Know When to Leave
If you try to leave the park right after the evening fireworks, you will be met with long lines for buses, monorails, and boats. I have made this mistake and had to spend over 30 minutes in line just get on the shuttle bus back to our Disney World hotel. You will run into this same issue after the evening parade and at park closing.
Instead of heading out with the masses, wait 30 minutes. Use this time to shop in the gift shops on Main Street or grab an evening dessert. It is much more pleasant to use your 30 minutes doing something fun than it is waiting in line to go back to your room, especially when you are tired.
Lead photo by: Disney Parks