Brian Head is the best little mountain town for families that most folks have never even heard of. Located at the doorstep of Cedar Breaks National Monument, this sleepy mountain town is sure to steal the hearts of visiting families no matter the season. My husband and I visited Brian Head with our kids as part of our Spring Break tour of Utah. Truth be told, I had never heard of the resort and initially looked at it as more of a stopping off point in between the National Parks of Southern Utah and skiing in Park City. What I didn't know was that Brian Head would turn out to be a special destination unto itself.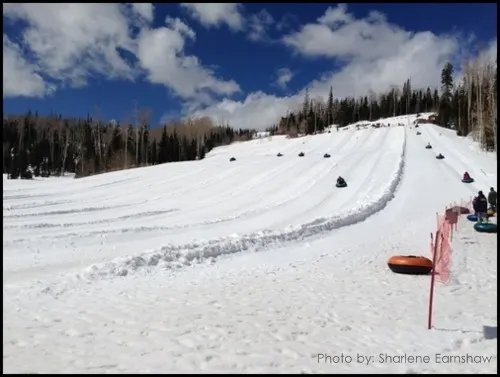 So where exactly is Brian Head?
Brian Head's is located at 9,600 feet in elevation (the highest base in all of Utah) in the mountains of Southern Utah, about 30 miles from Cedar City. It is only 90 minutes from St. George, Utah and three hours from Las Vegas. Besides being an easy ski destination for families living in Southern Utah and Southern Nevada, it is also a great spot for families based in Southern California to visit. Many SoCal families find themselves making the drive all the way up to Mammoth Mountain in Northern California for their family ski trips. While Mammoth is most certainly beautiful, it is not exactly a budget-friendly getaway. What most Southern Californians don't realize is that the drive to Brian Head is only an hour longer and lift tickets and lodging are nearly half the cost. The added bonus is that Las Vegas and Zion National Park are both along the route, allowing families to combine what they may have considered to be a couple different vacations into one amazing trip.
A Winter Wonderland that caters to families
Brian Head Resort is not destined to be the next Vail. This little resort doesn't have the upscale shopping and five-star dining that attracts the rich and famous. Instead, it is focused on giving families a reasonably priced opportunity (lift tickets are half the price of those in places like Park City, Lake Tahoe, and Mammoth) to ski together. In addition to 71 downhill runs, the resort also features three terrain parks, two tubing hills, and a bag jump. The resort offers lessons, kids camps, and gear rentals just like the big resorts, but the cost is significantly less.
My kids had an especially fun time at the tubing hill. While I lectured them on the days of yore when tykes had trudge up the hill lugging their own tubes, my children leisurely laid back in their tubes while the tow rope carried them up the hill. Ah, the good life! Then, when the "all clear" was hollered by the tubing hill attendant, they whizzed down the slope with glee. I have to admit that even my husband and I couldn't get enough of the fun.
Summertime fun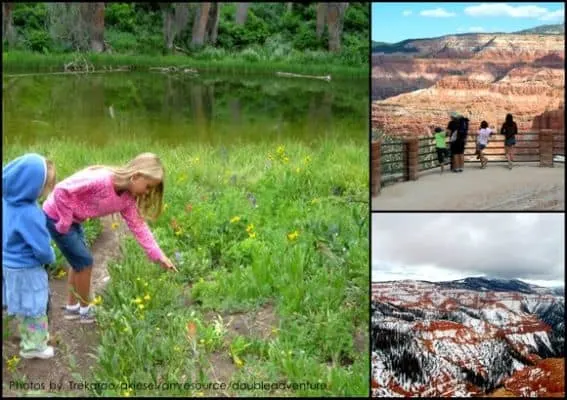 When the snow has melted, Brian Head attracts nature lovers and mountain enthusiasts. Cedar Breaks National Monument sits just outside the town limits and is an ideal place to hike, camp, and explore. The monument is typically open from mi-May through late November, depending on snowfall. While temperature at nearby National Parks such as Zion may be soaring above 100, weather at this high-elevation park is pleasantly mild and usually 30-40 degrees cooler. If you do happen upon Cedar Breaks in the winter, my family discovered it is possible to park along the road and trudge through the snow to a scenic overlook; the view of red rock covered in snow was spectacular. There are occasional ranger-led snowshoe hikes as well, so be sure to check the park website for information. Brian Head Resort becomes a mountain biking hotspot in the summer months, with trails of varying difficulty, including the Family Adventure Trail which is suitable for the whole family.
Read reviews from families who have visited Cedar Breaks National Monument.
I'm sold! Where should we stay?
Much of the lodging in Brian Head is private cabins (some are available to rent) but there are also two great lodges in town, the Cedar Breaks Lodge and Double Tree Resort. The Cedar Breaks Lodge is ideal for larger families as it offers one and two bedroom configurations, complete with kitchens. It also features barbecue grills, a volleyball court, playground, and lovely indoor pool complex. The Double Tree Resort, where my family stayed, felt more like a ski lodge than your typical Hilton property. The exposed wood beams and roaring fireplaces really put us in the mountain mood. My family enjoyed hanging out in the hotel's Lift Lounge at mealtime where the kids could play games while we enjoyed dinner and drinks, but our most favorite spot was the pool. While the bulk of the pool area is indoors, there is a large hot tub outside which is the perfect place to sit during a winter snowfall. My kids loved grabbing handfuls of snow from the deck and watching it instantly melt away inside the warm water. The setting was just so magical.
Read full reviews of both the Double Tree Resort and Cedar Breaks Lodge.
Got a hankering for pizza after all the snow play? Check out my review of Pizanos Pizzeria where my family found great pizza in an unlikely location.
Looking for more fun in the area? Discover more fun at ScenicSouthernUtah.com.
Disclosure: My family was hosted by the Iron County CVB so that I could write unbiased reviews of Brian Head area attractions and lodging. I appreciated the hospitality but all opinions are my own.