Before I gush on and on about how much I love Cancun and the Riviera Maya (or Mayan Riviera), I feel a geography lesson might be helpful. First, Cancun is not considered a part of the Riviera Maya. Rather, the Riviera Maya lies on a stretch of coast sandwiched between Cancun and Tulum. Cancun is, however, only 22 miles away from the northern tip of the Riviera Maya. Therefore, Cancun's international airport is the best to fly into when visiting the Riviera Maya. Furthermore, the Riviera Maya and the Mexican Riviera are not the same. In fact, geographically they're far apart.
Whew, that was a mouthful. You've got that, right? Clear as mud? Don't worry, you'll get it—eventually.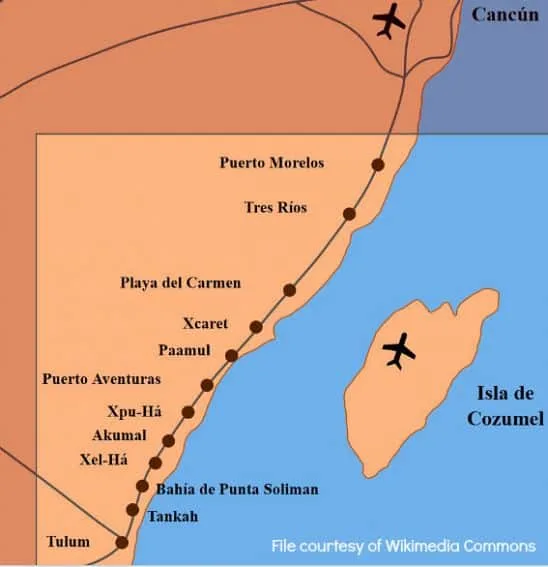 Fun Fact: Both Cancun and Riviera Maya are in the same Mexican state, Quintana Roo, located on The Yucatán Peninsula. The Yucatán Peninsula is comprised of three Mexican states: Yucatán, Campeche, and Quintana Roo.
I'm intensely in love with Cancun and the Mayan Riviera. The more I visit, the more enthralled I become. There's so much for families to see and do, that you can't possibly cover it all in one vacation, making Cancun the perfect city to return to year after year. Case in point, so far this year I've snorkeled with whale sharks, swam with dolphins, donned a live snake, watched a Cirque Broadway theatrics show, purchased a sombrero for a baby, frolicked with deer, fell in love with Tamarindo Candy, given a baby crocodile a dental exam, and enjoyed one of the best meals of my life—all while vacationing in Cancun. And, that's just the tip of the iceberg!
Crococun Zoo
Crococun Zoo is a family-friendly experience you won't soon forget. For starters, it's a crocodile farm dedicated to conservation of the species. It's not every day you get to visit a croc farm. Secondly, there's a herd of deer inside that will love you to pieces for some grub. These affectionate deer and their molesting lips are guaranteed to melt your heart! There's also monkeys to feed, snakes to wear, crocodiles to hold, bizarre lizards to touch, and Xolos to pet. Xolos are hairless dogs that have resided in Mexico for thousands of years.
All visitors are guided through the zoo on a 60 to 75 minute tour led by a professional guide who educates, entertains, and assists with the handling of the zoo's exotic guests. This tour is hands-on, so remember to keep an eye on your young children. During our tour, my 3-year-old swatted at a short perch that a Macaw was sitting on and the poor bird fell off. Words cannot explain how horrified I was. Luckily, the bird was not harmed.
Crococun Zoo
Km 31, road Cancun-Tulum, Riviera Maya
Interactive Aquarium Cancun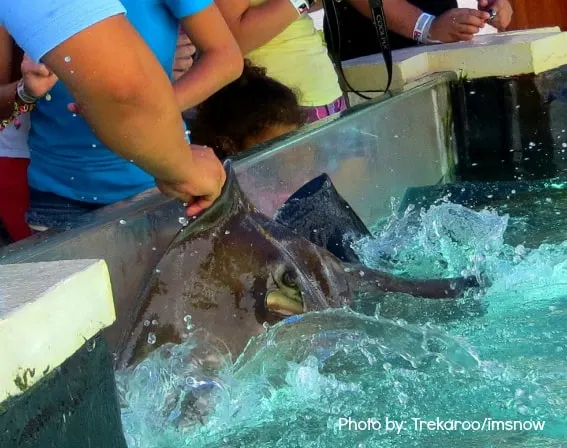 La Isla Cancun, an outdoor mall, is so much more than a shopping plaza! Not only does this shopping village offer major American brands (your child will feel right at home asking you for two scoops at Ben & Jerry's), it's also home to a large interactive aquarium. Cancun's Interactive Aquarium offers swimming with dolphins, shark and sea lion encounters (not at the same time *wink*), scuba diving with dolphins, dolphin-assisted therapy for children and adults with differences in their development and behavior, and the chance to touch rays, feed turtles, hold starfish, and poke sea cucumbers!
Interactive Aquarium Cancun
La Isla Shopping Mall, Blvd. Kukulcan Km. 12.5 Zona, Hotelera, Cancun
Look for current hotel deals in Cancún
Experience Xcaret and Xel-Ha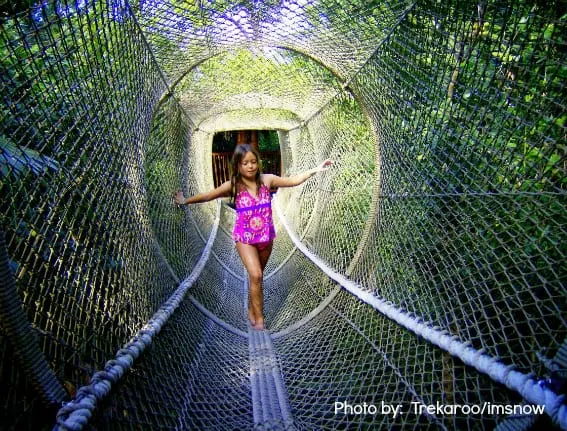 Last, but not least, visiting Cancun without carving out a few days for the Mayan theme parks of Xcaret and Xel-Ha would be like traveling to Anaheim without visiting Disneyland. My advice to parents is to budget two days per park. Both parks are chock-full of activities for children of all ages.
At Xcaret, families can swim in lagoons and underground rivers, tour ancient ruins, walk among colorful birds and butterflies, take in Vegas-style shows, swim with dolphins, and so much more.
Xel-Ha sits on a magical inlet where freshwater rivers from underground caves meet with the warmer waters of the Caribbean Sea. A floating bridge over the inlet leads to family-friendly jungle paths with many places to stop and swim. A trip across Xel-Ha's floating bridge will leave you feeling like you've fallen onto the pages of a travel magazine!
Xcaret
Chetumal-Puerto Juarez Federal Highway, Km. 282. Solidaridad, Quintana Roo, Mexico
Xel-Ha
Highway Chetumal-Pto. Juárez, Km. 240 local 1 y 2 módulo B. Xel-Há Tulum, Quintana Roo, México
Check out Trekaroo's other articles on the Riviera Maya.
There's so much more to explore!
Resorts: Moon Palace Golf & Spa Resort | CasaMagna Marriott | Barcelo Resort | Now Sapphire Resorts Activities: Family Adventures | Dolphin Discovery | Tulum
Thank you to Palace Resorts, Cancun CVB , and AeroMexico for making my wonderful Mexican adventure possible. Though my trip was complimentary, the opinions expressed in this article are my own.
Travel with kids to: CA |CO | DC| FL | HI | IL |MA | NC | NJ | NY | OR| PA| TN | TX | UT | VA | WA
Featured photo by: Shutterstock