Today's guest post is by Jill E. Cooper, joined he Walt Disney Moms Panel in 2011 as their Adventures by Disney Specialist. She has been on 3 Adventures by Disney tours: "Once Upon a Fairytale" in Germany, "Viva Italia Signature" in Italy, and "Sacred Valley and Incan Cities" in Peru (with our Editor in Chief, Sharlene) and has plans to take many more. When she isn't traveling the globe with Disney, she is living in New York with her husband and 12-year-old son. where she is a high school science and history teacher, college counselor, and regular contributor to the Orbitz travel blog .
I have met quite a few extraordinary people since I was invited to join the Walt Disney World Moms Panel eighteen months ago. I've traveled with Cast Members and fellow panelists to some of the world's most incredible destinations, marveled at their unparalleled knowledge about all things Disney, and shared with them some of my fondest hopes and dreams. We've bonded quickly in ways that only kindred spirits who share a common passion do. Yet there's something most of them don't yet know about me; I'm a scrapbooker. Since my son was a toddler, I've been compiling pictures, memorabilia, and stories to help him remember our many adventures as a family. Earlier this month, I completed the album that houses our memories from our "Once Upon A Fairytale" trip to Germany with Adventures by Disney. Not only was it gratifying because it enabled me to relive the incredible memories we made on that epic vacation, but the process of putting that scrapbook together proved to be far more enlightening than I anticipated.
As I culled the most evocative and meaningful photos from the nearly three hundred we brought back on our digital cameras, I discovered that scrapbooking this trip was very different than I imagined it would be. I assumed that our book of German memories would be filled from beginning to end with the breath-taking landmarks that dotted our journey. Picturesque Rothenberg, historic Heidelberg, and awe-inspiring Neuschwanstein Castle would surely populate every page. However, now that the book is complete, it is surprisingly different from what I originally predicted. Of course you'll find those "must have" photos that every tourist to Germany brings back, but in our scrapbook those resplendent photographs appear amidst a sea of pictures that capture the true magic behind any Adventures by Disney vacation – the people.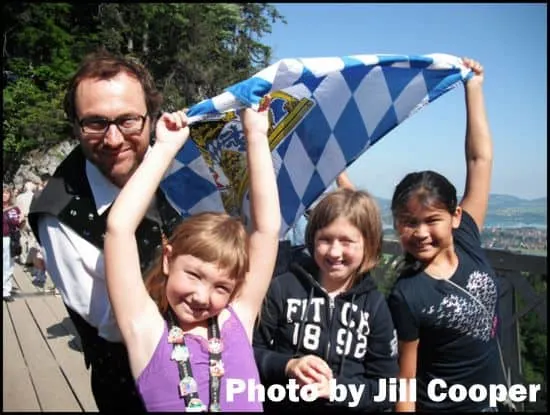 Upon our arrival in Heildelberg, it wouldn't take long for us to realize that our Adventure Guides were going to be the principal magic makers on our journey. There to greet us before dinner on the first official day of our trip, Milca and Nadine exuded warmth and enthusiasm. Even though we were thousands of miles from home, we felt at ease in the capable hands of our Adventure Guides; they anticipated our every need. Before we even had time to feel a twinge of hunger, Milca was coming down the aisle of our luxury motorcoach with tasty German snacks. (Toblerone and gummi bears, anyone?) Nadine was there to entertain the Junior Adventurers (the children on the trip) at a playground, at a restaurant, or on the motorcoach so that the parents could enjoy every last minute of their meals or conversations. They took pictures of each of the families throughout the journey so that we would all have amazing photographic souvenirs of our travels. Both Guides proved to be expert storytellers, Nadine sharing tales of her youth in Berlin and Milca describing what life as a self-described "army brat" on a German military base was like. With her characteristic patience and engaging smile, Milca entertained my endless questions about what it was like to be a Cast Member at Disney's Hollywood Studios during the months she was not guiding guests with Adventures by Disney. These two were the glue that bound together our happy band of travelers during our adventure.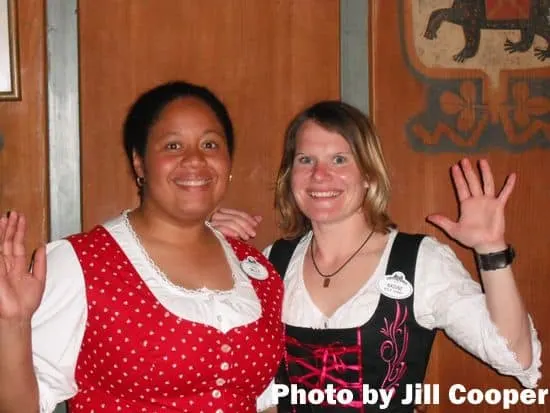 Our Adventure Guides also introduced us to local experts along our journey who would make sure we understood Germany as insiders, not merely as visitors. Wolfgang Striffler, a fourth-generation baker in charming Rothenberg, taught us how to twist pretzels like a native. He also made the most ornate pretzel I've ever seen in honor of the twentieth wedding anniversary my husband and I were celebrating on the trip. A medieval knight greeted us at the seven hundred-year-old castle that we would call home in Trendelberg. My son's face lit up as the knight asked him to carry his helmet as he regaled the group with stories of the castle's construction and history. The Brothers Grimm showed up in Alsfeld to tell us what inspired their world-famous fables and a lovely princess toured the Junior Adventurers through the treasures of Loewenberg Castle. Touring Rothenberg at dusk with the Nightwatchman will always be one of our favorite memories from the trip. Our most animated and enthusiastic local expert was Michael, who introduced us to the fascinating history of Bavaria. Upon our arrival in Munich, he gave us an unforgettable, interactive lesson about the region. Everything we saw for the next two days made infinitely more sense because of the context he had provided. The sights, sounds, and wonders of Germany would have been immeasurably less meaningful had it not been for our interaction with these extraordinary local experts.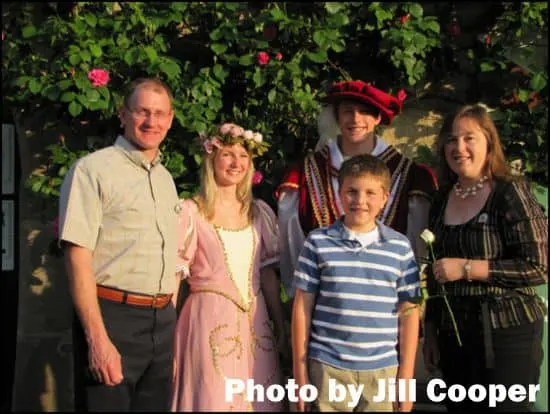 The biggest surprise of our entire trip was the key role our fellow Adventurers would play in the success of our excursion. I have to admit that the thought of spending ten days traveling with total strangers created a bit of trepidation for me before we embarked on our journey. What if we had nothing in common with these folks? What if we didn't get along? That could make for a long vacation. My concerns couldn't have been more unfounded. As we gathered for our introductory dinner, we quickly discovered common interests that would form the basis for fascinating conversations that would fill the days ahead. Even though our group came from Rhode Island to California and everywhere in between, we shared a common desire to see the world with our children. We couldn't have found a better group with whom we could explore Germany had we handpicked them ourselves. I will never forget the enchanting evening we spent dining with our new friends in one of the open-air biergartens in Munich or the world's best farewell party in a private room in the world-famous Hofbrauhaus. This amazing adventure wouldn't have been half as much fun had it not been for the wonderful people with whom we had the privilege to share the experience. Nearly two years later, we still stay in touch with a number of these families and look forward to the day we can coordinate our schedules and travel with them again.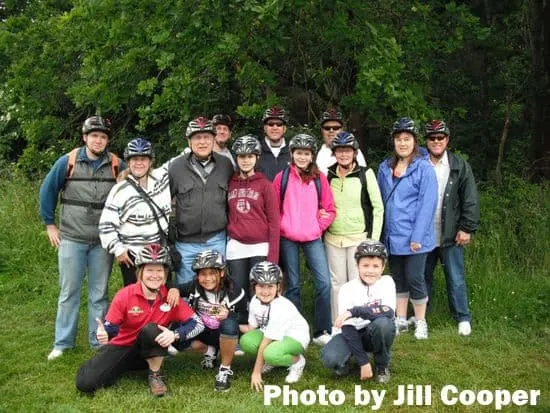 So, in retrospect, I suppose it should come as no surprise that the thirty-three page scrapbook I just completed of our trip is filled to the brim with the people who made our Adventures by Disney trip so memorable. While we originally selected this itinerary because we knew Adventures by Disney would be able to show our family the castles and landscape of Germany in ways we could never arrange by ourselves, we had no idea that true magic of the experience would be the people we would encounter along the way.
Read more about Adventures by Disney on Trekaroo:



Adventures by Disney Peru- the "I can't believe we are going to Peru post".
Adventures by Disney Peru Part 1
Adventures by Disney Peru Part 2
The Ultimate Disney Vacation Planning Guide
---
Travel with kids to: CA |CO | DC| FL | HI | IL |MA | NC | NJ | NY | OR| PA| TN | TX | UT | VA | WA