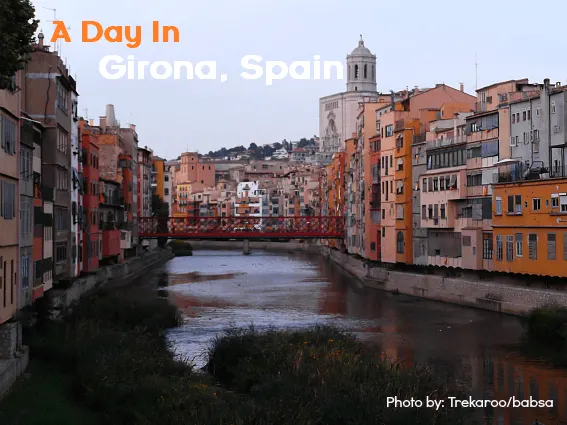 Strange things happen when you travel. Turning a corner on a cobbled street during my first night in Girona, located in the Northeast of Spain where two rivers meet, I ran into a regiment of Irish cavalry soldiers dressed and armed for an impending battle. The Irish? Here? Two nights later, with canon fire ringing in my ears and gun smoke in my eyes, I discovered why.
These latter day musketeers were re-enacting the Great Day of Girona in 1809 when the Spanish repelled invading Napoleonic forces with the help of other Catholic nations, such as the Irish. The mock battle was fought with gusto—in front of an appreciative crowd—on the site of an old fortress high above the city. Battalions of soldiers chased each other down streets while costumed civilians nursed the battle-wounded and a monk smiled benignly. The fake blood was a little unconvincing, but the kids loved it.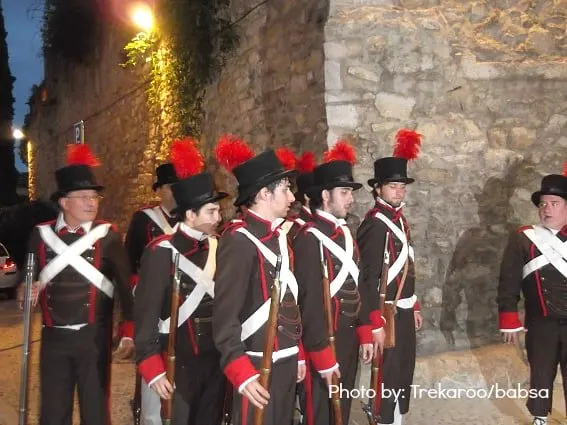 Girona likes pageants and festivals. If you come at the end of October, you can see the Fires De Sant Narcís: a fiesta of giant puppets, street fireworks, dances, circus and funfairs. During Easter week, a grand procession of Roman soldiers and religious tableaux marches up to the cathedral. The Temp de Flors (flower festival) comes in May, while the Temporada Alta showcases the best of theater in Autumn.
As a small city with approx 100,000 inhabitants, Girona is an ideal size for a family visit. Pedestrian-friendly, liberally scattered with tiny playgrounds and quiet squares; it's clean, charming, and sedate. I would recommend two full days here to enjoy its sights at a leisurely pace before heading to the coast for beaches, biking, and exploring. To give you a flavor of the city, here's how I spent a day.
A Day In Girona
It's 10:00am, 25° C, a bit breezy for September, and I'm strolling down La Rambla de la Libertat, the main drag in the Barri Vel (the old quarter). Streets are cobbled and narrow, mysterious alleyways lead off into shadowy arches, and the occasional car struggles around a corner. Small children clutch gelato while their mothers peer into enticing shoe shops. The maze of tiny streets rises inexorably toward a towering cathedral ringed by a city wall . On one side is the ancient Jewish quarter and a stone staircase forks into two on the other side. Which way shall I go? Choosing the left branch, I arrive at the cathedral, a breathtaking baroque and Gothic edifice with views to the Pyrenees.
Children were running around its perimeter and up and down the multitude of steps leading to its huge entrance. There's a fee to visit the museum and cloisters, but it's worth it. Stepping inside the museum I got a glimpse of the famed 11th century Tapestry of Creation before wandering around the calm and atmospheric cloisters and gawping at the cathedral's extraordinary vault. Next stop was the Museum of Cinema which houses a collection of early cinema apparatus, magic lanterns, and Chinese shadows. There are plenty of hands-on machines along with some amusing cartoons and early film clips.
Ignoring the numerous other museums, I decided to observe the local custom and head for food followed by siesta! It was tapas time. The Spanish understand children as tapas encourages tiny bites of various dishes—try the croquettes and meatballs. The siesta allows everyone to recharge their batteries before the evening activities, so back to the hotel for a couple of hours while the shops shut and the city rests.
At tea time, the tempo quickens. Strollers reappear, teenagers gather in cafes, and the little playgrounds thoughtfully placed in the squares fill with small children. I decide to walk the city walls and climb an iron staircase onto a high walkway. Each segment of this splendid raised walkway leads to a tower, which can be climbed for even more spectacular views. Peering over the walls let me spy into hidden courtyards and pretty private gardens.
After a couple of hours, I head to Independence Square, a large local piazza surrounded by cafes and restaurants. It's 6:30pm, a local band is playing and people (young and old) are dancing under the plane trees. It's spontaneous and picture perfect.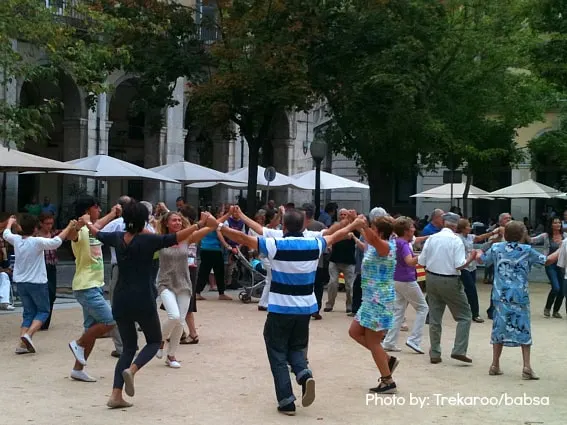 My day ends with a delicious dinner of steamed hake and local vegetables followed by Catalan Creme, a kind of baked custard with forest fruits at Casa Marietta. Then, it's a short walk back to my hotel down the side of the river. I'm feeling excited about tomorrow's trip to the Costa Brava and the chance to snorkel in a marine park, explore medieval villages, and try an electric bike.
Girona Practicalities
This Girona tourism website gives loads of practical information and allows you to create an a la carte visit from its resources. In the "Practical Information" section, you will find information about the weather, transportation directions, opening times, currency, and more. There are maps in the "Active Tourism" section.
Destí Girona is another handy website but press the British flag on the top to view an English language version. Language: Catalan is the first language but Spanish is understood and most people I came across understood English. The currency is euros.