Photo by: Shutterstock/KKulikov
On a recent family trip to Riviera Maya, Cancun on the Mexican Caribbean seashore, my family of four (two children ages 3 and 6) had the extreme pleasure of visiting Xel-Ha (pronounced shell-hah) and Xcaret (pronounced eesh-ca-ret). Even though we spent a full day at each location, we barely scratched the surface of fun activities. My advice to families who are planning a visit to Xel-Ha and Xcaret, treat it as you would Disneyland: give yourself at least two days per park.
Xel-Ha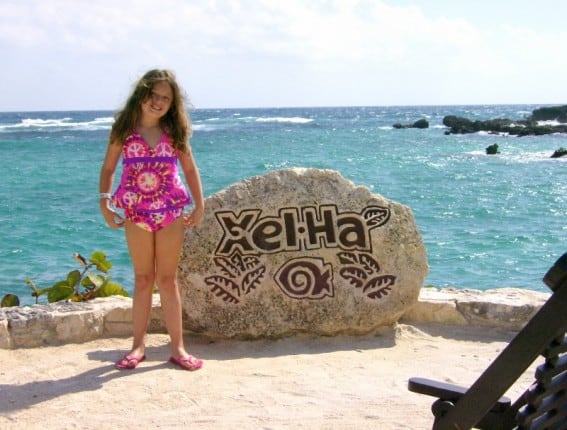 I was slightly apprehensive about my visit to Xel-Ha because some locals had described the park to me as a relaxing place geared towards adults, not the best environment for my three year old son whom I lovingly refer to as babyzilla. Pshhhh, those locals were loco! Everyone in my family had the time of their lives. Xel-Ha is rockin' for all ages! Only toys falling from the sky like rain could have improved upon our perfect day.
Xel-Ha is a natural aquarium park internationally known for its spectacular rock formations and hundreds of tropical fish of all sizes and colors. Xel-Ha River, a lazy river with a gentle current less than one mile in length, is the perfect spot to snorkel or drift on a sun-drenched inner tube. Other activities include bike rentals, swimming, kayaking, and checking out the beach.
Xel-Ha's entrance fee is all-inclusive. Once inside you pay for nada. All activities, meals and beverages—including fun and funky drinks from the bars El Pueblo and El Puente—are covered. (Optional activities such as swimming with the dolphins or spa services are not included in your ticket price). At the time of my visit, adult admission was $89 USD, children ages 12 or younger are 50% off adult admission cost, and children ages 4 or younger are free. On the second day of admission, ticket prices may be only 50% of the first day's cost, but check the website for updated discounts. Admission includes inner tubes, life vests, the use of changing rooms and showers, jungle train rides, snorkeling equipment rental, locker rental, and towels; buffet breakfast and lunch as well as domestic open bar are also included. They even pass out special biodegradable sunscreen at the entrance.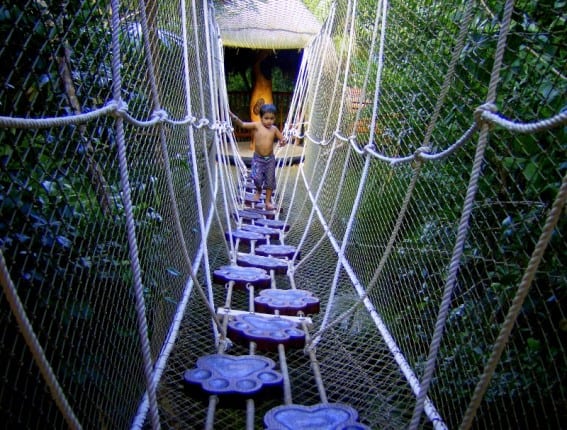 The children's playground at Xel-Ha, which extends from the beach into the treetops, was the highlight of my son's trip. The tree canopy playground, being in the trees, casts a beautiful light around the rope ladders, rope maze, and the wooden playhouse. On the beach there are swings, slides, see-saws, and a wading pool. A few steps away, there's an exquisitely peaceful hammock area I playfully named Hammock Town. After an hour of amazing play, tummies started to rumble and it was time to go. My son broke out in tears when I told him it was time to leave the most awesome playground in the world. I wistfully glared, errrr, I mean glanced at the lucky adults who were able to enjoy Hammock Town as I ducked the flailing arms of my son who was unable to bear the thought of leaving this newly discovered paradise.
The Delphinus Dolphinarium is located within Xel-Ha and is the perfect venue for dolphins and human beings to meet and greet and smooch. Delphinus offers a wide range of dolphin friendly packages ranging from swimming with dolphins during an underwater dive to foot pushes and kisses. The minimum height requirement for children is 3.3 feet. I experienced the kid friendly Interax package, an interactive swim with dolphins program.
Armed with a Tic Tac and a life vest, I wasn't sure how my son would react to meeting Flipper. After watching a video on dolphin etiquette, I plunged into the water with my family and my son on my hip. I'm happy to report my son was NOT scared of our dolphin, Kukulkan (all dolphins have Mayan names). In fact, he was so relaxed that he fell asleep. Not even a kissing dolphin could rouse him! My daughter on the other hand, was an old pro in the water; she was more than mature enough to enjoy her dolphin encounter.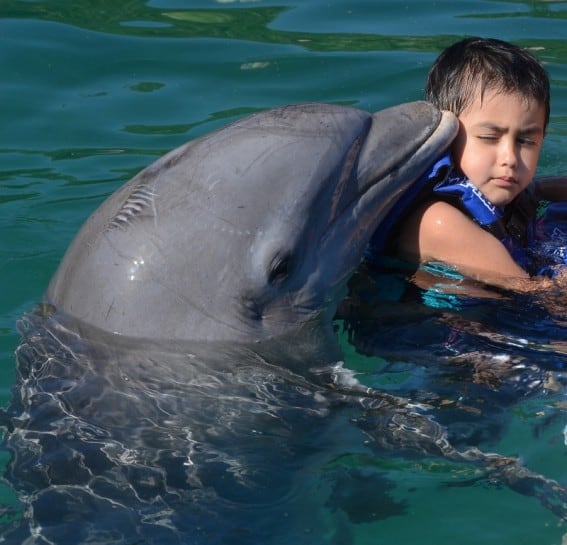 Delphinus was very generous with the amount of dolphin face time we received while in the water. I was able to run my hand along Kukulkan's silky body so many times I lost count. My daughter giggled and my son snored every time Kukulkan flashed his toothy smile. We spent 35 minutes in the water signaling, hugging, and of course, kissing our new friend. It's an experience I will carry with me forever. It's also with extreme pride that I cross "swimming with the dolphins" off my bucket list.
Xcaret
Xcaret Park is the Yucatán Peninsula's top eco archaeological park for family fun. A billboard in Guadalajara reads in Spanish "Don't forget to enjoy the pleasures of Riviera Maya when visiting Xcaret." I couldn't have said it better. Xcaret is a destination upon itself; it even has its own resort, The Occidental Grand Xcaret. Xcaret presents in one convenient location a little bit of everything the Riviera Maya has to offer, and it does it WELL.
During our tour of the Park's Regional Wildlife Breeding Farm, I was able to observe a colony of flamingos. I don't mean observe in the traditional sense, from far away or through a glass wall; I mean observe like an elderly person feeding birds from a park bench close. It was ethereal and surreal. I was also able to see and interact with over 44 species of tropical and endangered birds! Some other nature-based attractions in the park include hanging out on the beach or in a lagoon, hiking tropical jungle trails, or swimming with dolphins (and much more!)
Xcaret also offers a bat cave, native jaguars, manatees, and a petting aquarium; I touched a sea cucumber! Cultural attractions include an open church, a replica of a Mayan village with real artisans at work, and a Mexican cemetery. At night Xcaret kicks it into high gear with a spectacular show featuring over 200 performers that celebrate the rich and varied history of Mexico.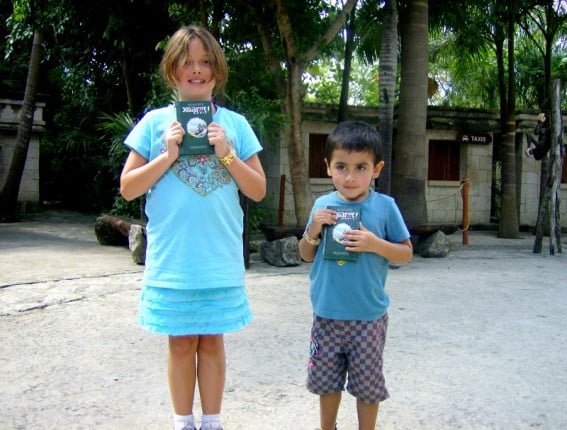 A few of the many highlights of our amazing day at Xcaret were the "passports" which were given to my children when we arrived. My kids enjoyed collecting stamps for their passport at each exhibit. We also enjoyed admiring the majestic giant sea turtles and their tiny babies at Xcaret Sea Turtle Farm, strolling with my kids in the Butterfly Pavilion, and last but not least, devouring the food at the Mexican buffet near the equestrian stables. I'm drooling just thinking about the delicious meal I ate there. Viva la buffet Mexico!
If you want to know more about a family trip to the Riviera Maya, Cancun in Mexico, please visit the websites of Xel-Ha, Xcaret, and Delphinus Xel-Ha.
Disclosure: Thank you to Xel-Ha, Xcaret, and Delphinus for hosting me on this Mexican adventure. As always, the opinions expressed in this article are my own.