LEGOLAND. There may not be another toy that screams childhood like the LEGO brick. Whether traveling with LEGO-obsessed kids or not, the consensus of Trekaroo families is that LEGOLAND is awesome. Here are our best LEGOLAND California tips to make your family trip to LEGOLAND fantastic.
Our Best LEGOLAND California Tips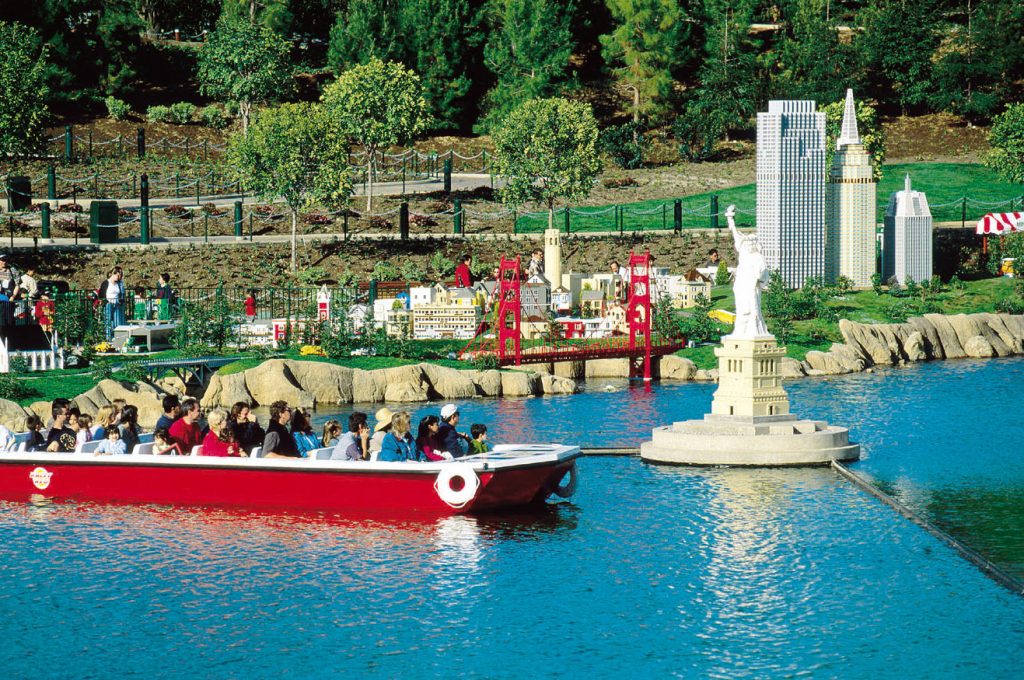 Photo Courtesy of LEGOLAND
Types of Tickets
LEGOLAND offers several ticket options depending on the season. A ticket for LEGOLAND gives guests access to the main park. Guests who want to experience the water park will need to purchase a Water Park Hopper or a Resort Hopper, while guests interested in the SEA LIFE Aquarium will want to purchase a SEA LIFE Hopper ticket. Guests who want to see all three parks will want to obtain a Resort Hopper ticket. LEGOLAND and the LEGOLAND Water Park must be visited on the same day. The entrance to the water park is in the middle of LEGOLAND. However, visitors can return another day to visit the SEA LIFE Aquarium. Guests who wish to do so will want to go to Guest Services to make the date change for the aquarium ticket.
Hours
LEGOLAND's hours reflect the age of its guests. The park hours shift during the year, tending to be shorter during the school year, and longer during breaks and summers. However, it does not stay open late into the night. Families will want to get the most of their ticket by planning on staying in the park the whole day. LEGOLAND is small enough to feel like families get the most out of their day without missing out on many sights with these hours.
Parking
Parking is available in LEGOLAND parking lots. LEGOLAND does charge for parking and the parking rates are dependent upon the size and type of vehicle. Those driving an RV should expect to pay more. LEGOLAND does offer a few charging stations for electric vehicles.
Reserve 'N' Ride
Those who don't want to risk waiting in long lines can purchase a Reserve 'N' Ride Electronic Reservation Service for their group. This feature allows guests to essentially "get in line" for a ride electronically without actually waiting in line. Guests can choose from 13 rides and wait out the time while eating lunch, shopping, riding another ride, or simply enjoying the park. Guests who use Reserve 'N' Ride are notified electronically when it's their time to ride. There are three pricing options to choose from.
LEGOLAND California Tips for Babies/Toddlers
Much of LEGOLAND is accessible to little ones. Many of the rides have no height requirement or a minimum of 32". In fact, LEGOLAND has a brochure with activities that are friendly for two-year-olds. LEGOLAND provides stroller rentals on a first come first serve basis for $11 (single) and $15 (double). They are available at The Marketplace and The Beginning.
Tip: Our Best LEGOLAND California tip for parents of infants. Head to the Model Mom Baby Care Center near the Driving School for changing tables, highchairs, rocking chairs for nursing, as well as a refrigerator and microwave.
Check for availability on family-friendly hotels 
Best Bets for Your Unique Family
LEGO Building Fanatics
Photo Courtesy of LEGOLAND
While there are multiple areas throughout the park where kids can get their hands on LEGO and DUPLO bricks and creatively build, there are a few must-sees for true LEGO aficionados.
Take a stroll through Miniland. Marvel at the way scenes and characters from your favorite Star Wars films are re-enacted in bricks. Check out the replicas paying homage to San Francisco, Las Vegas, and Washington, D.C.. Be sure to stop in at the Model Shop to see the Master Builders at work fixing and developing the park's brick structures.
It's true. Everything is awesome! Any child (and adult) who has seen THE LEGO MOVIE will get a kick out of seeing models of the movie set. Search for your favorite characters in the set, and then hop outside to find one of them for a photo opportunity.
Touring the LEGO Factory is a must. See how the bricks are made and how sets are put together. My then 5-year-old was in awe to watch his beloved LEGOS be made.
Tip: Leave your LEGO purchases to the end of the day. There are stores in multiple locations in the park, but no need to carry them with you during the day. Hit up the store on your way out. However, should you find the perfect gift early in the day, guests can have purchases transferred to the exit for pick-up when they are ready to leave the park. Now that's courtesy!
Older Adventurers (over 42" and at least four-years-old)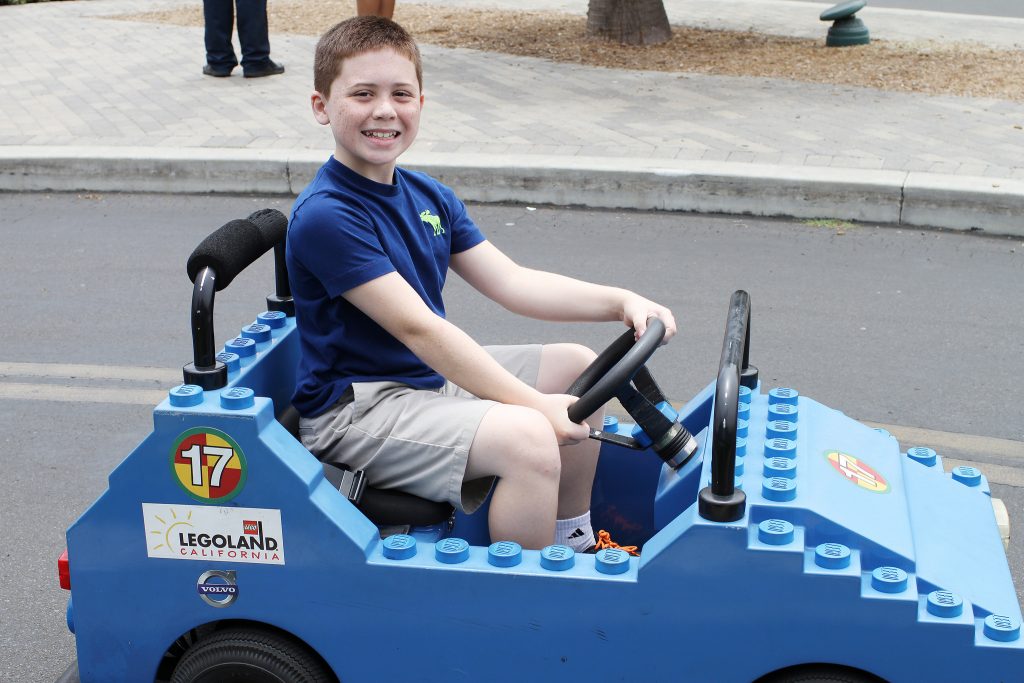 Photo by: Flickr/Jill Carlson
While LEGOLAND is not known for its thrill rides, young adrenaline junkies can quench their need for speed on three roller coasters: LEGO TECHNIC Coaster, Coastersaurus, and the Dragon. Knight's Tournament is another good option for thrill seekers, and riders can choose the intensity of the experience. Parents of big and little kids: LEGOLAND offers Parent Swap so that adults needing to watch kids who are too little to ride can still ride. Stick together as a group for the line. When your party gets to the front of the line, let the LEGOLAND employee know, and they will allow adults to switch places and the big kid to ride twice.
A few more surefire winners for the older set include picking up their very own LEGOLAND Driver's License at Driving School. Kids drive their own cars on a circuit and have a great time doing it.
For kids who need to release some physical energy, head to Hideaways in Castle Hill. Think of it as a huge, multi-level play fort. We went with an almost 5 and 6-year-old and they loved it!
Want to hit up as much as possible? Check out LEGOLAND's Wait Time Estimates to know where to go next. LEGOLAND recommends guests starting at the far end of the park and working their way back toward the front.
Tip: If you are traveling with a wide variety of ages, many rides with height restrictions have play areas set up by the ride line to keep little ones occupied while older siblings enjoy the ride. These play areas tend to have an assortment of DUPLOs and large building blocks in a safe zone.
Look for current deals on Family Friendly Hotels 
Little Ones (under 42" and under four-years-old)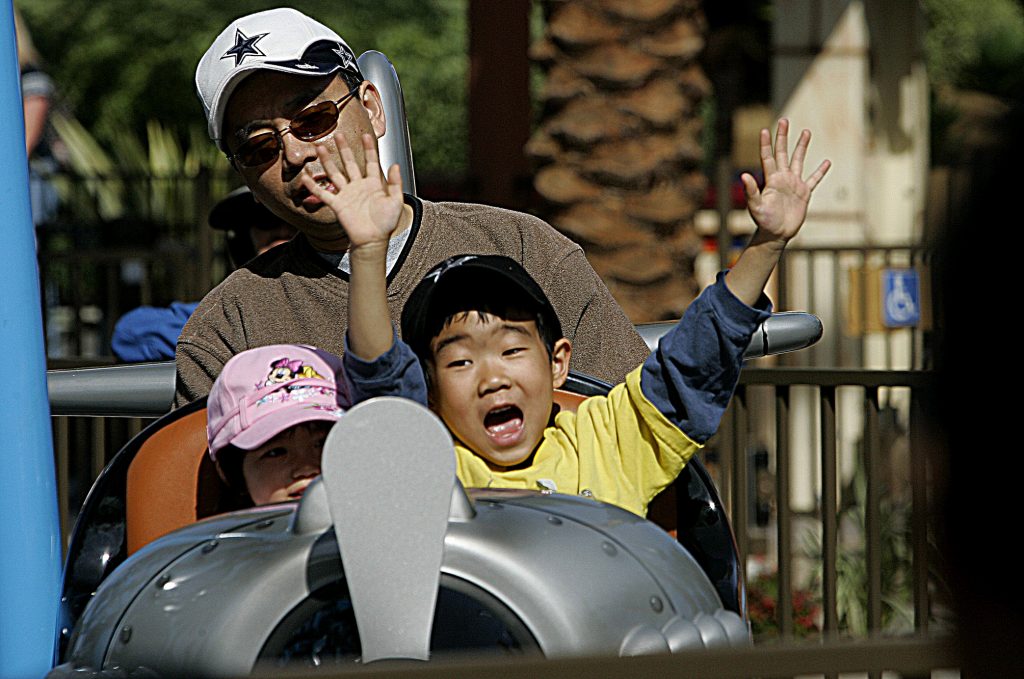 Photo Courtesy of LEGOLAND 
Toddlers and Preschoolers want in on the action too. Keep in mind that while lots of areas have no minimums, 34" is the key height to be able to participate in most activities in the park. We enjoyed Pharoah's Revenge, a two-story indoor play area where soft balls can be hurled at family and friends alike and the pictured Cargo Ace. Trekaroo families also spent a considerable amount of time in the DUPLO Playtown. Here, little ones can play with huge foam DUPLOs, stay safe in play structures made to look like DUPLO sets, and ride their very own train.
Tip: The DUPLO Playtown tends to be shaded, and there is food nearby. Consider making it a pit stop during your day to re-charge those engines.
Skipper School and Junior Driving School offer the little set a chance to be powerful in the driver's seat. Head to both early in the day if traveling with little ones as both are very popular and the lines can get long.
Need a break from the crowds? Fairy Tale Brook offers shade and a calm boat ride for every height, Coast Cruise allows the whole group to see the world through LEGO-shaped eyes while Dig Those Dinos gives kids a chance to use buckets and shovels to dig for dinosaur fossils in the sand.
LEGO FRIENDS HeartLake City: Based on the LEGO Friends line, kids can build in the Heartlake Stables, go for a ride on a carousel, play in the water fountains, or watch LEGO Friends on-stage.
LEGO NINJAGO WORLD: Ninja fans rejoice. Check out this world for a ride and multiple attractions featuring Kai, Zane, Cole, and Jay.
LEGO Movie 4D: Watch a continuation of The LEGO Movie that can only be seen in the park.
Water Fun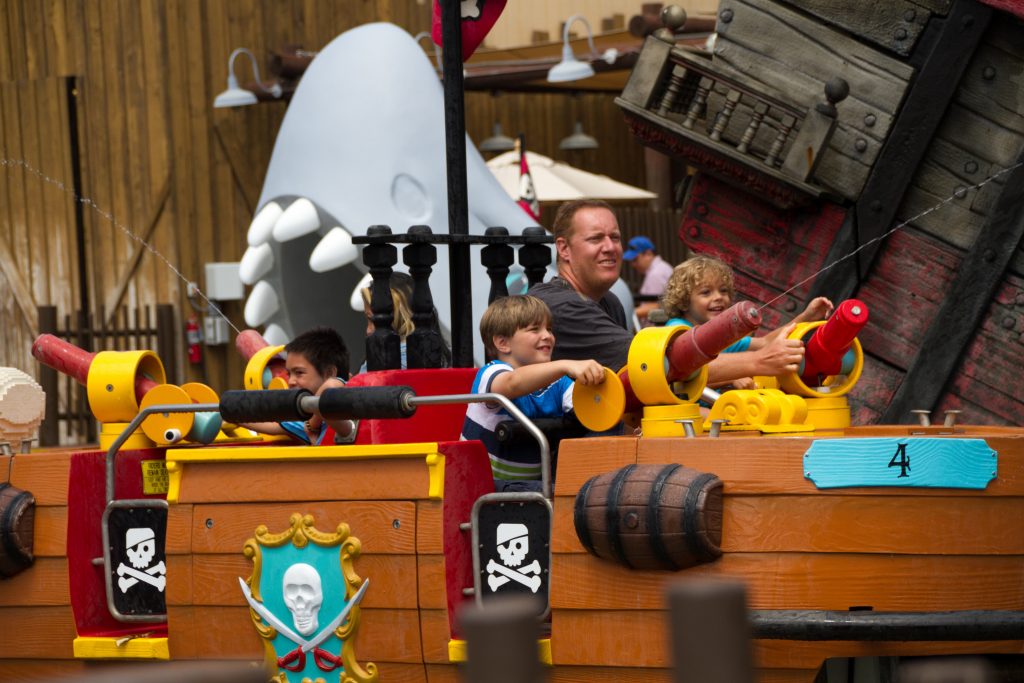 Photo by: Flickr/Josh Grenier
Bring a swimsuit to change into or have kids wear it under their clothes. There are several areas of LEGOLAND that involve water, but do not need a separate water park ticket to enjoy. Head to Pirate Shores near the back of the park for some splashing fun. Swabbie's Deck (a seasonal splash pad) was a hit with our kids on a warm spring day. Kids enjoy the pirate theme, and water play is always a hit. Man monster-sized water cannons to shoot riders on Splash Battle or enjoy the ride for guests 36″ and taller. To get fully wet, jump aboard Pirate Reef and splash down a waterfall in a secure boat. Don't miss climbing the stairs and shooting other riders as well. Returning guests take note that the large Soak 'n Sail water playground is now only accessible with a water park ticket.
Feeling the need for water play closer to the entrance of the park? Heartlake Fountain offers a fun splash area as well.
For water fun with older kids, take to the sea on Splash Battle. Riders armed with monster-sized water cannons attack each other and the ride. AQUAZONE Wave Battle is another solid choice for older kids (minimum height 40"). Build a boat out of LEGOS and race it down a water slide near Mainland at Coast Guard Build-a-Boat. Kids will love taking their boat to the starting line but will be sure to get some splashes of water as they create their own race.
Tip: Swim diapers are required for kids three and under. If you forget a swimsuit or plan for a cold day and then are surprised by a child who ends up wet, LEGOLAND does sell swim gear. It will not be the least-expensive, but it is available should an emergency splash pad experience arise.
SEA LIFE Aquarium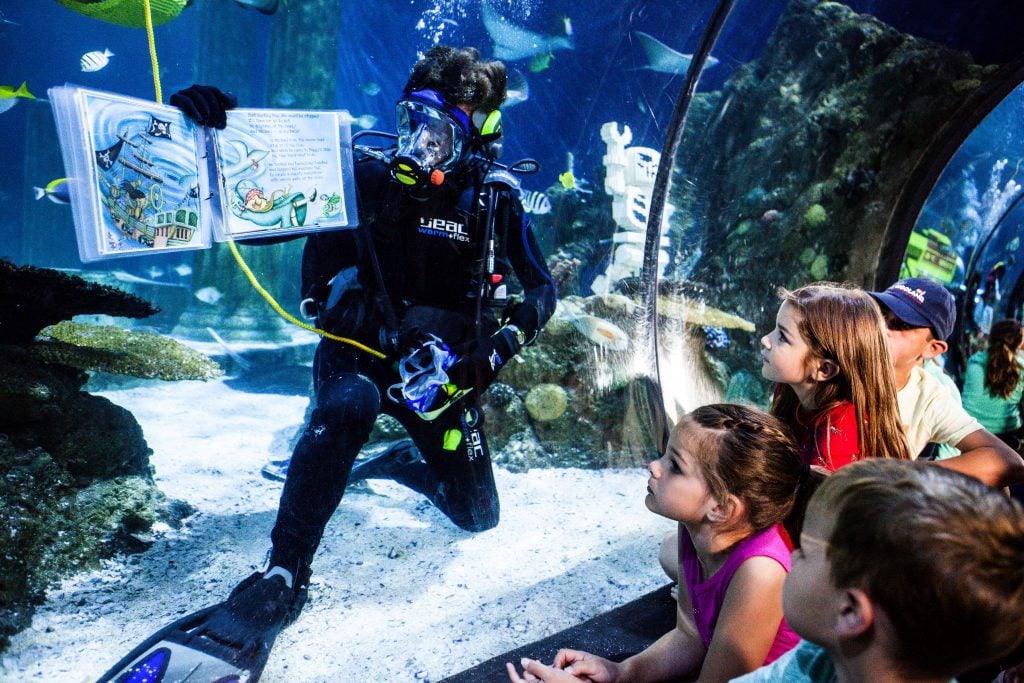 Photo Courtesy of LEGOLAND
SEA LIFE Aquarium is located on the left of the main LEGOLAND entrance. It can be accessed from within LEGOLAND or directly from the parking lot. Guests do not need to purchase a LEGOLAND ticket in order to purchase a SEALIFE Aquarium ticket.
Guests will be enamored with the 5,000 creatures from the sea that call the aquarium home including the brand new Jellyfish Discovery. Parents of school-age kids will appreciate the Kids Quiz Trail, which not only keeps their attention, but allows for a deeper educational understanding of the aquarium. The aquarium offers touch tanks and sea-related projects as well as talks given by aquarium staff. The aquarium has one restaurant onsite, Journey Café, which can be accessed without an aquarium ticket. SEA LIFE Aquarium offers field trips and group experiences as well.
Tip: Consider booking online to receive savings in advance rather than waiting to purchase at the door.
LEGOLAND CALIFORNIA TIPS – LEGOLAND WATER PARK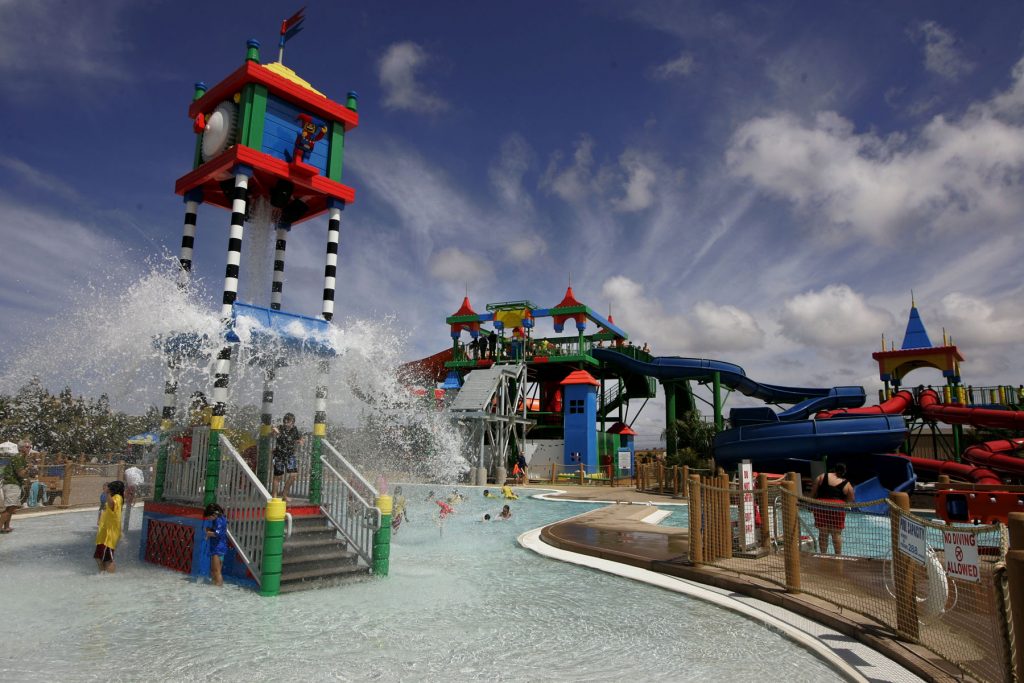 Photo Courtesy of LEGOLAND 
LEGOLAND Water Park expanded in 2017. Surfers' Cove is a brand new area with towering racing slides – Riptide Racers, a splash-ground at Wipeout Lagoon, and a new restaurant serving slow roasted meat in delicious tacos – Beach Street Tacos. Add on a water park ticket to your LEGOLAND admission and enjoy ALL of the water park areas (don't let the different names confuse you).
Throughout the original water park, LEGO CHIMA Water Park, and Surfers' Cove, kids will find sandy beaches, a relaxing lazy river with inner tubes that giant LEGOS can attach to, splash pads, gigantic water play structures, and water slides. At Imagination Stations kids can build dams, bridges, and structures out of DUPLOS and see what happens when water courses over them. Families can ride together down the towering Orange Rush giant slide. Toddlers and preschoolers will have fun splashing in the shallow areas and small slides in the original water park and LEGO CHIMA Water Park including a wave pool. It's time to get wet and have a blast together!
Good to Know: There are three dining options available within the water park, including the new Beach Street Tacos. Lockers are available for rent. There are changing areas and body dryers as well.
Tip: Just like in LEGOLAND, a swim diaper is required for all children three and under. Complimentary life jackets are available for younger visitors. Bonus: Children under three get into the water park for $5 at the door. Remember towels for everyone.
LEGOLAND CALIFORNIA TIPS – KIDS PLAY
 FREE IN OCTOBER 
Hip. Hip. Hooray. The Kids Free San Diego program includes LEGOLAND. Receive a single-day child's SEA LIFE Hopper ticket with the purchase of an adult SEA LIFE Hopper ticket. San Diego is beautiful in October. With typical daytime temperatures hovering in the mid-70s, you'll get your share of Vitamin D while exploring the park.
Tip: Hotels and restaurants in San Diego also participate in Kids Free San Diego. Check out the deals to save some money on your LEGOLAND vacation or if you are planning a multi-day trip to the area, be sure to enjoy some of the other attractions that are free to kids in October.
LEGOLAND CALIFORNIA TIPS- 
WHERE TO EAT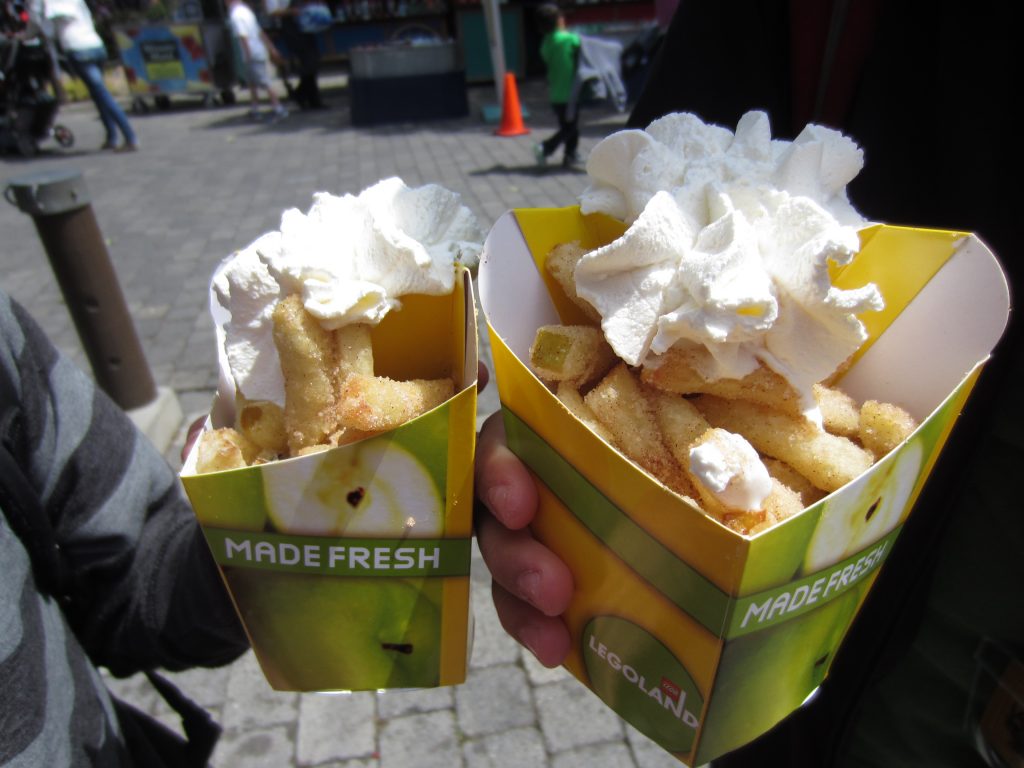 Photo by: Michelle McCoy
I'll admit it. I like tasty treats and theme park specials. LEGOLAND has its own fair share of both. From Granny's Apple Fries (a delicious concoction made up of strips of Granny Smith apples, cinnamon and sugar, and vanilla whip) located in Castle Hill, to the smoked pulled pork and chicken of Knights' Smokehouse (try the chicken, I was impressed), there is food for everyone. As a mom with children with picky palates and a food allergy, I was pleased with the Fun Time Market as well.
Need a break from the park or a sure-fire winner after a long day of LEGO fun? Head to Bricks Family Restaurant in the LEGOLAND Hotel. This buffet-style restaurant is open to the public. Trekaroo families enjoyed the variety and quality of the food as well as the ease of its location.
While LEGOLAND does not allow outside food or drinks to be brought in, exceptions can be made for babies and those with medical needs.
*Families with food allergies and/or restrictions will appreciate LEGOLAND's online dietary guide to give them a head-start on meal planning. Always consult with the chef in regards to specific health needs.
Check for the best prices on Family Friendly Hotels 
LEGOLAND CALIFORNIA TIP- WHERE TO STAY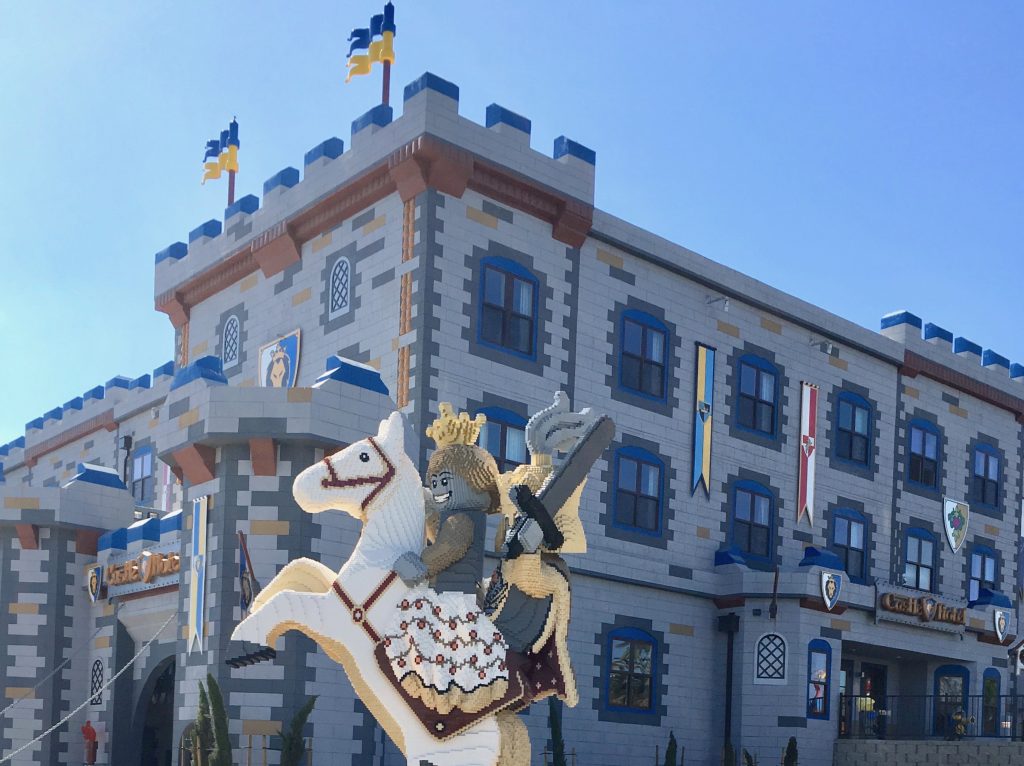 Photo by: Michelle McCoy
Opening to grand fanfare in April of 2018, the LEGOLAND Castle Hotel is a dream come true for any LEGO-loving knight, squire, or princess. This 250-room hotel is located within steps of the front entrance to LEGOLAND. Themed rooms for knights, wizards, and princesses include a separate bunk bed room sleeping 3 kids. Parents will love the king-size bed, complimentary water, coffee, juice, and breakfast. A large outdoor courtyard with play structure, LEGOs, nightly entertainment, and a large pool complex make this a perfect place to stay on a trip to LEGOLAND.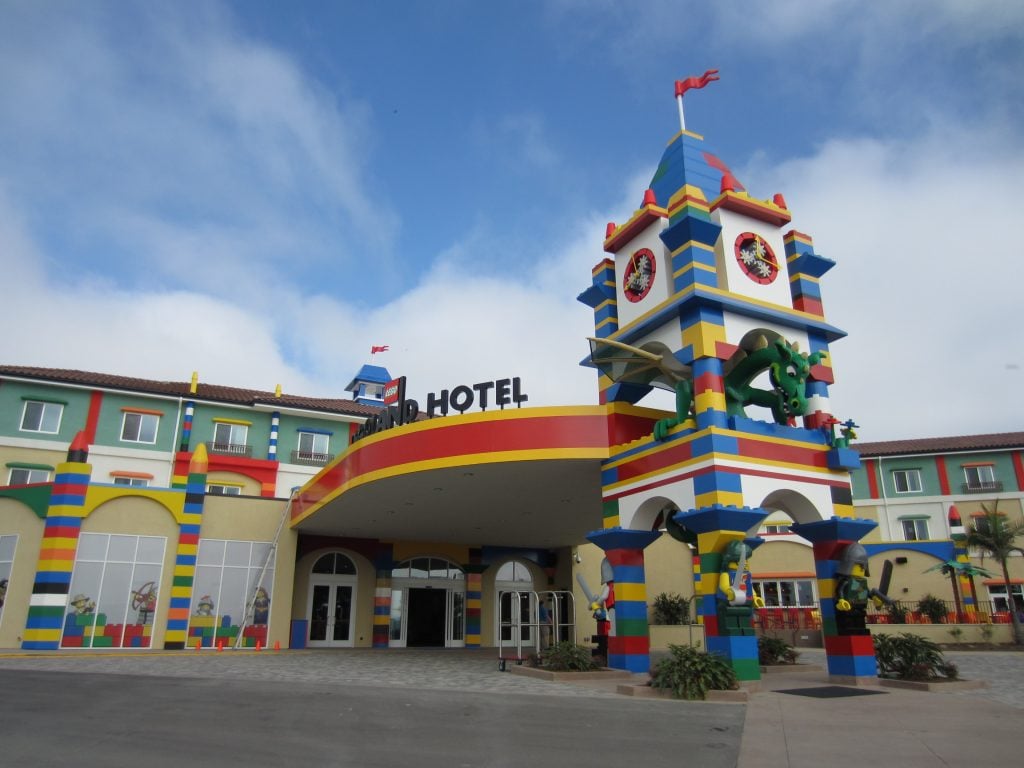 Photo by: Michelle McCoy
The obvious, most-convenient, and LEGO Brick-tastic choice is the LEGOLAND Hotel. The hotel is located next to the theme park's entrance. It's that close. With creatively-themed rooms (guests can pick between pirates, knights, adventurers, LEGO Friends, or the new for 2017 – Ninjago), kids' bunk rooms, LEGO bricks to build with, and a sublime pool, the LEGOLAND Hotel is perfect for those who want to enjoy an entire LEGO-themed vacation. Bricks Family Restaurant is a delicious spot to catch a complimentary and full breakfast buffet before spending a day at the park. And what a fun hotel to spend the night after playing at LEGOLAND. Can someone say, "dance party in the disco elevator!"
Tip: Check ahead of time for combination hotel stay & park ticket deals. Many times, families can save money by purchasing both.
Parents who want a more relaxed stay after a day of LEGO colors and excitement may want to try the Sheraton Carlsbad Resort and Spa. Kids like the private entrance to LEGOLAND from the resort, while parents love the ambiance and relaxation.
After you've seen the park, check out these local hot spots in Carlsbad and these 40 things to do with kids in San Diego.
Lead Image by Shutterstock.com