"You see they never roll the streets up 'cause there's always somethin' goin'- Surf City here we come" – Jan and Dean
Sitting on a 8.5 mile stretch of coastline, Huntington Beach, aka Surf City USA, is Southern California's quintessential beach town. With its miles of wide sandy beaches, classic surf culture, and over 300 days of sunshine a year, it's the city that people from all of the world come in search of on their quest to find the California of their imagination. Once your family arrives in Surf City, what will you find to do? Well, besides shopping, sun bathing, and eating classic California cuisine, there are plenty of great activities to keep everyone busy all day long. Here are 8 suggestions on what to do while hangin' in HB.
Explore more of the Golden State. Here are the best things to do in California with kids.
1. Fly a Kite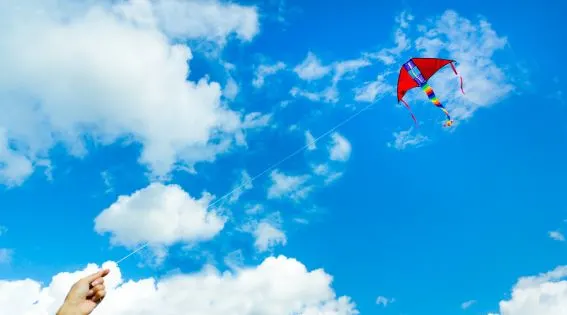 Photo by: Bigstock/toxawww
Every year, Huntington Beach hosts the Kite Party, a massive celebration dedicated to kite flying, typically taking place mid March. Professional kite fliers from around the country show their stuff in a special roped off area while us amateurs have a spot on the sand to work on our skills. The event is sponsored by Kite Connection, a great store in town filled with as many different kites as you can imagine. If after watching all these amazing kites in action you decide to purchase a stunt kite of your own but haven't a clue how to use it, fear not- the people at Kite Connections offer lessons.
2. Head to the Pier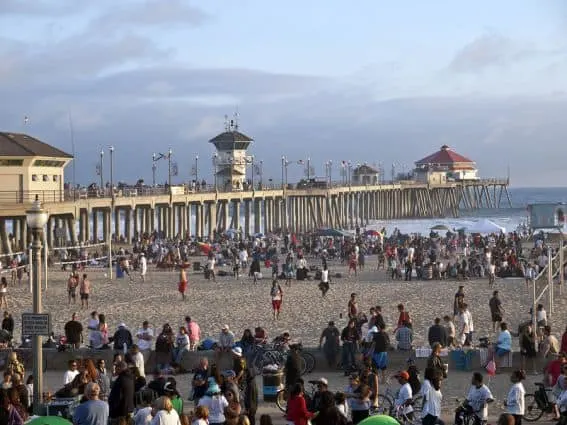 Photo by: Bigstock/trekandshoot
There is always something fun going on down by the pier. I have seen street performers do incredible stunts, watched an old man fishing on the pier catch a baby shark, and seen a pod of dolphins frolicking in the ocean. Families should be sure to head to the end of the pier and have lunch at Ruby's Diner, a 1940s-themed Orange County institution serving burgers, shakes, and fountain drinks.
3. Go for a Beach-side Bike Ride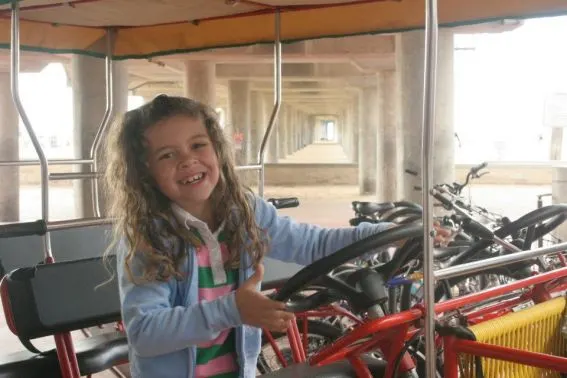 Photo by: Trekaroo/filmdncr
There is no better way to cruise around Huntington Beach than by bike. An 8.5 mile path hugs the coastline and concessionaires rent a variety of bikes including singles, children's, tandems, and surreys. I suggest taking a bike ride up the coast towards the Huntington Beach Dog Beach and stopping to watch Spot and Fido frolic in puppy paradise.
4. Take Surf Lessons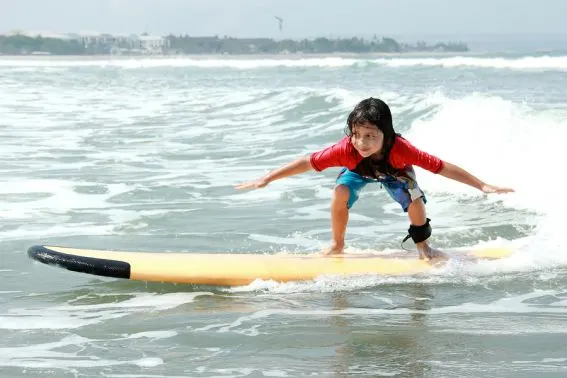 Photo by: Bigstock/OduaImages
It's hard to visit Surf City USA and not want to get out and ride the waves! There are a variety of outfitters which provide lessons and specialize in helping first timers catch their very first wave. Even if you feel more comfortable on dry land, you can still enjoy the surf culture. Many different surf competitions are held throughout the year, including the US Open of Surfing in July; watching the pros Hang Ten is mesmerizing.
5. Spend Time with the Birds in the Wetlands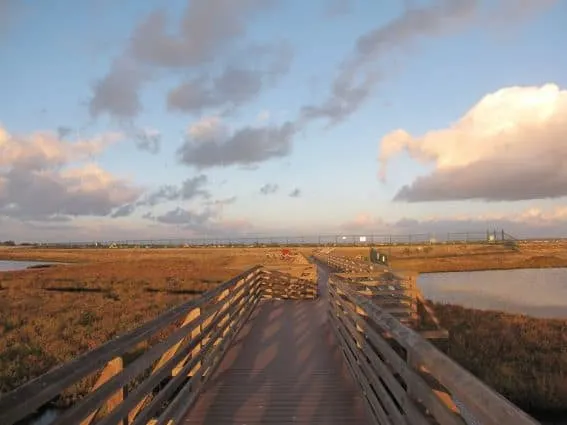 Photo by: Bigstock/LA Nature Graphics
This marshy saltwater habitat of Bolsa Chica Ecological Reserve serves as a home to over 300 different species of birds throughout the year, making it a bird watcher's paradise. You don't have to be avian expert to enjoy the trails. On a recent visit, my family discovered stingrays swimming below the boardwalk trail and had the opportunity to see a rare red heron. Of course we didn't know we were looking at a rare bird until a bird watcher told us, but as soon as we knew what we were looking at, we couldn't help but get excited.
Look for the best prices on Family Friendly Hotels in Huntington Beach
6. Get Dirty at Adventure Playground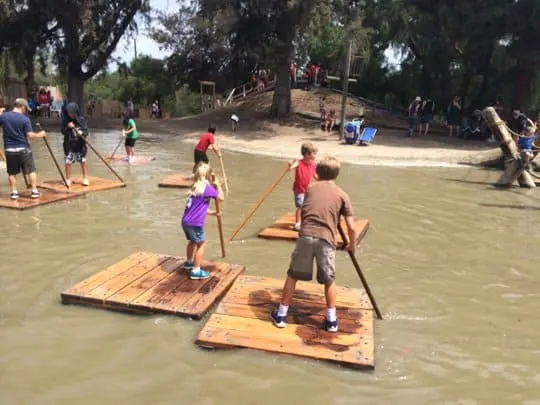 Photo by: Trekaroo/mcfam
If your 6-12 year olds love to get dirty and have fun, the will have a blast at Huntington Beach's Adventure Playground. From mid-June through mid-August kids can raft on a small pond, slide down a mudslide, build forts, and scramble across a rope bridge. Note: the park is closed Sundays and tennis shoes must be worn.
7. Play a Round of Disc Golf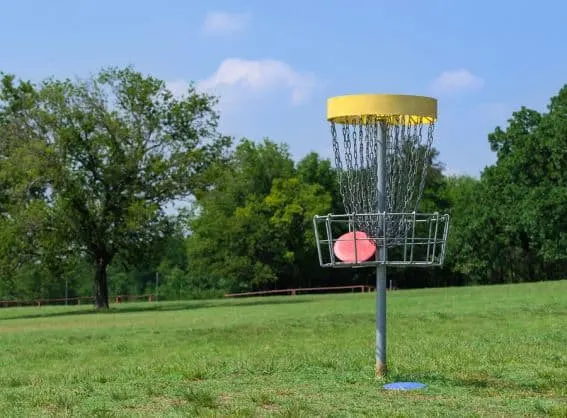 Photo by Bigstock/Krisrobin
You haven't lived until you have played disc golf, which combines the fun of throwing a Frisbee with the scoring system of golf into a very fun and very cheap sport. Huntington Beach's Central Park is home to the second oldest disc golf course in the world and it does not disappoint. At only $1 during the week and $2 during the weekends, definitely grab the kids and give it a shot!
Check for availabilities on Family Friendly Hotels in Huntington Beach
8. Have a Bonfire on the Beach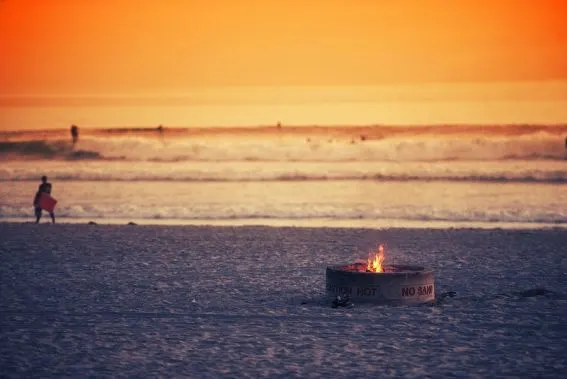 Photo by: Bigstock/duallogic
Huntington Beach has more than 600 large concrete fire rings on its beach that are practically begging for someone to melt a marshmallow over them. There is nothing quite like sitting by a roaring fire, make s'mores, and listening to the waves crash behind you. Fire pits can fill up quickly on busy summer weekends, so grab some beach chairs and stake your claim before the sun goes down.
Need a hotel in Surf City? Check out these family friendly Huntington Beach hotel reviews including the highly rated Hyatt Regency and Hilton's Waterfront Beach Resort.
Discover more fun Activities for Kids around Huntington Beach

Featured photo by: Shutterstock