Columbus is Ohio's largest city and its state capital. It is located in the heart of the state and home of the Ohio State Fair. The sprawling city of 800,000 is also a university town with a fun food scene, but there are also lots of fun things to Do in Columbus, Ohio with kids. Here are our favorites.
Looks for more family fun in Ohio? Check out Trekaroo's Top 10 Things to Do in Ohio with Kids!
Fun Things to Do in Columbus Ohio with Kids
1. Admire the Sculptures at Topiary Park
Columbus' Topiary Park is located just a couple blocks from the Columbus Art Museum. The topiaries at this small park are based on George Seurat's famous painting Isle of La Grande Jatte.
Children can run free amongst the scene of topiaries, spotting animals like dogs and cats. Walking through the park is like being let loose inside of a painting. After walking through the topiary sculptures, families can check out a bronze plaque with a print of the actual painting.
2. Shop at North Market and Travel Through German Village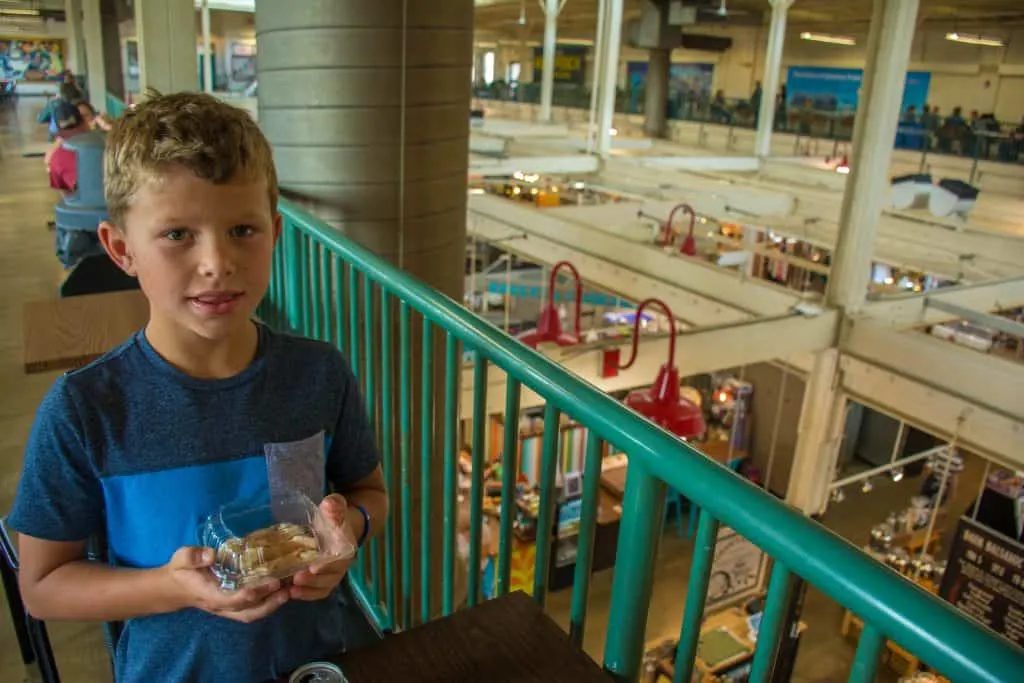 Since 1876, North Market has been drawing locals and visitors to downtown Columbus with its wide selection of locally grown food offerings. With over 30 independent vendors and ample parking, the market's fabulous selection never disappoints.
Be sure to stop at Jeni's Splendid Ice Creams when visiting the market! There are now 10 Jeni's Splendid Ice Creams locations in the greater Columbus area, and 26 storefronts across America. This yummy artisan ice cream company got its start right here in the North Market area.
No culinary tour of Columbus is complete without a visit to German Village. German Village was placed on the National Register of Historic Places in 1974. Families can stroll along the brick sidewalks and see practically-unchanged homes with beautiful gardens, or peruse the many quaint shops.
3. Cheer on the Home Team at a Game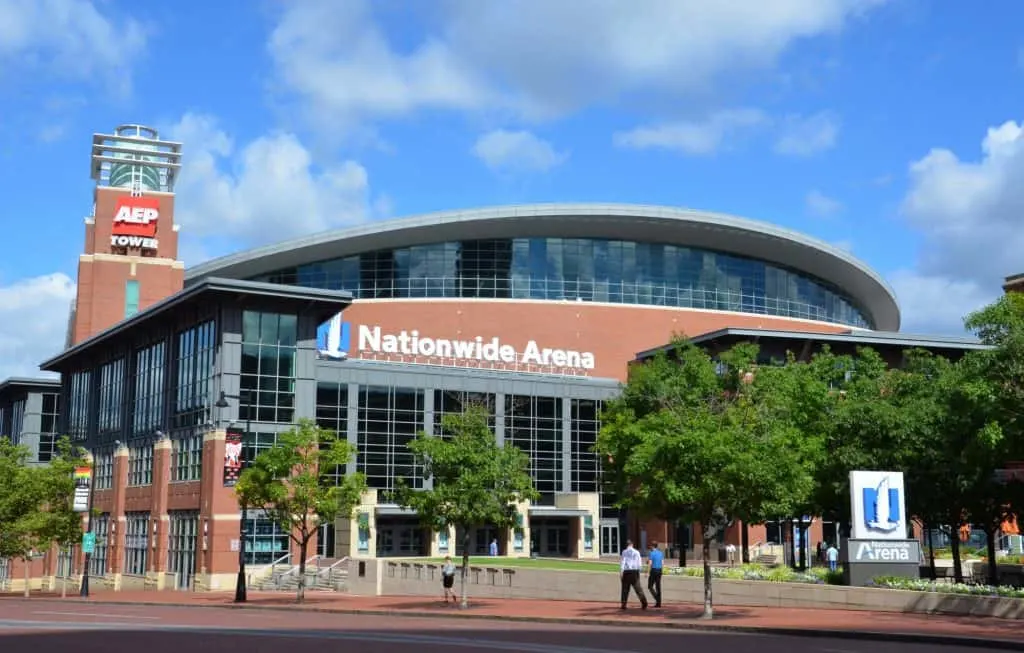 There is an explosion of sports fans in Columbus and plenty of places to cheer for a Columbus team. The Columbus Blue Jackets call Nationwide Arena home and their recent track record has fans swarming to purchase their inexpensive tickets.
The Columbus Crew is the capital's pro soccer team and families love taking in a game at their namesake arena. Baseball fans love catching a Columbus Clippers minor league baseball game. As a Cleveland Indians affiliate, fans love watching their favorite players head to the big league.
4. Tour the Ohio Statehouse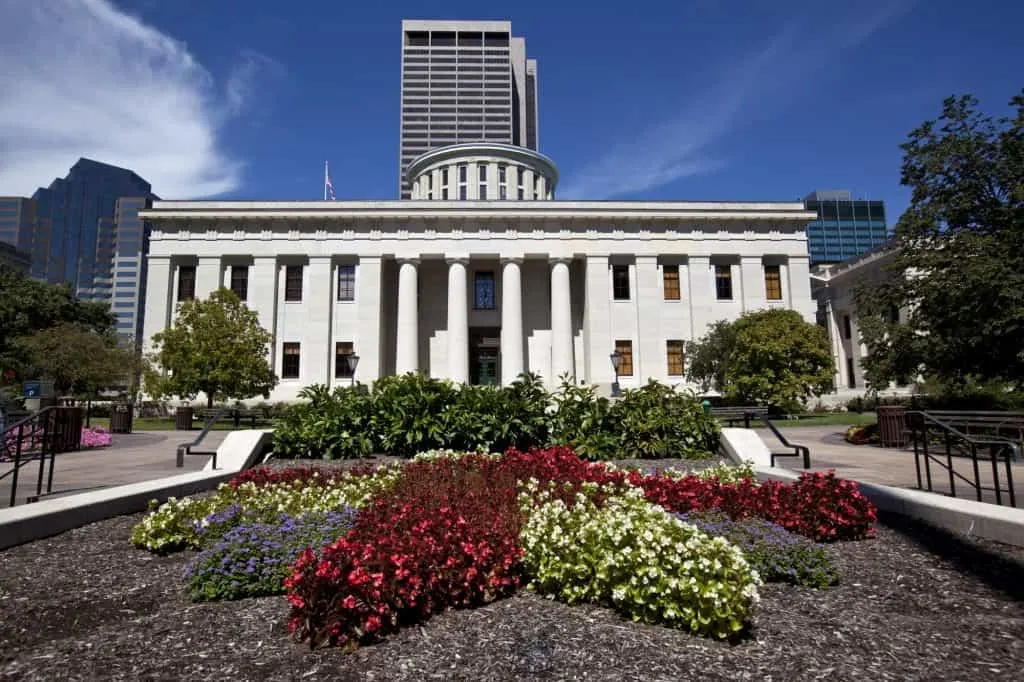 In 1861, the Ohio Statehouse was completed after a grueling 22 years of construction. Its renovation in 1996 gave visitors a new reason to visit this picturesque building while learning about Ohio's history and admiring historical art pieces. It even has the only marble bust that Abraham Lincoln ever posed for!
Daily guided and solo tours show families the interesting areas of the statehouse while letting Ohio history come to life through hands-on exhibits.
5. Celebrate Summer at the Ohio State Fair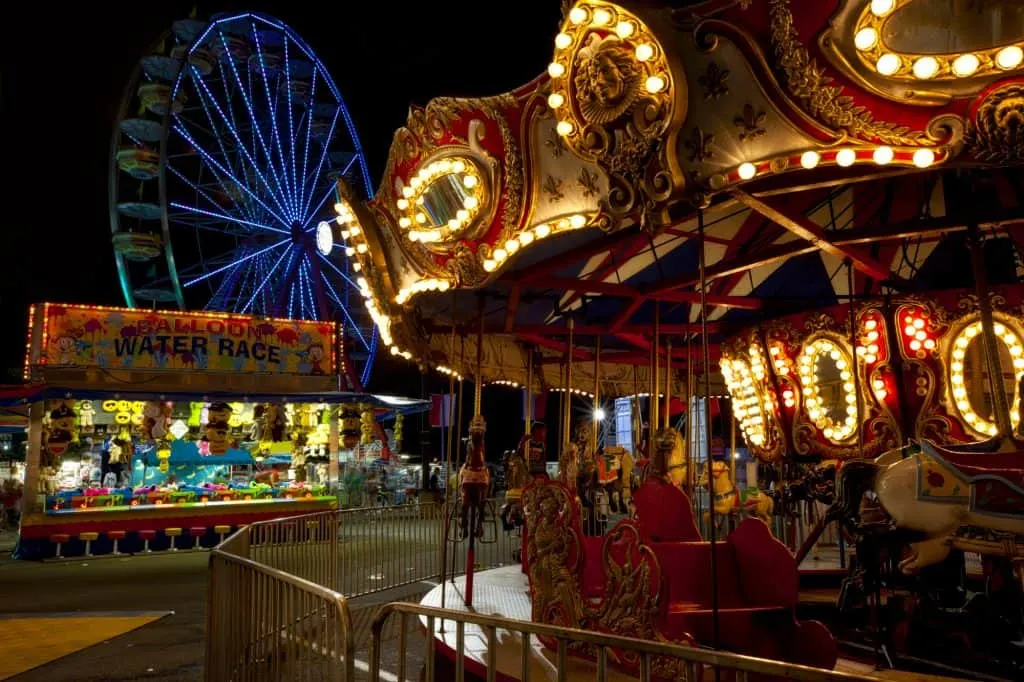 Every summer Columbus is home to The Ohio State Fair. This family favorite venue offers concerts and entertainment, amusement rides, a recreated Civil War camp, a petting zoo, and even pig races. Velvet Ice Cream located in Utica, Ohio debuts a new ice cream flavor every year in honor of the fair so families at the fair get to be among the first to try the new seasonal flavor.
Check for hotel availability in Columbus. As a Booking.com affiliate Trekaroo is thrilled to offer our readers the lowest rates guaranteed.
6. Go Zip Lining Through the Forest at Zip Zone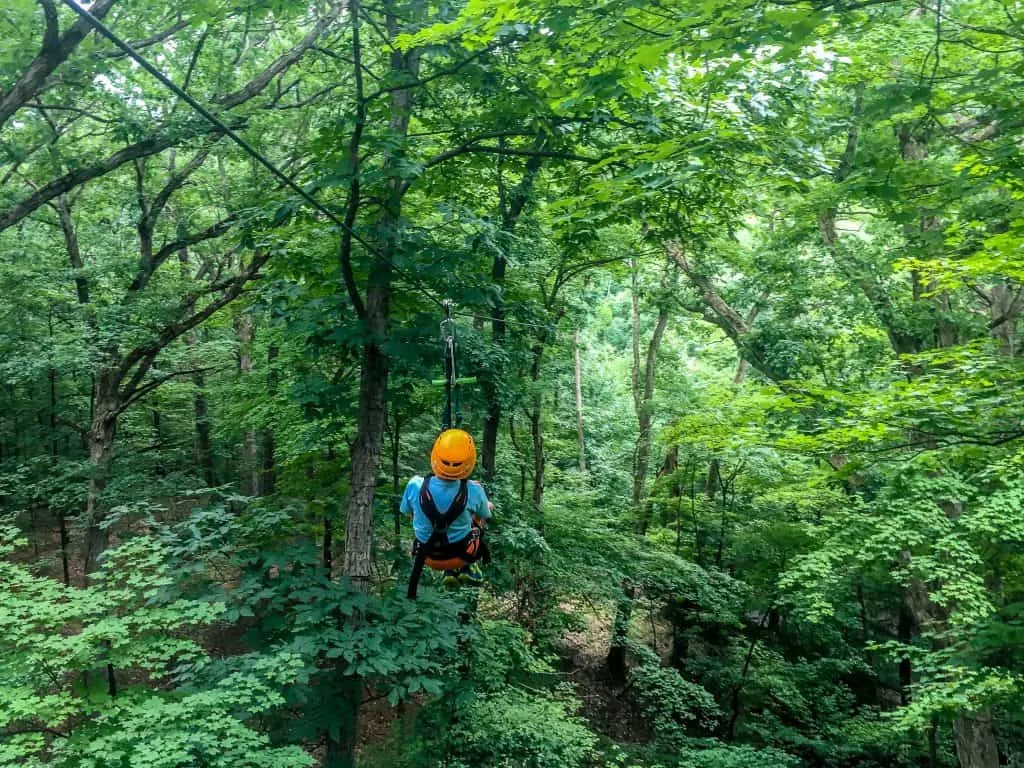 Central Ohio is marked by forests, farmland, and rivers. Families with children over the age of seven and weighing more than 50 pounds can zip line across 20 acres of that forested landscape at Zip Zone in Columbus. Zip Zone is the perfect adventure for families new to the thrill of tree top canopy tours.
Families enjoy four sky bridges and five zip lines, starting out small but eventually reaching over 400 feet long. Cheerful guides make sure that all safety protocols are strictly followed and provide entertaining challenges, like dance-offs, along the way.
For those that just can't get enough adventure, Zip Zone also offers an aerial adventure course with obstacles high in the tree tops.
7. Create at the Columbus Museum of Art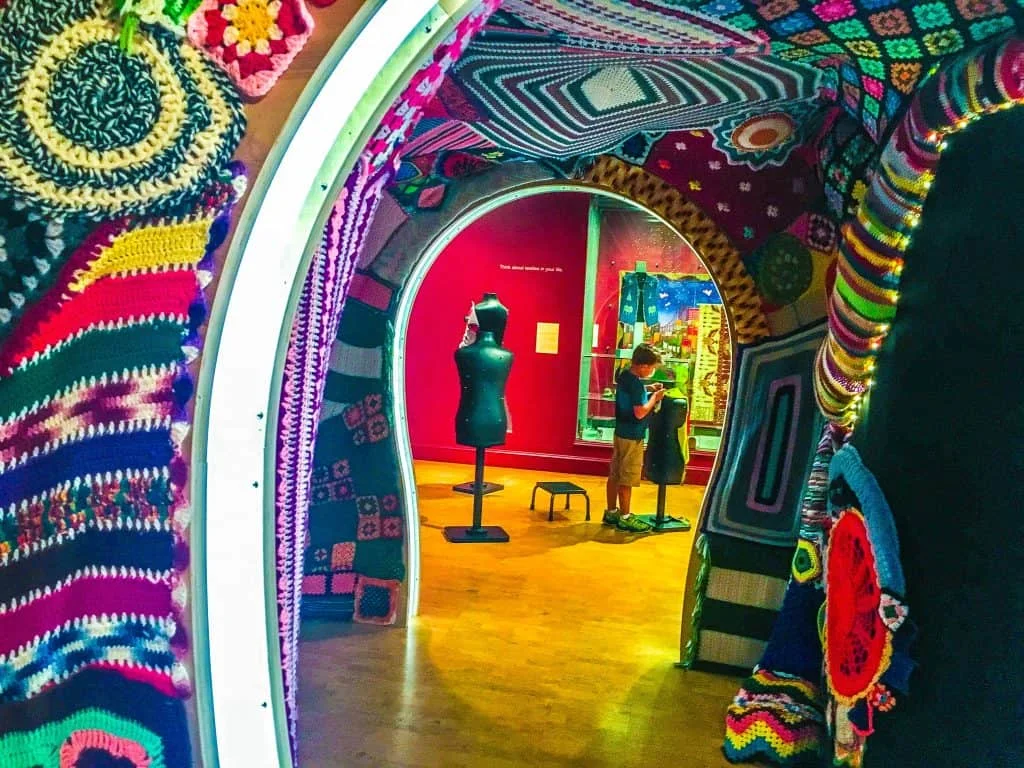 The Columbus Museum of Art is a young artist's dream. The JPMorgan Chase Center for Creativity occupies most of the first floor of the museum and gives children plenty of opportunities to be innovative and create. Children use their creativity to balance shapes and construct a Calder mobile, or they can put their drawings in action using an old-fashioned zoetrope.
Step into the Wonder Room to be inspired by the color and texture of artist Jeila Gueramian's ultimate version of a blanket fort. Inside the Wonder Room there are hands-on opportunities for exploring fashion, textiles, and more. Of course, there are dozens of rooms filled with art upstairs to enjoy as well. Be sure to ask for any special scavenger hunts.
8. Play in the Children's Garden at Franklin Park Conservatory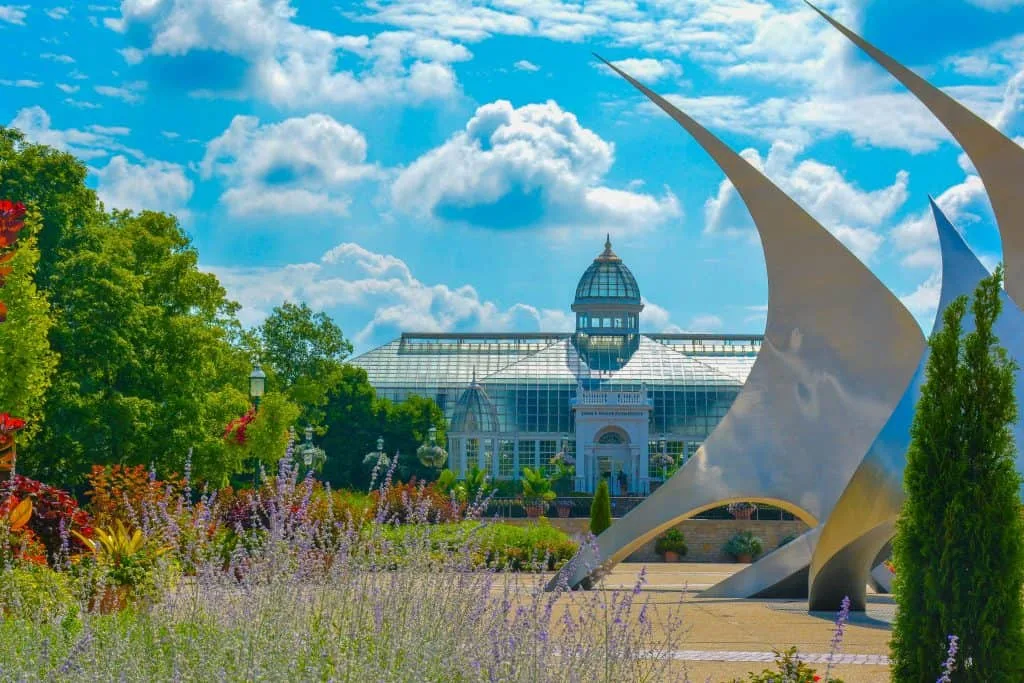 The addition of the Scotts Miracle-Gro Foundation Children's Garden in 2018 has made the Franklin Park Conservatory an all-season destination for Columbus families.
The children's garden is a modern, two-acre outdoor playground for youngsters. It features a waterfall play area for hot days in My Ohio Woods, and in a shady corner of the garden, there is a cute playhouse for tots complete with a woodland-themed puppet stage and fun secret pathways.
The fun doesn't stop outside. Inside the conservatory, there are also gardens, seasonal exhibits, and play areas. Each summer families can spot butterflies flying freely in the Pacific Island Water Garden among glass Chihuly sculptures.
9. Get Hands-on with Science at COSI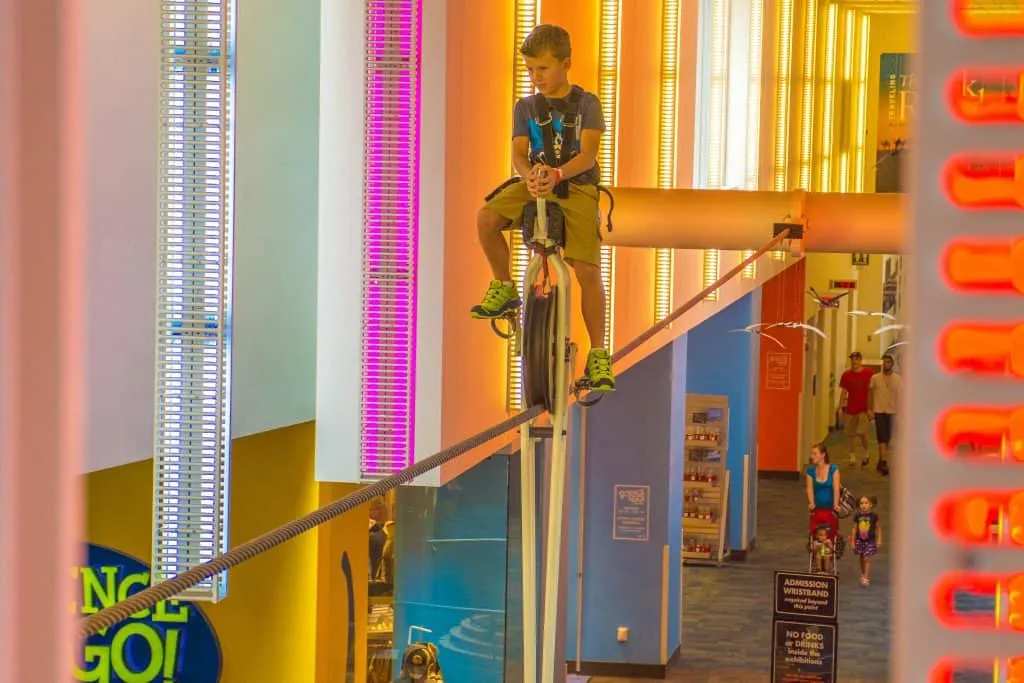 COSI is one Trekaroo's favorite hands-on science and industry museums for families. With more than ten large exhibit spaces holding both permanent and traveling exhibits, it takes an entire day to fully experience this expansive science center.
The hallmark of COSI is interactive science and engineering exhibits. These exhibits are intended to inspire curiosity about the physical world in which we live, from water to human biology and genetics.
Recently, COSI extended its reach into natural history with the opening of the American Museum of Natural History Dinosaur Gallery. This dinosaur gallery makes use of the modern technology and hands-on learning for which COSI is so well known. Be sure not to miss the unicycle ride high above the museum's atrium!
10. Watch the Animals at the Columbus Zoo and Ride the Water Slides at Zoombezi Bay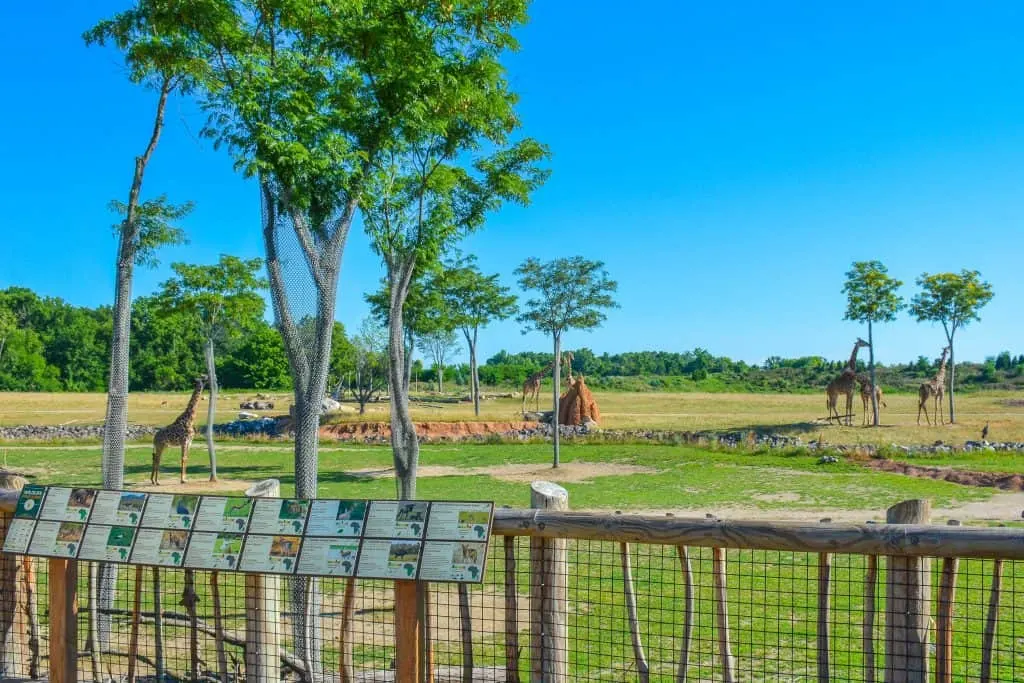 Ohio has a remarkable number of accredited zoos that a focus on education and conservation, but Columbus Zoo and Aquarium tops them all. More than two million people visit this 588-acre zoo every year. At the zoo, families can watch polar bears swimming in their pool from both above and beneath the water.
Kids can marvel as kangaroos and wallabies hop around in an open, walk-through exhibit space. Visitors can even observe manatees munching on lettuce as they learn about the zoo's rehabilitation efforts.
The Columbus Zoo's conservation-minded Heart of Africa exhibit is unique among zoos in America. This 43-acre depiction of an African savanna is home to more than 20 species. The exhibit is specially landscaped with deep ditches so that visitors can watch the lions snacking and giraffes walking about without any fencing in disrupting the view. The Columbus Zoo is truly a vacation destination for families from all over the Midwest.
Zoombezi Bay at the Columbus Zoo is the hot spot in Columbus to cool off on a humid summer day. It is jam-packed with water rides and thrilling tube slides, but also has a fun lazy river and wave pool for the less adventurous.
See what other zoos made our list of the best zoos in the US.
Recommended Places to Stay in Columbus, Ohio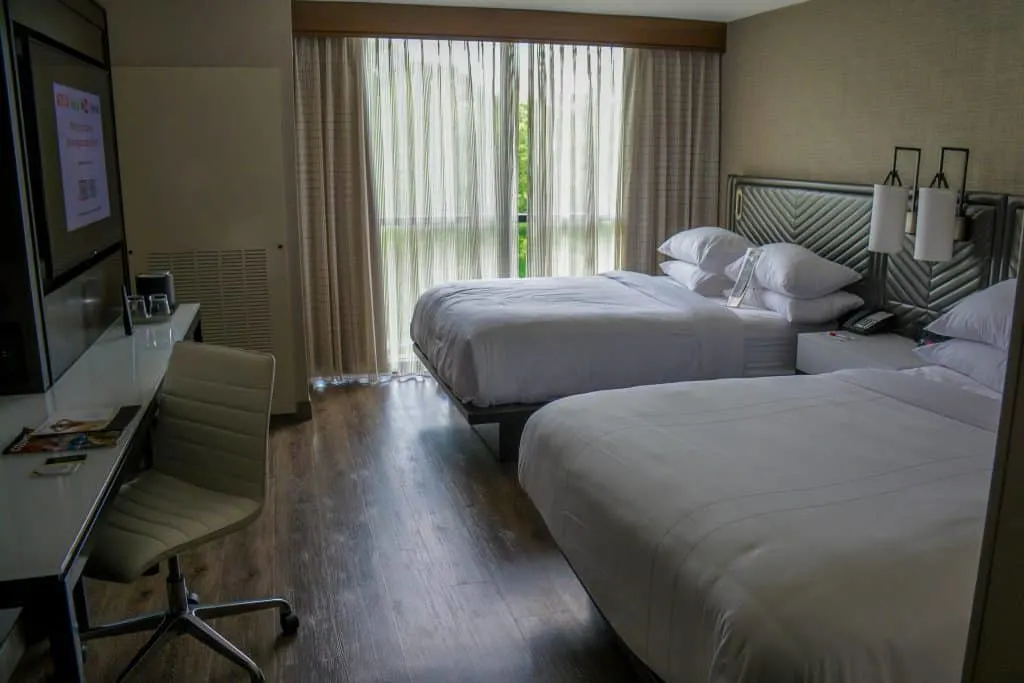 ➟ Check or the lowest prices on family-friendly hotels in Columbus
Several Columbus hotels stand out as both kid-friendly and convenient. Looking to stay downtown? The Hyatt Regency Columbus is steps away from The Short North area. It has spacious rooms and an indoor pool on the bottom floor.
The Holiday Inn Downtown Columbus Capitol Square is also within walking distance of many local attractions and offers a pool, on-site restaurant, and free wifi which makes it a cost-effective choice.
Another popular area for families to stay is near Ohio State University. The Hilton Garden Inn Columbus is mere minutes from the university and offers a free shuttle within a five mile radius so guests can park their car and let the hotel do all the driving.
The newly remodeled Marriott Columbus University Area is another good choice for families in the university area. Each room has a large internet-ready television so that families can sign into their own personal Netflix accounts and let the kids wind down with their favorite television shows on demand.
Where to Eat in Columbus with Kids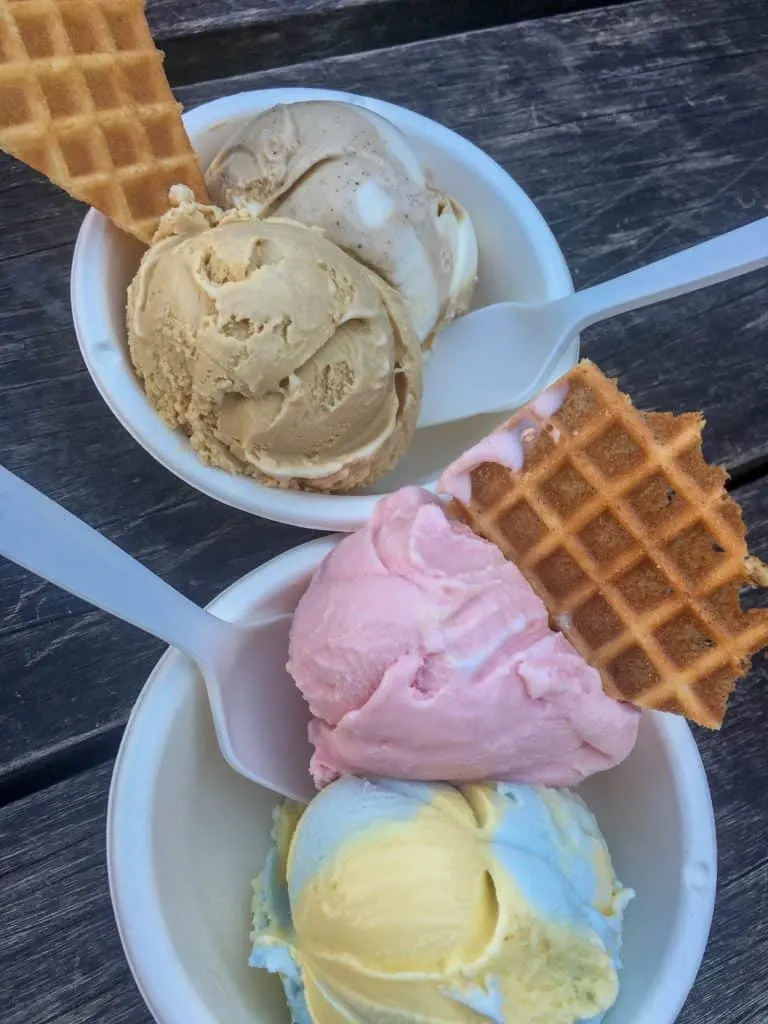 In search of a simple meal out with the kids while on vacation in Columbus? The Rusty Bucket Restaurant and Tavern is a chain that can be found across the Columbus metro area. The Rusty Bucket welcomes families with a kid's menu and begins the ordering process by asking about food allergies and dietary restrictions. Every effort is made to make the entire family feel at home. The food is good too. I especially enjoyed the Buffalo chicken sandwich; the sauce had just the perfect spice and the chicken was nice and crispy.
Another chain that can be found across Columbus is Jeni's Splendid Ice Cream. My favorite flavor is the "Frosé" it is fruity with hints of strawberry and pear; it even has a splash of Sonoma County rosé. My son raves about "Supermoon" which blends two flavors of marshmallow.
Columbus is also an ethnic food lover's delight and tasty culinary favorites can be found in any area of town. Katzinger's Deli in German Village is famous for its multiple types of Reuben sandwiches and fresh side dishes.
Dirty Franks Hot Dog Palace is a fun, cost-effective restaurant that has a unique hot dog-based menu where the locals love to stop for lunch and dinner
Day Trips from Columbus Ohio with Kids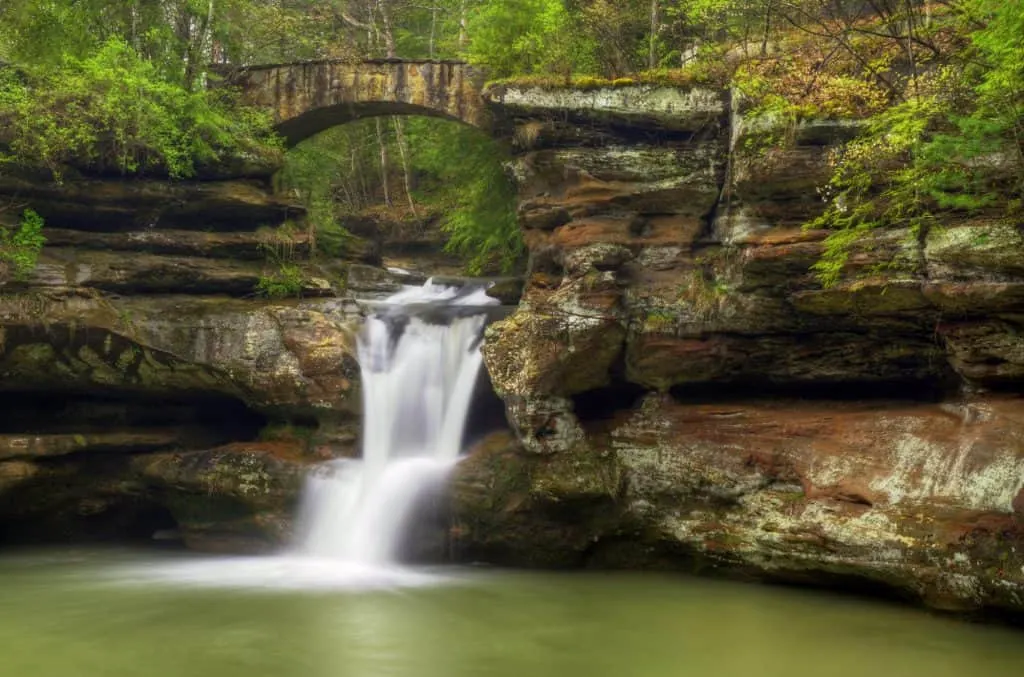 Day trips from Columbus are plentiful and packed with exhilarating activities and laid-back fun. A two-hour round trip allows families to take in the beauty of Ohio nature while soaring over land forms and ride on an indoor carousel.
Hocking Hills
Hocking Hills is an area of small towns located an hour southeast of Columbus proper. Adventuring families and nature enthusiasts love the outdoorsy attitude that is plentiful in the area. Old Man's Cave in Hocking Hills State Park is a must-see spot that is the epitome of the beauty of Hocking Hills.
Have adrenaline junkies on your hands? Hocking Hills Zipline Canopy Tours "X" Tour will allow your thrill-seeker to zip into a cave and over a river while Soaring Cliffs Zip Line Course follows a beautiful path over gorges and through the forest canopy. Customized itineraries give families personalized experiences at Hocking Hills Adventure Trek where families can choose to spend their day rappelling, rock climbing, or hiking.
Mansfield, Ohio
Mansfield is an hour's drive northeast of Columbus and has a variety of attractions and family-friendly activities that kids will ask to visit over and over again.
Malabar Farm State Park is a fantastic spot to walk and hike and is the spot where mid-nineteenth century writer Louis Bromfield called home. Richland Carrousel Park, a four-season indoor carousel built in 1991, was a first of its kind and can still be visited today.
Families looking for a little history will find Mansfield Memorial Museum and Mansfield Fire Museum entertaining and jam-packed with information. In summer, The Blueberry Patch is a fun way to connect with nature at its u-pick blueberry farm. Bring your own bucket or grab one of theirs and pick deliciously sweet berries to take home.
Trekaroo has hundreds of guides for locations all over the United States and Canada.
Disclosure: The author was hosted by Experience Columbus to give you fine folks the scoop on Columbus, Ohio. While she appreciated the hospitality, all opinions are her own.
Many thanks to Karyn Locke who wrote the first version of this article.
Title Image By: Bigstock/pdb1