Families flock to Los Angeles for the year-round fun that can be had under the sun. Warm beaches, hip shopping, celebrity spotting, and thrilling amusement parks make a family vacation extra fun. But exactly what hotels are family-friendly and offer convenience to local attractions? We've compiled reviews from our family readers and Superoos (expert reviewers) and offer you our selection of the best family-friendly hotels in Los Angeles, CA.
Best Luxury Hotel with Kid-Friendly Perks: Montage Beverly Hills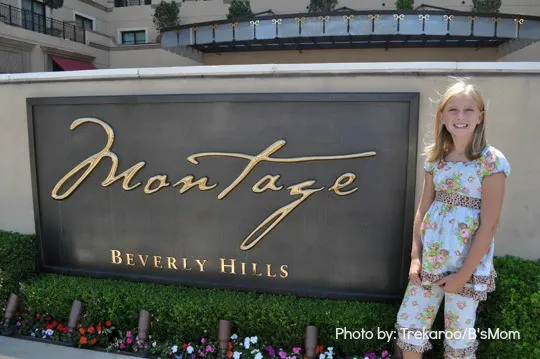 Stay in the heart of Beverly Hills, within walking distance of Rodeo Drive, and be enchanted by the Beverly Canon Gardens. Getting a chance to spot a celebrity might be a highlight, but families will more likely be telling their friends about the amazing Paintbox kid's program. Kids and adults alike will be pampered by luxurious rooms, amazing service, a full-service spa, and delicious dining at Scarpetta.
Read the full reviews of Beverly Hills Montage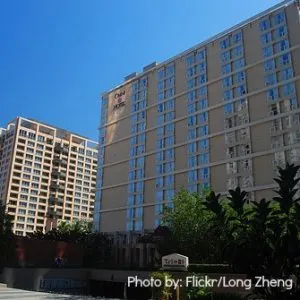 Find a relaxing ambiance amidst the skyscrapers and culture of Downtown LA at this 4-diamond resort. Kids are made welcome with complimentary books and toys and are invited to join other guests at the Club Lounge. What kid wouldn't love a Shirley Temple while watching cartoons in the Lounge? Take a ride up and down adjacent Angel's Flight, be inspired at the Museum of Contemporary Art, visit nearby Chinatown, or just relax in the onsite spa, pool, and Jacuzzi.
Read the full reviews by families on the Omni Los Angeles Hotel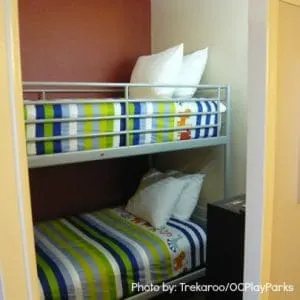 Stay right in the bustle of Los Angeles with great access to local Hollywood and Burbank activities while enjoying the quiet of seven lush acres in a budget friendly hotel. Kids will enjoy the bunk beds in the KidsSuite, the "dive-in movies" at the pool during the summer, and the onsite playground near the tennis courts. This historic hotel, built for movie star Beverly Garland in 1972, can provide a swanky, family-friendly place to stay in North Hollywood.
Read the full reviews by families of the Beverly Garland Hotel
Great Beach Hotel for Families:
Jamaica Bay Inn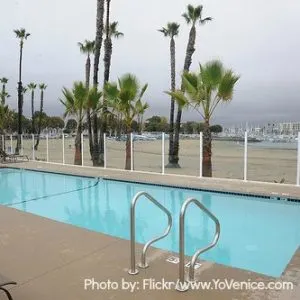 Marina Del Rey, the beach and harbor-front community just south of Santa Monica, has boating, paddle-boarding, quiet harbor beaches, great restaurants, and shopping to delight families. Located right on the harbor, this upscale inn can provide a great base for exploring sandy beaches and nearby shopping. It offers comfortable rooms, private balconies, and beautiful views of the harbor. Explore the harbor beach or stay poolside and order a delicious beverage while the kids splash in the pool.
Read the full reviews by families of Jamaica Bay Inn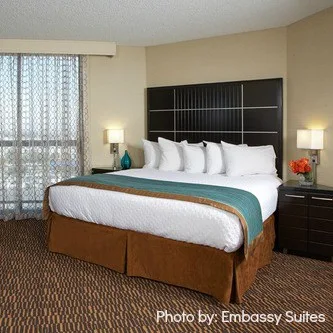 Both large and small families will appreciate the space that a suite of rooms provides. This property is located close to LAX and is an easy shuttle- or car-ride away. A convenient and tasty continental breakfast and indoor swimming pool make this hotel a great place to stay while traveling.
Read the full reviews by families of Embassy Suites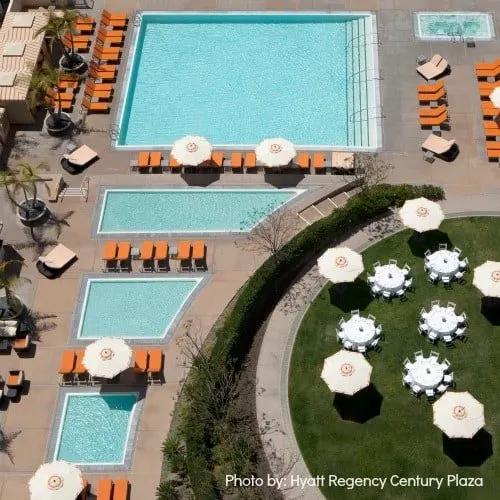 Kids will love to splash and play in three small wading pools at this luxury hotel in West Los Angeles. Each room has great amenities, including a DVD player. Located nearby is the Westfield Mall in Century City, with great shopping and play areas for young kids. Family packages are frequently offered making this hotel a great spot hub for a fantastic Los Angeles vacation.
Read the full reviews by families of Hyatt Regency Century Plaza

Best Value Without Compromise in Long Beach:
Courtyard by Marriott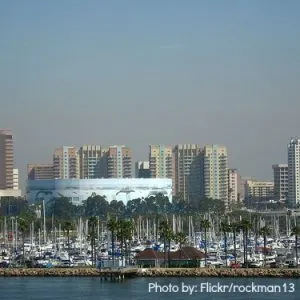 Downtown Long Beach is jam-packed with family-friendly activities including the Aquarium of the Pacific, Queen Mary, and Shoreline Village, to name a few. The Courtyard Marriott offers a clean place to stay with friendly service at a great price, all within walking distance of the downtown shuttle that can take families to their favorite activities.
Read the full reviews by families of Courtyard by Marriott Long Beach

Check out all the Kid-Friendly Hotels and Activities in Los Angeles
Other resources for Los Angeles, CA
Lead Image by: Shutterstock