Have you been fascinated by the glamor and glitz of Hollywood and wished you could take a family-friendly tour to see the stars? Well, look no further than Adventures by Disney! Simply not having to drive the congested freeways of Los Angeles or having to fight for a parking spot in Hollywood could make this one day tour worth it. But seeing the Walk of Fame, touring the home of the Academy Awards Ceremony, eating lunch at Farmers Market, and touring the exclusive Walt Disney Studios, along with a few surprises and gifts during the day will make for a great, family-friendly way to see Hollywood.
Note: As of 2015, Disney is offering an Adventures by Disney Southern California Experience that includes a private Hollywood tour, days at the Disneyland Resort, backstage tours at the parks, a visit to Walt Disney Imagineering, a visit to the Jim Henson Company Studios, and more. Parts of the experience detailed here may or may not be included but I'm confident that guests will have a great experience with Adventures by Disney!
Two friendly Disney cast members met us early in the morning in the lobby of Disney's Grand Californian Hotel and encouraged us to grab a cup of coffee and muffin in the lounge. These young ladies kept us entertained, informed, and on schedule throughout our day. We hopped onto a sleek charter bus with 20 or so other guests and my 11 year old chuckled for the next hour as he watched old Mickey Mouse cartoons. I hardly noticed the stop and start traffic as we bypassed an accident in the carpool lane that normally would have had me in a cold sweat.
See the Hollywood Sign and the Walk of Fame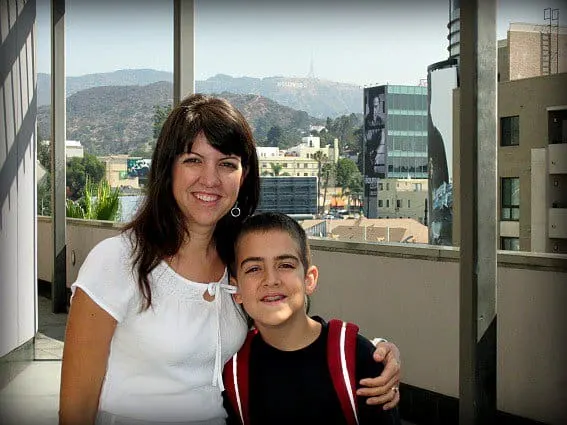 Our first stop was at the Hollywood & Highlands Center. This large outdoor mall had a skyway that opened up into a large courtyard with a splash pad. The famous Hollywood sign was within view on the distant hill and about 30 tourists were crowding the skyway, all trying to get their picture taken. Our guides led us right through them to the somewhat hidden side patio that was completely empty and gave us the perfect spot to get that all-important photo with the Hollywood sign.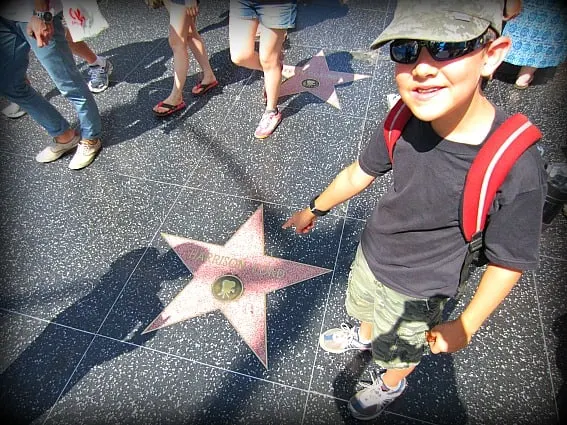 Tour the Dolby Theatre, Home of the Academy Awards Ceremony
After getting our picture taken with our "own" star on the Hollywood Walk of Fame, we climbed the famous red stairs that lead Oscar nominees to the new Dolby Theatre for the annual Academy Awards each February. The tour guide for this 30-minute portion regaled us with stories of the stars he has met as he has taken their tickets and ushered them to the restroom. I was laughing to think of him having to stop Matt Damon, Morgan Freeman, and Steven Spielberg from returning to their seats during a commercial break. He himself said that he was a bit awestruck by the trio and if they had insisted on going through the door, he didn't think he'd be able to stop them. We walked the halls of the lobby and then sat in the 2nd level seats to view the stage. The theatre itself looks incredibly smaller in real life than it does on TV. The magic of TV makes the mezzanine level we were seated in look miles away and filled with hundreds of people. Our tour guide verbally walked us through what we would experience if we were a nominee and had just won an Academy Award. After seeing a real Oscar (behind glass), and viewing the stage from the mezzanine, we reluctantly left the theatre.
Take a Drive Down Sunset Strip and Rodeo Drive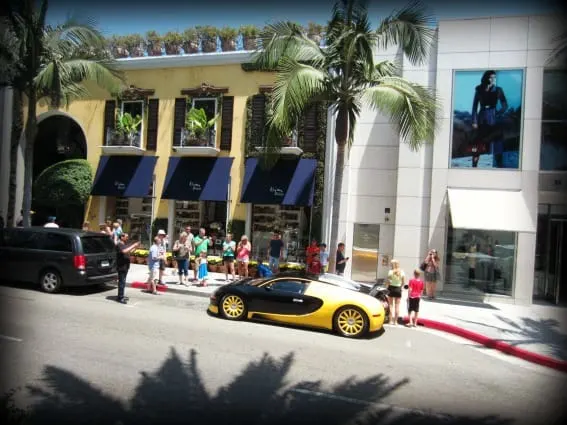 Our bus driver entertained and educated us on what we were driving by for the 1-hour trip from Hollywood, through Beverly Hills, down Rodeo Drive, and to the Los Angeles Farmers Market. My 11 year old was honestly bored, but I was somewhat interested to see places like the original House of Blues, or the nightclub where River Phoenix died along Sunset Strip. Rodeo Drive was more impressive than I imagined because the buildings were tall (2 stories), the stores were crisp and clean, and there was a 1.6 million dollar car parked outside. We viewed it all from the comfort of our bus, and then drove on.
Eat Lunch at the Original Farmers Market in Los Angeles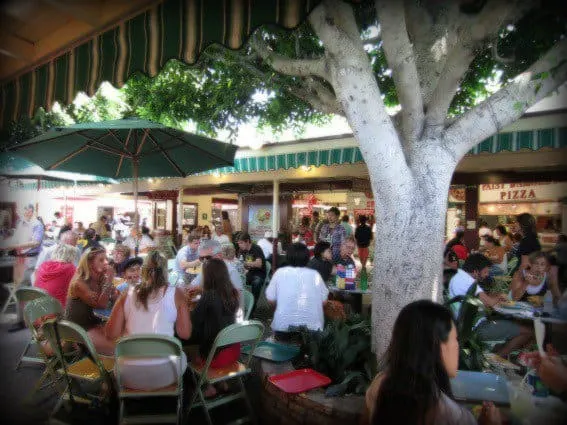 We had an hour and a half, plus a $15 gift certificate to spend at the Los Angeles Farmers Market for lunch. Tucked under the historic trees we found about 20 little shops and booths selling pizza, sushi, Chinese stir-fry, fish, and hot dogs. All of the seats were crowded and full, but we found the upstairs patio quite empty and the perfect place to enjoy our lunch. I tried to imagine Walt Disney or Hollywood writers sitting at the tables next to the open windows writing their next screenplay. It only lasted a minute before my son was pulling me off to the quaint toy store to spend his leftover cash. I teased him about going to visit the American Girl Doll Store because we could have easily ridden the trolley to The Grove, but for some reason (sic) he didn't want to go.
Tour the Exclusive Walt Disney Studios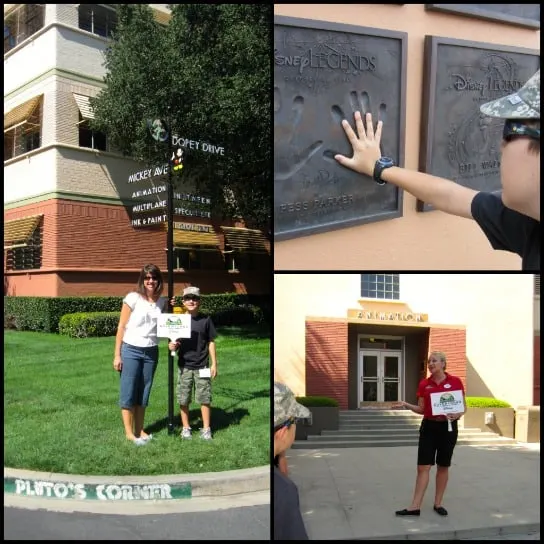 We headed next to the famous Walt Disney Studios in Burbank. The only way to visit this exclusive bit of 51 acres in Burbank is to take a tour with Adventures by Disney. During the 45-minute drive, we watched an old film with Walt Disney himself giving a tour of his studios. As we walked past the Imagineer's office buildings, the Cafeteria which still serves Walt's favorite grilled cheese and chili, to the famous Pluto's Corner, I couldn't help but feel like I was on a beautiful college campus. We spent a privileged yet hot and stuffy summer afternoon inside the largest sound stage, Stage 2 that has been made famous with the filming of "Mary Poppins", the "Rocketeer", and "The Mickey Mouse Club". The Disney guide for this portion explained the sets for the filming of the TV show, "Body of Proof" and all the equipment that is necessary. During the week after our tour, I watched my first episode of this show and then I could recognize the windows and backdrop that look incredibly real but I now knew were just props. Even though visiting the studio lot is a complete honor, there were times when my son was just not interested. He would have rather climbed the trees that graced the grounds. I also found my attention span growing short as we walked the halls where Imagineers worked and viewed art on the walls. Both of us would have perked up if we could have watched an artist at work, seen some of the Pixar side of things, had more than 15 minutes in the Studio Store, or have a hands-on activity. We were told that there are plans in the works to add a Junior Activity in January of 2012 that may include an inking & painting activity for kids. This sounds like a good experience to make the time there better for kids.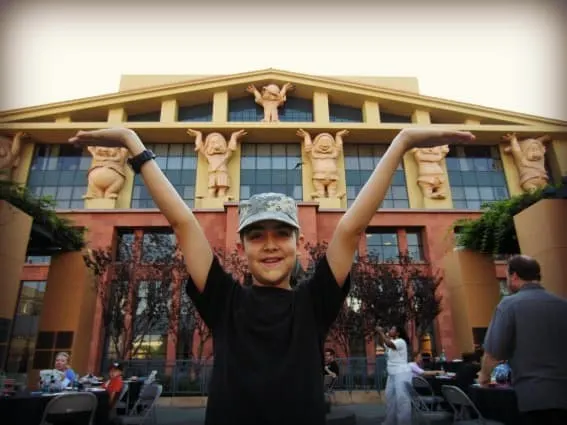 Our day was topped off with an appetizer and desert reception in the Disney Legends Plaza. My son ran around the columns with the other kids on the tour, looking for handprints that they recognized and finding ones that fit their hands. We took pictures next to the Partners statue, the Roy and Minnie bench, and with the Snow White Dwarfs holding up the roof of the Eisner building. My son devoured his delicious cupcake and I snacked on the appetizers and complimentary glass of wine. It was a fun way to end the day. Our one-hour bus ride back to Disney's Grand Californian was filled with resting adults, and my son loving watching "Cars" on the bus TVs.
I would recommend this tour to families who are movie-buffs, have Hollywood interests, or would love to tour Walt Disney Studios with their kids. Kids must be 6 and older (with certain exceptions to 5 year olds) and I would suggest making sure that your kids are interested in the subjects, otherwise it could be a long and boring day. I can't think of a more family-friendly way to tour Hollywood, and visiting the Walt Disney Studios is a very special thing indeed.
Disclosure: I was invited as a guest to Adventures by Disney's Lights, Camera, Magic! Tour as part of a media group in order to share this experience with Trekaroo readers. I was not asked to share a particular point of view and all opinions are my own.
---
Travel with kids to: CA |CO | DC| FL | HI | IL |MA | NC | NJ | NY | OR| PA| TN | TX | UT | VA | WA