For one week every summer, my home is invaded by teenagers- and I love it! I am lucky enough to be the aunt of two wonderful teens who actually don't mind being seen with me in public. My niece and nephew are Texans so when they come to our neck of the woods, they want to do as many "California" things as they can. Luckily, there are many great things to do in Los Angeles with teens and tweens. From beaches to Hollywood, here are some of our favorites:
Santa Monica Pier and Venice Beach:
No trip to California is complete without a few good beach days. Luckily, California has more than its fair share of great beaches. Santa Monica Pier features rides, carnival games, and wide strips of inviting sand on either side. Teens will love playing in the water or attempting the rope climb on the equipment at the original Santa Monica Muscle Beach. The original Hot Dog on a Stick stand is located at Muscle Beach near the base of the pier and is a fun yet inexpensive place to get hand-dipped corn dogs and fresh lemonade.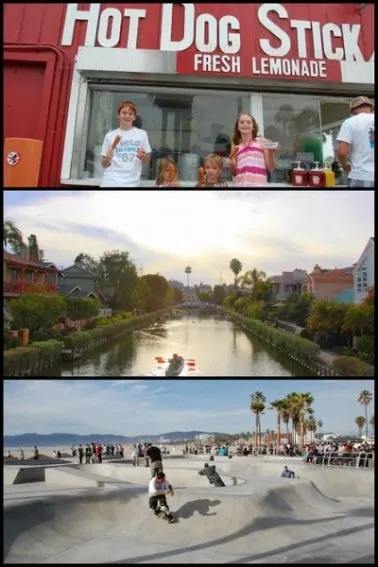 For the ultimate in people watching, rent a bike and head south down the bike path to Venice Beach. Venice is an eclectic mix of surfers, skaters, and flamboyance. Prepare to see some very unusual sites at this beach, including old men working out in metallic Speedos, various street performers, and unique people with eclectic senses of style. Venice is a place to experience counter-culture, watch skaters perform radical stunts in the beachfront skate park, pick out a pair of cheap sunglasses from one of the stands lining the sidewalk, or enjoy a stroll along the quiet canals.
Look for current hotel deals in Los Angeles
Universal Studios
Like so many teens,my niece and nephew love thrill rides and pop culture so it's no surprise that our trip to Universal Studios was a big hit. It had been nearly 30 years since my last visit to Universal Studios and I wasn't exactly sure what to expect. We started with the studio tour, which featured an amazing King Kong 3D experience, loads of Hollywood history, and even a trip to Desperate Housewives' Wysteria Lane. The kids loved seeing a working studio, viewing sets, and getting a behind the scenes feel for how some of their favorite movies were produced. It was the highlight of our day. After the tour, we enjoyed some of the park's 3D rides, an incredible Water World live action show, the terrifying haunted house, and a good dousing on Jurassic Park – The Ride. While there was a cute Curious George water play area for little kids, I am glad that we left my preschoolers at home- this park is definitely suited for older kids.
Visit a few of LA's Ethnic Neighborhoods
Several US cities have great Chinatowns (and so does LA!) but how many have a Little Ethiopia? Los Angeles is home to the highest concentration of Mexicans outside of Mexico so a stop at one of the incredible neighborhood burrito joints is a definite must (my family loves El Tepeyac in Boyle Heights) but be sure to save some room for authentic Korean barbecue in Koreatown as well. The largest Korean population outside of Korea is in Los Angeles and the food at spots like Soowon Galbi is as mouth-watering as it is legendary. Still hungry for more? Be sure to explore Thaitown, Little Armenia, Little Tehran, Little Tokyo, and historic Filipinotown for a taste of the diversity that Los Angeles has to offer.
Check for hotel availabilities in Los Angeles
Hooray for Hollywood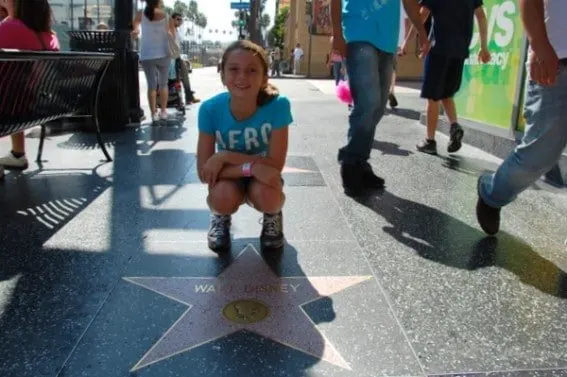 If your teens have an affinity for celebrities, movies, and television, then head to Hollywood. The center of the action is at Hollywood and Highlands where you will find Mann's Chinese Theatre, home to dozens of concrete handprints and footprints of celebrities, Disney's El Capitan Theatre, and the Kodak Theatre of Oscar fame. Lining the sidewalks around these famous venues is the even more famous Hollywood Walk of Fame. Kids will love sifting through all the stars of the "old guys" to find names that they recognize and are more than happy to pose next to. After discovering your favorite celeb's name emblazened on the sidewalk, be sure to head inside of Madame Tussaud's to stand face to face with a very realistic wax replica of some of biggest celebrities around. If you are still looking for more celebrity-themed fun, head up to The Grove for some shopping and a chance to do some celebrity spotting. CBS studios (where shows like American Idol and Dancing with the Stars tape) is just around the corner and last time we re there, we spotted half the cast of So You Think You Can Dance eating dinner after a live taping. If you time it right, you just might see Mario Lopez taping his weekday gig for Extra.
Of course, their is no better keepsake for kids to take home then a picture in front of the Hollywood sign. So head up into the hills (I happen to know a great spot) and have the kids say "cheese"!
Short on time and still want to hit every spot? Check out Global Munchkin's 3 day itinerary of Los Angeles.
Look for the best hotel prices in Los Angeles?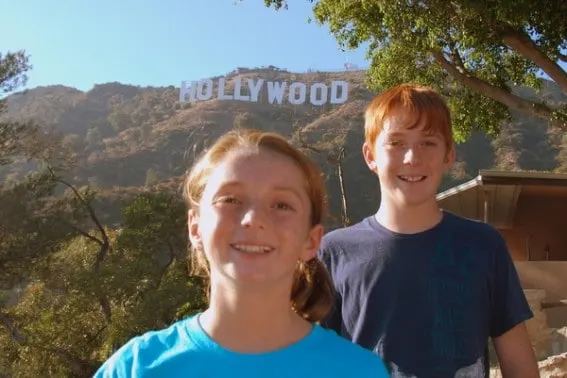 Lead image by: Shutterstock/Zarnell Photography