Back in 1863, Gettysburg, Pennsylvania was the site of one of the most pivotal battles in the Civil War. Many places in the town have been preserved to educate visitors about this historic event. I visited Gettysburg with kids (ages 14, 11, and 7.5) who were definitely awed by all that happened here!
Think you know all there is to know about the Battle of Gettysburg from school? Think again. Visiting this town and immersing yourself in the way things were back then is a great way to view the historic events in a more personal way. Also, if your family is like mine, offering up an educational trip is like dangling broccoli in front of them—they don't bite—so it was nice to find a place that offered a way to enjoy beautiful scenery and do things as a family while absorbing educational tidbits. Shhh, don't tell my kids they were learning!
Where To Start A Gettysburg Tour
Like us, your first question after arriving in Gettysburg will most likely be, "Where do I start?" A great place to begin is The Gettysburg National Military Park Museum and Visitor Center. This 4-year-old, newly-built facility is full of information to help determine places of interest for your family and it's staffed with helpful people who can offer tips regarding logistics or places to stay. It's also a convenient stop to visit the restroom, grab a book or souvenir, or find something to eat. Here, we were able to watch the movie, "A New Birth of Freedom", go through the on-site museum, and check out the giant Cyclorama painting.
Armed with fresh information about the Battle of Gettysburg and Lincoln's famous Gettysburg Address, we were then able to plan the rest of our trip. The facility was also stroller and handicapped-friendly (our 11-year-old son was on crutches when we visited, so it was nice to be able to still get around with him).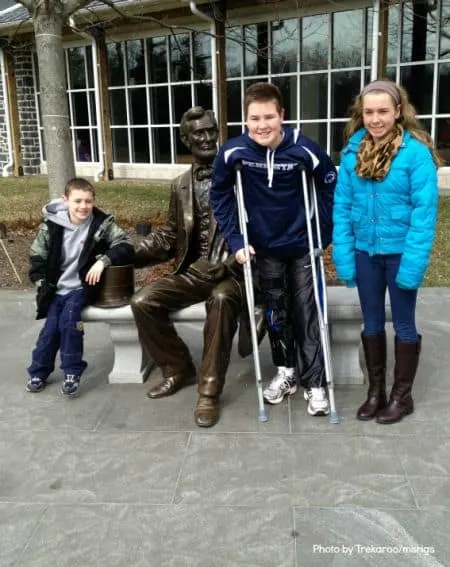 Exploring the Gettysburg National Military Park
A trip to Gettysburg isn't complete without a visit to the Gettysburg National Military Park. There are a variety of ways to explore the park including on foot, by car, with the help of an audio recording, accompanied by a park staff guide, or aboard the The Gettysburg Battlefield Bus Tours, which is what we chose.
However you choose to explore, it's amazing and humbling to spend time in a place where so many soldiers fought for the future of our nation. I like knowing that when it comes time for my kids to study Gettysburg in school, they'll (hopefully) have a better grasp after walking the battlefield grounds. I guess we'll see about that. If nothing else, we had a nice time visiting the Central Pennsylvania countryside.

Other Places to Stop
Other points of interest in Gettysburg that are worth seeing include The Historic Gettysburg Train Station and the David Wills House. When Lincoln came to Gettysburg to deliver "a few appropriate words" regarding the battle, he got off the train at this train station, and walked to his friend's home nearby to stay the night. It was incredible for my family to realize that Lincoln just got off the train and headed to his pal's house to stay. What a different world we live in now! You can also visit the former home of Dwight Eisenhower, General Lee's Headquarters, the Hall of Presidents and First Ladies, the National Civil War Museum and more.

The Mid-atlantic region is rich with destinations that bring U.S. History to life. Take an American History Road Trip from Washington D.C. and learn to make clay brings as colonial brickmakers would have made them. You can even see George Washington's death bed!
Family-Friendly Gettysburg Restaurants
All of this sightseeing made us weary and hungry travelers. My kids' interest picked up when we stopped by Gettysburg Eddie's, an eatery dedicated to the baseball player Edward Stewart Plank who was born locally and played for Gettysburg College. It was nice to enjoy a quick bite while the kids studied the memorabilia on the walls. Later during our stay we dined at The Dobbin House and I would recommend adding it to your visit as well! The wait staff wore attire from Civil War times and the food was very good. It was even a stop on the famous Underground Railroad! Dining here really adds to the whole Gettysburg experience.
Where to Stay in Gettysburg
There are quite a few hotels and B&Bs scattered about the town. With a larger family, we found the Country Inn and Suites to be most accommodating. It was simple, yet met our family of five's needs quite well. My kids enjoyed the swimming pool, their main requirement in a hotel, while we all appreciated the free parking and complimentary breakfast. Our room had two Queen beds and a pull-out sofa, in-room coffee, a mini fridge and microwave as well as two TVs. There's an outlet center next door, should you want to shop.
A visit to Gettysburg is a great way to spend some quality family time and since this year celebrates its 150-year anniversary, a host of upcoming events and special celebrations will only add to the experience! Add Gettysburg to your vacation destination list today.
Been to Gettysburg? Share your advice by leaving a comment.
Disclaimer: My lodging while in Gettysburg as well as some activities were complimentary. I received no other compensation and the business owners did not state any requirements that I express a particular point of view. The opinions I express are entirely my own.
Featured photo by: Shutterstock