At ages seven and eight, my well-traveled kids have made it clear to me what they like to do on vacation. They want a place to play — preferably with a few water slides, roller coasters, and plenty of ice cream. And, they'd like for me to play with them, at least until I tire and find a shady spot to sit back and watch them play some more. There are plenty of things to do in Lancaster, PA for the whole family. The kids can to run and play while parents enjoy a slower pace enjoying some homemade apple pie in Pennsylvania Dutch Country.
Surprisingly, this rural countryside is just over an hour from Philadelphia, 90 minutes from Baltimore, and under three hours from both New York City and Washington DC. Lancaster, Pennsylvania is the perfect weekend getaway from most cities in the Mid-Atlantic area, or a great place to take some downtime on your family's next East Coast road trip.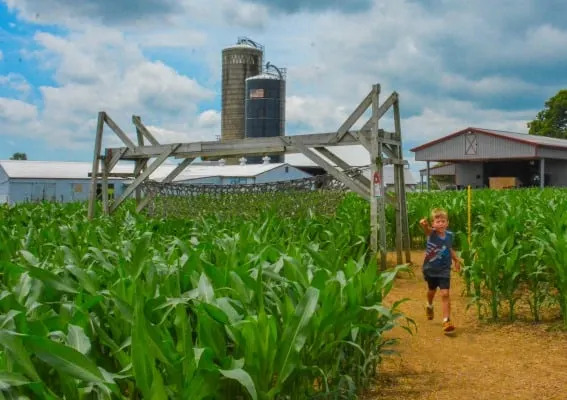 Look for current hotel deals in Lancaster
Things to do in Lancaster, PA with Kids
Family Fun on the Farm in Pennsylvania Dutch Country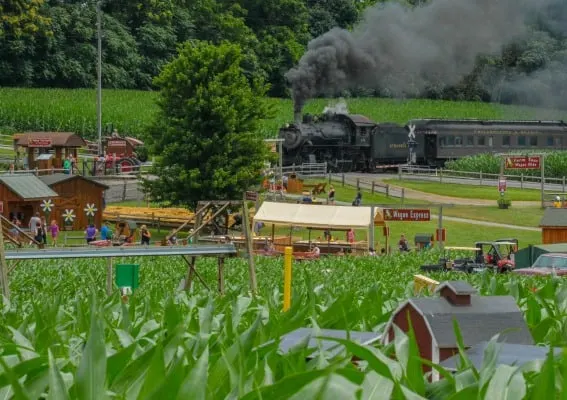 A visit to Lancaster, PA is really is about celebrating the American farm. Whether you are sampling the local produce at a farmer's market, savoring a piece of apple pie at a smorgasbord, or spending a couple of hours exploring the corn maze at Cherry Crest Adventure Farm it's all about fresh farm produce.
I simply love to drive through Lancaster, Pennsylvania. Pennsylvania Dutch Country is especially beautiful in the early summer when the corn is only a few feet high, and you can see for miles. As our GPS guides us up the country road from Baltimore, my family spots Amish farmers out plowing their fields and farmhouses with colorful flower gardens in full bloom.
Fun Things to Do in Lancaster, PA with Kids – Cherry Crest Adventure Farm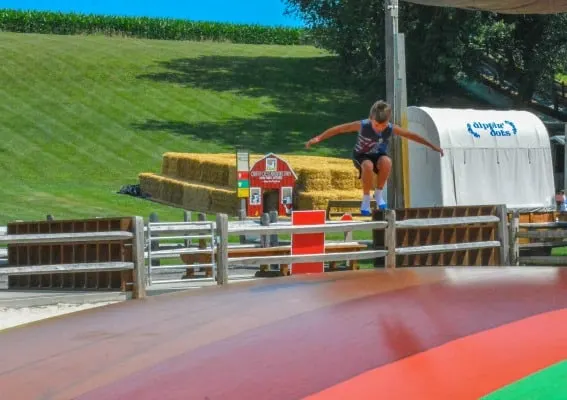 Cherry Crest Adventure Farm is one of our favorite farms to visit in the region. Yes, there are plenty of other farms in the Mid-Atlantic featuring jumping pillows, long slides, and apple cider donuts. However, this one in Lancaster, PA is clean, well-organized and offers activities that we've never experienced before.
My son loved the Round Barrel Racers where he was able to run around hamster-style in a plastic tube; another favorite was steering a large pedal cart around a bumpy dirt course. The corn maze at Cherry Crest is an impressive one; it has three paths of varying difficulty and several hidden play areas scattered throughout. A visit to Cherry Crest Adventure Farm is certainly one of my son's favorite things to do in Lancaster, PA.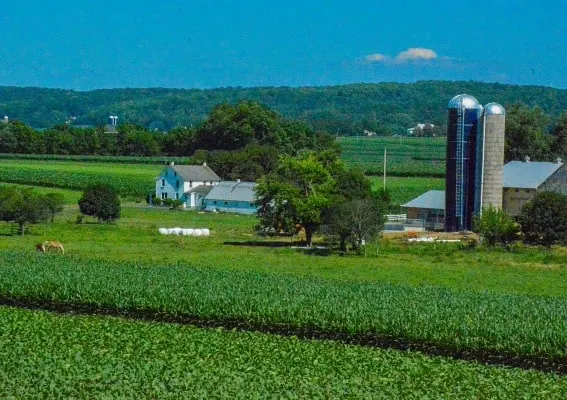 Learning about the Amish culture is part of any visit to Lancaster. To experience an Amish schoolhouse and farm, go to The Amish Village in Strasburg. The 12 acre village is home to an 1840s farmhouse that is open for tours as well as plows and farm animals for families to see and experience. The Amish Village also offers guided bus rides throughout Amish Country.
Trains, Trains, and More Trains!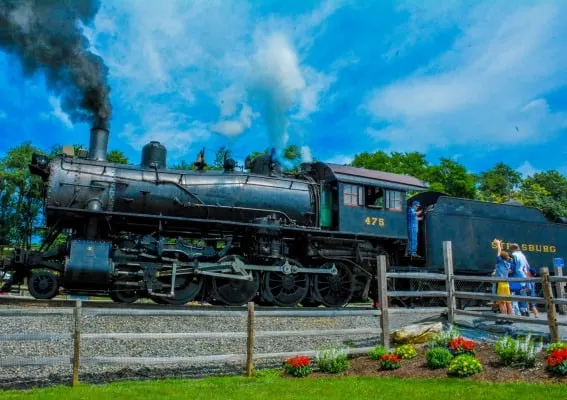 As much as I love driving the backroads around Lancaster, Pennsylvnia, the view of the countryside from Strasburg Railroad's steam train can't be beat. The ride is a relatively short 45 minute round trip. It's great for little ones that love trains but can't bear to sit still for too long. Families can plan a full day of fun around their trip on the Strasburg Railroad by riding the train to Cherry Crest Farm or a nearby picnic area.
Visiting the Railroad Museum of Pennsylvania in Lancaster, PA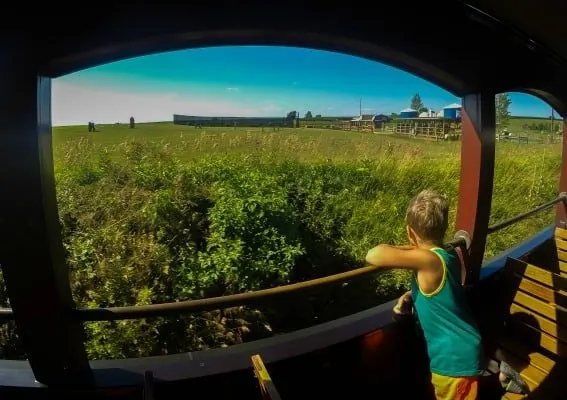 Another way to have a full day of railroad fun is to pair your ride on the Strasburg Railroad with a visit to the Railroad Museum of Pennsylvania across the street. It's an impressive train museum with a large indoor hall that houses more than twenty engines and dozens of rail cars. My children most enjoyed the train tables where they could play in a room adjacent to the indoor hall. We were so busy indoors that we didn't even venture outdoors into the summer heat.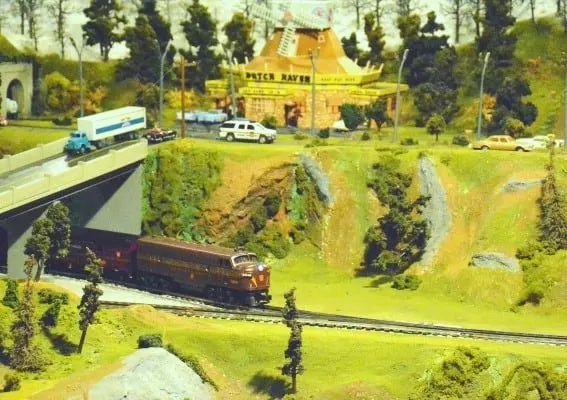 Still haven't had enough trains? The Choo Choo Barn houses an amazing indoor miniature railroad featuring local icons such as Dutch Wonderland. Of course, there's a scavenger hunt to help visitors appreciate every little detail.
Check for hotel availability in Lancaster
A Princess for the Day at Dutch Wonderland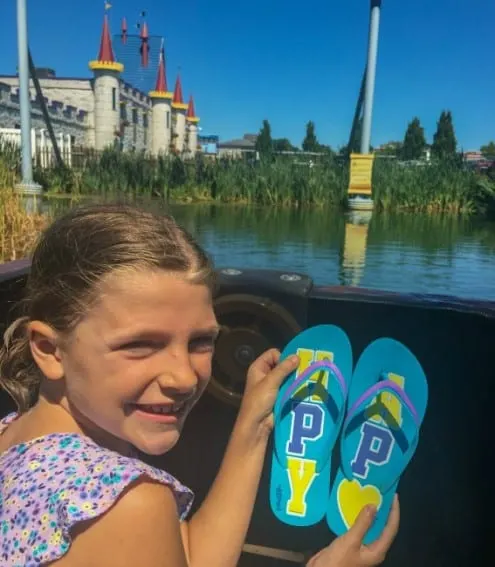 For younger children, Dutch Wonderland is one of the best things to do in Lancaster, PA. The water park, Duke's Lagoon, is a big hit with the tots and preschoolers; it features three spray park areas, including one reserved for the tiniest tots and another featuring small slides and a dump-bucket.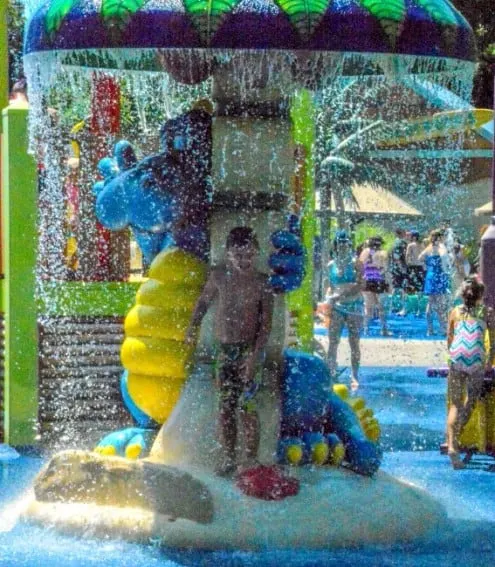 My eight year old daughter loved the Kingdom Coaster, a wooden roller coaster sized perfectly for those just graduating from kiddie coasters to something more thrilling. I'm sure that she would also have enjoyed Merlin's Mayhem, the park's newest coaster that was not quite operational yet during our July 2017 visit. Our whole family was entertained by the diving show, " The Frog Prince." In the show, the frogs flipped off the springboards into the plunge pool below splashing the audience in the process.
For more fun things to do in Pennsylvania, check out Trekaroo's Top 10 Things to Do in Pennsylvania.
Learn About the Past in Lancaster, PA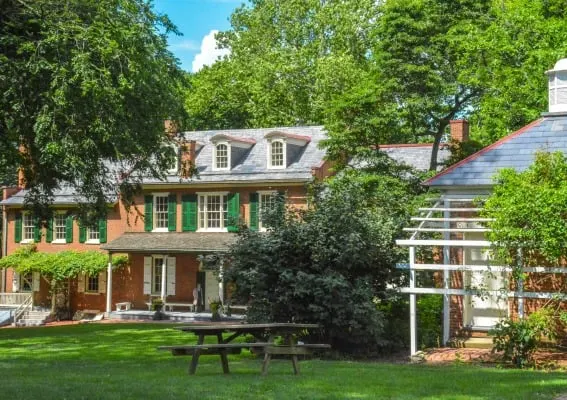 When my family has visited Lancaster, Pennsylvania, most of our time has been spent relaxing on the Strasburg Railroad as the countryside rushes by or bouncing from ride to ride at Dutch Wonderland as the kids scream, "Again, mom, again." However, I have managed to sneak in some educational experiences along the way — as I have a tendency to do while we're on the road.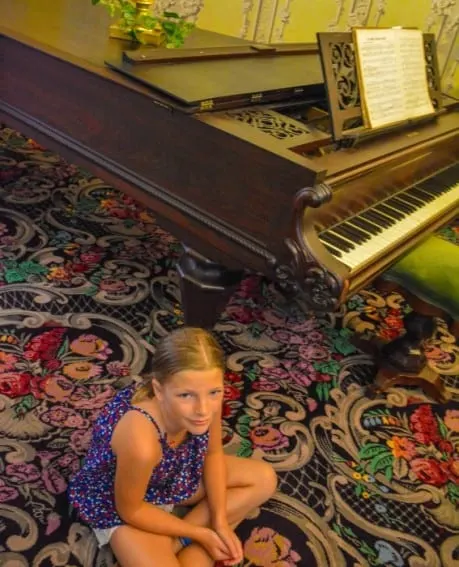 Wheatland, the home of President James Buchanan in Lancaster, offers an interesting look at the history of the United States just prior to the Civil War during James Buchanan's presidency. The guides who lead the one hour tour at Wheatland tend to be volunteers. Most often they are very enthusiastic about sharing their knowledge of history with the next generation. This historic home is particularly interesting because most of the items in the house are original to James Buchanan's years in both the White House and at Wheatland. There are living history events held at the property on a regular basis.
On our very first trip to Lancaster, Pennsylvania a few years ago, we made a visit to the Landis Valley Village and Farm Museum simply because it was a Blue Star Museum that offers free admission to military families during the summer months. Fortunately, our visit just happened to be on a living history day where my kids were able to experience a lesson from the 1890s in a one room school house, farm chores like hanging out the wash, a horse-drawn wagon ride, and traditional games.
Explore Natural History at the North Museum of Natural History and Science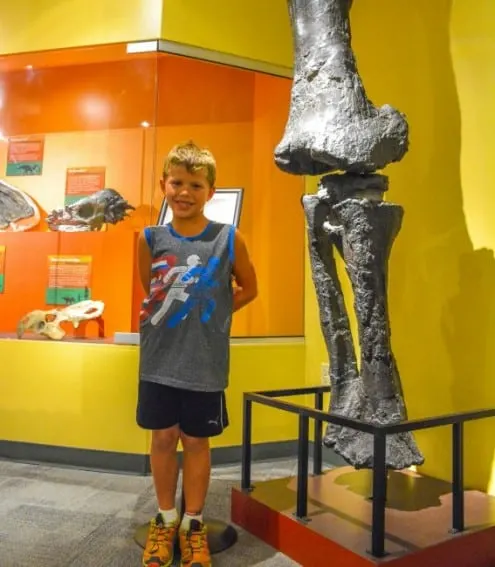 The North Museum of Natural History and Science provides a different view of history – a natural and prehistoric one. There are cases full of birds and minerals that have been collected by past museum curators. For children, there are also hands on exhibits where kids can use a microscope, measure themselves against a dinosaur bone, and listen to the calls of several local birds.
Enjoy the Bounty of the Harvest at a Smorgasbord
There's an abundance of food in Lancaster, Pennsylvania. With three separate visits to an all-you-can-eat smorgasbord buffet during our most recent visit to Pennsylvania Dutch Country, our family was sufficiently stuffed for the entire weekend. In my opinion, the pie is the highlight of any smorgasbord in Lancaster, PA; from shoofly to apple, you'll want to save room for more than one piece. Eating is certainly one of the best things to do in Lancaster, PA.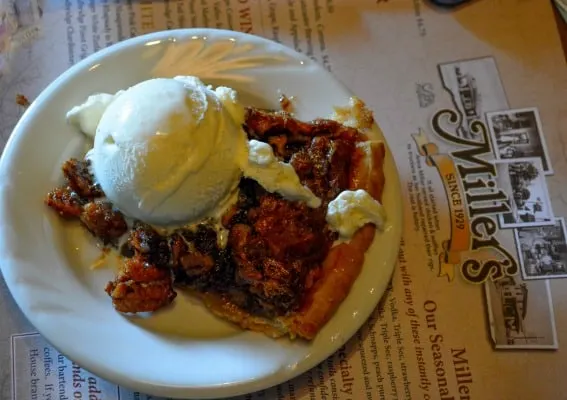 My husband and I agreed that the food at Miller's Smorgasbord was far more flavorful than at any all-you-can-eat buffet that we've ever sampled before. My husband loved the shrimp, while I could have happily eaten salads with the hot bacon dressing followed up by chocolate pecan pie all weekend long.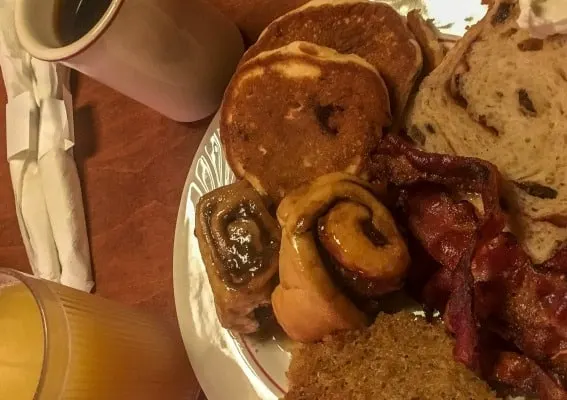 Our family enjoyed both dinner and breakfast at Hershey Farm Inn; breakfast is often included with an overnight stay depending on the package and the season. From chewy sticky buns to baked oatmeal, Pennsylvania Dutch Country favorites are well represented at this breakfast buffet. For those looking to keep their calories in check, there is also an omelet bar available.
Look for the best hotel prices in Lancaster
Where to Stay in Lancaster, Pennsylvania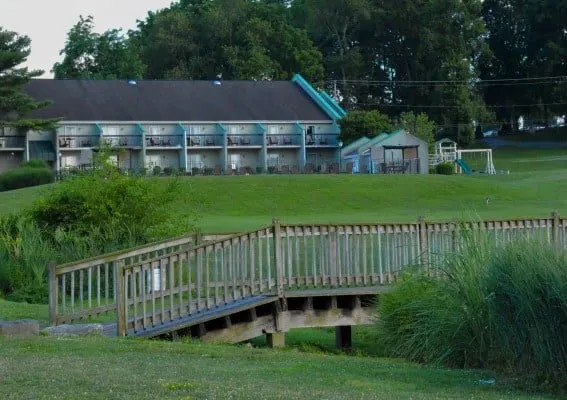 My family stayed at the Hershey Farm Inn during our most recent visit to Pennsylvania Dutch Country; this hotel captures the spirit of Lancaster, Pennsylvania like no other hotel that we've visited in the area. The inn is not really on a farm. But, it's also not along the main highway where many Lancaster, Pennsylvania hotels are located. The property is spacious with multiple playground structures. It also has a scenic pond with geese and ducks, a garden, a farm animal petting area. There are three separate buildings with guest rooms.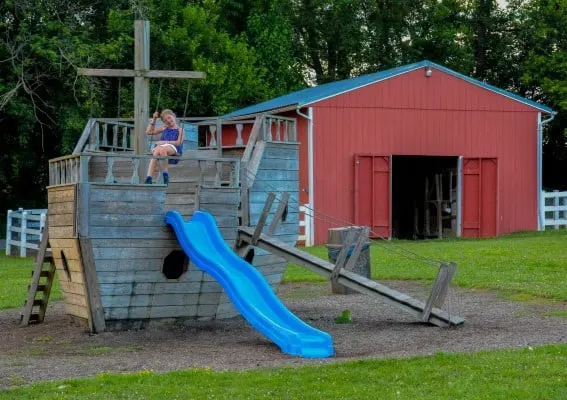 There are multiple types of accommodations from which families can choose at Hershey Farm Inn from a hotel-like building adjacent to the outdoor pool to a farmhouse that has been divided up into family-size suites. My children happily wrapped up our day in Lancaster by making friends at the pirate-themed play structure. They all played until sunset.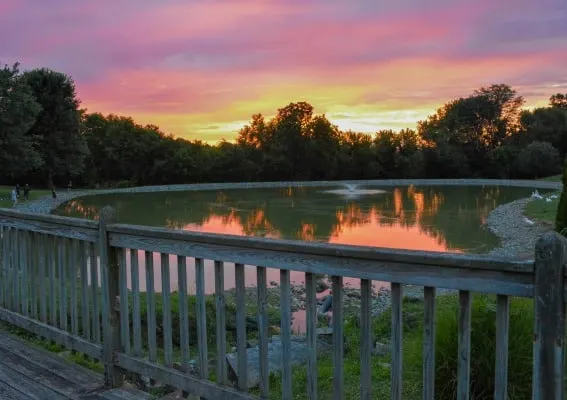 All Photos by Melissa Moore unless otherwise credited.
Disclosure: Discover Lancaster provided tickets for my family to many of the attractions mentioned in this article. Both Dutch Wonderland and the Hershey Farm Inn hosted my family during our time in Lancaster. All opinions are my own.