Driving to Niagara Falls or through western Pennsylvania to Ohio? It seems like all roads pass through Erie, Pennsylvania. I admit, from the highway, Erie doesn't seem particularly enticing – all that's visible from I-90 is strip malls, chain restaurants, and road construction. But, once you're off the interstate and on the shores of Lake Erie, you'll soon see way Erie is worth a stop on your next Great Lakes road trip.
Just across the Presque Isle Bay from the city of Erie is Pennsylvania's most popular state park, Presque Isle State Park; the state park is a large natural area occupying the entire approximately seven mile long peninsula with opportunities for swimming, fishing, bird watching, biking, and hiking. While families could easily spend days relaxing along the shores of Lake Erie at Presque Isle State Park, most kids visiting Erie will want to spend a day of their vacation at Waldameer Park and Water World, Erie's classic amusement park. It's hard to miss this park, the road to Presque Isle State Park goes directly under Waldameer's classic wooden roller coaster. Nearby, families can also enjoy an ice cream at Sara's Restaurant or become a pirate for a couple of hours aboard a Scallywags Pirate Adventure.
Look for current hotel deals in Erie
Fun things to do in Erie PA
Enjoy a Pennsylvania Beach Day at Presque Isle State Park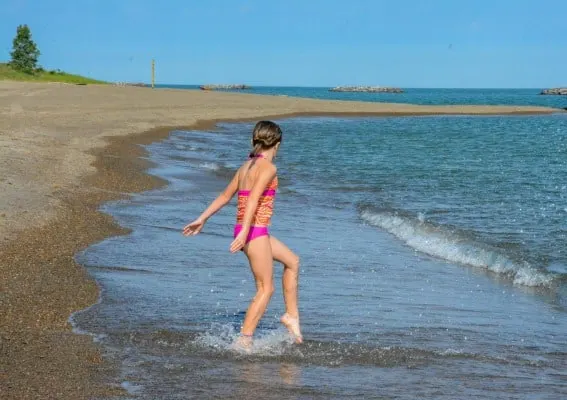 Surprisingly enough, Erie's Presque Isle State Park has a total of 11 beaches on Lake Erie, all of which are absolutely free to visit. Some of the beaches are sandy and have lifeguards on watch during certain summer hours, others have a pebbly shoreline and are not as well suited for swimming. However, there is a beach for everyone, from people who like to stroll along the water's edge and skip rocks on the lake to families with tots that love to play in the sand. My children, accustomed to the cool Pacific Ocean, ran right into the chilly waters of Lake Erie in mid-June and enthusiastically played in the water for an hour or so; they also enjoyed collecting stones and skipping rocks before I gave them the OK to get wet. No doubt most children could spend hours exploring nature and playing on the lakeshore at this state park.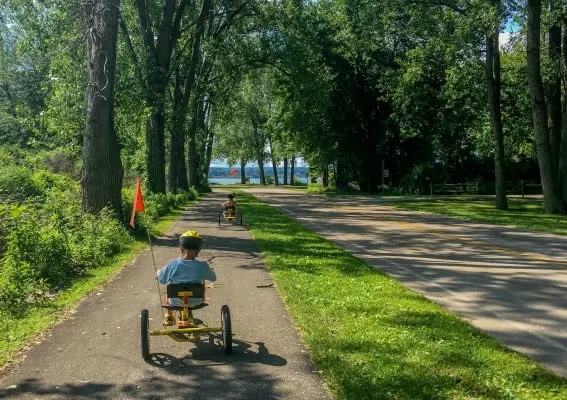 But, there's more to Presque Isle than a beautiful sandy shoreline. My kids and I enjoy riding our bikes and exploring our local parks so renting bikes at Yellow Bike Rental, located just about midway along the peninsula, seemed like the perfect way to further explore Presque Isle. It turned out that the youth bikes at Yellow Bike Rental were just a bit too big for my seven-year-old son and eight-year-old daughter; so, instead, we took out two of their kid-sized trikes, much to the delight of my children. Along the bike path, we saw geese swimming across a pond with their goslings and dozens of other birds hiding in the protected wetland areas and in the lush green underbrush.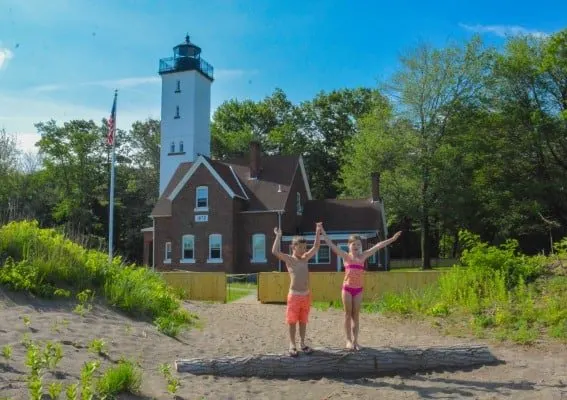 In addition to bike rentals and beaches, there is a playground and kayak rentals available at the Presque Isle as well. We saw families fishing from a dock while we biked past and other families picnicking as we played at the playground. As we drove around the island, we caught a glimpse of the impressive Perry Monument, recognizing the heroes of the Battle of Lake Erie in 1813, part of the War of 1812. There's also a couple of historic lighthouses to explore along the park road.
Ride the Coasters at Waldameer Park and Water World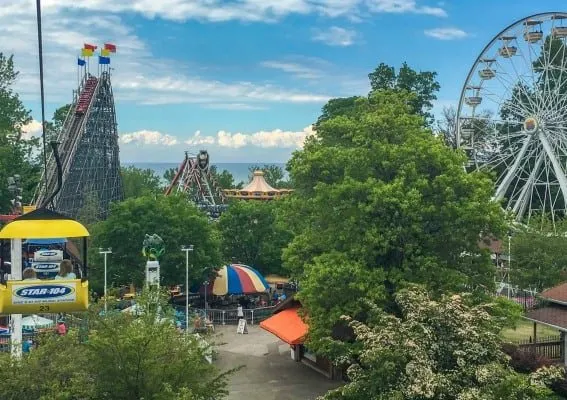 As much as my kids loved playing on the beaches of Presque Isle, our visit to Waldameer Park and Water World will likely be what they remember about our vacation in Erie years from now. At just over 48 inches, my rising second and third graders love the independence of riding the kiddie coasters by themselves and sliding down some of the more thrilling water slides without mom. This classic amusement park, one of the 10 oldest in the nation, has been a Great Lakes region family vacation tradition for over 120 years. Now, it has over 30 rides, including the Ravine Flyer II, a thrilling wooden roller coaster.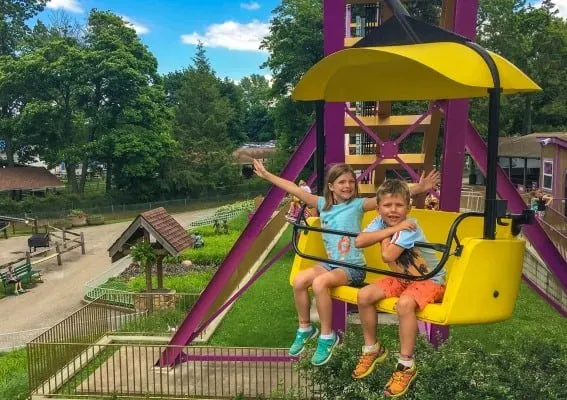 Waldameer Park and Water World is a notably budget-friendly destination. In 2017, a combination ticket for a day at both Waldameer Park and Water World is under forty dollars per person, and a single park ticket for Waldameer or Water World is under 30 dollars per day. Plentiful free parking is available just outside the parks within a few minutes walk of the rides; the parking was so close that I didn't even feel the need to rent a locker when I visited the water park with my kids. Remember, there is also no admission fee for Presque Isle State Park. What a bargain!
Check for hotel availabilities in Erie
Become a Pirate for an Afternoon on a Scallywags Pirate Cruise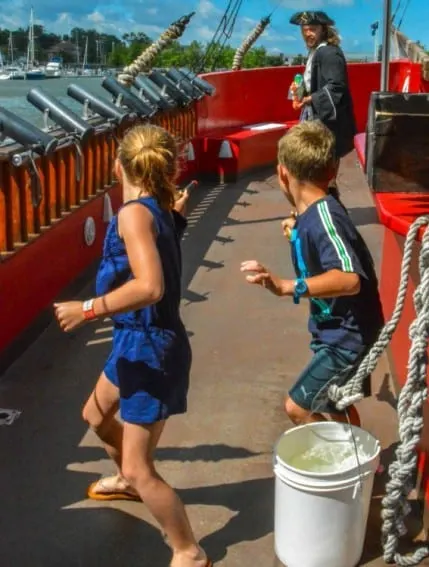 Ahoy! If you've ever dreamt of being a pirate, here's your chance. The enthusiastic crew of pirates at Scallywags Pirate Adventures awaits families ready for a high seas adventure on the Presque Isle Bay. Pirates lead the crew of children as they defend the ship from a pirate looking to steal the treasure; children don pirate face paint mustaches and tattoos while they play games on their adventure. Even parents will enjoy the adventure as the boat traverses the scenic bay.
See the Animals at the Erie Zoo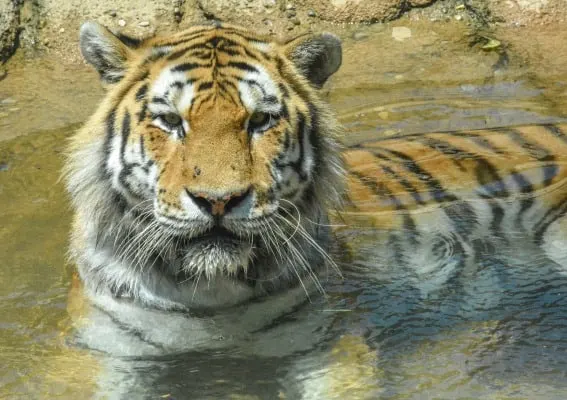 It is not uncommon for my family to visit a zoo when we're traveling; often with a current zoo membership, we get free or discounted admission to zoos across the country. The Erie Zoo has a similar feel to other zoos that we have visited in the region, the Buffalo Zoo and the Seneca Park Zoo in Rochester; however, this practical mama was most impressed by the quantity of shade at the Erie Zoo — and the beautiful flowers hanging along the pathways. There are several large animals at the Erie Zoo, a couple of rhinos, a giraffe, a tiger, some orangutans, and several other large cats, but the highlight is walking amongst the kangaroos and wallabies. According to the zoo staff, the kangaroos will often hop over to the path and let children pet them; we weren't so lucky, but it was still unique to see these marsupials up close.
Learn the History of the Great Lakes in the War of 1812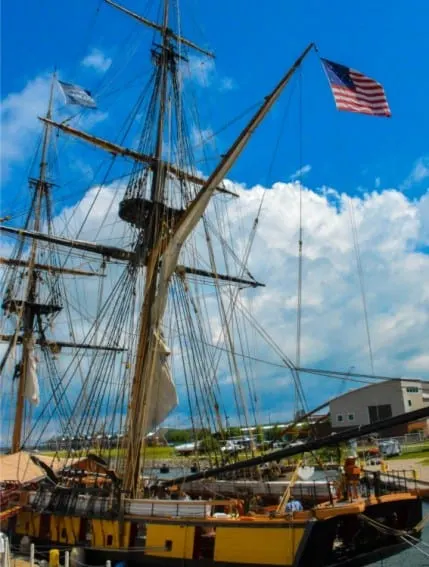 Erie is full of history lessons if you're on the lookout for them; however, there is no better place in town to go to learn a bit of Great Lakes history than the Erie Maritime Museum. Enthusiastic volunteers greet families with stories of the historic Brig Niagara and the 1813 Battle of Lake Erie. Families can go aboard the 1800s sailing vessel if she is in port and open for tours; onboard, wood from the original ship is visible in the officers quarters and children can learn about the role of powder monkeys, 13-15 year old boys who brought the powder to fire the ship's cannons. Back inside the museum, children can practice their nautical knot tying and trace the battles of the War of 1812 on an electric map.
Have Some Fun While You Eat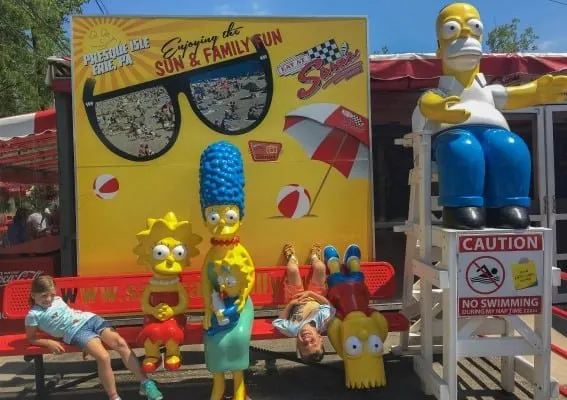 A summertime visit to Erie would not be complete without a visit to Sara's Restaurant. This quick service restaurant is known for its locally made hot dogs and ice cream — and it's simply impossible to drive into Presque Isle State Park without spotting Sara's. Outside the restaurant there are several fun photo ops, from a bench with Bart Simpson hanging upside down and Homer, the ever-ready lifeguard nearby, to a cut-out with a shark promising that you won't encounter large ocean fish in Lake Erie.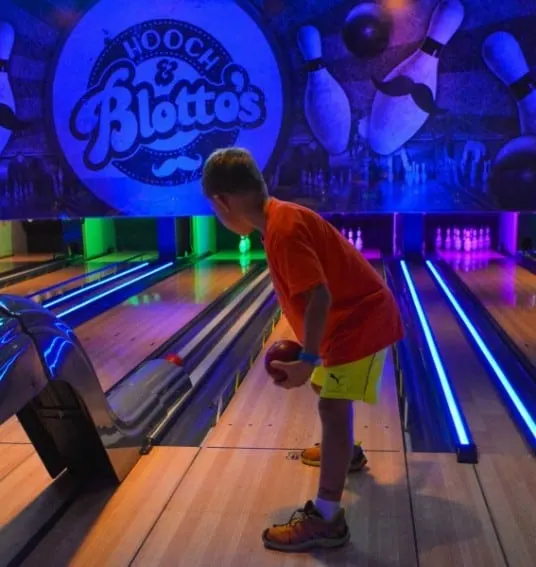 Closer to the interstate, we enjoyed an evening bowling while eating dinner at Hooch and Blotto's. The small scale bowling alley is great for the kids; the tiny balls are perfect for all, from tots to adults. There is a full children's menu available – from pizza to chicken strips, the kids won't leave hungry.
Look for the best hotel prices in Erie
Stay Here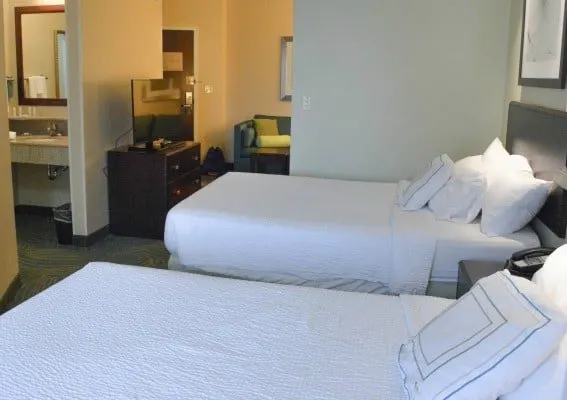 We stayed at SpringHill Suites by Marriott while we explored Erie. The hotel has an excellent complimentary breakfast and suites perfectly sized for families. There's even a scavenger hunt available for the kiddos. My kids did their own research to learn all about Erie – this mama loves it when the kids want to learn all about the places that we visit on our travels!
All photos by Melissa Moore unless otherwise credited.
Disclosure: The author's family visited Erie on a press trip with Visit Erie. All opinions are her own.