Wyoming family vacations are the stuff memories are made of. There are lots of fun things to in Wyoming with kids, from visiting national parks to experiencing some genuine cowboy culture.
The name "Wyoming" comes from an Algonquian word meaning "at the big river flat." It's no surprise that the state is filled with natural wonders, wide-open spaces, and outdoor adventure for families.
Wyoming is a great pick for a family road trip, historical trip for kids studying pioneering and Native American history, or an adventure vacation filled with sports from river rafting to hiking to skiing. Ready to begin?
Wyoming Family Vacations: The Best Things to do in Wyoming
1. Take a Dive Into a Hot Spring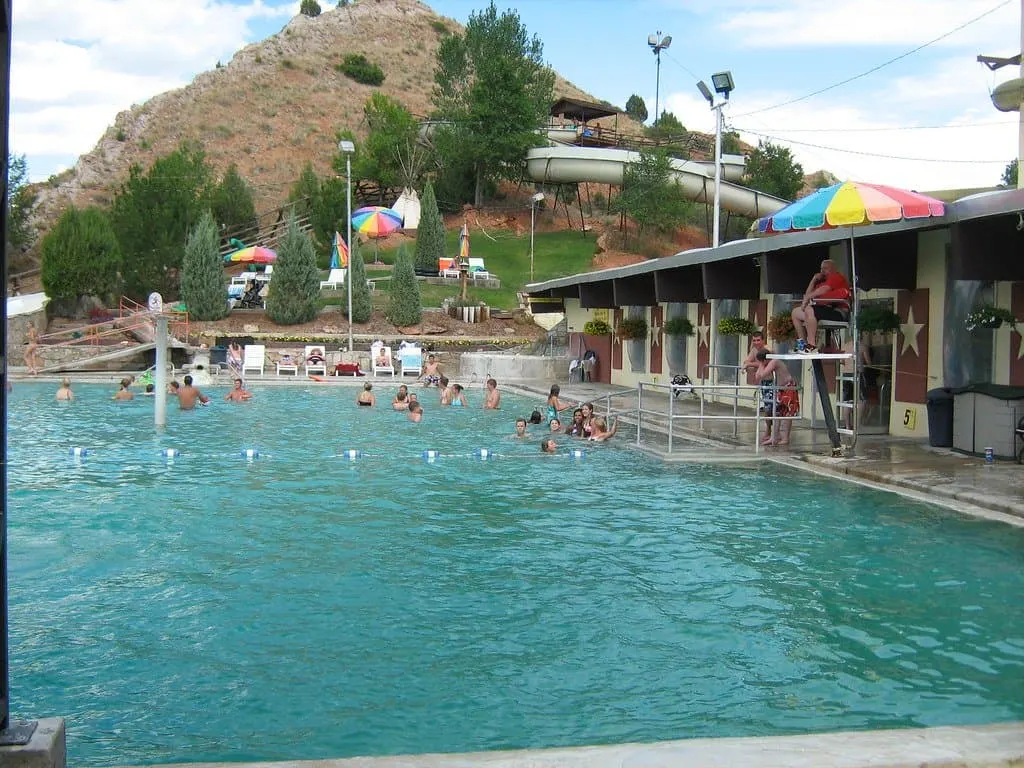 Ever heard of Thermopolis, Wyoming? Unless you've made the drive from Salt Lake City to Yellowstone, you probably haven't.
Thermopolis is the home of Hot Springs State Park, the oldest state park in Wyoming. It's the site of bubbling, steaming geothermal water under the surface of the earth, which has been 'harvested' in the form of natural mineral pools and spas since the local Native Americans discovered it centuries ago.
Today, families driving through can spend a day at one of Thermopolis' fun-filled pool complexes. We recommend funky Star Plunge, which boasts indoor and outdoor pools, a diving board, three fast-paced slides, a kiddie pool, an adults-only sauna, and plenty of space to work on your tan in the Wyoming sun.
2. Visit an Old Western Town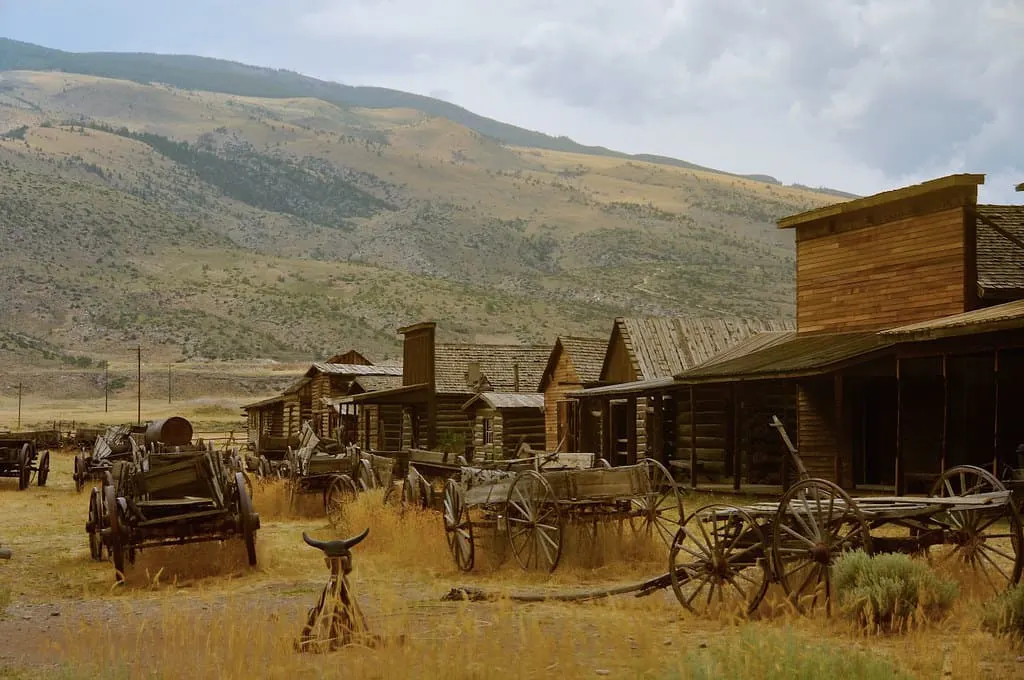 Want to know what it's like to walk along the boardwalk of an authentic western town? At Old Trail Town in Cody, historic cabins, storefronts, saloons, and homesteads have been transported from around the state to recreate a western town.
Plan to spend several hours here touring the grounds. Kids can look through doors and windows to see western scenes depicted inside cabins, walk into saloons, and read letters and documents from early pioneering inhabitants.
A small cemetery reminds visitors how hard life in the Wild West could be, and a collection of historic wagons and carriages sit in the center of the village.
3. Tour Historic Fort Bridger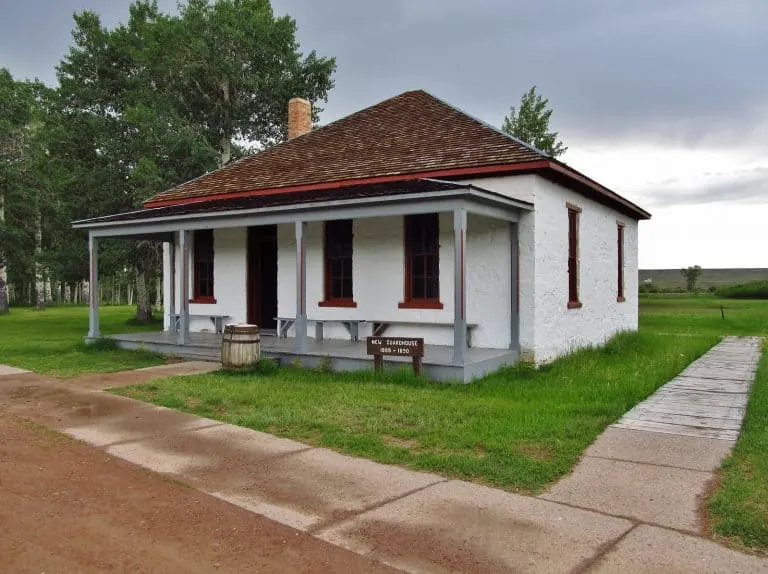 Many children learning US history or anyone who's read pioneering books will recognize the name Fort Bridger. It's fascinating to see the fort in person, where so many mountain men, pioneers, Native Americans, and soldiers took part in the forming of the American West.
This historic site is open year round, but families will find it most lively during the Fort Bridger Rendezvous, a festival that takes place every Labor Day weekend to reenact the mountain man experience.
4. Stay at a Dude Ranch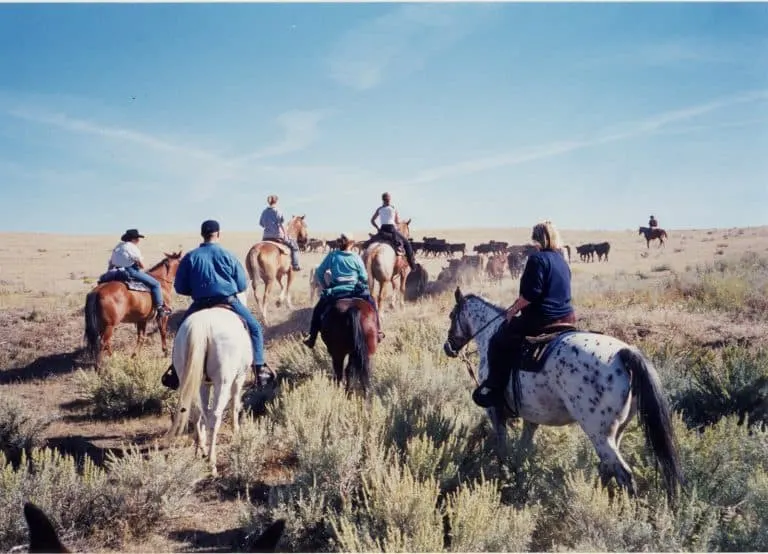 Wyoming is home to literally dozens of first-rate dude ranches (take your pick!). Dude ranches like Paradise Ranch in Buffalo, Wyoming provide a low-tech family vacation filled with horseback riding, hiking, fishing, campfires, and relaxation.
Families stay in guest cabins, dine in dining halls on cowboy cuisine, and unwind from busy lives. For a taste of Wyoming culture and way of life, a week at a dude ranch is ideal! Want more western fun?
Check out our list of 20 destinations for kids who love horses or explore our Top Picks for Dude Ranches across the US.

5. Head to Devil's Tower National Monument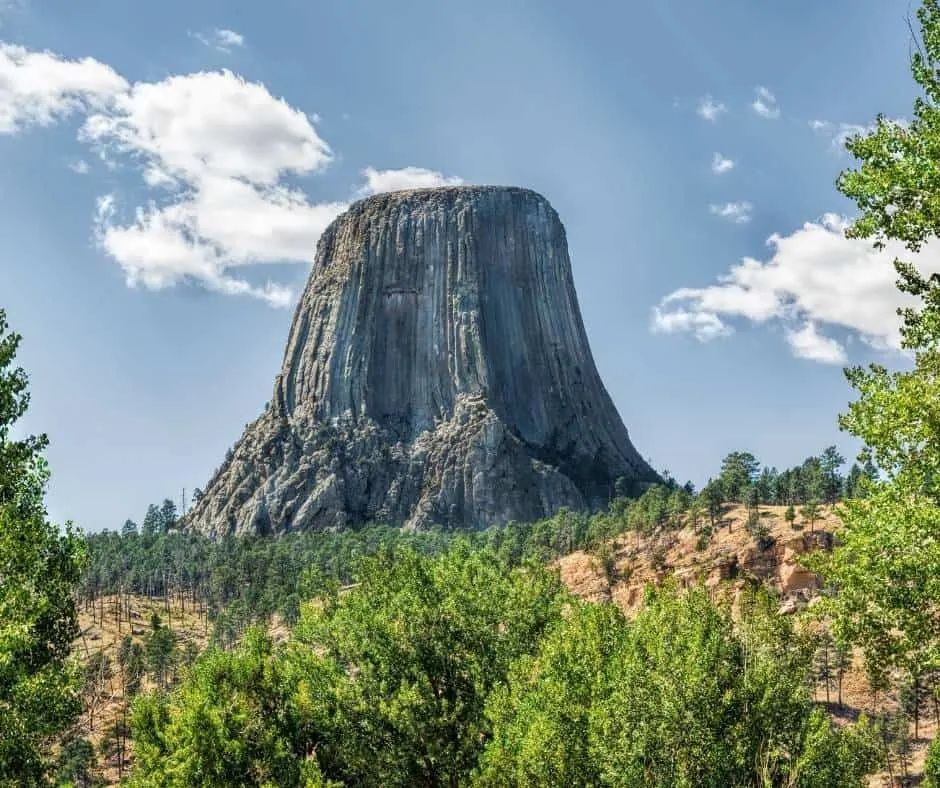 Devils Tower National Monument is an iconic rock formation lies in the vast expanse of northeast Wyoming and is still used for Native American ceremonies. A national monument since 1906, visitors can still scramble on parts of the lower rock.
There are trails to walk and plenty of wildlife around. If you're a serious rock climber (or just like watching them), you will be in heaven here. Be sure to visit the visitor center to pick up a Junior Ranger booklet, learn about ranger-led programs, and find the perfect hiking trail for your family.
There is a campground at Devils Tower but no food services within the park. There are several other camping, lodging, and food options just outside of the park entrance.
Devil's Tower is located on the edge of the Black Hills near the South Dakota border. Here are 26 things to do in the Black Hills of South Dakota.
6. Visit One of Wyoming's Museums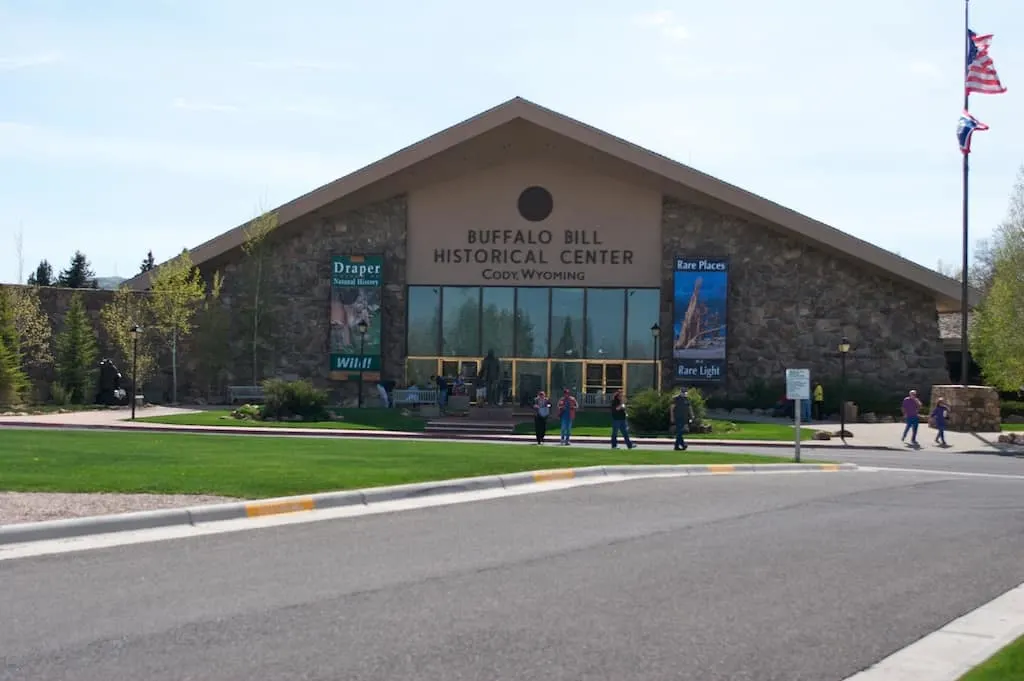 The Wyoming State Museum in Cheyenne offers two-floors of pioneering history with plenty of interactive exhibits for kids. Young children can dress up in period costumes and play with Native American and pioneer children toys. Outside, visit a frontier home and let kids burn off energy on the grounds.
In western town Cody, the acclaimed Buffalo Bill Cody Historic Center is a must-do.
Multiple museums in one, this sprawling complex houses a museum dedicated to Wyoming legend Buffalo Bill, but also covers geology and geothermal activity in Yellowstone, a firearms museum, a museum of Native American history, and a birds of prey conservation center. Plan to spend an entire day here.
7. See the Splendor of Grand Teton National Park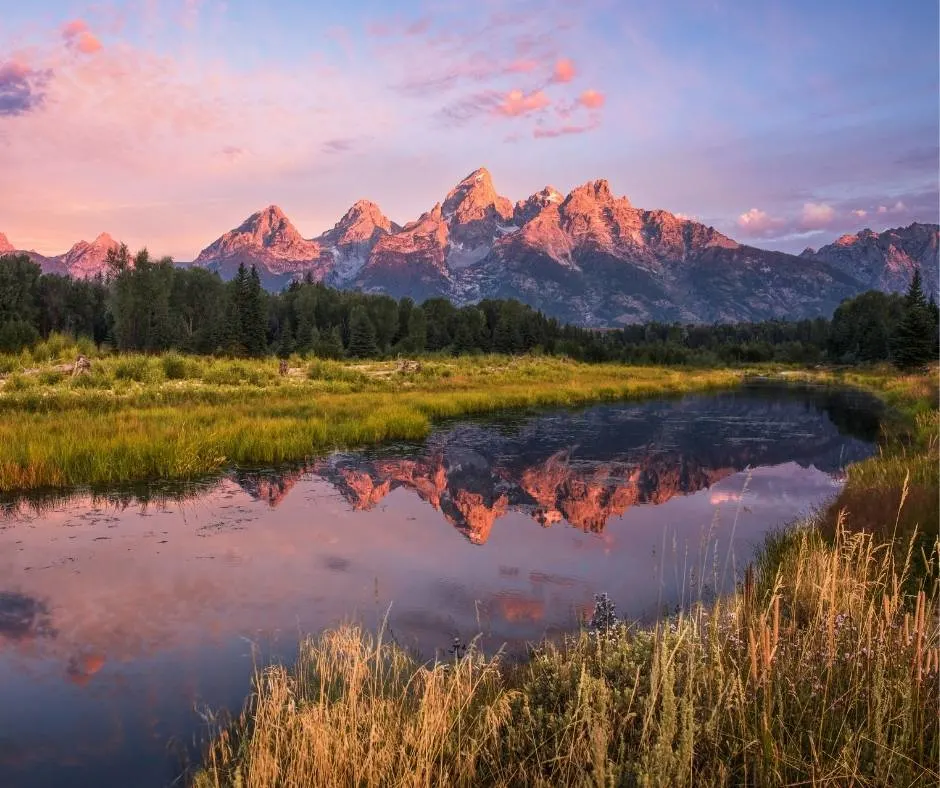 Getting outside and enjoying nature is one of the top things to do in Wyoming on vacation. Grand Teton National Park is one of the most beautiful places in the United States. It is a landscape of jagged mountains, vast meadows filled with wildlife, and stunning lakes.
Jenny Lake is one of the most popular lake to visit within Grand Teton National Park. Taking the boat shuttle scross the water to hike to Hidden Falls and Inspiration Point is an experience that you will never forget.
There are several other trail to be explored and lakes to be kayaked inside. Grand Teton is also a place to see moose, bears, wolves, elk, and more. Read our full guide to visiting Grand Teton National Park to help you plan a Wyoming family vacation you will never forget.
View a list of Teton and Yellowstone campgrounds for families.
8. Play Cowboy in Cody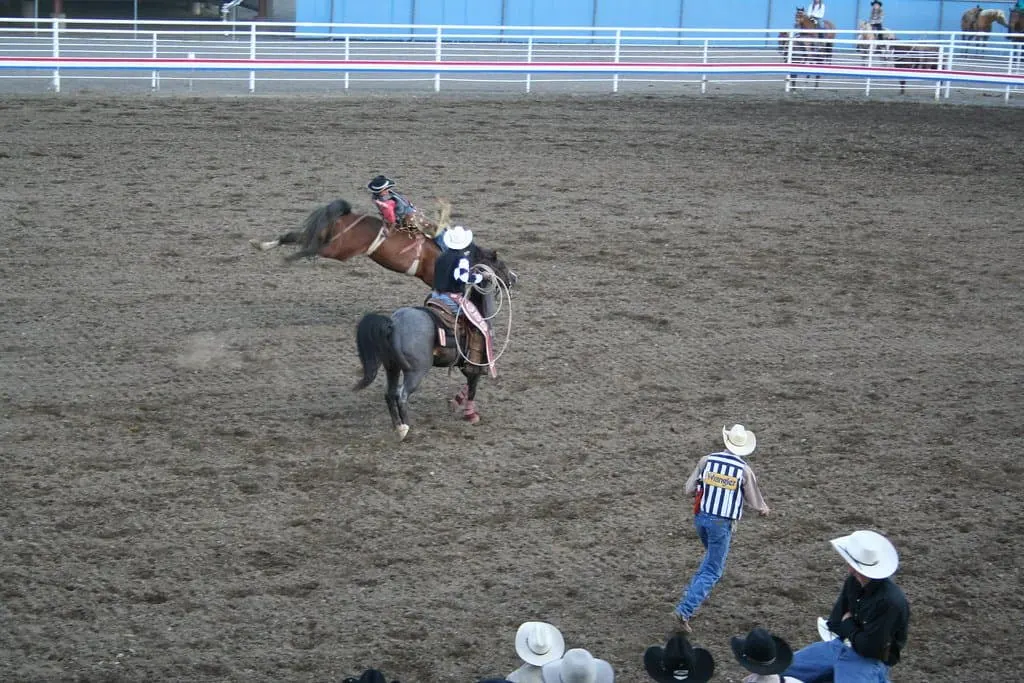 The Cody Nite Rodeo is one of the best evening attractions we've found for families. It is one of the classic things to do in Wyoming with kids. Taking place every single night at the Cody rodeo grounds from June 1 to August 31, the rodeo is a celebration of Western entertainment and cowboy culture.
You may not arrive a tried-and-true cowboy (or girl) but you'll leave as one! Pick up a cowboy hat in town to shade your face from the summer sun, then take it off and wave it enthusiastically as the evening sets in and the stars come out.
Watch bull and bronco riding, barrel racing, roping, and youth events. If you're under age 12, be ready to enter the arena for the calf scramble…there are prizes to be won!
9. See Iconic Yellowstone National Park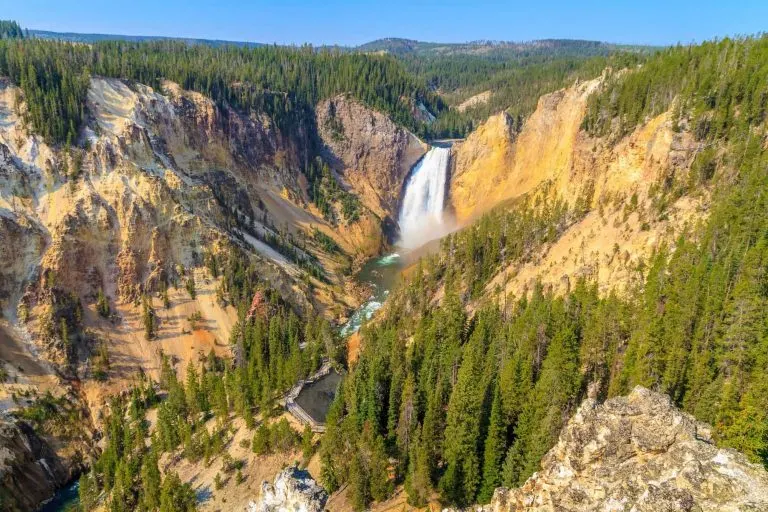 Everyone is familiar with Yellowstone National Park, but many people don't realize there's more to see than Old Faithful. Yellowstone is a vast and diverse national park, home to waterfalls, wildlife, and endless wonder.
Read our full guide to all the things to do in Yellowstone with kids.
There are numerous spots to check out impressive geothermal activity and view geysers, hot springs, fumaroles, and even gurgling mud pots.
The Grand Canyon of Yellowstone follows the path of the Yellowstone River through yellow-rock canyons, and families can glimpse osprey nests in trees along the cliffs.
Nearby, Canyon Village offers less-crowded dining and ranger station activities, plus camping at Canyon Campground.
If you have a few days in the park, spend one on the Firehole River, which rewards waders and swimmers with geothermal-heated water.
Of crouse, one of the biggest attractions in Yellowstone National Park is the wildlife. Visitors will surely see bison, but they have the potential to see deer, moose, elk, bears, and even wolves.
The Yellowstone back country is vast and perfect for backpackers, and the Junior Ranger program is among the best in the National Park service.
Here's A comprehensive guide to camping in Yellowstone and 5 great hikes for families in Yellowstone.
10. Visit Jackson Hole, No Matter the Season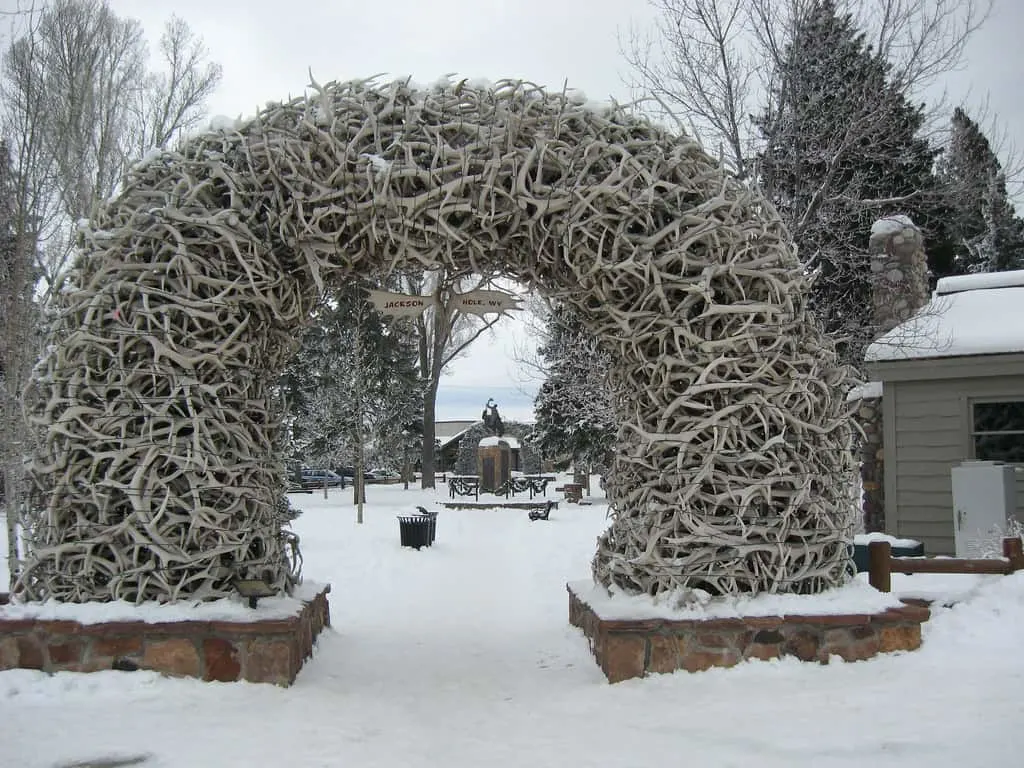 Any time of year, Jackson (home of Jackson Hole skiing) may be my family's favorite tourist town. While it certainly caters to visitors, there's an authentic feel to Jackson, where travelers and residents flock to enjoy outdoor adventure and skiing.
You'll find first-rate shopping and dining in Jackson, but more importantly to families, recreational activities are affordable.
In summer, try the alpine slide at Snow King, raft down the Snake River, watch the free outdoor cowboy show, relax and dine at a covered wagon cookout, or take a day trip to Grand Teton National Park.
In winter, ski the slopes of course!
A great place to stay in any season is the Snow King Resort, located at the base of low-key ski terrain and is easy walking distance of all downtown attractions. If your winter vacation is centered around Jackson Hole Ski Resort, you'll want to stay on-site, 12 miles from town.
Heading to Wyoming in Winter? Check out 8 Wyoming ski resorts (including the ones regulars want kept secret).
Find things to do with kids near you!
From coast to coast, we're determining the Top 10 Things to do with Kids in each state and dozens of cities across our great nation.