Bison wander through your campsite. Stars shine above your tent. The sound of waterfalls lull you to sleep. What better way to experience the world's first national park than camping with your family.
Yellowstone camping is a magical experience, but it does require planning. This comprehensive guide to Yellowstone National Park camping and Yellowstone campgrounds will help you and your family prepare for an adventure you will all love.
Scoring A Campsite in Yellowstone
Even with over 2,000 sites, competition is high for finding a campsite in Yellowstone. Camping is only allowed in designated campgrounds or backcountry campsites. Without a campsite, you will need to try to find a room in a lodge or stay outside the park. Here are some tips to help you secure a Yellowstone campsite.
Reserve a Spot ASAP
You can make reservations as early as May 1st of the previous year. It is best to reserve a spot as soon as you think about planning a trip (and if you are reading this article, you are probably thinking about it). Cancellations are easy and because you receive a full refund of your deposit when you cancel at least 30-days before your reservation, there is no risk. Reservations are made through Yellowstone National Park Lodges website.
Check for Cancellations
Cancellations happen all the time, so if you can't find a spot to reserve, keep checking. Make sure to check all campgrounds and consider splitting your time between multiple sites.
First Come/First Serve Campgrounds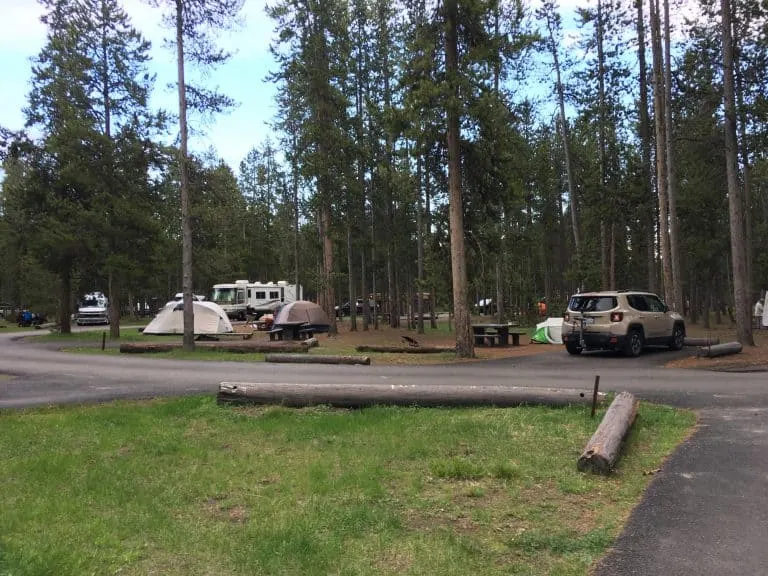 It is possible to find a campground without an advanced reservation. The official Yellowstone website provides current status and fill times of all campground locations in the park, as well as the times they filled the previous day. In the summer season, most campgrounds fill before 8 AM. Plan to arrive before 6 AM for your best chances.
For more tips and tricks check out How to Score a Campground at Popular National Parks
Where to Camp in Yellowstone
There are 12 campgrounds in Yellowstone, so how do you choose where to stay? It mostly depends on your plans. The chart below details the amenities available at each campground.
Drinking water is normally available at each campground, as well as firewood to purchase (except at Fishing Bridge where no fires are allowed, even in portable fire pits). Read on to choose your site based on additional considerations.
Campground
Sites
Features
RV Sites*
Bridge Bay
432
A,B,F,NS,DS,G
Check Yellowstone National Park Lodges for details & reservations
Canyon
273
A,B,F,S/L,2S,DS,G
Fishing Bridge RV Park
340
F,S/L,2S,DS,G,H (hard-sided only)
Grant Village
430
A,B,F,S/L,2S,DS,G
Madison
278
A,B,F,NS,DS,G
Indian Creek
70
A,B,V
10@ 35′; 35@30′
Lewis Lake
85
B,V
25′ or less
Mammoth
85
A,B,F,G
In the winter season, there is a very tight turn – 30′ total length limit for RVs or vehicle/trailer combinations
Norris
111
A,B,F,G
2 sites are 50′ (signed), 5 sites are 30′
Pebble Creek
27
A,B,V
Some long pull-throughs
Slough Creek
16
A,V
14 @ 30′ (walk through first to assess)
Tower Fall
31
B,V
30′ or less (loop has hairpin curve)
A – Accessible sites available
B – Limited number of campsites set aside for bicyclists and hikers: check availability at the campground.
F – Flush toilets
H – Full hookups
V – Vault toilet
S/L – Pay showers/laundry onsite
NS – Showers not included
2S – Two showers included each night
DS – Dump station (may close when temperatures are below freezing)
G – Generators OK 8 am to 8pm (60db limit)
Best Yellowstone Campgrounds for a Base Camp
Canyon and Norris are the most central campgrounds, making them a great place to set up camp for the duration of your stay. Bridge Bay and Madison campgrounds would work as well, though not quite as central (Madison is just 14 miles from West Yellowstone). If you are camping in an RV, Fishing Bridge is also a good alternative to Madison and Bay Bridge.
Campgrounds with the Best Views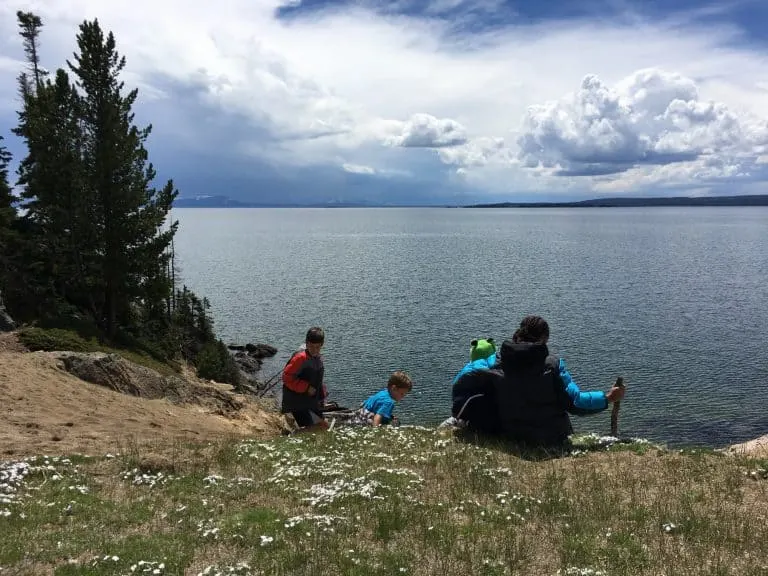 Grant Campground offers some sites with clear views of Lake Yellowstone. Bridge Bay also has a view of the lake bordered by the Absaroka Mountains. Indian Creek provides breathtaking views of Electric Peak. Pebble Creek showcases the Absaroka Mountains.
Most Private/Secluded Campgrounds
If you are looking to avoid the crowds, you'll want to try to score a spot at Pebble Creek. Indian Creek also provides a quieter experience because of its location away from the main road. Grant Campground sites are surrounded by trees and provide some privacy.
Best Wildlife Viewing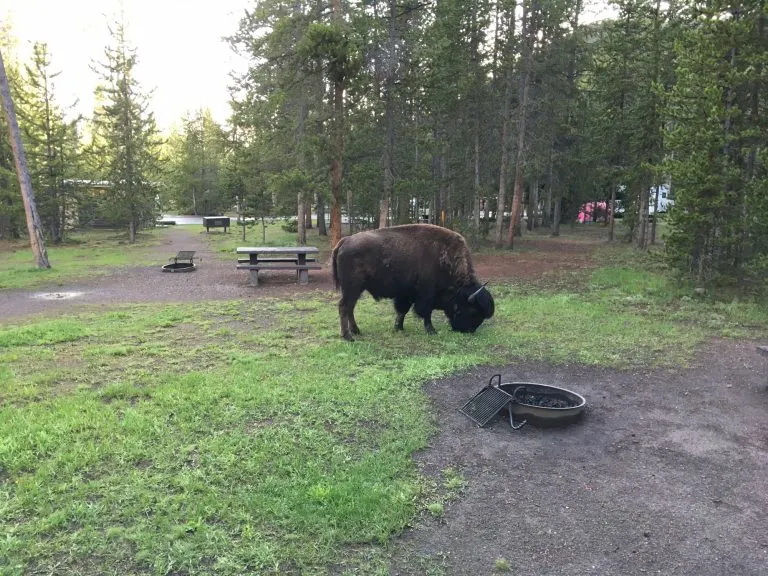 Most campgrounds have the occasional buffalo, elk, or even bear wandering through, but staying at Mammoth increases your chances of spotting them. Pebble Creek and Slough Creek are located in Lamar Valley, which offers some of the best wildlife viewings in the park. You may even be able to spot wolves.
Best for Junior Ranger Programs
The pavilion behind the visitors center at Grant offers Junior Ranger programs from June-August. There are also occasional Junior Ranger programs at Canyon and Mammoth visitor centers. (Note: According to nps.org, Madison offers Junior Ranger activities throughout the summer but these are not listed in the program guide)
Special Considerations for Yellowstone Camping
RV Camping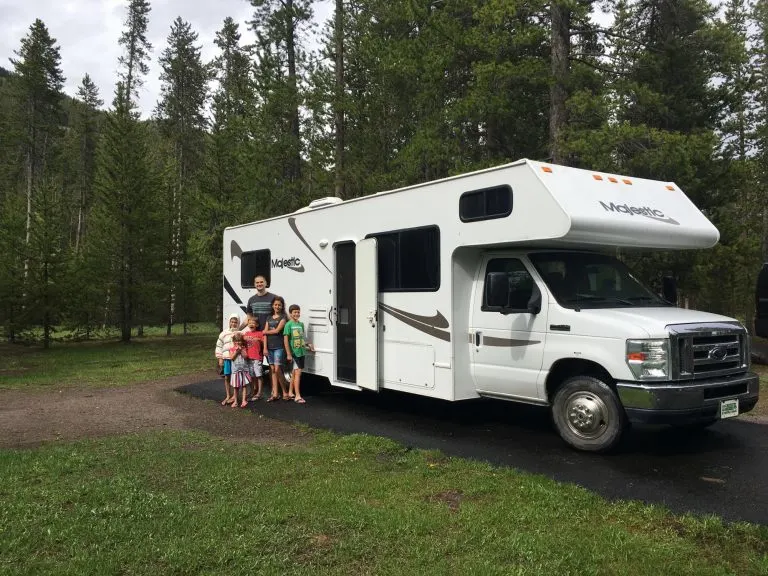 Fishing Bridge is the only Yellowstone Campsite with RV hookups. All reservable sites have dump stations. Just be aware, these may close during freezing temperatures. Generators are allowed at reservable sites, as well as Mammoth and Norris, from 8 AM to 8 PM, as long as they are under 60 decibels.
Know the length of your RV plus any vehicles in tow before reserving your campsite. Be aware that sites for vehicles over 40 feet are very limited and need to be reserved well in advance.
Another RV consideration to be aware of while visiting Yellowstone is there are roads that are labeled "No buses, trailers, or RVs." This means you will not be able to drive the Upper Terrace Drive in Mammoth Hot Spring or out to Petrified Tree in the Roosevelt area (among other areas).
Parking can also be hard to find for RVs since there are limited spots large enough and these are frequently taken over by cars. If possible, it would be nice to leave your RV at a base camp and tour the park in a smaller car.
Looking to rent an RV? Check out these 9 things you will want to know when looking for an RV Rental.
Pets
Consider leaving your pet at home for this trip. No pets are allowed on trails or boardwalks, in thermal areas, or in the backcountry. Since temperatures can get warm in the summer, it is not always safe for pets to stay in the car either.
At your campground, parking areas, or on the road, pets must remain on a leash. They also must be attended at all times. No leaving pets tied to a tree or anything. Although there is no boarding for animals inside the park, boarding is available in surrounding communities.
Bears
Bears can smell food from miles away. This is why it is so important to keep a clean camp while Yellowstone camping. Food and smelly items (like toiletries) must be kept in bear-proof lockers provided at some campgrounds, or in your vehicle. Never bring food into your tent and don't sleep in the clothes you cook in.
Time of Year/Weather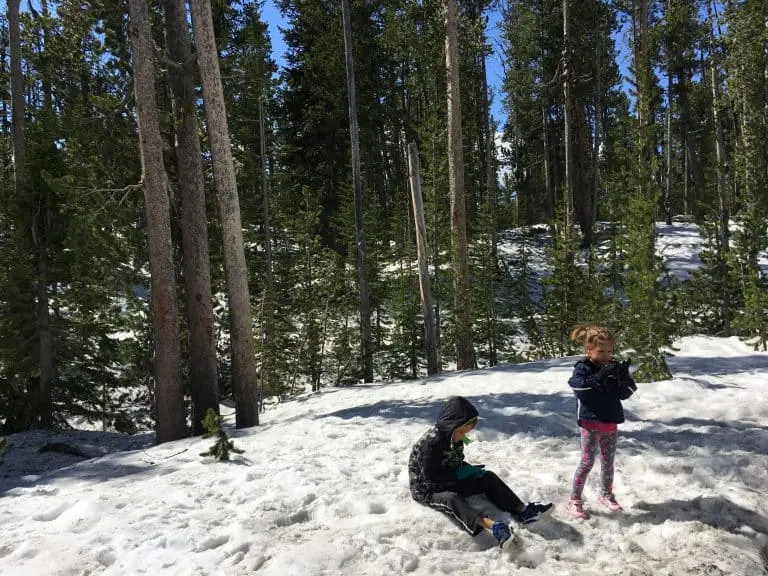 Summer Season (Memorial Day – Labor Day)
Average daytime temperatures are between 70F-80F. Thunderstorms are common in the afternoon. Nights are cool and temperatures may drop below freezing at higher elevations. Bring clothing for all weather, especially raincoats. An easy-up canopy over your campsite picnic table is nice for cooking and eating in rainy weather.
All campgrounds open* (Grant Village, Pebble Creek, Slough Creek, and Indian Creek open in June)

All roads open, although Beartooth highway typically remains closed until mid-June (be aware of

construction closures

)

Touring highlights: more ranger-led programs, wildlife sightings, swimming

Camping limited to 14 days between June 15th and Labor Day (30 days the rest of the year)
Fall (September-November)
Snow is common during the fall, and at times can be heavy. Daytime temperatures range from 30F to 60F. Since weather is unpredictable, make sure to pack warm clothes and prepare for cold nights. Bring snow gear to allow kids to have some snow play time in higher elevations.
Campground Closings*

Early/Mid-September…Fishing Bridge RV Park, Grant Village Campground, Indian Creek Campground

Late September…Bridge Bay Campground, Canyon Campground, Norris Campground, Pebble Creek Campground, Tower Fall

Mid-October…Slough Creek Campground, Madison Campground

Early November…Lewis Lake Campground

Mammoth Campground open year-round

October road closures-Dunraven Pass (Tower Fall to Canyon) & Beartooth Highway*

All roads closed early November (except the road between North Entrance and Northeast Entrance)*

Touring highlights: crowds decrease, mating season for elk and bighorn sheep, fall colors at high elevations
Winter (December – February)
It is cold, between zero and 20F in the day. Sub-zero temperatures are common at night and at higher elevations. Snowfall varies but on average Yellowstone gets 150" a year. Bring snow gear, heaters, and make sure you are winter camp ready. If your family is not used to winter camping, consider staying in a lodge instead.
Mammoth Campground is open to tents and RVs

Only the North Entrance is open to cars

Only the road from North Entrance to Northeast Entrance is open

Guided snowmobile and coach tours are available

Touring highlights: no crowds, trumpeter swans on the river, wolf sightings increase
Spring (March-May)
Spring and Fall weather are similar. Expect temperatures between 30F and 60 F and snowfall. Be prepared for both rain and snow, as weather during this season is unpredictable.
Campground Openings*

Late April…Madison Campground

Mid-May…Fishing Bridge RV Park, Bridge Bay Campground

Late May (Memorial Day Weekend)…Canyon Campground, Norris Campground, Tower Fall Campground

Road Openings:

Mid-April…West Entrance to Madison, Mammoth Hot Springs to Old Faithful, Norris to Canyon

Early May…East Entrance to Lake (Sylvan Pass), Canyon Junction to Lake

Mid-May…South Entrance to West Thumb, Lake to West Thumb, West Thumb to Old Faithful (Craig Pass), Tower Junction to Tower Fall

Memorial Day weekend…All roads open (except Beartooth Highway)

Touring highlights: lower crowds, animal calves, and cubs, cooler weather
*Please visit the National Park website for official opening and closing dates.
Essential Gear for Yellowstone Camping
Most of your animal sightings will be from a distance. Bring binoculars for everyone in your family. You'll also want a quality camera with a good zoom feature so you can share those sighting on social media (be sure to tag #trekarooing). Cheap cameras for the kids would be great, too.
Having bear spray and knowing how to use it is a good idea. Hopefully, you won't need it, but it's better to be safe than sorry. Avoid mosquito bites by packing some bug spray as well.
Sun protection is essential in these high elevation conditions. Remember, just because it's cool or there is cloud cover doesn't mean you are safe from the sun. Sunscreen, hats, and sunglasses are all good ideas.
A baby carrier is better than a stroller because of steps on some boardwalks and obviously hiking trails. We didn't bring either and ended up carrying our 3-year-old a lot. Remember a backpack or fanny pack to fill with family hiking essentials; water, simple first aid kit, & trail snacks.
There are a couple of fun swimming holes in Yellowstone. Bring water shoes to help navigate over rocks.
Don't forget your s'mores ingredients, and some simple family games (we love Zigity) to enjoy at your campsite.
Try to make most purchases before arriving in Yellowstone. There are some general stores inside the park for groceries and gear, but you will be paying a premium.
Check out this complete guide to cool camping gear before your trip!
Looking for games to play while camping? Here are 27 camping games for the whole family.