Last Updated on
Skiing with the family close to home in Virginia, West Virginia, Maryland, and North Carolina can be easy, fun, and economical. There are many ski resorts to choose from within a few hours drive of Washington DC, Richmond, and other Southeastern cities. Yes, ski resorts in the Southeast are generally smaller than those you find in the West. However, they are still a delight for the entire family, especially tots enjoying their first experience in the snow. A smaller resort is more affordable, making them ideal for once-per-season ski trip families. Here are a several of the best ski resorts in the Southeast for kids listed roughly from north to south.
Best Ski Resorts in the Southeast for Families
West Virginia Ski Resorts – Best Ski Resorts in the Southeast
The slopes in the Mountain State are some of the most remote in the Southeast. Families who make the trek to these mountains are rewarded with some of the best snow in the region.
Canaan Valley Resort – Ski Resorts near DC – 3 Hour Drive from DC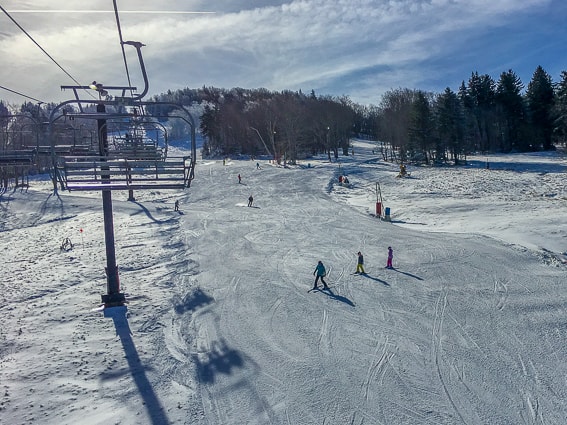 Photo by Melissa Moore
Canaan Valley Resort is actually part of a West Virginia state park. It's nestled in a beautiful valley surrounded by central West Virginia's Allegheny Mountains. It's only a three hour drive from Washington DC. The ski area features 47 trails and slopes. The Critters Crawl beginner area is serviced by its own magic carpet. Half day and full day ski school options are available at the ski area's Canaan Critter's Club where 5-8 year olds can learn how to ski. Youth ages 9-12 have the option to either ski or snowboard in the Mountain Adventure program. Families that find the thrills of downhill skiing a bit overwhelming can enjoy the area's numerous cross country and snowshoeing trails. No lessons are necessary for families to experience the thrills of snow tubing; at 1200 feet long, the tubing runs at Canaan Valley are the longest in the Mid-Atlantic.
Skiing Together with the Family at Canaan Valley
When my family arrived at Canaan Valley for a two day family getaway from Washington DC, the ski slopes and the trees were frosted over in a fine, glittery layer of new snow. Being deeper in the mountains, the Canaan Valley ski area has chillier temperatures and gets more snow than most Mid-Atlantic and Southeastern ski areas. My kids and I had so much fun together on the 1.25 mile long green Timber Run trail at Canaan Valley. It begins all the way at the top of the mountain, and is one of the longest green trails we've experienced in the region! The ski lodge at Canaan Valley is classic and no frills, but instructors at the ski school quickly won over my kids with their laid-back, casual and friendly demeanor. We love that Canaan Valley is a fun place to ski near DC.
Check out Trekaroo reviews of lodging at Canaan Valley Resort and all the activities available at Canaan Valley State Park.
Snowshoe Mountain Resort – West Virginia Ski Resort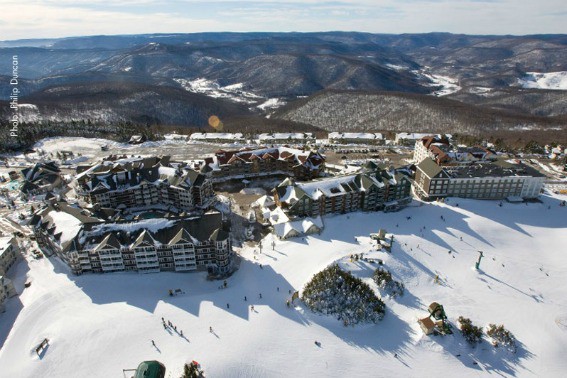 West Virginia is known as a premier adventure destination in the Southeast. Alongside its three impressive ski areas, Snowshoe Mountain Resort also offers snowmobile tours, the Coca-Cola Tube Park, and off-road adventure experiences. With its ideal location up high in the mountains, Snowshoe extends their Snow Guarantee. This guarantee promises more skiable terrain open than any other Southeastern ski area from mid-December to mid-March. It is certainly one of the best places to ski in the Southeast.
Sound like too much adventure for your family? There's plenty to do for the kids — even those who are not quite so adventurous. Kid's World Ski and Snowboard Lessons are available for children ages 4-12. These group lessons offer both morning and afternoon skiing opportunities to some of the youngest skiers. Off the slopes, there is an indoor play area full of fun inflatables for the kids to bounce on as well as an indoor swimming pool featuring a water slide. There is something for everyone at this ski resort in the Southeast.
Check out what other families have to say about Snowshoe Mountain Ski Resort
Maryland – Best Ski Resorts in the Southeast –
Ski Resorts near DC – 3 Hour Drive from DC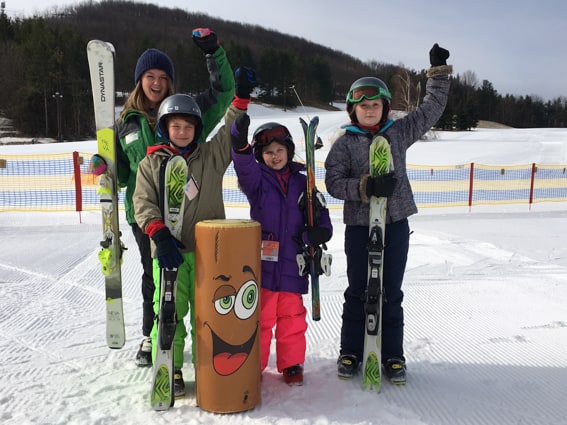 Photo Courtesy of Wisp Resort
Wisp Resort is Maryland's only ski area. Being only 20 miles from West Virginia, it's closer to Morgantown and Pittsburgh than Washington DC and Baltimore. Still it's only a three hour drive from Washington DC. The Lodge at Wisp has recently undergone renovations, and there is a beautiful view of Deep Creek Lake from the slopes. Wisp Kids offers full day and half day programs for children ages 3 -14 years old. Children ages 8 and up can participate in regular group lessons outside the kids' program. Wisp has a nice beginner's hill that my son and I enjoyed when we took our first ever snowboard lesson during Wisp's beginning of the season promotion for brand new skiers and snowboarders. It also has an adventure center featuring tubing, its mountain coaster, and ice skating during the winter months. Wisp is certainly one of the most convenient ski resorts near DC.
Ski Resorts in Virginia – Best Ski Resorts in the Southeast
With mountaintop ski resorts that are true vacation destinations in their own right, Virginia has many of the best ski resorts in the Southeast. It's one of the top places to combine skiing and relaxation in the South. Here are the best best ski resorts in Virginia for families
Massanutten Resort – Ski Resorts near DC – 2.5 Hours from Washington DC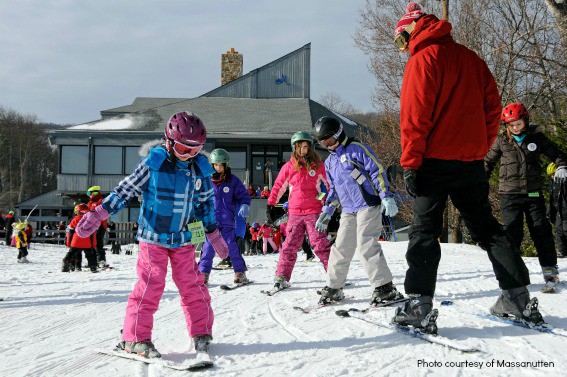 With a large waterpark featuring dozens of slides, Massanutten Resort is a favorite Mid-Atlantic family vacation destination in any season. It's best season might just be winter when its ski slopes and tube park are open for families to enjoy. Children ages 4-12 years can learn to ski with the Mountain Cruisers program. The program includes group instruction from 9:30AM-2PM, an 8-hour slope ticket, equipment rental and lunch. (There is also a snowboarding program for ages 7-12.) If your little ones, ages 4-6, would like to learn to snowboard, Massanutten now has a half-day Mountain Riders program too. Massanutten is a ski resort near DC. It is less than three hours from Washington DC and only two hours from Richmond. Thus, it is one of the easiest ski resorts in Virginia for families to reach by car.
Learning to Ski near DC at Massanutten Resort
Massanutten Resort will always be a special place for me. After several attempts at learning how to ski, it finally clicked for me on Massanutten's ski slopes. Alongside my children, I skied the resort's easy, beginner slope until I could confidently reach the bottom without fear of falling. Later we even skied some of the more challenging green slopes together as a family at this Virginia ski resort. I highly recommend the green slopes at Massanutten for families looking for the easiest possible beginning ski terrain in the Mid-Atlantic for their young skiers. It is a great place for beginners to go skiing skiing near DC.
For more information on planning a winter weekend getaway to Massanutten Resort, check out Trekaroo's complete guide to A Family Vacation at Massanutten Resort in the Shenandoah Valley.
Wintergreen Resort- Ski Resorts in Virginia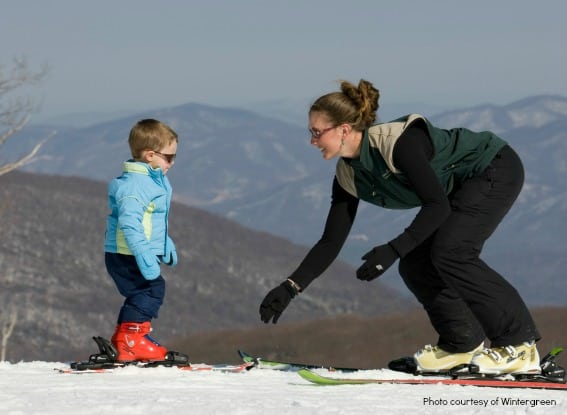 Wintergreen Resort just off the Blue Ridge Parkway in Virginia offers some of the best mountaintop views of any Virginia ski resort. It is also known for its children's programs. The Treehouse Kids Club offers a variety of ski school programs for children ages 4 and up. Childcare and snow play options are also available for tots and younger children not ready for the slopes at this Virginia ski resort. At ages 4 and 5 my kids tried out skiing for the very first time at Wintergreen Resort's Ridgely's Ripper's beginner program for ages 4-12. Every winter since, they've been excited to get back out on slopes to ski.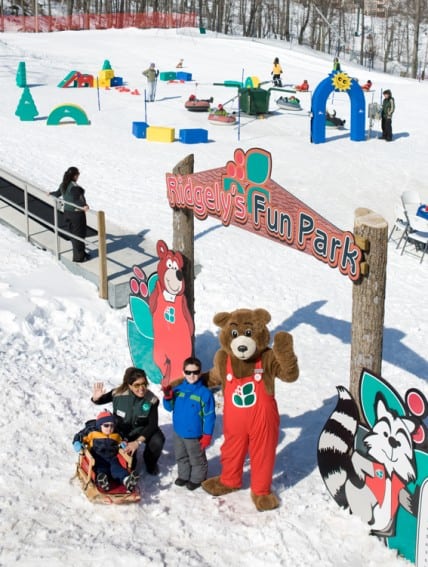 Photo Courtesy of Wintergreen Resort
Ridgely's Fun Park
Wintergreen Resort also offers snow tubing both for young children at Ridgely's Fun Park and anyone over 42 inches at The Plunge, Virginia's largest snow tubing park. Sessions at The Plunge are 90 minutes and should be reserved in advance due to popularity. Ridgely's Fun Park has its own miniature tubing hill with a magic carpet so little ones don't have to pull their tubes to the top of the hill. There's also a mini-tubing carousel, bear paw snow shoes, tunnels, and fun toys to enjoy. There are generally one hour sessions available on weekends and holidays.
Read kid friendly tips for Wintergreen Resort
Omni Homestead Resort – Ski Resorts in Virginia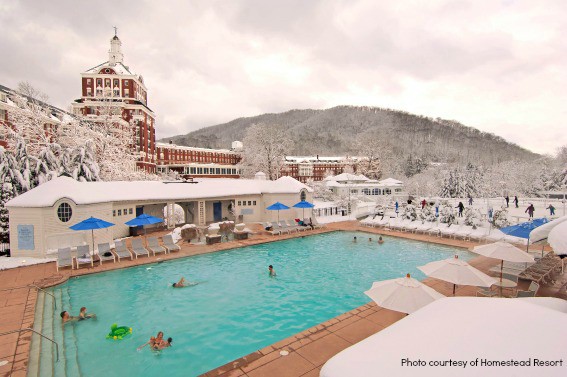 Trekaroo families have found that the Omni Homstead Resort, a luxury resort in Hot Springs, Virginia, is far from stuffy and is perfect for a family getaway. In the wintertime, families love both the resort's heated pool and the ski slopes. The resort's Little Penguins Program provides the perfect introduction to skiing for ages 5-11. Ages four and up can also learn to ski at the Sepp Kober Ski School. Together the family can ski or snowboard at this Virginia ski resort.
If you are not really a skier or you just need a break then try ice skating, the Penguin Slides tubing park, or mini snowmobiles for ages 6-12. Do not forget: you're in Hot Springs, Virginia. Two major springs flow into the Homestead Resort property. Adventurous families will take a dip in the two-acre outdoor pool, open year round. The indoor Jefferson Pools are open to families in the morning hours. Built in 1761, this is where Thomas Jefferson found respite during his 22-day visit to the property, calling them the best in America.
Read full reviews of Trekaroo families who have visited this Virginia ski resort at Homestead Resort
North Carolina Ski Resorts for Families
These North Carolina ski resorts are where Southerners from nearby Georgia and Tennessee often have their very first ski experience up in the familiar Blue Ridge Mountains. These are the most southern of the best ski resorts in Southeast.
Beech Mountain Resort – North Carolina Ski Resorts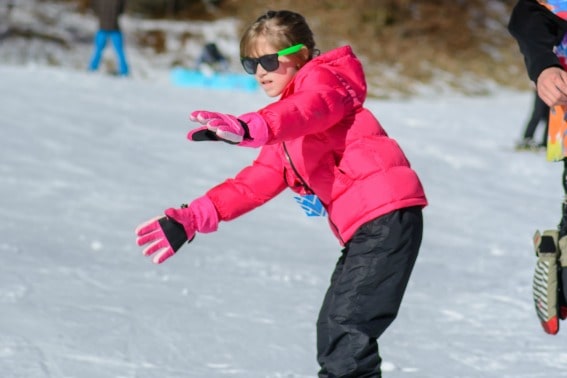 Photo by Jordyn Coffin
Beech Mountain Ski Resort is the highest elevation North Carolina ski resort. This ski resort is a favorite with Trekaroo families in Georgia and Tennessee. That's because it's often where they strapped on their first pair of skis. The ski school offers both private lessons and group lessons for children. Children ages 3-8 can participate in private lessons while children ages 8 and up can participate in group lessons. There is also a nursery available for little ones ages 6 months to 3 years old.
This North Carolina ski resort is nestled in the town of Beech Mountain with plenty of activities for kids. After tackling the skiing and ice-skating up at the resort, families can head 10 minutes back into town to the popular sledding hill built exclusively for kids ages 12 and under. Children from all around the Southeast rent sleds to enjoy the thrill of sliding down the hill.
Read all the details of a Trekaroo writer's North Carolina ski resort experience in Winter Fun in Beech Mountain, NC.
Sugar Mountain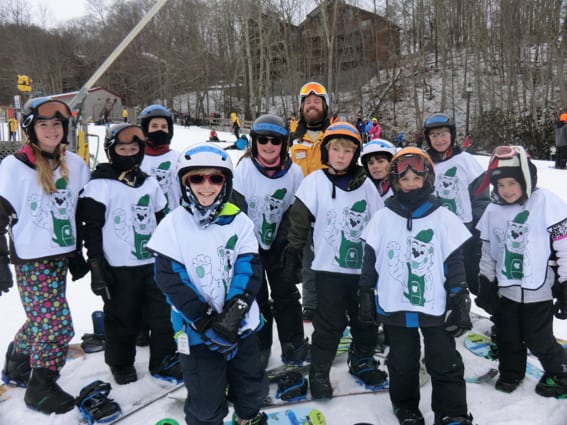 Photo Courtesy of Sugar Mountain and www.bushphot.com
With cute bear mascots, Sugar Mountain is a fun place for families to teach their children to ski at a North Carolina ski resort. The Sugar Bear Ski School is open to children ages 5-10. However, those underage tots wanting to try out the slopes are eligible for free lift ticket so they can join their parents on the slopes. Children over age 7 that are interested in snowboarding can enroll in the Polar Bear Snow Board School.
Sugar Mountain also offers tubing for ages three and up, and preschoolers (ages 3-4) can even participate for free! (Though all young thrill-seekers age 6 and under must ride with an adult.) The 700 foot long runs are often open twelve hours a day from 10AM-10PM.
Cataloochee Ski Area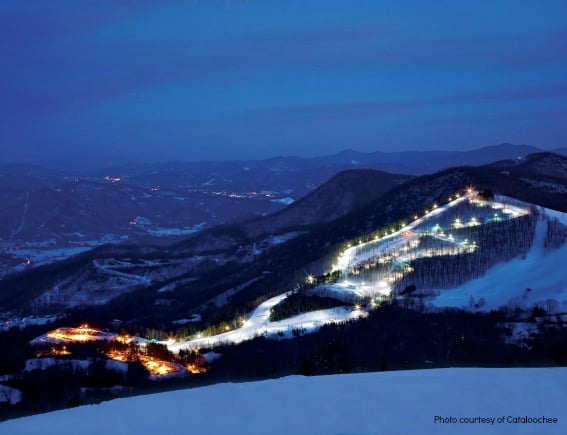 The Cataloochee Ski Area is the most southern North Carolina ski resort on this list. It is the closest to both Atlanta and Chattanooga. The Cataloochee Kidz Ski & Ride Center provides ski and snowboard instruction for kids ages 4-12; full day and half day programs are available. Just down the hill in Maggie Valley is Tube World. This snow tubing hill provides six lanes of fun for the family.
If you're looking for more information on North Carolina ski resorts, check out our list of Family Skiing and Snow Tubing in North Carolina.
Disclosure: In many cases, Trekaroo writers, including the author, have received complimentary lift tickets, lessons and lodging at some of these ski resorts. All opinions are our own.
Many Thanks to Lesli Peterson from 365 Atlanta Family who wrote the original version of this article.
Related:
Learn about key kid-friendly programming you want at the ski resort of your choice!
Get tips and tricks for saving money on dining during your next ski vacation at the best North Carolina ski resorts!
Check out Tennessee's only ski resort, Ober Gatlinburg.
Want to catch up on additional Trekaroo ski content? Start here with an abundance of skiing and snow-vacation blog posts, or learn about top family-friendly US ski resorts from last year's Ski Week!
Lead image by: Shutterstock/Gorilla-images
SaveSave
SaveSave
SaveSaveSaveSave
SaveSave
SaveSave
SaveSave
SaveSave
SaveSave
SaveSave
SaveSave
SaveSave
SaveSave
SaveSave