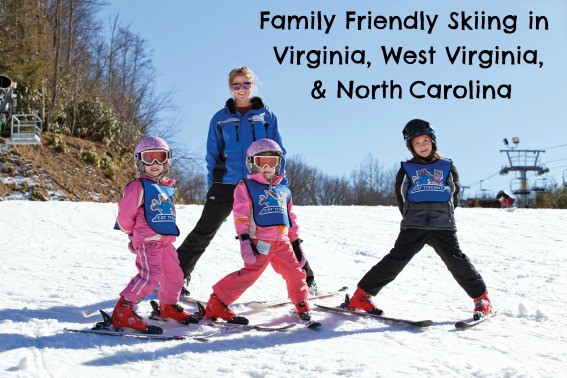 Skiing with the family in Virginia, West Virginia, and North Carolina is easy, fun, and economical. Southeastern ski resorts are smaller than those you find on the west coast, but they are still a delight for the entire family. A smaller resort is more affordable, making them ideal for once-per-season ski trip families. Here are a few of our favorite family friendly ski destinations in the southeast, roughly from north to south.
Virginia and West Virginia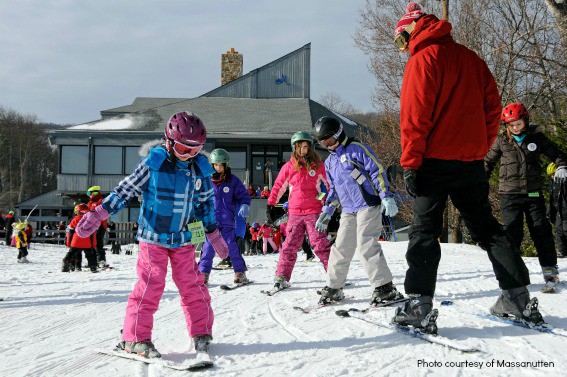 Massanutten Ski Resort
Massanutten sits on 6,000 acres in Harrisonburg, Va. The indoor/outdoor water park creates a kid-friendly atmosphere year round. The Resort's KidsClub keeps younger children busy 365 days a year with different programming themes running each day. If your kiddos are looking to hit the slopes, consider a lesson with the Slope Sliders Children's Program. Does the family need a rest from skiing? Try a spin on the 900-foot long snow tubing hill or outdoor ice-skating rink.
Read full reviews of Massanutten Ski Resort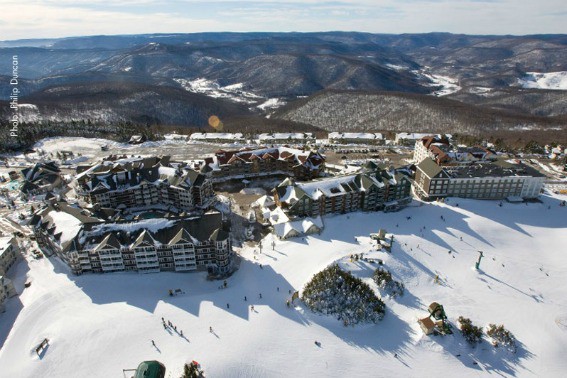 Snowshoe Mountain Ski Resort
This West Virginia resort is arguably the most popular family ski resort in the Southeast. They boast three ski areas within one park, including the family-friendly Silver Creek area. Here you will find Kid's World, ski school, a tube park, and a slope side restaurant for viewing the action while taking a breather.
Snowshoe introduces their new Terrain Based Learning teaching methodology in the 2013 season. This new way of teaching, united with park-like learning stations, stands to maximize a positive experience for kids (and parents) new to the sport.
Ski-in/ski-out condos outfit families for an ideal experience. Combine this with the Teen Center (new this year), swimming pools and water slides, a climbing wall, snowmobile tours, an arcade with inflatables, and the nighttime snow cat tour. This year marks their 40th anniversary; be sure to check the website for anniversary deals.
Check out what other families have to say about Snowshoe Mountain Ski Resort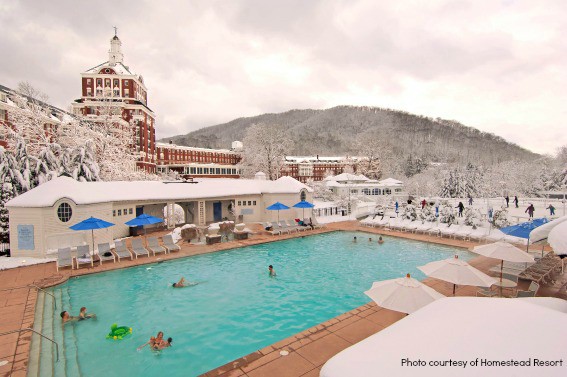 Homestead Resort
This luxury resort in Hot Springs, Virginia is far from stuffy and is perfect for the family. Kids who need a break from their parents will enjoy the Little Penguins Program at Homestead. They spend the day building snowmen, sledding, and reveling in other fun activities. Ready to hit the slopes? Kiddos can take lessons through the Bunny School Program; Mom and Dad can learn through the Sepp Kober Ski School – the first like it in the Southeast. Together the family can ski or snowboard.
If you are not really a skier or you just need a break then try ice skating, snow tubing, or taking a tour on the snow mobile. Do not forget: you're in Hot Springs, Virginia. Two major springs flow into the Homestead Resort property. Adventurous families will take a dip in the two-acre outdoor pool, open year round. The indoor Jefferson Pools are open to families in the morning hours. Built in 1761, this is where Thomas Jefferson found respite during his 22-day visit to the property, calling them the best in America.
Explore Homestead Resort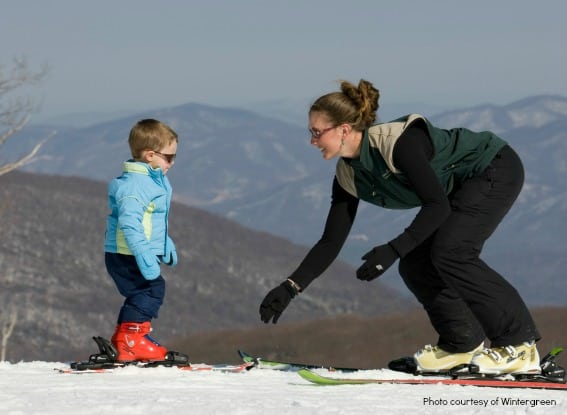 Wintergreen Resort
Wintergreen Resort in Virginia offers a number of kid-friendly programs. The Treehouse includes a ski program where kids 4 – 14-years-old can learn to ski; kids age seven and up can indulge in snowboard lessons, too. A childcare program rotates daily activities, with full and half-day options. With Mom or Dad, kids can play at Ridgely's Fun Park. Tubing, snowshoes, and tunnels will keep them busy for the hour-long session, then find the tee-pee for s'mores and hot cocoa. For the whole family, try outdoor ice-skating or a 900-foot, 10-lane mega snow tubing hill.  Fifth and sixth graders can sign up for free lift tickets.
Read kid friendly tips for Wintergreen Resort
North Carolina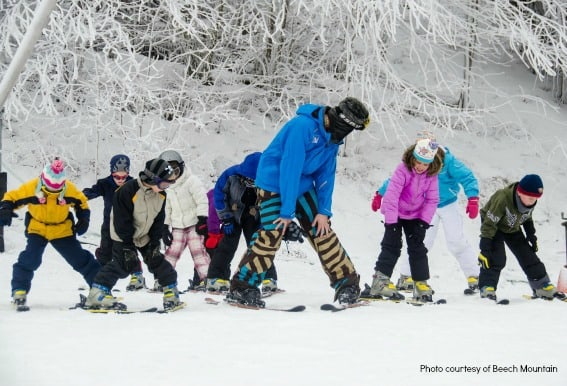 Beech Mountain Resort
Beech Mountain Ski Resort in North Carolina offers a great ski school for kids; this is where my preschooler strapped on his first skis. By the end of the lesson he had mastered the J-bar and had a ball manipulating the terrain in the beginner area. The babysitting facility we used for our then 4-month-old was top-notch. The staff handled him with gentle care, even carrying him in an Ergo-carrier while he was awake.
The ski resort is nestled in the town of Beech Mountain with plenty of activities for kids. After tackling the skiing and ice-skating at the resort, head 10 minutes into town to the sledding hill built exclusively for kids. Across the street is Pinnacle Inn; these condos provide family friendly accommodations only minutes from the resort, including full kitchens and an indoor heated pool.
Sugar Mountain is only a 15-minute drive; another 15 minutes will get you to Hawksnest Snow Tubing Resort. Hawksnest is the largest snow tubing park on the East Coast.  It is also the longest zip-line on the east coast. Kids 5 and older can zip line right over their snow tubing friends.
Explore Beech Mountain Resort and Sugar Mountain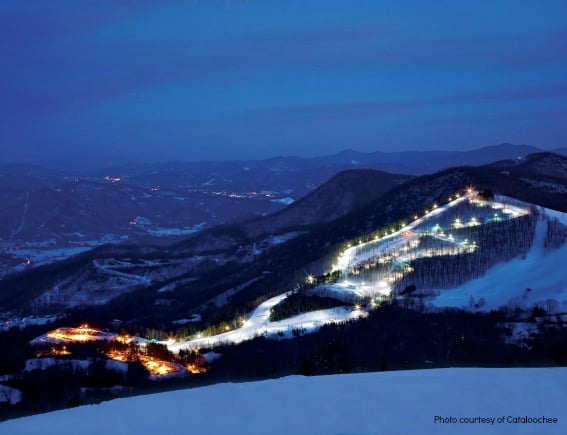 Cataloochee Ski Area
North Carolina's Cataloochee Ski Area is one of the first areas in the region to open each year. The Children's Learning Center provides ski and snowboard instruction for the kids, as well as a variety of terrain on which to practice. Skiers renting equipment receive a free beginner lesson Monday – Thursdays, and beginning January 8th, 2014, kids under 17 receive a free lift ticket with the purchase of an adult ticket. See the website for more about their Kids Ski and Stay Free programs. Just down the hill in Maggie Valley is Tube World. This snow tubing hill provides six lanes of fun for the family.
Get the scoop on Cataloochee Ski Area
If you're looking for more opportunities in North Carolina, check out our list on Family Skiing and Snow Tubing in North Carolina. 

Want to catch up on additional Trekaroo ski content? Start here with an abundance of skiing and snow-vacation blog posts, or learn about top family-friendly US ski resorts from last year's Ski Week!
Comments
comments