Tucked up in the northwest corner of the Lower 48, there are tons of fun things to do in Washington State with kids. From the largest city in the Pacific Northwest, Seattle, to the remote reaches of the Olympic Peninsula, we can't help but fall in love with the Evergreen State.
Don't know what to do in Washington State? We do! Here are our picks for fun things to do in Washington State, from the mountains to the sea and the big cities in between.
Visit Washington and book your hotel here!
The Best Things to do in Washington State with Kids
Take a Journey on a Boat to Explore Fun New Places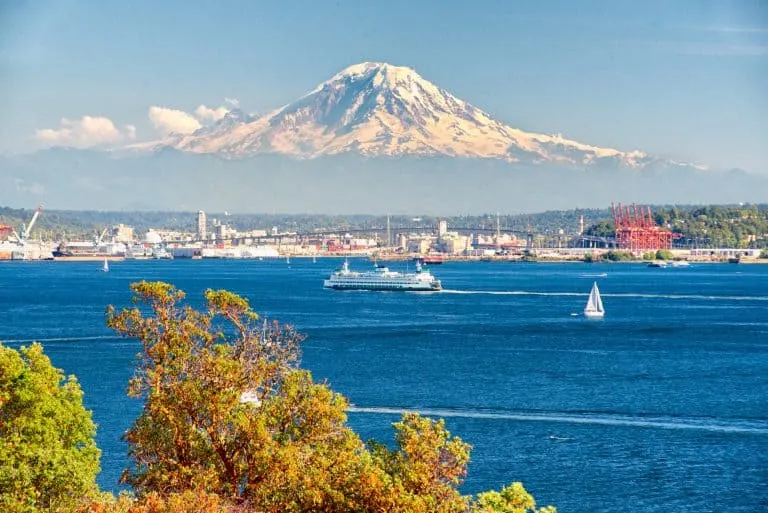 Washington State boasts the nation's largest ferry system. The ferry serves as a great way to travel around the Puget Sound region. Ferries will take you out of your ordinary day and deliver you to something spectacular. Your family will enjoy both the journey and the destination in the Puget Sound.
Bainbridge Island
The main street of Bainbridge Island, Winslow Way, is lined with shops, galleries, cafes, and restaurants. Eat delicious food and stroll along the waterfront on Bainbridge Island. Learn about the history of the navy at a free and family-friendly museum in Bremerton.
Bainbridge Island has several waterfront parks, including Waterfront Park and Fay Bainbridge Park. Take a walk along the shoreline, have a picnic, or simply relax and enjoy the scenic views.
You can also explore the trails of the Grand Forest, a network of interconnected trails that wind through lush forests and offer beautiful nature views. Or enjoy the coastline by renting a kayak or paddleboard.
Bloedel Reserve is a 150-acre public garden features beautifully landscaped gardens, meadows, ponds, and forests.
Whidbey Island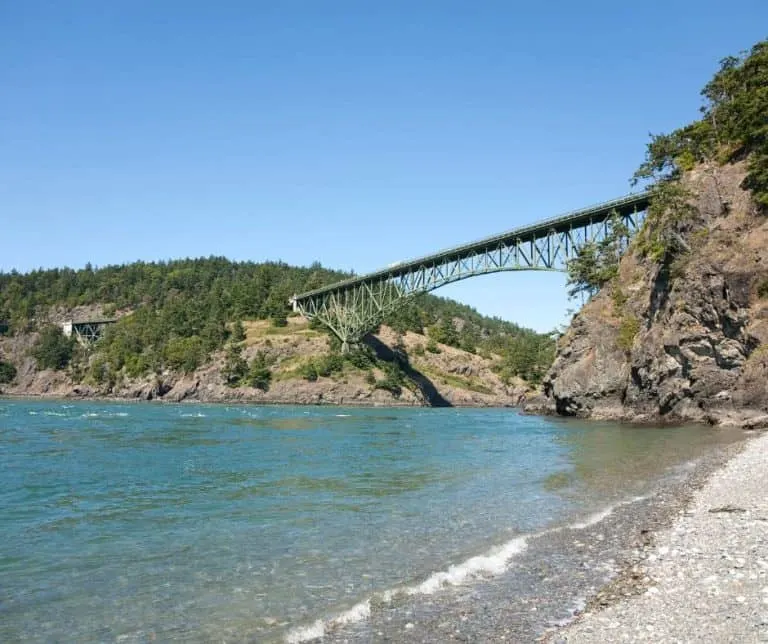 On Whidbey Island, take in breathtaking scenery on one of the island's hiking trails. Deception Pass State Park has trails that wind through old-growth forests. You can enjoy picnicking, camping, and the panoramic views of the surrounding water and cliffs.
You will also want to visit Ebey's Landing, a National Historical Reserve. Hike the scenic trails, visit historic farms, and enjoy breathtaking views of the coast.
Stroll along the charming waterfront of Coupeville, a historic town known for its well-preserved Victorian buildings. Browse local shops, art galleries, and enjoy fresh seafood at waterfront restaurants.
We prefer to stay in vacation homes when visiting Puget Sound's islands. You can find a great vacation home on Whidbey Island on VRBO.
Whale Watching from a Ferry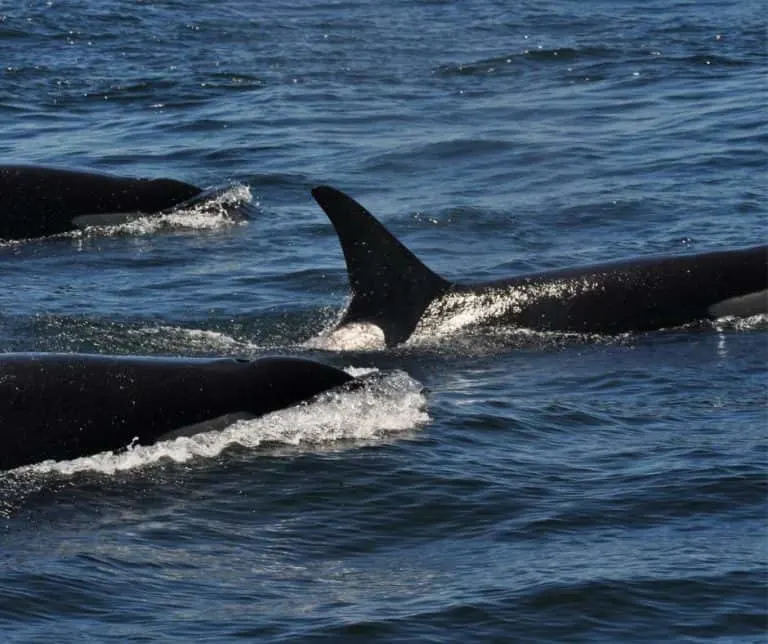 If you're interested in catching a glimpse of a whale, board a Clipper vessel in Seattle out of Pier 69 to head out for a whale-watching adventure. Clipper Fleet is a passenger ferry service that operates between Seattle, Washington, and Victoria, British Columbia. They offer whale watching tours as part of their itinerary, providing passengers with a chance to see whales and other marine wildlife like seals, sea lions, and dolphins.
Clipper vessels are designed for passenger comfort and safety. They offer spacious viewing decks, indoor seating areas, and onboard amenities such as restrooms, food service, and onboard naturalist presentations.
San Juan Islands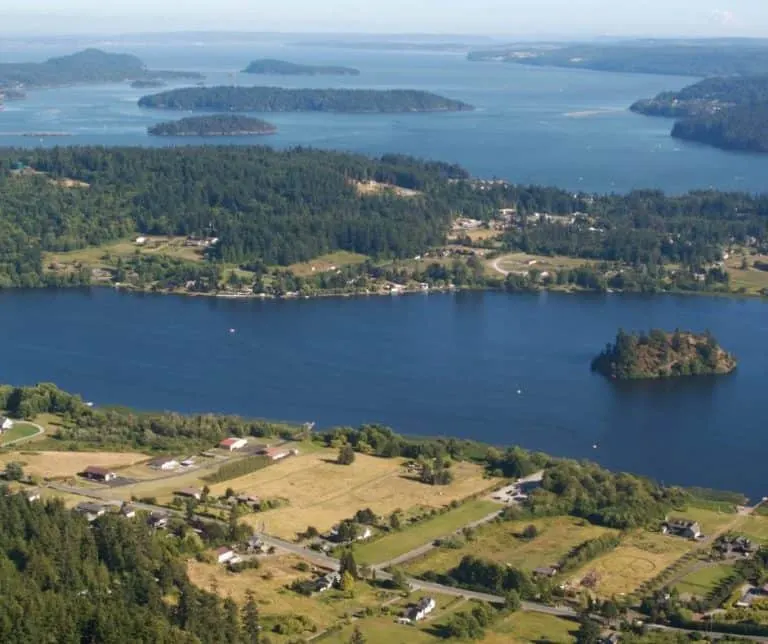 If you are seeking adventure, head to the San Juan Islands and kayak alongside a resident pod of orcas! Join a guided whale watching tour and and spot orcas, humpback whales, dolphins, seals, and sea lions in their natural habitat.
If you would rather stick to land, head to Lime Kiln Point State Park, aka: "Whale Watch Park". Visitors often spot whales from the shoreline. There are also picnic areas, hiking trails, and a historic lime kiln to enjoy.
San Juan Island National Historical Park preserves sites related to the Pig War of 1859. The Pig War was between the United States and the United Kingdom over the border between British land (now Canada)and the US in the San Juan Islands. Take guided tours, explore historic structures, and enjoy the natural beauty of the park.
The main town on San Juan Island, Friday Harbor, is a charming waterfront community. Stroll through its streets, browse local shops, dine at waterfront restaurants, and visit art galleries and museums. The San Juan Islands have a thriving farm-to-table culinary scene and they are a great place to visit local farms, and restaurants to savor fresh seafood, organic produce, and locally crafted beverages.
You can also take the ferry to Orcas Island, the largest of the San Juan Islands. Explore Moran State Park, hike up Mount Constitution for panoramic views of the Puget Sound, and visit charming villages like Eastsound.
Find the perfect vacation home for your stay in San Juan Islands.
Take a Ferry to a Remote Central Washington Town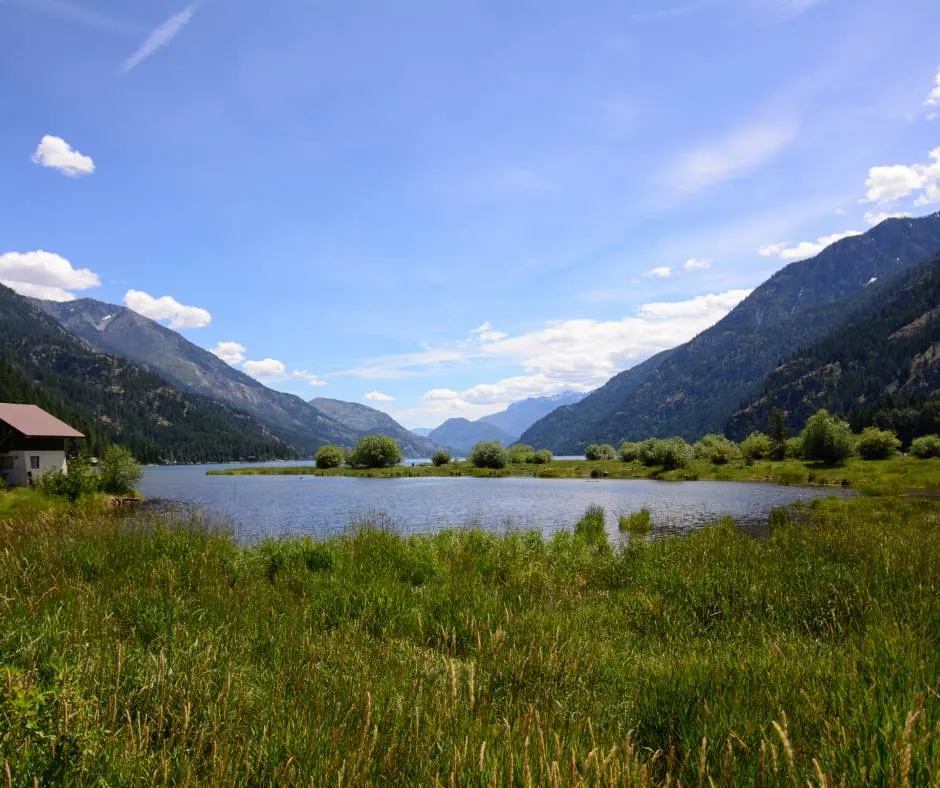 Exciting ferry adventures aren't just found in the Puget Sound. In Central Washington, ride the Lady of the Lake boat down the length of gorgeous Lake Chelan to the tiny town of Stehekin, just south of North Cascades National Park.
Lake Chelan is a 50.5-mile-long lake that is actually the third-deepest in the United States! The lake offers numerous recreational opportunities, such as boating, fishing, kayaking, and swimming and you will see numerous vacation homes along its shores.
Stehekin is only accessible by boat or float plane, and is full of outdoor adventures that any family will love. The Stehekin Bakery is a must-visit spot in town known for its delicious baked goods which are great for breakfast or dessert!
A few miles from Stehekin, Rainbow Falls is a 312-foot waterfall that cascades down rugged cliffs. The falls can be reached by hiking or biking along the Stehekin Valley Road. There are several more amazing hikes that originate in this area and lead you into the alpine wonderland that is North Cascades National Park.
Celebrate Salmon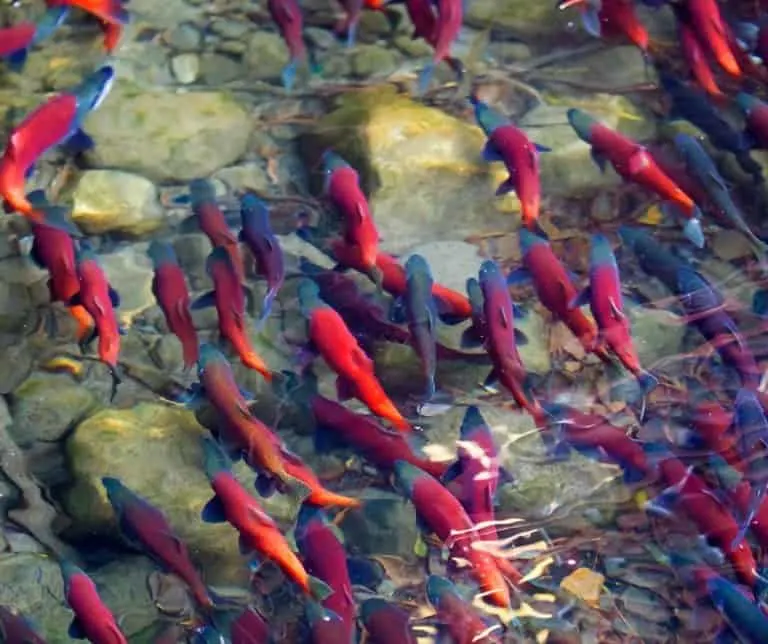 Washington State is home to five species of Pacific Salmon as well as steelhead and cutthroat trout. These big fish spawn and rear in local streams and rivers. They migrate to the sea to feed and grow. Then, they return home to the very same stream in which they were born! Most species spawn in the fall, making it the best time to go salmon-viewing.
Issaquah Salmon Hatchery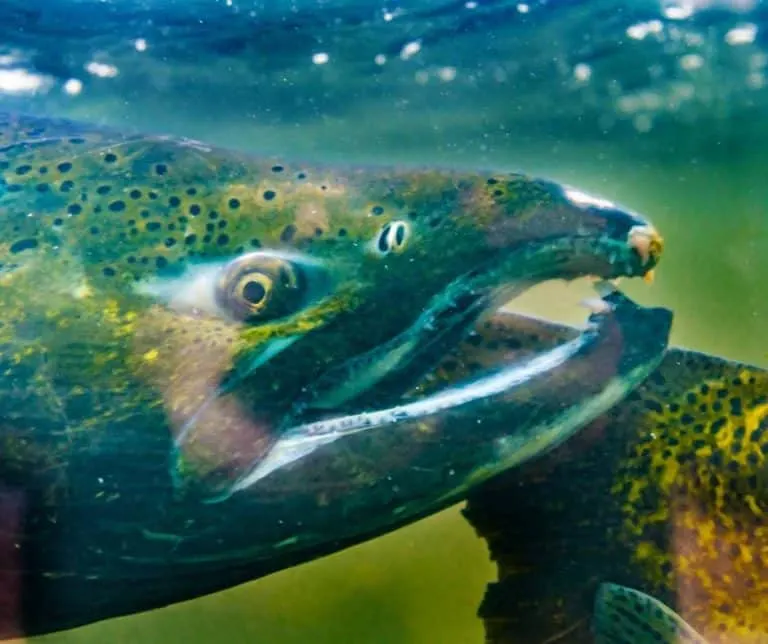 One of the classic things to do in Washington State on a family vacation is visit a salmon hatchery. At the Issaquah Salmon Hatchery you'll get a close up view as salmon cram and leap their way up a fish ladder into the hatchery. Depending on the time of year, you can observe different species of salmon, including Chinook, coho, sockeye, and steelhead.
The hatchery has viewing windows and an underwater fish ladder that allows visitors to witness the fish as they swim upstream to spawn.
The hatchery also serves as an educational facility where visitors can learn about the lifecycle of salmon, their importance to the ecosystem, and the challenges they face in their journey from freshwater to the ocean and back.
Cedar River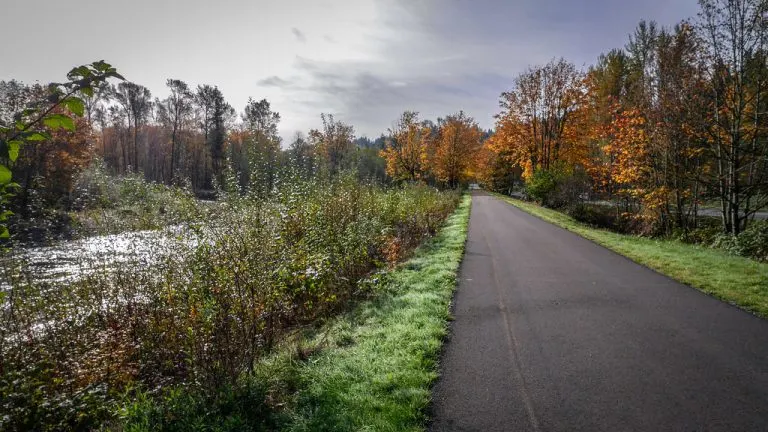 To see salmon spawning in the wild, head to the Cedar River. It originates in the Cascade Range and flows through King County, eventually joining Lake Washington which is located near Seattle.
The Cedar River plays a crucial role in the lifecycle of several species of salmon. It provides spawning grounds and rearing habitat for Chinook (king), coho, sockeye, pink, and chum salmon. The river's cool, clean waters and gravel beds offer ideal conditions for salmon reproduction.
During peak season, visit information booths at prime salmon viewing locations, or bike along the Cedar River Trail to spy salmon on your own. The Cedar River Trail runs along the banks of the river for approximately 17 miles. The Cedar River Salmon Journey program offers guided tours and educational activities for visitors to observe and learn about the salmon's lifecycle and conservation efforts.
Ballard Locks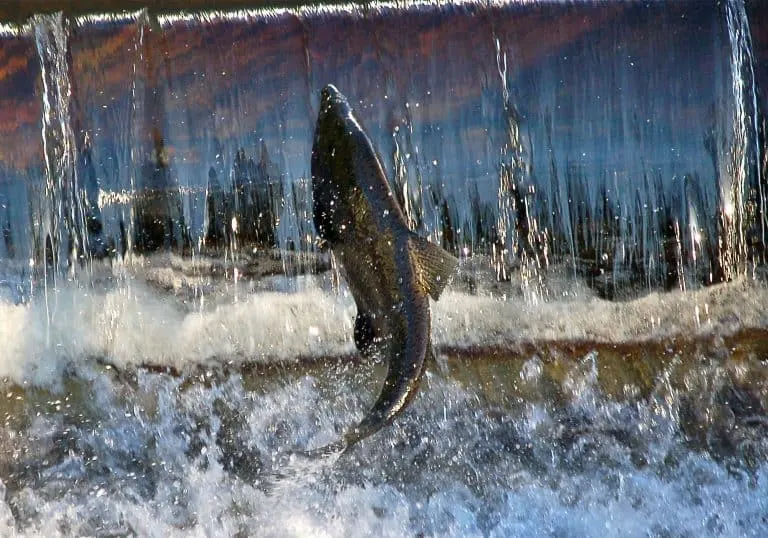 The Ballard Locks in Seattle play a crucial role in maintaining the water levels of the Lake Washington Ship Canal and connecting the freshwaters of Lake Union and Lake Washington to the saltwater of the Puget Sound.
Salmon use the locks as they journey between the saltwater of the Puget Sound and the freshwater of Lake Washington and its tributaries. The locks provide a passage for the salmon to navigate the change in water levels and reach their spawning grounds upstream.
To facilitate the migration of salmon, the Ballard Locks has a fish ladder. The ladder consists of a series of interconnected pools and weirs that allow salmon to swim and jump their way upstream. It provides a bypass route around the locks, ensuring that salmon can continue their journey without hindrance.
You can get a great view of adult salmon migrating upstream through underground viewing windows. From the path, you can sometimes even glimpse a fish leaping all the way out of the water or a sea lion waiting for dinner!
Pike Place Market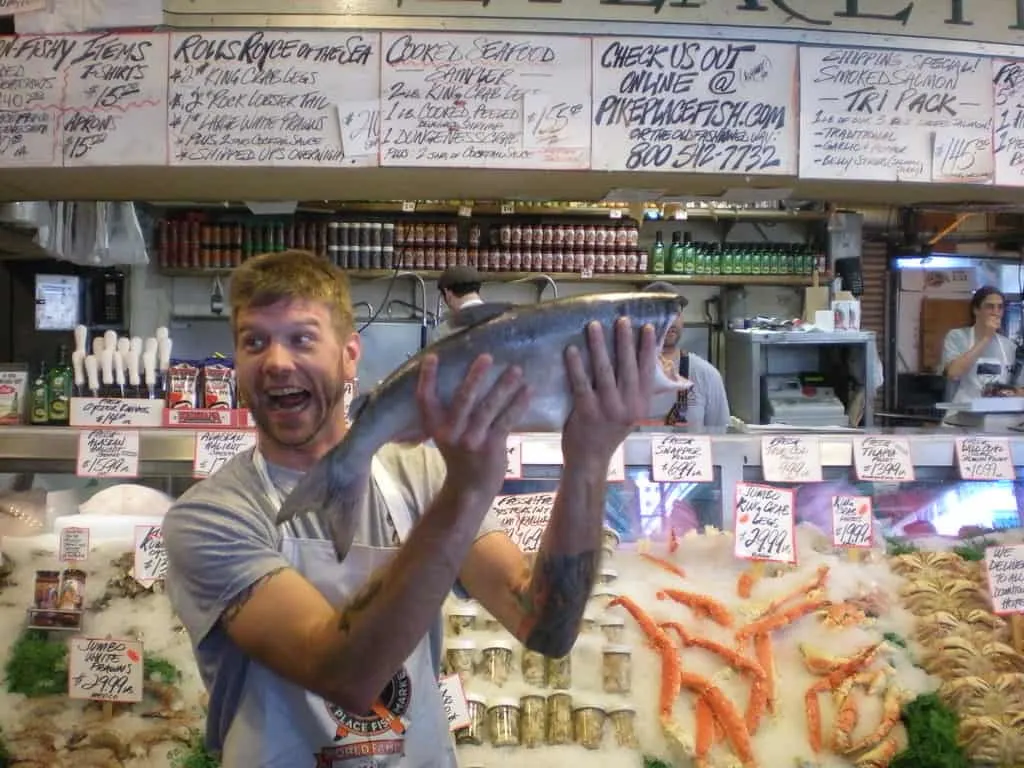 For year-round no-fail salmon viewing, visit Seattle's Pike Place Market to view whole fish of every species displayed on ice. If your timing is right, you might even see a flying fish as fish mongers torpedo-toss salmon through the air while the crowd cheers in approval of every slippery catch.
Fruit! Flowers! Fun!
Do your kids think that fruit grows in the grocery store? Opportunities abound in Washington to get your family outside and learning about agriculture.
Skagit Valley Tulip Festival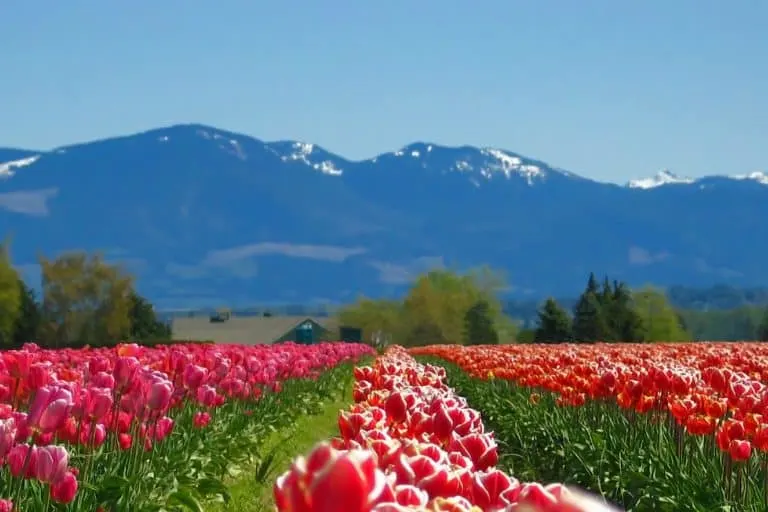 Do your kids think that fruit grows in the grocery store? Opportunities abound in Washington to get your family outside and learning about agriculture.
During April, head to the amazing Skagit Valley Tulip Festival, where gorgeous flowers and Instagram-worthy photo opportunities are everywhere you look.
The highlight of the festival is the vast fields of tulips that blanket the Skagit Valley. Acres upon acres of colorful tulips create a spectacular sight, with rows of tulips in various shades and varieties. Visitors can walk or drive along designated routes to explore the fields and admire the vibrant blooms.
In addition to the tulip fields, the festival also features several display gardens where tulips are arranged in beautiful designs and patterns. These gardens showcase different tulip varieties and offer a more curated and artistic experience for visitors. There are also art shows, live music performances, parades, and a variety of food vendors.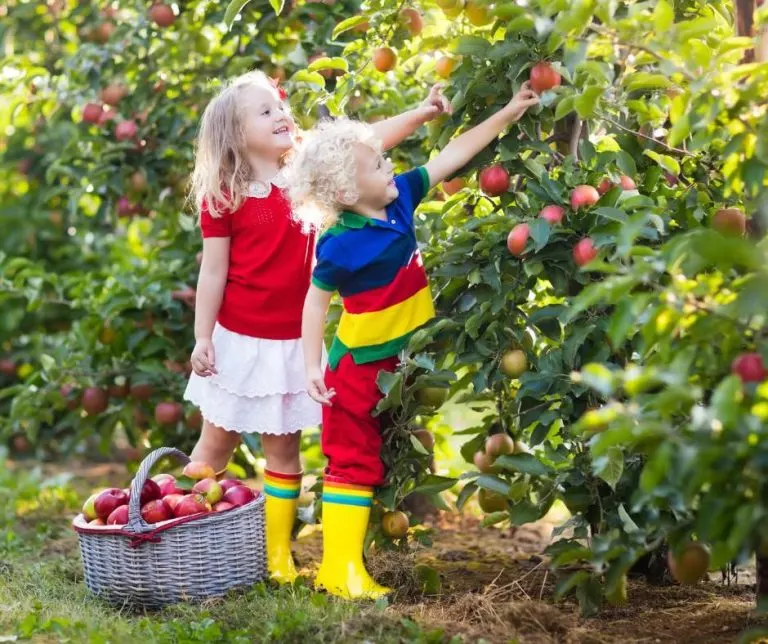 In the summer, how about picking apples at local orchards?
In central Washington, the Wenatchee Valley is often referred to as the "Apple Capital of the World." The area is home to orchards where you can pick a variety of apples, including Honeycrisp, Gala, Fuji, and more.
The Yakima Valley is another major apple-growing region with a variety of orchards for apple picking. The valley's fertile soil and sunny climate make it an ideal location for growing Granny Smith, Red Delicious, Golden Delicious, and many other apple varieties.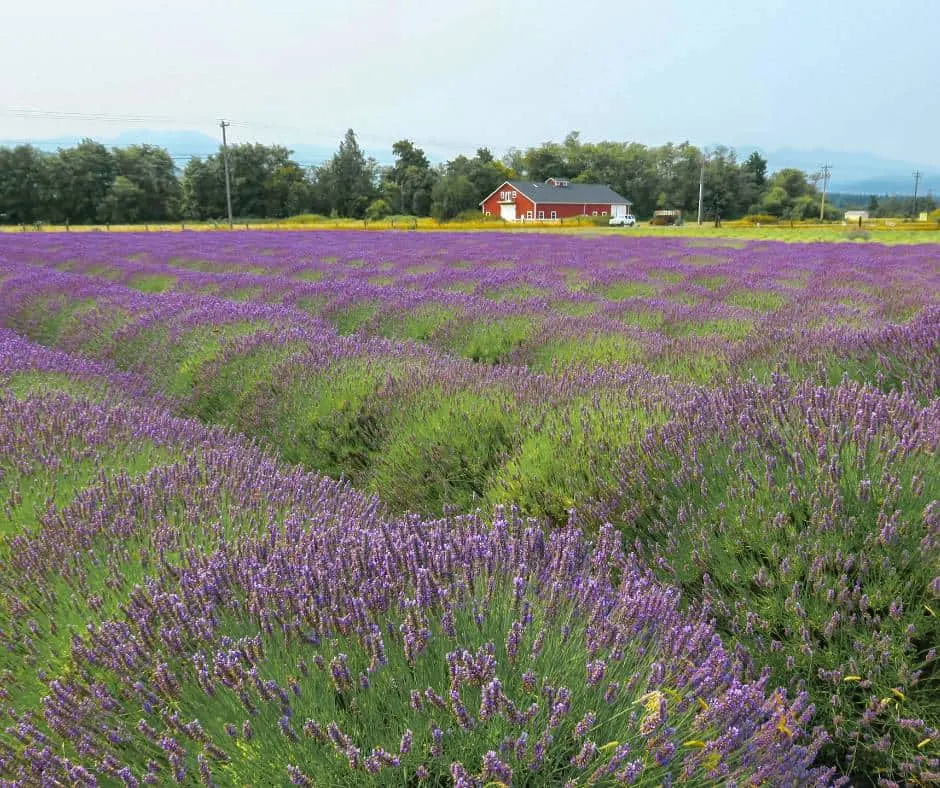 If you're a fan of beautiful, fragrant fields of lavender, be sure not to miss the Lavender Festival in sunny Sequim, not far from Port Angeles on the Olympic Peninsula. Sequim is the "Lavender Capital of North America" due to its ideal climate and fertile soil for growing lavender.
The Sequim Lavender Festival typically takes place over the course of a weekend in July. During the festival, several lavender farms open their doors to the public, including Purple Haze Lavender Farm, Olympic Lavender Farm, and Jardin du Soleil Lavender Farm.
There are also demonstrations and workshops related to lavender including lavender distillation demonstrations, wreath-making workshops, cooking demonstrations featuring lavender-infused recipes, and lavender painting classes.
Family-Friendly Wineries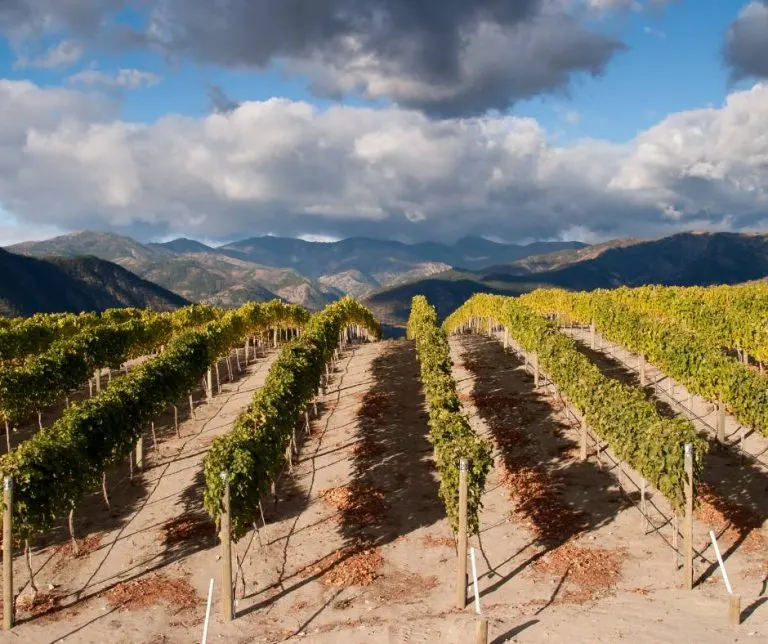 The state of Washington is also home to scads of wineries, which offer beautiful grounds for kids to play and tasting rooms for the grown-ups! There are lots to choose form but here are a couple of our favorites:
Chateau Ste. Michelle in Richland is one of the state's most renowned wineries they have picnic areas, expansive lawns, and even offer summer concerts, making it a great spot for families to relax and enjoy their wines.
Barnard Griffin Winery in Richland is known for its family-friendly atmosphere. They have a spacious patio area where you can enjoy wine tastings, and they also offer non-alcoholic beverages and snacks for kids.
Waterbrook Winery in Walla Walla is a family-friendly winery with a beautiful outdoor space. They have picnic tables, lawn games, and even a playground for children.
Want to spend even more time learning about farm life? Consider a farm stay or a farm tour.
Go East!
Beyond the Cascade Mountains, Eastern Washington is a sunny playground waiting to be explored.
Winthrop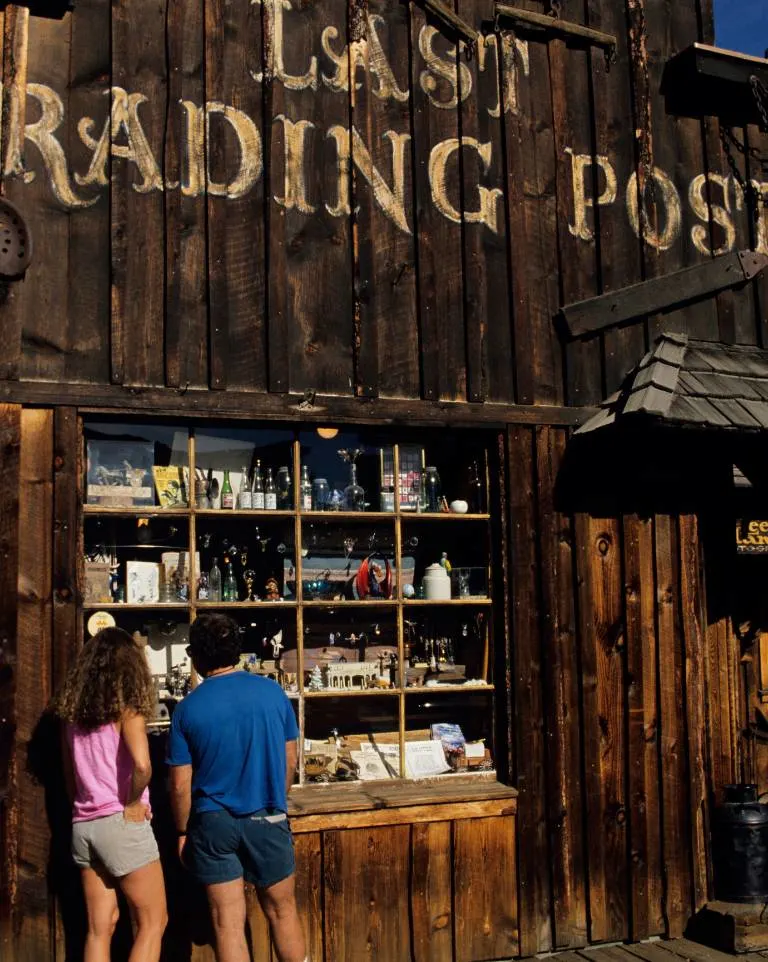 Visit the wild-west town of Winthrop where kids can enjoy ice cream outside on bar stools hitched with real horse saddles! Take a stroll through the town's Western-style wooden boardwalks and buildings. Enjoy the authentic Old West charm with shops, galleries, and restaurants that capture the spirit of the Wild West.
On Memorial Day and Labor Day weekends, don't miss the local rodeo! This event is sure to keep all kids riveted to the grassy spectator's hill. The kids will also love participating in the stick horse race or the chicken catch.
Winthrop also serves as a gateway to North Cascades National Park. Visit in the summer to make the most out of this outdoor playground.
Leavenworth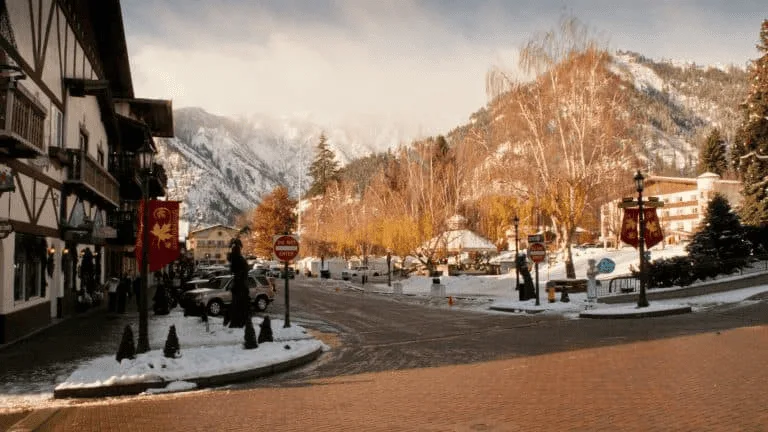 Further south is Leavenworth, a Bavarian village boasting summer art fairs, liederhosen-clad musicians, in-town goats, a putting course, and Bavarian-themed miniature golf. In the summer, Leavenworth is a great place for whitewater excursions on the Wenatchee River.
In fall, Leavenworth hosts OktoberFest, a family-friendly festival featuring good food, beer, and music. Check out the late September Prosser Balloon Rally in the town of Prosser.
Enjoy a local craft fair by day, Nite Glow (anchored balloons lit from inside) just after dusk on Saturday night, and sunrise balloon launches every morning. Spectacular!
Spokane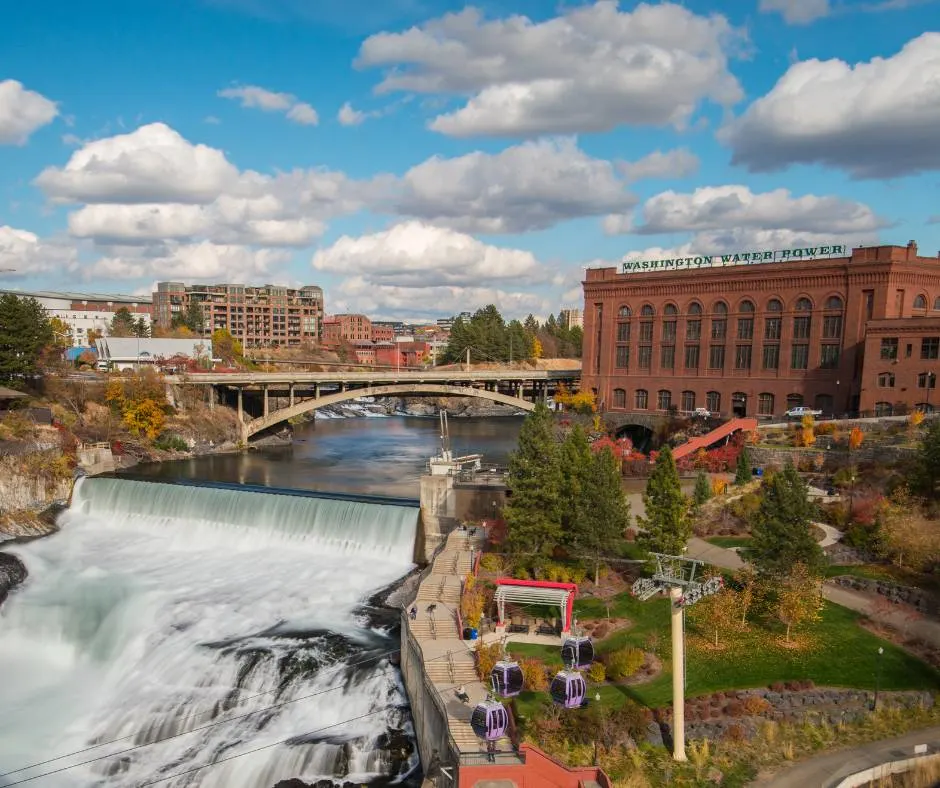 Riverfront Park is a beautiful urban park with numerous attractions for families. Enjoy a ride on the vintage Looff Carrousel, take a leisurely stroll along the Spokane Falls, or let the kids play in the Rotary Fountain during the warmer months. You can also ride past the Spokane Falls in SkyRide, voted one of the top 12 scenic cable rides in the world!
After, enjoy a kid-friendly afternoon of miniature golf and riding amusement rides in Riverfront Park.
Explore the Diversity of the Olympic Peninsula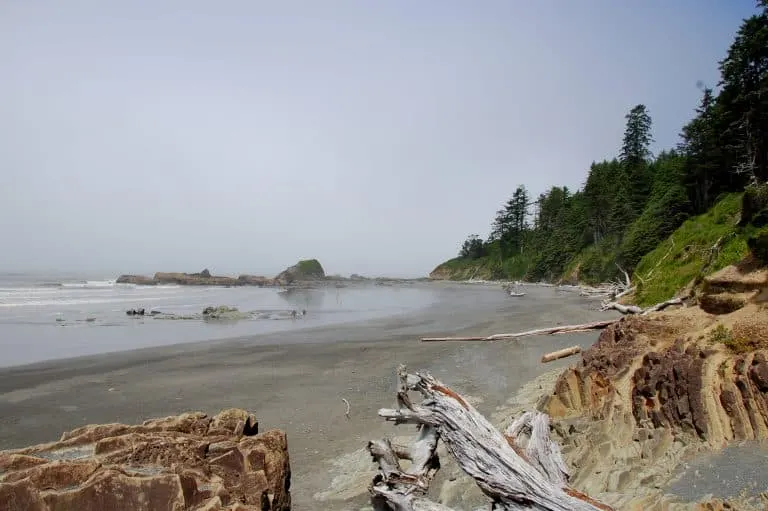 One of the jewels of Washington State is the beautiful and diverse Olympic Peninsula. From beaches to rain forests to snow-capped mountains, this wild and diverse locale shouldn't be missed.
The heart of the peninsula is the Olympic National Park. This national park covers almost one million acres and includes three separate ecosystems! Your family can stare in awe at snow-capped alpine peaks and glaciers near Hurricane Ridge which is an easy day trip from Port Angeles.
Trekaroo has a great guide to things to do in Olympic National Park with kids.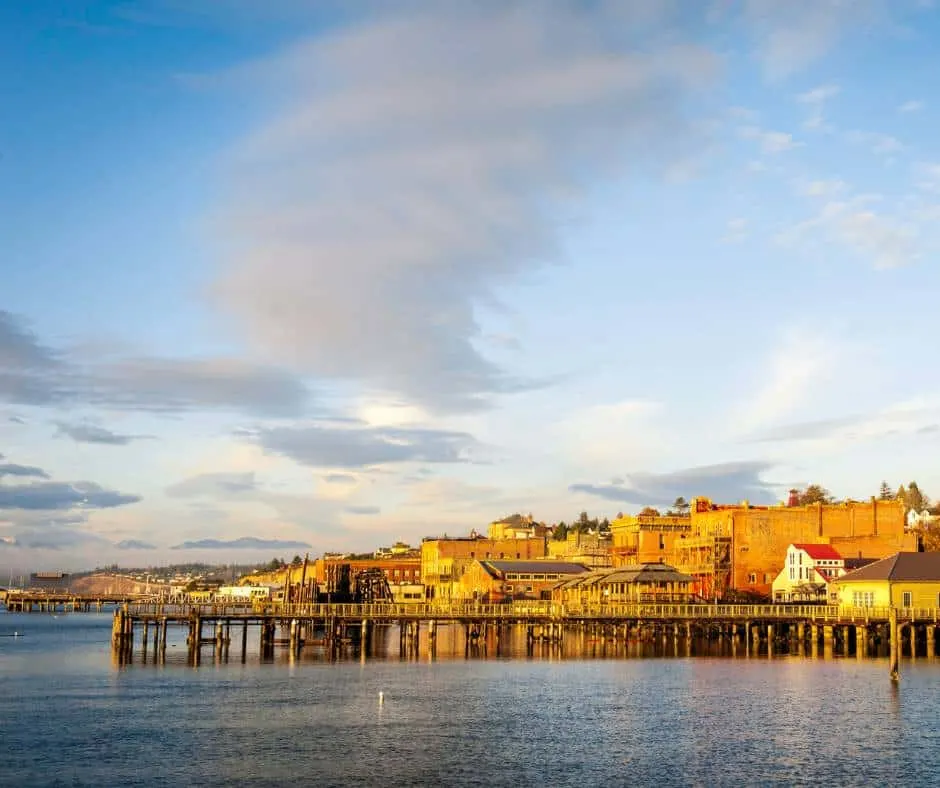 The peninsula is home to charming towns like historic Port Townsend which has a lovely downtown area and sweeping views of the water. It has several, well-preserved Victorian-era buildings and plenty of unique shops to enjoy.
We love to visit Fort Worden State Park, a former military installation that now serves as a recreational area. There are old batteries filled with tunnels and batttieries that are a blast to explore. You can also hang out on the beach and enjoy scenic views of the Strait of Juan de Fuca. The last time we visited we saw a nesting bald eagle!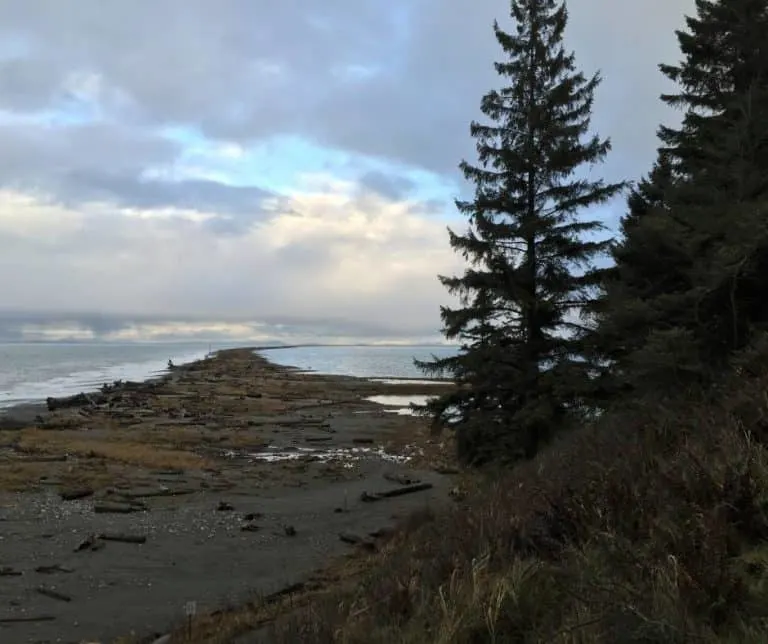 Sunny Sequim sits in the rain shadow of the Olympic mountain range, and offers great opportunities for family exploration. Take a leisurely stroll on the Dungeness Spit, a unique sand spit that extends into the Strait of Juan de Fuca.
Another great way to get outdoors is to take a walk or bike ride along the Olympic Discovery Trail in Railroad Bridge Park. The park features an old railroad trestle bridge, water to play in, and is across from the free Dungeness River Nature Center.
Read more about exploring Washington's Upper Olympic Peninsula.
Olympic Beaches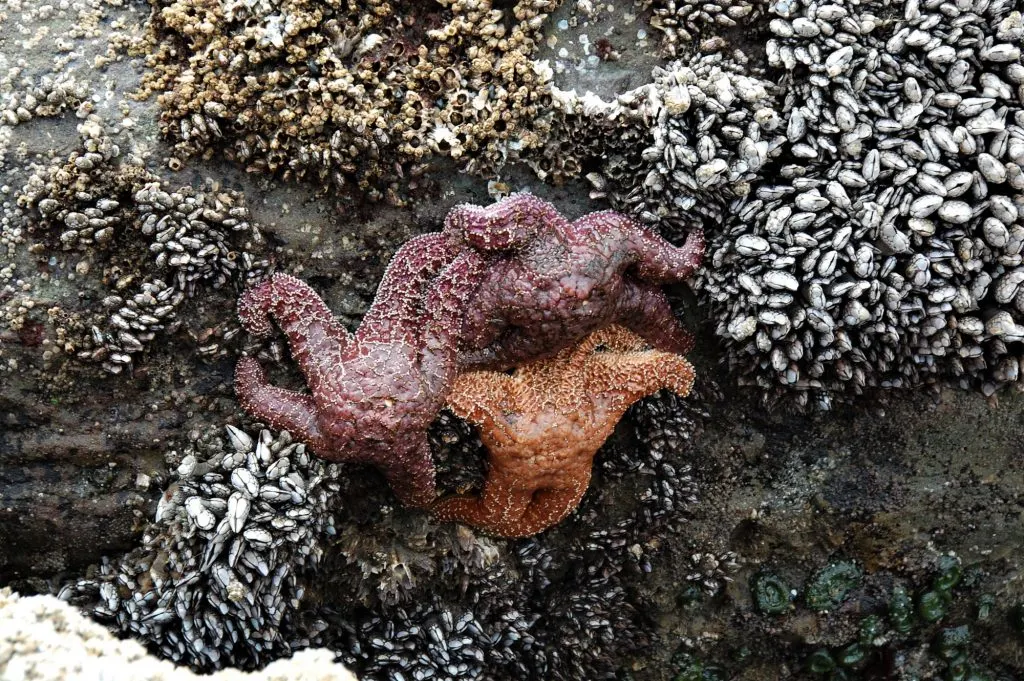 The region's beaches are definitely worth a visit as well. Here you can visit tide pools brimming with life, windswept beaches dotted with driftwood, and even the northwestern corner of the continental US! Beaches inside of Olympic National Park like Beach 4 and Ruby beach have some of the best tide pools in North America.
Take time to visit the tiny town of La Push which is home to First, Second, and Third Beach which are great for beachcombing.
Cape Flattery is the most northwestern spot in the Lower 48. and the ¾ mile trail to the edge of Cape Flattery is a lovely walk through the rainforest. Suddenly trees give way to a safety-railed cliff's edge and the scenery feels a bit like Big Sur meets the Pacific Northwest. Keep your eyes peeled for puffins, bald eagles, and whales.
Further south you will want to head to the Long Beach Peninsula to drive your car right on the beach! There is a 13.5-mile stretch of sand that open year round to cars.
Here is a great Olympic Coast road trip itinerary.
Check out another one of Washington's amazing national parks- North Cascades National Park.
Awesome Animal Encounters
Olympic Game Farm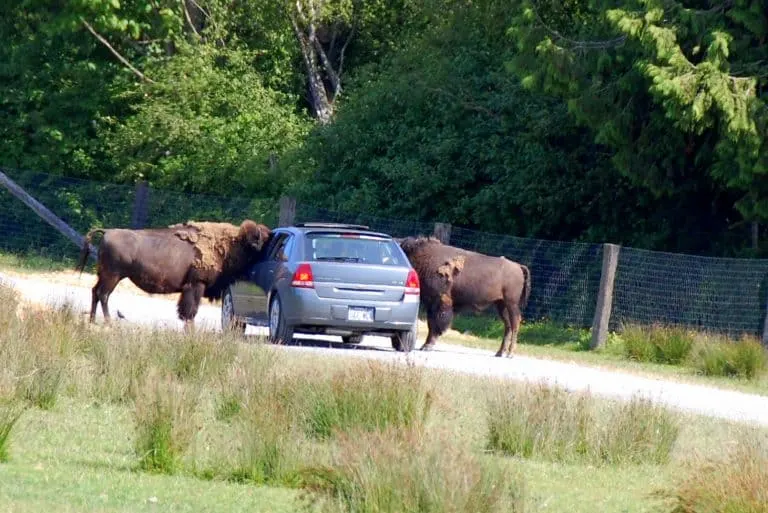 Ride, pat, and feed the animals! Olympic Game Farm in Sequim is sure to make every kid (and most adults) scream and squirm with delight.
Feed bread to antelope, zebra, llamas, and even retired Hollywood bears! Then, drive slowly through the field filled with huge bison and elk­- expect to visit the car wash to remove bison drool on your windows after your visit.
he Game Farm was originally a place to house and film animals used in Disney movies but today they primarily give captive-bred animals that are "in need" a good home.
Northwest Trek
To see native animals in wild habitats, visit Northwest Trek, about an hour southeast of Seattle. It is part safari park/part zoo but the focus is on animals that live in the Pacific Northwest. It was always one of my favorite places to visit as a child.
Take a walking tour of native animal exhibits including otters, badger, grizzly bear, wolves, cougars, and birds of prey.
Then, jump on a tram to get close-up views of bison, elk, moose, bighorn sheep, and mountain goats roaming across the 435 acre facility. Since these animals are free-roaming, you never know exactly what you might see and where.
Zoos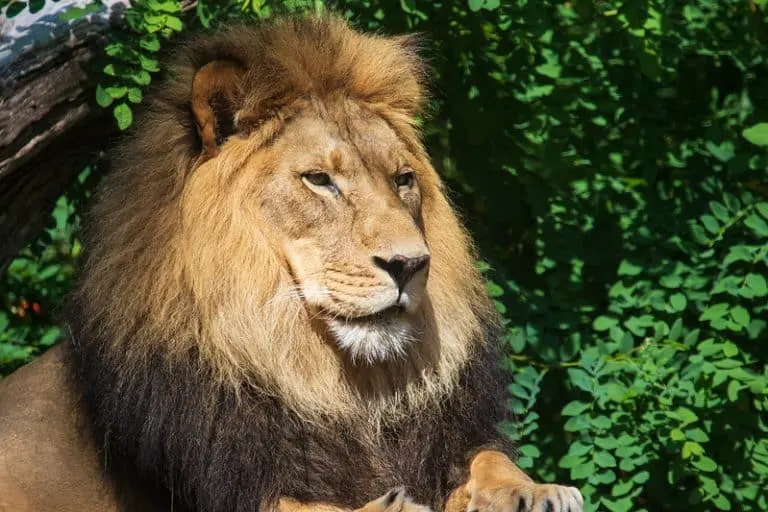 Are birds more your family's speed? Feeding parrots at the Willawong Bird Feeding Station in the Woodland Park Zoo in Seattle can be quite a thrill. The little birds land gently on a seeded stick for a treat.
Of course, there are lots of aother animals to see across this sprawling, 92-acre zoo which is home to nearly 300 species of animals. Some of the best exhibits include the African Savanna, Tropical Rain Forest, Temperate Forest, Northern Trail, Australasia, and the Assam Rhino Reserve.
LIttle kids will also love Zoomazium- an indoor nature play space that features interactive exhibits, hands-on activities, climbing structures, and a nature-themed playground.
And, don't miss the Point Defiance Zoo and Aquarium in Tacoma. This is one of the largest zoos in the Pacific Northwest and as a bonus, it has a great aquarium as well.
In the Asian Forest exhibig you will see elephants, tigers, gibbons, siamangs, and even the rare clouded leopard. The Rocky Shores and Artic Tundra has marine animals like seals, penguins, walruses, and sea otters. They also have musk ox and arctic foxes. There is also a nice red wolf exhibit.
The Pacific Seas Aquarium has great exhibits hightlight creatures living in the waters of the Puget Sound and well as up and down the Pacific coast. Don't miss the the giant octopus.
See Seattle
Seattle Center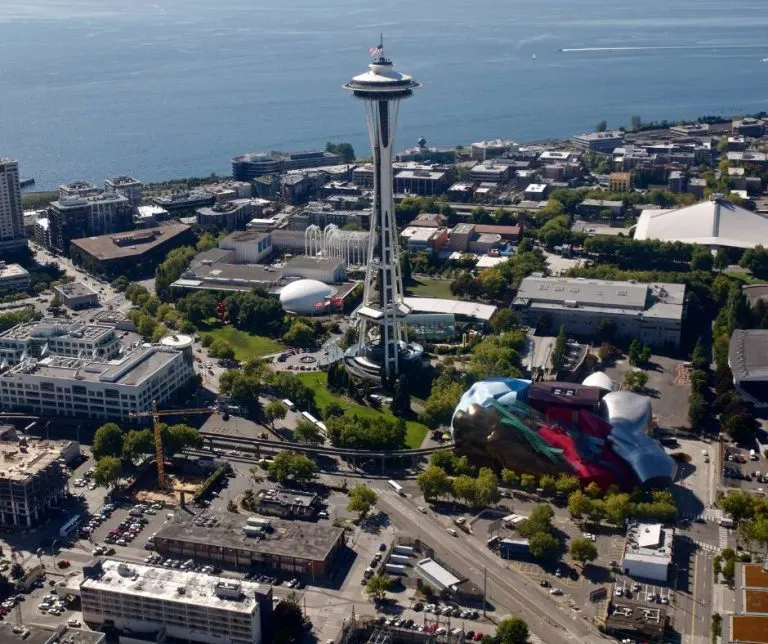 Seattle has so much to offer visitors and residents alike. Begin your tour with a stop at Seattle Center, home to the iconic Space Needle, Chihuly Garden and Glass, Bill and Melinda Gates Foundation Discovery Center, Museum of Pop Culture, Pacific Science Center, and Seattle Childrens Museum. It is easy to spend an entire weekend just exploring all this sprawling campus has to offer.
Pike Place Market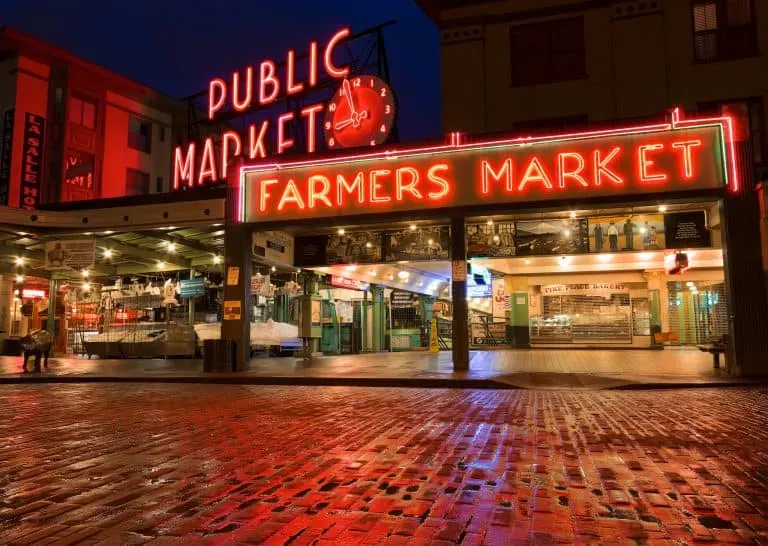 Seattle has so much to offer visitors and residents alike. Begin your tour with a stop at Seattle Center, home to the iconic Space Needle, Chihuly Garden and Glass, Bill and Melinda Gates Foundation Discovery Center, Museum of Pop Culture, Pacific Science Center, and Seattle Childrens Museum.
Of course, you can't visit Seattle without heading downtown to wander through iconic Pike Place Market. In addition to watching salmon fly through the air, check out fresh produce and gifts, and take photos of the stalls filled with beautiful flower bouquets. Don't miss the original Starbucks just across the street!
Seattle Aquarium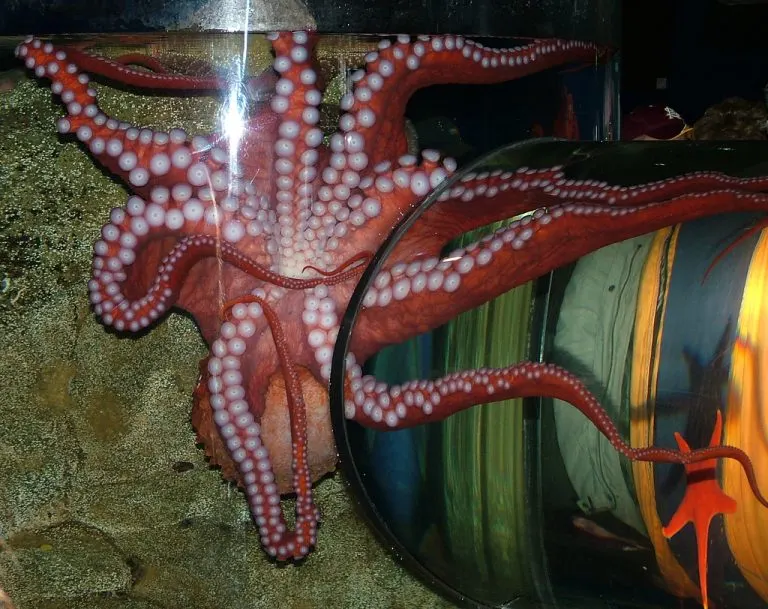 Seattle is also home to the fantastic Seattle Aquarium. The aquarium features a variety of exhibits that highlight the diverse marine ecosystems of the region.
From the Coastal Waters exhibit, where you can observe tidepool creatures, to the Underwater Dome, which offers a 360-degree view of a vibrant marine habitat, there's plenty to explore. Other exhibits include the Window on Washington Waters, Marine Mammals, Birds & Shores, and the Life on the Edge exhibit, which focuses on the fragile coastal ecosystems.
After your trip to the Aquarium, ride the Great Wheel and eat lunch at Ivar's Fish Bar along Seattle's waterfront!
Get Outside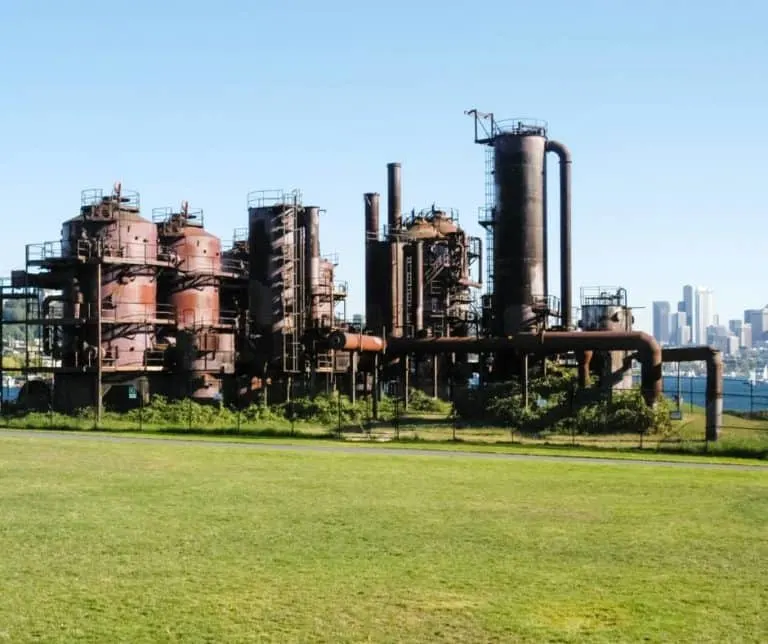 You also don't want to miss Gasworks Park. It is one of the most unique parks in Seattle. Here you can fly a kite, admire the Seattle skyline, sit along the water, or play among the former gasworks!
Interested in an afternoon at the beach? Check out Alki Beach (where the first settlers landed in Seattle), Golden Gardens or Carkeek Park.
And, for a truly unique view, head to Pioneer Square for the quirky Underground Tour, where your family will learn about Seattle's history while exploring its underground neighborhoods!
Read more about the Emerald City in our article highlighting the best Things to do in Seattle with Kids.
Explore Native American Culture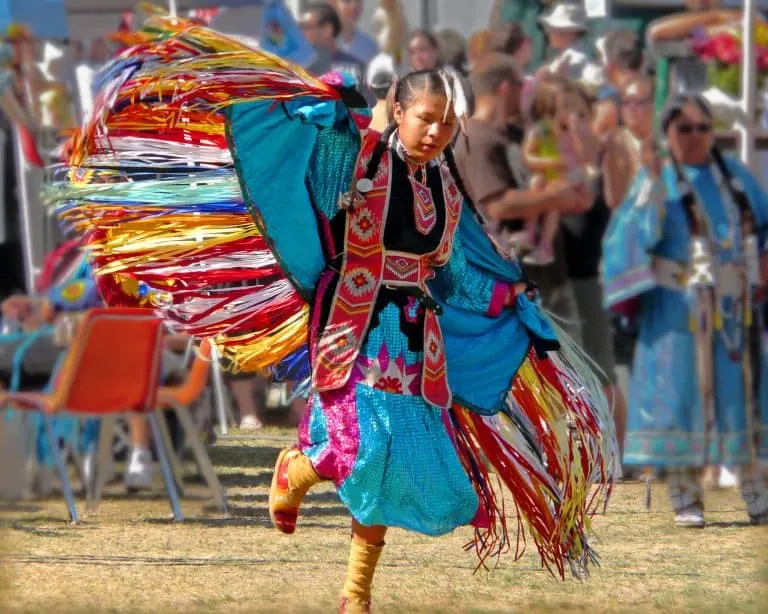 In central Washington, the Yakama Nation Museum and Cultural Center is a perfect spot to engage your family in a deeper exploration of the history of the Yakama people. The museum has exhibits that cover various aspects of Yakama culture, such as traditional arts and crafts, tribal regalia, historical photographs, tools, and archaeological artifacts.
It also offers offers cultural programs and events throughout the year like traditional storytelling, dance performances, music, language workshops, and demonstrations of traditional crafts. You can also purchase authentic Yakama art including beadwork, basketry, textiles, and carvings
Tcked up in the northwestern corner of the state is the Makah Cultural and Research Center in Neah Bay. There you can examine hundreds of artifacts recovered from archaeological excavation of a Makah village.
You don't want to miss Canoe Hall, which houses a collection of traditional Makah canoes. These canoes have been used by the Makah people for generations and are an integral part of their maritime heritage and rich whaling history.
In Suquamish, visit the Suquamish Museum designed to reflect the traditional Big House architecture of the area. Closer to Seattle, you can visit a traditional longhouse overlooking the Duwamish Valley.
In late July, your family can experience modern day Native American culture at the SeaFair Pow Wow in Seattle. Witness vibrant dancing and drumming, and browse the vendors selling art and jewelry. Don't forget to enjoy the delicious, traditional salmon dinner! This is an outdoor pow wow and an experience your family will never forget.
Explore Washington's Volcanoes
Mount St. Helens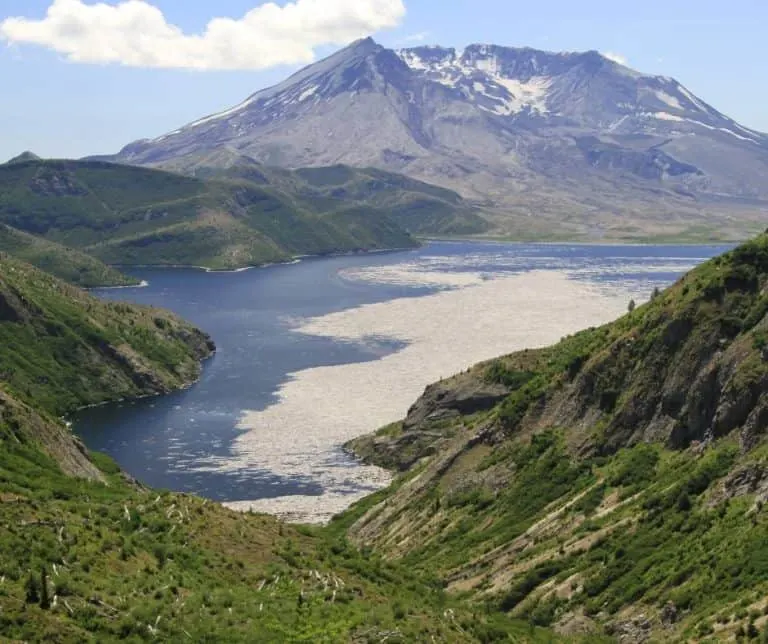 Washington is home to the northern Cascade Mountain range and its volcanoes. The best known is Mount St. Helens , which dramatically blew off its top in 1980. The eruption drastically altered the landscape and the volcano is still active today.
The Johnston Ridge Observatory is the primary visitor center, located just five miles from the volcano's crater. It offers exhibits, films, and ranger-led programs to educate visitors about the eruption and the subsequent recovery of the area's plant and animal life.
Ape Cave is a cool place to visit near Mount St. Helens. It is a two-mile lava tube (bring headlamps and flashlight because it is pitch black inside), making it the third longest in North America. The ¾ mile, one-way lower cave route is relatively easy while the 1.5 mile upper cave route leads to a climb up an eight foot rock wall and scramble over rock piles.
Lava Canyon Trail, a popular hiking trail that provides great views of the rugged canyon carved by the Muddy River. The trail is about 2.6 miles long and a good places to witness the powerful forces of nature that shaped the landscape during the eruption of Mount St. Helens. Along the way you will cross a swayng suspension bridge and see waterfalls.
Mount Rainier National Park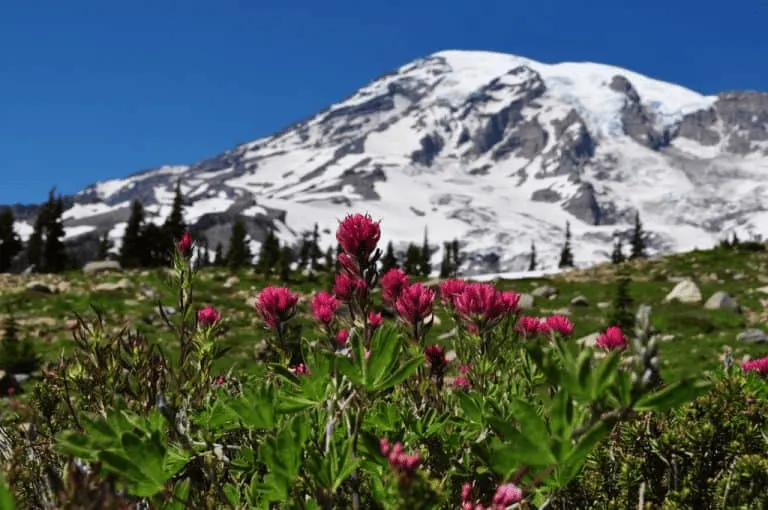 Mount Rainier, the large mountain featured on Washington's license plates, also offers tons of activities for families. Hiking, nature walks, admiring meadows full of wildflowers, camping, and snowshoeing are all possible at Mount Rainier National Park. We have visited in early July and encountered summer snow for the kids to play in!
You will want to head head to Paradise, which serves as the park's main headquarters. There you can take the Skyline Trail, which starts near the Henry M. Jackson Visitor Center. It provides breathtaking vistas of the mountain and surrounding landscapes which are filled with wildflowers like lupines, Indian paintbrushes, and avalanche lilies once the snow melts.
Check out these kid-friendly hikes in Mount Rainer National Park.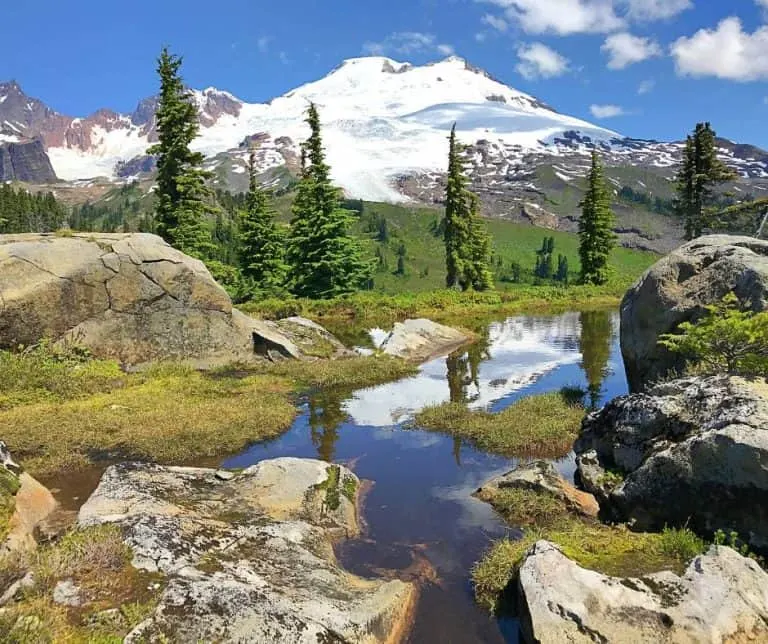 Up in the northern part of the state, Mount Baker towers over the Mount Baker/Snoqualmie National Forest. This active volcano stands at 10,781 feet and is known for its picturesque snow-capped peaks. Take in amazing views of Mount Baker from various vantage points, including Artist Point and the Heather Meadows Visitor Center.
Families can enjoy hiking, biking, fishing, camping, horseback rides, swimming, and boating in the summer Nooksack Falls is located near the ski area and plunges 88 feet. In the winter, Mount Baker sports a popular ski/snowboarding area.
Let Your Imagination Take Flight!
Museum of Flight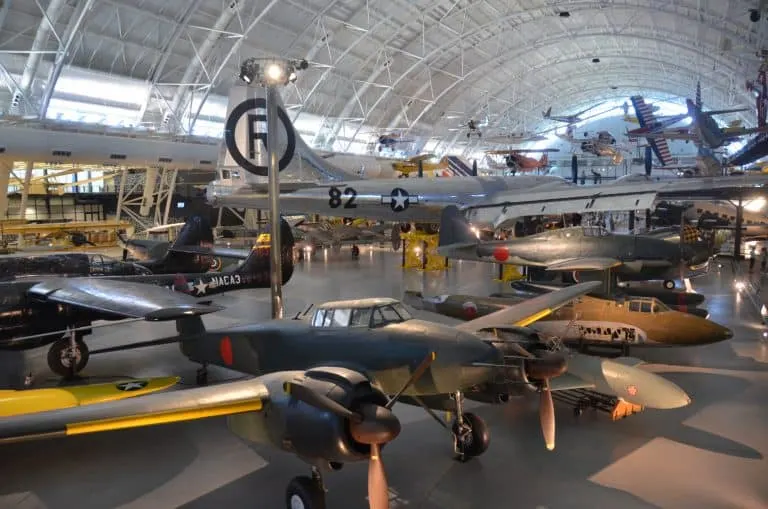 Washington takes great pride in its aviation history. Families will adore the Museum of Flight, located just south of downtown Seattle. It has huge galleries filled with planes of every shape and size.
There are many displays to educate families about the role of aviation in military history. You can walk through a retired Air Force One jet, gaze at a Concorde jet, and even get up close and personal with the Space Shuttle trainer!
Boeing Future of Flight
Up north in Everett, families can take part in the Future of Flight Aviation Center and Boeing Tour. During a 90-minute tour, your family will learn about Boeing and see jets being assembled on the assembly line! The Boeing Everett Factory is the largest building by volume in the world. The factory tour offers a behind-the-scenes look at the production of aircraft like Boeing 747, 767, 777, and 787 Dreamliner.
Tip: Visitors must be four feet tall to participate in the tour and there is a lot of walking involved.
The museum is filled with interactive exhibits, displays of aircraft components, models, and artifacts. Kids can learn about the evolution of flight, aerospace engineering, and the impact of Boeing's contributions to the industry.
There are also flight simulators at the Boeing Future of Flight. These simulators provide a realistic virtual flying experience, allowing visitors to take control of a Boeing aircraft and navigate through different scenarios. They are not ideal for those who get motion sickness quickly.
Special thanks to E. Ashley Steel for her contributions to this article. E. Ashley Steel is a long-time Washington resident and mother of two, is co-author of "Family on the Loose: The Art of Traveling with Kids" and co-curator of www.familyontheloose.com.
Lead image by: Bigstock/Andrushko Galyna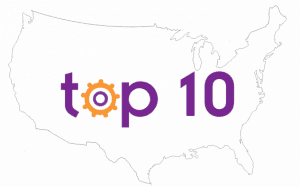 Find things to do with kids near you!
Trekaroo has hundreds of guides for locations all over the United States and Canada.