Visitors headed to Banff National Park often fly into the Calgary International Airport, the closest airport to Banff. While the distance from Calgary to Banff is only 128 km, or roughly 80 miles, taking your time to explore with kids is definitely worth it.
The stops highlighted in this Calgary to Banff road trip itinerary allow you to experience the best of Calgary and some amazing hidden spots along the Calgary to Banff drive.
Get ready for incredible mountain views, bear and moose sightings, and the chance to unwind and truly experience the Canadian Rocky Mountains. This extended Calgary to Banff road trip highlights surprising hidden gems on the Calgary to Banff drive that will make taking your time worth it.
Calgary to Banff Drive Stop 1: Begin in Calgary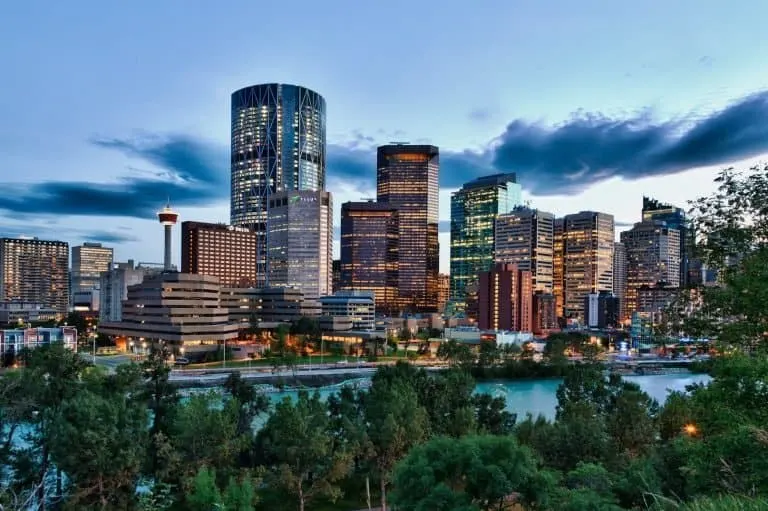 Most Canadian Rockies vacations begin in Calgary. Home to the iconic Calgary Stampede, Calgary has a lot to offer for families. With plenty of kid-friendly activities, year-round walking paths, and a lively downtown core, you could easily journey to Alberta just to visit Calgary.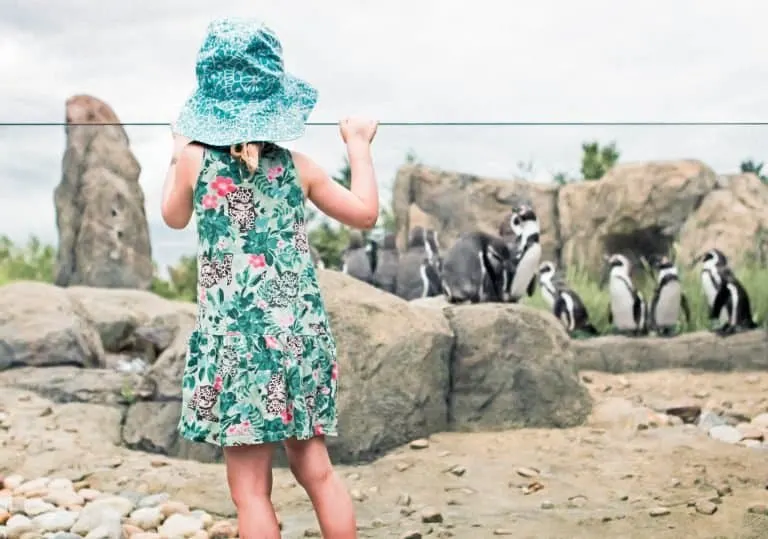 No matter what time of year you visit Calgary, the Calgary Zoo is always a hit with families with young kids. Here you'll find expansive pathways, unique exhibits, and plenty of spaces to play.
Notably, families can enter the Land of the Lemurs to walk among three different species of lemurs. The newly opened Bugtopia! playground welcomes kids to explore the world of insects by teaching about squishy and slimy creatures through play.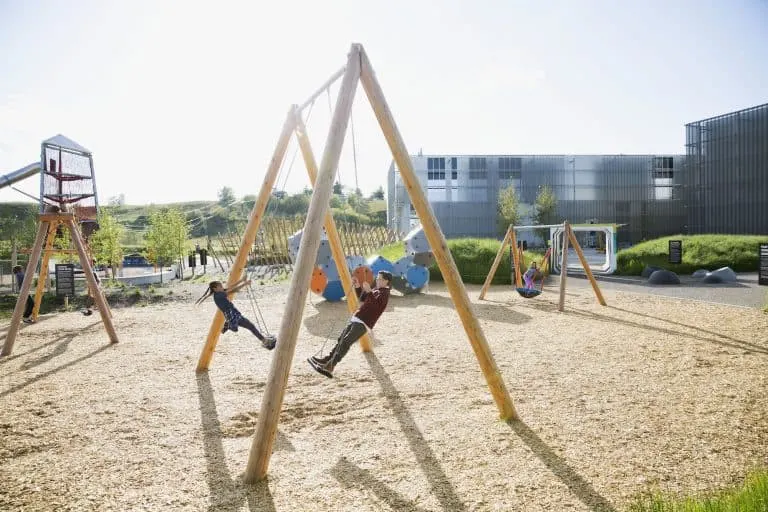 Families who love learning and science will want to spend some time next door to the Calgary Zoo at the Telus Spark Science Centre. With activities for kids of all ages, Spark offers unique learning opportunities like the Brainasium.
Venture outdoors to the Brainasium outdoor playground where kids can develop skills like teamwork and problem solving through play. Make sure you also head indoors to the Open Studio where kids can work with real tools and technology to build and take apart things like circuits and computer boards.
Where to Stay in Calgary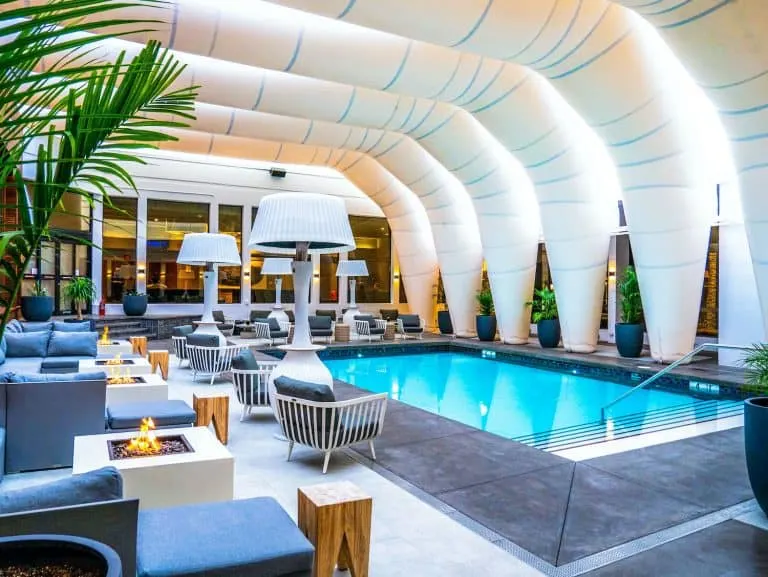 Hotel Arts – Don't let the trendy interior fool you, Hotel Arts is a perfect hotel for families. The hotel features a gorgeous outdoor pool with a retractable roof, an indoor golf simulator, and great onsite dining choices.
Homewood Suites by Hilton Calgary Downtown– Located in the downtown core steps from the home of the Calgary Stampede, Homewood Suites welcomes families with expansive rooms, an indoor pool, and plenty of nearby local dining options.
Calgary to Banff Drive Stop 2: Kananaskis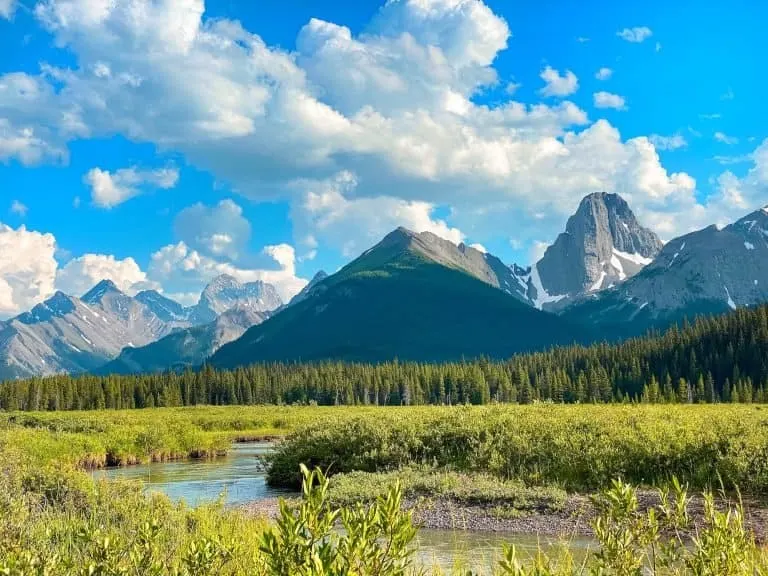 Kananaskis is only an hour from Calgary but the scenery will have you convinced you drove further. While most visitors take the highway to Banff, locals know that some of the best hiking and nature experiences are found in Kananaskis.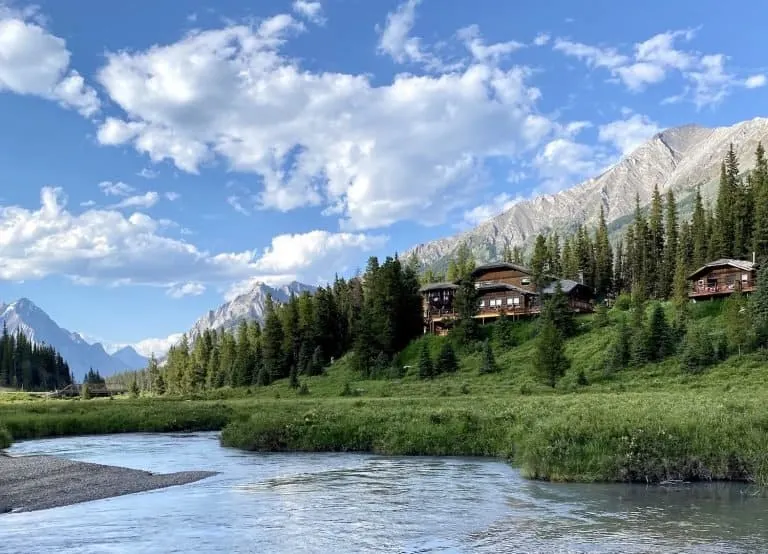 For a truly unique experience, check out Mount Engadine Lodge located in Spray Valley Provincial Park. Here families are welcomed in incredible accommodations which include cabins, glamping tents, and a yurt. This all-inclusive lodge is the only backcountry experience accessible by car which makes visiting easier for families embarking on a road trip to Banff.
Each morning you can plan your adventures during breakfast and find inspiration in the mountain peaks that surround the property. Within a few minutes drive, you will arrive at the Mount Shark trailhead which provides ample recreational opportunities for families looking for all levels of adventure.
Mount Engadine equips each member of the family with a gourmet brown bag lunch and welcomes you back to the lodge in the afternoon with locally sourced charcuterie boards.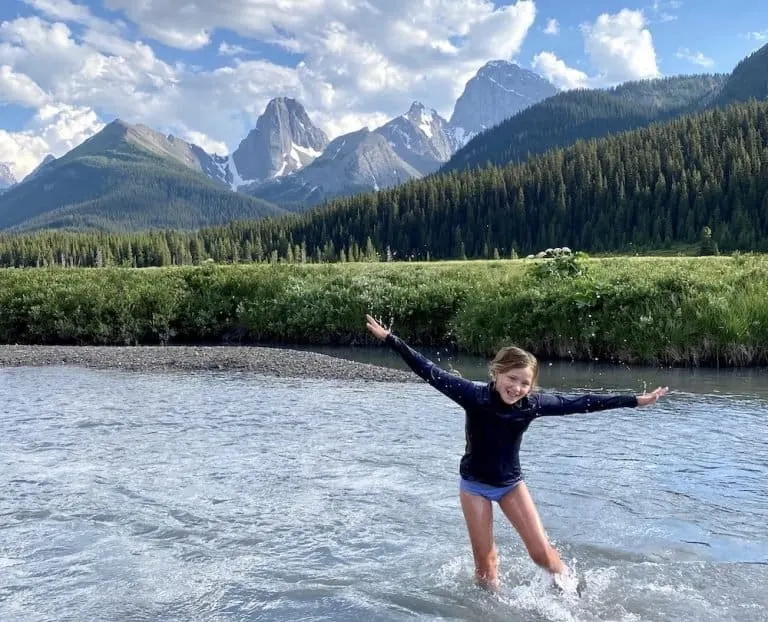 Plan at least two nights at Mount Engadine to have time to experience all that Kananaskis has to offer including year-round activities, incredible cross-country skiing, and endless summer hiking trails. If visiting in summer, make sure to pack bathing suits and play in the river that flows through the Mount Engadine property.
Calgary to Banff Drive Stop 3: Canmore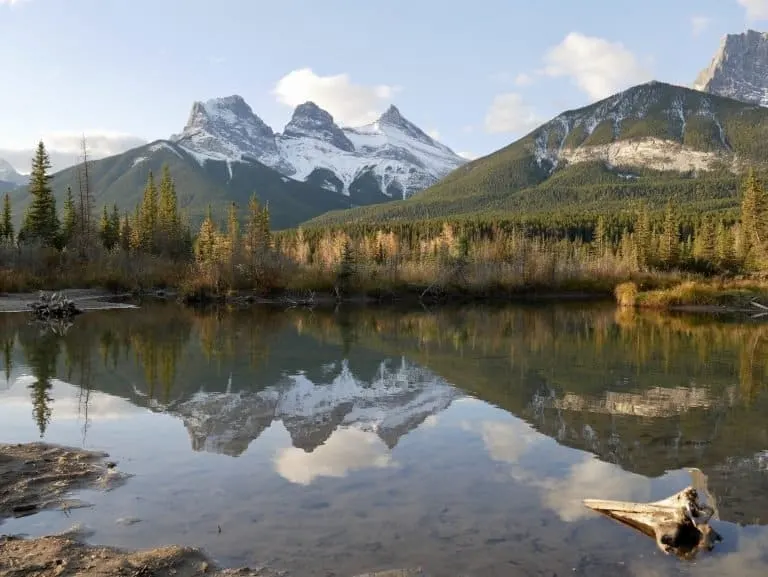 Just up the Smith Dorien Trail from Mount Engadine, you will find the town of Canmore. Famous for its' Three Sisters peaks, Canmore is a perfect stop on your way to Banff National Park. Located just outside the park gates, Canmore has a lot to offer for families.
Begin your adventure exploring the town of Canmore which is filled with amazing local shops and restaurants. Canmore's river walking path is perfect for families looking for a place to stroll. There are numerous parks for kids within the downtown core and the opportunities to spot Canmore's resident wildlife are endless. Keep an eye out for elk, coyotes, deer, and Canmore's famous bunnies.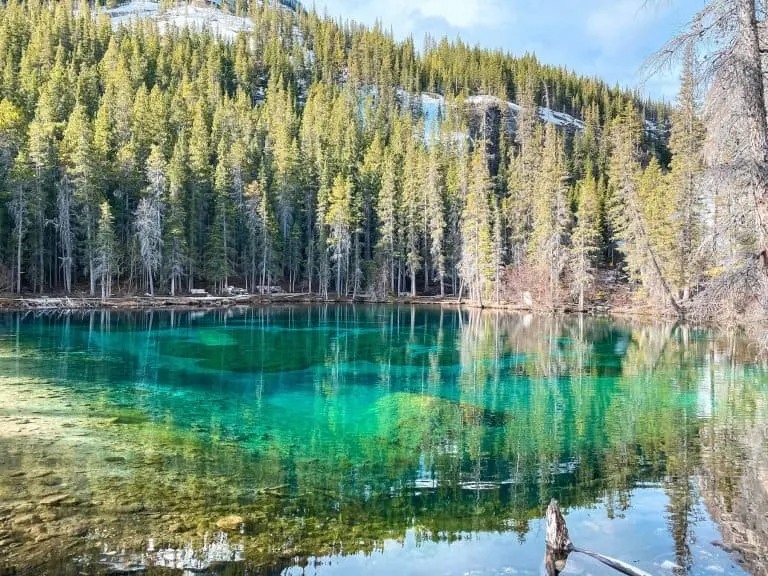 No matter what time of year you visit, Canmore is home to plenty of outdoor options for families. In summer, visit Quarry Lake to enjoy a dip in what was once a mining pit. Now the lake is enjoyed by swimmers, paddle boarders, and fishermen.
Another much-loved gem in Canmore is the Grassi Lakes hike. Hiking only 4 km (or 2.5 miles) on a wide and open trail takes you to an emerald lake with epic views of the town of Canmore.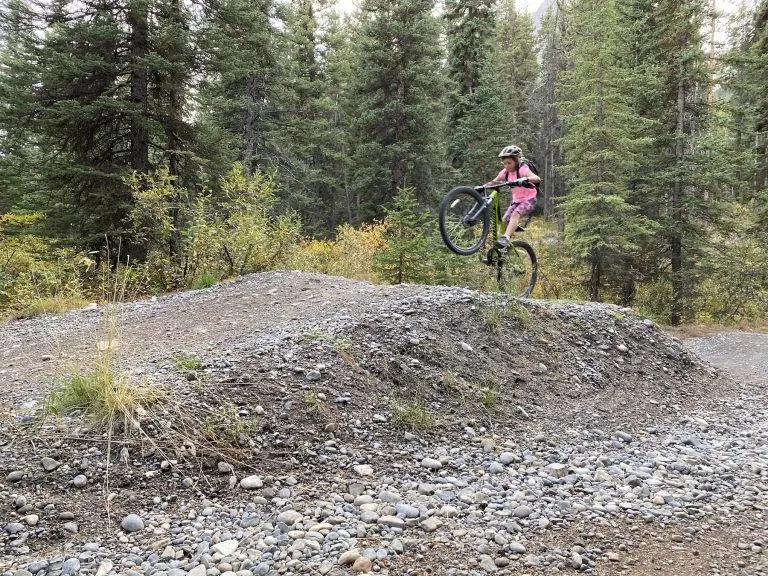 No trip to Canmore is complete without a visit to the Canmore Nordic Centre. Constructed for the 1988 Olympics, the Nordic Centre is now home to various mountain biking and cross-country ski trails. Heads to the onsite rental shop Trail Sports to rent all the gear you need for a day of adventure and book lessons or tours for the whole family.
On the odd rainy day in Canmore, visit Elevation Place to keep the kids active. Here a large pool and waterslide await you as well as family-sized rock climbing walls.
Where to Stay in Canmore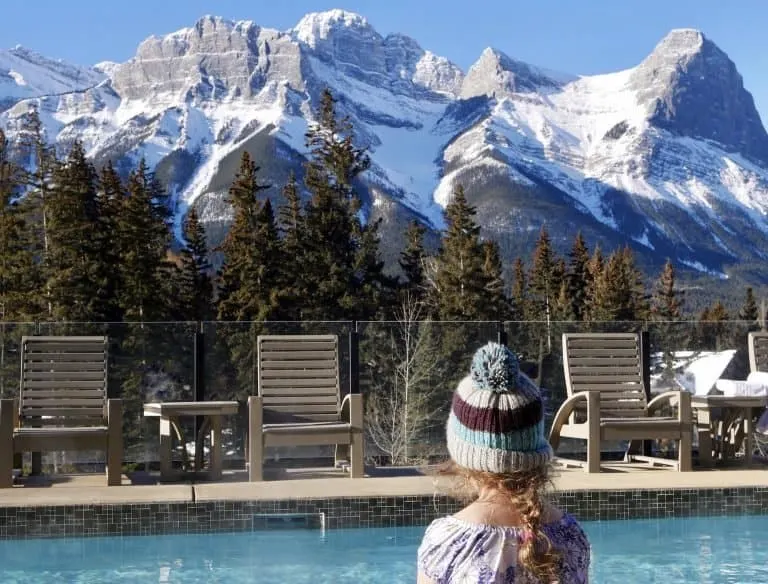 Malcolm Hotel – Located in downtown Canmore, the Malcolm Hotel is steps to the main street. This hotel has an amazing family pool with unparalleled views. The Sterling Grill and Lounge located in the hotel is perfect for brunch or a family dinner after a day of exploring.
Basecamp Resorts – Basecamp Resorts offers unique accommodations for families in various locations in Canmore. Option for families include fully equipped suites with kitchens and properties with stunning hot tub views. Whether you are making a stop on the Calgary to Banff drive or settling in to explore Banff, it is worth checking out the varied family accommodations offered by Basecamp Resorts.
Calgary to Banff Drive Final Stop: Banff National Park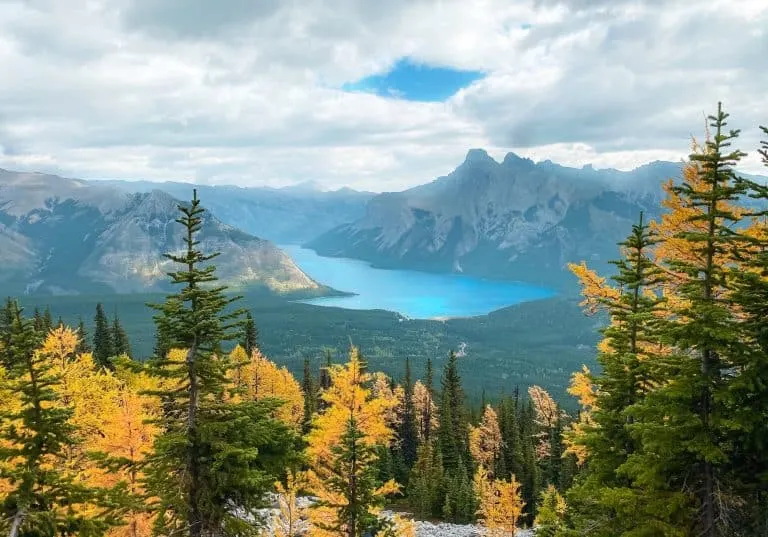 The adventure doesn't stop upon completion of the Calgary to Banff drive. Instead, a new adventure begins. Whether you are looking to explore well-known sites or the backcountry, Banff National Park has plenty for you to see and do.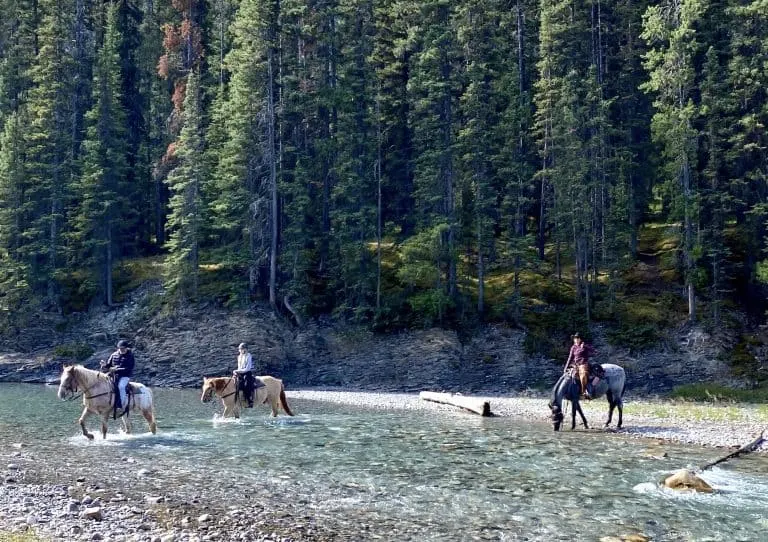 One of the most unique ways to see Banff National Park is on horseback. Join Banff Trail Riders as they guide you along peaks and rivers to show you some unique attributes of the National Park.
Another new and fun way to see Banff National Park is by climbing aboard the Open Top Touring vintage coach. Kids will love riding in this 1930s style automobile and listening to stories of Banff's past and thriving present. The tour stops at some of Banff's best photo stops.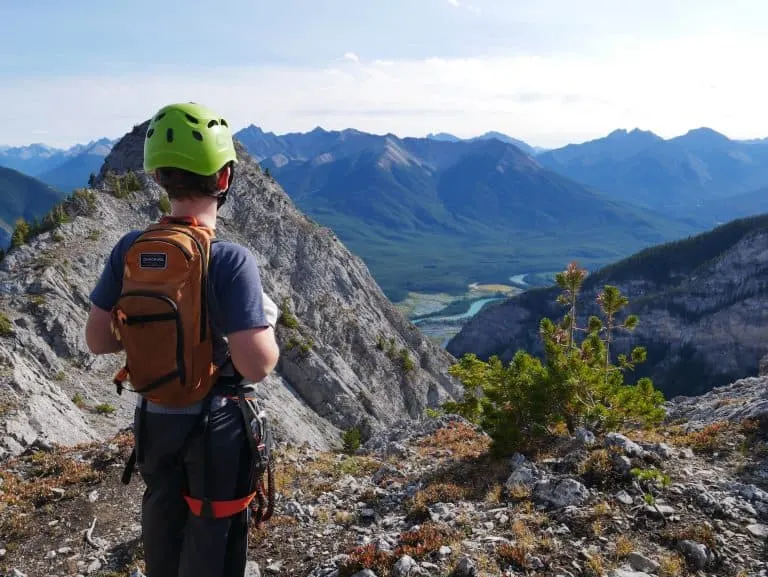 Parents of teens will want to check out the Mt. Norquay Via Ferrata. This incredible tour allows families to scale the side of Mt. Norquay using rock climbing equipment along a steel cable pathway. No rock climbing experience is needed for this adventure.
Families looking to explore Banff's hiking trails on their own can head to the Banff Visitor Center for tips on trails for all ski levels and backcountry safety.
Before heading to Banff make sure to check out the top 10 things to do in Banff with Kids as well as this list of incredible things to do in Banff in Winter.
Where to Stay in Banff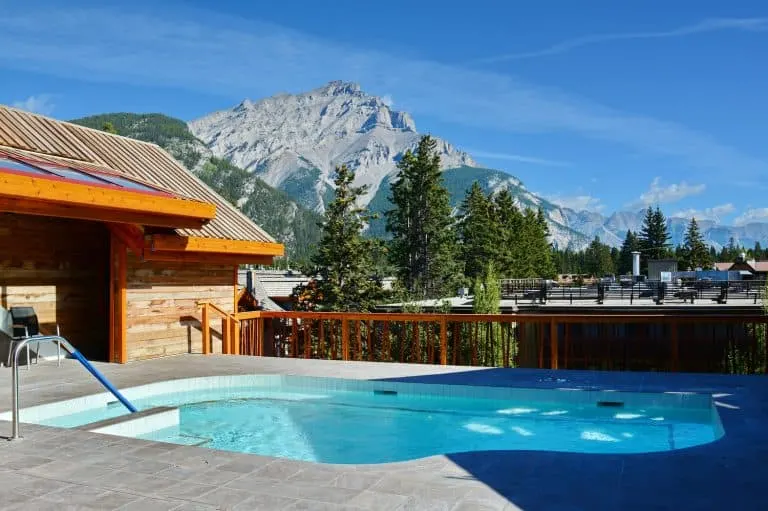 Moose Hotel and Suites – One of Banff's newest hotels, the Moose is perfect for families. Situated only a 1-minute walk from Banff Avenue's shops and restaurants. Families love relaxing at night in the rooftop pool and hot tubs.
Tunnel Mountain Resort – Located on Tunnel Mountain, this resort features an indoor pool and family-sized suites complete with a kitchen. Hiking trails are easily accessed from this hotel which is a little further from the hustle and bustle of Banff Avenue.
Want to continue your adventure? Check out our Banff to Jasper drive guide!
The author has been an invited guest at some of the highlighted experiences and hotels in the past. All opinions are her own.