Snow-glistening, fluffy, magnificent snow! While snow is often associated with the sound of steep hillsides being carved below a freshly waxed pair of skis, the white stuff is perfect for all kinds of family fun. Here are some of our favorite ways for snow play off the slopes.
I remember our 3 year old's first reaction to snow. He was stunned into silence. At first, the falling snowflakes appeared to be simply mesmerizing. Soon thereafter, he burst into peals of laughter and squeals of joy as he touched it, grabbed at it, slipped on it, and sank into it. If you have the opportunity to drive a short distance for your kids to enjoy the snow this year, you don't need to spend a pretty penny for a load of fun. Or if you're snowed in with kids on a blizzard day this year, there is lots you can do to explore around the neighborhood." – LiLing Pang, Trekaroo CEO
Find a Perfect Sledding Run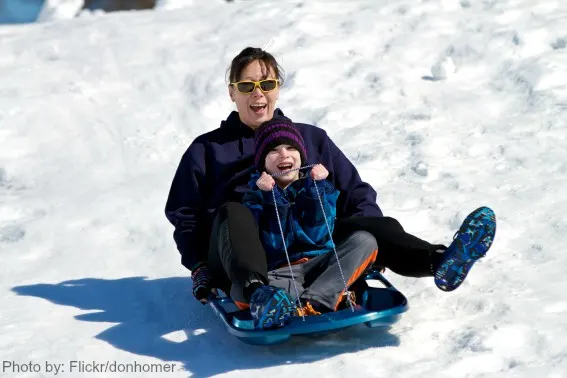 Sliding down a snow-covered hill, whether on a speedy fiberglass sled or piece of cardboard, is an iconic winter experience. Sledding is great because it is typically inexpensive. (If the family loves sledding, investing in a sled is not a bad idea, and saves the grown-ups from a last-minute scramble to find one.) For people who are traveling to a mountain area to sled, but aren't familiar with the area, it may help to ask locals where to sled. I've seen far too many families stop on the side of freeways or major roads thinking these are good places to play. Note: They are not! In fact, stopping in non-designated areas is an accident waiting to happen, which is not what families want on a fun, adventurous day. It's best to stick to snow play-labeled parking lots and parks.
Tips for safe snow play.
Snow Tubing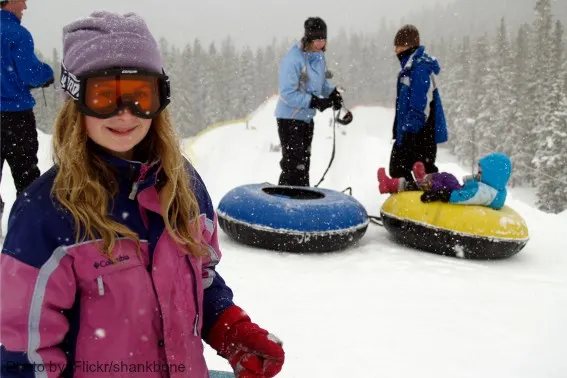 In winter, families don't need a river to have a tubing adventure. In fact, in most cases, they don't even need an inner tube! Many ski resorts and mountain communities build tubing/snow play areas specifically for visitors to enjoy stress-free snow play. A day pass tends to be easy on the wallet. Just show up in warm clothes, grab a giant tube, and have fun!
Here are some of our favorite tubing spots across the country:
California: Northern California | Near Kings Canyon/Sequoia NP | Southern CA | Near Yosemite NP
New England: Rhode Island | Connecticut | New Hampshire | Maine | Massachusetts | Vermont
Across the US and Canada: BC, Canada | Chicago | Cincinnati, OH | Colorado | Columbus, OH | New Mexico | North Carolina | Northern NJ and Pocono Mountains in PA | Pittsburgh, PA | Seattle & Portland | Southern Wisconsin | Utah | West Virginia
Make Art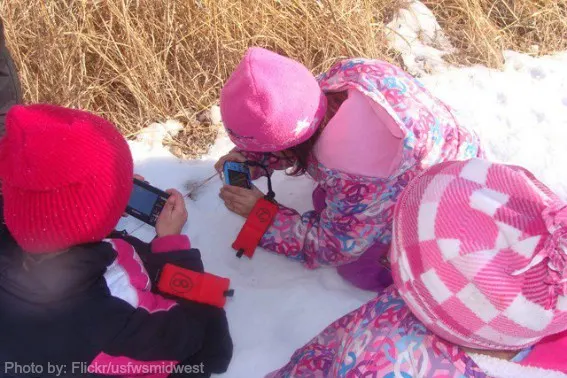 For family members who would rather express themselves with an art brush than with speed, there are lots of artistic ways to have fun in the snow. Bring along a sketchpad and some pastels to draw a wintry scene. Create a temporary painting using a mixture of water and food-grade dye that can be sprayed or painted onto Mother Nature's canvas. Go on a hunt for pieces of nature, then use the pieces to form an art installation. Engage the kids in a photography lesson. With winter beauty all around, why not talk about shutter speed and using natural light? Take advantage of family members being dare devils or having a snowball fight to teach about shooting video. Later, that video can be edited and sent to relatives.
We have lots of tips on turning a family outing into a road school, educational experience.
Science Lessons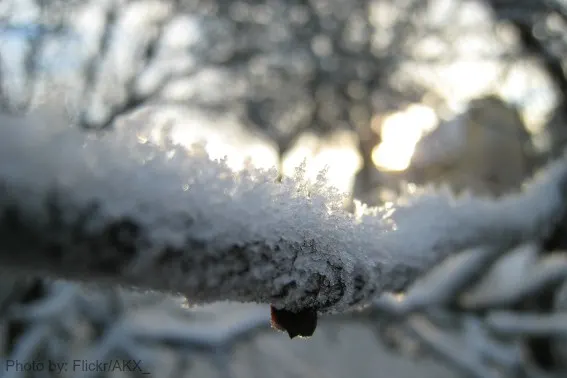 Put a magnifier in your backpack or a microscope in the car. Look for snowflake shapes and uniqueness as they fall or while they collect on your clothing or nearby trees or leaves. Observe the frosty world around you and look for ecosystem markers. Do the trees still have their leaves? Is there any water nearby? How do you know? Is there any evidence of mammals or birds in the area? Talk with kids about the states of water: collect a snowball, keep it in an ice chest, and transport it home. Then, watch what happens to it as it melts. If your trip includes a few days of snow, consider keeping a journal where kids can keep track of how much snow accumulates, how it melts and freezes, and anything that they noticed.
After enjoying the snow, a dip in a hot tub is a treat. But even more interesting to kids is a trip to a hot spring. Beyond just being fun, it can be a lesson in geology. Be careful allowing really young children to soak in a hot tub or hot spring, as their skin is sensitive. Always test the water temperature and be water safe with your kids.
For example, in the Lake Tahoe Area, Grover Hot Springs State Park only costs $4 per adult and $2 for kids. Sit in a hot pool and gaze at the trees.
Cross Country Skiing & Snowshoeing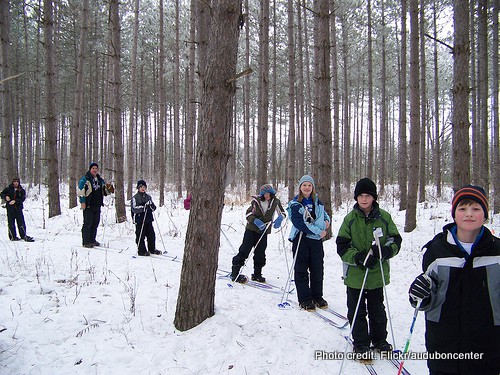 Children who are 6 and older can start learning to cross country ski. Trail passes are either free or less than half the price of downhill skiing lift tickets. In most resorts, children get free trail passes. Read up on our tips & tricks for Cross Country skiing with kids.
Winter Driving Tips
Before leaving: Check the tire-tread and air pressure. Check your car's oil and coolant levels. How are the windshield wipers working these days? Put those chains in the car just in case. Remember, many mountain locations recommend that drivers carry chains even if they aren't required at that moment. Double check road conditions prior to leaving so that you know what to expect, and recheck during the trip if an app like Waze is available.
While driving: Give a wide cushion between your car and any others on the road. Keep to a steady pace as much as possible. Use lower gears to keep down the speed without having to over-use the brakes. Here are some more winter driving tips from AAA.
Let us help the entire family stay sane with these winter road trip recommendations.
Other Ways to Play in the Snow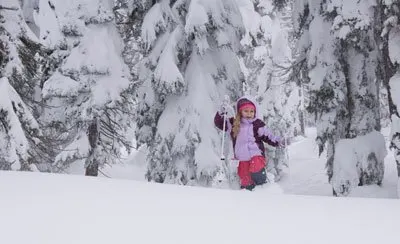 Snow play does not need to be high intensity or high energy all the time. Simple activities in the backyard can provide hours of fun and discovery:
Release the need for speed with a dog sledding experience!
Dig a snow cave or trenches: Give the kids large and small shovels. Got a snow-covered hill? Dig a cave. If you don't have a hill, dig deep trenches. They can hide and play all sorts of make belief games. Add to the fun by bringing out some hot chocolate and sip it in your cave.
Build a snowman: Always a lot of fun. Wait till the snow is a bit wet to get the snow to stick. Get creative with decorating your snowman and give him some personality.
Make Maple Snow Taffy, a Vermont and Canadian tradition. Recipe for Maple Snow Taffy
Caramel Snow Flakes: Purchase some caramel from the store, heat it up and then pour it slowly onto clean snow, creating a thinly laced snowflake pattern. It'll harden quickly and you can pick it right up and eat it. You can do the same with chocolate.
Snow bricks of different shapes and sizes: Add a little water and it'll harden up nicely. Use different shaped containers to make snow bricks and kids can build anything their heart desires with the snow bricks.
Snow treasure hunt: Hide an object in the snow and have the kids find it. For younger kids, hide the object with a little bit of it showing and keep the search area small. Don't hide anything valuable, like your car keys!
Take a short hike through the woods with the kids especially after new snowfall: The trees are amazingly beautiful draped with snow. If the snow is really powdery, rent some snowshoes. A nice snowball fight along the way is always great fun.
Featured photo by: Bigstock/macsim