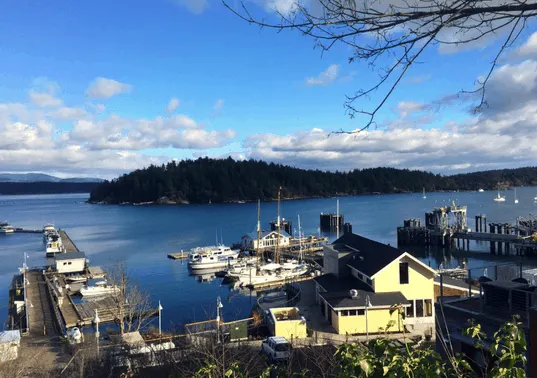 The San Juan Islands of Washington State are a very popular summer destination for families; and rightfully so. With hiking, kayaking, whale watching, and more, it's a relaxing and beautiful place to be. But I'll let you in on a little secret – this is not just a summer destination! The off-peak season with lower lodging prices and no crowds is also a great time to visit and enjoy San Juan Island vacations.
San Juan Island Vacations: Off Season Fun for Families in Washington
Getting To San Juan Island
My family visited San Juan Island, the most populated of the island group, over a weekend in December. Our visit was timed to match up with the beginning of the winter holidays in Friday Harbor, so we were able to be there for the tree lighting ceremony and the weekend Old Fashioned Christmas Market. Our trip began with a drive from Seattle to catch the ferry in Anacortes. My kids ride the ferry fairly often, but the excitement still hasn't worn off for them, so they were really happy to board the boat. Even though we were on the Friday afternoon sailing, which is typically the busiest one, the boat was fairly empty and my kids had plenty of space to run around and be energetic without disturbing other passengers.
After arriving on the island and finding our hotel, our next stop was to attend the tree lighting in the heart of Friday Harbor. We enjoyed hearing a variety of small musical groups sing Christmas songs before Santa turned on the lights of the tree. Then it was time for dinner and we decided on Cask & Schooner, which was conveniently located near the tree lighting festivities. Dinner at this lovely restaurant was a fun way to warm up and fill our tummies with delicious, fresh food. The meal got thumbs up from everyone in my family!
*Travel tip: Even in the off-season, it's a good idea to make a reservation for ferry sailings to and from Friday Harbor and other destinations in the San Juan Islands. Reservations can be easily made on the Washington State Ferries website and are free of charge.
Where To Stay On San Juan Island
Our home base for the weekend was the Earthbox Inn and Spa, where we ended up staying in a two bedroom small house (the inn has both a house and traditional hotel rooms for visitors) with a full kitchen and living room. Most importantly for my kids, this hotel has a large indoor pool, which is really the main thing that my kids care about when traveling. Even though they would have been happy spending the whole weekend swimming, there was more to do and see, so on Saturday morning it was time to be off and explore the island.
What To Do On San Juan Island
We started our day by visiting the farmer's market. For the weekend we visited, it was themed as an Old Fashioned Christmas Market, with holiday-themed food and gifts. The market does happen regularly on Saturdays (weekly during the summer, bi-weekly, or monthly during the off-season), not just during the winter holidays, so keep an eye out for it when you visit. After browsing through the many wonderful things for sale, we wandered out into the charming town of Friday Harbor to do some shopping. One of the first places we discovered was Serendipity, a used bookstore that I excitedly declared to my husband to be the most wonderful bookstore I've ever visited. The store is located in an old house and is stuffed from floor to ceiling with every book imaginable. Room after room was waiting for me to explore and I constantly gasped with delight. If you love books, the 50,000+ ones in this bookstore are just waiting for you to visit!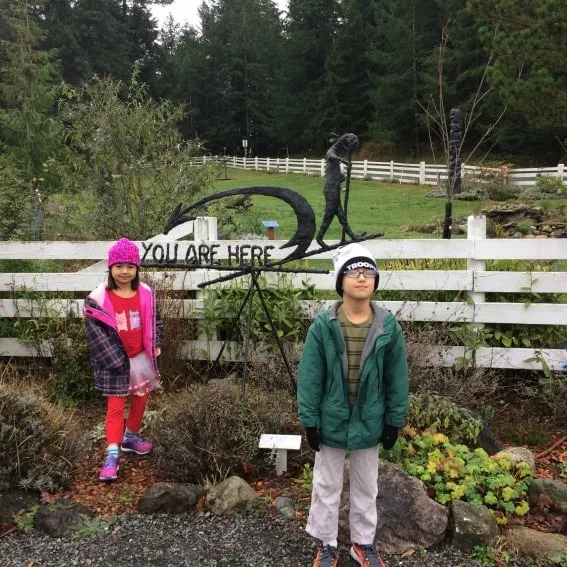 After dragging myself away from the piles of books, I headed out with my family to explore more of San Juan Island. We made stops in the historic town of Roche Harbor to explore the San Juan Islands Sculpture Park, a 20-acre outdoor sculpture gallery, and at English Camp, one of the two military establishments set up in the 1800s during the island's "Pig War". We swung by an alpaca farm to meet some adorable fuzzy alpacas before continuing south to the American Camp, the counterpart to English Camp in the Pig War. Both English Camp and American Camp are part of the San Juan Islands National Historic Park (but offer separate stamps for your National Parks passport). My kids decided to work on their first Junior Ranger badges, so we picked up some Junior Ranger booklets in the visitors center and headed out to explore the park. The San Juan Islands get less rain than Seattle, so even in December we were able to enjoy sunshine and gorgeous views for a good part of our weekend.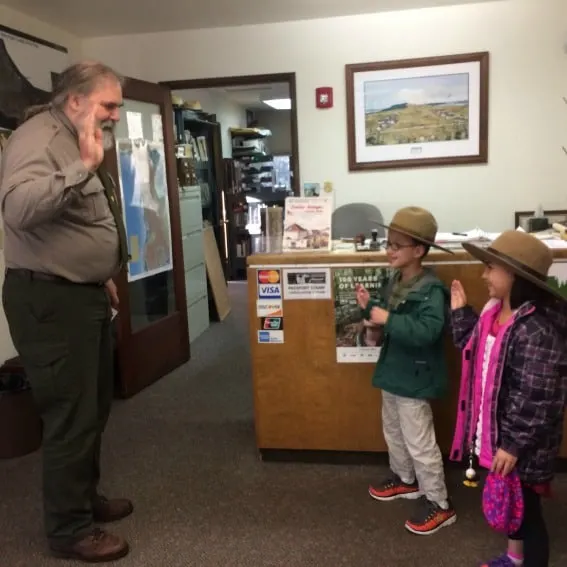 On Sunday we returned with our completed Junior Ranger booklets to the visitor's center at American Camp, where my husband and I proudly watched our kids get sworn in for their first Junior Ranger badges. This is such a fantastic program and wonderful way to introduce kids to history, nature, and environmentalism. My daughter proudly sported her badge for the rest of the day and showed it off as often as she could.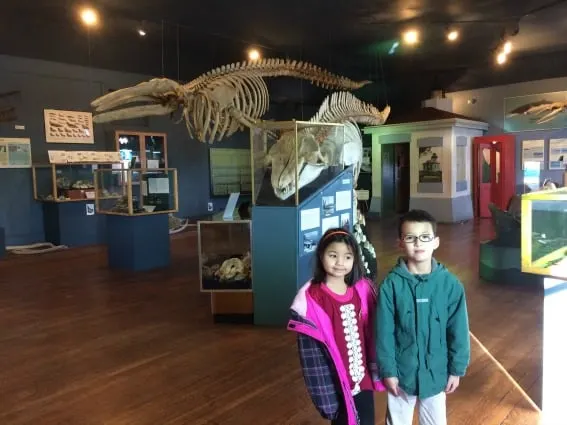 Heading back into Friday Harbor, our next stop was The Whale Museum, where we learned a lot about the area's resident orca pods and about other types of whales and marine life. This museum is relatively small, but it does a great job of educating and informing families about marine life and how to protect it.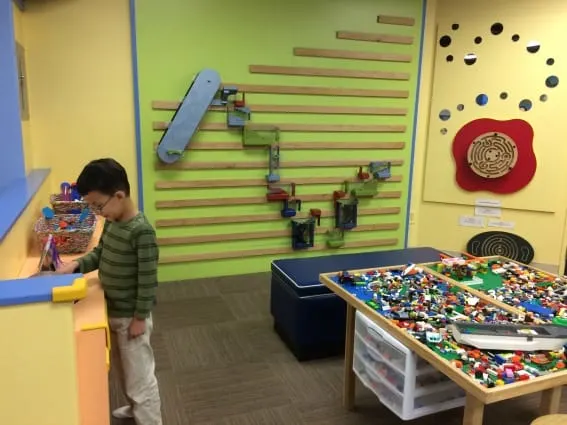 We wrapped up our weekend on San Juan Island with a stop at a wonderful place called A Place to Play- For Kids. This fantastic playplace is full of every imaginable toy and pretend play item that you could imagine. A giant dollhouse, play sand, art center, Lego bricks, toy horses that you can actually ride, a big fishing boat, musical instruments… the list goes on and on. Everything is clean and in good repair and is surrounded by lots of comfortable seating (and free Wi-Fi!) for parents. Snacks are available on site for purchase and there's a great eating area for enjoying your food. My kids had a blast playing both together and with other kids who were visiting. I'm pretty sure they could have stayed for the entire day and been happy, but sadly, we had a ferry back to the mainland to catch.
Off-Season on San Juan Island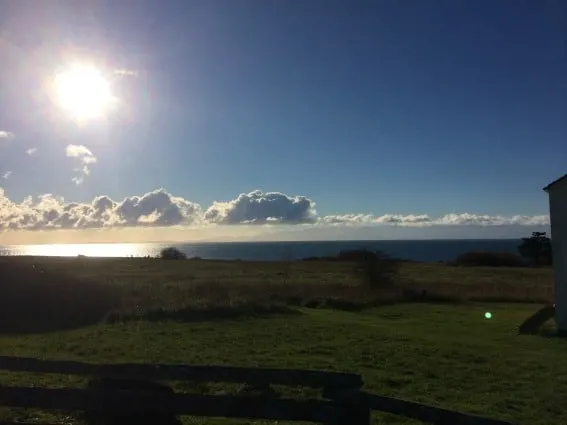 Visiting San Juan Island in the off-season was a really fantastic experience. The locals were friendly and welcoming and it was great to be able to explore without crowds of people. Don't wait until summer to head to the beautiful San Juans! Fun is waiting for you no matter what the time of year!
All photos by Carrie Yu
Disclosure: Thanks to the San Juan Islands CVB for hosting my family's lodging for this stay. All opinions here are ours and ours alone!
Featured photo by: Bigstock/gnives50