Dog sledding is a unique opportunity for families to enjoy. There are many outfitters across the country providing kennel tours, education, sled tours, lessons, and hands-on experiences. Without doubt, dog sledding is an experience your family will not soon forget.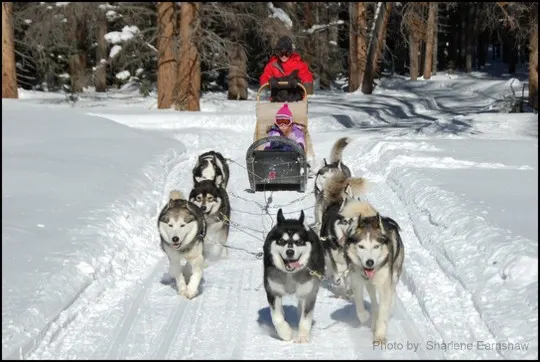 My family enjoyed our first dog sledding experience this past summer. This was, by far, the highlight of not only our trip to New Hampshire, but our entire summer. We learned so much and had a blast meeting the dogs and taking the tour. All these months later, my kids are still talking about it. Many of our Trekaroo Guroos share those same fond memories of their own dog sledding experiences so I polled them on some of the best places for families to dog sled across the USA and Canada.
Where To Go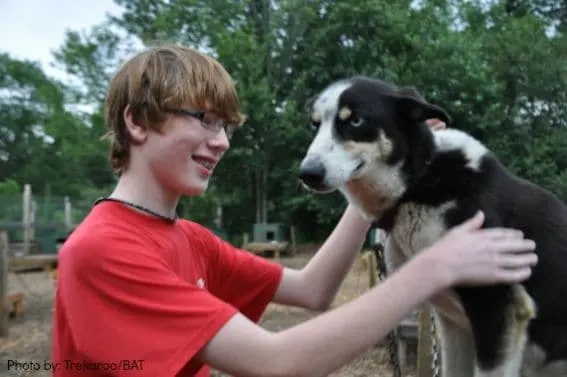 Muddy Paws Sled Dog Kennel in Jefferson, New Hampshire is unique because this kennel is also a rescue and provides a home to over 100 dogs. Operating the tours offsets the cost of the care of the dogs, so in a sense, they are earning their keep! Muddy Paws operates year round and during the summer and times there is no snow, they offer rolling cart tours. Families will enjoy the hands on experience of meeting the dogs, putting together a dog sled team, learning how to harness them up, and even taking a turn as a musher.
Eden Dog Sledding in Eden Mills, Vermont prides itself on being the home of the "unchained gang" where the dogs are able to run free. This kennel runs tours year round and offers an educational and hands on experience. Tours run on groomed trails over their scenic property that families are sure to fall in love with. If you'd like to extend your experience, be sure to look into their stay and sled packages.
Skytop Lodge in the Pocono Mountains of Pennsylvania offers a fun dog sledding experience for its guest. Take a kennel tour and meet the dogs and then watch the dogs get harnessed and ready for the ride. Both sled and rolling cart tours are available to ensure a fun experience no matter what the weather. This team is very knowledgeable on dogs, the Iditarod, sleds, and the Lodge, so be sure to have your questions ready!
To read reviews on these and find other kennels, check out our Dog Sledding in the Northeast list.
Good Times Adventures in Breckenridge, Colorado takes guests on a husky-pulled dog sled ride through the Rocky Mountains' majestic Swan River Valley. Kids will love the opportunity to lead the team all by themselves as the friendly and energetic dogs pull a traditional sled through six miles of trails. In between squeals of delight be on the lookout for fresh moose, fox, and elk tracks in the powdery snow.
Wilderness Adventures Dog Sled Tours in Olympic Valley, California offers an exciting hour long tour of the Squaw Valley Meadow. A racing guide will lead a team of eight to ten Alaskan Huskies that will pull gusts four-person sled.
Mountain Musher Dog Sled Rides in Vail, Colorado features a 6 mile, 2 hour sled tip. Visitors will love the private, scenic trails up and down a mountain, rather than along a flat trail. Along the tour, enjoy a snack and photo break.
Big White Dog Sled Tours is located to our neighbor in the north in Kelowana, British Columbia. Begin with an orientation introducing you to the dogs and the sport of dog sledding including what makes a dog fit for pulling sleds, what they eat, and how they are trained. Finally, embark on a mushing tour of Big White's back country.
Snowy Owl Sled Dog Tours is located in Canmore, Alberta provides a top notch experience. Start with a 30 minute introduction and instruction and then cuddle up on a comfortable hand crafted sled. Guests can choose to relax and enjoy the ride or to have the opportunity to drive the dog team.
Visitors of Denali National Park in Alaska can meet the only sled dogs in America who have the job of helping to protect a national park. Enjoy a free 30 minute dog sledding demonstration which is offered three times a day during peak summer season. Guests will be able to visit the kennels and learn about this traditional mode of Alaskan transportation and the role of the dogs in the park.
Know Before You Go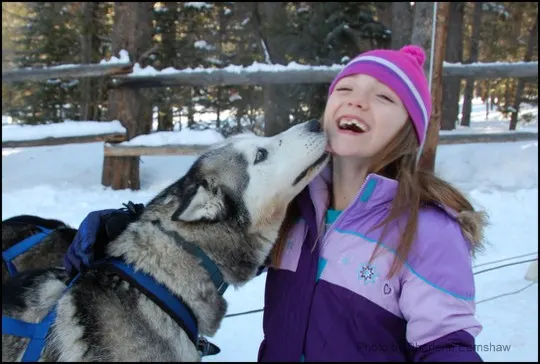 Last summer my family were dog sledding virgins and not quite sure what to expect.We learned that being prepared can help make your experience more enjoyable. Be sure to take the time to explore the website of the kennel you will be visiting for pointers and don't hesitate to call ahead and ask questions. Here are a few basic tips to get you started:
Book early. Many kennels are small and offer a limited amount of tours per day in order to avoid overworking the dogs.
Check weight limits. There are maximum weights that each dog team can pull. This may vary slightly from kennel to kennel, but be aware that you may need to book two sleds or split your family up to take turns.
Expect to leave a 50% deposit at the time of booking. Balances may be due prior to your experience. Also be sure to tip your guides.
Know the cancellation policy. Many dog sled operations have strict cancellation policies due to their size and the demand for tours.
Be aware that kennels operating year round may need to cancel because they unable to run the dogs in either the extreme heat or cold. Make sure they have a way to contact you.
Dress appropriately to ensure a good time. If you are going during summer months, wear long pants and closed toed shoes. If you are going in winter, care is needed to protect yourself from the elements. Dress in warm layers, with a water and wind resistant outer layer. A scarf or ski mask is recommended as are sunglasses or goggles. Sunscreen is needed, even in winter, to protect from the glare off the snow.
This is an experience with live animals. Dogs may be jumpy, loud, and relieve themselves without excusing themselves to use the restroom. As with kids, always be prepared for the unexpected when involving animals!
Take a Sneak Peak
Curious what it is like on a dog sled run? Check out both a winter and summer dog sledding ride on our YouTube channel: