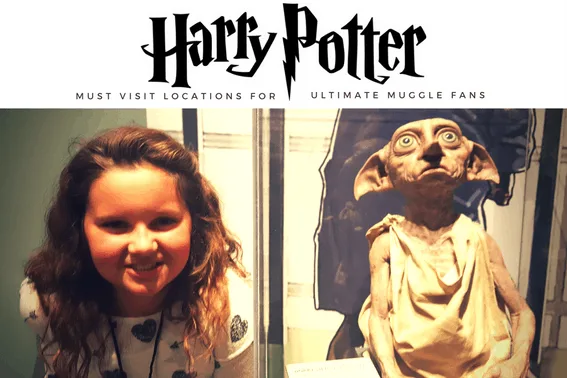 So, you have Harry Potter fans in your family- where do you go to take in the wondrous world of magic and mischief? We've narrowed down the best spots to immerse your family in the Harry Potter fun both here in the U.S. and abroad! Join in the fun of Rowling's Wizarding World on the west coast in Hollywood, on the east coast, in Orlando, and across the pond in the United Kingdom.
Where to take your Harry Potter Fan in Orlando, Florida
Universal Studios Florida: Diagon Alley

The Wizarding World of Harry Potter- Diagon Alley drops Orlando visitors directly in the middle of the whimsical book series. Taken straight from the pages of Rowling's books, even the tiniest detail is visible, including the moving brick wall that allows magical witches and wizards to enter Diagon Alley and the door stoop from The Daily Prophet. Make sure you get there when the park opens for a shorter line at Harry Potter and the Escape From Gringotts ride filled with 3-D effects and fun surprises. The ride queue is definitely half the fun, but don't expect the goblins to talk back to Muggles when they are addressed.
Outside Diagon Alley, fans can meet with the magical driver of the Knight Bus and even spy Kreacher peeking out of Sirius Black's family home, 12 Grimmauld Place. Hogwarts Express is the train that carried Harry Potter and his friends to and from Hogwarts School of Witchcraft and Wizardry each year, and the Universal Studios re-creation shows families a glimpse of the fun journey while transporting them to a second park via Platform 9 3/4. Make sure you head into the English phone booth just outside of Diagon Alley and listen in on secret Ministry of Magic phone conversations.
Fun shopping and dining experiences are located in Diagon Alley as well. Families can enter Gringott's Money Exchange and have their Muggle money turned over into official Gringott's currency, which may be spent anywhere in the park including The Leaky Cauldron, Diagon Alley's dine-in restaurant. Take a wrong turn and you may just head into Knockturn Alley, the spooky spot where Harry mistakenly heads that's filled with all sorts of Dark Arts findings like the Borgin and Burkes store.
Islands of Adventure: Hogsmeade

Universal Orlando Resort's first Potter park, Wizarding World of Harry Potter- Hogsmeade, continues to attract Harry Potter fans from all over the world for a chance to see the wonders of the fictional town of Hogsmeade, the spot where Harry used his invisibility cloak to sneak in by using secret passages in Hogwarts Castle. In Hogsmeade, fans can head to Ollivander's Wand Shop for a chance to be picked in the wand ceremony or send a postcard home inked with an official Hogsmeade postmark from the Owl Post. Stopping for a Butterbeer is no problem with several drink vendors in Hogsmeade, but the best place to enjoy a frozen one is at Three Broomsticks, Hogsmeade's sit down restaurant with Cornish pasties and pumpkin juice.
Fans who love thrill rides will love Harry Potter and the Forbidden Journey in Hogwarts Castle and Dragon Challenge where the golden egg can be seen if you can keep your eyes open. Younger kids will adore Flight of the Hippogriff– a tame roller coaster that teaches young witches and wizards how to safely ride a hippogriff.
Where to take your Harry Potter Fan in
in Hollywood, California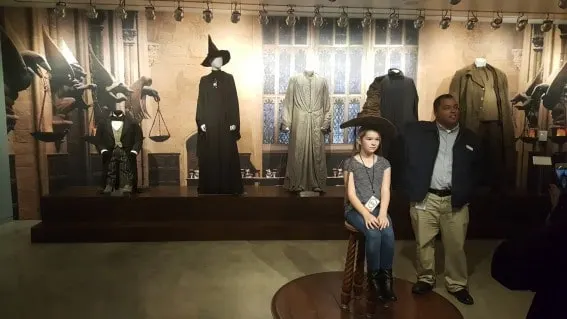 Warner Bros. Studio Tour Hollywood: Fantastic Beasts Experience
Recommended by Katie Bodell, Blog Editor
The west coast's Warner Bros. Studio Tour in Hollywood opened its own Harry Potter-themed walk-through exhibit this winter 2016 after Rowling's Fantastic Beasts and Where to Find Them hit theaters. Tour guests can now peruse costumes worn by Eddie Redmayne, Katherine Waterston, Alison Sudol, Dan Fogler, and Colin Farrell, as well as Newt's case of creatures from the newest installment of the magical world. In addition to the Fantastic Beasts section of the exhibit, visitors can also explore concept art, set designs, costumes, and props from the past 15 years of Harry Potter movie magic, including Lord Voldemort's costumes and wand, Harry Potter's wand, a life-size model of Dobby, and much more. A major highlight of this exhibit is the chance to be sorted by the magical Sorting Hat; I was pleased to learn that I was indeed a Ravenclaw at my core.
Read details of my experience at the Warner Bros. Studio Tour Hollywood's Harry Potter exhibit.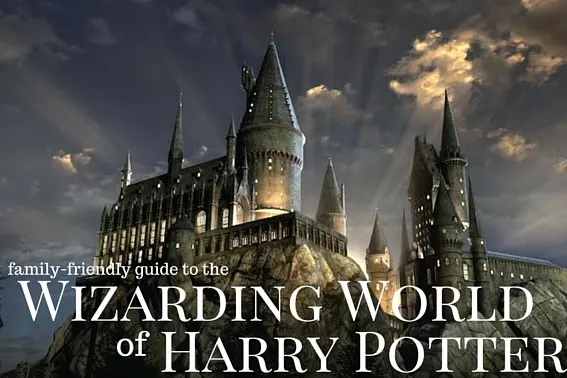 Universal Studios Hollywood: The Wizarding World of Harry Potter
Recommended by Elizabeth Bickford, SoCal Guroo
Universal Hollywood Studios opened their very own Wizarding World of Harry Potter in spring of 2016. The immersive theme-park experience is shared in detail in our Guide to the Wizarding World of Harry Potter article. Click through the link or image above for inside tips & information.
Where to take your Harry Potter Fan in the United KingdomWarner Bros. Studio Tour London: The Making of Harry Potter
Recommended by Lisa Goodmurphy, Trekaroo contributor & family-travel writer
One of the must-sees for Harry Potter fans who are visiting England is the
Warner Bros. Studio Tour London: The Making of Harry Potter.
The studio is located about 20 miles northwest of London and is easy to reach via train from Central London to nearby Watford Junction station. Located in the former Leavesden Studios where the Harry Potter series of films were filmed between 2000-10, the self-guided walking tour brings the magic of the movies to life by providing fans with a unique behind-the-scenes look at film-making. Timed entry tickets must be pre-booked and they do sell out, so it's best to book as soon as trip dates are confirmed in order to avoid disappointment. Once inside the studio, visitors can spend as much time as they like. We spent the better part of a day and still didn't see everything!
The tour begins with a pre-show and then visitors are ushered into the Hogwarts Great Hall, which was modeled after the dining hall of Oxford University. From the Great Hall, visitors enter what is known as The Big Room as it is the largest space in the studio, it is filled with authentic props and costumes from the film as well as many of the sets used including the Gryffindor Common Room, Dumbledore's Office, Snape's Potions Classroom, and the Burrow (home of the Weasley family). For a truly one-of-a-kind souvenir, families can even have a photo taken in the flying car from Harry Potter and the Chamber of Secrets or star in a video flying on a broomstick through London to Hogwarts both courtesy of green screen technology. A courtyard, known as The Backlot, between the two studio buildings displays many of the larger set pieces including the Privet Drive house, the Knight bus, and the Hogwarts Bridge. Refreshments are also sold here – including Butterbeer! The second studio building showcases the art department, animatronics and other special effects from the movies and visitors can also stroll down Diagon Alley and peer in all the shop windows. The tour finishes in a large room that houses a hand-crafted model of Hogwarts that is 50 feet in diameter and runs through a day to night cycle every few minutes. For Harry Potter fans, a day spent at Warner Bros. Studio Tour London is a memory that will last a lifetime.

Platform 9 3/4 – King's Cross Station
Photo by: Flickr/Karen Roe
Although not a filming location, you can really visit Platform 9 3/4 in King's Cross Station to see a replicated platform, complete with half-heading-into-Hogwart's Station luggage cart that is perfect for snapping a picture with. Just passed the "platform" is a Harry Potter Platfrom 9 3/4 Store offering souviners for fans of the series, including all of the most popular wands. There are lots of filming locations and even a wide assortment of tour operators that will take you to them while visiting London, or you can check out this free family-friendly walking tour and treasure hunt.
The Potter Trail, Edinburgh
Recommended by Terumi Pong, Trekaroo Contributor & Twitter Manager
Although not officially connected with J. K. Rowling or the Harry Potter series, The Potter Train in Edinburgh is a must for fans visiting this northern stretch of the UK. The free walking tour explores the cafe where Rowling wrote the first book of the series, where Voldemort is buried, interesting facts & details about the books, and much more.
We'd love to hear from you. Have you ever visited a Harry Potter theme park? Was it everything you expected it to be?
Featured photo by: Bigstock/anastas_styles