Every day is a great day for a margarita! Many people get stuck with the classic lime, tequila, simple syrup recipts, but there is a whole world of unique and creative margarita recipes out there waiting to be explored!
We asked 15 resort, restaurants, and destinations to share their favorite creative margarita recipes with us. From Cabo to Santa Fe, we have gatheres some unique margarita recipes begging to be sampled. Let the celebration begin!
15 Unique and Creative Margarita Recipes
Grapefruit Margarita from Montage Los Cabos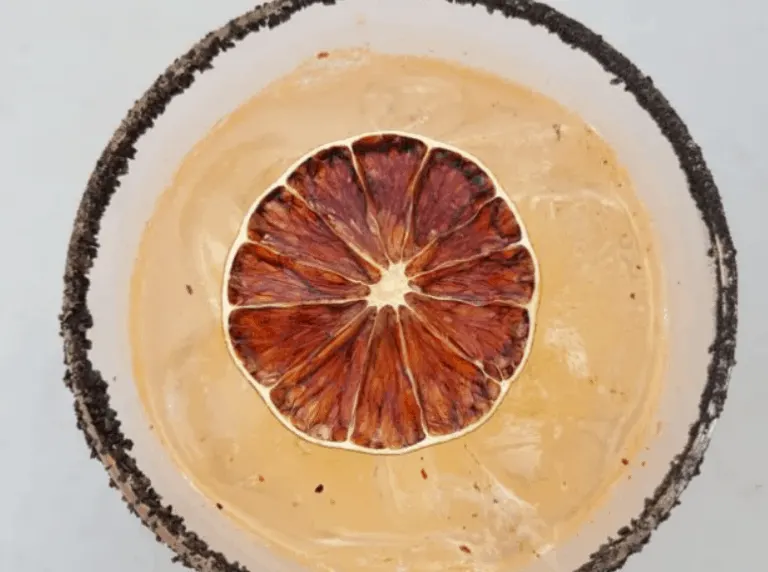 Our first drink comes from our popular 40 Cocktails That Will Make You Feel Like You Are on Vacation article, originally shared by Montage Los Cabos.
If you have been lucky enough to stay at a Montage resort, you know that they are first class all the way. So it is no surprise that the Montage Los Cabos is sharing a first-rate Grapefruit Margarita recipe. The usage of grapefruit almost makes this a breakfast beverage, am I right?
Yield: Serves 1
Grapefruit Margarita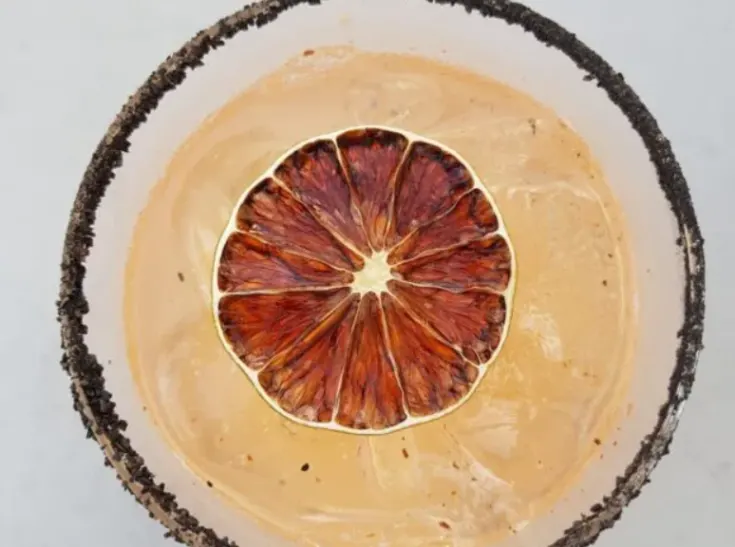 Ingredients
2 oz. El Tesoro Blanco Tequila
2 oz. Grapefruit Juice
1 oz Cinammon Syrup
Fresh or Dried Lime Slice and a Salt or Sugar Rim for Garnish
Instructions
Combine all cocktail ingredients with ice in a cocktail shaker.
Shake vigorously until chilled and diluted.
Cut a lime wedge, moisten the rim of a medium glass, and then dip in salt or sugar for the rim.
. Pour cocktail into glass and serve.
Trekaroo Tip: Montage is also sharing various other recipes through their #MontageAtHome series on Instagram. Thank you to our friends at Preferred Hotels & Resorts,for pointing me in the direction of this tasty series.
Prickly Pear Margarita from Red Mountain Resort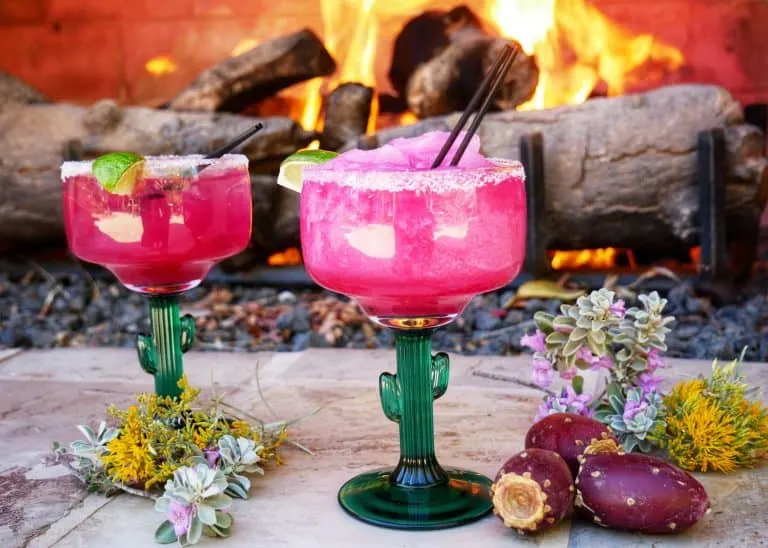 Some margarita recipes produce results that are almost too pretty to drink. Notice that I said "almost".
Prickly pears are a common sight in the American Southwest. They are a seedy fruit that grows on the prickly pear cactus, and they are a great base for a margarita.
Red Mountain Resort in St. George, Utah is in the heart of prickly pear country, surrounded by the remarkable red rocks of Southern Utah. They recommend enjoying this Prickly Pear Margarita after spending some time in great outdoors.
Yield: Serves 1
Prickly Pear Margarita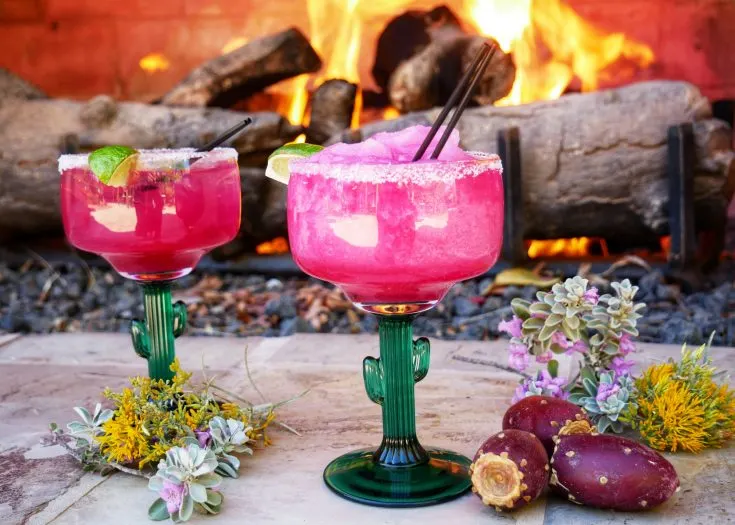 Prep Time 5 minutes

Cook Time 5 minutes

Total Time 10 minutes
Ingredients
1 oz Triple Sec
8 oz Agave Wine Spirits
2 oz Fresh-Squeezed Lime Juice
1 oz Prickly Pear Puree
2 oz Simply Syrup*
Ice cubes
Instructions
Moisten a margarita glass rim with a lime wedge and dip the rim of the glass into salt.

To serve on the rocks: Combine all ingredients into a cocktail shaker to mix, then pour over ice.

‍To serve blended: Combine all ingredients into a blender and blend until smooth.
Notes
Simple Syrup Directions: Combine ¼ cup sugar and ¼ cup water in a medium sauce pot and bring to a simmer over low to medium heat. Stir occasionally until the sugar has melted into the water, about 2-3 minutes. Remove from heat and allow to cool. Simple syrup can be stored in the refrigerator for future use, up to two weeks.

Here are 10 of our favorite things to do in Utah with kids.
Basil Mangorita from JW Marriott Cancun Resort & Spa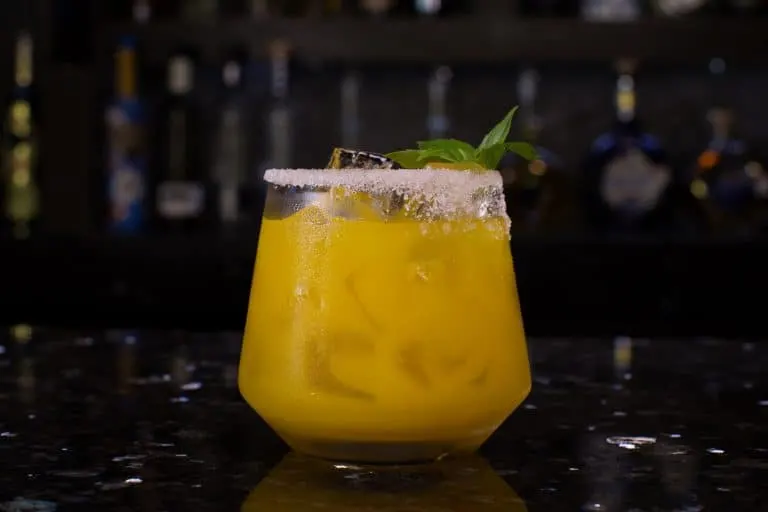 JW Marriott Cancun Resort & Spa shares this next recipe from their 150 Margaritas Menu. They love the Basil Mangorita because it strikes the perfect balance of herbal and sweet.
I love how the color reminds me of sunshine, and the flavors are reminiscent of the tropical beaches on the Yucatan peninsula.
Yield: Serves 1
Basil Mangorita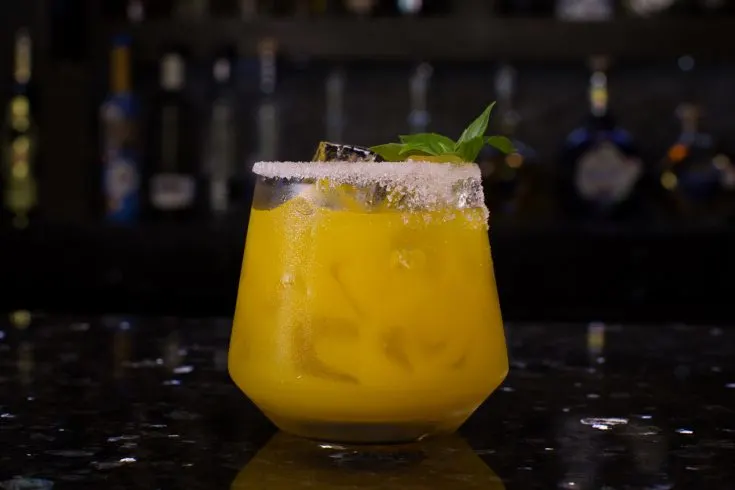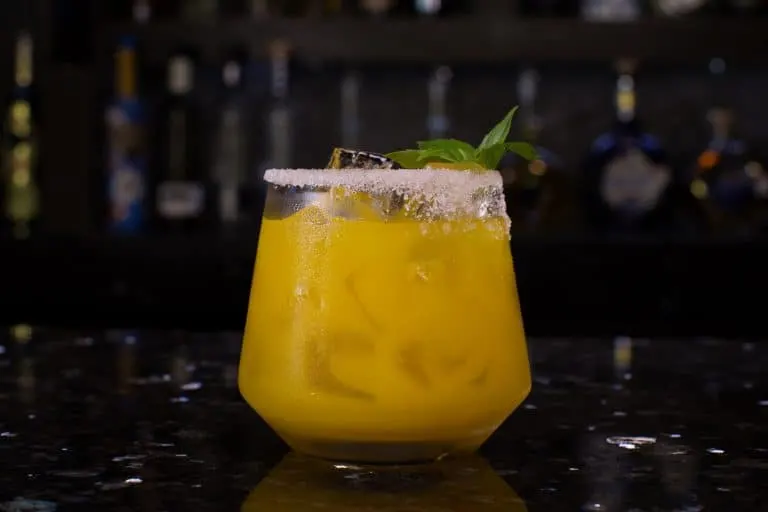 Ingredients
1 ½ oz Tequila (Preferably Clase Noble Reposado)
1 ½ oz Freshly Squeezed Mango
Basil Leaves
1 oz Lemon Juice
1 oz Grand Marnier
Instructions
1. Pour all ingredients in a shaker glass and muddle together.

2. Add ice and shake.

3. Pour ingredients into a glass, and garnish with basil leaves.
Trekaroo Tip: You and tequila aren't friends? No problem! Try substituting vodka for tequila in any of these margarita recipes. Ole!
La Fonda on the Plaza's Tamarindo Margartia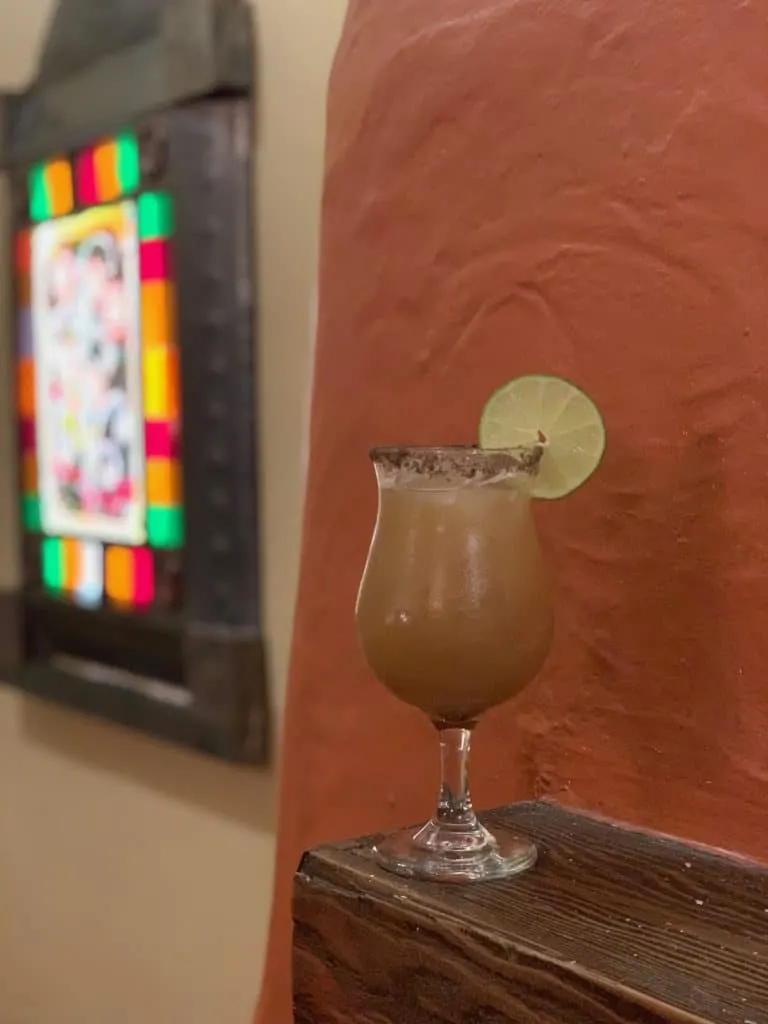 Did you know that Santa Fe has an entire Margarita Trail? Oh yes, they do!
The Margarita Trail features 45 of Santa Fe's finest margaritas, from classic to wild and wacky, like the Meowgarita– made with reposado tequila, cointreau, agave, fresh lime juice and butterfly pea flower tea topped with a cloud of cotton candy- at the Float Cafe & Bar at Meow Wolf.
Can't make it to Santa Fe anytime soon? That doesn't mean you can't drink like you are there!
The Tamarindo Margarita from La Fiesta Lounge at La Fonda on the Plaza celebrates tamarind, a tropical fruit that is a popular flavoring in Mexican candies and beverages. It is sweet and sour, perfect for a margarita!
Tamarind Syrup can be found on Amazon or at well-stocked grocery store.
Yield: Serves 1
Tamarindo Margarita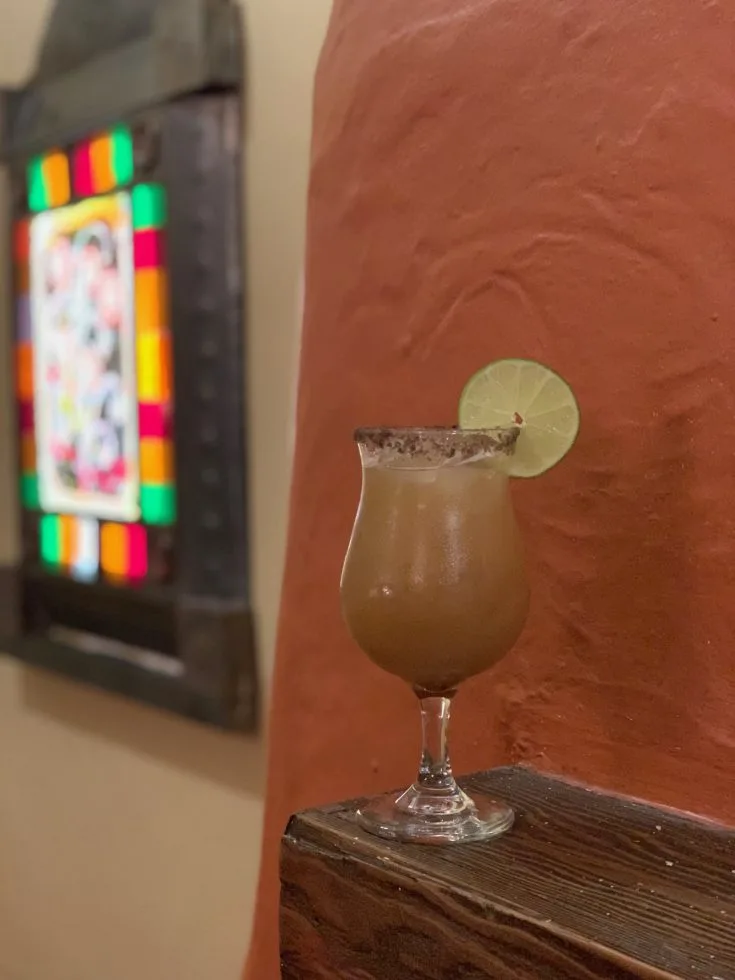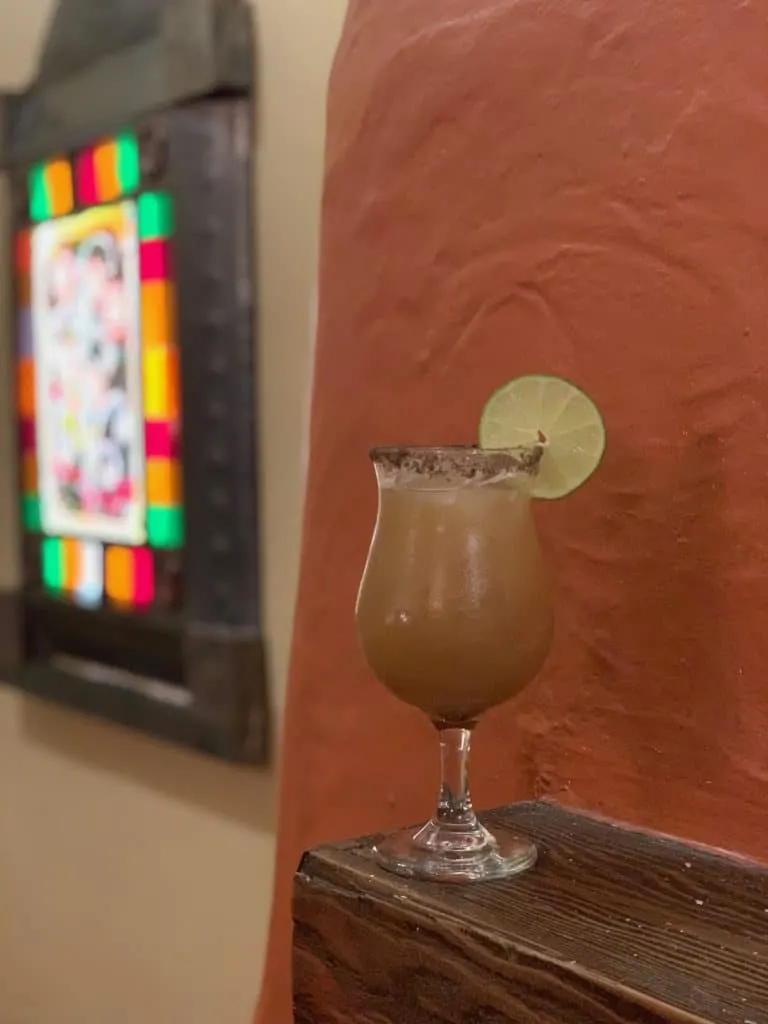 Ingredients
1 1/2 oz Herradura Silver Tequila
1/2 oz Triple Sec
1/2 oz Tamarind Syrup
1/2 oz Fresh Lime Juice
Alderwood Smoked Salt Rim (optional -- any kind of salt rim will work)
Instructions
Shake all ingredients in a shaker filled with ice.
Pour in a glass with ice and enjoy.
Discover the top 10 things to do in New Mexico with kids.
Blackberry Ginger Margarita from Mastro's Ocean Club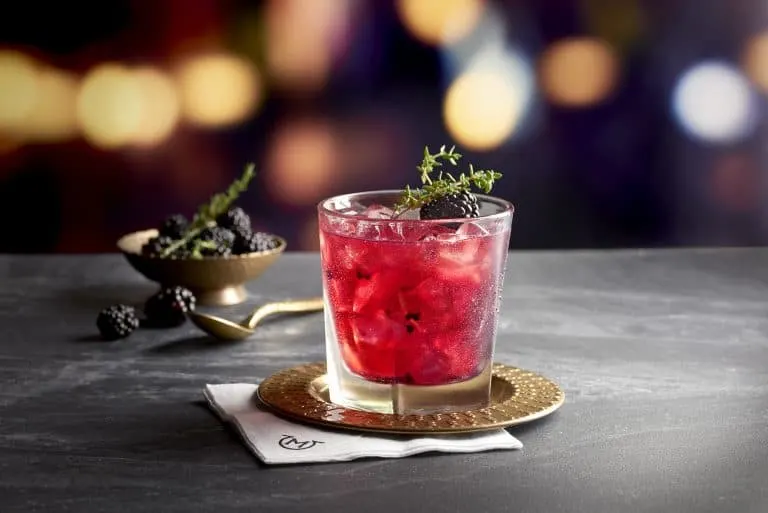 I never thought to put blackberry and ginger in a margarita, but I am really glad that Mastro's Ocean Club did! The two flavors really do marry together nicely.
Plus, ginger is great for your immune system and blackberries are packed with vitamin C, so let's consider this boozy drink a bit of an immune booster.
Yield: Serves 1
Blackberry Ginger Margarita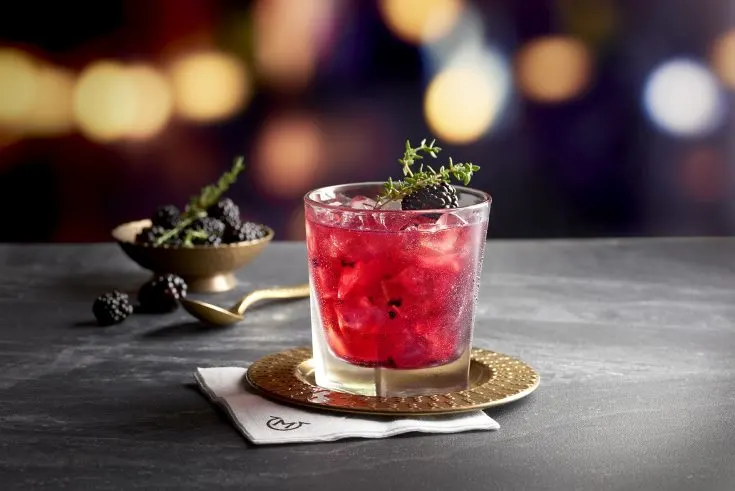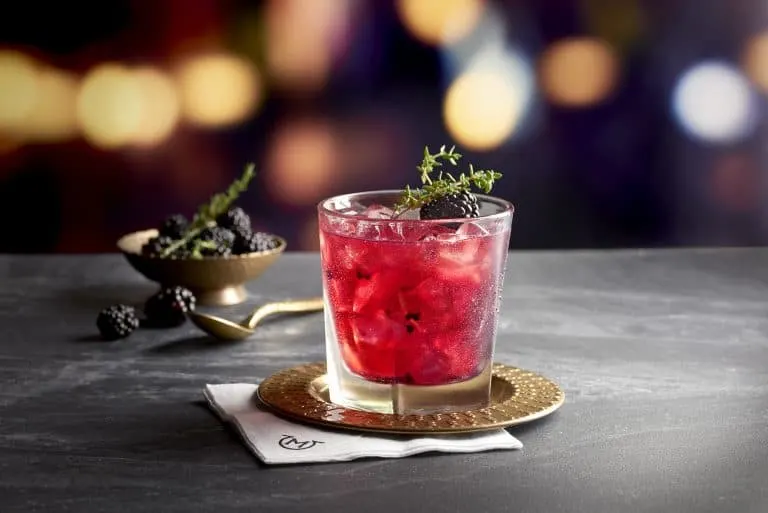 Ingredients
3 Blackberries
½ Fresh Squeezed Lemon
.5 oz. Tres Agave Nectar
1.5 oz. Casamigos Reposado Tequila
.5 oz. Shrub & Co. Spicy Ginger
1 Blackberry
Thyme Sprig
Instructions
1. Combine 3 blackberries, ½ lemon juice, .5 oz. Tres Agave Nectar in a tall glass.

2. Muddle and add ice.

3. In shaker, add 1.5 oz. Casamigos Reposado Tequila, .5 oz. Shrub & Co. Spicy Ginger and shake.

4. Pour into glass and garnish with 1 blackberry and a thyme sprig.
Here are 10 great things to do in Fort Lauderdale with kids.
O'Rita Margarita from Mustang Harry's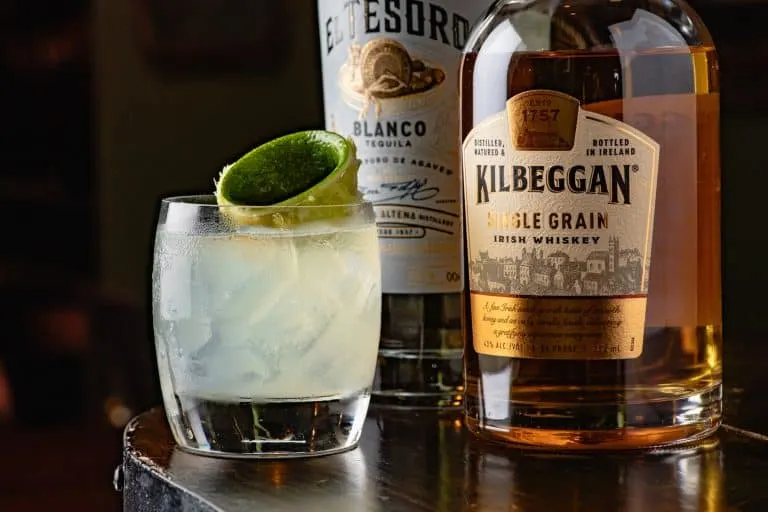 Who says tequila has to be the only hard liquor in a margarita?
Two brothers from County Tipperary in Ireland own Mustang Harry's, an Irish gastropub in New York City. They created the O'Rita, which is basically a classic margarita with a small shot of whiskey floating atop it in a hollowed-out, half-lime raft.
I say, it's a party waiting to happen!
Yield: Serves 1
The O'Rita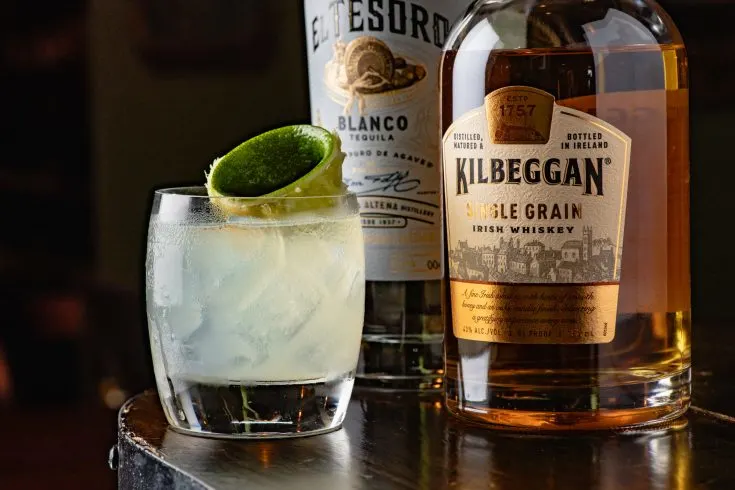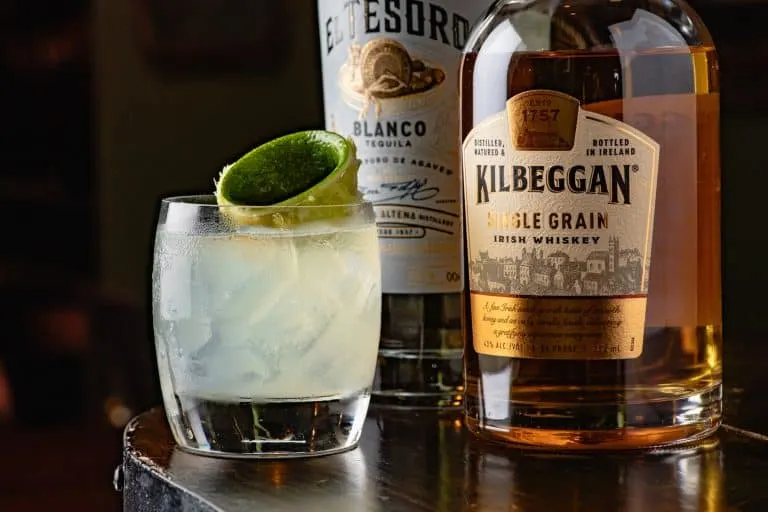 Ingredients
2 oz. El Tesoro Silver Tequila
1 oz. Fresh Squeezed Lime Juice
1 oz. Simple Syrup
1/2 oz Kilbeggan Irish Whiskey
Instructions
1. Pour tequila, lime juice, and simple syrup into a shaker with ice.

2. Shake until cold and strain into a rocks glass over ice.

3. To garnish, turn half a lime husk inside-out to create a "shot glass," fill to the top with Kilbeggan Irish Whiskey, and carefully set it on top of the drink.
Check out our list of over 30 kid-friendly restaurants in New York City that parents will love, too!
Pedregal Reyes Margarita from Waldorf Astoria Los Cabos Pedregal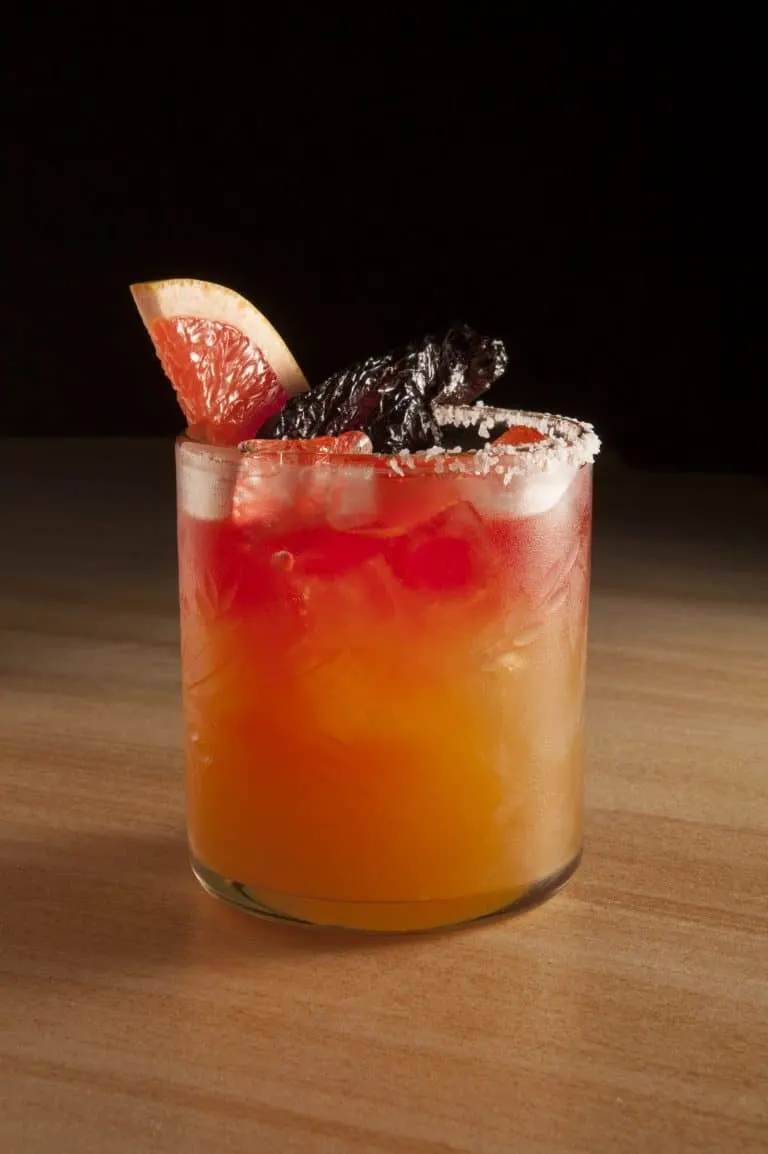 This drink looks like a citrus sunset.
The Pedregal Reyes
is the most requested cocktail at the
Waldorf Astoria Los Cabos Pedregal,
and one look at the ingredient list will give you an indication why.
In addition to tequila, there is Ancho Reyes liquor, chile ancho syrup, as well as orange, lime, grapefruit, and pomegranate juice. The result is a fruity, refreshing cocktail with a kick.
Yield: Serves 1
Pedregal Reyes Margarita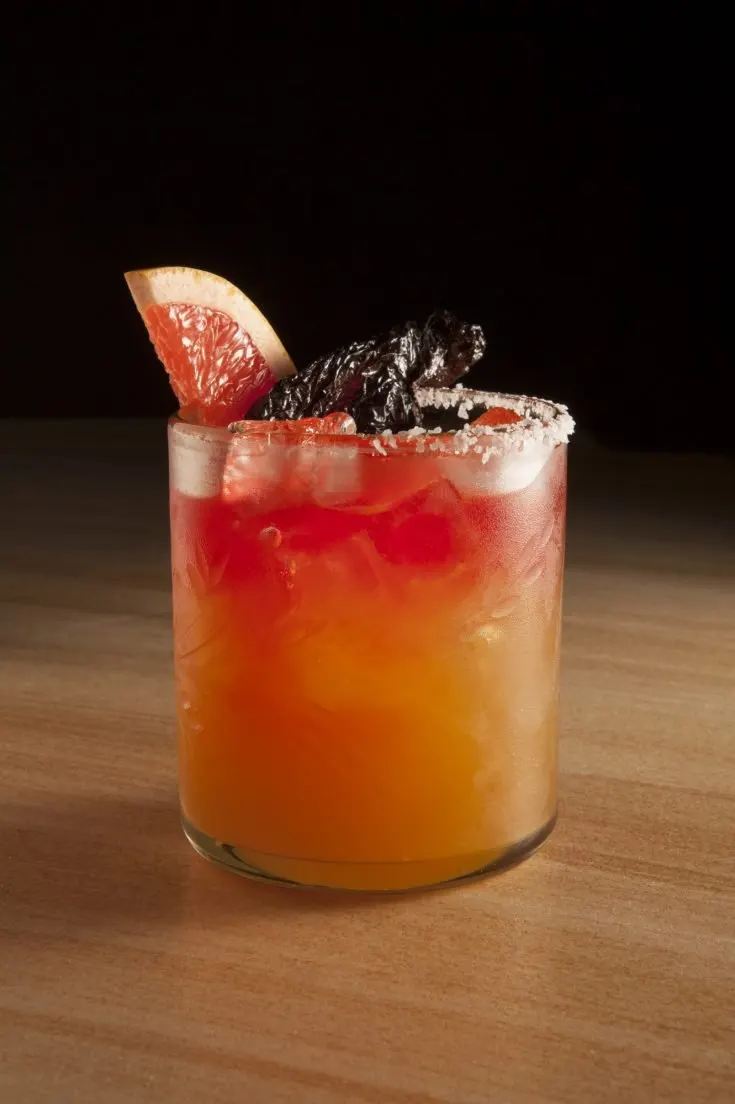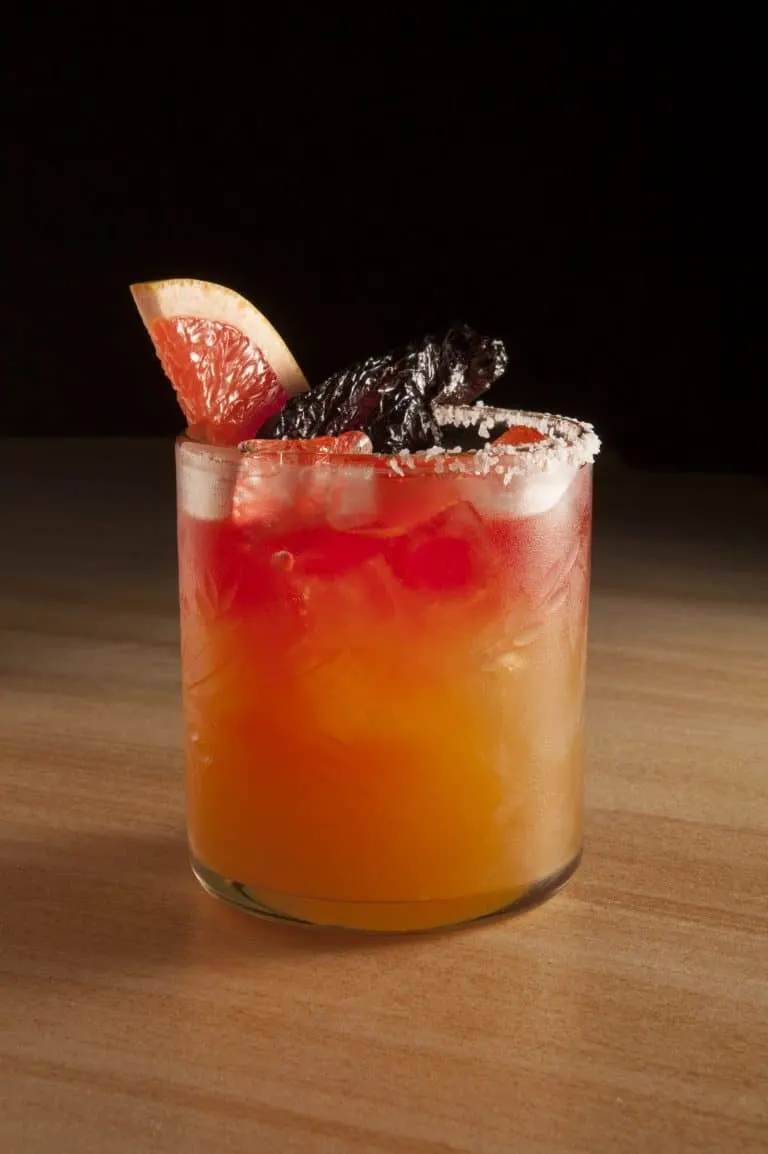 Ingredients
2 oz Tequila Reposado
1 oz Ancho Reyes Liquor
1 oz Fresh Orange Juice
1 oz Fresh Grapefruit Juice
1 oz Fresh Lime Juice
Splash of Fresh Pomegranate Juice
1 oz Pasilla Pepper Syrup
Garnish: Pepper Tuile and Grapefruit
Instructions
Combine all ingredients in a cocktail shaker with ice and shake until mixed.
Strain into glass with ice and garnish.
Notes
You can create your own pasilla pepper syrup at home. Substitute pasilla peppers into this recipe for for chili pepper simple syrup. Don't have pasilla peppers? Use your favorite spicy pepper instead.
Loca Rita from the Tipsy Alchemist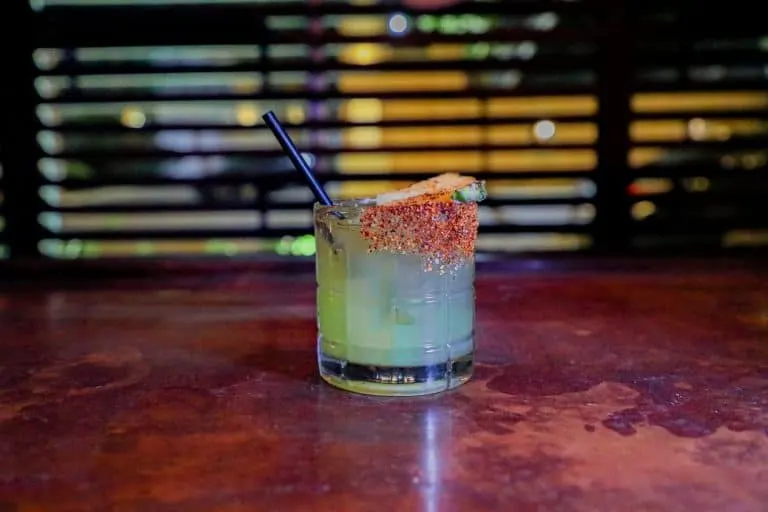 Lately I have been obsessed with drinks that involve pineapple and jalapenos so, of course, I had to include this little creation in our margarita round-up. The Loca Rita comes from the Tipsy Alchemist* in Dallas, Texas, which is located on the city's famed Margarita Mile.
Fun Fact: Did you know that the first frozen margarita machine was invented in Mariano Martinez in Dallas?
The Loca Rita packs a spicy punch, and if you aren't able to sip this one in Dallas, you can use the recipe below to enjoy this spicy bit of heaven at home.
Yield: Serves 1
Loca Rita Margarita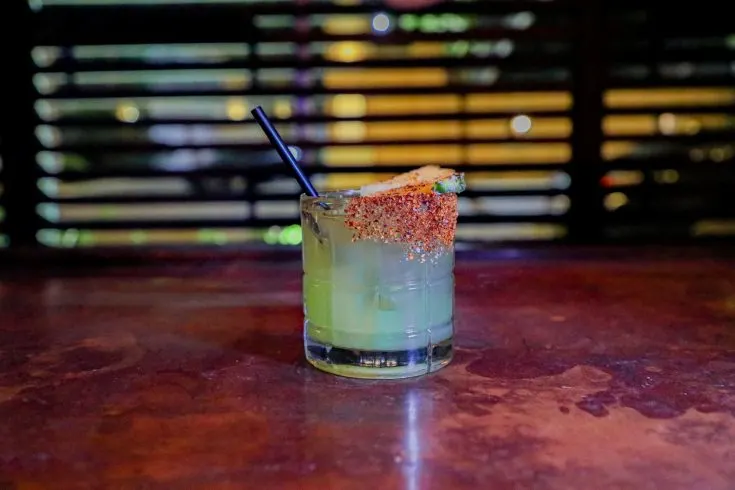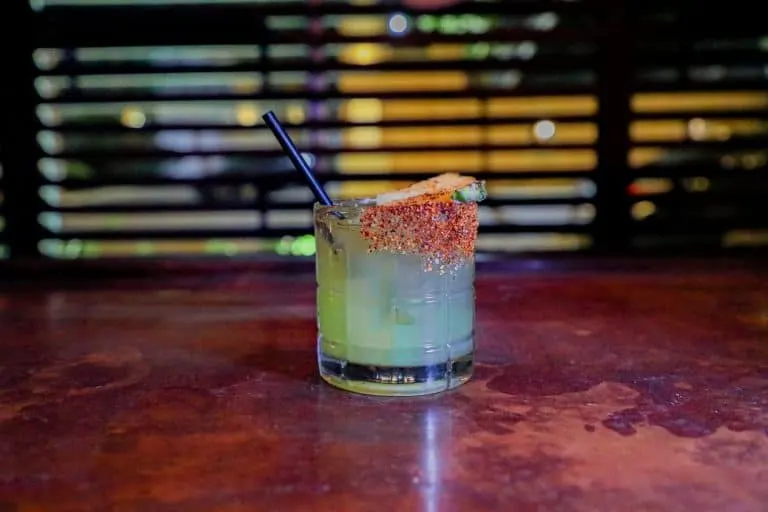 Total Time
8 hours
5 minutes
Ingredients
2 oz. Piña Loca Pineapple Tequila
½ oz. Triple Sec
½ oz. Jalapeño Reduction (a simple syrup mixture of fresh jalapeños and sugar)
Small Bouquet of Cilantro
1 oz. Fresh Lime Juice
3 drops of Peychaud's Bitters
Instructions
1: Freeze a few ounces of fresh cilantro overnight.

2. Chill a Coupe cocktail glass while preparing margarita in mixing glass.

3: Add frozen cilantro and liquid ingredients into the mixing glass starting with 2 ounces of Piña Loca Pineapple Tequila, ½ ounce of triple sec,1 ounce of fresh lime juice and ½ ounce of jalapeño reduction.

4: Add ice to the mixing glass and shake vigorously until all the ingredients are mixed. Double strain the ingredients into the chilled Coupe cocktail glass. Finish the drink by adding 3 drops of Peychaud's bitters for flavor and rich, floral aromatics.
*The Tipsy Alchemist also has a location in Austin, Texas.
Check out our picks for the top 10 things to do in Dallas and the best things to do in Austin.
Big Boy Pastelito from Sugar Rooftop Bar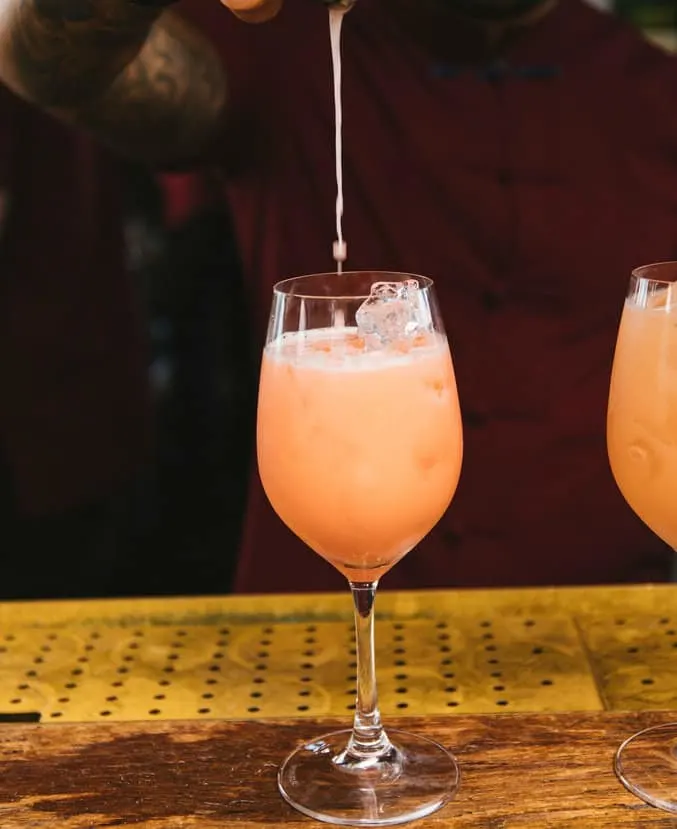 This next margarita definitely has an exotic vibe. The Big Boy Paselito from Sugar at EAST Miami hotel uses guava puree to give this beverage an Art Deco look and tropical vibe. The mint garnish keeps things cool, Miami Vice style.
Yield: Serves 1
Big Boy Pastelito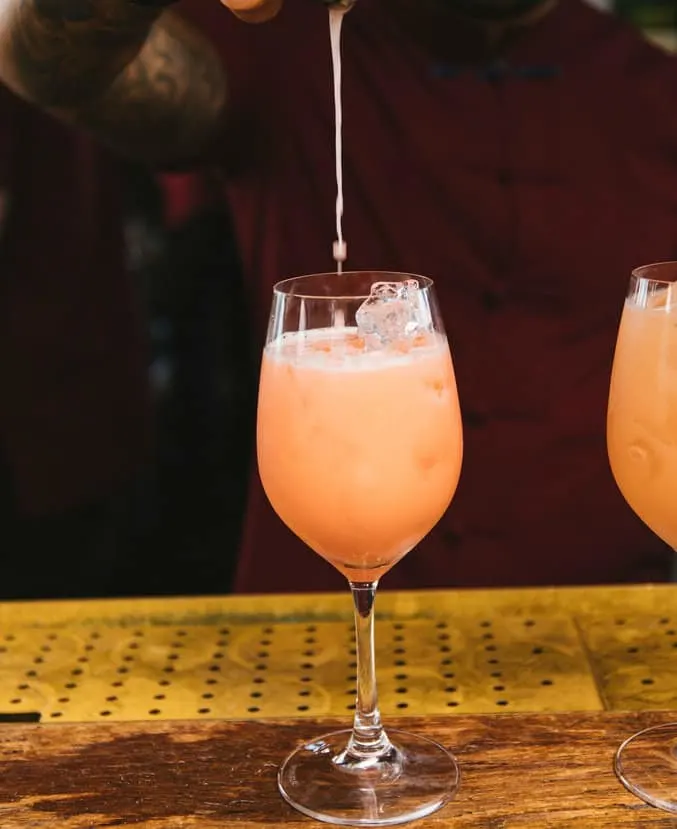 Ingredients
1 ½ oz Reposado Tequila
½ oz Cointreau Nuar
¾ oz Lime Juice
1 ½ Guava Puree
½ oz Agave
Mint
Instructions
1. Combine the reposado tequila, cointreau nuar, and lime juice into a shaker and shake.

2. Add in the guava puree, agave, and ice and shake.

3. Pour into a glass and garnish with mint.
Read about 10 fun things to do in Miami with kids.
Viva Mexico from Royalton Suites Cancun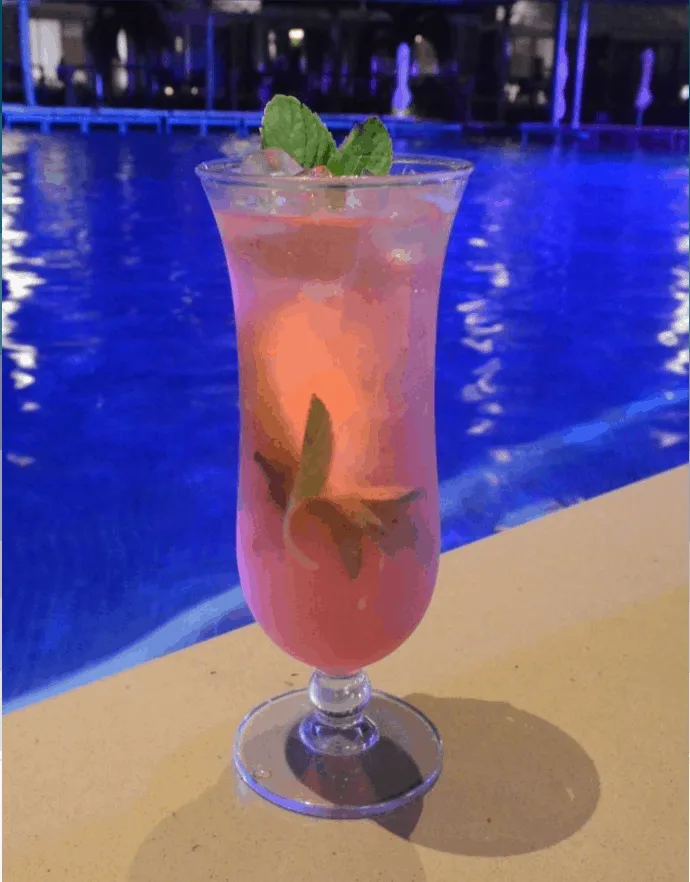 I love the name of this next drink ¡Viva Mexico! I just want to shout it over and over as I sip on this minty, watermelon margarita. Why? Because I love Mexico and can't wait to visit this beautiful country again.
The
Viva Mexico margarita
comes from the
Level 18 Rooftop Cabana Lounge
at
Royalton Suites Cancun
, where they serve cocktails poolside. You can drink this by your backyard pool or heck, maybe even your bathtub! We won't judge.
Yield: Serves 1
Viva Mexico Margarita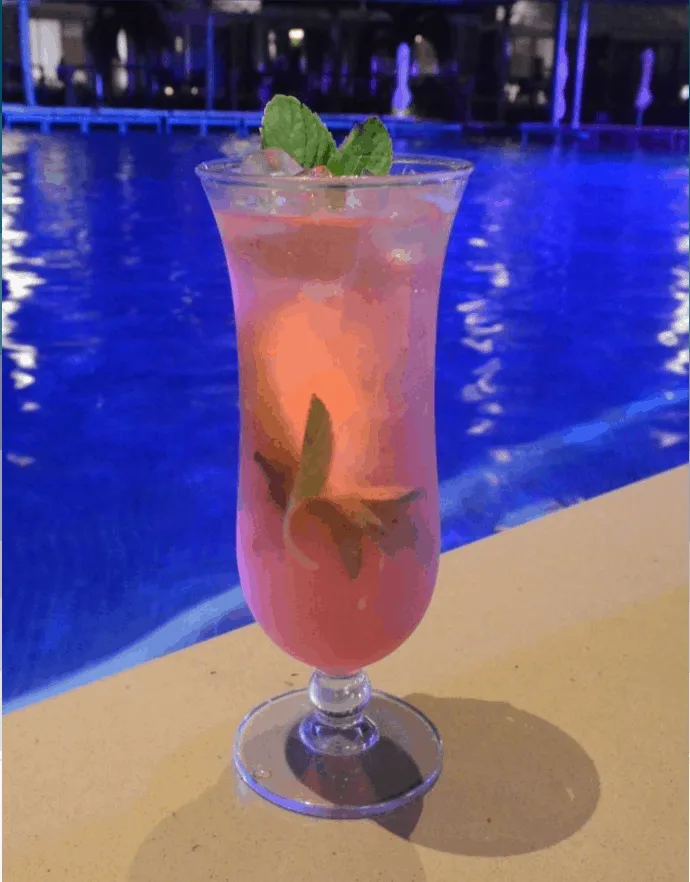 Ingredients
1.5 ounces Tequila or Mezcal
1.5 ounces Watermelon Liquor
4 Mint Leaves
1 ounce of Lemon Juice
.5 ounces of Simple Syrup
Instructions
1. Place a mint leaf at the bottom of a glass and add ice.

2. Combine the watermelon liquor, simple syrup, lemon juice, and tequila in a shaker and shake.

3. Once fully mixed, pour the concoction into your glass, and add extra mint leaves as a garnish and enjoy.
400 Rabbits from Tarrytown House Estate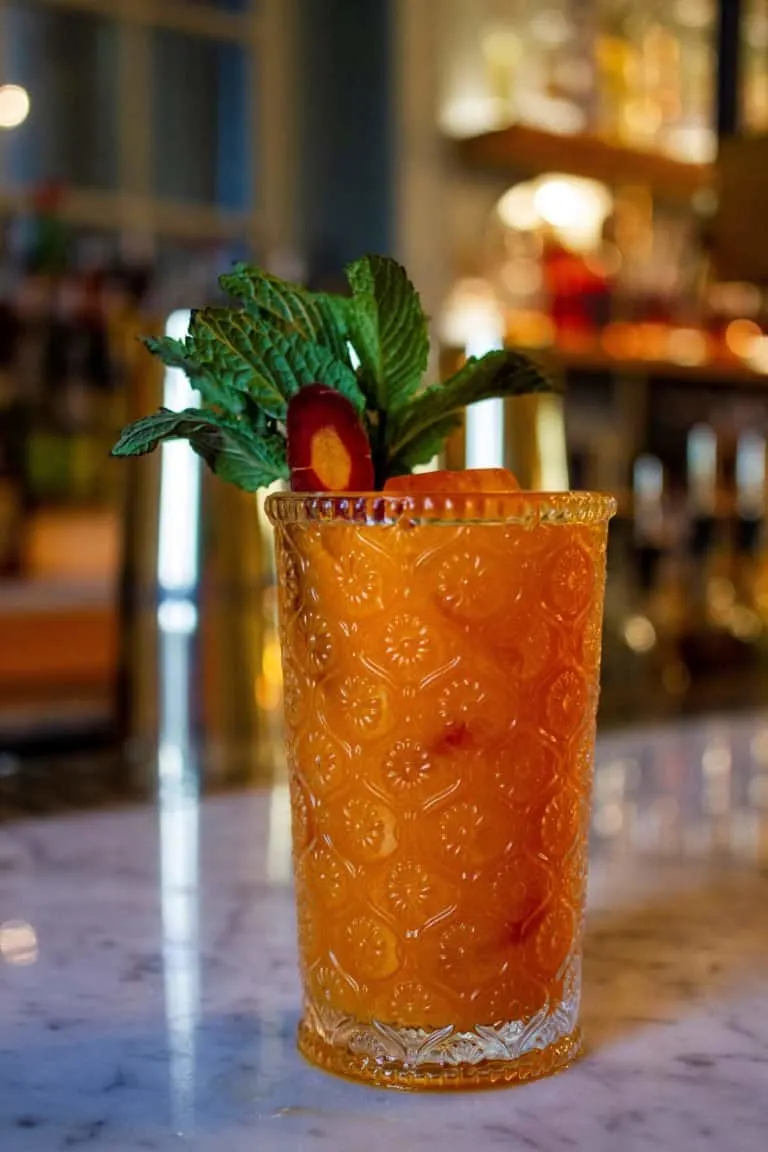 400 Rabbits- such a weird name for a drink, no? The name is based on Aztec mythology, celebrating the 400 drunken Rabbit Gods that were the children of the Goddess of Alcohol Mayahuel and Petecatl, God of Medicine.
And to make things even better, the Aztecs would see someone who had far too much to drink and say they were "as drunk as 400 rabbits"! Save that one for your repertoire.
The 400 Rabbits Cocktail comes from Goosefeather at Tarrytown House Estate in Westchester County, New York. It is the only tequila-based beverage that I have ever seen that calls for carrot juice. But there is also lime, passion fruit, and cinnamon syrup in there to spice things up.
Go ahead, drink those fruits and veggies!
Yield: Serves 1
400 Rabbits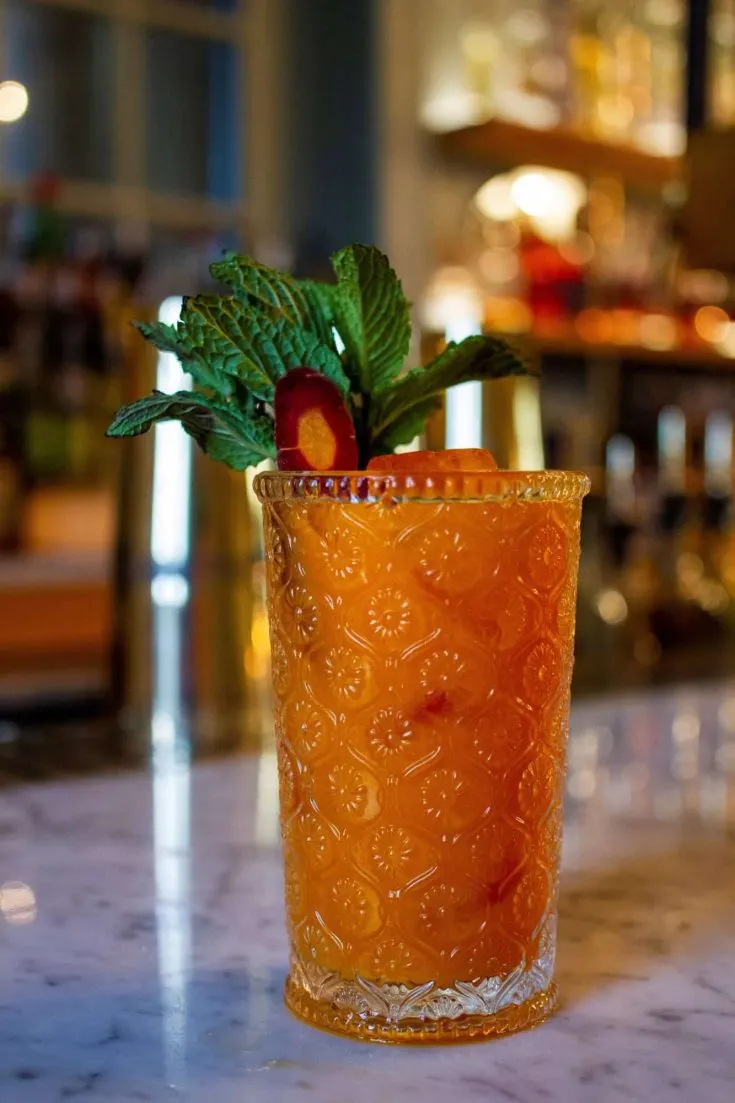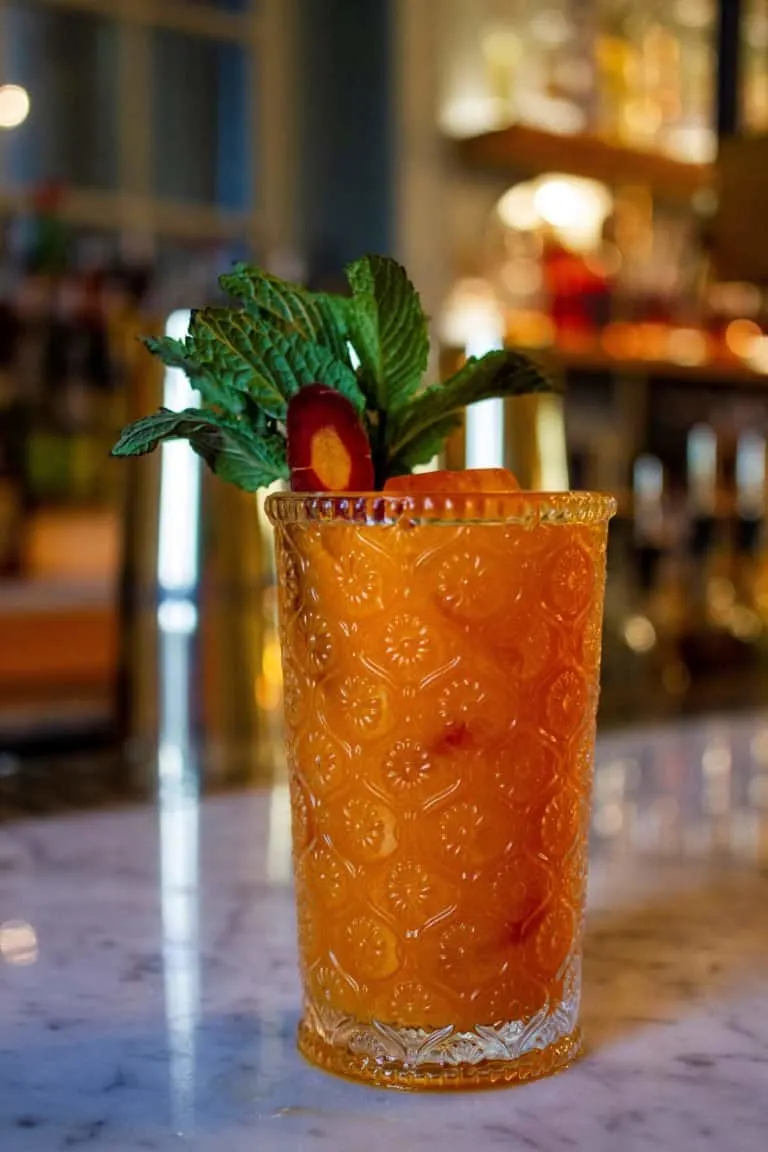 Ingredients
1 oz. Tequila
.5 oz. Mezcal
.5 oz. Ancho Reyes
.25 oz. Velvet Falernum
.75 oz. Lime
.25 oz. Passionfruit
.75 oz. Carrot
.25 oz. Cinnamon Syrup
Instructions
1. Shake and serve in a Collins glass with a mint sprig and a tranche of carrot.
Here are 10 great things to do in with kids in New York State.
Wheatgrass Margarita from Grand Velas Los Cabos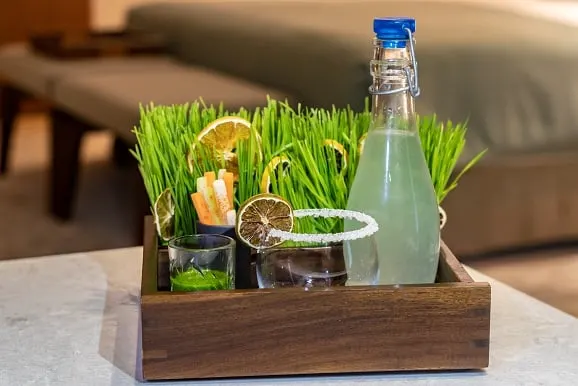 Health nuts can get involved in the margarita madness. The
Wheatgrass Margarita
comes from
Grand Velas Los Cabos,
on the tip of Mexico's beautiful Baja peninsula. Wheatgrass is easy to grow at home in a sunny kitchen window, and its health properties are numerous.
Not up for kitchen gardening? You can grab
wheatgrass powder
online or at health food stores. Use it to mix up this creative margarita.
Yield: Serves 1
Wheatgrass Margarita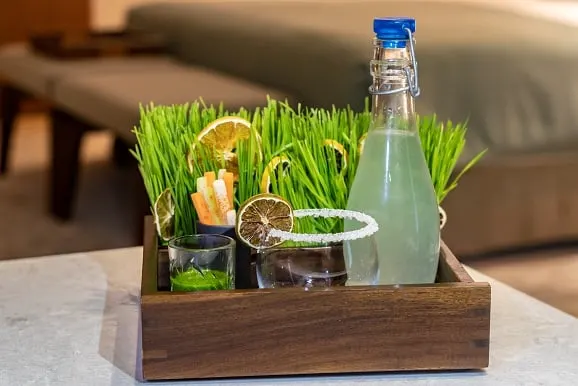 Ingredients
1 Wheatgrass Shot
1 ½ oz Don Julio Blanco Tequila
1 oz Cointreau
1 oz Lemon Juice
½ oz Agave Honey
Instructions
1. Combine all ingredients in a shaker.

2. Shake and pour over ice.
Notes
A wheatgrass shot is a teaspoon of wheatgrass powder diluted in 2 oz of water.
Shady Lady Cocktail by 1833 Kitchen & Bar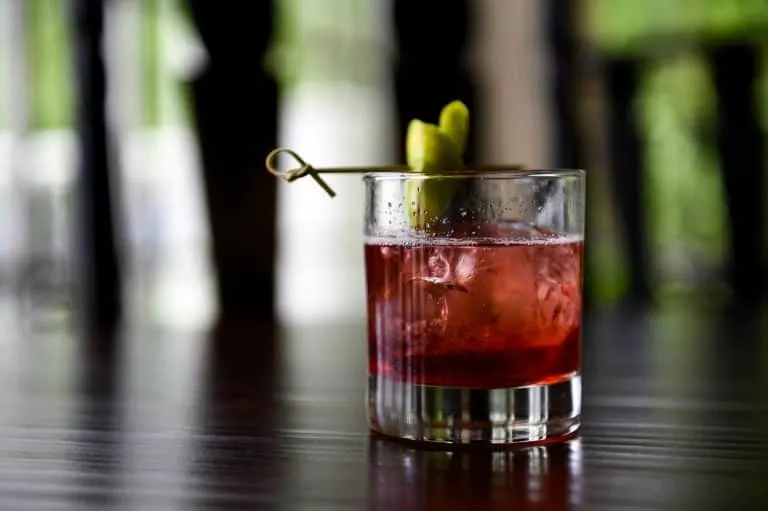 When most people think about cranberry-based cocktails, they often think about vodka drinks like the Cosmopolitan. But who says tequila and cranberry can't go together?
The Shady Lady Cocktail was sent to us from the Inns of Aurora, based in the Finger Lakes region of New York in a a charming National Historic District.
This drink was first mixed up by 1833 Kitchen & Bar Assistant Manager, Ben Maywalt. He was the genius who thought to combine tequila, apple brandy, cranberry juice, and lime. And thankfully, he also gave it a fantastic name so we can all embrace our shady side while we sip on this fruity beverage.
Yield: Serves 1
Shady Lady Cocktail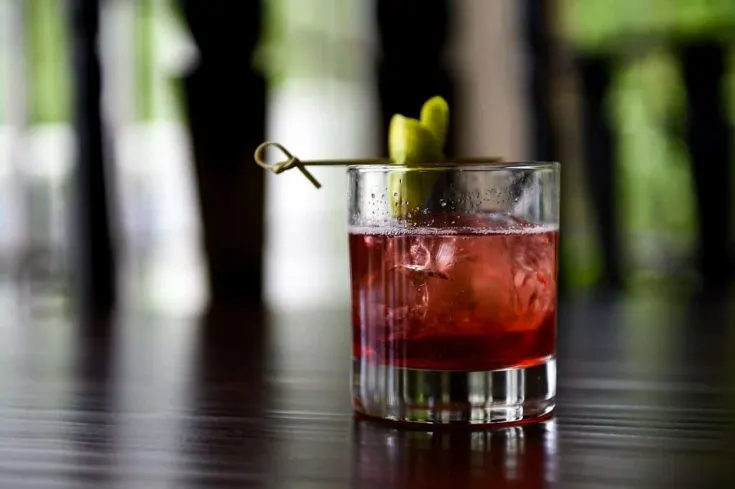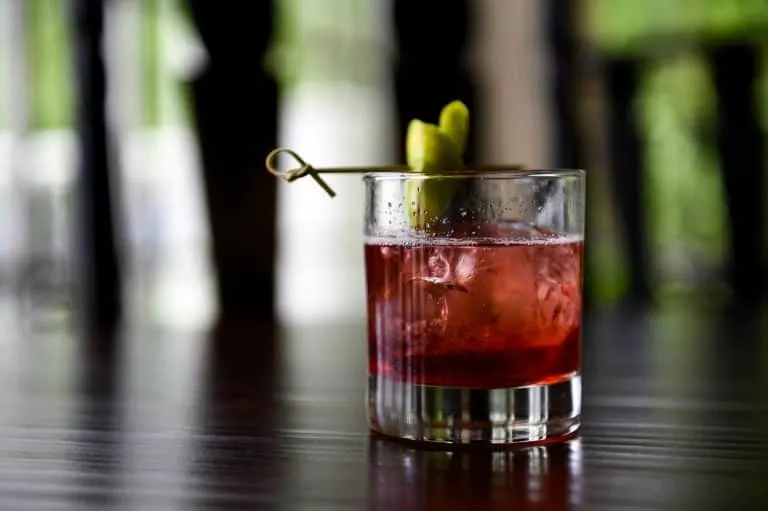 Ingredients
1.5 oz Arrete Tequila
1 oz Coquerel Calvados
.75 oz Cranberry Juice
.5 oz Fresh Lime
Instructions
1. Fill a shaker with ice and add all ingredients.

2. Shake generously and then pour into a highball glass.

3. Finish with a lime twist or wedge garnish.
Pancho Peppers Margarita from Panama Jack Resorts Playa del Carmen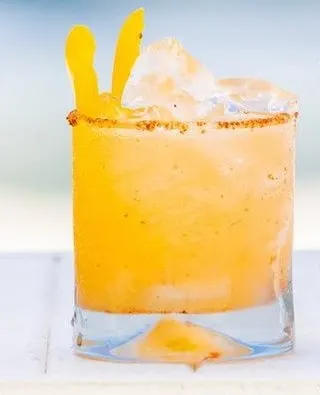 This drink is ideal for someone who loves the flavor of peppers but doesn't want to drink anything too spicy. Bell peppers are mild and full of flavor, and help make up this tasty margarita.
Panama Jack Resorts in Playa Del Carmen, Mexico serves up the Pancho Peppers Margarita. They make an easy bell pepper simple syrup and combine it with orange and lime juice (and of course, tequila) to make for a drink that is filled with flavor but won't set all those alarm bells off on your taste buds.
Yield: Serves 1
Pancho Peppers Margarita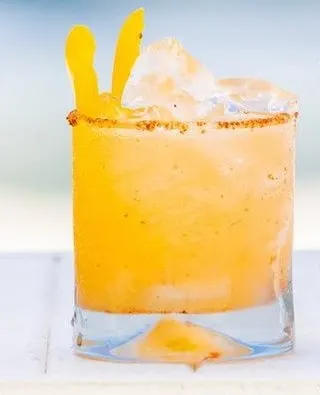 Additional Time
20 minutes
Ingredients
1 oz. Bell Pepper Simple Syrup
1 oz. Don Julio Reposado Tequila
½ oz. Orange Liqueur
3 Bell Pepper Strips
1 ½ oz. Sour Orange Juice
½ oz. Lime Juice
Lime wedge
Garnish: 5 tsp. of Tajin Classic Seasoning and 2 Bell Pepper Strips
Instructions
Rub the lime wedge on the outer edge of an old-fashioned glass and roll in Tajin seasoning.
Add all ingredients (minus bell pepper strips) to a cocktail shaker and fill with ice. Shake.
Pour into an old-fashioned glass and garnish with bell pepper strips.
Notes
Bell Pepper Simple Syrup: Combine 1/2 of a red bell pepper diced, 1/2 of a yellow bell pepper diced, 2 cups water, and 1 cup sugar into a small sauce pan over med-high heat. Stir until the sugar is dissolved and then let boil until the liquid is reduced by half. Strain and let cool. Move to a glass container and store in fridge.
Santacafe Chipotle Margarita from Santacafe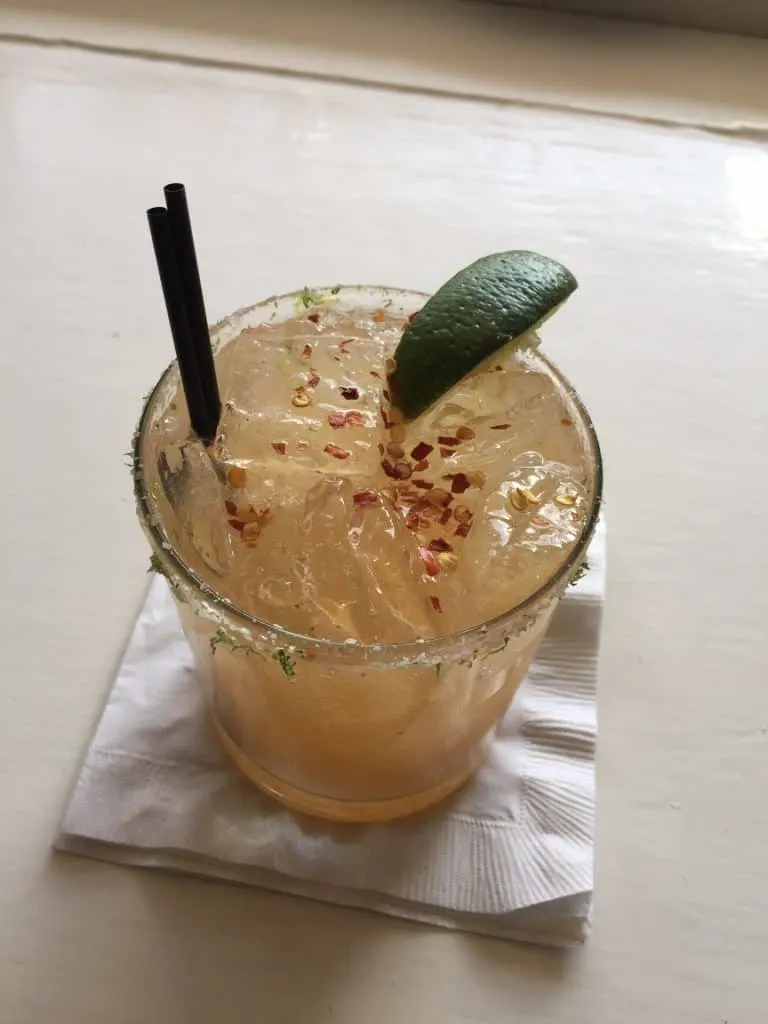 We are back on the Santa Fe Margarita Trail for this next margarita. Chipotle is known for being smoky and spicy, great for us heat enthusiasts.
The Santacafe Chiptole Margarita
brings the spice
Santa
Fe
is known for. And, since I am on a pineapple kick, this spicy, smoky, pineapple-y beverage is really speaking to me right now.
Chipotle puree in easy to find in the Mexican food section of most grocery stores. You only need a dash in this drink so save the rest to make
chipotle chicken enchiladas
to serve alongside your cocktail.
Yield: Serves 1
Santacafe Chiptole Margarita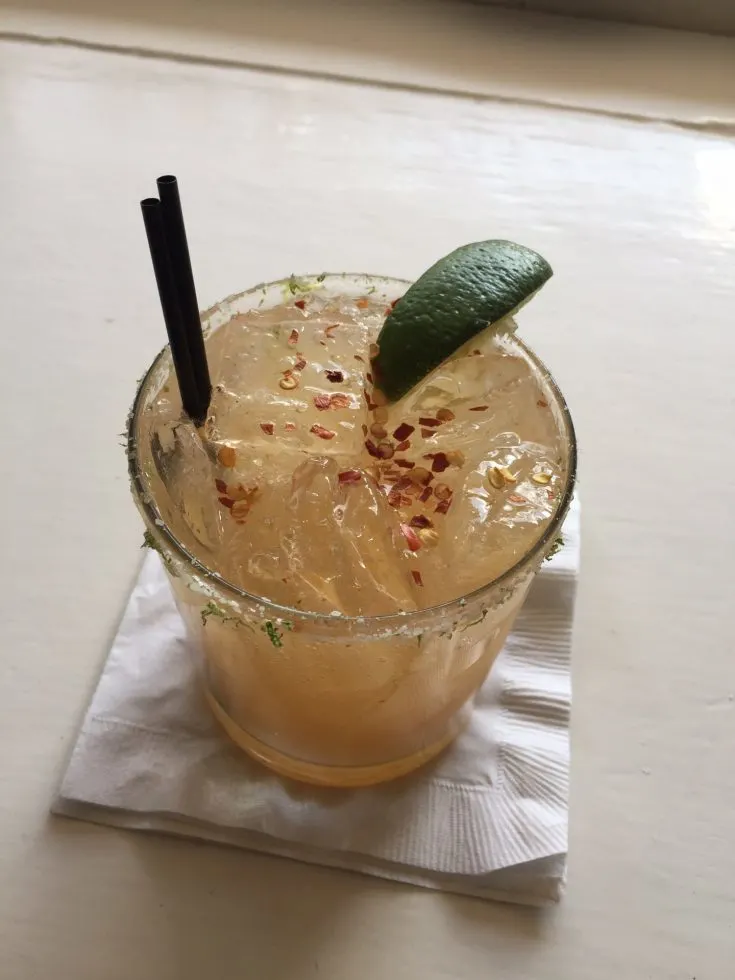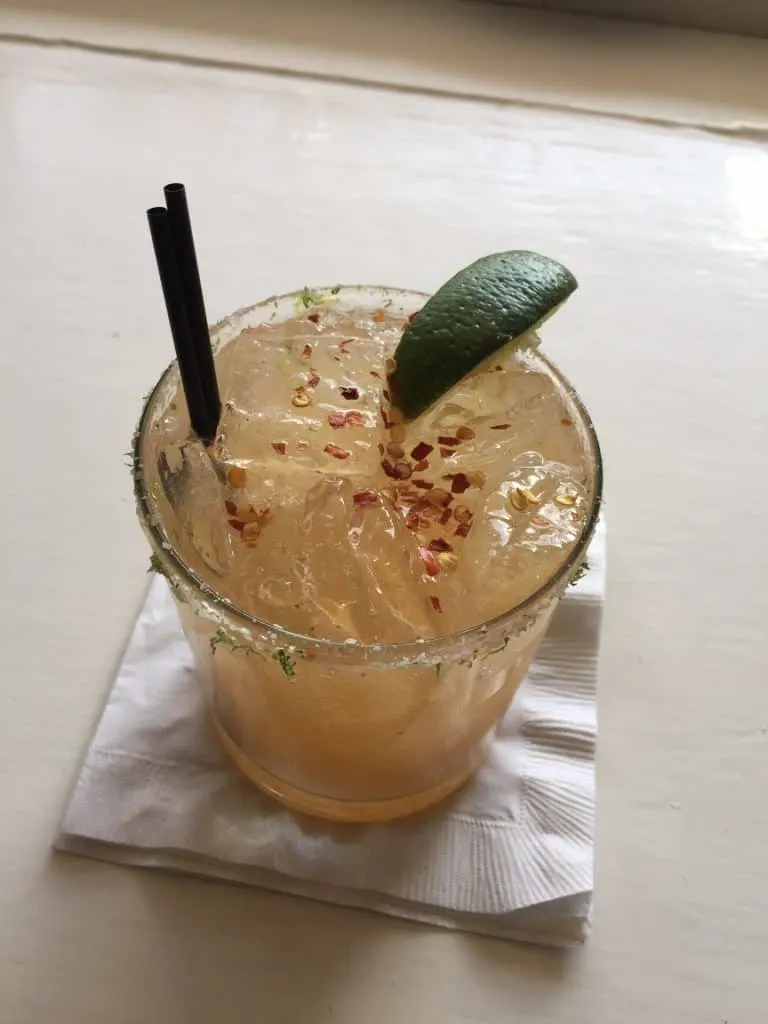 Ingredients
1 1/2 Oz. Silver Tequila
1/2 Oz. Triple Sec
2 Ounces Fresh Lemon or Lime Juice
Splash of Pineapple Juice
Dash of Chipotle Purée
Salt, Sugar, and Lime Zest for Rim
Instructions
Moisten the rim of a glass and coat with a mixture of sugar, salt, and lime zest.
Combine remaining ingredients in a cocktail shaker with ice. Shake.
Pour into glass filled with ice. Garnish with a lime wedge and chili flakes.