Why wait in line to meet your favorite Disney characters when you can eat with them? Disneyland character dining is a great way to celebrate a special event and fulfill your child's dream of meeting Mickey Mouse and all his friends. There are five different character dining experiences at Disneyland Resort, each with their own menus and cast of characters. Don't know which one is best for your upcoming Disneyland vacation? No problem! Trekaroo is here to help with our insider guide to character dining at Disneyland.
Note: Disneyland's character meal prices may increase during peak periods which is why the prices listed in this guide are averages. Children's pricing at Disneyland Resort, always refers to children ages 3-9.
Trekaroo is an affiliate of booking.com. Which means you get the same exact deals but our kangaroos get a few extra treats when you book through us.
Disneyland Character Dining
Minnie and Friends Breakfast in the Park
Location: Plaza Inn inside Disneyland Park
Meals Served: Breakfast is served daily and the cost is about $35 for adults and $20 for kids.
The Scoop
Breakfast is a buffet with those famous Mickey-shaped waffles, biscuits and gravy, French toast, and made-to-order omelets. This is the only character breakfast at Disneyland Park. Minnie Mouse is the host which means she is always there. The friends that join her seem to be quite random but Tigger, Winnie the Pooh, Captain Hook, Fairy Godmother, Rafiki, and the White Rabbit have been known to make the rounds.
Trekaroo Insider Tips
If the weather is nice, outside seating it the way to go. The lighting will be best for pictures. If you do have to sit inside, sit your child on side of the table opposite the window so that the lighting doesn't shadow their faces. Choose one the latest times for breakfast so that you can go on a bunch of rides when the park opens (the least crowded time of day) and then relax with some food before round two of ride hopping begins.
When to Book
Bookings are available 60 days out but you can usually find availability within a week of your visit. Reservations are always recommended, especially during peak times. Remember, this restaurant only offers character dining for breakfast. It is open during the rest of the day for lunch and dinner and reservations aren't needed. Try the fried chicken!
Good to know: A majority of Disneyland visitors are locals and unlike Disney World visitors, we tend to plan our visits at the last minute. Reservations can be made up to 60 days in advance via the Disneyland website but often, you can find availability close to the date of your arrival.
Disney Princess Breakfast Adventures
Location: Napa Rose restaurant inside Disney's Grand Californian Hotel. This character meal is offered Thursday through Monday from 8am-12pm.
Meals Served and Approximate Cost: Breakfast/Brunch is $125 for adults and $125 for children 3-9. The $125 child cost includes a digital photo download, autograph book and pen, gift of either a crown necklace or a sword and shield as well as a box of princess truffles and a cinch bag to commemorate the experience.
The Scoop
This Disneyland character dining experience is perfect for special occasions with your princess. Guests are greeted by a Disney princess in the restaurant lobby and offered champagne and sparkling cider while they wait for their table. This 3- course pre-fixe dining experience is a combo of table service and buffet. The appetizer and dessert course are trays filled with bite-size treats that are served to your table. Highlights include beignets, lobster crostinis, and tea sandwiches during the first course and sea shell macarons, strawberry honey sorbet, and princess cake pops at dessert.
The breakfast buffet is a major step above typical buffet fare. Offerings include perfectly scrambled eggs, chicken and Mickey-shaped waffles, artisan sausages, braised short ribs, mac and cheese, assorted fruit, pulled beef sliders, and roasted asparagus. Expect to leave stuffed!
During the meal, various princesses will stop by your table for pictures and autographs. After your meal, you will be escorted to story time with Belle on the back patio. Coffee, tea, and water are served.
Your last stop will be in a room for a "meet and greet" with one last princess. A Disney Cast Member will take your picture and a card which gives you access to a free digital download. During our visit, we saw Ariel, Aurora, Jasmine, Tiana, Belle, Mulan, and Rapunzel.
Trekaroo Insider Tips
While coffee, juice, tea, soft drinks, and tea are included in the cost, we definitely recommended splurging and trying something off the specialty drink menu. Non-alcoholic highlights include the fuschia pink Fearless Guardian made with dragon fruit juice and the citrusy color-changing Colors of the Wind. Alcoholic treats include Kings Coffee, Awakening Beauty, and a spicy Cajun Mary.
This is truly more than a meal, it is a full experience. Expect this breakfast to take at least 2 hours. Dress your child in their prince or princess gear and bring your camera! Book a time of day which will allow you to make this meal your breakfast and lunch because you are served so much food and it is all great!
Read my full review of Disney Princess Breakfast Adventures.
When to Book
This is the newest character meal and is sure to be very popular. You can begin booking your dining 60 days before your Disneyland Resort visit. I suggest booking this meal as soon as possible, especially during peak times.
Donald's Seaside Breakfast
Location: Disney's PCH Grill inside Disney's Paradise Pier Hotel
Meals Served and Approximate Cost: Breakfast is served daily from 7am-11:30am. Brunch is served Friday through Sunday from 11:30-1pm. Breakfast is about $39 per adult and $21 per child. Brunch is about $42 per adult and $23 per child.
The Scoop
Donald is your host at this character meal. You will meet him (and take a picture) before you are seated. Expect to see characters such as Minnie, Daisy, and Stitch while you are dining. The mood is casual and playful at this buffet-style character breakfast. Mickey waffles, breakfast meats, eggs, chilaquiles, banana caramel French toast, and pastries are some of the options offered. Since this character meal is at a hotel, no theme park entry is required.
Trekaroo Insider Tips
Trekaroo readers have reported that the food is good and the characters really take their time to meet with their children at this meal. Since Disney's Paradise Pier Hotel is not as high profile as Disney's Grand Californian or the Disneyland Hotel, this is a good spot to try to secure a last-minute reservation.
When to Book: Reservations are recommended but may not be necessary during slow periods. You can often secure a reservation close to your visit.
Look for availability at family-friendly hotels near Disneyland.
Goofy's Kitchen
Location: Goofy's Kitchen inside Disneyland Hotel
Meals Served and Approximate Cost: Breakfast and dinner are served. Breakfast is about $39 per adult and $23 per child. Dinner is about $43 per adult and $25 per child.
The Scoop
Goofy is the host of this buffet character dining experience so he is always there to say hi to his guests. The other characters vary but Mickey, Minnie, Pluto, Chip, Dale, Baloo, Rafiki, and Stitch have all been spotted by Trekaroo members. There are five food stations during meals and breakfast options include Mickey Mouse waffles, eggs Benedict, smoked salmon, made-to-order omelets, and chicken enchiladas. While at dinner guests can enjoy a carving station, fresh fish, pizza, and a wide variety of desserts.
Trekaroo Insider Tips
Goofy's Kitchen tends to have special menus and pricing for holidays such as Easter Brunch and Mother's Day. Try to book as close to the 60-day window as possible to secure these coveted reservations.
When to Book
This is a popular character meal and reservations are highly recommended. Reservations are available 60 days before your visit but are typically available within a week or two of your visit, except for during busy peak periods.
Read reader reviews about dining at Goofy's Kitchen.
Mickey Tales Adventure Breakfast
Location: Storyteller's Cafe inside Disney's Grand Californian Hotel
Meals Served and Approximate Cost: Breakfast is $44 for adults and $26 for children. Brunch is $46 per adult and $26 per child.
The Scoop
Mickey, Minnie, Chip, Dale, and Pluto make their appearance inside this breakfast buffet at the Grand Californian, not far from the main pool. Breakfast hours are from 7am to 11:25am and meal options include classic American breakfast fare, such as made-to-order omelets, French toast, pastries, breakfast meats, and Mickey-shaped waffles. Mickey Tales Adventure Brunch is from 11:30am to 2pm and includes all the same breakfast items as well as some lunch specials which rotate daily.
Trekaroo Insider Tips
This is the best Disneyland character meal to meet both Mickey and Minnie since they are usually both there. Lines inside Disneyland and Disney's California Adventure can get very long so if meet your two favorite mice is a priority, this is a great place to do it.
When to Book
Reservations can be booked up to 60 days in advance. there is generally availability close to booking time except for busy holidays and peak summer weekends.
Bonus tip: The most popular dining experience at Disneyland is not a character meal, it is dining at Blue Bayou inside the Pirates of the Caribbean ride! It is truly a unique (and pricey) experience so reservations are almost always needed. Early bookings are necessary during peak periods. Read reader reviews of dining at Blue Bayou.
Lead image by: Disneyland Resort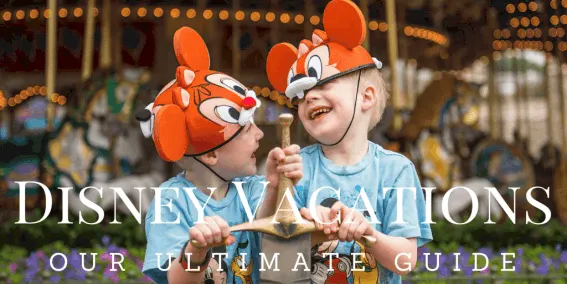 Our Ultimate Disney Guide is our go-to-resource for everything you need to know when planning the perfect family-friendly vacation. Explore our ultimate guides to the Disneyland California Resort, Walt Disney World, and other Disney properties, resorts, destination vacations, and cruises.