Catalina Island is a good idea in any season. However, if you've traveled for any amount of time, you've most likely learned that the "off season" of a highly desired destination can be an ideal season. A Catalina Island winter experience can bring the same glorious scenery but without the crowds.
Catalina Island, although amazing during the summertime, has its own beauty and activities (to offer during the winter season. Here isTrekaroo's guide to visiting Catalina Island in the winter.
Is Catalina Island good in winter?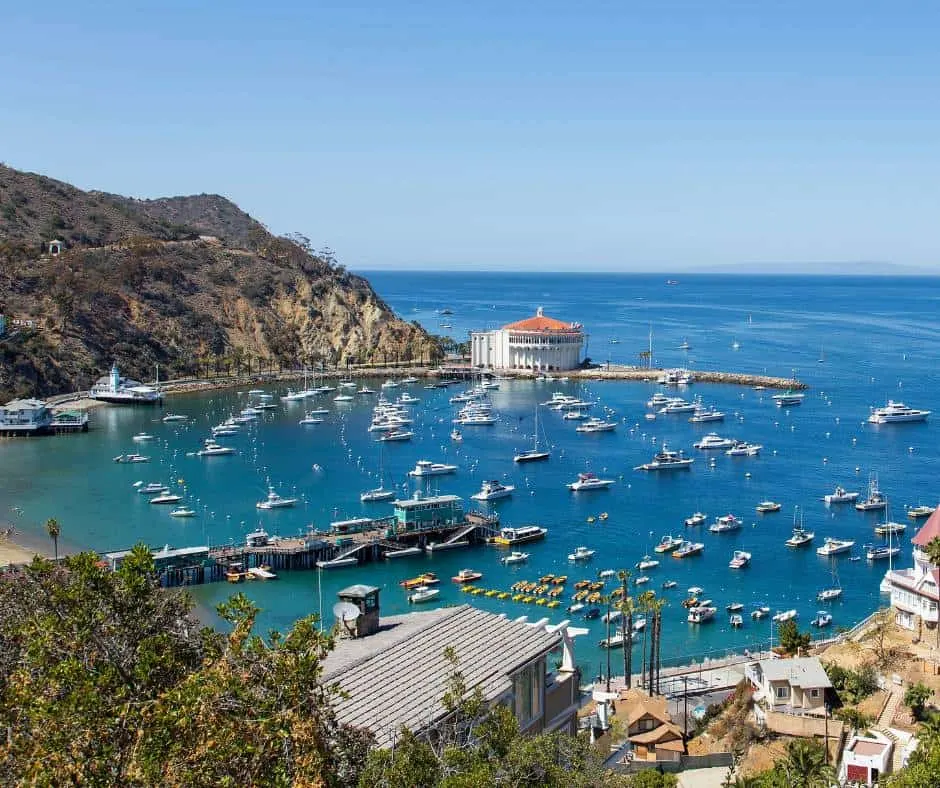 Catalina Island is great in winter! The coastal Southern California climate keeps things mild on Catalina, even in the dead of winter. Temperatures are only 10 degrees cooler in the winter (average high around 65) than they are in the summer, and most days are sunny.
Water temperatures can be chilly (60-65 degrees) but that doesn't keep folks out of the water. Most simply zip up a wet suit and dive in.
My family and I took a weekend to check out all that Catalina Island has to offer and our time in this Mediterranean-like island off the coast of Southern California did not disappoint. We are already planning our return back to this picture-perfect, family friendly getaway.
Catalina Island Winter Activities
Catalina Winter Adventures By Air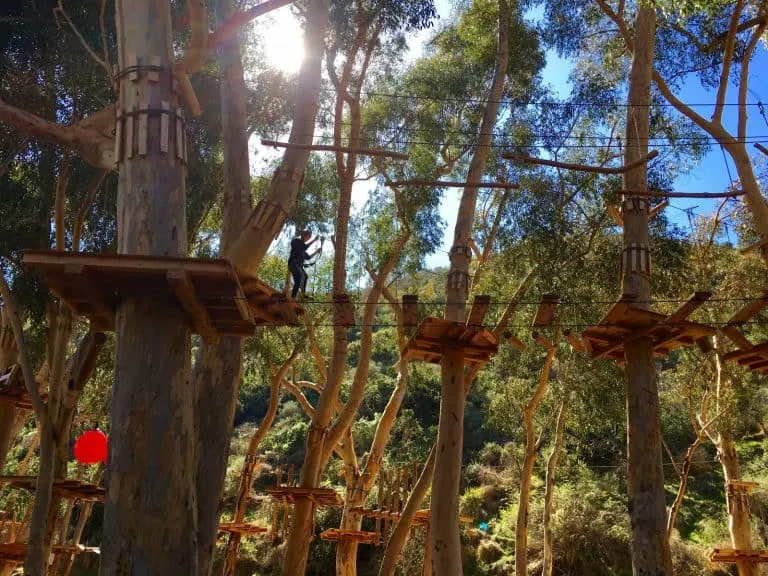 If you have adventurous kids like I do, Catalina Island has just the itinerary for you. Your kids will not be bored. We ventured over to Descanso Canyon. It is located right above Descanso Beach and is a short walk around the corner from the iconic Catalina Casino.
Here we explored the Catalina Aerial Adventure. High up in the Eucalyptus trees, we tested ourselves to a course of skill, strength, and bravery.
My 10-year-old surprised me by being so adept at clipping in and out and traversing from platform to platform via moving logs, zip lines, trapeze bars, and many other challenges. Our guides were skilled and helpful and our two-hour time flew by up in the air.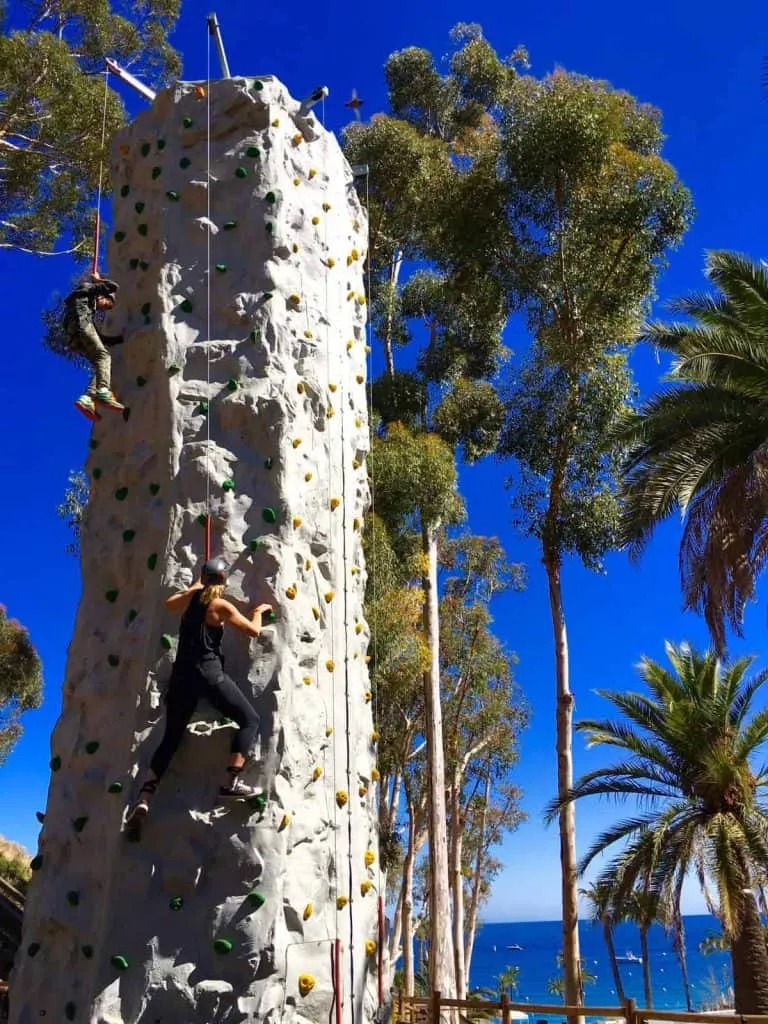 We followed this up with the Catalina Climbing Wall nearby. From beginner to incredibly difficult we ascended up a cylinder skyscraper, all with the view of the pristine crystal blue ocean.
On property, there is also the Zipline Eco Tour. This zip line course has some of the most incredible views on the island. A shuttle takes you 600 feet above the water on a ridge top and you take a series of zips which eventually land you near the Descano Beach Club. Stop in for a cocktail to celebrate!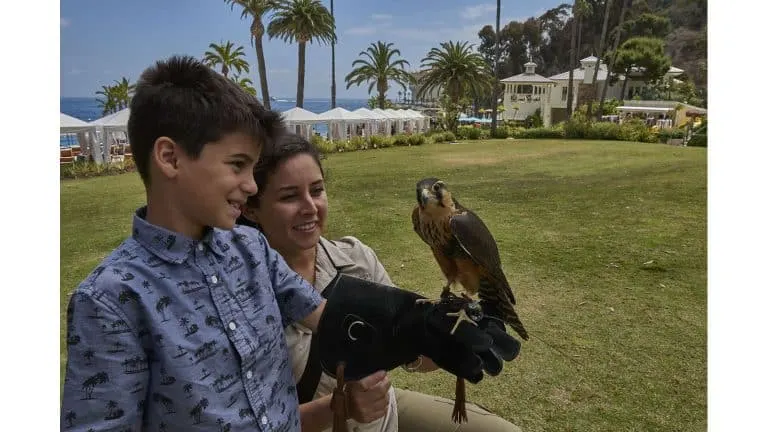 Catalina Island now has a falconry experience that animal lovers will not want to miss. These trained birds of prey willl fly around catching air currents in Descanso Canyon and then land on your gloved hand with pure grace. It is an experience you won't forget!
Catalina Winter Activities By Water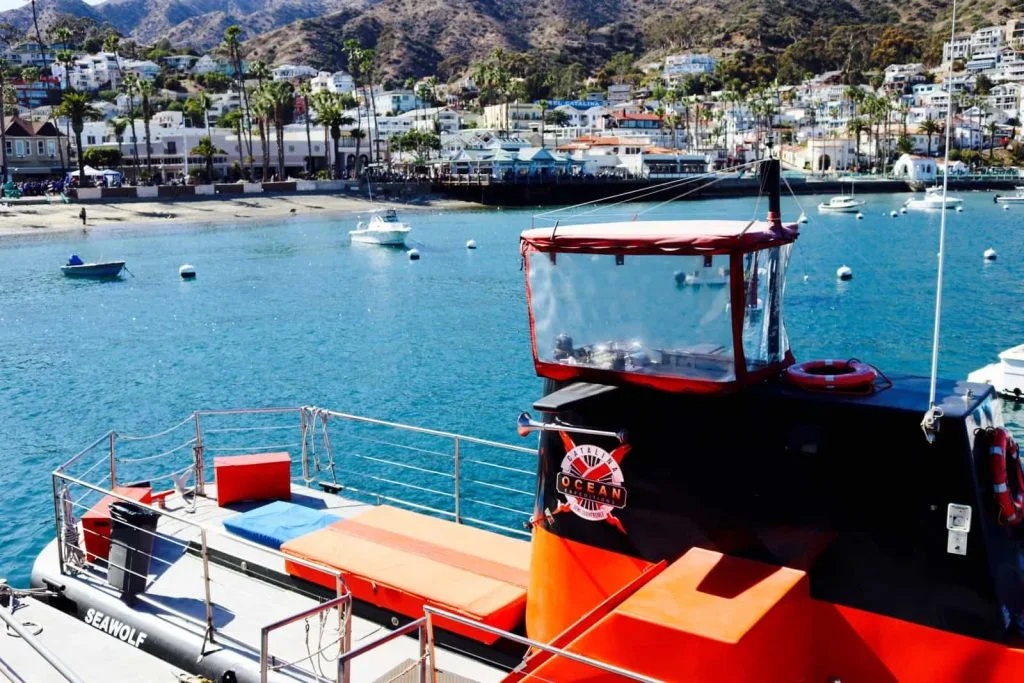 For your underwater adventurer, try the Undersea Expedition. This semi-submarine (a more advanced version of a glass bottom boat) begins in the harbor and for about 45 minutes travels just under the surface of the water to Lover's Cove to see the local fish.
California's state saltwater fish, the Garibaldi, is abundant and its bright orange color pops beautifully amongst the plethora of fish. After peering through your own porthole through most of the trip, guests are invited to climb up top to watch the entrance back into the harbor.
Descanso Beach also has kayak and SUPboarding rentals if you don't mind taking the chance of falling into the cool ocean water. You can rent wetsuits which will help keep you from getting too chilly.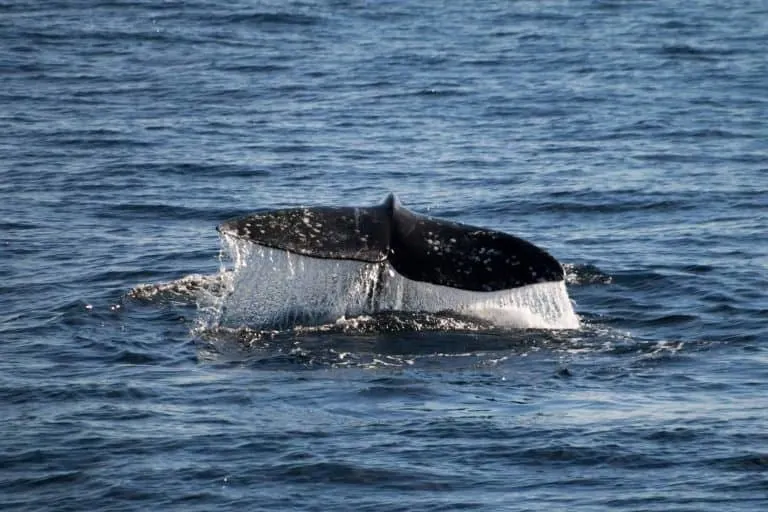 Another great option is booking a whale watching trip. Gray whales migrate right past Catalina Island in the winter on their way to their birthing grounds in Baja. Besides whales there is a good chance you will see plenty of dolphins on your trip as well.
Catalina Winter Activities By Land
It doesn't take much time on the island to discover that the primary mode of transportation is golf cart. So why not join in the fun?
A two-hour golf cart rental to cruise around the island with Catalina Island Golf Cart Rentals may appear as if a golf cart cant be too thrilling, but believe me, when you're wandering high above Avalon on the steep streets and rugged back hills, with postcard-worthy sites of the sea below, a thrill is what you get.
By renting a golf cart we were able to see far more than what we could have by foot. If your time is limited on the island, be sure to start with this to get the lay of the land.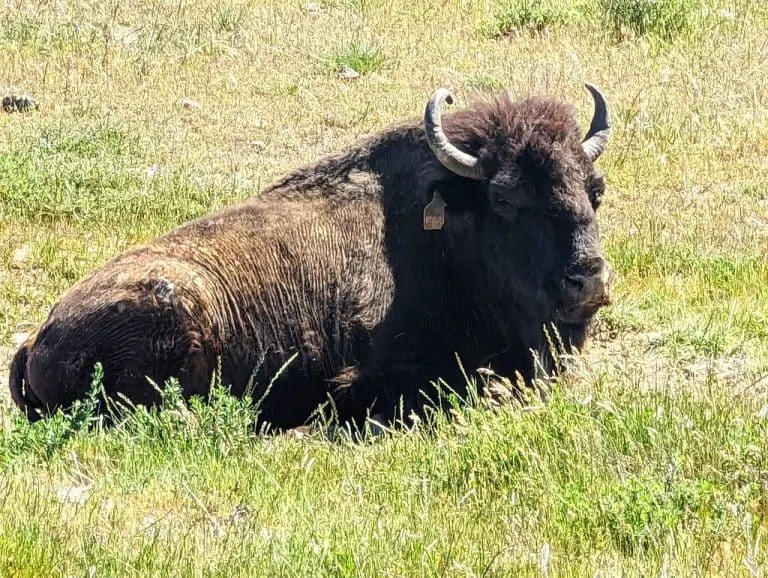 Did you know Catalina has its own herd of bison? They were left behind after a movie was filmed about 100 years ago and 150 still call the island's back country home today! The best way to see them is by taking an open-air tour of Catalina's rugged back country.Seeing them grazing the steep hillsides with the Pacific in the background is definitely memorable.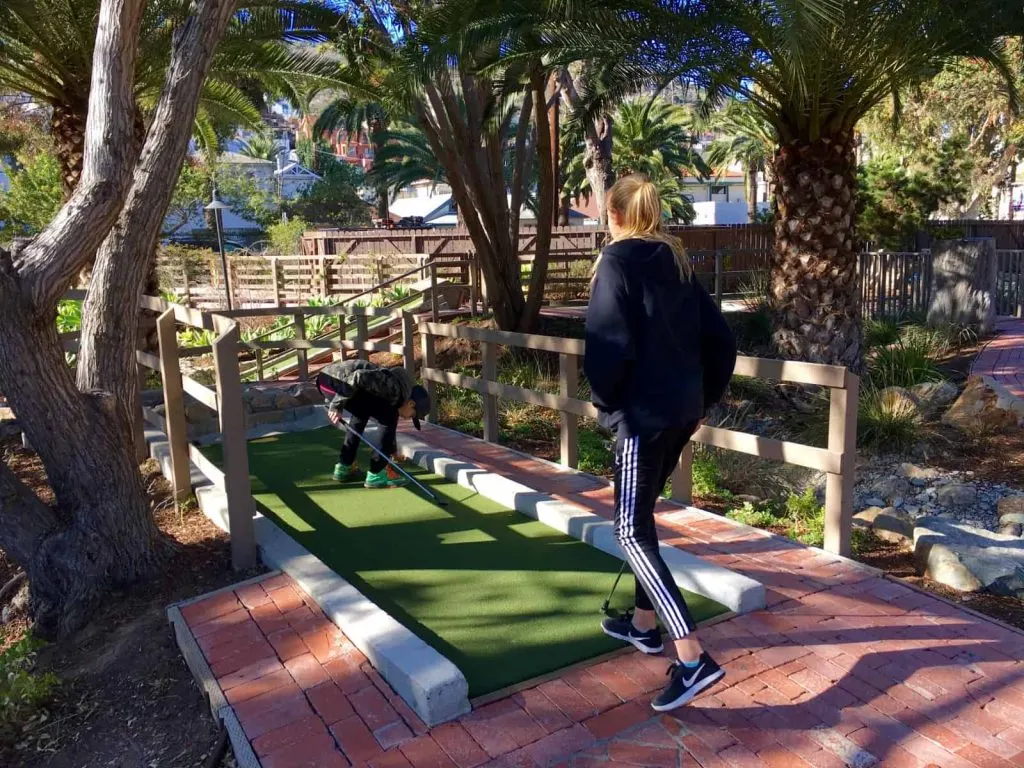 For a little more chill time after all this adventure, take your family to Golf Gardens to leisurely play 18 holes on the mini-golf course. The vegetation is lush (thus the name) and the holes lack the gimmicks of other putt putts. Instead, the course includes some challenging levels to get a friendly rivalry going.
Try The Local Drink- Buffalo Milk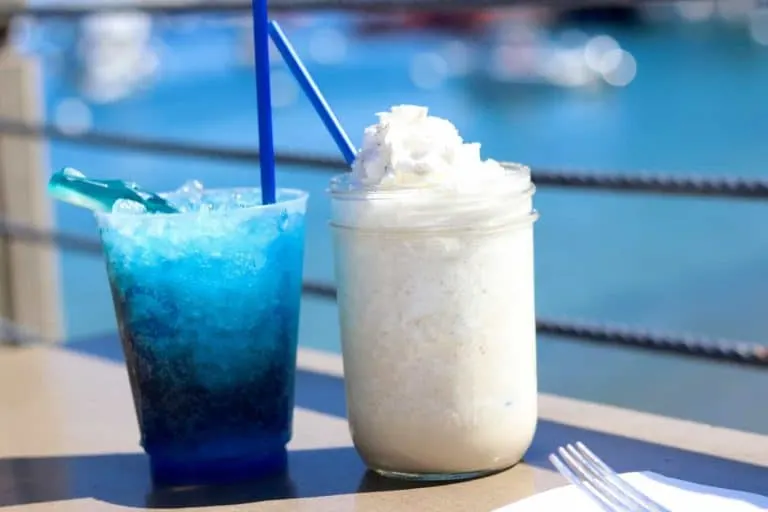 For our leisurely Saturday afternoon, we ate at Bluewater Avalon centrally located in the hub of Avalon. Right on the beach and overlooking the water, we sat outside and enjoyed the winter sun and fresh fish. Bluewater has an eclectic mix of seafood and innovative menu choices.
The kid's menu was beyond the typical fare and my kids were thrilled when the Shark Attack drink (blueberry soda with a gummy shark) was accompanied with Pom juice. Pour in slowly for the effective "shark's blood" to accent the drink.
I, on the other hand, got to experience what the locals refer to as Buffalo Milk. This sweetly smooth, alcoholic concoction was amazing. It features vodka, kahlua, creme de cocoa, and creme de banana. I now see why when I asked people what is a must do on the island, most referenced the need to try this drink.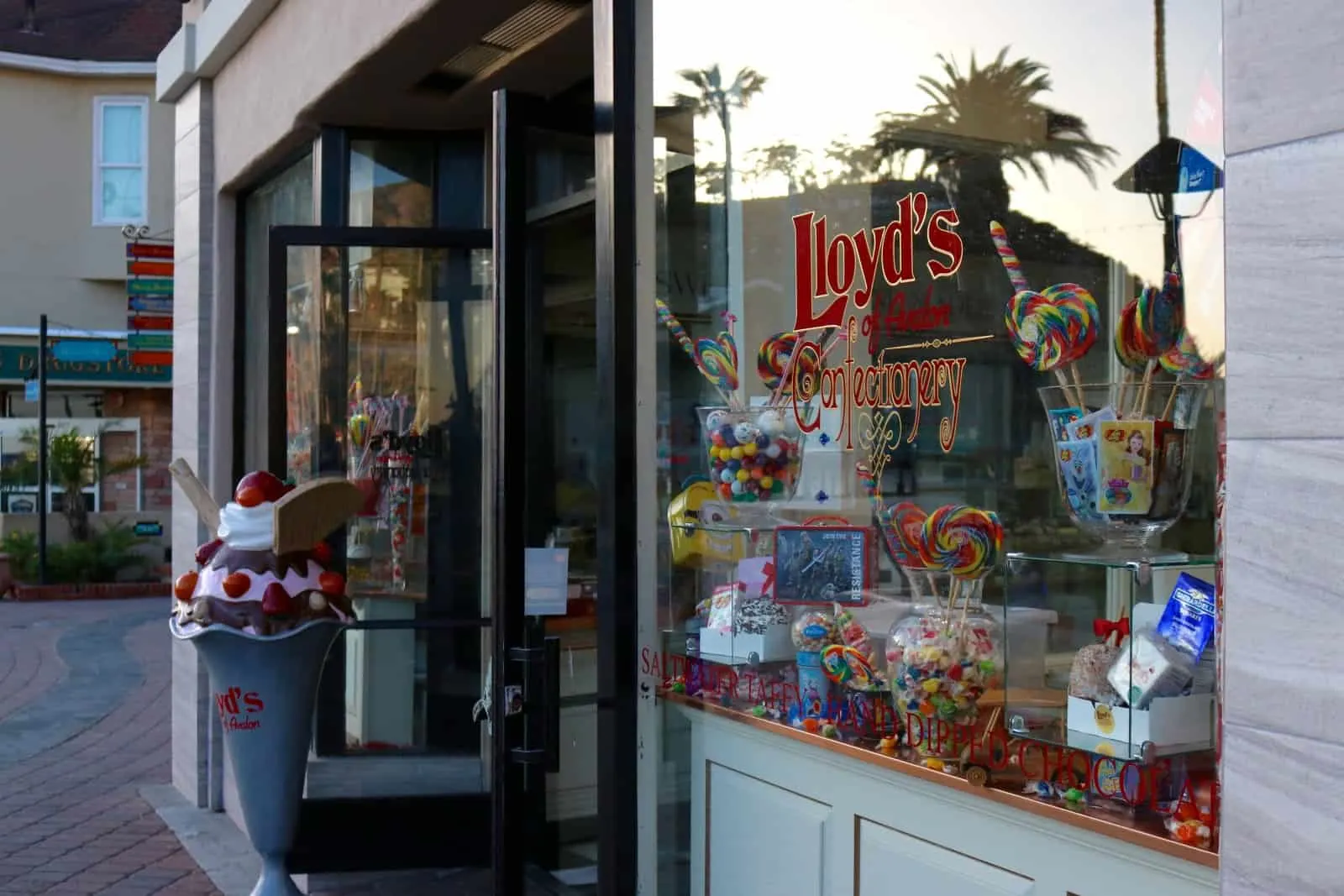 For a little afternoon sweet treat, pop into Lloyd's Confectionary and try their made in-house caramel apples or freshly-pulled salt water taffy. Lloyd's is a 75-year tradition on the island and now a tradition my kid's will want to revisit upon return.
Where to Stay: In the Heart of Avalon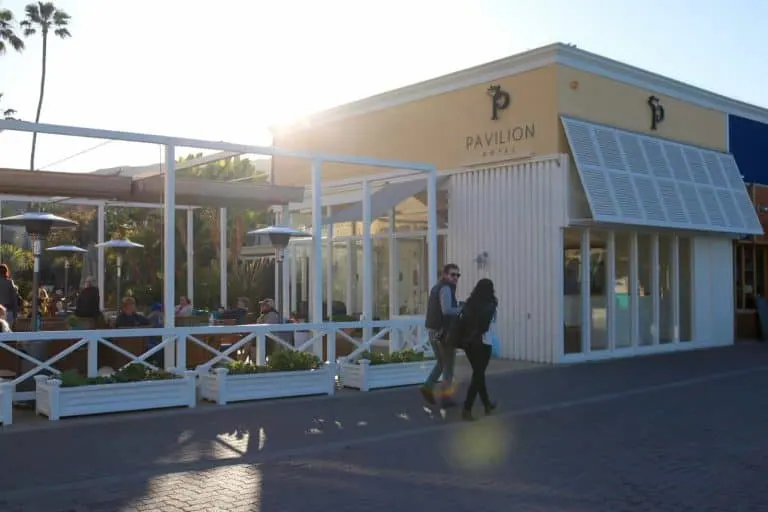 Avalon has a long history of starlets and Hollywood icons gracing its shores. At the Pavilion Hotel my kids and I indulged in all that was offered and in doing so we began to feel slightly famous.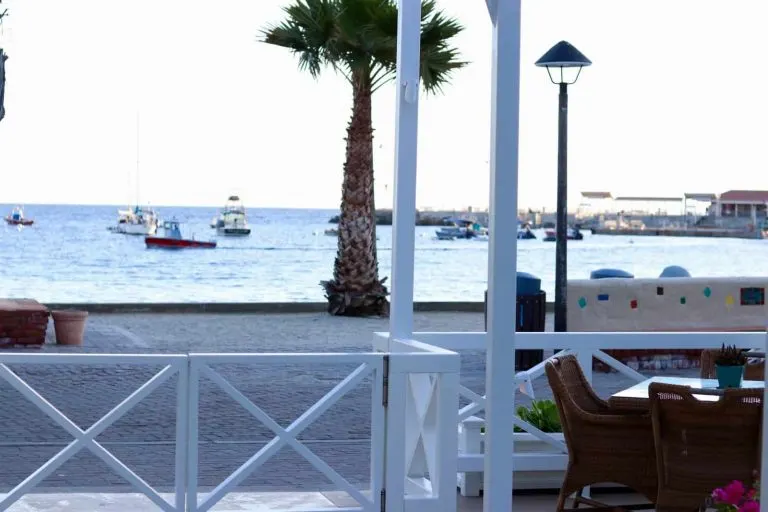 Located 10 steps from the sand with a courtyard that overlooks the ocean, we spent late afternoons lounging in the gardens (ok, we technically napped, and it was wonderful!), sipped on wine (me) and ate gobs of cheese (all of us) at the nightly wine and cheese soiree for all guests of the hotel. In the evening we sat by the fire pit.
Come morning we feasted on the breakfast in the "library" complete with European-inspired treats. Being so conveniently located, we found ourselves returning to the Pavilion Hotel throughout the day just to relax and unwind.
See a Sample of our Winter Paradise Trip
Why You Need to Go Now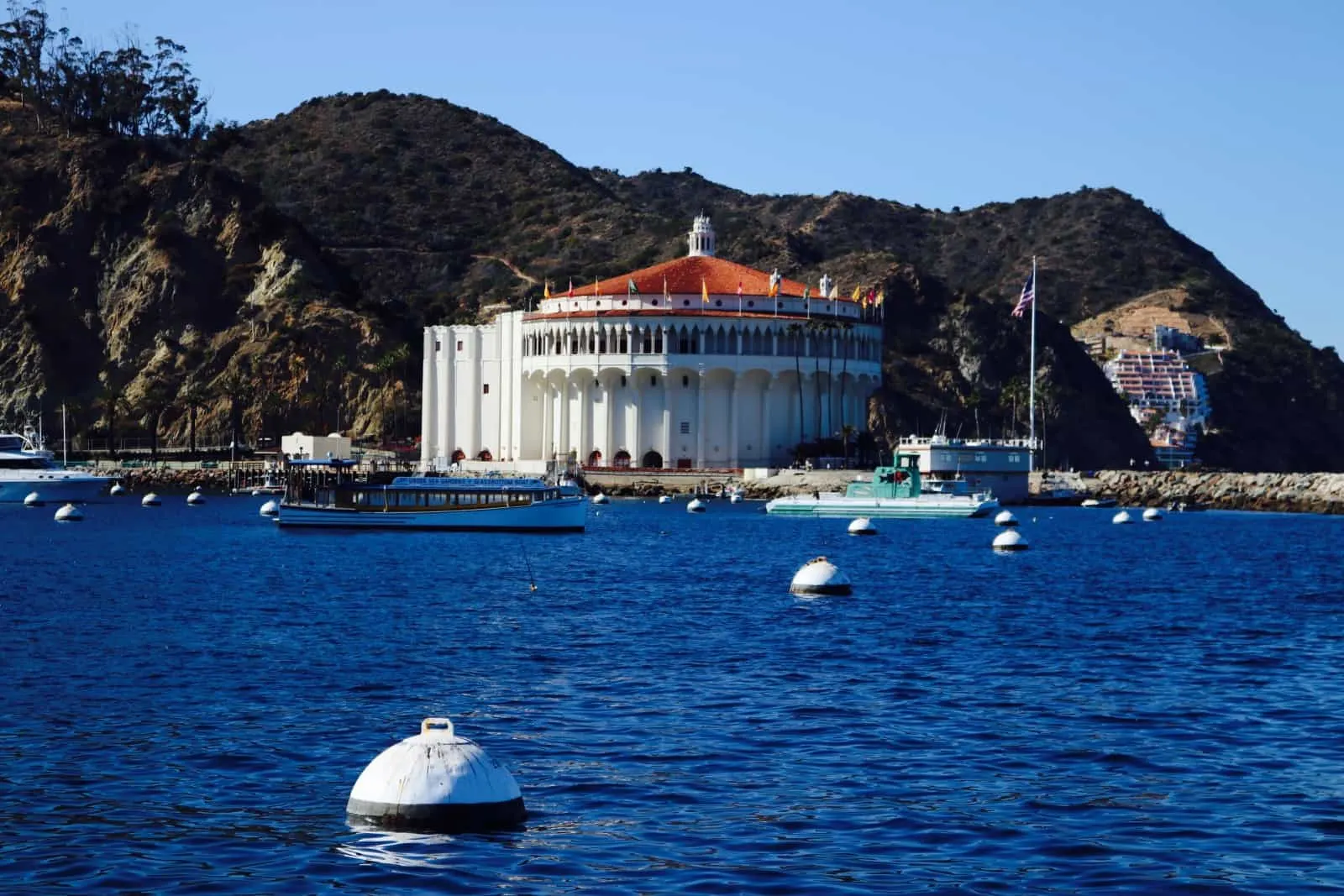 Within just an hour from one of the three ports (Dana Point, Long Beach, or San Pedro) your family could be in a vacation paradise, enjoying fine dining, thrilling activities, and beautiful beaches. Our "off season" on Catalina Island was a dream of a trip and we definitely experienced the best of Winter on Catalina Island.
Read more at our Catalina: An Island Vacation Close to Home
Discover the other side of the Island at Two Harbors: The Other Catalina
Look for Other Off-Season Options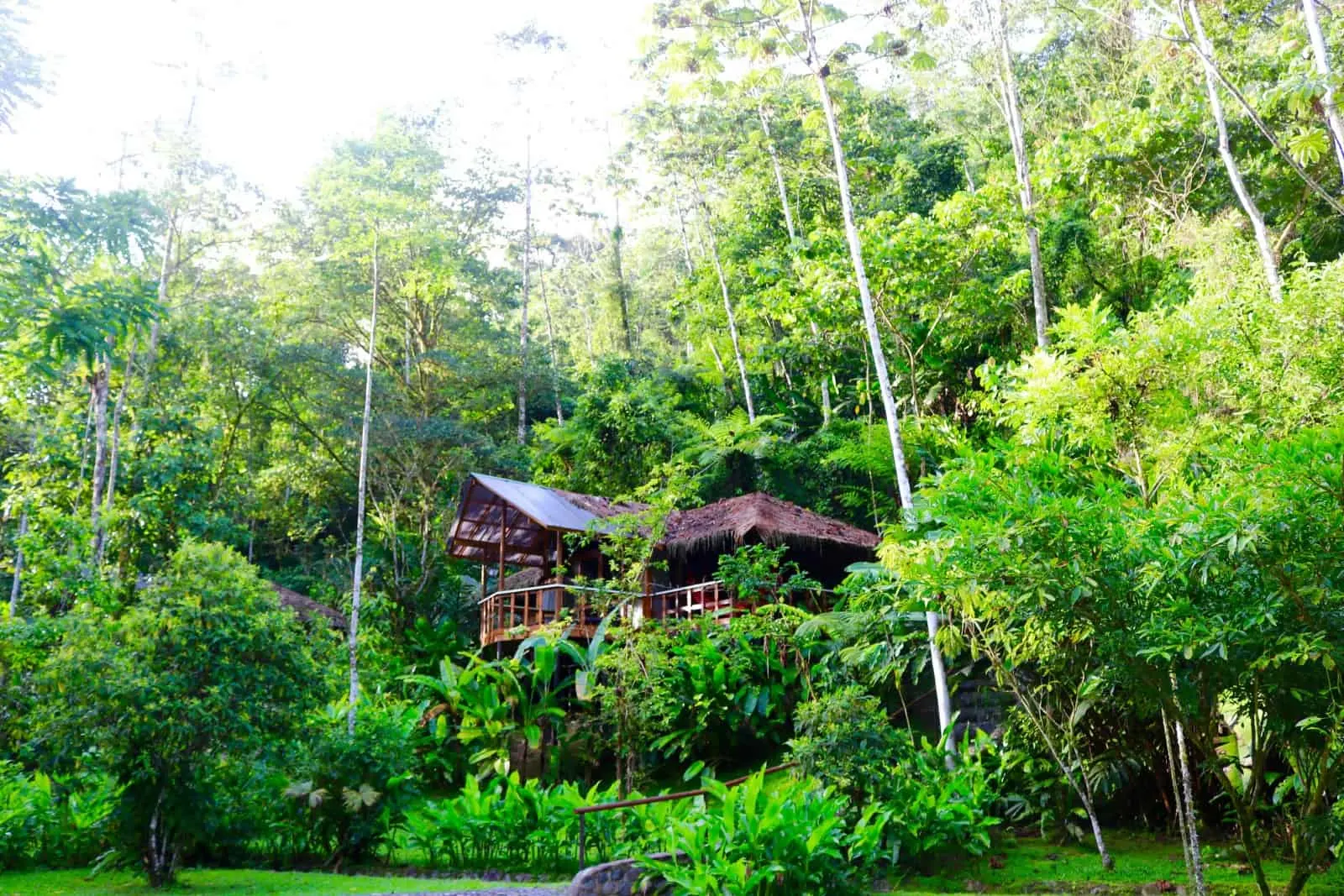 Discover San Juan Island Vacations: Off Season Fun for Families in Washington
Find out about National Parks in the Off-Season
Disclosure: My family and I were invited guests by Catalina Express and Paradise Hotel Partners to experience the "Best of Winter". We enjoyed the Pavilion Hotel, Bluewater Avalon, and many thrilling activities, but as usual, all opinions are my own.