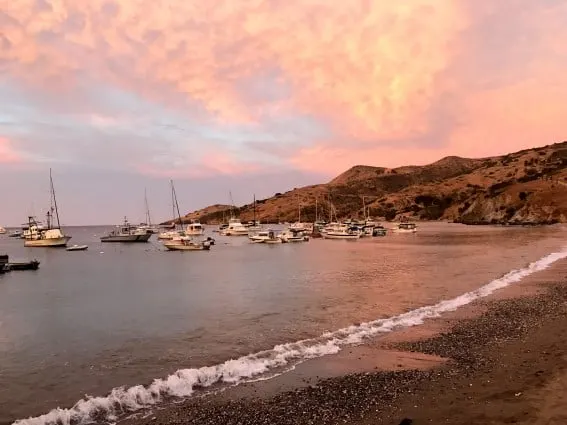 Most of the one million people who come to Catalina every year visit Avalon, an enchanting yet touristy seaside town on the island's south end known for its lack of cars, elaborate tile artwork, multitude of shops and restaurants, and the famous architecture of the Catalina Casino hugging Avalon Bay. The city is small but bustling, especially when a cruise ship pulls in to port. Two Harbors Catalina Island is the "ying" to Avalon's "yang". This tiny town on Catalina's northern isthmus has simply one hotel, one restaurant, one general store, and even a one-room schoolhouse. What Two Harbors lacks in facilities it most certainly makes up for in charm. It may be hard to believe that this sort of remote island escape can be found less than 30 miles off the Southern California coast but my family was pleased to discover that we didn't have to travel far to truly get away from it all.
For more on visiting Avalon, read Catalina: An Island Vacation Close to Home.
Exploring Two Harbors Catalina Island
Getting There
While helicopter and private boat are options for travel between the mainland and Two Harbors, most people take the Catalina Express, a high speed ferry service with multiple departures per day from San Pedro Harbor. Catalina Express also offers departures from Dana Point and Long Beach to Avalon as well as shuttle service between Avalon and Two Harbors. It is certainly possible to take a day trip to Two Harbors from the mainland but I recommend staying for at least one night to fully enjoy all this little spot has to offer.
Trails, Views, and Buffalo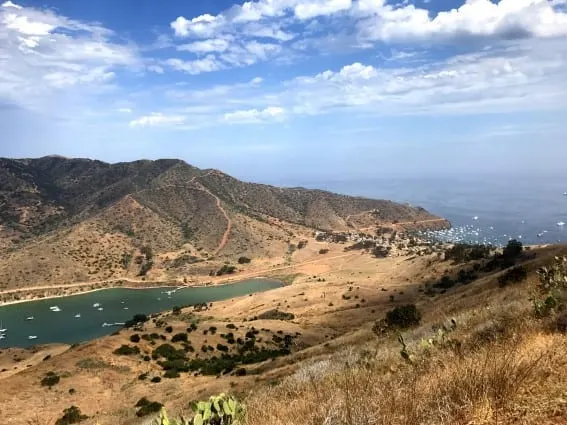 Two Harbors Catalina Island is special because it gives visitors a glimpse of what Southern California used to be. Long before multi-million dollar homes crowded the coastal landscape, the golden hillsides rolled wild and free. Settlers shared sweeping ocean views with turkey vultures catching a ride on warm updrafts above grassy fields dotted with scrub oak. The deep blue ocean stretched on forever with nary an oil rig in view. The views of Southern California's past are ever-present in this sleepy little corner of Catalina Island. A 20-minute walk uphill out of town lends reveals just how wild and expansive Catalina Island actually is. Well maintained trails, including the 38-mile Trans-Catalina Trail, traverse the island, leading to grandiose, 360-degree views. Keep your eyes open for the small, Channel Island fox and members of the island's famous bison herd. Hike for as long as you'd like, then head back downhill to enjoy some of Two Harbor's more leisurely, waterfront pursuits.
Good to know: Mountain bikes are available for rent at Two Harbors Dive and Recreation Center if exploring on two wheels is more your thing.
Relaxation, South Seas Style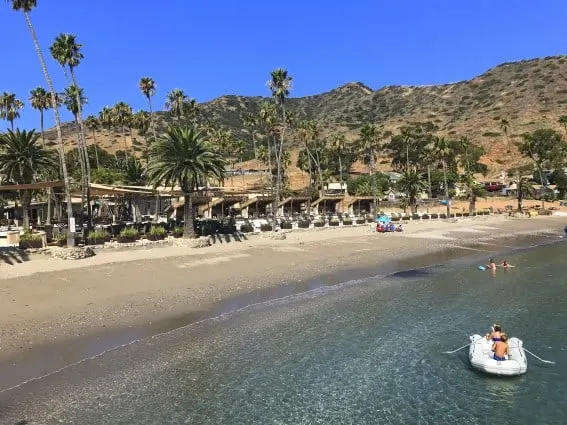 Harbor Sands is a small beach protected by a harbor, making it ideal for families with young children. Recently, the Catalina Island Company invested in updating Harbor Sands, enhancing it with beach chairs and South Seas-inspired luxury palapas available for rent on imported white sand. The South Pacific vibe pays homage to the past when Hollywood used the Two Harbors area for filming. The palapas feature thatched roofs, plenty of comfortable seating, and include complimentary watermelon, smoothies, popsicles, beach towels, and water. The palapas are serviced by a waitress who will deliver whatever your heart desires from the Harbor Sands lunch menu (which is basically the same menu that you will find at Harbor Reef, Two Harbor's only restaurant). My family recommends the fish and chips, mahi mahi tacos, and Buffalo Milk- a boozy chocolate-banana concoction that is a Two Harbors libation "must".
Take to the Water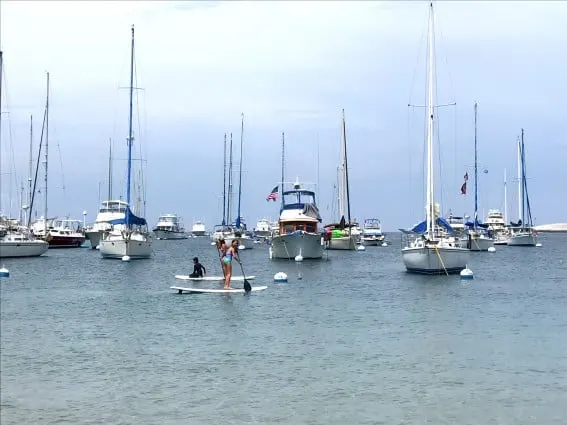 While I was lounging in the palapa and sipping on my frosty beverage, my kids were paddleboarding their hearts out just a few yards away; paradise indeed. Two Harbors is an ocean lover's destination. The waters off Catalina's coast are home to top notch snorkeling and scuba diving spots. Two Harbors Dive and Recreation Center rents out all the gear you need for exploration above and below the water. Kayaks, hydrobikes, skiffs, and stand-up paddleboards can all be rented from this little shack at harbor's edge.
Stay Here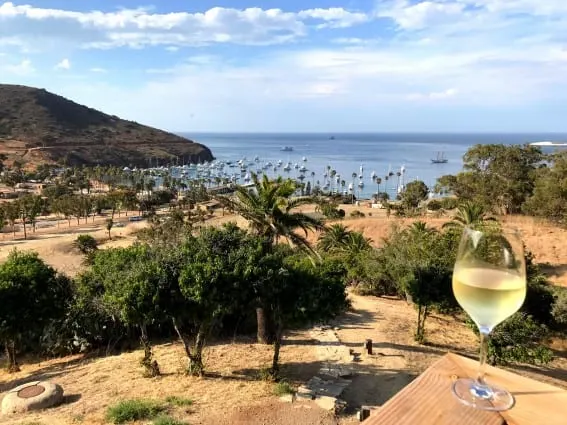 Most people who visit Two Harbors stay in campgrounds. Two Harbors Campground is a short, 1/4 mile walk from town, ideal for those who want to be close to the harbor, restaurant, equipment rental shop, and general store. Gear hauls are available for those who don't want to lug all their stuff down the trail.
For those who aren't interested in roughing it, the Banning House Lodge is a nice option. Perched on a hill above Two Harbors, this 12-room bed & breakfast is a great option for families. The sweeping views of both harbors (yes, there really are two!), the island's rolling hills, and the expanses of the Pacific are spectacular. I enjoyed them most with a glass of chardonnay in hand courtesy of Banning House's daily complimentary wine and cheese hour. Catalina's famous bison are often seen lounging on the grass near this 100-year-old Craftsman-style lodge, making a stay at Banning House extra special.
Read my full review of Banning House Lodge.
Ready to plan a trip? Book now.
For more information on Two Harbors, check out Visit Catalina.com.
All photos by Sharlene Earnshaw.
DIsclosure: The author's family toured the Two Harbors area as guest of Visit Catalina. While we appreciated their hospitality, all opinions are her own.