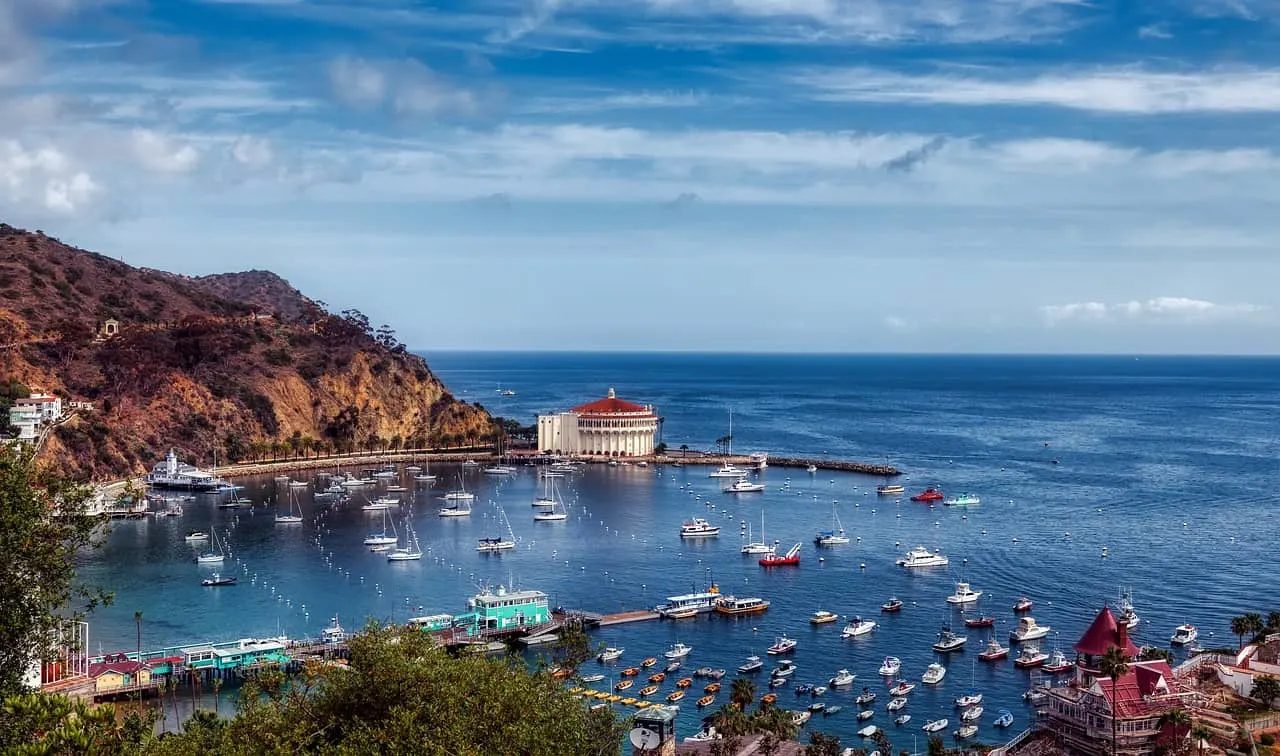 Just 22 miles off the shore of Southern California lies Catalina Island. This popular destination for tourists since the early 1900's still offers families a unique opportunity to experience stunning coastline, adventure activities, and laid back island style that would otherwise require a hefty cross-the-ocean price tag to obtain. The city of Avalon, Catalina's only incorporated city, features a unique charm that reflects its history as one of LA's oldest tourist destinations; beach and recreation activities and plenty of restaurants, hotels, and water based attractions have been luring families, singletons, celebrities, nobility, and politicians since the 1920s. If your family is looking for a tropical island vacation closer to home, consider Catalina Island.
Getting there and getting around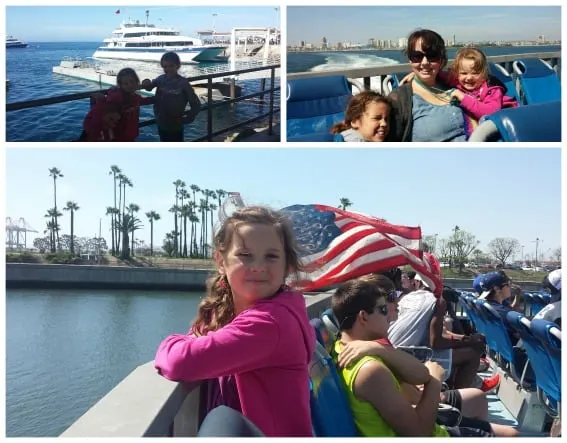 Getting to Catalina Island is simple with Catalina Express. The ferry ride takes just over one hour from Long Beach (slightly longer from Dana Point) and with up to 30 departures/day, getting there is crazy convenient. While on board, travelers can check out the beautiful ocean views, search for wildlife, and snack on treats and beverages (including beer, wine, and cocktails). An upgrade to the Commodore Lounge offers priority boarding, a complimentary beverage and snack, and larger, more comfortable seats with impressive views of the passage. For a limited time, trips on board the Catalina Express are free on your birthday!
Read my full review of the Catalina Express.
There's no need to worry about renting a car upon arrival; the one-square-mile town is easily traversed on foot. There are a few great options available to explore the mountain hillsides that envelop the tiny city of Avalon: the Avalon Scenic Tour provides a great introduction and general overview of the island and its history, while a golf-cart rental with Catalina Auto and Bike Rentals provides guests with at-your-own-pace exploring opportunities.
Adventure activities

Adventure awaits at Catalina Island. Older kids can participate in a variety of eco-tourism exploration options including an exciting zip line tour that boasts stunning ocean views as your family (ages five and up) zips through the canyons. If your kids are interested in underwater exploration, a surprise awaits. I expected to be underwhelmed with the wildlife after having just returned from Hawaii. Although the waters off of Catalina Island are far from tropical, a variety of beautiful and brightly colored fish, including the Garibaldi (California's state fish), flock to the island's massive kelp beds making it a hot spot for snorkeling or exploring the wildlife in a submarine or glass bottom boat. Kids over the age of 12 can participate in a unique Sea Trek Eco Tour that requires no snorkeling or diving experience, but puts guests under the water exploring the ocean floor. Kayaks, stand-up-paddleboards, and boat rentals are available at numerous locations on the island.
To explore the island by land, consider taking a half or full day trek to the rest of the island. The Santa Catalina Island Company offers rugged "outback" tours in specially designed, all-terrain vehicles that utilize local reclaimed oil for fuel. Explore canyons and capes as you venture past American Bald Eagle habitats, wild bison, mule deer, and stunning views of the Pacific and beyond.
Laid-back discovery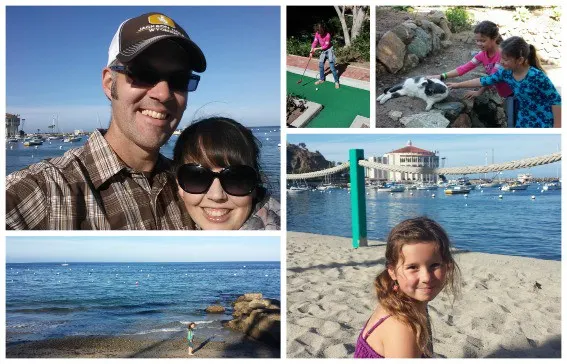 You don't have to be in love with activities and adventure to enjoy a vacation on Catalina Island. Kids will love an easy-going round of mini-golf; my girls enjoyed the game but also enjoyed the pleasant cat that seemed to take up residence on the course. (Grown-ups and older kids can also play the 18-hole golf course on the island if they are looking for a bigger challenge.) Descanso Beach offers one of the best swimming access spots on the island; here you can rent a cabana and set up residence for the day. The on-site bar and restaurant can pamper you with beach front service, and the island specialty "Buffalo Milk" beverage for mom and dad can't be beat. The Wrigley Memorial and Botanical Gardens offers a lovely way to see native Catalina and California plants, as well as a variety of species from all over the world.
Tip: The iconic Avalon Casino is not a gambling facility. Hosting the island's only movie theater, the restored art-deco building is also open for guided tours.
Eat this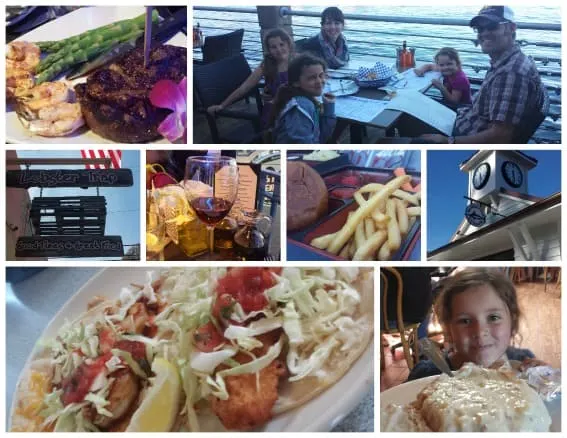 Although we were kept busy with plenty of activities and fun during our trip to Catalina, my husband and I fell in love with the food. We sampled just a tiny portion of the island's fare and could easily return on a foodie-trek vacation. Our favorite restaurant had to be Steve's Steakhouse, voted the island's favorite restaurant as well. Stunning harbor views, impeccable service, kid-friendly entrees, and fine steaks and seafood made for a perfect evening. For a casual lunch, consider Lobster Trap where local fisherman turned restaurateur Caleb Lins still catches local fish and California spiny lobster to serve up daily. My kids fell in love with the fun atmosphere and their diverse offerings; everything from Lobster tacos (which I heartily recommend) to Clam Chowder, to burgers, to pasta is served, although there is no set kid's menu. Need another great dinner idea? Try Bluewater Avalon located directly on the harbor. This SoCal transplant from the mainland worthy of a visit.

Keep your kids' behavior in check with a bribe for local treats. After an afternoon of excellent behavior, we indulged their sugar fantasies as Lloyd's Confectionary. Lloyd's has been making their famous salt-water taffy in the window of this shop since 1934; literal kids in a candy store, my girls enjoyed the amazing taffy, caramel apples, ice cream, peanut brittle, fudge, chocolates, and bulk candy.
Stay here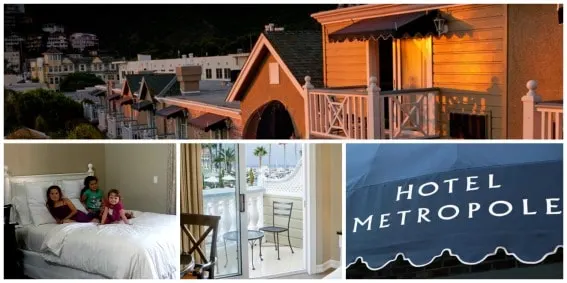 Although the island offers quite a few hotel options, my family loved staying at Hotel Metropole. Our room, which boasted views of the ocean, featured a fireplace, patio with morning sunshine, and garden views. The complimentary continental breakfast helped us begin the day with ease.
Read my full review of Hotel Metropole.
Disclosure: My family received complimentary hotel accommodations, some meals, and transportation while visiting Catalina Island. Although the hospitality was lovely, all opinions remain my own.