Whether your family is headed to a state park or national park this summer, camping trips don't have to break the bank. That said, having the best family camping gear you need for outdoor adventure can go a long way toward having a family of happy campers. I've been reviewing outdoor gear for Practical Travel Gear and writing about outdoor experiences as OutdoorsNW's NWKids columnist for some time now, and have seen my share of camping gear. Here's what should be taking up space in your garage (and in your car for your next camping trip):
Family Camping Gear: Tents and Sleeping Bags
Don't buy more than you need. If you'll be camping in a moderate summer climate or in a campground where packing gear is not necessary, a simple quick-assembly tent will suffice, as well as moderately-priced sleeping bags that pack down small. Keep comfort in mind if you don't camp often, and are not used to sleeping on the ground, how early the sun rises, and nighttime noises. My picks for combining quality with comfort: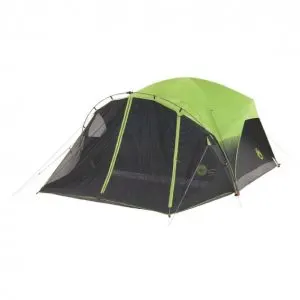 Coleman Carlsbad FastPitch: This tent is one of my new favorites. Brought to families by Coleman, a trusted name in outdoor gear, the Carlsbad has two innovative things going for it, right out of the box: it's designated as 'fast pitch', which means families can set it up an average of 60% faster than standard tents, and it features 'dark room' technology, which utilizes darker material to encourage sleeping in past dawn. The Carlsbad is a six-person tent (4-person also available), so it's roomy, and it even features a screen dome vestibule. We tried it out in Joshua Tree National Park, where the sun certainly shines in early, and noticed a difference in how much light streamed in. The dark room feature would be great for families trying to put young children to bed before the sun sets, too!
Buy the Coleman Carlsbad 6 Person Tent on Amazon for $169
---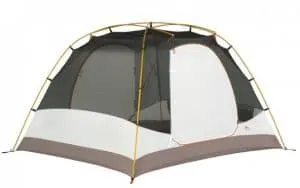 Kelty Trail Ridge: This great tent comes in a variety of sizes to fit a family of 3-5, is affordable, and is made well. Our Kelty is our car camping stand-by: It fits in the back of the car easily, is a breeze to set up, and is cool during summer months.
Buy the Kelty Trail Ridge 4 Person Tent on Amazon for $227
Buy the Kelty Trail Ridge 6 Person Tent on Amazon for $399
---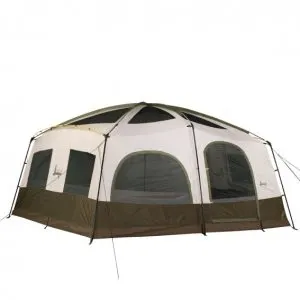 Slumberjack Grand Lodge: It's the big one: the tent you'll need if you're camping with a crowd. The Grand Lodge is heavy, but the set-up is easier than it looks and once it's erected, the 8-person version is roomy enough to stand in. There's a divider if you'd rather make it into two rooms, and a rain fly for dew or moisture at night. It makes for a great tent for sleepovers in the backyard, too!
Buy the Slumberjack Grand Lodge 8-Person Tent on Amazon for $399
Buy the Slumberjack Grand Lodge 12-Person Tent on Amazon for $426
---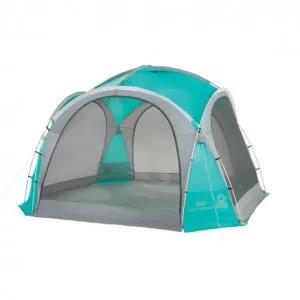 Coleman MountainView Screen Dome: We're usually light packers when it comes to camping gear, but if your family plans to stay in one campsite for a number of days, and you'll be doing some lounging, eating, and relaxing around camp, a quality screen dome can make you much more comfortable. The Coleman MountainView dome is 12′ x 12′, and is both a sun shelter and a fully-enclosable screen dome. You can zip or unzip all four sides, for open air or screened-in comfort, and it will protect you from both sun rays and rain. We put ours over our picnic table for bug-free dining.
Buy the Coleman Mountainview Dome on Amazon for $289
---
Big Agnes Red Canyon 4 mtnGLO with Goal Zero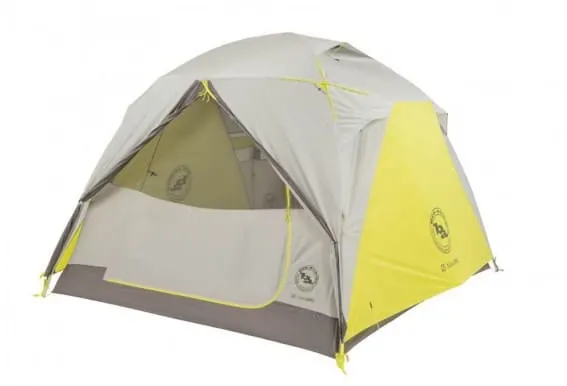 : This LED-lighted four-person tent is perfect a small family of four to spread out under the stars (but still have the luxury of light when they want it!). This is particularly helpful we've found in introducing younger kids that might be a little apprehensive about living outdoors after dark. The Big Agnes Red Canyon 4 mtnGLO with Goal Zero is definitely a car-camping option, weighing around 13 lbs. Other fantastic features include the 12 storage pockets found inside the tent and solar panels to power tent lights, a small fan, or USB devices.
Buy the Big Agnes Red Canyon 4 mtnGLO with Goal Zero on Amazon for $699
---
Little Agnes sleeping bag: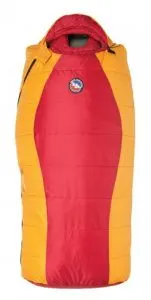 From the makers of the adult-sized Big Agnes comes the kid-version, complete with a sleeping hood and in full mummy-style. No tootsies are getting cold at night in this 'grown up' bag for kids.
Buy the Little Red Kids' Sleeping Bag on Amazon for $99
---
Camping Hammocks:
Families shouldn't underestimate how much camping hammocks can improve your vacation. Check out these 10 best camping hammocks to take backpacking.
Family Camping Gear: Day Packs and Hydration Systems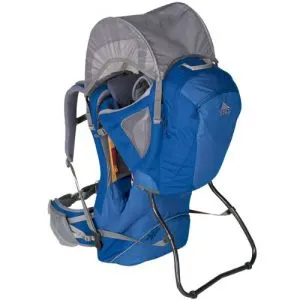 Kelty Journey: This baby and toddler carrier daypack is comfortable (yes, really!) and safe, with a nice sun shield and lots of cargo room (absent on most packs). It stands on its own when set down for added security with precious cargo onboard.
Buy the Kelty Journey on Amazon for $246 (Legion Blue)
---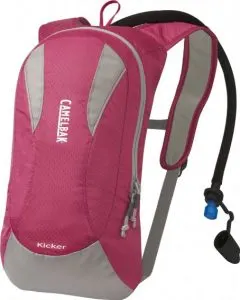 Camelbak Kicker: It's the perfect pack for the kids, with a decent-sized storage compartment and full hydration system, including a Camelbak bladder, hose, and bite valve. The pack is sized for kids 5 and up, and is bright and fun to wear. Plus, it's one of the most affordable hydration packs for kids on the market.
Buy the Camelbak Kicker on Amazon for $55
---
Family Camping Gear: Camping Cookware and Misc
Coghlan's Cookset: I love Coghlan's! The cook set stacks together in one simple drawstring bag, making it easy to add to your kitchen supplies before leaving for the campground. You also get a bamboo scrubber and measuring cup (which you'll otherwise forget at home). Each pot and pan in this four-pot system has a handle and lid, as well as a strainer built into the lid.
Buy the Coghlans Family Cook Set on Amazon from $45
---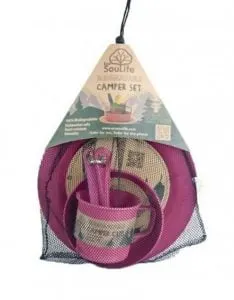 Individual dining sets: Each of our three kids has his own dining set, which includes a plate, cup, bowl, and spork which all nest together for storage. They are responsible for carrying and cleaning their own set, making dishes less of a chore for parents.
Buy Camping Dining Sets on Amazon
Check out our list of everything you need in your camp kitchen!
---
Family Camping Gear: Double-Duty Gear: Household Items to Take Camping
Rubbermaid totes: Use these to easily sort and stack camping gear in the car, the tent, and at the campsite. In most camping areas, totes are enough to discourage animal foraging (though in some locations, you may need to lock food in your car, in a bear locker, or even strung up a tree.
Hanging shoe organizers: Ideal for storing small camp kitchen items, clear plastic shoe organizers are easy to clean and ultimately disposable. Get a clear one so you can see what you have stored in each pocket at a glance, and hang from a laundry line or peg to a tree.
Gallon-sized zip-lock bags: These are useful for just about everything, from wet swimsuits to catching guppies.
Gallon plastic tubs of water: Always bring frozen gallon bottles of water along for the camping trip. They'll keep other food cold until they thaw, and then turn into a water source for campers. You can also use water bottles as lanterns: simply wrap a headlamp around the base, shining inward, and watch the water glow!
Need gear for the car ride to the campground? Check out our picks!
Follow our entire Camping Gear Pinterest board for more picks!
We've got an exciting week of State Park fun rolling out on the blog. Don't miss:
Disclosure: This post contains affiliate links
Featured photo by: Shutterstock