Some of our all-time favorite family vacations have been spent sleeping under the stars in a cozy tent or RV with a belly full of roasted s'mores. But just thinking about booking a campsite has sometimes sent me into a full-out panic mode of stress. Some of the best campsites fill up their reservation slots in seconds on the day they open for registration. Through the years, I have learned some tricks of the trade through trial and error, and from fellow campers, family-travel bloggers, and experts like the folks at KOA. I'm happy to share those tips with you so that you too can have a great camping experience this summer!
Booking Tips for National Parks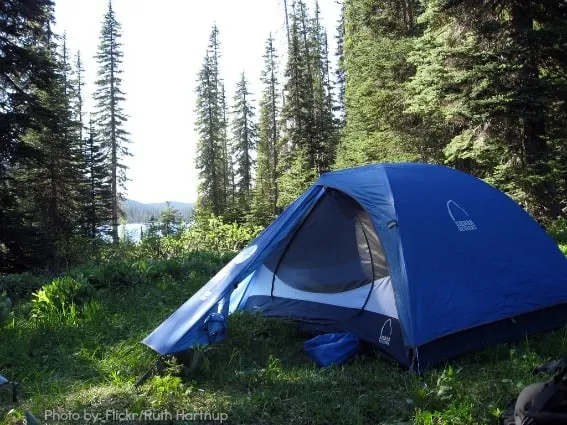 Imagine pitching a tent with a view of Half Dome in Yosemite, under the majestic trees of the California Redwoods, or next to the Virgin River of Zion. There is almost no more beautiful place to camp than in our National Parks; which is the reason why these campsites can be difficult to book. Most of the parks have an online reservation system – but for the parks with more traffic, the campsites can fill quickly with reservations on the first day they are opened. It is important to research months in advance the park you want to visit and then plan to book a spot on the day the reservations open. Several parks have first-come, first-served campsites in less desirable, but still great locations if you are not able to get a reservation. Plan to get to these campsites early in the day to secure a spot.
Key Tips:
Plan in advance and know when the registration window opens.
Have your computer ready to book at the very minute that reservations are made available.
For last minute trips – call the park's registration line to find bookings that have been dropped or cancelled.
Can't get a spot? Consider a first-come, first-served campsite in the park, or choose a less popular time to visit. Avoid weekends, holidays, and summer.
Private campgrounds outside the parks may have reservations available and are usually within a short driving distance to popular destinations.
For specific information on how to book a campground at highly visited National Parks such as Yosemite, Yellowstone, and the Great Smoky Mountains, check out How to Score a Campground at Popular National Parks.
Booking Tips for State Parks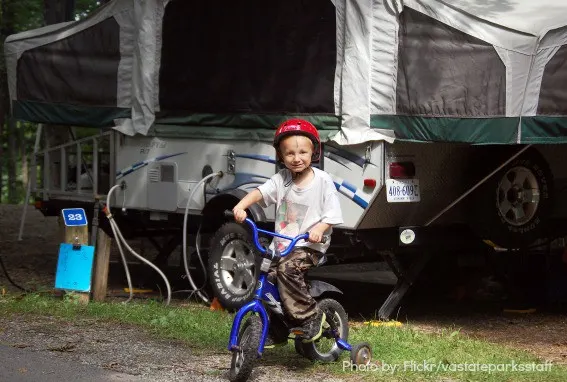 There are over 6,000 state parks in the United States and they are popular places to camp. Families can find wonderful campsites at beaches, recreational areas, nature reserves, and historic sites. Popular locations, especially beaches and riverfronts, can book quickly during the summer and holidays. Once again, it is important to research the place you want to camp and plan to book early. Some sites book within minutes or seconds once they are open, so planning in advance is crucial. But if all else fails and you can't get a spot, call the registration line to see if bookings are available that have been dropped or cancelled.
Key tips:
Research the location you want to camp at and find out when registration opens.
Set alarms or reminders for yourself so that you are ready to book when the window opens.
Use recreation.gov and ReserveAmerica.com to find out the booking window for the campsite and to make reservations.
Be flexible with your dates on camping and use recreation.gov's calendar to see openings within a window of dates. It may give you more opportunities for what is available.
Booking Tips for Private Campgrounds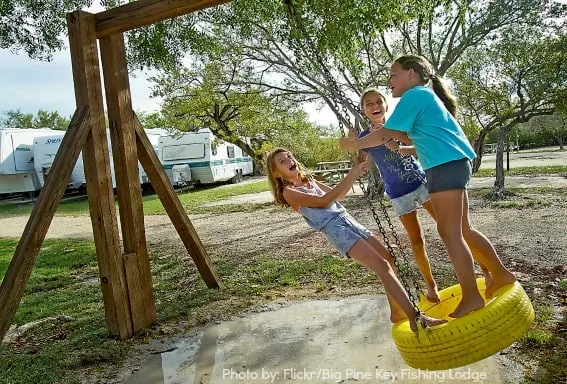 Private Campgrounds and RV Parks abound across America. Wherever you want to go – you can camp there and have a great vacation! There are quite a few search engines and websites that can help you find a good campground whatever your destination, and doing your research always helps. KOA has a free app for iOS and Android users that is easy to use and helps you find campgrounds near you or at a specific destination. It's great to use for a road trip to find your next night's stay – or to plan ahead for a destination vacation. For most private campgrounds, reserving two weeks ahead of time usually works but for those near national parks, beaches, and popular destinations, you need to plan to book early. Another useful website and app for navigating destinations while traveling is RoadTrippers.com. Get inspired to hit the road and find great campgrounds, restaurants, activities, and more.
Key Tips:
Research where you want to go to find great campsites nearby.
If your destination is a popular area, find out when the booking window opens and set reminders for yourself to be ready to book.
If you are on a road trip and are looking for a great place to stay right off of the highway, check out convenient overnight campgrounds like the KOA Journey Campgrounds.
Looking for a great base camp or a fun place to stay? Try the KOA Holiday Campgrounds or the KOA Resort Campgrounds. These book early so plan ahead.
Call the campground to see if there are any special events happening there or nearby that could impact availability.

We've got an exciting week of State Park fun rolling out on the blog. Don't miss:
Featured photo by: Shutterstock