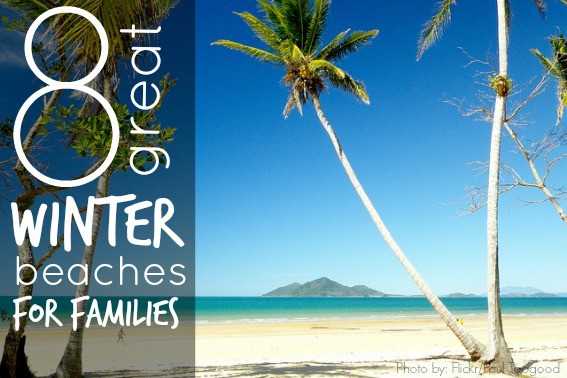 When the snow and ice start to arrive, it can only mean one thing: 80 degrees and by the sea is where you need to be. Trade in the snow boots for flip-flops and get ready to put your toes in the sand by visiting one of these top winter beach destinations. Traveling to these hot spots during the colder winter months will at least get you through the long winter with reminders of what is soon to come. So put on those sunglasses, pull up a beach chair, and let's escape to these great winter beach destinations.
Starting us off in 8th place, this winter beach location can't be beat. Read on to explore.
Great Winter Beach Destinations: #8 Hawaii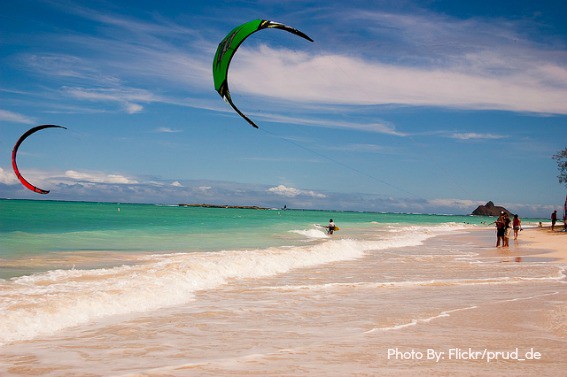 Average winter temperature: 80°
Head to Hawaii once the holidays have settled down for a most relaxing beach vacation on any one of these beautiful islands. Of course, you can visit some of the more popular beaches on the larger islands that are sure to please, including the ever-popular Maui and Oahu. Looking for a bit more privacy on your stretch of sand? Head off the beaten path on the Big Island to find a slice paradise at Makalawena Beach where you'll discover white powder sand along with a secret snorkeling spot too. Visit Kauai's north shore to find scenery you'll never forget. The small town charm makes Kailua Beach a favorite beach spot on the island of Oahu because once you arrive, you will never want to leave.
Find more picks from Trekaroo for family-friendly activities and lodging on Oahu.
Dreaming of winter getaway with snorkeling, sunbathing, and fun in the Caribbean sun? Check out our 7th pick!
Great Winter Beach Destinations: #7 Puerto Rico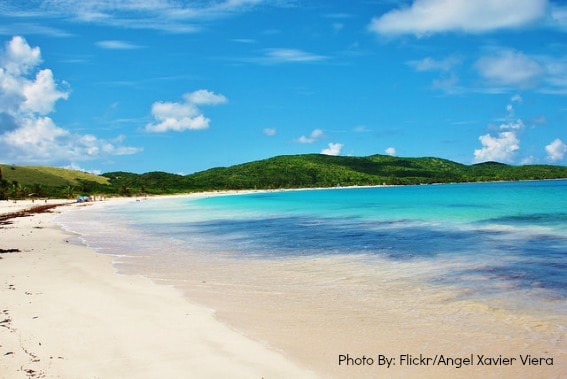 Average winter temperature: 81°
Visit the enchanted island of Puerto Rico and you'll see firsthand how it got its name; the Bahia de la Chiva or "Blue Beach" in Vieques will have you in complete awe. Flamenco Beach is a local favorite that sits on the island of Culebra. Enjoy the 90-minute ferry ride from Fajardo (home to the famous beach on Palamino Island) to visit this horseshoe-shaped island where you can snorkel, swim, and sunbathe all under the Caribbean sun. No passport is required to visit Puerto Rico making this a favorable destination for families who are in the search for the perfect winter beach.
Read more about Puerto Rico with kids.
You'll need your passport for our next winter beach destination in Central America.
Great Winter Beach Destinations: #6 Belize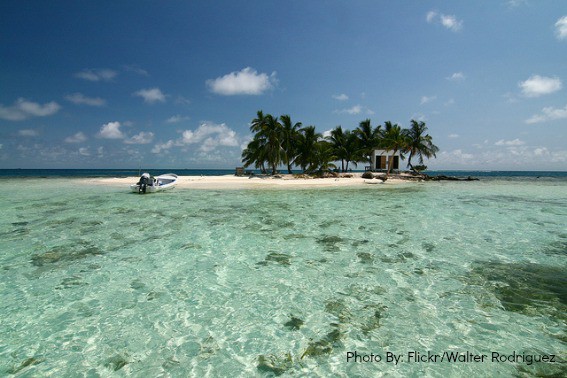 Average winter temperature: 75°
Tucked away in the northern part of Central America is a country that is still relatively unknown to tourists, which makes it the perfect place to find those unspoiled turquoise Caribbean beaches that are picture perfect. Home to the longest barrier reef in the northern hemisphere, take a boat or plane to an island beach all your own. Head out on a guided tour to Silk Caye, an idyllic island paradise that also offers diving and snorkeling experiences among beautiful reefs and marine life. Along the 16-mile-long stretch of Placencia, a peninsula in southern Belize, you'll find Maya Beach that is considered "barefoot perfect."
Insider Tip: Check out Robert's Grove in Placencia for an ideal location to experience Belize with kids as family tours and day trips are offered to help you experience this new culture and Caribbean destination.
More than a winter beach, our next destination is an adventure lover's paradise.
Great Winter Beach Destinations: #5 Rivera Maya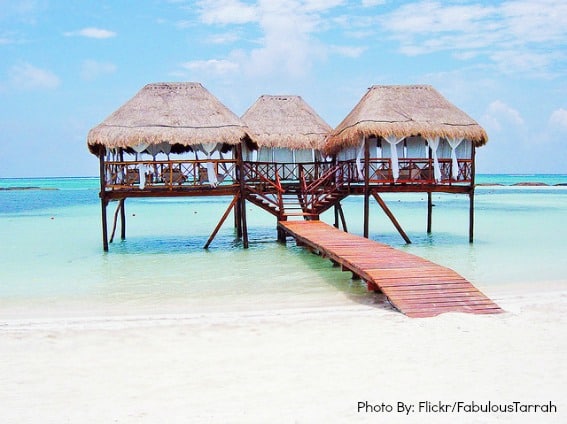 Average winter temperature: 80°
Travel to the white sands of Mexico's Caribbean coast to find the Rivera Maya (or Mayan Rivera), not only a top beach destination, but also is an adventure paradise. Eco-theme parks, jungle caves, and Mayan ruins will have you straying from the beach for a day, but not for long. Maroma Beach remains hidden from the spring breakers and has warm, inviting azure waters and sugar soft sand. Take a day to visit Tulum to see the ancient Mayan ruins and Playa Paraiso, or Paradise Beach. A calm beach, great restaurants, and views of the Tulum ruins: who could ask for more?
Insider Tip: The all inclusive Grand Velas Rivera Maya is the perfect place for families to stay and enjoy all that the Rivera Maya has to offer. Check out these great Trekaroo picks for more outdoor adventures in Rivera Maya!
Head south of the equator to our next winter beach destination. Technically, it's summer there.
Great Winter Beach Destinations: #4 Australia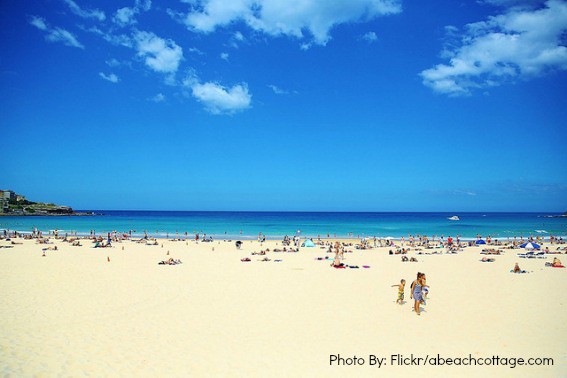 Average winter temperature: 77°
Pack your bags and head down under to explore Australia, who thanks to its southern hemisphere location is at its summer peak during our winter months. With over 100 beaches sprinkled around Sydney Harbor and along the coast, you'll have plenty to choose from along with plenty of adventures off the beach as well. If you are looking for unspoiled, hit Bilgola Beach. The iconic Bondi Beach is a hot spot for locals and tourists, who are in search of the perfect beach to soak up the rays.
You'll fall in love with our next winter beach destination, a Central American beach paradise.
Great Winter Beach Destinations: #3 Costa Rica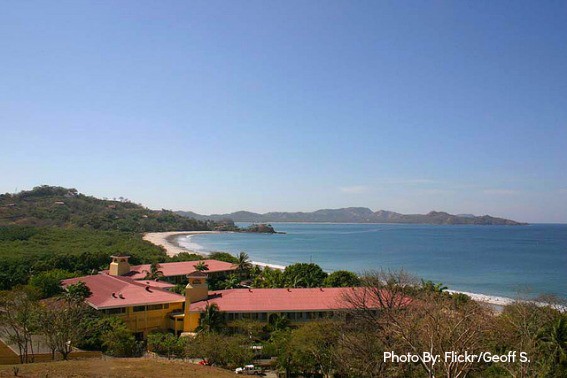 Average winter temperature: 75°
Dry season (mid-December through April) is the best time to hit Central America, especially Costa Rica. Rich in natural beauty, the beaches of the Pacific Northwest in the Guanacaste province are considered to be some of the most beautiful beaches in the country. Playa Flamingo offers families white sands and natural beauty along with plenty of activities for families including exploring the abundant mangroves and nesting sites for Leatherback Turtles. Playa Conchal is another gem on the Pacific Ocean side of Coast Rica. Enjoy deep-sea fishing excursions and hiking trips to the nearby national parks and nature reserves by day and catch an unforgettable sunset by evening.
Places to stay: The Margaritaville Beach Resort is situated right on the Playa Flamingo with spacious rooms and plenty of amenities. Explore this and additional places to stay in Playa Flamingo, Costa Rica.
For more on Costa Rica, check out our 20 Unforgettable Costa Rica Family Vacation Experiences.
Our #2 winter vacation beach boasts the highest average temperature of the whole group. Explore this spot without the need for a passport!
2. U.S. Virgin Islands

Average winter temperature: 82°
An unspoiled island paradise lies in the Caribbean among three sunny isles better known as the U.S. Virgin Islands. With plenty of beaches to explore, these Caribbean beaches are a favorite winter escape as no passport is required for American citizens. Your travel mood might influence your travel plans as each island has a reputation: St. Thomas is busy and bustling with adventures, St. John is for nature lovers and is the most tranquil, and St. Croix is the largest island with the most diversity. Visit our favorite beaches on each island: Lindquist Beach (a great place to miss the crowds), Maho Bay (perfect for sandcastles and sunsets), and Sandy Point (completely stunning!), respectively.
Find out more about visiting the U.S. Virgin Islands with kids!
What beach made our #1? Click through to find out our favorite beach to visit this winter.
1. Florida Keys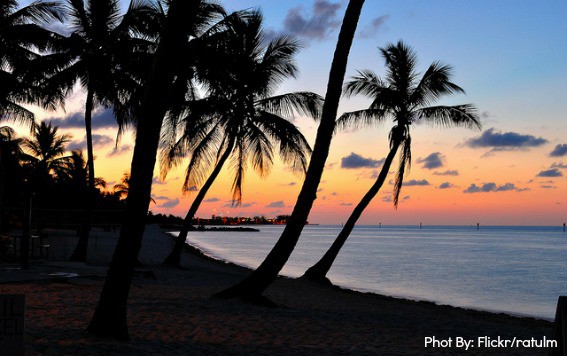 Average winter temperature: 75°
This is where you go to get away from it all. The 113-mile drive on Highway 1 could not only be considered a drive of a lifetime, but a highway to paradise. Visit Key Largo and the John Pennekamp Coral Reef State Park before heading south on the 7-mile bridge to reach the southern most point. Bring the chairs and head out to Smathers Beach to set sail on a catamaran, kayak, or paddleboard. Needless to say, there should be plenty of sun and sand and no chances of blizzards here.
Visit the Florida Keys with kids!

Looking for more fun-in-the-sun beach tips to beat your winter blues? Explore our beach content below:
Pack your bags with our Ultimate Beach Vacation Checklist for Families.
Top Family-Friendly Beaches to visit!
Finding the heart of Oahu's North Shore at Turtle Bay Resort
Eight Beach Destinations to Visit in the Winter
Tips on Avoiding the Madness During Spring Break Vacations
Featured photo by flickr/Jason Pero