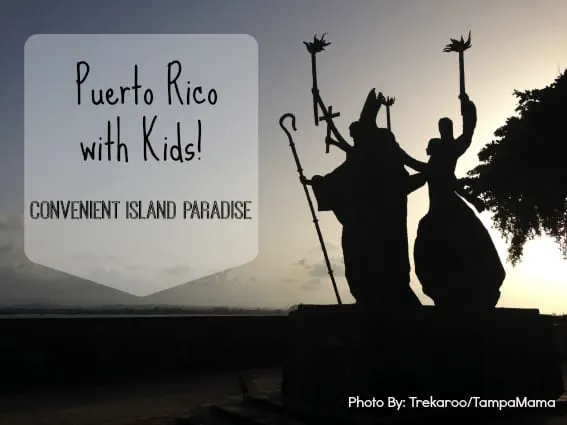 Prior to August, if you would have asked me about island vacations I would put on my bucket list, I would not have included Puerto Rico. I must admit, I had not done my research about this enchanted island. But after only three hours in Puerto Rico, I fell in love with this island, and vowed to tell others what an amazing destination Puerto Rico is for families. Not only was I blown away by the ease of travel to Puerto Rico, I also fell in love with the crystal-clear blue waters of Palomino Island, the historic downtown of Old San Juan, and the lush tropical rainforest of El Yunque National Forest. Here are my top 4 reasons why visiting Puerto Rico should be considered for your next family island vacation.
1. No Passport Required (For Americans)
Puerto Rico, an island about the size of Connecticut, is a commonwealth of the United States, and as such American citizens do not need a passport to enter the country. There is no different currency, and there really is no language barrier as we found almost everyone speaks English. (We did practice our Spanish though, just in case.) Now that you have arrived in paradise, let the vacation begin!
2. Island Paradise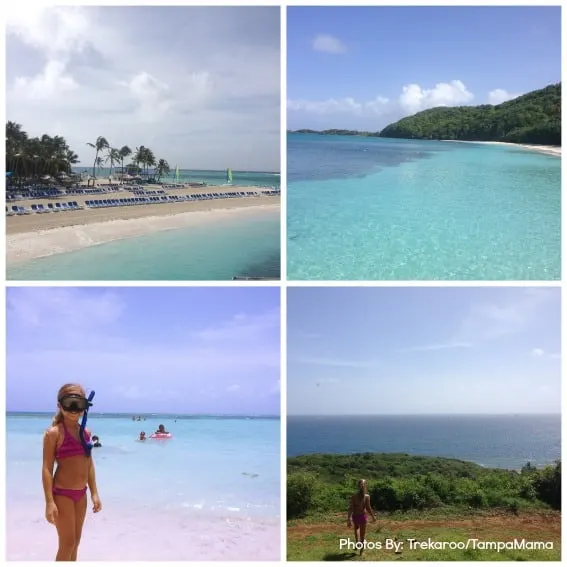 There are 300 miles of beaches in Puerto Rico, which means there is almost one beach to explore for every day of the year. Its white sandy beaches and crystal-clear water are what made it a tourist destination in the first place. Add in water sports such as paddle boarding, kayaking, snorkeling, surfing, diving, and relaxing (yes, that should be a sport too), and you have officially arrived in heaven. When staying at the El Conquistador Resort in Fajardo, about 30 minutes east of San Juan, families can even enjoy their very own private island, Palomino Island. Climb to the top of its mountain for a birds eye view of how beautiful this world really is.
3. Fun Adventures Galore

What adventure makes your family happy when on vacation? You'll find it in Puerto Rico. Our adventures included kayaking in the peaceful waters of the Condado Lagoon, learning FootGolf on the Arthur Hills designed golf course at the El Conquistador Resort, snorkeling off the coast of Palomino Island, sliding down a 40-foot slide at the Coqui Water Park, and walking among the 500-year-old historic sites of Old San Juan. Of course, dining each day and night on some of Puerto Rico's most authentic eats that reflect the island's mixture of Caribbean, Latin, North American, and indigenous Taíno influences has to be mentioned as well. When I return, I will zip line in El Yunque National Forest, kayak in the Bioluminecent Bay, sail the Caribbean waters on a catamaran, and explore the caves in the Rio Camuy Cave Park. This island might be considered small, but every mile has adventure and it's waiting to be found.
4. Great Lodging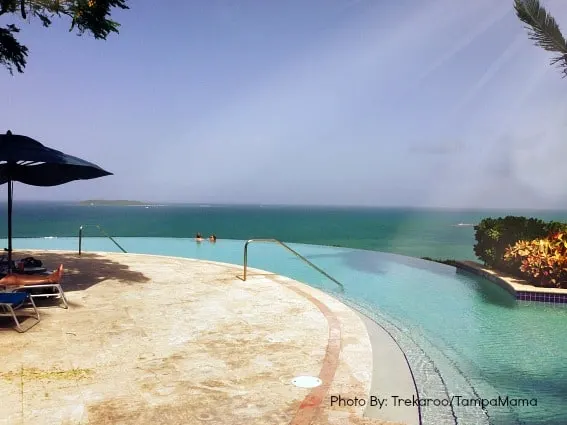 Stay in local family-owned establishments, luxury resorts with panoramic views of islands and sapphire blue water, urban retreats in San Juan over looking the Atlantic Ocean or the Condado Lagoon, or quaint boutique hotels in historic Old San Juan. Since Puerto Rico is a popular travel destination for families seeking the Caribbean, there are many hotels and resorts with offering various price points and amenities. The El Conquistador Resort, a Waldorf Astoria Resort, offers families the ability to experience Puerto Rico without having to leave the property. Spread over 500 acres overlooking both the Caribbean Sea and the Atlantic Ocean, this uber family-friendly resort had every amenity we desired to make an island vacation live up to its name. Visiting the resort's private island, Palomino Island, was icing on the cake. The Condado Plaza located in San Juan gave us an opportunity to visit the cobblestone streets of Old San Juan, and still go to sleep while listening to the ocean waves. The Condado Plaza is ideally located in San Juan's Condado area, offers a fun hotel pool (with slide and swim up bar), an artificial reef for snorkeling in their private beach (gear available for rent), as well as water sports like kayaking and paddle boarding.
See my full review of The Condado Plaza Hilton.
5. Enchanted by Beauty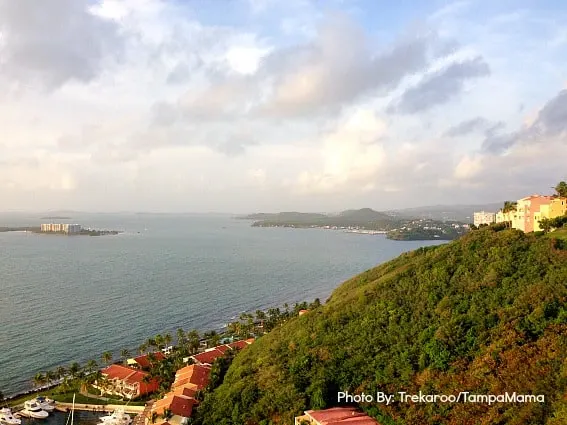 La Isla de Encatada (the Enchanted Island) has me under it's spell as I have become captivated with its beauty, the people, the water, the views. This land that I had dismissed from my bucket list, has now become a destination that I long to return to and explore more. Families will enjoy the ease of traveling to Puerto Rico with kids, and kids will love sharing their amazing island experience with others. It's the very first thing my daughter mentions to people when they ask her what she did over the summer, and her next question to me is, "When can we go back?"
Disclosure: The author received complimentary hotel stay and activities; all thoughts are her own.