Your donation to help build schools in Africa give you an entry to win a luxury Turks and Caicos dream vacation.

Yet, if you have friends or family far away, a road trip may be a necessary part of your celebration. How can you survive? Here are some suggestions to help keep your holidays sane!

Your guide to decking the halls in your local neighborhood! Christmas in: SoCal | NorCal | Seattle | Portland | Denver | SLC | Texas | Chicago | NYC | Boston | Philly | DC and more!

From sea to shining sea, we've got the scoop on the top 10 family fun across our nation. Where do you want to go?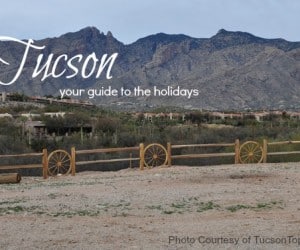 Here are some suggestions for family-friendly holiday fun in Tucson.

These top 10 Tampa Bay holiday events are sure to delight kids of all ages during the holiday season.

By
Cheryl Eugenio
on
December 9, 2013
in
Big City Attractions, Events and Holidays, Holidays, Midwest, Seasons, Touristy, Travel Style, United States, Winter, Winter Holidays, Wisconsin
From lights and lights festivals to holiday performances to unique quaint towns, Milwaukee has it all! Check out these fun, family activities perfect for the entire family and make lasting memories for years to come. Happy holidays!
Throw on a scarf and bundle up your kiddos, it's time for a Christmas adventure as you celebrate 12 days of Christmas around Atlanta!

By
Michelle McCoy
on
December 5, 2013
in
Big City Attractions, California, Canada, Colorado, Connecticut, Delaware, Events and Holidays, Florida, Florida, Giving Back, Holidays, Illinois, International, Massachusetts, Mid Atlantic, Midwest, Minnesota, Mountain, New England, New Jersey, New York, Newsletters, North Carolina, Northern California, Ontario, Oregon, Pacific Northwest, Pennsylvania, Seasons, Southern California, Southwest, Staff Picks, Texas, Texas & Gulf Coast, The South, Touristy, Travel Style, Trekaroo News, United States, Utah, Washington, Winter, Winter Holidays
Wander through the groves of fresh scented pine and find the perfect one to bring home with your kids. All the best places and tips for cutting your own Christmas tree!
We're part of a large community of travel writers hoping to raise $110,000 to help buildOn build three schools and fund three adult literacy programs in Mali, Africa.
By
Lisa Goodmurphy
on
December 5, 2013
in
Big City Attractions, Canada, Events and Holidays, Holidays, International, Ontario, Seasons, Touristy, Travel Style, Winter, Winter Holidays
Temperatures have fallen in the Toronto area, the days are shorter, and there's a pervasive feeling that autumn is over and winter will be arriving shortly. Along with the nip in the air, there's also a festive feeling as holiday displays appear in shop windows and the malls fill with the sound of carols. There might not be any snow on the ground yet but Toronto is ready to celebrate the holidays.