Known as "the Biggest Little City in the World," Reno is a small town with a big city vibe. Despite the fact that it sits in a sparsely populated part of Nevada, there are plenty of fun things to do in Reno with kids.
With its proximity to the desert, lakes, rivers, and mountains, Reno is a great hub for finding fun and trying something new. It's home to the Great Reno Hot Air Balloon Race, the largest free hot-air ballooning event in the world, and one of the biggest classic car events in the country, Hot August Nights.
While gambling is still a big moneymaker in Reno, downtown hotels have more than gambling floors. The Renaissance has a venue with Bocce ball courts, dart boards, Skee-Ball, and ping pong. The Whitney Peak Hotel has a climbing wall on its façade! So, come find adventure in Reno, you won't regret it!
Explore more of the state! Here are the best things to do in Nevada with kids.
Fun Things to do in Reno with Kids
1. Catch a Game at Greater Nevada Field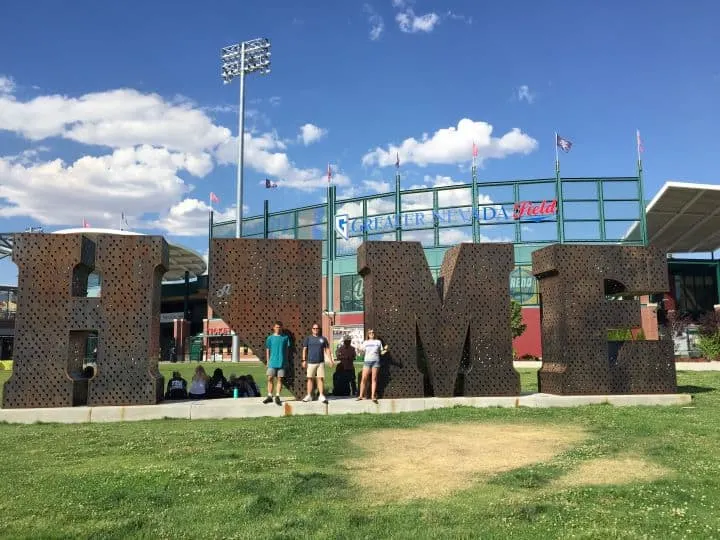 One of the most all American things to do in Reno with kids is to catch a game at Greater Nevada Field. This beautiful ballpark is home to the Triple-A baseball team the Reno Aces and the United Soccer League team Reno 1868 FC. The place has a wide assortment of concessions. It's also clean, colorful, and well-lit.
Just like at any other minor league game, your kids may also have an opportunity to take part in some quirky traditions such as belting out "We will Rock You!" with the Aces Mascot, Archie. Don't ask what Archie is supposed to be though, no one is really sure yet debates on the topic are strong!
2. Visit the Home of the Wolfpack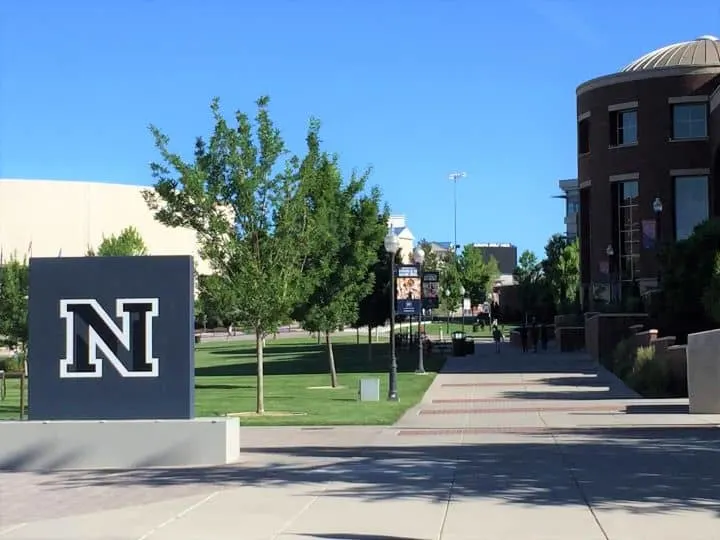 The University of Nevada Reno is widely known as the home to the Nevada Wolf Pack. But did you know that it also houses 11 really cool museums, galleries, and attractions about Northern Nevada?
They include stargazing at the Fleischmann Planetarium, and the state's second-oldest museum, the W.M. Keck Museum housed in the Mackay School of Mines. Located in a building from the late 1800s the museum includes the fossilized remains of a 3 million-year-old mastodon as well as samples from famous mineral districts like the Comstock Lode, Tonopah, and Goldfield.
3. Go on a Shopping Spree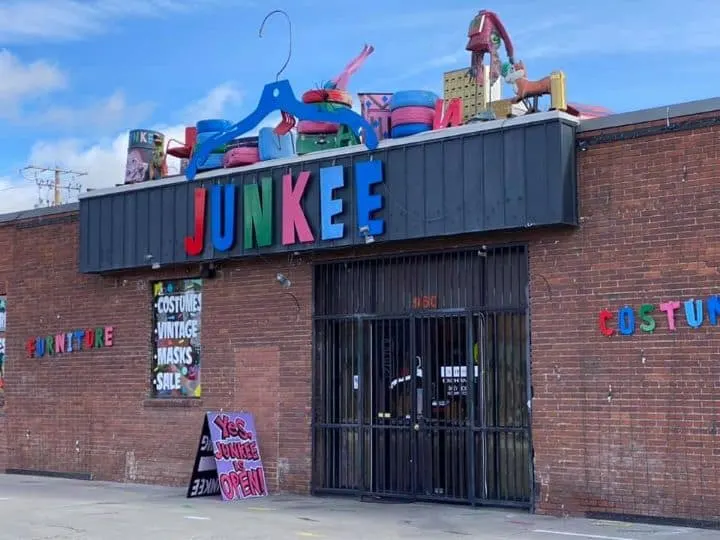 Reno has a quirky side and you'll want to cultivate the right look for it! One of the most fun things to do in Reno is shop at Junkee Clothing Exchange & Antiques. The costume department at Junkee is off the charts.
Reno is the last major city before hitting the playa at Black Rock, the home of Burning Man. Many Burners stop here to develop a flamboyant wardrobe for the event.
This massive store also holds many treasures in its inventory. Are looking for a baby doll head with a succulent inside it? How about a hardcover series of the Hardy Boys Mysteries?
Whether you're shopping for yard art, antiques, collectible Barbie dolls, or just about anything else that falls in the realm of vintage, you're going to find it and then some in this massive store.
4. Play at the Circus Circus Midway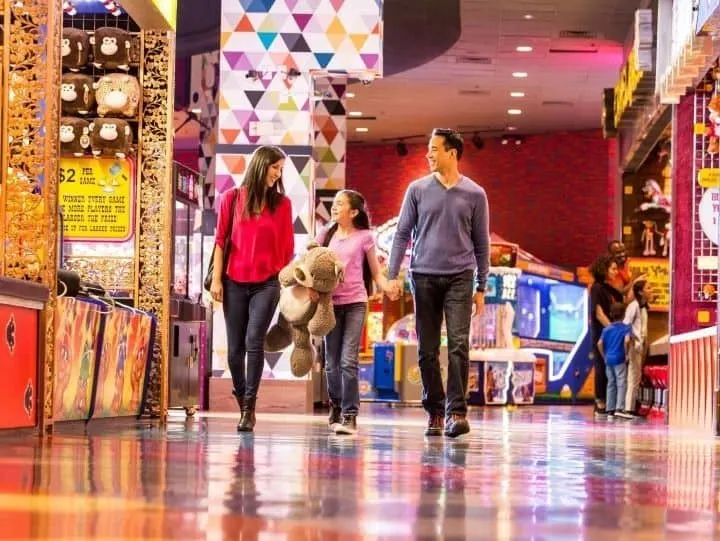 The Circus Circus Carnival Midway is easily one of the most kitschy, nostalgic, and innocent of the things to do in Reno with kids. Watch the kids try to ring bottlenecks and pop balloons with darts for prizes and you'll feel the same way.
Don't get too distracted by the competition for stuffed animals because no circus carnival would be complete without an aerial acrobat! Circus acts perform in, around, and literally over the Midway every 30-45 minutes depending on the day.
If you prefer your games with graphics, an arcade full of video games is located one level up from the Midway. Once you work up an appetite from all that gaming, head over the adjacent food court complete with a Habit Burger Grill, Panda Express, and Piezetta Pizza Kitchen!
5. Stroll the Truckee River Walk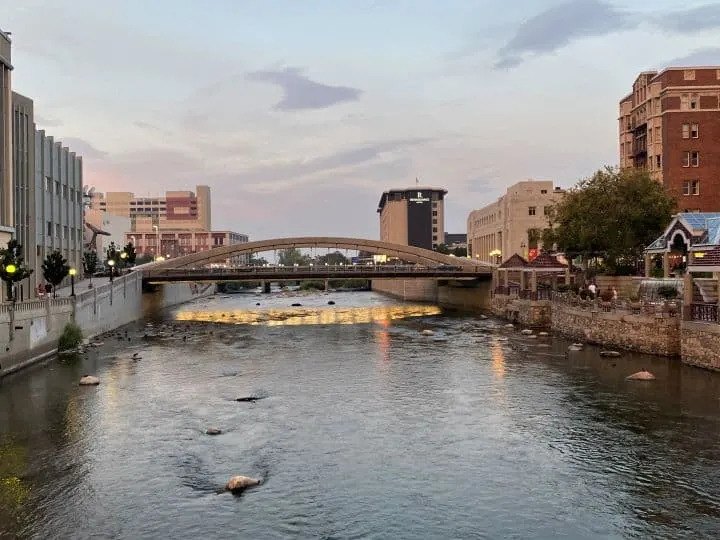 A short walk from the heart of downtown Reno, the Truckee River Walk is one of the most scenic things to do in Reno! It winds through some of the city's loveliest spots. There are many shopping and dining options along the way as well as leafy green places to lay out a picnic.
The walkway also reveals many surprises as you go. Bicentennial Park features an eclectic mix of artwork. Depending on the season, colorful blooms of flowers line the trail in many spots away from downtown. Pedestrian bridges stretch over the waterway. There are often people fishing from the rocky banks.
It is not uncommon to see kayakers and revelers on floaties. In fact, one of the bridges provides a bird's eye view of the whitewater kayak park. On a hot summer evening, you may even be lucky enough to catch a concert at Wingfield Park.
If you want to get out on the Truckee River with your family, book a Truckee River rafting trip. You can choose from either a tube or a raft and the trip is open to kids as young as eight.
6. Tackle the Slopes at Mt. Rose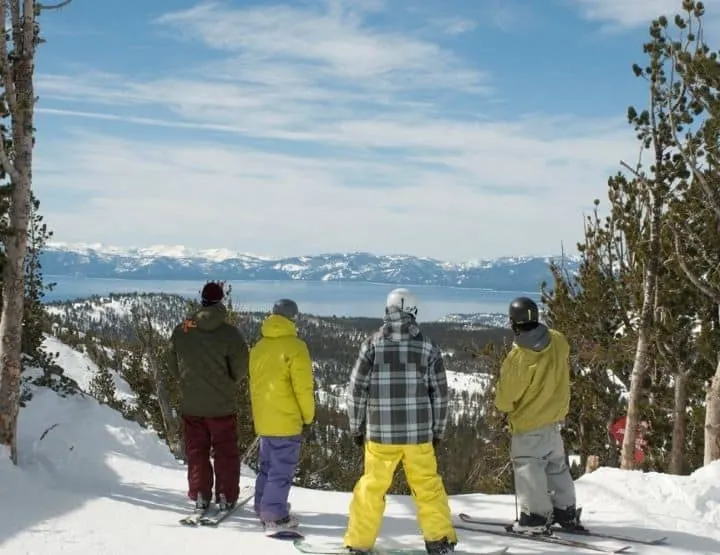 Looking to add skiing to your itinerary during a winter visit to Reno? If shredding is on your list of things to do in Reno with kids, Mt. Rose is your best bet! Just 25 minutes from Reno, it offers the highest base skiing and snowboarding in Tahoe!
With a base elevation of 8,260 feet, you'll enjoy superior snow conditions throughout the season. The convenience of this place is hard to beat as well. They keep it simple at Mt. Rose with slope-side parking so you can get on the lifts sooner rather than schlepping your family's gear through shuttles from faraway parking lots.
7. Tour the Murals of Midtown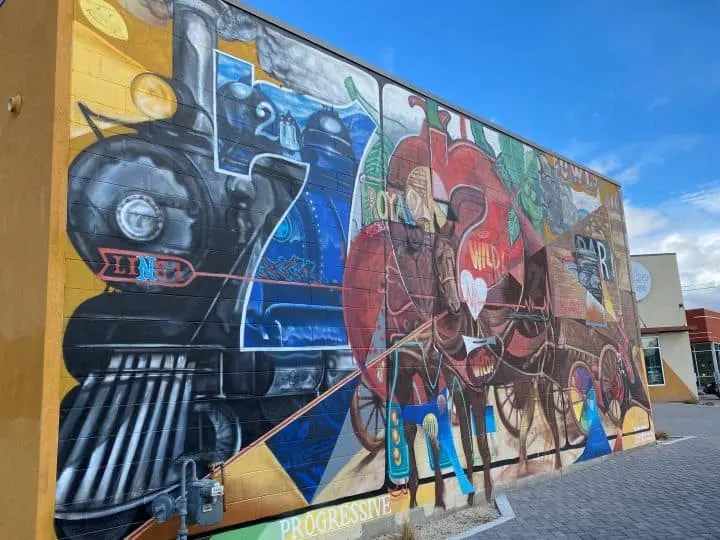 One of the coolest things to do in Reno is to check out the murals along the streets and alleyways of Midtown. Home to more than 80 murals painted by local, national and international artists, Reno's Midtown is a fun leisurely walk for exploring these vibrant artworks.
Check out this amazing private tour of Reno's murals.
Many depict local and state history, others center on more personal stories or social issues. One thing you won't find in the area is graffiti. The difference between the two according to business owners is permission.
Business owners have seized this moment to grow Reno's public art collection by granting permission to decorate their exterior walls. If you'd like to check out the murals, visit Art Spot Reno for a downloadable map to conduct a self-tour or sign up through them for a docent-led one.
Trekaroo Tip: All of that walking is bound to make you hungry! Midtown is full of cafes ready to keep you fueled as you explore. One of our favorites is Süp, a soup, salad, and sandwich place located right in the center of it all.
8. Immerse Yourself in Impressive Museums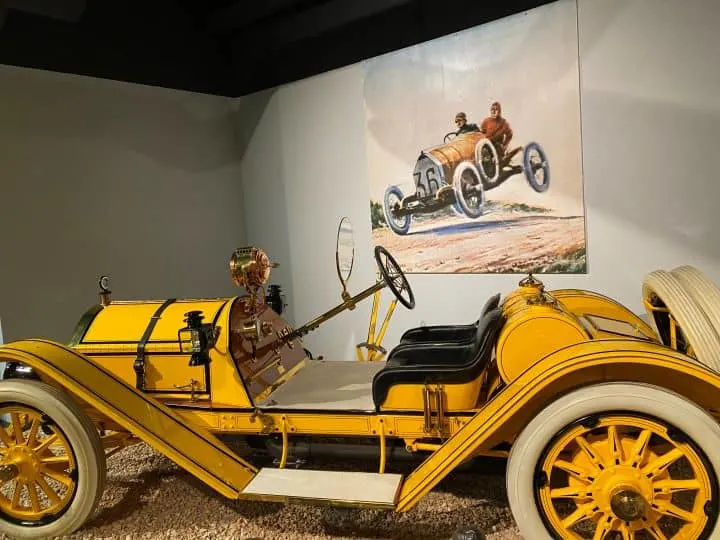 Among the most surprising things to do in Reno is get your fill of classic cars and fine art within a short walk! The National Automobile Museum and the Nevada Museum of Art both provide visitors a thought-provoking and creative experience! You needn't be a car enthusiast to enjoy the first of the two, many of the vehicles are one-of-a-kind and rare.
The Nevada Museum of Art is the only accredited art museum in the state of Nevada. Its identity is rooted in the ways in which humans creatively interact with environments.
This is not only reflected in the four thematic focus areas of the permanent collection- Altered Landscape Photography, Art of the Greater West, Contemporary Art, and the Work Ethic- but in the design of the building, it is housed in. It's inspired by the geological formations in northern Nevada's Black Rock Desert.
Trekaroo Tip: The Nevada Museum of Art is also home to a wonderful French-inspired eatery called Chez Louie. Reasonably priced, we highly recommend the Croque Monsieur.
9. Challenge Your Family to Feats of Strength and Skill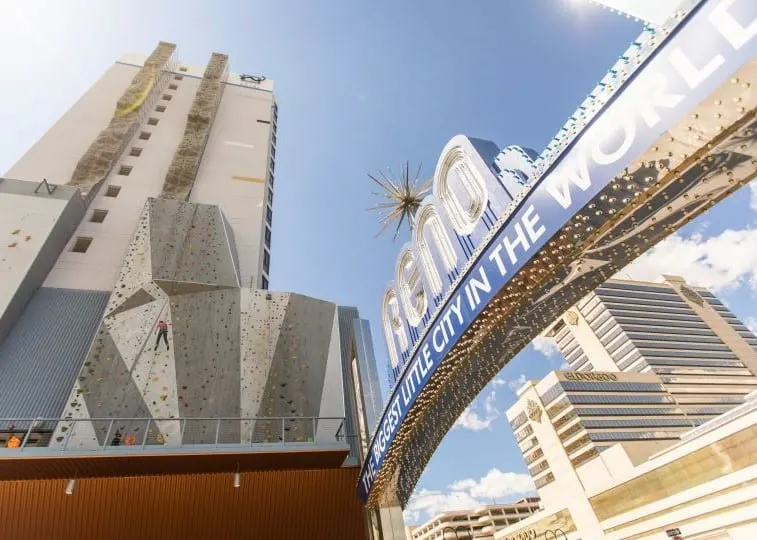 Are you a family that thrives on competing? Do you like to challenge each other to feats of strength and skill? Oh, there are some fun things to do in Reno for families like yours!
Head over to the Renaissance for a Bocce ball tournament or to best each other in Skee-Ball, darts, and ping pong.
Should you need a bigger challenge, one that reaches new heights, I've got you covered. Reno is the home of the tallest outdoor climbing wall in the US! Located on the east side of the Whitney Peak Hotel, climbers scale this visually stunning 164-foot stretch of wall in full view of the historic Reno arch!
To date, the youngest climber is four years old and the oldest is 94. Do you need any further proof this activity is fun for all ages?
10. Attend a World-Class Outdoor Event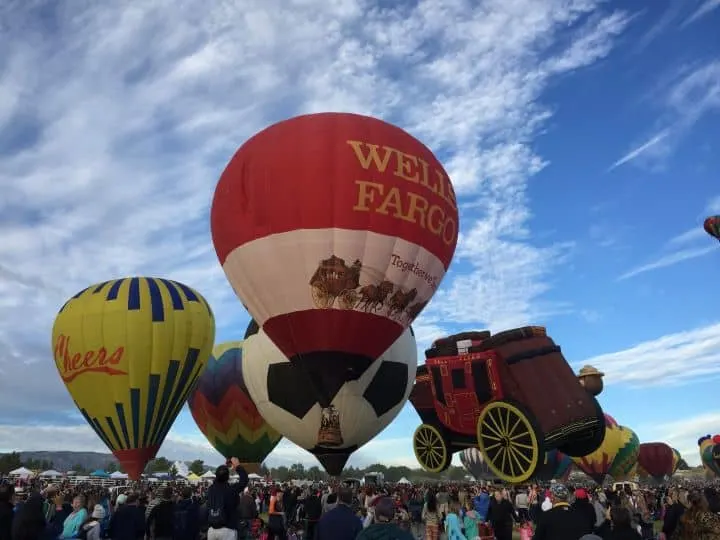 One of the most magical things to do in Reno with kids is watch the hot air balloons light up the predawn sky over Rancho San Rafael Regional Park during the Great Reno Hot Air Balloon Race.
It may not feel that way during the 4am trek out to the park but, it is well worth it to catch the rhythmic lift off of the Dawn Patrol. After that is the mass ascension of over 80 balloons. If you're lucky, you've watched all of this huddled with your crew for warmth in a nest of your own making, all with your eyes toward the sky.
Reno hosts an array of world-class outdoor events like this one. They include Hot August Nights, a huge classic car event; the Reno River Festival, a two-day experience along the Truckee River Walk; and Street Vibrations Fall Motorcycle Festival.
Where to Stay in Reno with Kids
The Grand Sierra Resort & Casino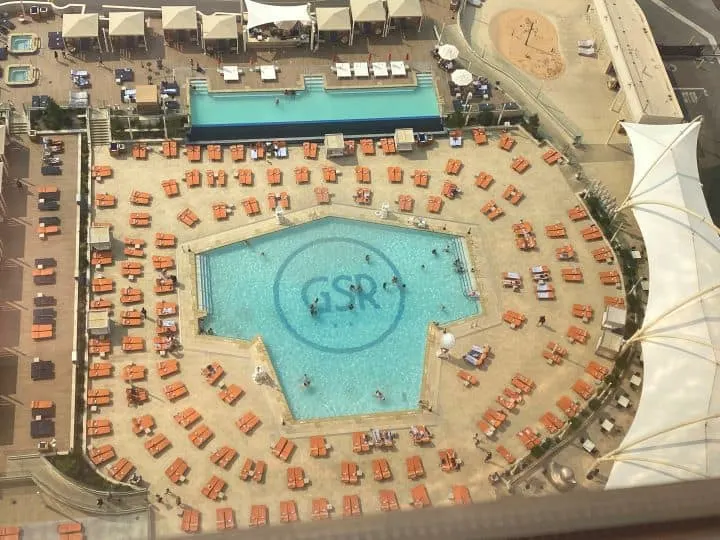 Don't let the mention of a casino lead you to believe that the Grand Sierra Resort & Casino is not family-friendly!
With a bowling alley, movie theater, escape room, driving range, ice rink, laser tag, arcade, virtual experiences, and an adventure land that includes multiple go-kart tracks, there are plenty of things at this resort to keep the entire family entertained.
The Grand Sierra (or GSR, as the locals refer to it) also boasts a large pool scene and a wide array of restaurants including kid-friendly classics like Johnny Rockets, California Pizza Kitchen, and the Grand Buffet. For a more upscale dining experience head to the resort's restaurant row for sushi at the Rim or tacos and deep-fried ice cream at Uno Más.
Where to Eat in Reno with Kids
Two Chicks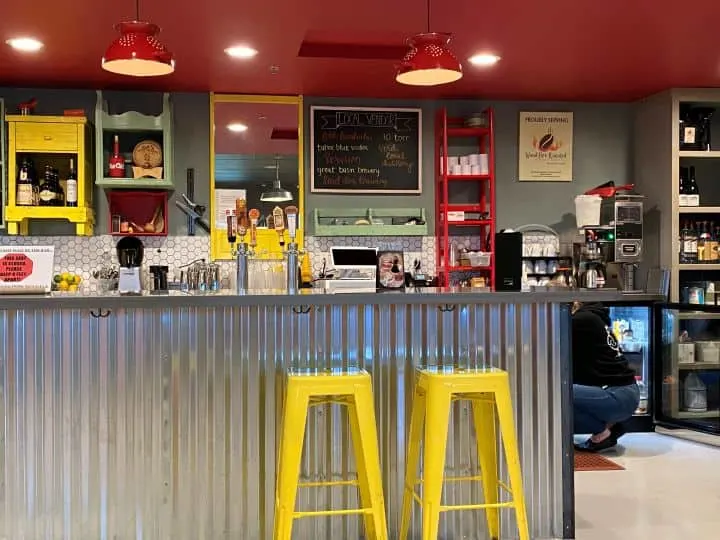 The very popular Two Chicks has two locations in Reno, one in artsy Midtown and the other in South Reno. Both are consistently packed. Be patient though because this sassy take on breakfast and lunch is well worth the wait.
The female-owned business specializes in homemade dishes and elevated comfort food. Salmon benedict, breakfast tacos, pancakes that will have your kids ready to dig in, are only a few of the delectable items on the menu. The big portions will have you fueled to tackle all of your Reno adventures and the reasonable prices will have you smiling.
The Eddy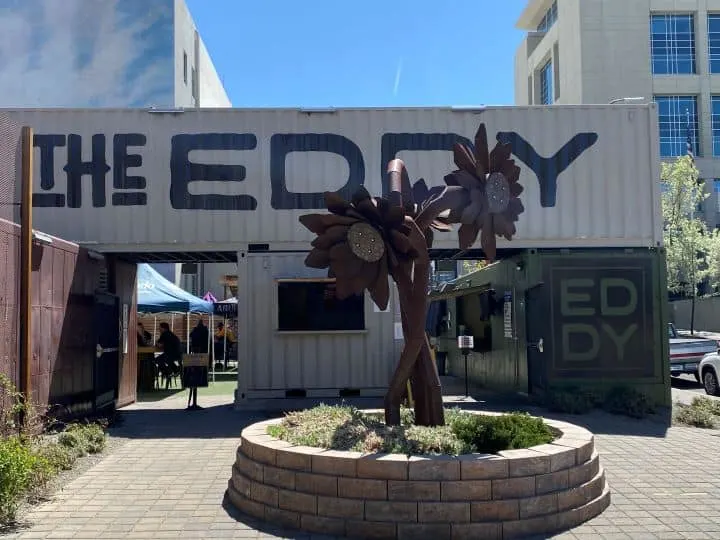 Constructed entirely of shipping containers, it is difficult to miss the Eddy. This cool downtown hangout spot sits alongside the Truckee River. Built for enjoying public art, free games and fun with friends, the Eddy is billed as a collaborative space.
The Eddy is family-friendly during the day. It becomes 21 and older at sunset. Known for its pizza and tacos, this is great place for lunch on a hot summer day!
Great Basin Brewing Co.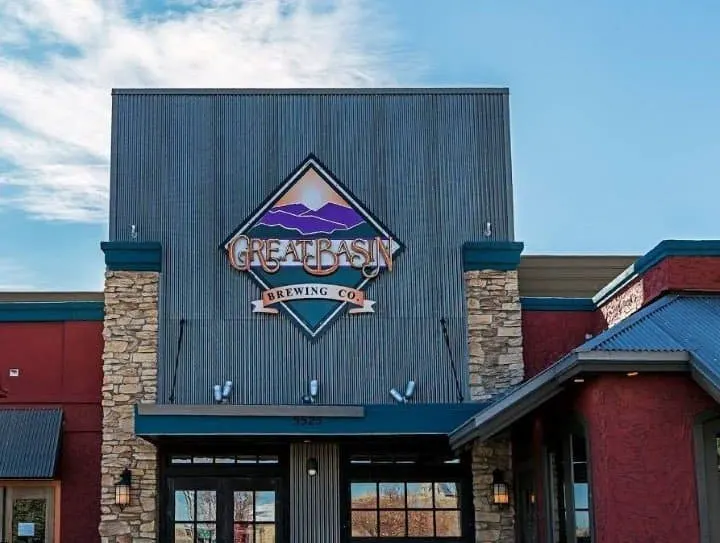 Great Basin Brewing Company is known for its burgers but don't let that stop you from sampling other menu items.
The Brewmaster's Mac 'N Cheese is out of this world! Made with five kinds of cheese, crispy hardwood smoked bacon, topped with smoked provolone and bread crumbs, it has everything to make Mac n' Cheese aficionados rejoice. We highly suggest that you add jalapeño.
Day Trips from Reno with Kids
Chill at Lake Tahoe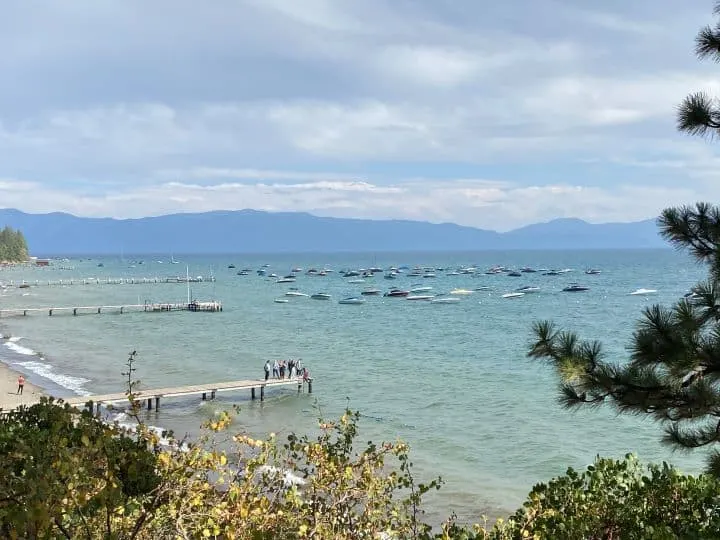 A summer paradise, winter wonderland, and year-round magnet for mountain memories, Lake Tahoe is often referred to as the Jewel of the Sierra Nevada. Those crystal blue waters and the towering alpine peaks that surround them hold a lot of folklore and history among their natural beauty.
Read our guide on the best things to do in North Lake Tahoe, which is the portion of the lake closest to Reno.
In less than an hour's drive from Reno, you can dip your toes in the chilly lake water, explore the small towns around her edges and bask in their pioneer history. Depending on the season, hit the slopes or the mountain bike trails at Tahoe resorts like NorthStar and Heavenly.
Check out Trekaroo's comprehensive guide to the best ski resorts in Lake Tahoe.
Step Back in Time in Virginia City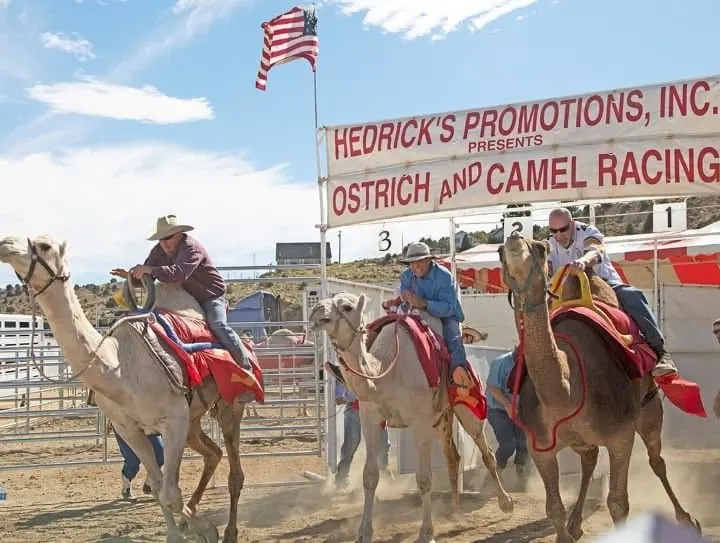 A 40-minute drive from Reno, Virginia City leaves visitors believing that time travel is possible. Virginia City is so well preserved that you can visit today and imagine miners walking the wood-planked sidewalks and spending their hard-earned money in one of the many saloons.
Now I realize the scene I've painted doesn't sound all that family-friendly but don't worry that is all in the past. Today's Virginia City has a taffy shop, sells homemade fudge and jerky. There's a kids arcade in one of the saloons and a shooting gallery in one of the leather shops.
Virginia City also hosts some rather unexpected events like the International Camel and Ostrich Races and the World Champion Outhouse Races (Yes, outhouses!!). If you're looking for a destination that is both historic and quirky at the same time then you need to get to Virginia City!
Visit the Nevada State Capital of Carson City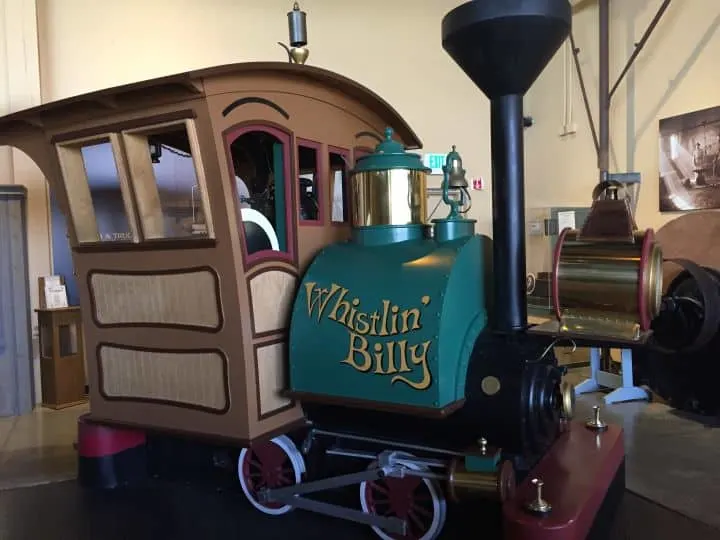 One of the most educational things to do near Reno is to visit the Nevada State Capitol, Carson City.
Drop-in on the Nevada Supreme Court at the state capitol building. Then soak up the state history in Battle Born Hall including the mining boom and the early days of Carson City. The capitol building hallways are also loaded with incredible historical references and art tracing Nevada's heritage.
Just down the street is the Nevada State Railroad Museum. Home to an amazing collection of equipment, artifacts, documents, and related exhibits, the museum's main attraction is the magnificent Inyo locomotive. Constructed in 1875, it's one of the oldest operating steam locomotives in the US.
Be sure to also check out the Glenbrook, which was originally built to haul cordwood and lumber from nearby Lake Tahoe and Spooner Summit. It was later used to support the construction of Virginia City.
Feature Image by Kristine Dworkin