Every year, millions drive through St. George, Utah on there way to Zion National Park, never realizing the region offers so much more than its show-stopping national park.
We think you should slow down and explore Southern Utah because there are so many more fun things to do in St. George with kids without the crowds you will find in Zion.
St. George family activities abound. The vivid red sandstone formations of local state and regional parks provide a natural playground. And the fascinating geological and cultural history of the area shows families a glimpse of the past. Adventure awaits in the Greater Zion area of southern Utah.
Fun Things to do in St. George with Kids
Climb the Rocks at Pioneer Park & Explore Red Hills Desert Garden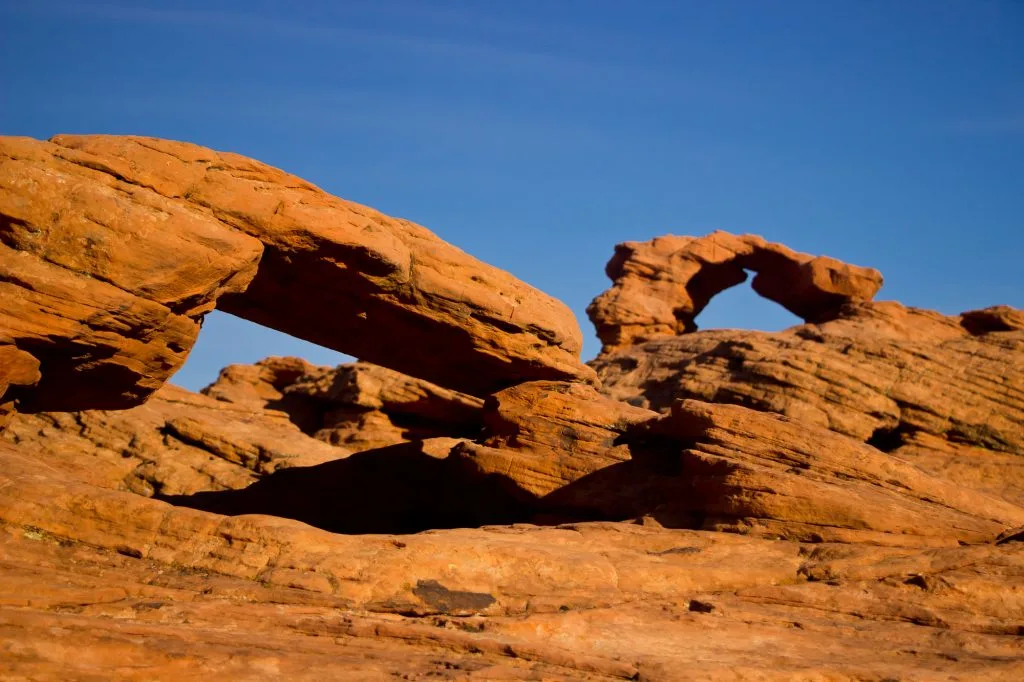 Who needs a playground with all this red sandstone to climb on? Pioneer Park covers 52 acres of the Red Cliffs National Conservation Area. Squeeze through the foot-wide slot canyon, explore arches and caverns, then watch the sunset from the famous Dixie Rock.
The Red Hills Desert Garden (also free) is located just next to Pioneer Park. Here visitors wander through manicured paths showcasing over 5,000 desert plants. Kids love watching the fish and finding the preserved dinosaur tracks in the garden.
Hike, Climb, and Horseback Ride at Snow Canyon State Park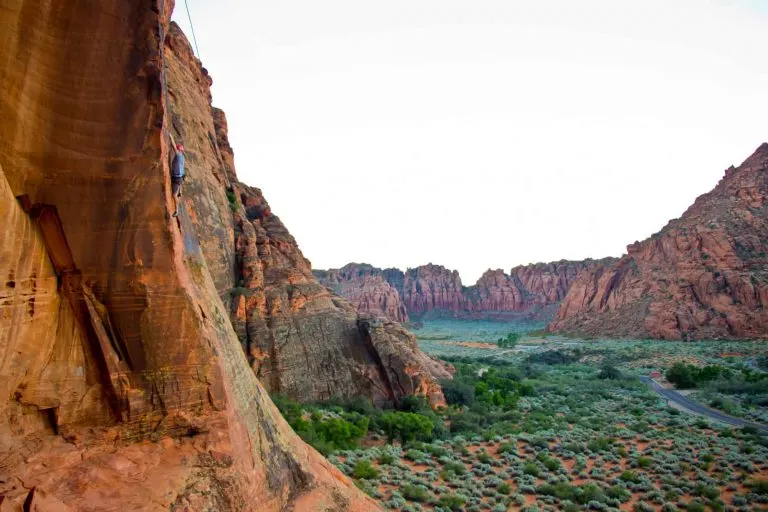 The unique formations and breathtaking landscapes at Snow Canyon State Park rival those of national parks. Red and white Navajo sandstone cliffs and dunes provide a perfect backdrop for adventure.
Enter the south side of the park and start your day with the short half-mile hike to Jenny's Canyon. Once there, climb around the small slot canyon before continuing on to play in the Sand Dunes. The picnic area and bathroom here make it a perfect lunch stop.
When the kids are sandy enough, take a short hike to Pioneer Names. You will see pioneer graffiti from centuries past as well as modern day rock climbers, too!
Next, stop at Petrified Sand Dunes to run over mounds of sandstone frozen in time. My kids would have ran around these all day.
Finally, end your visit exploring Whiterocks on horseback. Snow Canyon Trail Rides offers guided trail rides across the northern cliffs of Snow Canyon for ages six and up. The ride starts and ends at the Snow Canyon Scenic Overlook, which gives you the best view of the park.
Can't get enough of the red rocks? Try our Utah Road Trip: An Amazing 8 Stop Itinerary.
See Ancient Footprints at St. George Dinosaur Discovery Site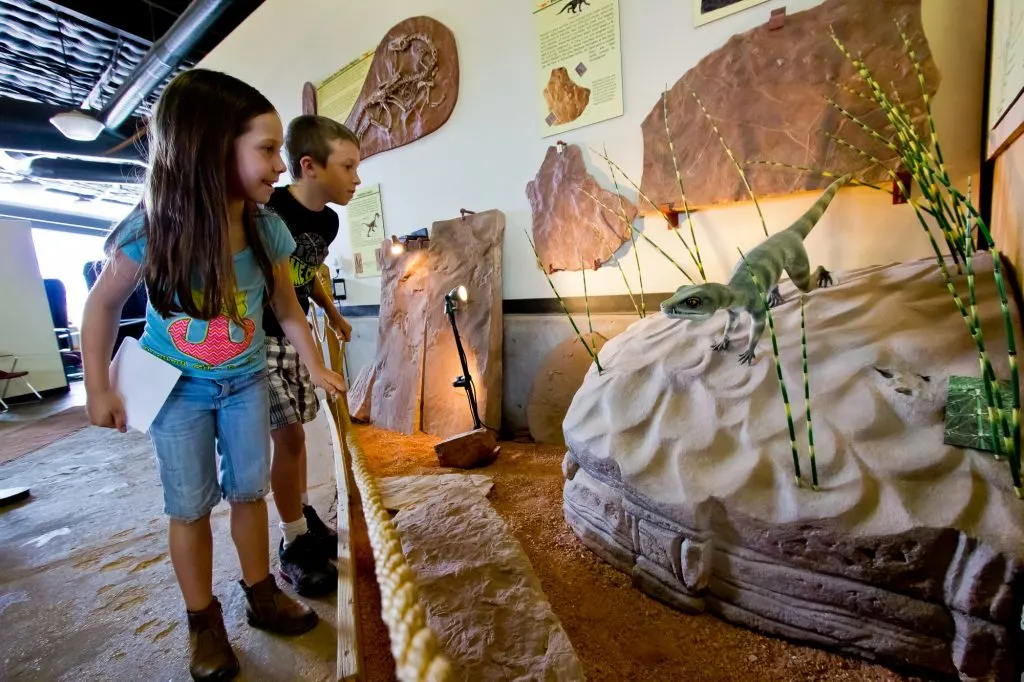 The remnants of 200-million-year-old footprints reside within the wall of the St. George Dinosaur Discovery Site. Instead of relocating slabs of stone to the museum, they built the museum right over the stones! Traverse the boardwalk looking down at Jurassic footprints, and even an ancient butt print.
The St George Dinosaur park is quite popular with families. In addition to the prehistoric tracks, the museum houses other fossils and replicas. There are life-size models of the dinosaurs who made the prints, a working fossil preparation lab, and even an outdoor play and picnic area for your dinosaur lover to enjoy.
Book a half day archaeology tour to dinosaur tracks via Trip Advisor. Trekaroo is a TripAdvisor affiliate.
Wander Downtown St. George
The formerly small town of St. George preserves its roots and family-friendly atmosphere in Historic Downtown St. George. Creative art installations and blossoming flowers line the streets. And there is so much to do and see.
The St George Childrens Museum sits on the corner of Town Square Park in the old school building. Imagination takes over as children shop in the grocery store, fly a plane, or play with bubbles. This is one of the best things to do with toddlers in St George.
After playing at the museum, step outside and enjoy Town Square Park. Kids love to frolic in the splash pad, including a waterfall, shallow river, and ground fountain to run through. There is also a historic carousel that families can ride for only a dollar a ride.
Another interesting downtown stop is the St. George Art Museum. Artwork from local artists, as well as pieces from other times and cultures, adorn the walls of the repurposed sugar beet storage facility. In the Family Discovery Center, guests create their own masterpieces inspired by the works on display.
Tour St. George Historic Sites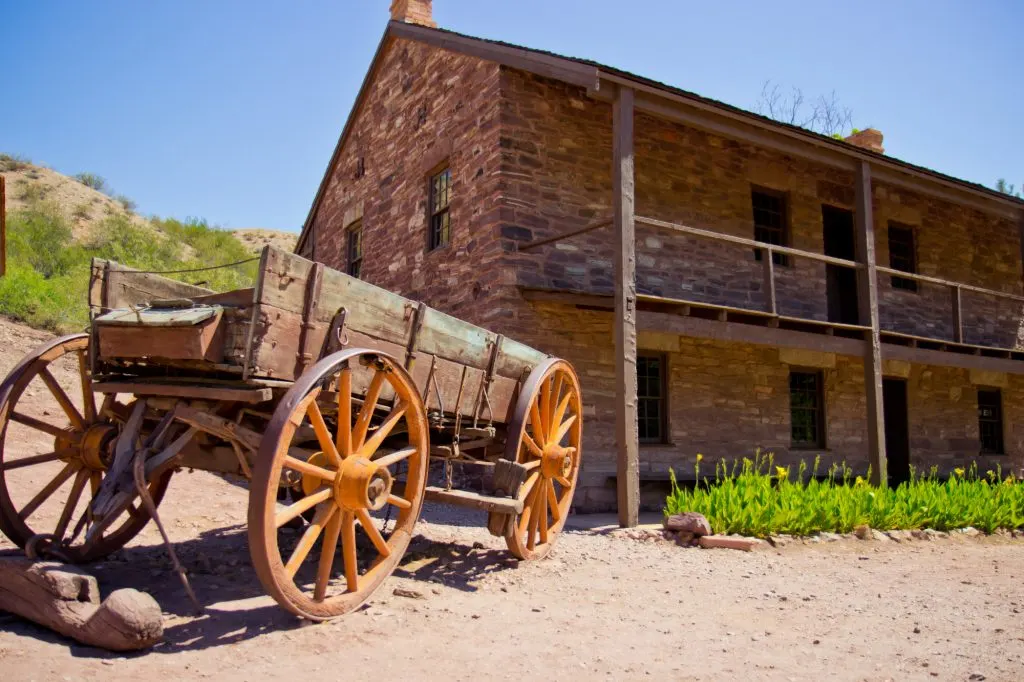 In the mid-1800's, Mormon pioneers settled the area of St. George. They constructed the St. George Tabernacle as a place to gather and worship. Free guided tours explain the architecture of the building as well as its purpose in the community.
Another religious landmark completed around the same time was the St. George Temple. While the building itself is not open to the public, everyone is welcome to enjoy the manicured grounds and visitor center.
While at the visitor center, missionaries from The Church of Jesus Christ of Latter-Day Saints explain the religious significance of the building and details of its construction.
A few historic homes in the area also offer free tours and a fun glimpse into the past. The Brigham Young Winter Home portrays a life of prominence in a beautiful mansion with elegant furniture.
In contrast, The Jacob Hamblin Home, located just north in Santa Clara, shows the more average lifestyle at the time with simple furnishings and solid construction.
Find more Utah state history in SLC with our article 10 Best Things to do in Salt Lake City with Kids.
Spend the Afternoon at Thunder Junction All Abilities Park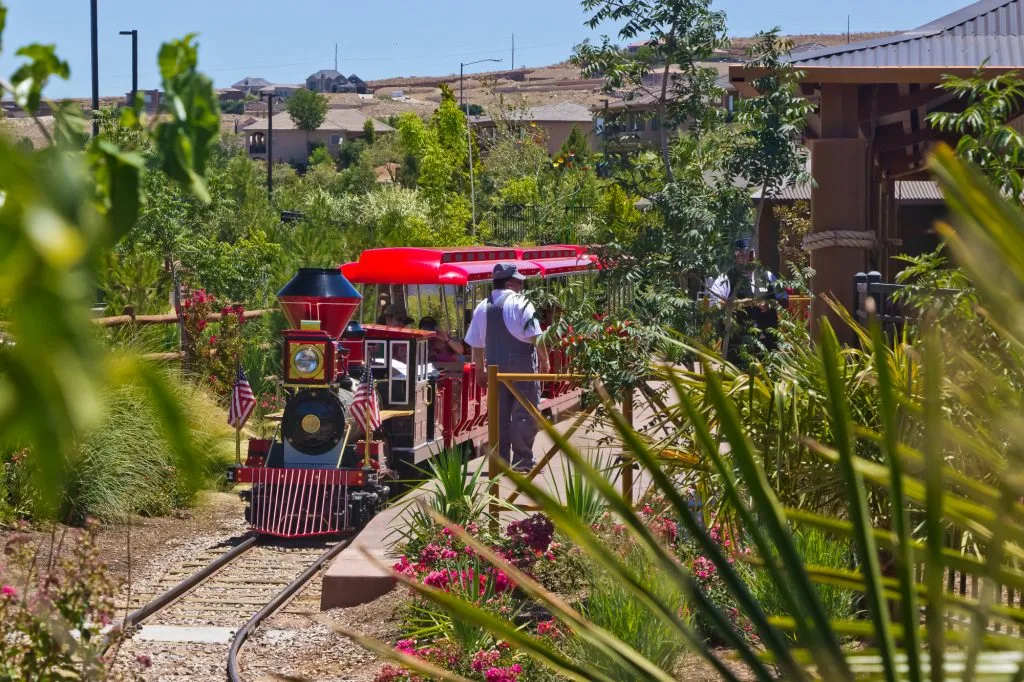 Dinosaurs and trains?! Whoever designed this park knew how to attract kids. Thunder Junction All Abilities Park features a climbing wall, splashpad, slides and swings, and even an "erupting" volcano. And it includes a complete wheelchair accessible playground.
Additionally, for only $1 per ride, families can hop aboard the C.P. Huntington ¼-scale train. Chug past dinosaurs and through a tunnel on the 2,700 food track. Definitely one of the most fun things to do in St. George with kids.
Visit a Ghost Town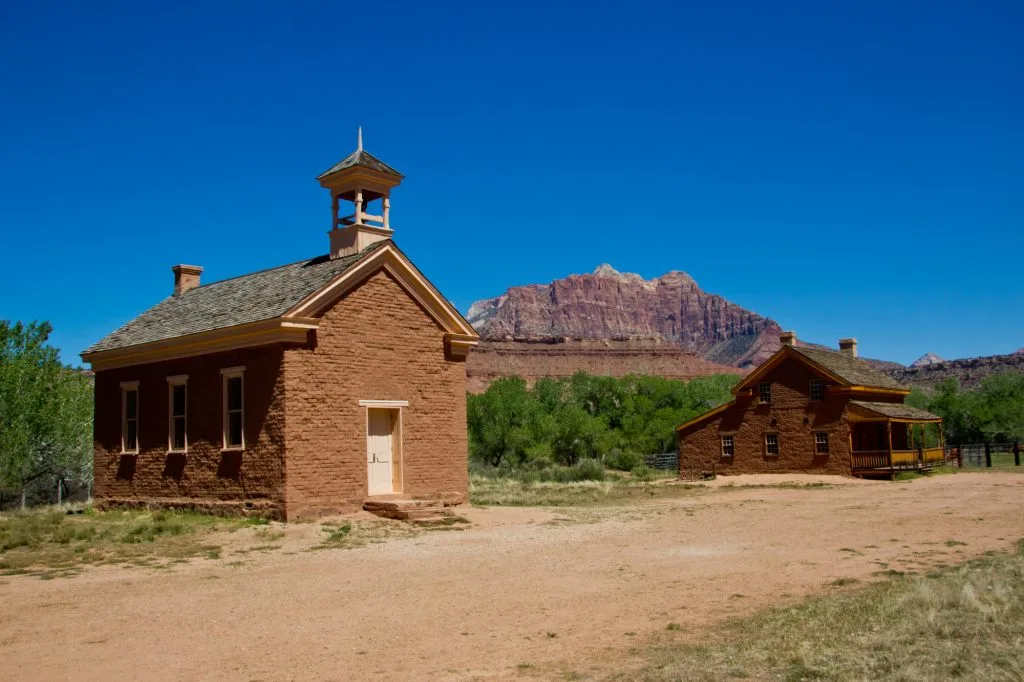 Three ghost towns reside near St. George, each with its own unique past.
Grafton Ghost Town, just south of Zion National Park, was settled by Mormon Pioneers in the mid-1800's. The schoolhouse and homes have been restored and are in great historic shape. Visitors can walk through some houses and peep through the windows of others.
Silver Reef Ghost Town boomed in the late 1800's. All that remains of the original town are the old Wells Fargo Buildings, the graveyard, and some foundations. A historic museum displays artifacts including old wagons and mine carts.
About 20 miles west of Cedar City lie the remains of a retired iron factory, known as Iron Town. Walk inside the giant beehive oven before walking along the trail to ruins of an old house. This ghost town is part of Frontier Homestead State Park, which explores the history of the area through interactive exhibits and artifacts.
Go for an ATV Ride at Sand Hollow State Park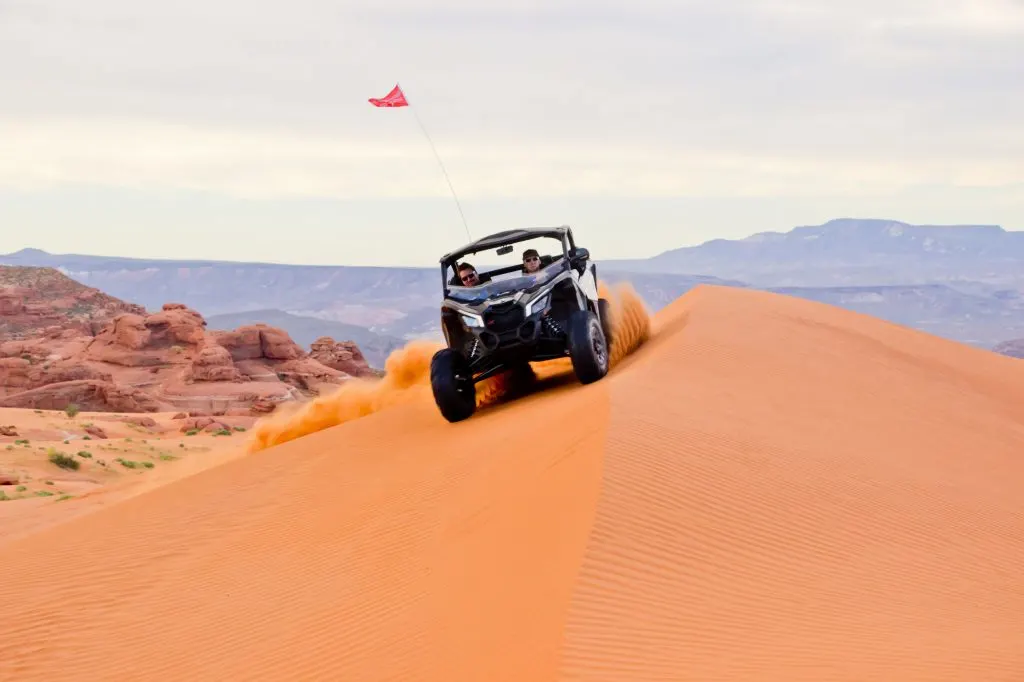 One of Utah's newest state parks, Sand Hollow State Park, is also one of the most popular. The dunes of Sand Mountain offer the perfect place to take an ATV/UTV tour. While in the hills take a break from your ride to climb around the hoodoos or explore a mini slot canyon.
Hot day? Play in the Sand Hollow Reservoir instead. Simply wade in the water, or jump into it from the surrounding cliffs. You can also rent a boat for waterskiing, fishing, or just cruising around.
Don't miss our favorite things to do in Utah.
See a Broadway Musical at Tuacahn Amphitheater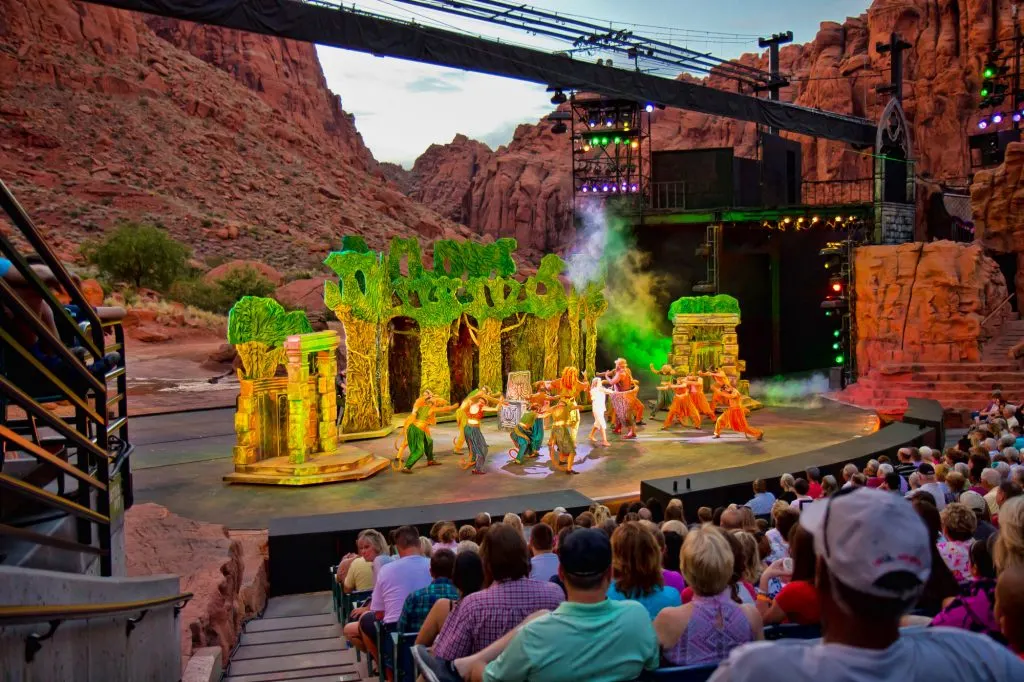 One of my favorite things to do in St. George with kids is bring them to their first professional musical theater experience at Tuacahn Center for the Arts.
Every summer, Tuacahn hosts Broadway in the Canyon in their beautiful outdoor amphitheater. Professional Broadway actors perform amid stunning natural scenery and handcrafted sets.
All shows all family-friendly and usually include Disney favorites. Children under three are not permitted in the theater, but the venue offers on-site babysitting for a great price.
A few of my little ones loved "show care" so much they were disappointed when they had to watch the show…until they saw how awesome these performances are.
Tuacahn also boasts an indoor theater with year-round concerts and plays. During the holidays, check out their live nativity. And on Saturdays stop by to shop at the Saturday Market, featuring local craftsmen, artwork, food, and entertainment.
Hike Around Zion National Park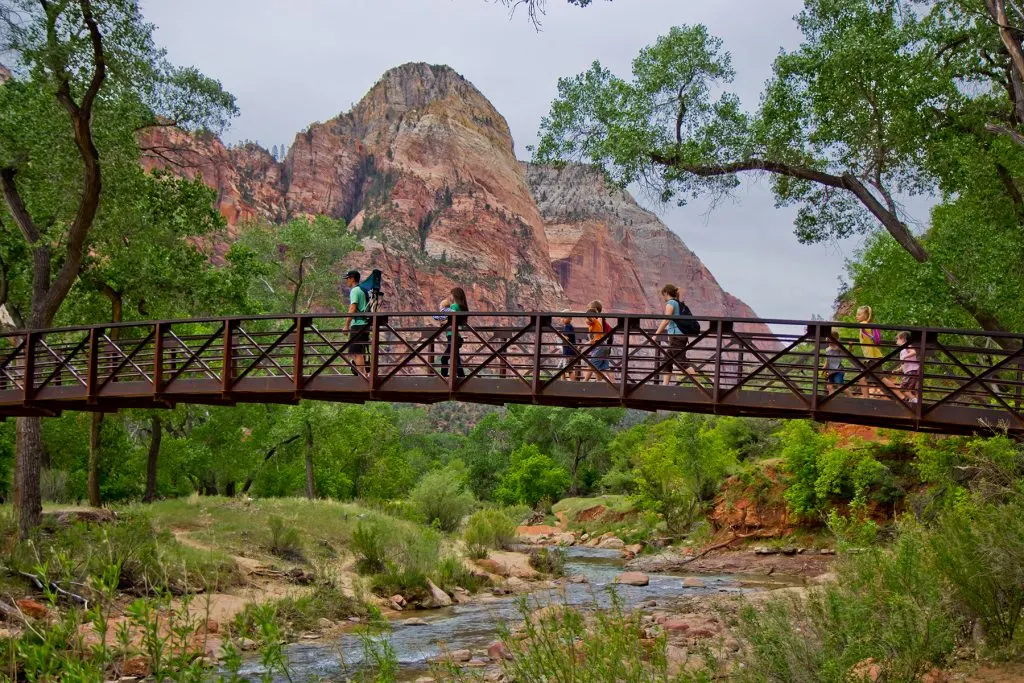 The deep, red canyons of Zion National Park attract millions of visitors every year for good reason. Its awe-inspiring views, green Virgin River contrasting against the red rocks, and unique slot canyons make it a place unlike any other.
Check out our full guide featuring 15 Amazing Things to do in Zion with Kids and if you are visiting in the off season you will definitely want to check out our guide to Zion in Winter.
Although hiking through The Narrows and to the top of Angels Landing should be on all bucket lists, you may not want to attempt these with young kids. Instead, hike around the Emerald Pools and to Weeping Rocks. Also, be sure to spend some time splashing in the river along the Riverside Walk.
In addition to Zion Canyon, the park also features two additional sections called Kolob Canyons and Kolob Terrace. The Kolob Canyons section features a scenic drive along with two great hikes for kids: Timber Creeks Overlooking Trail and Taylor Creek Trail.
Extend your trip and try our Ultimate Utah National Parks Road Trip Itinerary.
Eat Great Food Around St. George
There is a great variety of food to be found int he greater St. George area. Here are eight spots we love to visit when we are in town.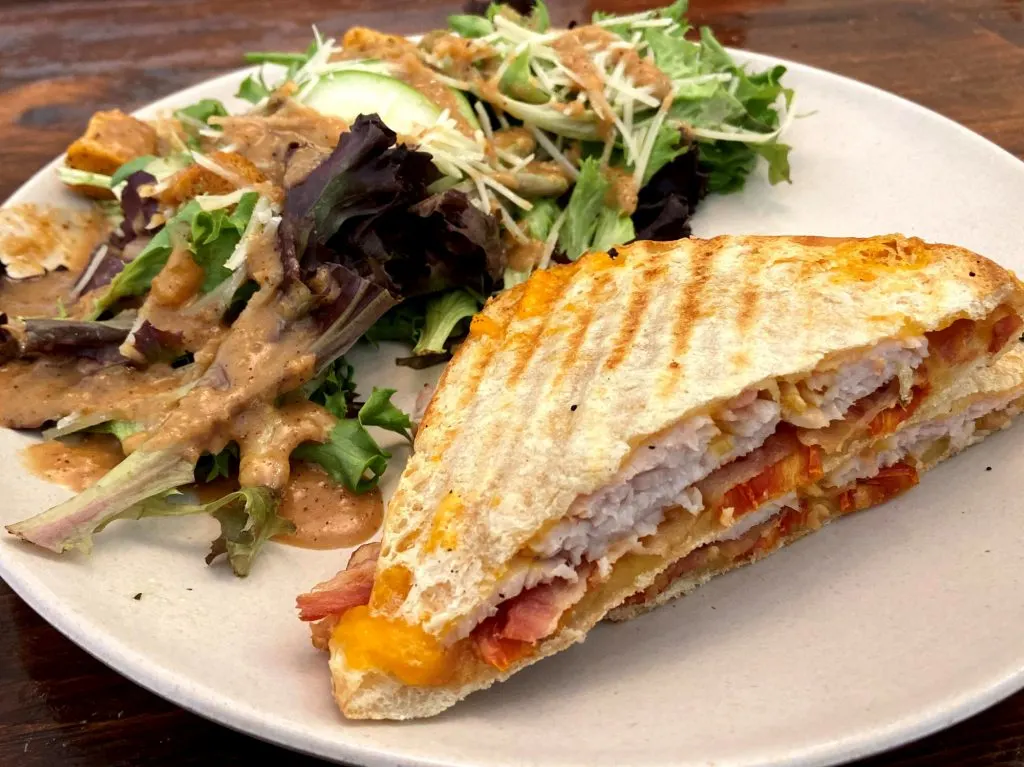 TwentyFive Main– This cute boutique café is located in historic downtown. The award winning salads taste divine, and the kids menu provides classic favorites. Make sure to finish with a delicious fresh baked cupcake.
Café Sabor-Authentic Mexican cuisine made with fresh ingredients. Tasty chips and salsa start the meal off right, and the homemade tortillas make it amazing. Come on a Monday when kids eat free.
Larsen's Frostop Drive-In-The place to go for a classic, thick milkshake. This old fashioned drive-in restaurant has been serving up diner favorites since 1965.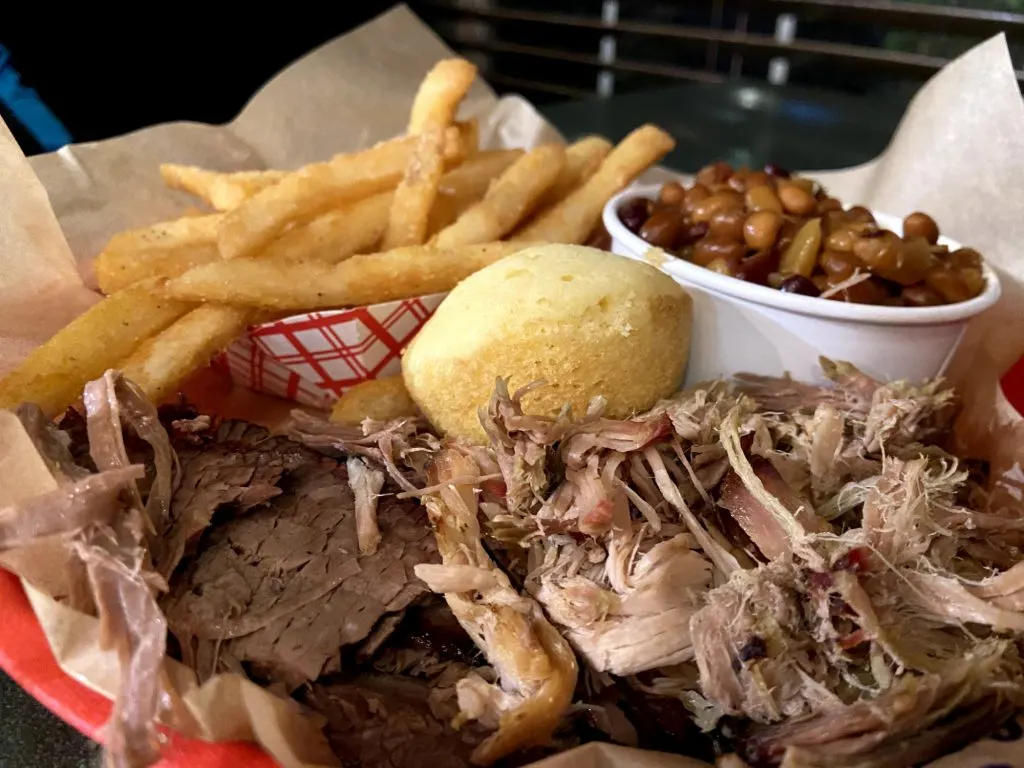 Zion Pizza & Noodle (Springdale)-The best place to go after hiking all day at Zion National Park. Pizza options range from "boring cheese pizza" to specialty theme pizzas, and all are delicious. Come early because this place is popular.
The Cactus Room Restaurant (Virgin)-Located in a unique gift shop, the food and proprietor are just as unique. Try the Bison Burger for a mouthwatering experience.
Lonny Boy's BBQ (Hurricane)-Smoky barbeque classics as well as unique twists. Try the BBQ Nachos or FryChos.
Main Street Cafe (Hurricane)-Cute classic cafe with fresh ingredients. The small town atmosphere makes everyone feel at home.
Muddy Bees Bakery (Hurricane)-Adorable bakery with the best cinnamon rolls around. They also serve sandwiches and soups for lunch. Stop inside to see an actual working beehive.
Where to Stay in St. George with Kids
Staybridge Suites St. George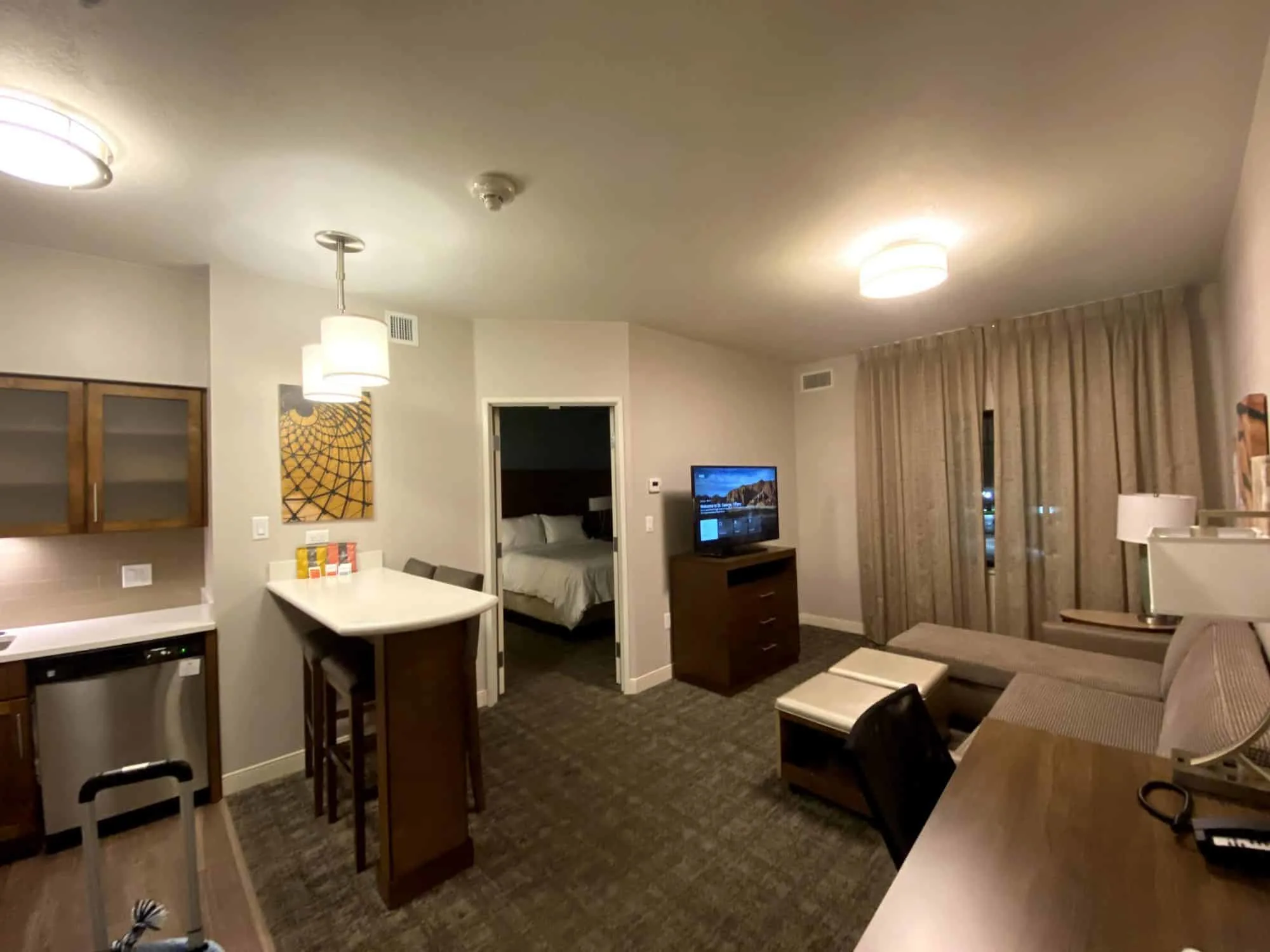 Located right in St. George, Staybridge Suites offers a home away from home. Splash in the pool after a day exploring outdoors. Then relax in your spacious suite. A fully stocked kitchen allows guests to save money by preparing their own meals. They also offer a free full breakfast.
Zion Wildflower Glamping Resort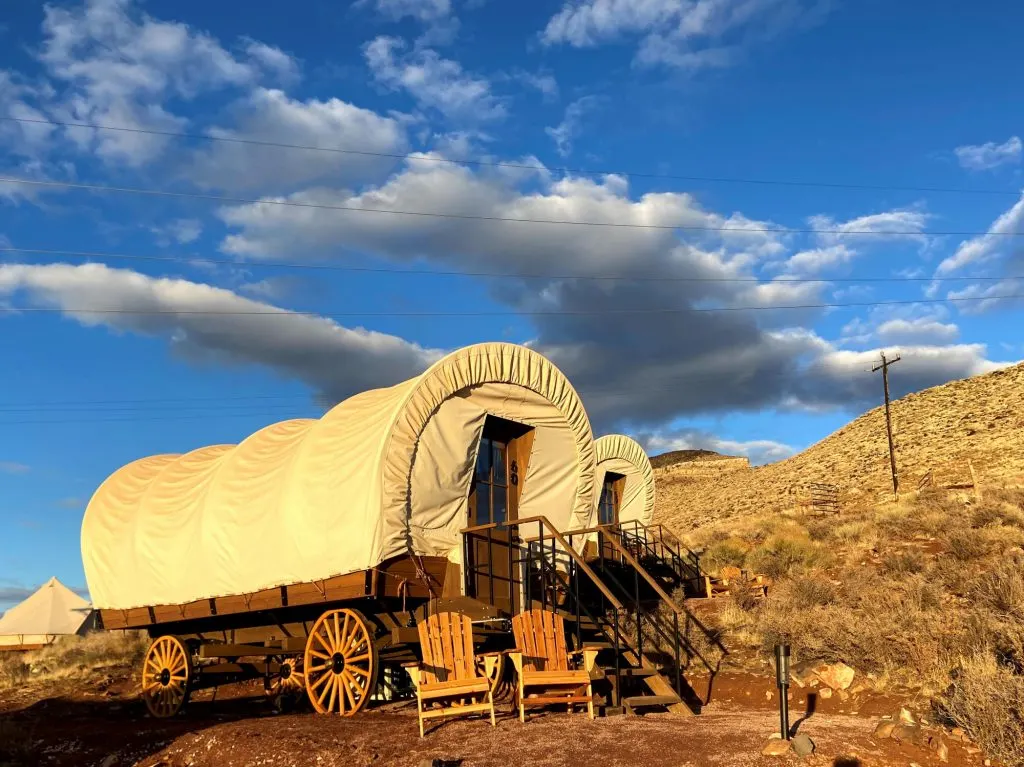 Get away from it all while still having simple luxuries (like a bed) at Zion Wildflower Glamping Resort. Opt for a spacious tent, a covered wagon, or a cute bungalow.
The resort provides everything you need, including a s'mores kit for roasting marshmallows over the shared campfire. And the location in Virgin puts guests just 15 minutes from the entrance to Zion National Park.
Disclosure: The author was hosted by the Greater Zion Convention & Tourism Office in order to research this article. The hospitality was appreciated but all opinions are her own.