If your family wants an adventurous, outdoorsy way to spend time together, the San Francisco Bay Area has as many options as it does micro-climates! Here are 35 outdoor activities in the Bay Area that will keep you having fun in the great outdoors all year long. Some of these adventures are urban while others will help you get away from the hustle and bustle of Bay Area life.
The 35 Best Outdoor Activities in the Bay Area
Outdoor Activities in the Bay Area- San Francisco
You're probably asking yourself what sort of outdoor adventures exist in a major urban center like San Francisco. There are many, and quite a few will leave you temporarily forgetting that you are in a major urban center.
San Francisco is a great base for day trips around the Bay Area. Here are the 9 Best Day Trips from San Francisco for families.
1. Go Camping or Hiking in the Presidio
Get deep enough into the Presidio, and you'll forget about the urban sprawl outside its gates. It is home to 30 butterfly species, 323 kinds of birds, 330 types of native plants, and the city's only campground!
There are also 24 miles of hiking trails, including a 2.7-mile trail accessible for all abilities and modes of transportation, including bikes, strollers, and wheelchairs.
Explore this park further! Read Trekaroo's 10 Great Things to do at Presidio Park.
2. Bike or Stroll across the Golden Gate Bridge.
You can't get a coastal breeze in your hair while cruising the Golden Gate Bridge in your car (unless you own a convertible). This outdoor adventure will allow you to see the area in a whole new way!
After all, the breathtaking panoramic views of the iconic San Francisco cityscape and the Pacific waters below are much more stunning from the bridge deck than from the back seat. The total length of the bridge is 1.7 miles. There are typically quite a few walkers on the bridge so if you decide to bike, take it slow and pack some patience.
Here are our favorite things to do in San Francisco with kids.
3. Take a Bay Cruise
There are several great options for getting out on the bay to enjoy some of the city's highlights from a different perspective. Sail underneath the Golden Gate Bridge. Circle Alcatraz while listening to the stories of the criminals that called it home. Hop off and visit Alcatraz if you'd like. Take to the waters at twilight or sunset. Book a dinner or brunch cruise.
Book your San Franscisco Bay cruise. Choose from a variety of great options.
No matter which tours you choose, or what time of day you sail, this outdoor adventure highlights the spectacular beauty of San Francisco Bay. Most cruises leave from the Fisherman's Wharf area, and many have several departure times per day.
4. Discover Hidden Gems along San Francisco's Staircases
There are more than 600 public stairways for navigating San Francisco hills; many make for fun outdoor adventures. Intricate mosaics created by neighborhood artists cover some stairways, while others wind through lush landscapes like the Marchant Gardens off the Filbert Street stairs.
A community of parrots is often sighted along the Greenwich Street stairs leading to the iconic Coit Tower. You never know what's in store when exploring these unique spaces or what adventure they'll lead you to.
5. Listen to the Wave Organ
An easy walk from Marina Boulevard, the Wave Organ is an acoustic sculpture on a San Francisco Bay jetty. The jetty is made from an assortment of carved granite and marble from a demolished cemetery.
There are twenty-five organ pipes located at various elevations in the site, allowing for the rise and fall of the tides. Activated by air pressure created by the wave's movement, this result is a restless gurgling melody that is both calming and eerie. The most melodic results happen on a windy day with high waves. Regardless of the weather, it's worth a visit; it's an incredible piece!
6. Visit Lands End
Visiting Lands End in the Golden Gate National Recreation Area is one of the best outdoor activities in the Bay Area. The adjacent trails of this park reveal stunning views at every turn. This wild and windy corner of San Francisco sits literally at the lands end overlooking a part of the bay that is strewn with shipwrecks and known for tales of misfortune.
It is also home to one tale of hard knocks in business. The ruins of the Sutro Baths sit on the edge of a rugged expanse not far from the ocean's reach. Once a lavish swimming facility built in the 19th century by former San Francisco mayor Adolph Sutro, the structure was destroyed by fire in 1966.
Check out more of San Francisco's parks, read the 20 Best Parks in San Francisco.
7. Explore Golden Gate Park
This outdoor adventure is loaded with great things to do outside without leaving San Francisco's urban membrane. Golden Gate Park is one of the most iconic urban parks in the country, and it plays host to a variety of outdoor festivals and events throughout the year.
Take a paddleboat out on Stow Lake, spread out a picnic on a grassy spot, wander a myriad of gardens, and marvel at the rare plants in the Conservatory of Flowers; these are only a few of the outdoor attractions that await in Golden Gate Park. Explore this park further by reading our article highlighting 10 Awesome Things to do in San Francisco's Golden Gate Park.
Outdoor Activities in the Bay Area- Marin County
Located at the opposite end of the Golden Gate Bridge from San Francisco, Marin County sees a warmer weather than San Francisco and offers more space to spread out. There are also a few outdoor adventures here where natural beauty and history intertwine.
8. Make a Pilgrimage to Muir Woods National Monument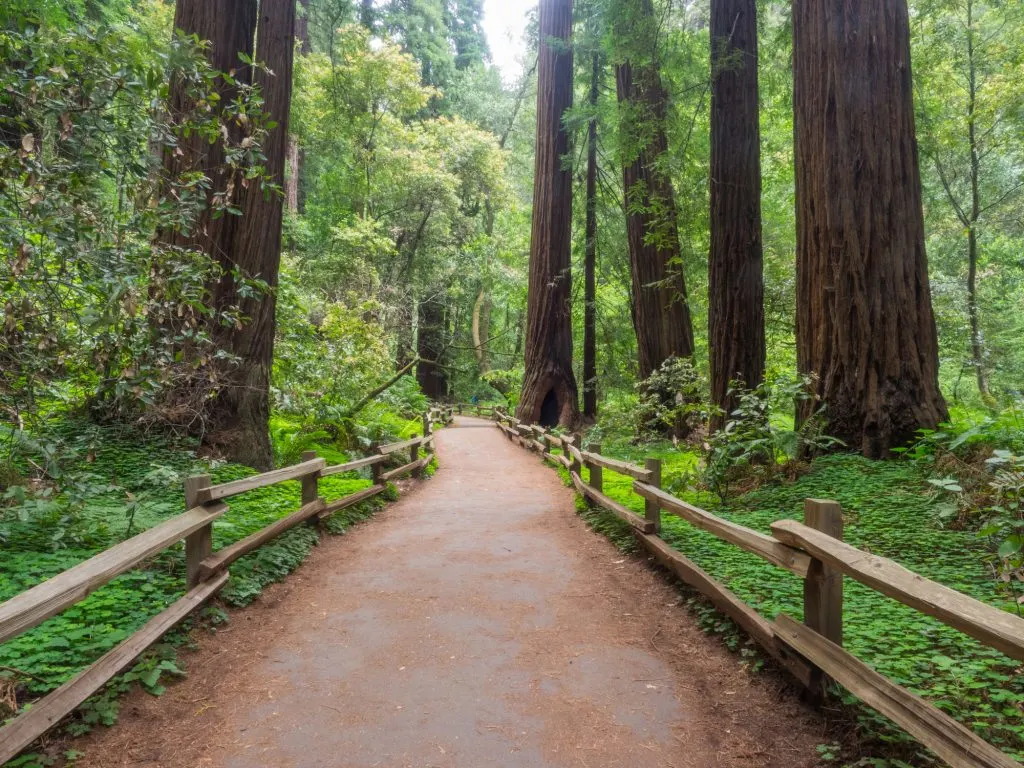 Once you stand in this redwood forest, where the trees range from 400 to nearly 1,000 years old, you'll understand why this place is often described as a pilgrimage instead of an excursion. Feel the sacredness of the aptly named Cathedral Grove.
Many visitors can be seen lovingly running a hand over the massive tree trunks or standing at their large roots, looking up into their heights as if they were acknowledging a visitation by one of nature's miracles.
Due to its close proximity to San Francisco, this redwood forest is an incredibly popular destination. Parking must be reserved in advance and shuttles are available through gomuirwoods.com.
Muir Beach is located three miles west of Muir Woods and is a great addition to your time in Muir Woods.
Muir Woods National Monument made our list of the best national parks in California.
9. Explore the Marin Headlands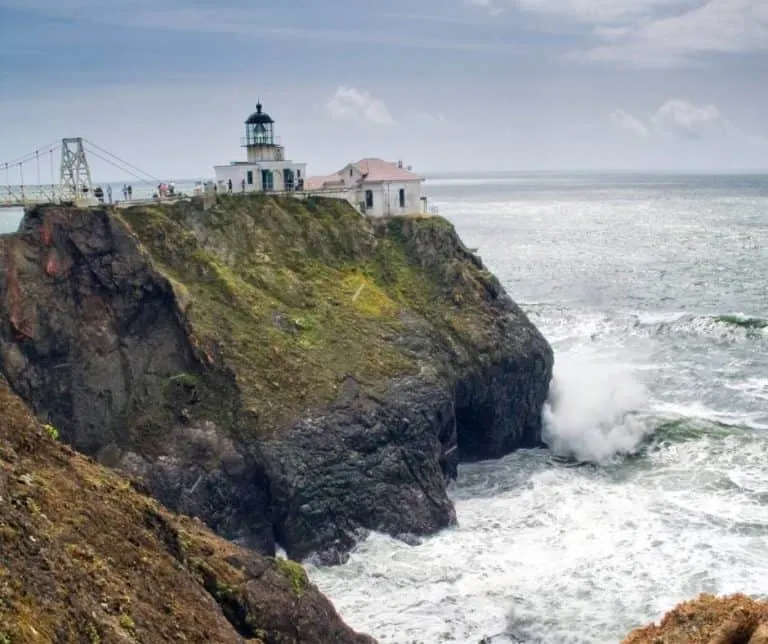 The rolling peninsula of the Marin Headlands is known for its breathtaking scenery. It holds cultural history ranging from the Miwok Indians to the American military, and you would never know it at first glance!
Remnants of multiple military installations, including the only fully restored Nike Missile Site in the country, are revealed in this outdoor adventure. Walk the trails along the headlands and take in the amazing views fo San Francisco. Don't miss Point Bonita Lighthouse, which is accessible by footbridge. It appears to be precariously balanced on a jagged cliff above the ocean.
10. Get the Lay of the Land atop Mount Tamalpais
The most spectacular views in the Bay Area can be marveled at from the East Peak of "Mt. Tam." Stroll the 0.75-mile-long Verna Dunshee Trail, a handicap and stroller-accessible loop circling the mountaintop.
The reward at the end of this outdoor adventure is 360-degree views across the Bay Area, including downtown San Francisco, Point Reyes, the Farallon Islands, and Mt. Diablo. The views are especially magical at sunset. There's no better way to get an overview of the Bay Area than to lay it at your feet!
11. Time Travel at China Camp State Park
Situated on the shores of San Pablo Bay, China Camp State Park offers a variety of outdoor adventures, including hiking, biking, camping, and kayaking. But what if I told you time travel was also possible here?
This park is home to a 19th-century Chinese shrimping village that thrived into the 1880s, supporting as many as 500 Chinese settlers. Today the village consists of a handful of little houses, an old snack bar, and very dated shrimp processing areas, but it is alive with history and a glimpse at a bygone time.
12. Get Back to Nature at Point Reyes National Seashore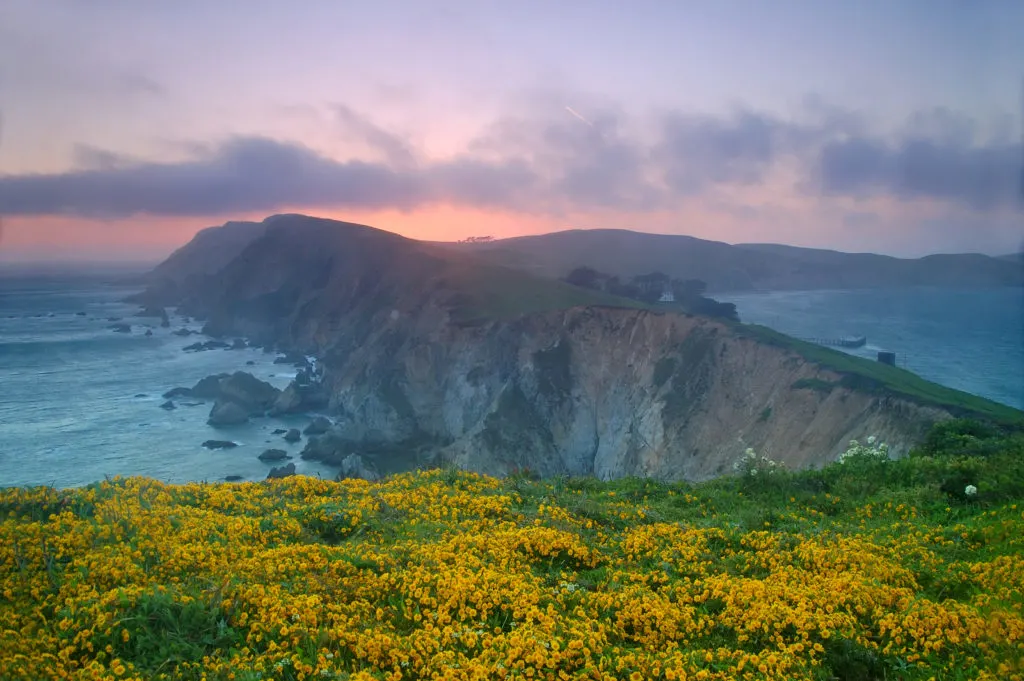 Visiting Point Reyes National Seashore is like landing in heaven for outdoor activities. It is home to 70,000 acres intended solely for playing outside!
Point Reyes boasts 70 miles of horseback riding, hiking trails, and numerous hike-in campgrounds. It's possible to watch the gray whale migration, spot elephant seals, and observe raptors and shorebirds. There have even been sightings of Tule Elk! Geology buffs enjoy studying the seismic forces at work along the Earthquake Trailhead.
The lighthouse on Point Reyes is a popular attraction, as are the many beaches in the area, but they aren't safe for swimming. Windsurfers, surfers and body boarders love Stinson Beach which is located south of Point Reyes. There are several nice restaurants at Stinson Beach as well.
Stop by the Point Reyes Farmstead Cheese Company to taste cheese made locally, including the famed Point Reyes blue cheese.
13. Paddle Tomales Bay During Bioluminesence Season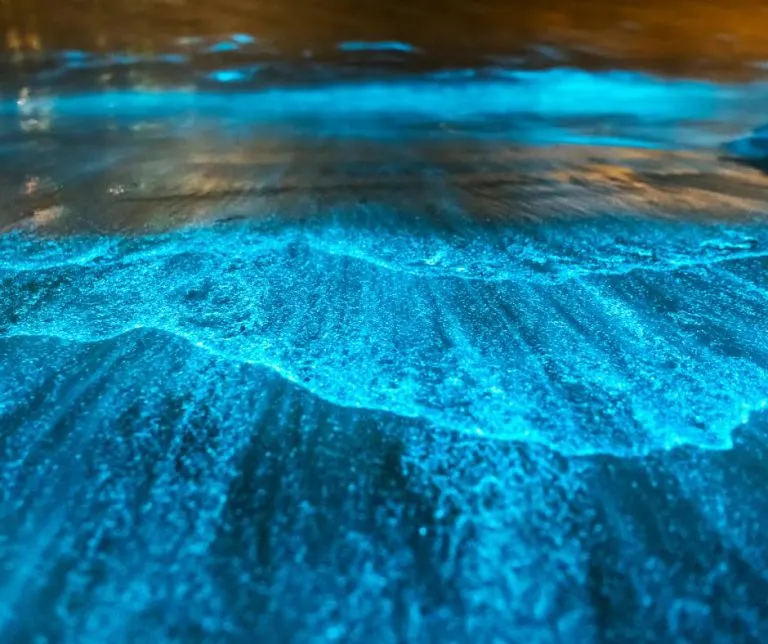 On the darkest nights during July through September, nature offers a surprising light show called bioluminescence in Tomales Bay waters. This phenomenon occurs when microorganisms undersea emit light.
Movements from a swimming fish or the dip of a kayak paddle can excite the organisms causing a shimmering burst of fluorescent white-blue light. With hundreds of marine dinoflagellates assembled in the bay, the collective effect can make this outdoor adventure magical.
It is highly recommended that this activity be done as part of a kayaking tour with a qualified local guide. These tours book early so be sure to plan your adventure well in advance.
14. Visit Angel Island State Park
Just a short ferry ride from either San Francisco or Tiburon, Angel Island is often called the "Ellis Island of the West" due to its history as a holding place for Asian immigrants seeking U.S. citizenship. Park rangers offer informative one-hour tours of the station and barracks.
The trails reveal other histories of the place. Before becoming a military installation, the island was a seasonal hunting spot for the coastal Miwok people. Pack a picnic and enjoy 360-degree views of the San Francisco Bay from atop Mt. Livermore, the highest point on the island. It's a one-hour hike up to the top! Other outdoor adventures at Angel Island State Park include camping and cycling.
Read about more hiking Hiking Near San Francisco | The 15 Best Hikes Near San Francisco.
Outdoor Activities in the Bay Area- East Bay
This Bay Area region also has outdoor adventures that take you out of its urban core. But it also has a few that will take you past them. Another unique aspect of the East Bay, particularly in the summertime, is that its outdoors are balmier than San Francisco's due to less ocean influence and fog.
15. Dominate Rocky City on Mount Diablo
Located in Mt. Diablo State Park, Rock City is an uplifted sandstone rock formation extends along the mountain's southern side. Time, water, and wind have shaped it into a series of caves and tunnels, making it a great outdoor adventure for kids.
Don't miss the Native American Grinding Rocks near the Grotto Picnic Area. Try to time your visit for the Tarantula breeding season (end of summer). The East Bay Regional Parks District runs programming to educate visitors on these creepy critters.
Also make time to head up to the summit of Mount Diablo where the views extend for hundreds of miles on a clear day.
Mount Diablo is one of the best state parks in California.
16.. Hike a Volcano at Sibley Volcanic Regional Preserve in Oakland.
This outdoor adventure is in one of the East Bay's oldest parks, Sibley Volcanic Regional Preserve. Crowned by a 1,763-foot-round top volcano, this park offers 30 miles of trails for exploring by foot or bike.
While the volcano is inactive, there are rare volcanic features to explore, including two lava tubes and a cinder cone. Coyotes, deer, and owls call this area home. There are also two mysterious labyrinths with unknown origins. Hikers are known to leave mementos at the center of the Mazzariello Labyrinth (the larger of the two).
17. Get Creative at the Adventure Playground in Berkeley
Sure, this collection of kid-designed and built forts at the Berkeley Marina may look like a ramshackle town out of some dystopian movie, but that may be what many youngsters like most about it. One of National Geographic's Top 10 playgrounds, the play structures that are part of this outdoor experience known as Adventure Playground are living a second life.
The landscape includes old boats, a piano, and even a zip line! Visitors can borrow hammers, saws, and paint to build onto the site using nearby materials or enhance existing structures.
18. Explore Tilden Regional Park
Tilden Regional Park is a sprawling 2,079-acre wonderland of outdoor adventures with varied activities and attractions to discover. Kids love the Redwood Valley Railway, a miniature steam train, the old-time carousel, and feeding the goats, pigs, and cows at Little Farm (Tip: Bring your own lettuce and celery).
The park in Orinda is rife with wildlife sightings, panoramic views of the San Francisco Bay, and a network of trails for hiking and biking. It even has a botanical garden full of native California plants that can be visited at no cost!
19. Kayak the Oakland Estuary
This outdoor adventure will have a more urban feel as you paddle past the sight of people eating in restaurants suspended over the water toward the giant cranes of the Port of Oakland. Although civilization sits off on the banks, there is still wildlife spotting to be had.
As you paddle, keep your eyes peeled for seals and shorebirds. California Canoe & Kayak in Jack London Square rents kayaks and offers classes and guided trips with easy access to the channel.
20. Discover Reinhardt Redwood Regional Park
Another East Bay hidden gem, Reinhardt Redwood Regional Park is home to a redwood forest that is only a few miles over the ridge from downtown Oakland! This park is popular with hikers, joggers, and mountain bikers.
The Steam, Mill, and French Trail Loop offers a nice rounding of all three, along with some bird watching. The trail also offers great views and enough redwood trees to make you forget how close you are to the city.
Outdoor Activities in Napa Valley
The bucolic Napa Valley wine country is not just rife with vino and gourmet food. It also has plenty of outdoor adventures to connect visitors to nature, geology, the environment, and agriculture.
21. Take a Hot Air Balloon Ride
Soaring above the vineyards is one of Napa Valley's ultimate outdoor adventures! While there are no age limits for taking kids on a hot-air balloon ride, it is best that your youngsters be more than 48 inches tall to look over the basket. And trust me, all of you will want to look over the basket!
You'll watch the valley start a new day from 2,000 feet in the air, where you'll be treated to unparalleled views of the lush rolling hills and vineyards. All rides begin at dawn, and many offer coffee or champagne.
22. Take a Geological Deep Dive into the Petrified Forest
Sitting seven miles northeast of the remains of an extinct volcano in Calistoga are more than two dozen petrified redwood trees that were knocked over and covered with ash during a violent eruption, turning them to stone. Visitors can see them either by guided or self-guided tours.
Educators also provide 60-minute daily walks covering the petrified trees, geology, and plant life. On a self-guided tour, visitors can go at their own pace as they explore two different half-mile trails.
23. Cast a Line at Smith's Mt. St. Helena Trout Farm & Hatchery
No need for a fishing license or to own fancy fishing gear. Smith's will supply everything needed to haul in tonight's supper. All you have to bring is a picnic.
Even the most novice fisherman is guaranteed to catch something at this fishing hole and best of all, you pay only for what you catch. That's right, entry to this outdoor adventure and using the equipment are free! The pond operator will even clean, gut, and package everything for a small fee.
24. Watch the Old Faithful Geyser Erupt
Referred to as "faithful" because this geyser blows on a fairly regular schedule- roughly every 45 minutes- shooting a column of 350-degree water more than 60 feet into the air, you could set your watch by this outdoor adventure.
This part of the Napa Valley is known for its geothermal activity, which is the source of its famous hot springs as well as the geyser. According to local legend, when there are delays between geyser eruptions, it usually means an earthquake is imminent.
25. Cool off at Lake Berryessa
During the hot summer months, the water of Lake Berryessa can reach 75 degrees, making it the perfect cool-down after a hike or a stroll. This lake is located east of Napa Valley in the hills bordering Yolo County.
At 23 miles long, there are plenty of possibilities for outdoor adventures, including fast-paced water sports like boating, water skiing, wakeboarding, and tubing. In addition, the lake's quiet coves are perfect for kayaking, swimming, and fishing.
26. Take a RAD Tour
Short for Rail Arts District, this outdoor adventure centers around a formerly underappreciated two-mile stretch abandoned by industry, now being brought back to life by artists. It's a contemporary outdoor art gallery of vibrant Instagrammable murals, installations, and sculptures.
The art gallery's proximity to the Napa Valley Vine Trail and the Wine Train tracks at Soscol, and Vallejo Street makes it possible to enjoy it by foot, bike, or train.
27. Bike the Napa Vine Trail
The Napa Vine Trail is a cycling/ walking system will eventually connect the entire Napa Valley, stretching from the ferry terminal in Vallejo to Calistoga. For now, though, the trail runs from Kennedy Park in South Napa to the north end of Yountville, approximately 15 miles.
Interpretive signs along the trail highlight particular areas of interest. There are also shelters with bike racks, bike workstations, maps, and other information. And for those who like to track their progress, there are mileage markers. Of course, there's also no shortage of bucolic scenery.
28. Kayak on the Napa River
Located at the marina just below the Napa Riverfront Promenade in downtown Napa, Enjoy Napa Valley offers kayaks, stand-up paddleboards, bikes for rent and a few ways to experience the river. You can learn a bit of local lore on a history tour or simply explore the river on your own if you choose.
Many parts of the river have a rural, small-town feel. No matter which way you choose to enjoy it, you will get a fresh perspective of Napa itself.
Explore this part of the Bay Area further and read Trekaroo's suggestions for 10 Fun Things to do in Napa with Kids.
Outdoor Activities in the Bay Area- Santa Cruz Mountains
Less than an hour from the South Bay's most populous city, San Jose, is a natural wonderland of redwood groves, rock climbing, and steam trains. Outdoor adventures in the Santa Cruz Mountains will leave your family amazed, and proudly wearing the dirt from a truly epic camping and hiking trip.
29. Walk Among Giants at Henry Cowell Redwoods State Park
Outdoor adventures in Henry Cowell Redwoods State Park include hiking, biking, and camping but most of all, they include several old-growth redwood groves!
One of the easiest hikes in this park is the Redwood Grove Loop Trail. Shady, flat, and wheelchair accessible, the largest tree is about 277 feet tall and 1,500 years old. Take a flashlight and step inside the famous Fremont Tree. There's room for the whole family!
The park offers 30 miles of trails for hikes of all levels. Deer can be spotted on some trails. Great views of Monterey Bay can be seen on others.
30. Get Up in the Redwoods at Mount Hermon Adventures
Seven miles from downtown Santa Cruz, you can soar through the trees above the forest floor on a guided redwood canopy tour at Mount Hernon Adventures. This two-hour tour, which includes six zip lines and two suspension bridges, will keep you high above the earth in the branches of the ancient trees.
How about an aerial adventure? You can test your skills by navigating rope and timber obstacles suspended between redwood trees above the forest floor.
31. Catch a Train into the Past at Roaring Camp Railroads
The steam engines housed at Roaring Camp Railroads date from 1890, yet run like a dream as they make their way through towering redwood groves and up a winding narrow gauge to the summit of Bear Mountain just as they did back in the day to haul giant redwood logs out of the area.
You can also hop on the Santa Cruz Big Trees & Pacific Railway and ride one of California's oldest and most historic lines from the redwoods down to the Santa Cruz Beach Boardwalk.
32. Go Rock Climbing and Plant Loving at Castle Rock State Park
Castle Rock State Park is a favorite among rock climbers often found scaling the sculpted sandstone formations scattered around the area, including the park's namesake. Plant lovers flock here for the black oak, knobcone pines, and high-elevation redwoods.
Visitors also enjoy hiking, backpacking, and horseback riding, along with sweeping views of Monterey Bay from one of the highest ridges in the Santa Cruz Mountains.
33. See Nature Renew Itself at Big Basin Redwoods State Park
At California's oldest state park,Big Basin Redwoods State Park, a devastating wildfire ripped through the area in 2020, destroying nearly all of the park's buildings and infrastructure. But Big Basin is bouncing back!
Many of the scorched redwoods have sprouted buds at their bases and along their branches. This process, known as "stump sprouting," could eventually become full-grown redwood trees. Small portions of Big Basin are currently open for partial day-use access and by reservation only.
34. Hike from the Redwoods to the Sea at Wilder Ranch State Park.
Located on the Pacific Ocean coast, just west of Santa Cruz, Wilder Ranch State Park covers about 7,000 coastal acres with 34 miles of hiking, biking, and equestrian trails winding through coastal terraces and valleys.
Formerly a dairy ranch, many of the buildings have been restored for use as a museum. Head north from the ranch into redwood groves, then cross back over the highway and spend time walking along seaside cliffs. Be sure to bring along a picnic. There are plenty of spots for taking in the natural beauty over lunch!
Outdoor Activities in the Bay Area- Coastal
Just 30 minutes from Santa Cruz, there is an untamed, rugged part of the California coast with outdoor adventures that include opportunities to observe wildlife in its habitat with minimal visitor disturbance.
35. Look in on Elephant Seal Mating Season at Año Nuevo State Park
The Año Nuevo State Park docent-guided walks to the elephant seals during the breeding season are popular for a good reason! How else are you likely to get the chance to watch bull seals engage in battles for breeding access to females?
This outdoor activity will leave even your most stubborn teen stunned. These creatures are loud and wobbly and highly entertaining. You can spot them year-round, but you must be on a guided walk.
Lead image by Flickr/pedrik